Hong Kong is Losing its Identity, One Neon Light at a Time.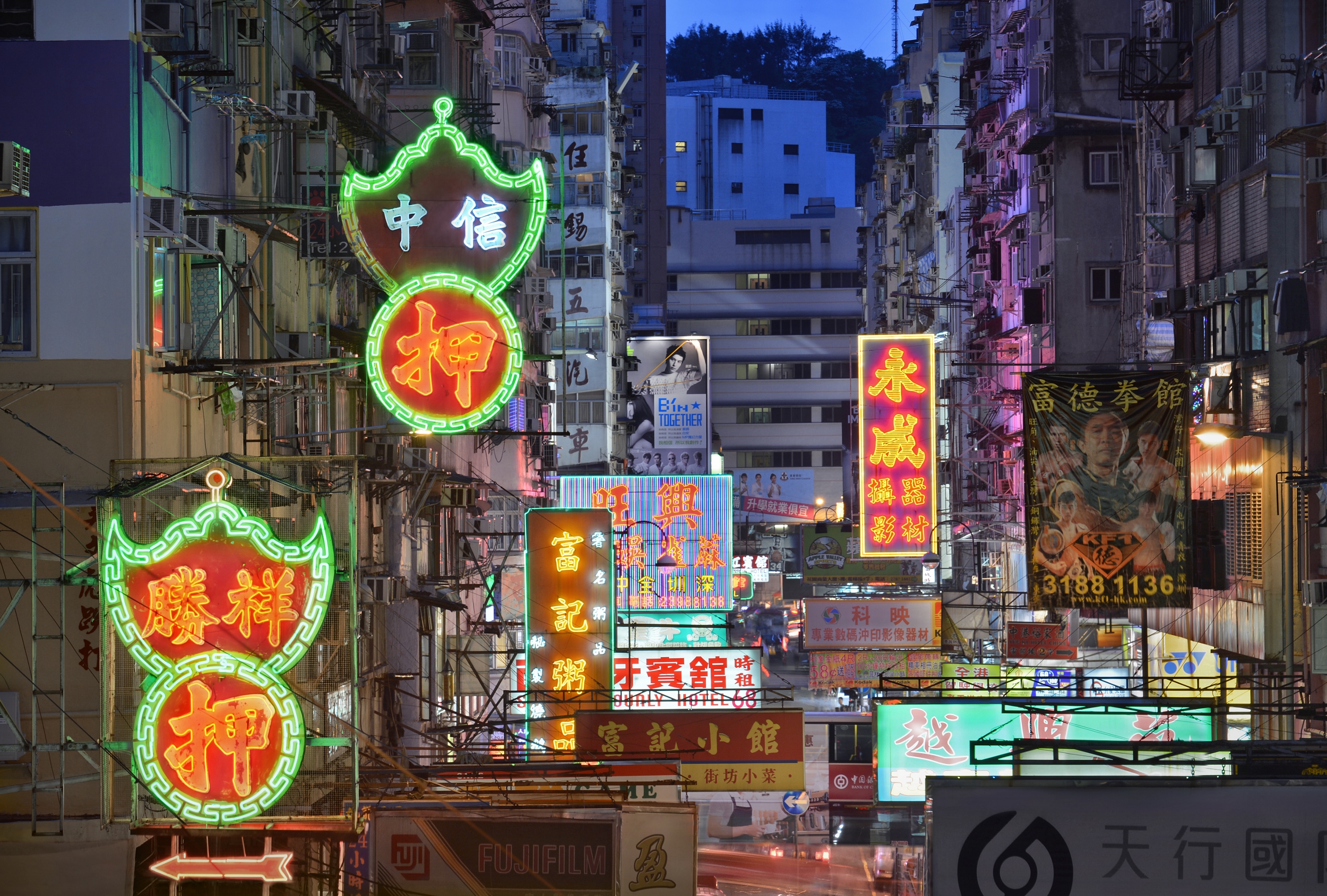 For nearly four decades, a giant neon cow marked a curve in Queen's Road West as it entered the Hong Kong neighbourhood of Sai Ying Pun. "Sammy's Kitchen Ltd.," it read in jaunty italics, advertising one of the first restaurants in Hong Kong to serve a distinct fusion cuisine known as "soy sauce Western." The sign quickly became a landmark: "Take me to the cow!" became a familiar refrain for Hong Kong taxi drivers.
Then, one day, it was gone. Neon signs were once a defining characteristic of Hong Kong's cityscape, but thousands of them have disappeared in recent years, victims of a government crackdown on signboards that project out into the street. "People still have this image in their minds of Hong Kong as a city filled with neon signs, but if you look around now, there are actually very few of them left," says Aric Chen, the design and architecture curator of Hong Kong's M+ museum of visual culture.
Many signs disappear without much notice, but Sammy's cow was an exception – it was too iconic. The restaurant was opened in 1969 by Sammy Yip, who had worked in hotel restaurants and wanted to bring a more affordable take on Western classics to a working-class neighbourhood. In 1978, he spent HK$30,000—about the same as the price of a flat—to commission a three metre long, 2.4 metre tall signboard that projected halfway out into the street. Sammy's daughter, Iry grew up with the cow. "There was a tree across the street that grew so its leaves were almost touching the cow's mouth – it looked like it was eating," she says.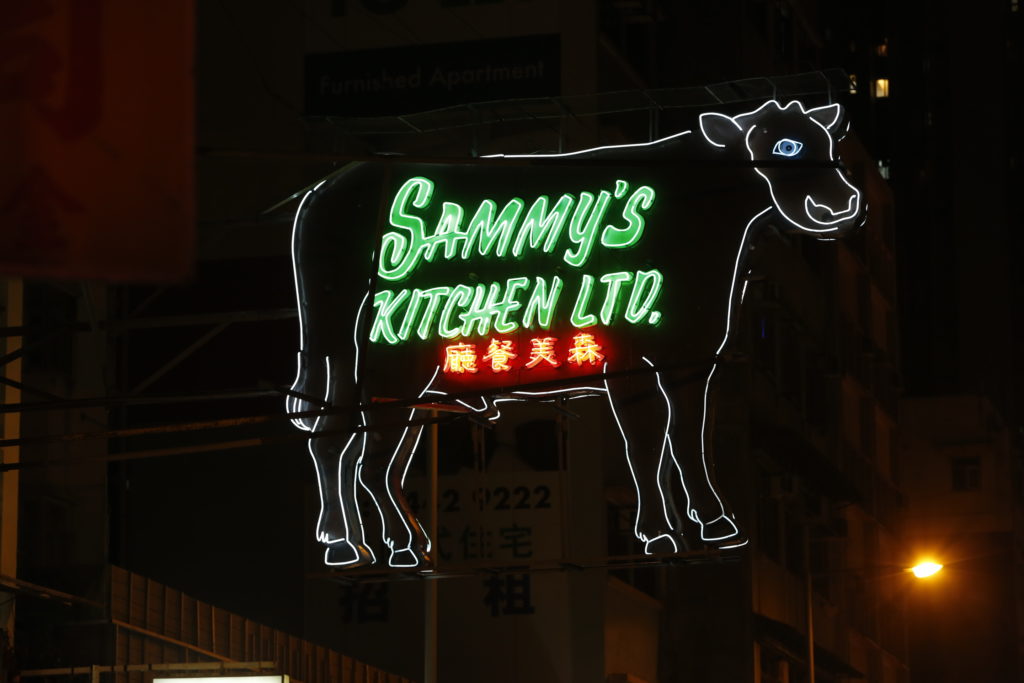 For 32 years, the sign existed without trouble, casting a red and green glow on the street below. Then, in the spring of 2010, the Buildings Department ordered its removal. "They said, 'This building is too old,'" says Iry. "It's 60 years old. But our cow was always well maintained. So many other signs were never maintained, so we thought, 'Why does this one have to be removed?'"
The family decided to fight the removal order, but by 2012, they had exhausted all avenues of appeal. "My dad doesn't like trouble, so he said, 'Okay la, better move on,'" recalls Iry. That's when an American journalist who lived near Sammy's Kitchen, Doug Meigs, contacted M+ and asked them if they planned to collect the sign. The museum got in touch with the restaurant, which agreed to donate the sign if the museum arranged its removal.
That launched a whole other round of bureaucratic tussling. Despite the Building Department's insistence that the sign be taken down, it took more than two years to arrange all the necessary approvals, as M+ negotiated with various government agencies for permission to temporarily close the street so a crane could take away the sign.
"Hong Kong has this reputation of being free market and laissez-faire, but it's actually a highly bureaucratic and technocratic city," says Chen. This leads to a top-down mentality and a one-size-fits-all approach to policy, rather than case-by-case decisions that could have allowed Sammy's to keep its sign in place.
Even Iry acknowledges the era of neon in Hong Kong may be over.
In the past, Hong Kong's government took a more flexible approach to these kinds of unauthorised building works, but the years since the handover from British to Chinese rule have been accompanied by a clampdown on the signboards, rooftop shacks, illicit balconies and other structures that once dominated the cityscape. The reasons for the change of heart are unclear, but many of suggested it is a form of bureaucratic housekeeping, egged on by media reports about the potential danger of falling signs.
In 2014, M+ drew international attention with an online exhibition about Hong Kong's neon heritage, NeonSigns.hk. But the renewed focus hasn't done anything to halt neon's disappearance. "Since our project, the removals certainly haven't slowed down," says Chen. If anything, they've accelerated.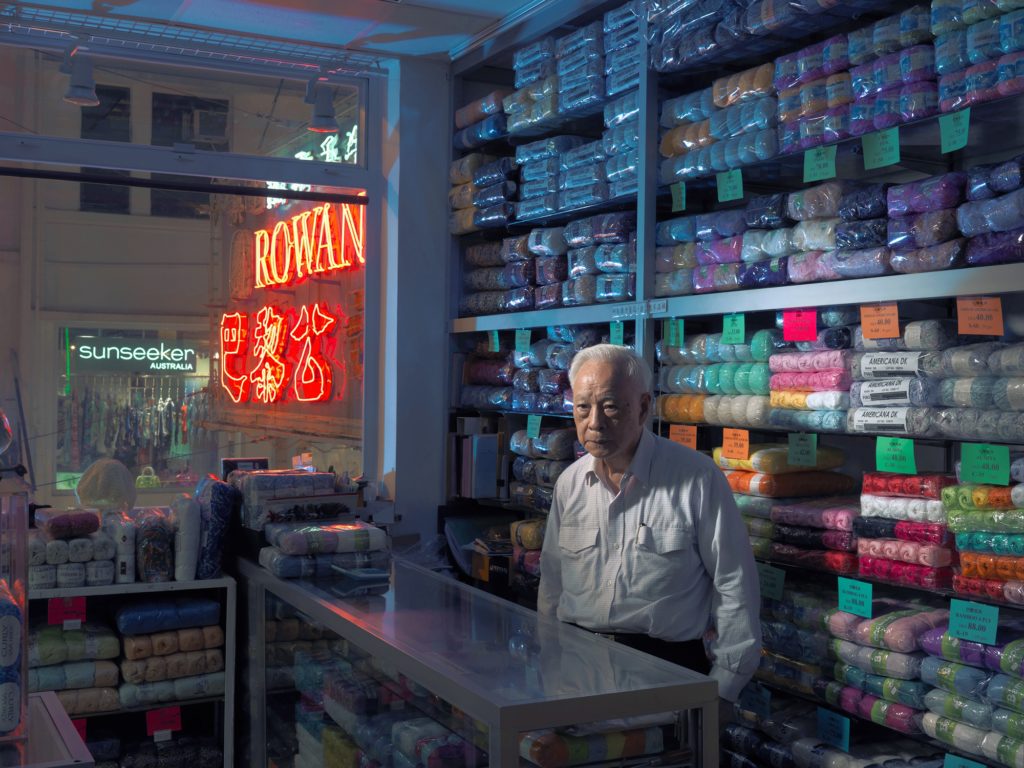 So far, M+ has collected just three neon signs. Chen says it can be hard to anticipate when a sign will be removed, and even when they catch one before it is taken down, business owners are often reluctant to donate. Sammy's cow now sits in storage as M+ builds a permanent home, which is slated to open in 2019.
Many business that once had neon signs have replaced them with LED, to Iry's chagrin. "You used to stand on top of the hill in Sai Ying Pun and look down at the neon – it was beautiful," she says. "Now it's LED and the light is not so good – it's not soft. It hurts your eyes. But it's cheaper."
Even Iry acknowledges the era of neon in Hong Kong may be over. She is working on commissioning an LED replica of Sammy's cow, though new regulations mean she has to get approval from the owners of each flat in the six-storey building that houses the restaurant. It's slow going, but Iry is hopeful. "It'll be like before, just a bit smaller."