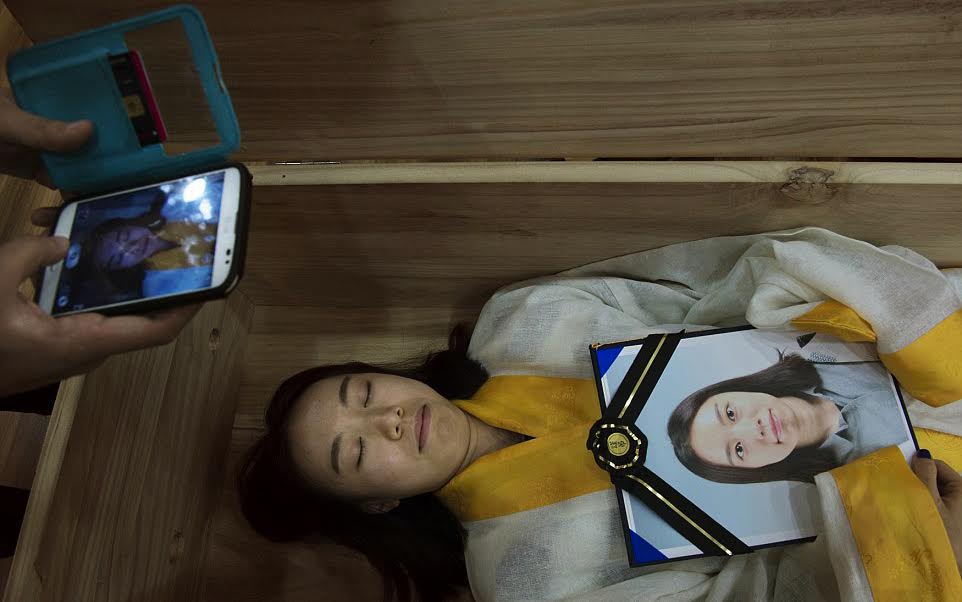 Image credit: Françoise Huguier
"Can we please not talk about it? Hypothetical or not, it's morbid…" interrupted an acquaintance after I had casually asked him what he thought a good death meant. He stubbed his rollup on the sole of his Red Wing boots and began pushing the mess of curds around his plate to make room for second helpings.
"If you speak about dying, Death actually listens… And you're killing my appetite…" The party broke into laughter, which signalled the end of the conversation.
Death never makes it into small talk and is hardly a go-to topic at the dinner table. Most of us sidestep talking about it so much that we may as well hand-on-heart believe that it does not happen. But it does. Death, like taxes, is one of life's absolute certainties.
Two days later, I met up with Mark Lin – the Founder of The Good Death Project, at Mount Vernon Sanctuary and Columbarium (apropos given the subject matter).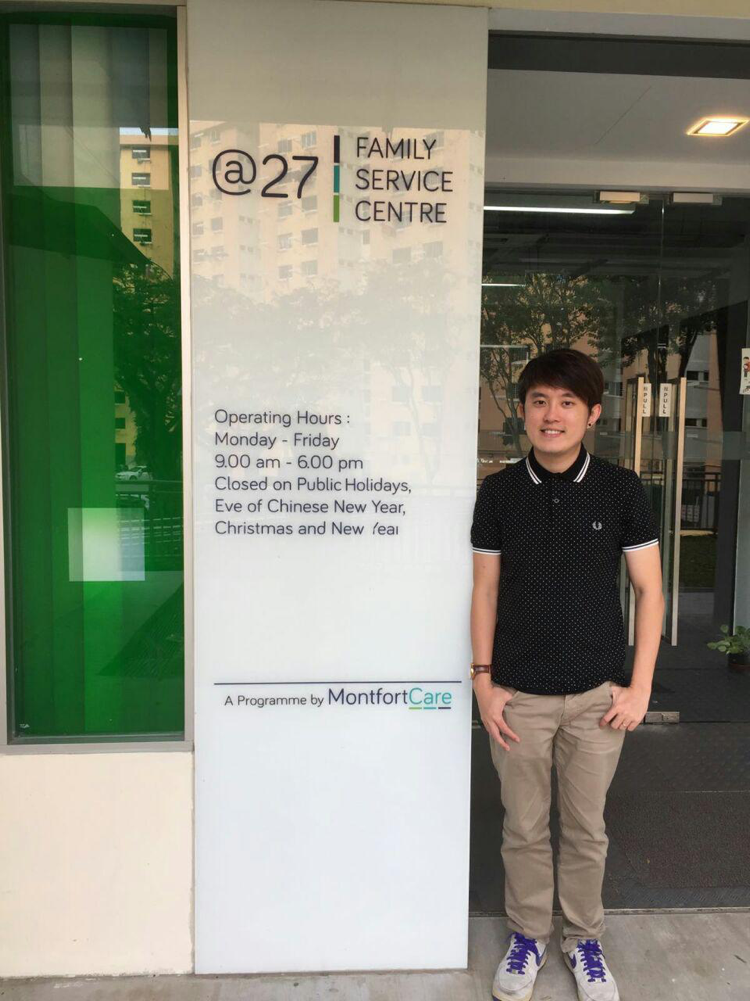 "It's actually not my first time here," he smiled cheerfully as we made our way toward a block of niches. "Shall we park ourselves on a bench there?"
The Good Death Project is a social work initiative under the charity Montfort Care, which began in 2014. Focused on initiating positive shifts in death attitudes, they offer services centred around abolishing the taboo of death and raising awareness about the importance of early end-of-life discussions.
After the late-night repast with friends, who had teasingly warned me about being kidnapped by a death cult member, I had my reservations about meeting Mark. I had expected him to be a tad more serious and stony-faced, in an Eric Draven from The Crow sort of way. On the contrary, he is pleasant and good-humoured, qualities that facilitate one of The Good Death Project's main goals: To help people understand and cosy up to the idea of death.
cultural taboos stop meaningful conversations about end-of-life issues before they can even start
We settled on a weather-worn bench, flanked by numbered blocks sporting Chinese-styled jade roofs and marbled-faced niches that store cinerary urns. It had seemed like we were the only ones in the complex – barred from our monochrome and sepia-tint audience, watching with unmoving eyes.
Death is considered a cultural taboo in Asian society and is not openly discussed for fear that it would hasten death. So great is its hold on East Asian societies that the number four, which sounds like the word 'death' in Cantonese, is fervently avoided. In the same vein, it is considered undesirable to give an acquaintance a timepiece as a gift as it signals counting the seconds to the receiver's death.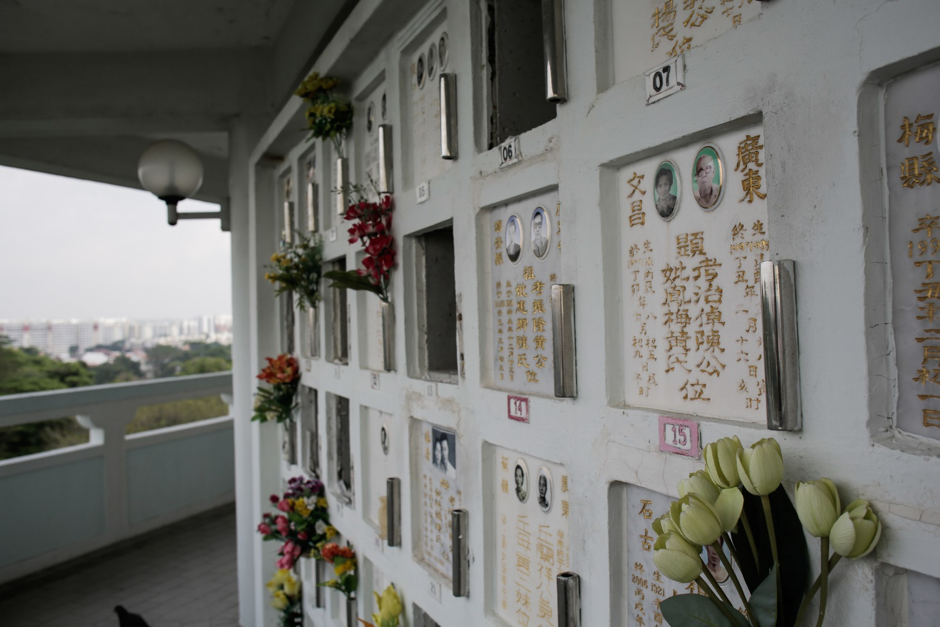 "There are two reasons why we generally don't discuss issues of death or dying," Mark Lin explained, "First, there is no space where people feel safe enough to bring it up, and in turn, they never learn how to initiate meaningful dialog. Second, many end-of-life services offered today are products of the modern era. Older folks are mostly unfamiliar with the concept of palliative or end-of-life care. They brush it off, convinced it's unnecessary."
These cultural taboos stop meaningful conversations about end-of-life issues before they can even start, potentially impeding quality of life. Living in denial and fear, the dying remains unaware of their vested right to control their own end-of-life care. Both, the young and old, stand to gain from breaking the silence. By expressing our personal values about death, we are empowered to make worthwhile decisions for ourselves and on behalf of those we love.
Palliative care services, which purposes to provide relief by lessening pain and stress for both patient and family, are relatively new in parts of Asia. Death positive initiatives like The Good Death Project have taken great measures in support of end-of-life services and in bringing conversations about death to life.
"On one hand, there's death anxiety, which is the feeling of dread or apprehension when one thinks of dying. And on the other, there's death aversion, complete disinclination to even think about it, let alone discuss. So, that's where we come in – assess if there's a need to bring up the topic of death and weigh the readiness of the client to talk. It's really an art".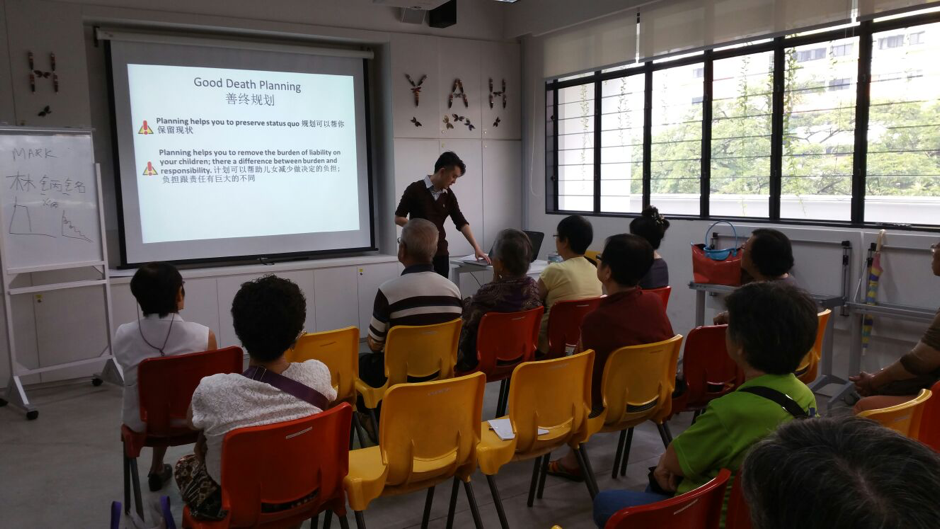 In August, The Good Death Project collaborated with Young-at-Heart Community College to conduct a community talk for seniors above 50. The team has also recently concluded a social media campaign aimed at promoting their services and the value of end-of-life conversations. Workshops are held to cover the procedures involved in Good Death Planning and include documenting one's Advance Care Plan, Advance Medical Directive, Lasting Power of Attorney and Will. The Good Death Project also offers targeted interventions and counselling services for those experiencing bereavement issues. En masse, these procedures integrate personal values and believes into customised decisions regarding end-of-life matters.
"During my first palliative case, I was assigned to a client who had only five more months to live," Mark reminisced, "He treasured his freedom –  above all else – and his dying wish was to get his passport back after it'd been confiscated following bankruptcy. Fortunately, we got hold of it, and the reaction he had is the reason I do the work that that I do."
We enjoyed a hearty laugh as Mark made a face that looked like he'd won an all-expense paid adventure around the world.
"For most, it's just a piece of paper but it meant everything to him. It gave him peace of mind before he passed. This is exactly what we want to do – help people put their personal affairs in order and support them in getting what they need in the limited time they have."
It's not about dying, it's about living well.
Our laughter quickly died down as the hymn Amazing Grace plays on a stereo near-by. A funeral cortège walking slowly behind a hearse as it departs from a service hall.
What's a good death to you, I asked Mark as the procession disappeared behind the trees.
"I've definitely thought about my own funeral," Mark confessed, the noon-sun already beginning to beam on our backs, "I want what they call a 'living funeral', where I'll invite friends and family in my last days. I'll have a long speech prepared, I know it. I'm a talker."
"It is not important to consider what happens after death, the focus should be on what you can do today. My personal philosophy is 'I want to live young for as long as possible'. It's not about dying, it's about living well."