A North Korean Bar Opens in Spain
Commentary
Current Affairs
23 Aug 2016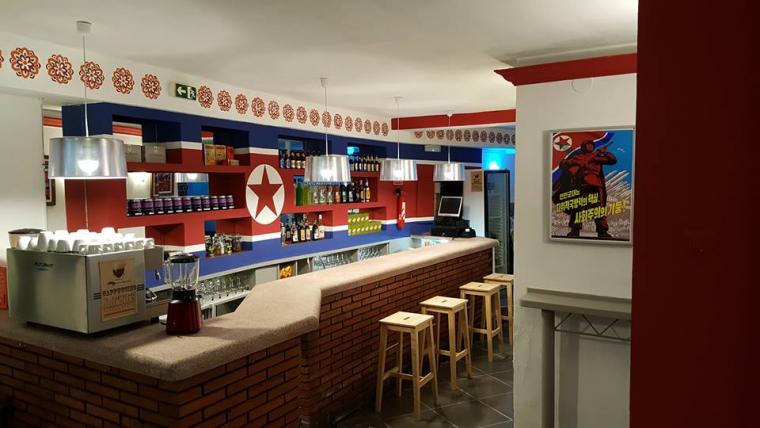 Tarragona, along the east coast of Spain, is a calm port city with typical European seaside sleepiness. For the longest time, the city's claim to fame has been the presence of the Roman ruins of Tarraco, a UNESCO Heritage site. However, the opening of a North Korea-inspired bar in the city has recently stolen the limelight.
In July 2016, Catalan native Alejandro Cao de Benos opened a North Korean themed bar in the heart of Tarragona. The bar, named the Pyongyang Café and emblazoned with a giant North Korea flag backdrop, gives customers a chance to enjoy North Korean fare whilst they muse at propaganda posters and the words of past Supreme Leaders scattered throughout the bar.
Alejandro has even adopted a Korean name, Cho Son Il.
Alejandro, the owner of the bar, is unsurprisingly, a huge North Korea geek. He is a fervent supporter of Kim Jong Un and has had an appearance on Netflix's 2015 documentary on the nation, the Propaganda Game. Alejandro has even adopted a Korean name, Cho Son Il.
Perhaps most interesting is the fact that Alejandro (or Cho Son Il) is the appointed special representative of the Foreign Ministry of North Korea. He is also the founding member of the "Korean Friendship Association", of which, he is the President, and only salaried member.
Like the Hard Rock Cafes and Belgian beer bars of the world, national cultures have long been imported and represented through the use of restaurants and food. The Pyongyang Cafe, in all its tacky glory, is by no means different and maybe that is the point that Alejandro wants to make – that North Korea is just another place in the world, and life in the country is might not be as extreme as the world makes it out to be.