Today, the 10
th
of April is
the
day.
As of 9:30 am this morning, Singaporean box offices—both online and offline—were swamped with rabid Marvel fans eager to get their hands on advanced tickets to the highly anticipated, biggest friggin' blockbuster of the year, Avengers: Endgame, which went on sale today.
Elsewhere on planet earth, the massive demand for Marvel's penultimate Avengers flick crashed ticketing websites in the US and rewrote first-day ticket sales records.
Truth be told, I don't understand the hype at all. I mean, it's a gratuitous action movie filled with imaginary superheroes. Why would Singaporeans want to waste three hours of their lives immersed in make-believe worlds when we have our very own, real-life endgame happening in parliament?
With 2019 being touted as the year of Singapore's next general election, the future of our great nation will once again hang in the balance as the powers that be slug it out for absolute control.
In fact, it's scary how similar the premise of Avengers: Endgame is to our Singaporean reality. But realising just how much our politicians resemble the Avengers? Now, that's truly terrifying.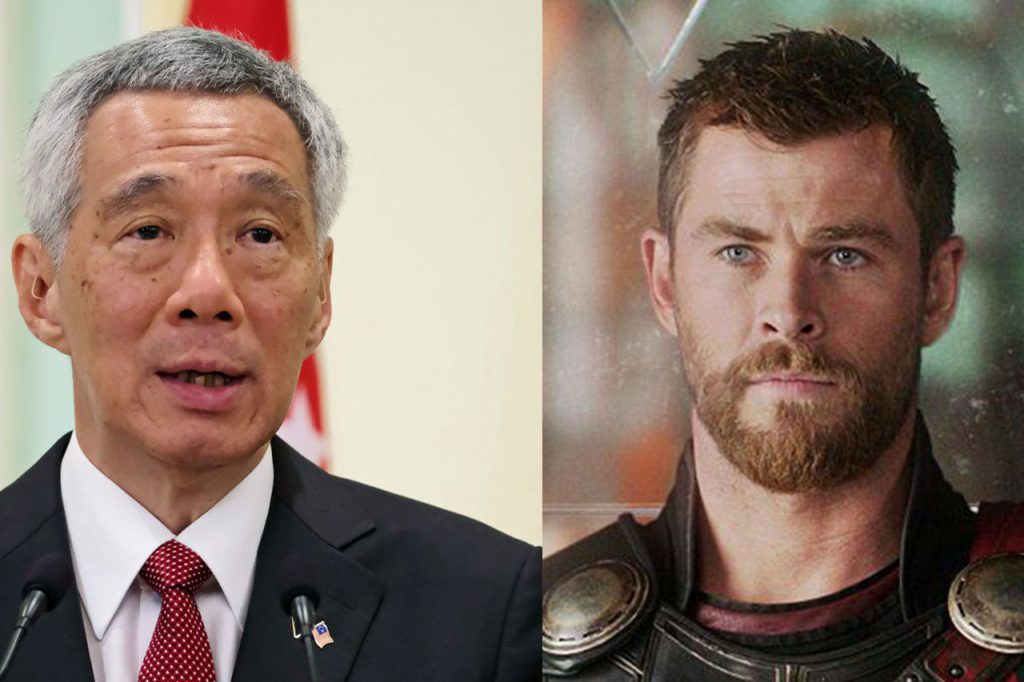 LHL as Thor Odinson*
Now you would think Lee Hsien Loong would be Thor—the only true god in the Avengers.  
I mean, come on. The eldest son of the powerful and all-knowing allfather, check. The lightning bolt, check. A frosty relationship between him and his brother, check, check, check.
But remember when Loki tricked the whole of Asgard by masquerading loud and proud as Odin? Yeah, somehow the god of mischief has risen from the dead and done the same thing in Singapore.
If Thor: Ragnarok is anything to go by however, it seems like true power lies in the hands of Odin's daughter. In the Marvel Cinematic Universe, she goes by the name Hela, who stunned both her siblings and every Thor fanboy in the theatre by destroying Mjolnir, quite literally, single-handedly. (The poor hammer never really stood a chance now did it?) IRL, she is Dr Lee Wei Ling.
Indeed, at the centre of the whole Singaporean brother v brother battle for supremacy saga, is 38 Oxley Road, which lest we forget, was left by the late LKY to yes, you guessed it, Dr Lee.
"So long as she calls this place home, it will remain untouched!" one can almost hear his voice boom from the heavens. So while the kingdom might not be hers to inherit, the Midgardian palace definitely is.
One can only imagine what the future has in store for the family. Will the powerful sister make an appearance? Who knows. Either way, it'll be interesting.
Gan Kim Yong as Hawkeye and Josephine Teo as Black Widow
Nothing much to say here except they're all bit players with forgettable roles. I bet you don't even know Hawkeye's real name now, do you? Or Josephine Teo's cabinet appointment other than her official ambassadorship for the make-love-anywhere campaign?
I don't blame you. In an all-star team filled with infinitely more powerful beings, it's hard not to fade into obscurity. Although the minister for health might want to stay there thanks to the data breaches that happened on his watch.
He needn't worry though. He can always come back when we need someone to make up the numbers.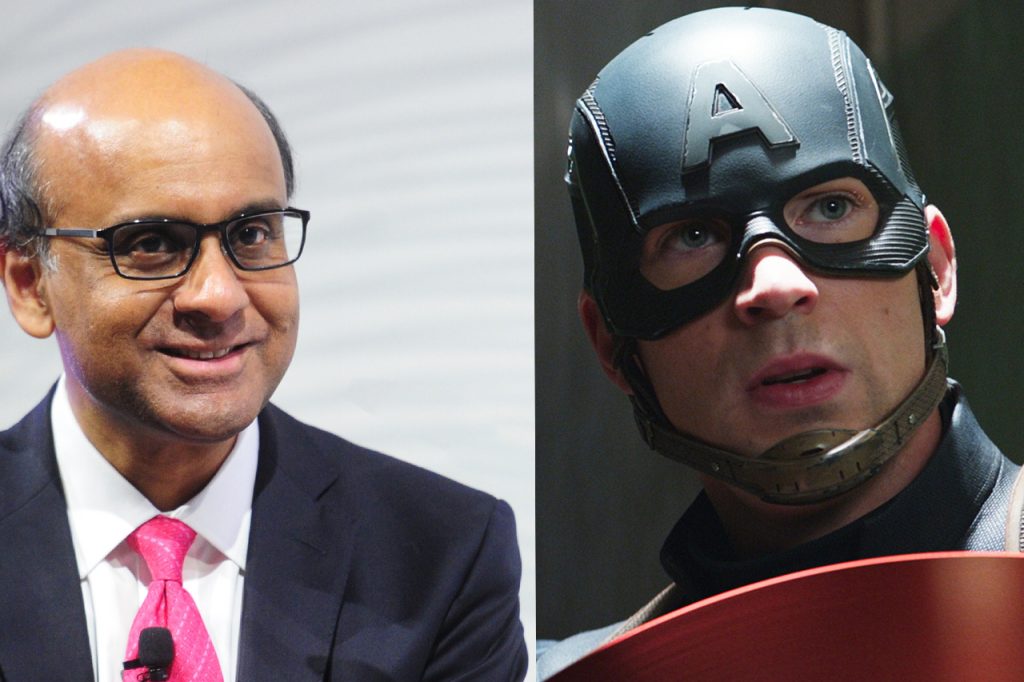 Tharman as Captain America
If LHL* is Thor then DPM Tharman Shanmugaratnam is almost certainly Captain, uh, America.
With his refreshing candour, wit and charm, Tharman is the all-around good guy of the group; the one you can't hate no matter how hard you try because he's just so … nice.
In 2015's GE, thanks to Tharman's overwhelming popularity, the PAP retained its Jurong GRC ward with a staggering 79.3% of voters favouring him over members of the Singaporeans First (who?!) party. A plethora of online polls further back this up: Tharman is the leader we all want and yet, the guy who never saw himself as a leader.
We love him because he's humble. Just like Steve Rogers, Tharman never sought fame or glory—in 2016 famously saying that he knows his own ability and that he is not the man to be the next PM. Instead, he simply wants to serve his country to the best of his ability. What a top lad and super soldier.
Incidentally, he's also the guy you can totally picture saying "LANGUAGE!" when the annoying Keechiu starts mouthing off in parliament.
But if you're still having trouble picturing him as Captain America, simply try imagining a tiny pair of wings on either side of his bald head.
Chan Chun Sing as Ant-Man
Speaking of our dearest Keechiu, Chan Chun Sing is Ant-Man.
Paul Rudd tries too hard to be funny. CCS tries too hard to be a politician. Both fall kinda flat.
'Nuff said.
Baey Yam Keng as Iron Man & Ng Chee Meng as War Machine
Dapper, chiselled, and ever ready for a picture, BYK is good-looking and you best believe he knows it.
A quick scroll through his Instagram reveals plenty of selfies of which his effervescent smile features prominently alongside other snippets of his personal life.
Identical to Tony Stark, who will tell just about anyone that he's Iron Man, BYK is also prone to oversharing. In one instance, he needlessly made the cost of his Nasi Padang known on Facebook, which led to public backlash since the MP was charged $3 for a $6 meal.
But he emerged from that "controversy" unscathed, possibly owing to the strength of the Mach IX suit of moisturiser and sunblock he undoubtedly puts on daily.  
That said, both Tony and BYK will go to great lengths for the ones they love. In 2014, his playwright wife, Lim Hai Yen, cast BYK in a lead role for her (rather aptly-titled) film Like Me. I Like.
Some stories really do write themselves, eh?
Likewise, minister in the Prime Minister's office, Ng Chee Meng, and Colonel James "Rhodey" Rhodes are both decorated military men in the Air Force. Unfortunately for them, they're constantly overshadowed by the other high-flyers they surround themselves with, diminishing their own achievements.
Okay, I know there's no known brotherly relationship between Ng Chee Meng and BYK but both men are in charge of neighbouring GRCs so maybe one day, we just might see the ex-Chief of Defence Force knocking BYK down just for laughs.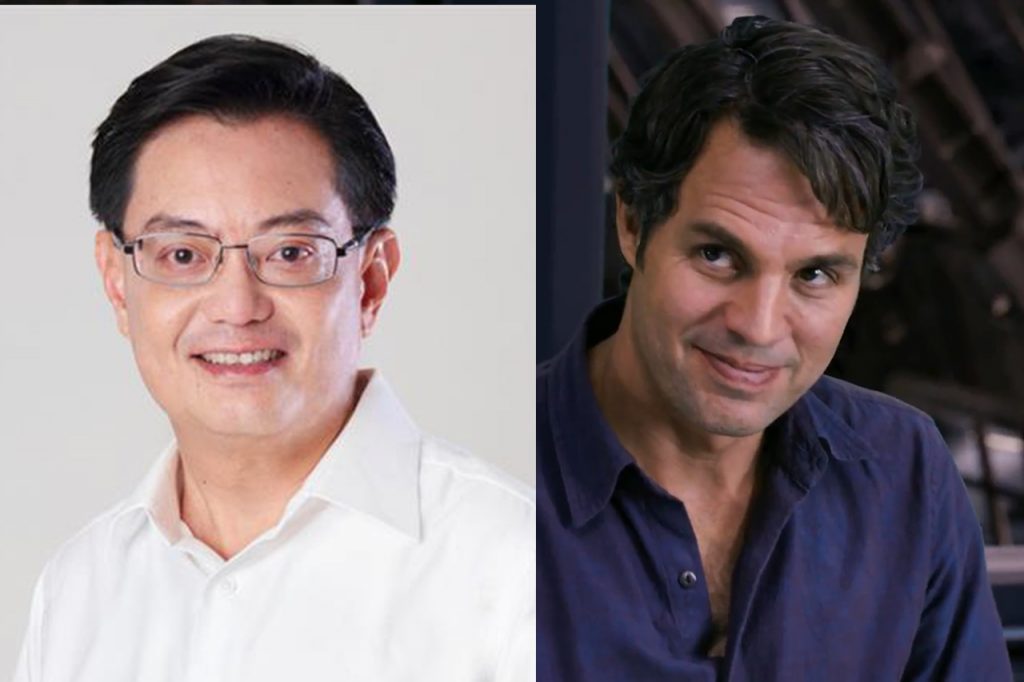 Heng Swee Keat as The Incredible Hulk
This one might sound strange to some but it's not such a far-fetched comparison once you understand why.
For a start, let's examine what happened when the minister for finance collapsed in a cabinet meeting back in 2016 due to an unfortunate stroke.
Where lesser mortals would've probably died thanks to that ruptured brain aneurysm, our PM-in-waiting awoke a mere six days later. After another six weeks in the hospital, he was back at work, without any permanent damage and not even the slightest sign that he was in a bloody coma.
Call me sceptical but where you see miraculous recovery, I see gamma ray exposure. The man obviously has super strength.
Similar to the Hulk, Heng Swee Keat can also at times, seem like another person entirely. Often, he's the soft-spoken, low profile Dr Bruce Banner and others, he goes full-on Hulk mode.
As far as I know, he's not prone to rage but possible bouts of temporary insanity, once drawing the ire of the public when he commented that Singaporeans are not ready for a non-Chinese PM.
Best keep that side of you in check Sir, or a certain Watain-banning minister might want to have a word with you.
K. Shanmugam as Rocket Racoon
<This segment has been redacted due to impending enforcement of the new FaKe nEwS laws. #selfcensorship>
Ong Ye Kung as Captain Marvel
Ahh yes, Ong Ye Kung. The saviour of us all. The one in charge of ushering us into a new age and the next phase of life.  
In case you didn't know, OYK's rise has been nothing short of spectacular. Shortly after becoming a member of parliament in 2015, he was appointed the acting minister for education (higher education and skills) and quickly rose to independently leading the Ministry of Education. All of this in a country that prides itself on providing a world-class education. 
Similar to how Captain Marvel is heralded as the dawn of a new age by feminists (since it's Marvel's first female-led film), OYK is also the face of change right here in Singapore.
He was the one who sought to reduce the emphasis on students' academic results, in an effort to bring back the joy of learning; he was the one who introduced Skillsfuture, meant to promote lifelong learning. More recently, the ministry he helms introduced subject-based banding in secondary schools, doing away with traditional streaming that stigmatises certain students.   
The man is change personified and is unafraid of long-standing policies and tradition. Nowhere is the similarity to Captian Marvel more evident than in a snippet of the movie itself.
In the last scene of the trailer for Endgame, we see Captain Marvel engaged in a sort of stare-down with Thor, during which he summons Stormbreaker, presumably as a show of force meant to intimidate.
Captain Marvel, however, doesn't flinch. This results in Thor surveying her for a moment longer before loudly proclaiming "I like this one!"
Oh, and who is Thor supposed to be in my little character analysis?
I rest my case.
Grace Fu as Nebula & Desmond Lee as Okoye
WHO?!?!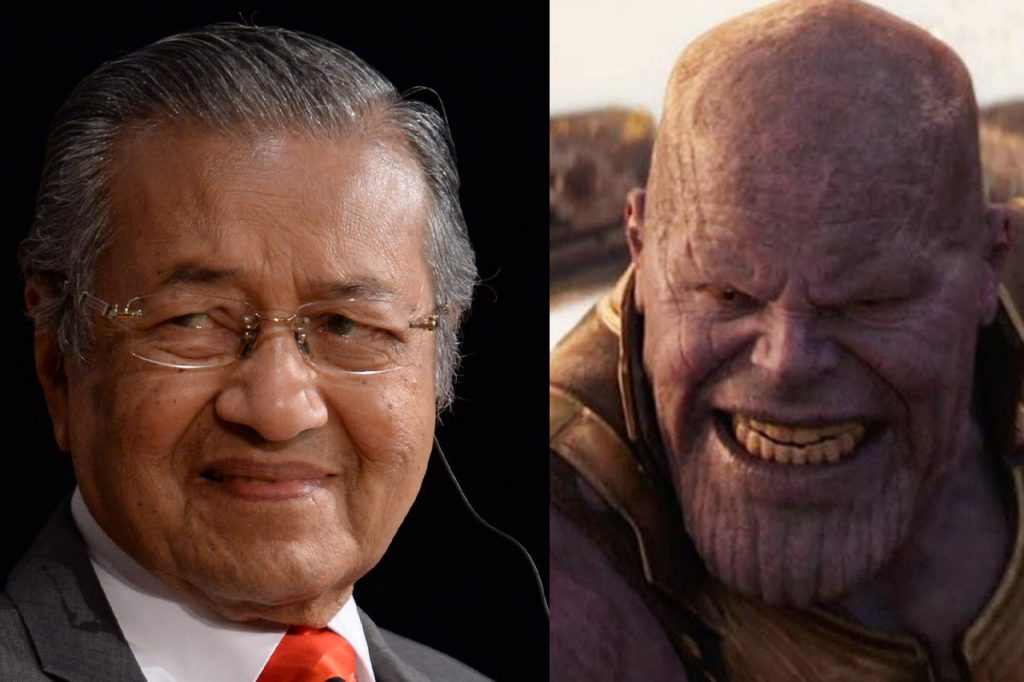 Mahathir as Thanos
As if you didn't see this one coming from the get-go.
Historically the sworn enemy of Singaporean Odin, Dr M will stop at nothing until he obliterates one side of the causeway, ideally with a snap of his fingers.
Pulling out from the anticipated KL-Singapore high-speed rail was just the start. Ongoing water disputes signal that he well and truly seeks to sever all ties with Singapore. And just Singapore.
Like Thanos, world domination is not his endgame. Instead, he simply wants to collect the 5 Cs for his home planet.  
Also, can someone please explain how at 93, he doesn't have a ballsack for a chin? Is the time stone really that powerful? BYK needs answers.
Only time will tell if
Avengers: Endgame
is any good, but in the meantime, to end the civil war with Mahathir (that seems to have dragged on for infinity), I suggest we send Ant-Man to take one for the team. The
Thanus
theory, essentially.
Shrink, crawl up his butthole, and revert back to his regular size—therefore killing him from the inside.
Oh, wait. That's how they dealt with Anwar.
DAMNIT.
Did we get our analysis right? Tell us at community@ricemedia.co