Feminism in China: Much More Than You Think It Is
Commentary
Current Affairs
24 Oct 2016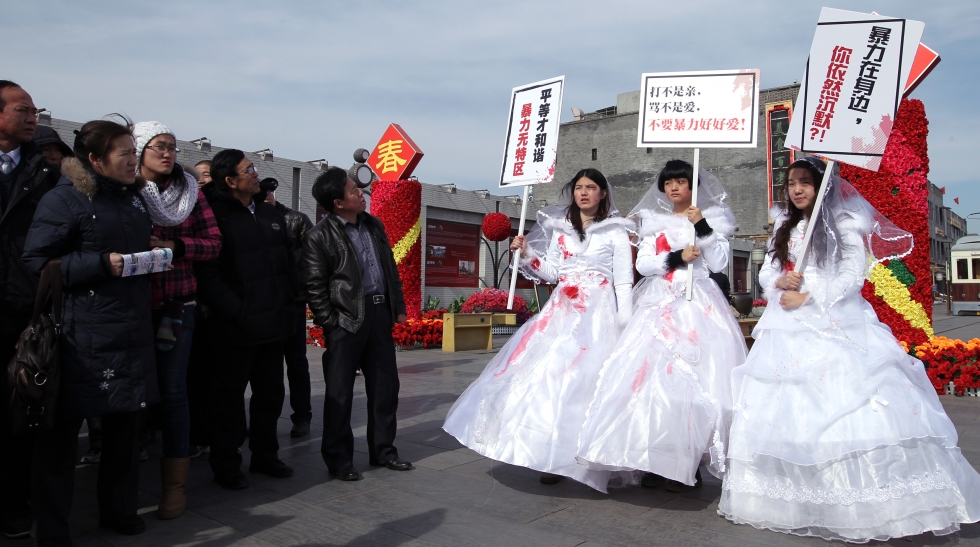 Image credit: The New York Times
Feminism in China is a website that reports on movements like Bloody Wedding Gowns (by Li Tingting), which start important conversations about women's issues and traditional stereotypes. 
When one thinks of China, civil rights activism isn't something that usually comes to mind. According to Human Rights Watch, China continues to curtail a wide range of fundamental human rights. They have routinely dismissed such ideas as "foreign infiltration," and activists are regularly detained and interrogated.
For women in China, life can be especially difficult. Today, there are 37 million more Chinese men than women in China, a result of China's one-child policy and a preference for sons over daughters (baby girls were frequently aborted). In China, women must score higher than men to get into the same university, and China's traditional patriarchal society means that women continue to face job market discrimination as well as pressures to remain domesticated. At the moment, 56% of all female suicides in the world happen in China.
These are just some of the issues that Feminism in China raises to show us why, more than ever, China needs feminism. Despite the grim statistics of women's rights violations listed on its "Overview" page, the site is anything but a compilation of preachy op-eds.
Instead, it documents everything from civil rights movements to art exhibitions. There is a story on NGOs in China and how they come up against the public influence that determines political decision making. It highlights the areas—anti-violence, drug rehabilitation, labour rights, legal aid—that these NGOs are currently working to improve.
Another story describes how a student, Xu Zihua, along with 16 school mates from Beijing Foreign Studies University (BFSU), posted photographs of herself holding up messages saying, "My Vagina Says: I Want Freedom." Amongst her friends, there were some variations on this theme. One read "My Vagina Says: I want respect" while another proclaimed "My Vagina Says: Please don't use love as an excuse."
The pictures were meant to promote a campus performance of The Vagina Monologues, a controversial play from 1996 by the American playwright Eve Ensler that deals with aspects of the feminine experience. These aspects range from sex and love to masturbation, menstruation and giving birth. In 2006, The New York Times called The Vagina Monologues the most important piece of political theatre of the last decade.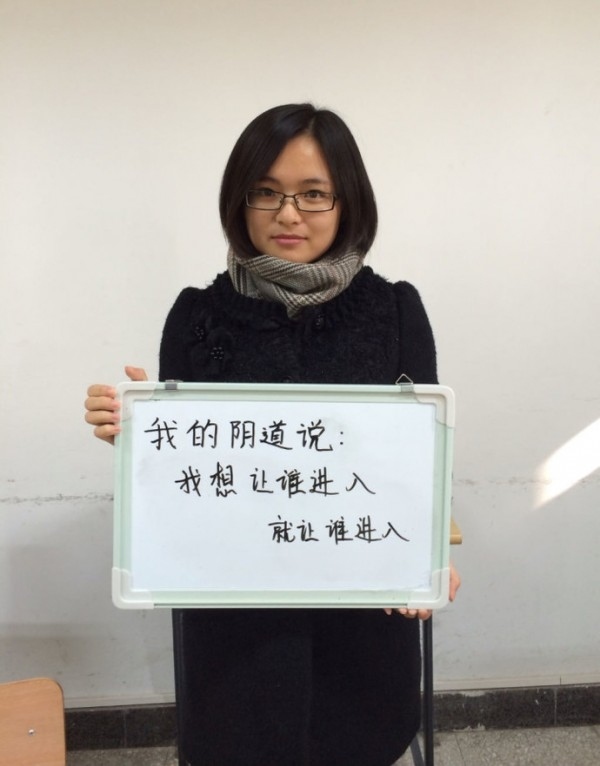 This was just one of the many viral movements that Feminism in China reports on, many of which have faced backlash from China's online communities. Comments regularly take the form of misogynistic snubs like "Seeing their faces, I've lost all interest in their vaginas" or "Wouldn't an orgasm be what they want the most?" In the case of the above-mentioned photo campaign, there were even furious parents who called BFSU to complain.
"Why do I have a daughter like you? You are so deviant!" one said. Xu Zihua also related that her boyfriend's parents had also called him to ask what was wrong with her.
These things happen with frightful regularity because a large part of the fight for feminism takes place online. Platforms like Sina Weibo and the video-sharing website Youku are currently the main avenues for these activities. Because the main media outlets continue to be controlled by the government, feminist voices tend to be marginalised due to their lack of resources to compete in the media market and be heard.
Bcome and Media Monitor for Women Network are currently two of the most active and influential movements on the frontline of feminist activism in China. Other than protests, they organise panel discussions and performances as well—a testimony to their belief that change doesn't happen with anger and revolution. Instead, it takes dialogue and and true understanding of what's at stake for enduring change to happen.
Under normal circumstances, China wouldn't exactly be the beacon of hope for righting society's imbalances. Yet its grassroots feminist movements have demonstrated a keen awareness of what needs to be done. Not only do they address issues beyond systemic discrimination—like domestic violence and access to legal services—they continue to show that a relentless, irreverent voice is what's needed in the feminist conversation right now. Considering what they're up against from the country's authoritarian regime, it's nothing short of inspirational.