Genderless Toilets Open in Beijing
Commentary
Current Affairs
30 Jul 2016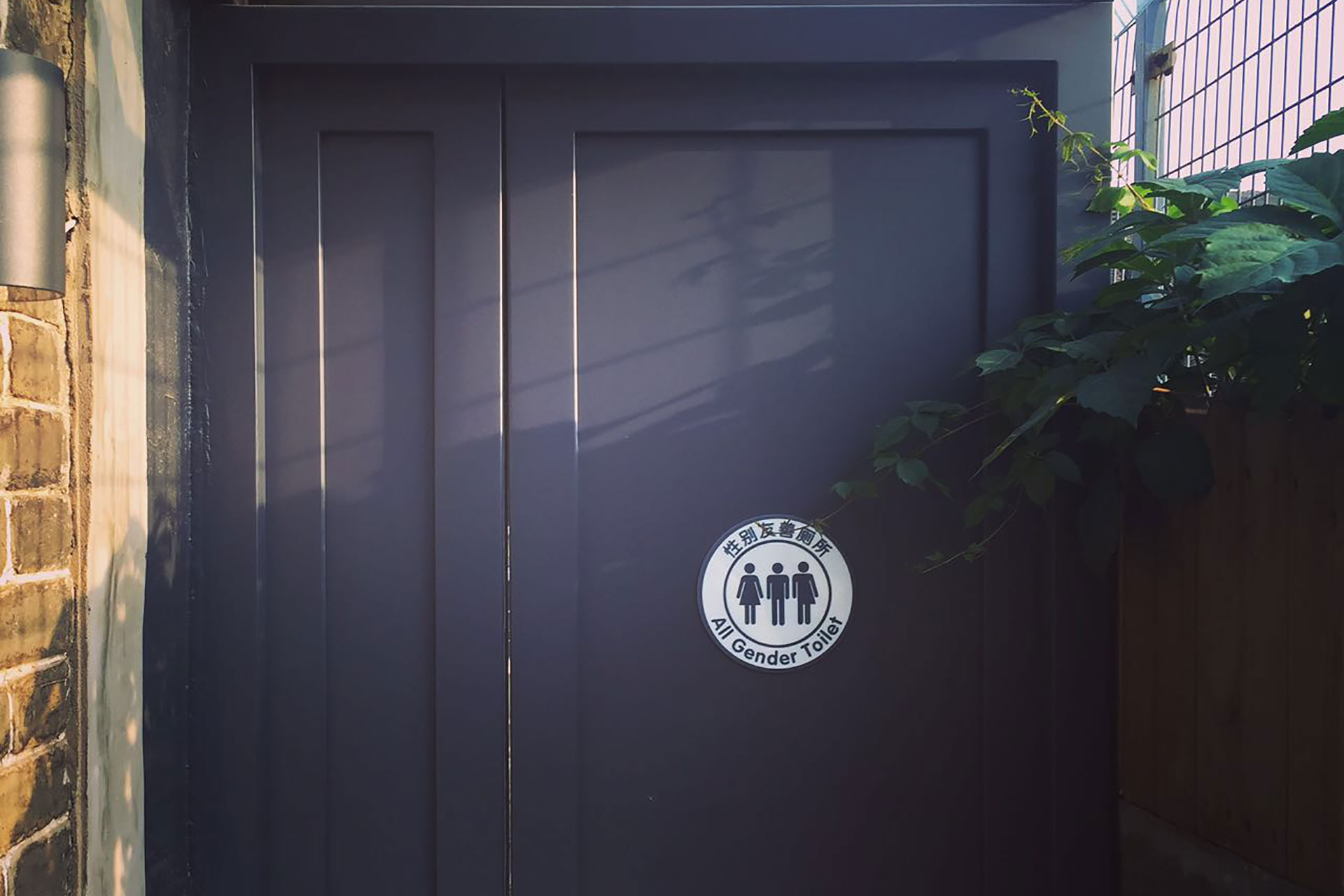 "Get out. You're not welcome here."
One curt question followed, and then another. She insisted she'd done nothing wrong, even suggesting he search her bag and phone to be sure. That's when he called her insane, and told her, once again, to leave.
Chao Xiao Mi didn't bother explaining to the mall security guard that she was a woman. Or how she was only using the women's restroom as a last resort. After all, he clearly wasn't interested in negotiating the linguistic maze of LGBTI friendly expressions that include phrases such as 'woman born in a man's body'. To Chao, she was a woman through and through, regardless of how she looked.
It's now the summer of 2016, and she is sitting in her shop in one of Beijing's traditional hutong alleys, recalling the incident that led her friend, Martin Yang, to found the city's first all gender toilet program. Yang works at the Beijing Gender Health Education Institute (BGHEI), and in his experience, such mistreatment is far too common for both trans people and the broader LGBTI community. "It has even happened to me," he says, "I used to have long hair, and because I'm so petite, when I went to the men's room guys inside would get visibly uncomfortable and quickly leave."
It was the severity of Chao's case that prompted Yang to act. In the ensuing months he began consulting many transgender Beijingers, about their restroom needs before reaching out to LGBTI friendly establishments to see what could be done. The result: more than 20 Beijing venues coming aboard in an outpouring of support.
Those locales vary from bars to cafes, and even include an international school and Beijing's office of U.N. Women. Yang hopes to add more to the list, and since its launch in late May, each of the program's participating venues has received certification—an "all gender toilet" label for their loo's door, and a spot on BGHEI's digital map of trans-friendly places.
Arguably the most famous establishment in BGHEI's all gender toilets program is Adam's, a prominent gay bar in Beijing's trendy Sanlitun neighborhood. Though he is not transgender, owner Mondo Wong is not unfamiliar with the community's issues, saying: "I have a girly face, so when my hair was long I had to tie it back when I went to public toilets, just in case."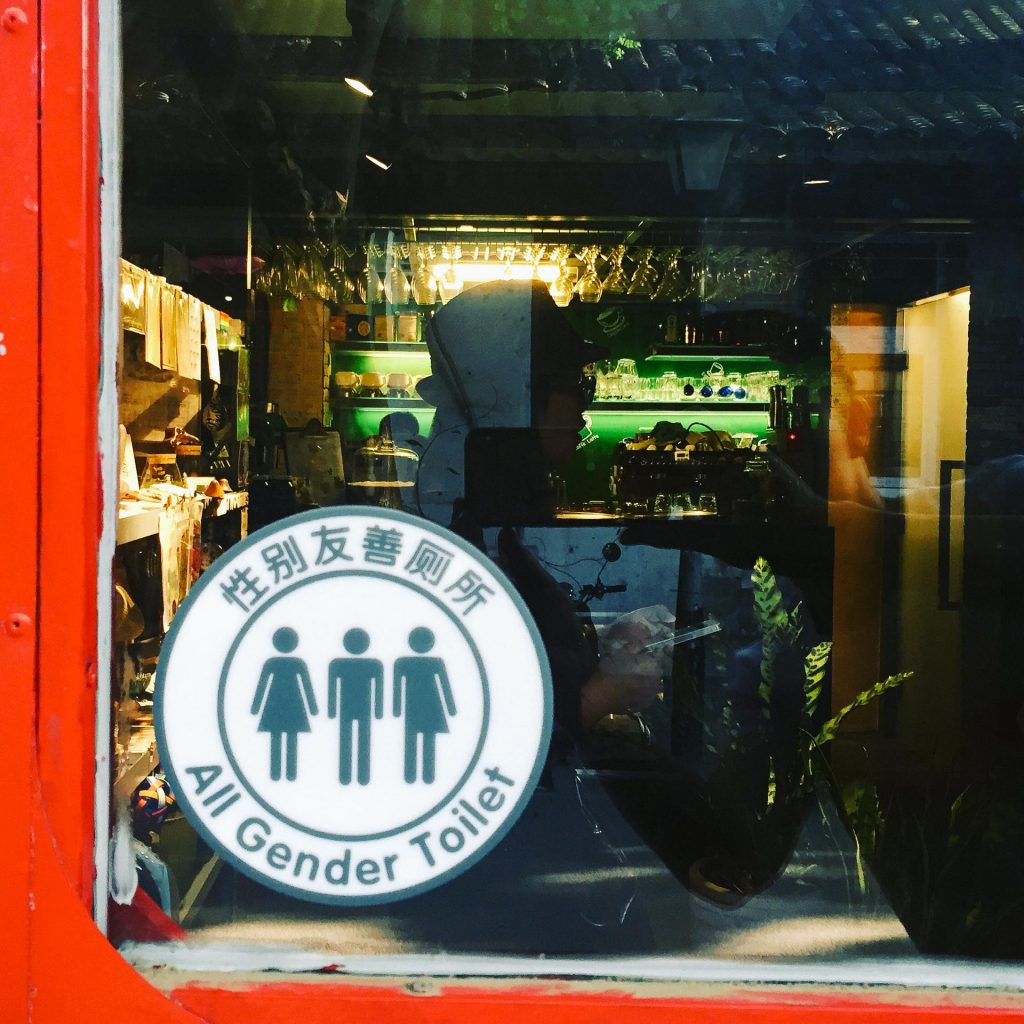 Hitomi Saito, who is transgender, echoes Wong's sentiments. Such restroom issues can be cumbersome for his fellow FTM (female-to-male) counterparts, the 17-year-old international school student says. Born to a Japanese father and a Chinese mother, he identifies as a man despite being born in a woman's body. Saito is one of the many transgender people that Yang consulted, and has provided a wealth of tips on further developing restrooms for a spectrum of trans users. These include the installation of both urinals and toilet bowls, readily available paper sheets for covering seats to keep them clean, and more.
While Saito is pleased with the progress achieved thus far by the all gender toilet project, he is under no illusions about China leading the international charge for trans rights. For instance, despite the relatively easy access to Sex Reassignment Surgery (SRS) now available at a well-reputed public hospital in Shanghai, other regressive policies still abound.
Chief among them is how transgender people continue to be diagnosed as mentally ill under the Chinese Classification of Mental Disorders. In addition, Saito remains concerned about the lack of ready access to quality hormone therapy. He describes a Chinese testosterone treatment that can only be purchased at one hospital, which is, shockingly, tainted with chemicals that have led to drastic side effects like hair loss, oily skin, and weight gain. This subpar hormone's desired effects, on the other hand, like voice deepening and the ceasing of the menstrual cycle, are far slower to take hold in comparison to its American counterparts.
"Given the lack of trans rights in neighbouring locales like Singapore, where homosexuality is still a punishable offence, Yang feels he must remain positive."
Yang doesn't deny that these hurdles trouble him. Even at the height of the all gender toilets' positive press coverage, he knew that the work for China's trans betterment had only begun. He says: "Our main goal with this project is to raise public awareness about gender diversity and equality issues."
Given the lack of trans rights in neighbouring locales like Singapore, where homosexuality is still a punishable offence, Yang feels he must remain positive. "We cannot say whether we are better or worse than any other Asian city as we are different in so many ways," he says. Of the state of Beijing trans rights, he adds: "Challenges and opportunities lay in front of us in every city… But I feel hopeful when I see venues welcome the all gender toilets in Beijing."
Chao agrees, and hopes the project's positive publicity will promote its venues as safe spaces for transgender people. She knows how critical such havens are, having worked to make her small hutong shop—which she has fittingly dubbed Equal—a place where transgender people can buy vintage threads in peace while seeking counsel about sensitive matters like coming out. But Chao also aims to cater to straight female customers looking for chic clothes, and hopes that all venues with transgender friendly toilets will flourish as hot spots for Beijingers to become better acquainted with each other.
As she puts it: "I hope everyone can be friendly to trans people. I hope that trans people can live proudly like a rainbow under the sun, and have their own toilet, their own work, and their own style.