Taxis Are Changing Perceptions of Design in Mumbai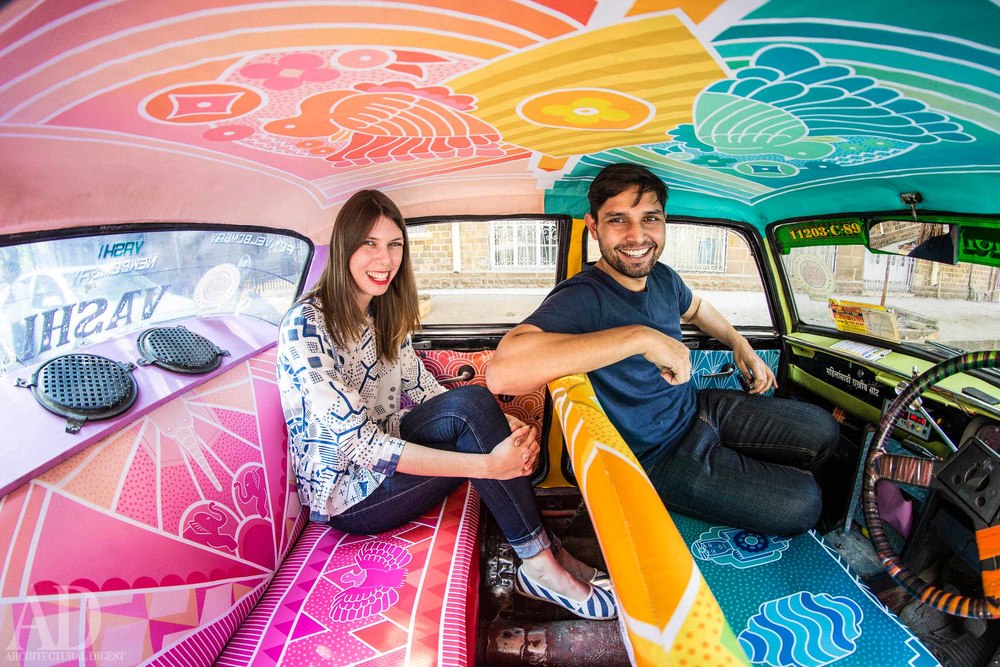 All images from Architectural Digest India, Neville Sukhia, Sumedh Salvi and Taxi Fabric.
The whole city is their gallery as their artworks parade on its wide roads and meander through its nooks and crannies. Taxi Fabric is essentially a platform for designers to transform the interiors of certain iconic modes of public transport like taxis and autos into beautiful and thought-provoking visual stories. The project started with a simple aim – to give the field of design the status it truly deserves in a country like India where it is often carelessly labeled as a "non-serious profession".
After a successful Kickstarter campaign, the project has managed to get some of the most remarkable Indian designers to the forefront and convert taxis and autos (so far in Mumbai and Delhi) into an even stronger and contemporary symbol of Indian city culture. The project has been a runaway success. And its originality, universal nature and sheer brilliance have got it many global admirers as well, including Coldplay's Chris Martin.
 Taxi Fabric now seems to be entering a new phase with its most recent collaboration with Google India and with the launch its textile division. The project is now nestled under A Good Feeling, a design studio helmed by Sanket Avlani, curator and co-founder of Taxi fabric, that wants to do work that truly impacts culture.
We had a chat with Avlani about these new developments:
Can you tell us a bit about the #GoogleAtTheMovies collaboration?
#GoogleAtTheMovies campaign is simply about asking Google anything related to Bollywood. (Google has recently customized its search tools to cater to numerous Bollywood fans in the country). The collaboration was driven by Pranav Bhardwaj, art director, Toaster – Google's sister company. Google has collaborated with Delhi based Painter Kafeel to create hand-painted posters for iconic movies which we are now incorporating (digitized version) in our taxi designs. 75 taxis have been commissioned as part of this project.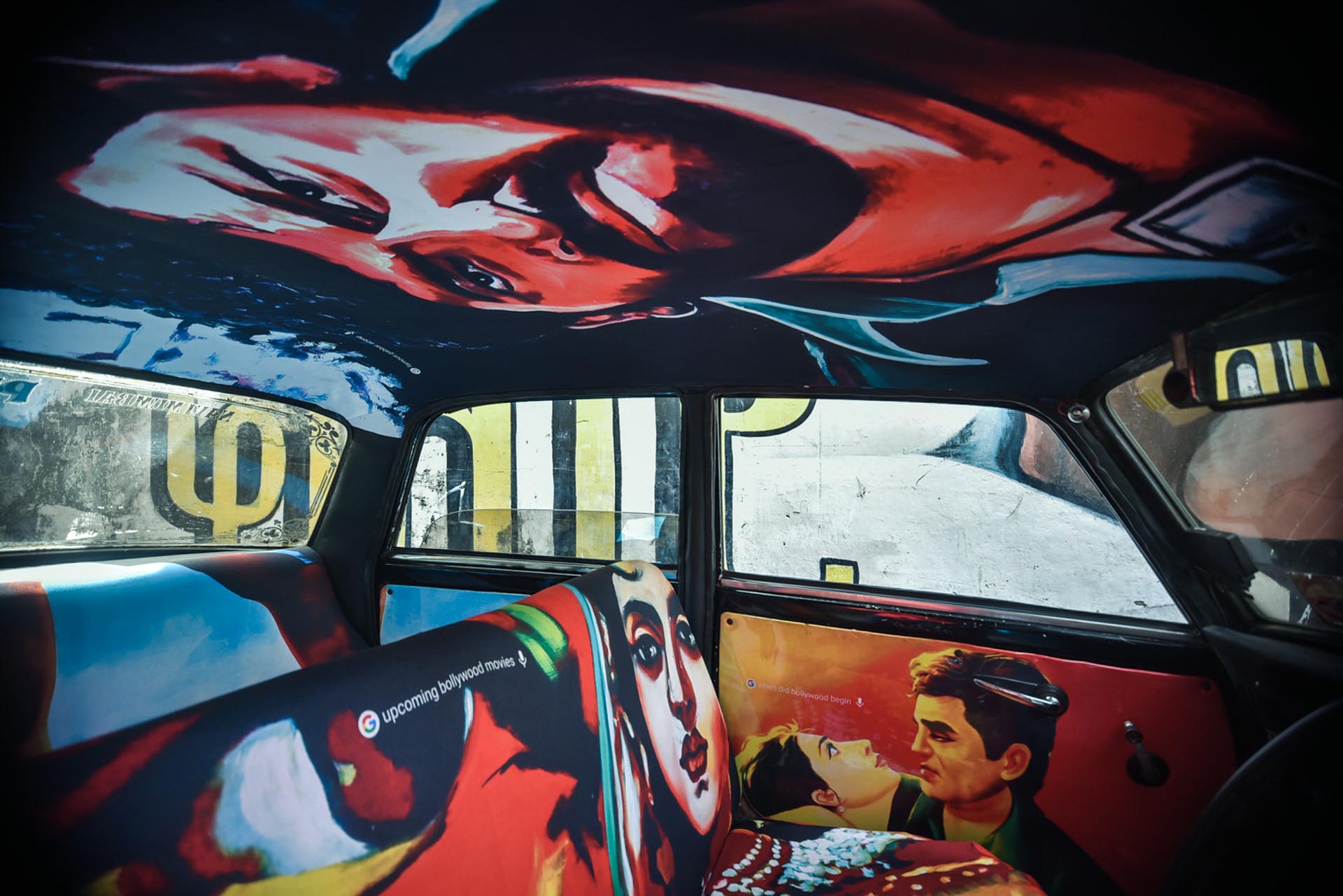 What made you take this up?
We have been trying to work with brands for a while now, but it hadn't really worked out so far as we really wanted to work with brands that understand what we are all about. Google came in with that ability to understand the project in its entirety, and with a good collaboration idea.
While most collaborations are about branding, Google wanted to focus on the experience. They knew that if the experience is engaging enough, people would eventually want to know about the brand behind it.
Every taxi poster designed for this collaboration will feature a question about Bollywood that you could ask Google. For example, if you ask 'What was Sholay movie's budget?' on Okay Google app, you will get a specific answer because it is already integrated in their system.
We felt that this was an interesting and novel way to integrate design with technology. Aside from adding a new dimension to the project, this also made the experience more engaging and interactive to our audience.
It's also a culturally relevant project for us. Bollywood is omnipresent in Mumbai, and it's something that people immediately connect with. It helps us to continue focusing on doing things for the people of the city, inspired by the city.
You also recently launched Taxi Fabric's extension brand Taxi Fabric Textiles. What kind of products/textiles will we see under this extension? 
This has been done clearly to say that we are now in business. While Google might be a great example, brand collaboration is not really the future for us in my opinion. If the project has to truly survive and flourish, it needs its own sustainable model.
We know that people like our fabric, the prints we develop, and the stories we weave into them. Now we are creating lifestyle products based on those and also textiles, which will be the biggest draw because you can use that textile to do anything, like create a sofa cover or a dress for yourself. We will provide on demand, customized, limited edition pieces, and will be retailing on our own website.
How much has Taxi Fabric's goal to promote the field of design in India been fulfilled? 
We are taking this goal further through the launch of textiles. It's a profit sharing model, which means that we are and will be one of the strongest platforms for designers. We are looking at new industries now – home décor and fashion – where we are introducing illustrations in the purest forms. Everything is inspired from the city, and we come up with larger than life interpretations of these simple objects and observations for our fabrics. From taxis we are now moving into people's homes and promoting design.
Overall, there has been a conversation on design since we started. When we meet our taxi drivers, they tell us about the talks they have had with the passengers about the fabric, designs, ideas, etc. The support that we have garnered thus far is encouraging, and I would say that it is small, but sure sign that public perception of design in India is changing.
We are evolving slowly. It will take some time to warrant a stronger change in perception of design in India, but it will happen.