By day, Toa Payoh East is just another sleepy street where HDB flats give way to an industrial estate.
But observant passers-by would spot something amiss. Tents—the kind you see at void deck weddings—shelter a section of unused pavement outside Pei Chun Public School, and plastic chairs lean against its chain-link fence.
At the end of the street, there is a light-blue portable toilet and a shrine to the Laughing Buddha.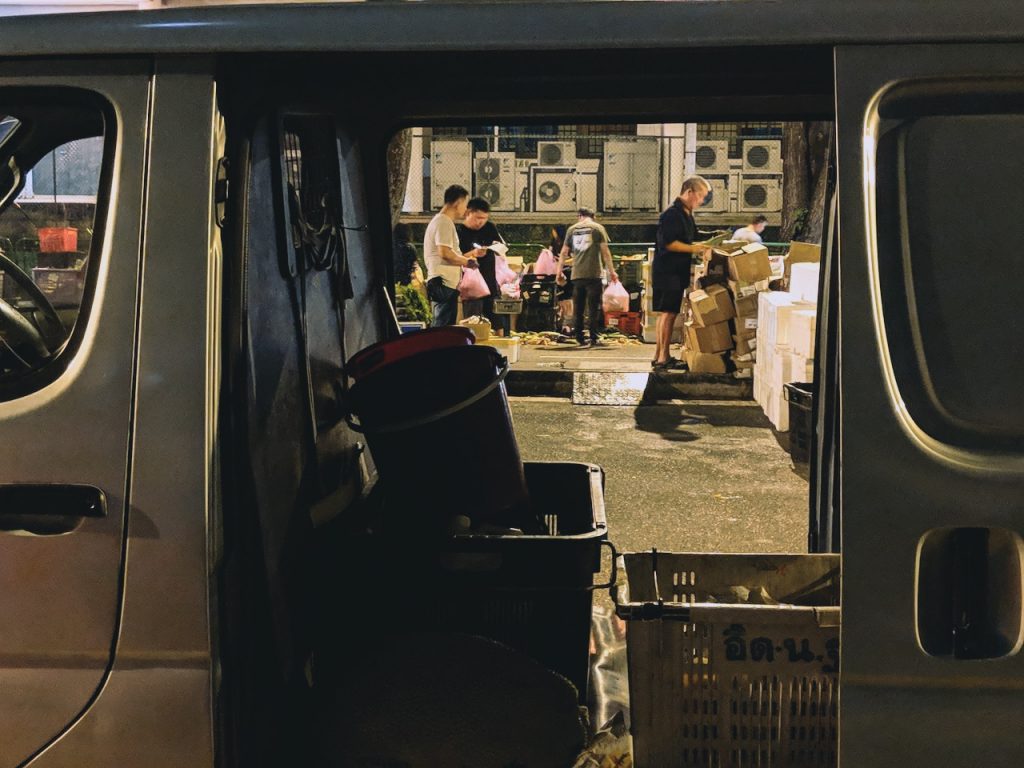 The toilet and the shrine only come into use at night. Around 10 PM, under the orange glow of street lamps, lorries park by the roadside and begin unloading crate after crate of fresh vegetables from Malaysia. There are white styrofoam containers of chye sim, black crates of eggplant, large sacks of potatoes atop green plastic pallets, bags of carrots, large bitter gourds, cucumbers, mushrooms, and more; more than this millennial can identify or describe. In some places, tarp is laid upon asphalt so mountains of fresh chilli can take shape.
Customers squat kerbside to pick out the best, before heading over to the lorry bed, where a makeshift cashier is waiting, lit by a Halogen glare.
Whilst Singapore sleeps, the quiet street slowly turns into Toa Payoh East Vegetable Market.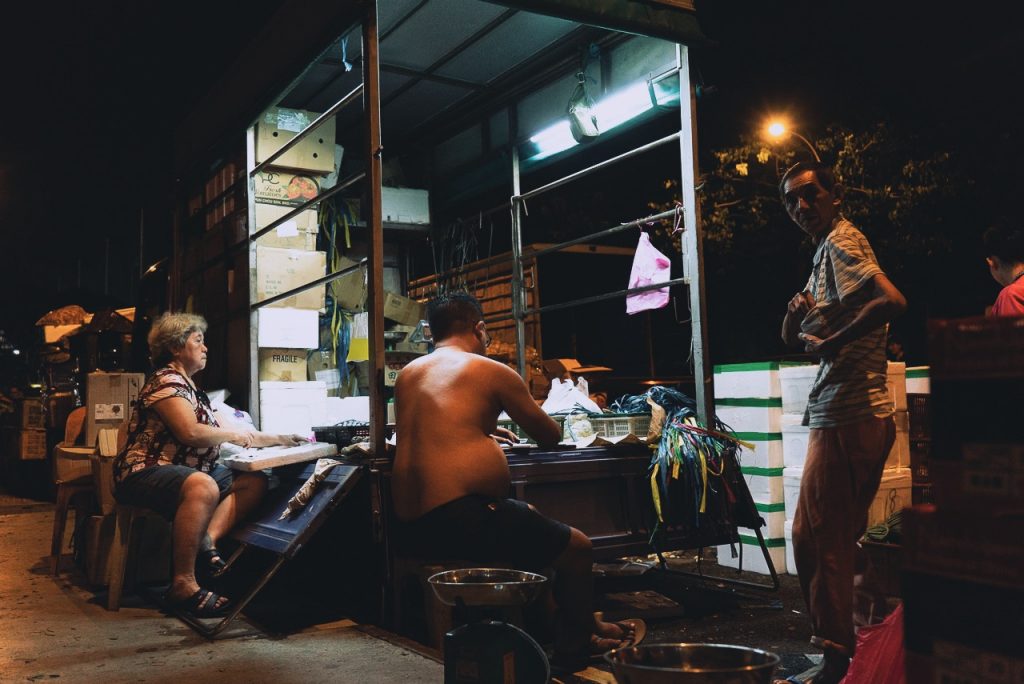 If you've never heard of it, don't feel bad, it is not exactly Jurong Fishery Port or even Pasir Panjang. This vegetable wholesale market has only 9 or 10 vendors, and it caters mainly to wet market stalls, hawkers, and other bulk buyers in the North/Northeast area.
It starts around 11-ish and is gone by 6, when the school day starts and traffic must flow once again.
Even Toa Payoh residents who live just across the road are not quite sure how it works. One friendly resident, who guided me to the location, tells me the market had been there since 1973, when he first moved to Toa Payoh.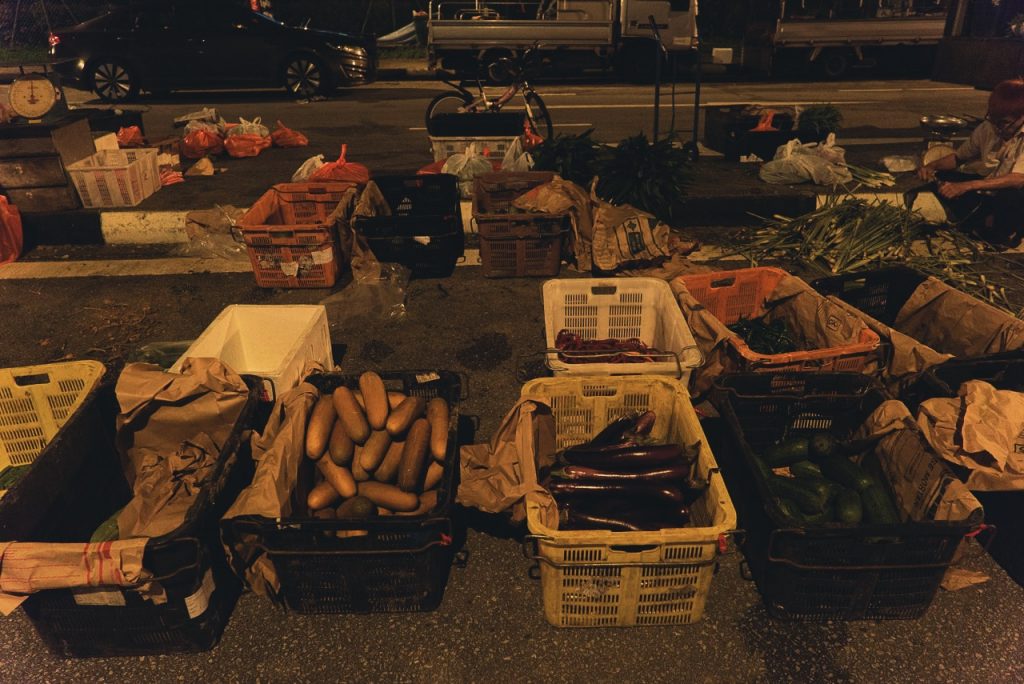 However, like me, he had only been there for 'sightseeing'. For his own shopping, he visits a regular pasar.
When I arrive shortly after 11 PM, business is just picking up. Most of the vendors have set up shop, but some delivery trucks have yet to arrive. There's waiting to be done, and that's how we strike up a conversation with a regular who's been buying here for 11 or 12 years.
This regular is a hawker who runs a Yong Tau Foo stall in Kaki Bukit with his wife, catering mostly to  the 'office lunch crowd' and he's here tonight to pick up ingredients. He lives just 5 minutes away in Toa Payoh, and visits because it's fresher and cheaper compared to supermarkets.
"You can get $100's worth of vegetables for maybe $60 to $70 dollars," he reckons, "Because it comes direct from Malaysia."
As we speak, a truck bearing the name 'Raj Agency' squeezes between the crates and begins unloading, but it is not his delivery.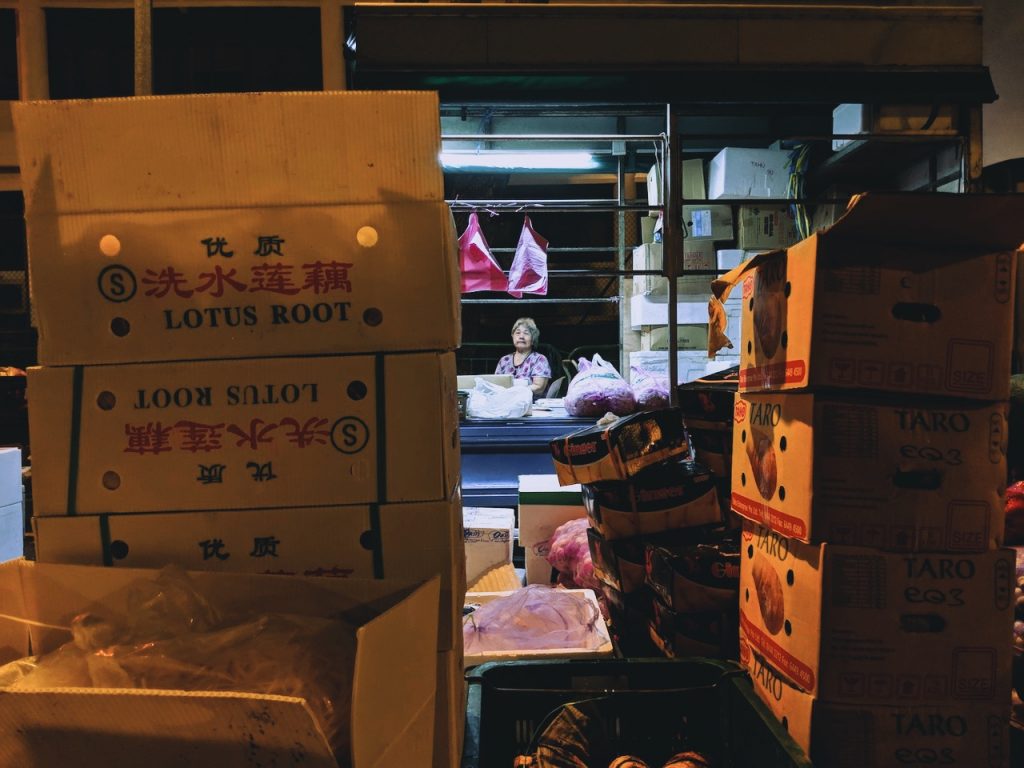 Our conversation drifts towards the difficulties of hawkers and vegetable vendors alike. The profit margin of hawker food is very low, he laments, and you need to sell a huge number of dishes to make money. Like many Singaporeans, he is also deeply suspicious of the "government's social enterprises", or "what's happening at old airport road".
"You telling me they take over and lose money? Cannot be," he said.
Likewise, business is rough for the vendors here. If they can't sell everything, what's left has to be thrown away.
"Sometimes, the old folks homes will come later, at 5 AM, and the vendors will give away what's left of their stock as charity," he said, "But what can you do? Nobody wants to buy yellowing leaves."
When we suggest franchising his stall for more profits, he guffaws.
"My own kids are not interested. When they were younger maybe, but I have to force them to help by using pocket money," he says with a chuckle.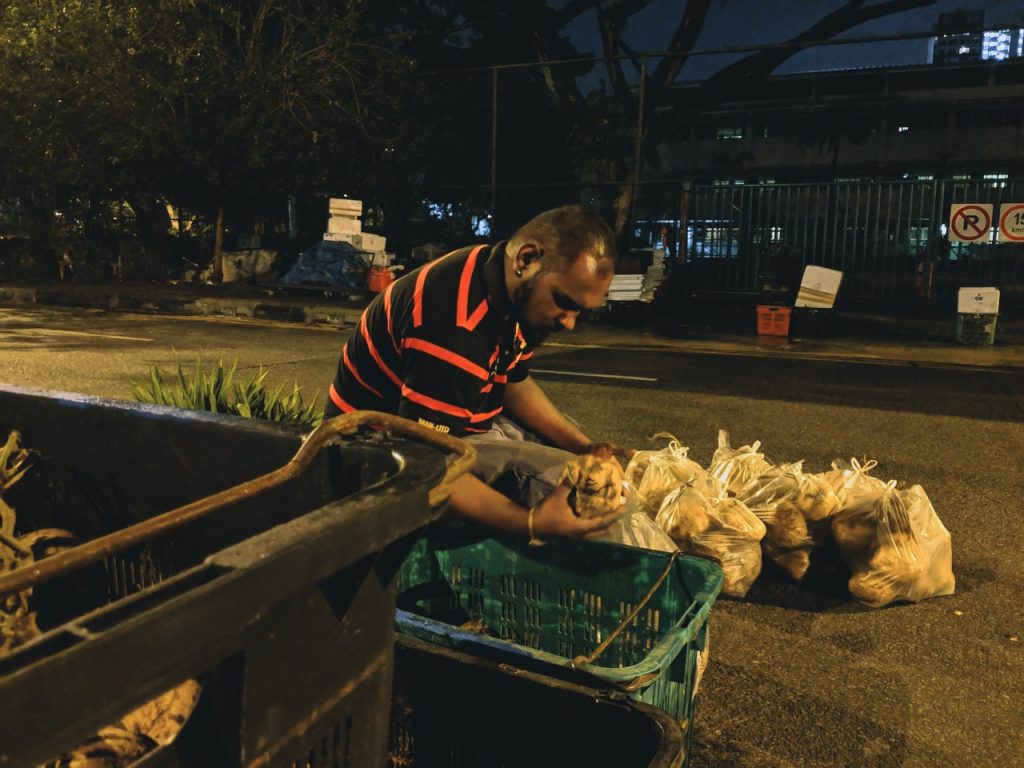 Most of the bosses are in uncle/auntie territory, and their younger stall assistants seem to be PRCs or Bangladeshi foreign workers, so imagine my surprise when I hear 'ang moh', and turn my head to see a Caucasian face in the crowd.
The 'Ang Moh' in question is Mr. Gino Abate, a F&B proprietor who runs three establishments, including The Reading Room (ft. Crazy Rich Asians) and Craig Road's Pastaria Abate, where his wife works as the head chef.
"It's a nice atas setting … but no GST and no service charge," he tells me with a grin.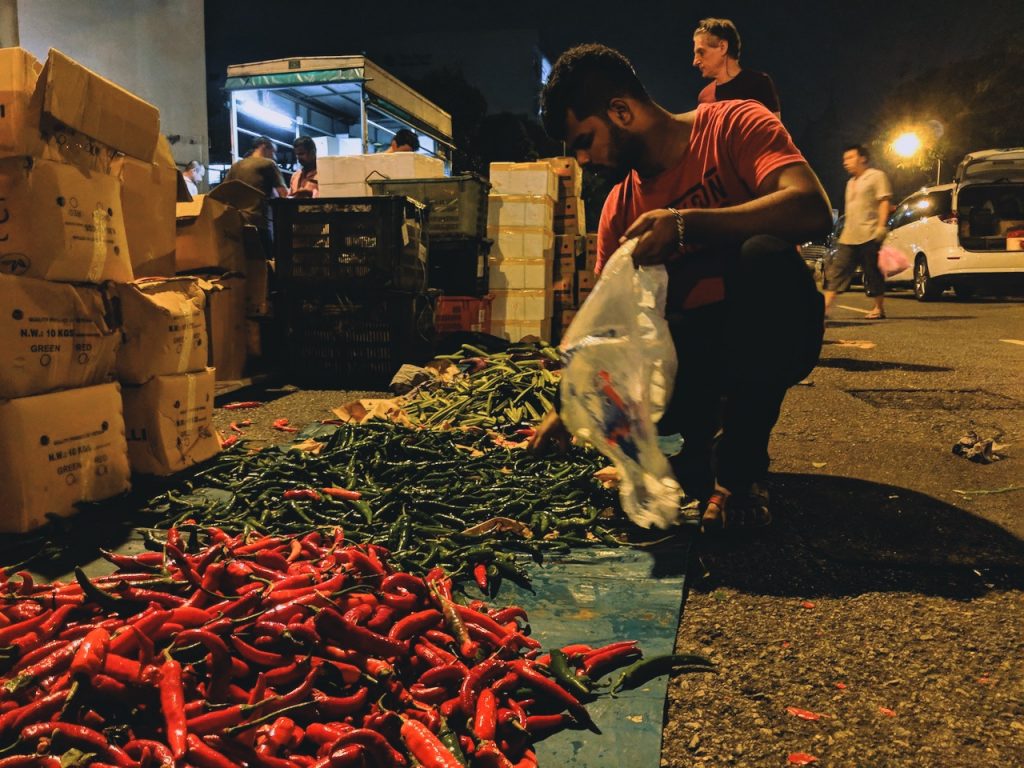 Gino is an Italian who moved to Australia and then Singapore, where he has settled for "about thirty years". He has shopped at the Toa Payoh East for more than a year, so most of the vendors know him. He shops here because what the market offers is of better quality than what he can get from his suppliers.
It's also pretty convenient. Not too long a drive from his place in town.
Tonight, he's buying mushrooms, shallots, garlic, and basically "everything you need to cook with". The mushrooms will go into the sauté pan tomorrow, along with porcini that he sources from elsewhere. His delivery too is nowhere in sight.
"I asked the guy and he said wait another 10 minutes."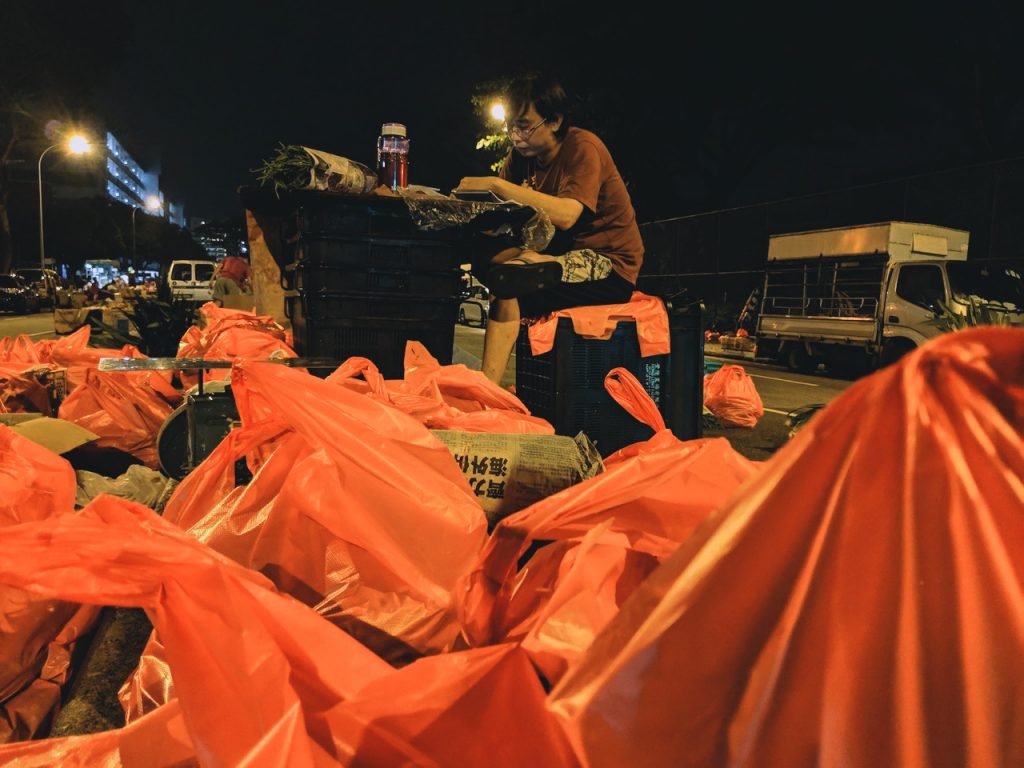 The customers prove affable enough, but the vendors are a tougher nut to crack. Most of my banter is rebuffed with friendly but terse replies.
"I busy, you go and ask him? He is the oldest here," says one of the bosses, pointing at a tanned elderly man with the broad shoulders of someone long used to manual labour.
The man is Mr. Wu, the market's longest-serving employee at 71. He has worked at Toa Payoh East for about 40 years, or since his twenties. He seems guarded at first, but eventually, he pauses his work to chat.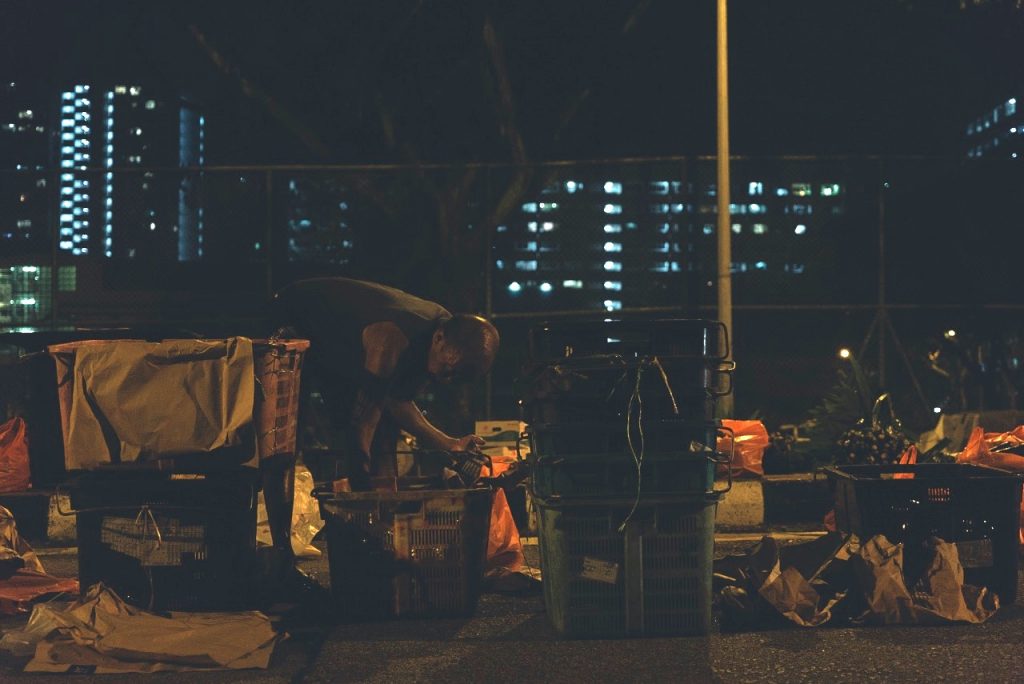 In the past, when he first began, there were no roads, lorries or HDB flats. The vegetable market was always here, but the produce did not come from Malaysia. It came from the many nearby kampungs, on the back of bicycles.
"There were a few vehicles, but they were tiny ones," he recalls.
A member of the Teochew dialect group, Mr. Wu lived in Kampung Potong Pasir and like most kampung residents, he grew "leafy" vegetables like kailan and caixin. Nothing "dry" like aubergine or cucumber, he adds.
When they were ready, he would pedal them to Toa Payoh East—not this Toa Payoh East, but the original Toa Payoh East market, which was further up the road, near Lorong 6.
"The market moved three times," he explains, though he cannot remember when or why.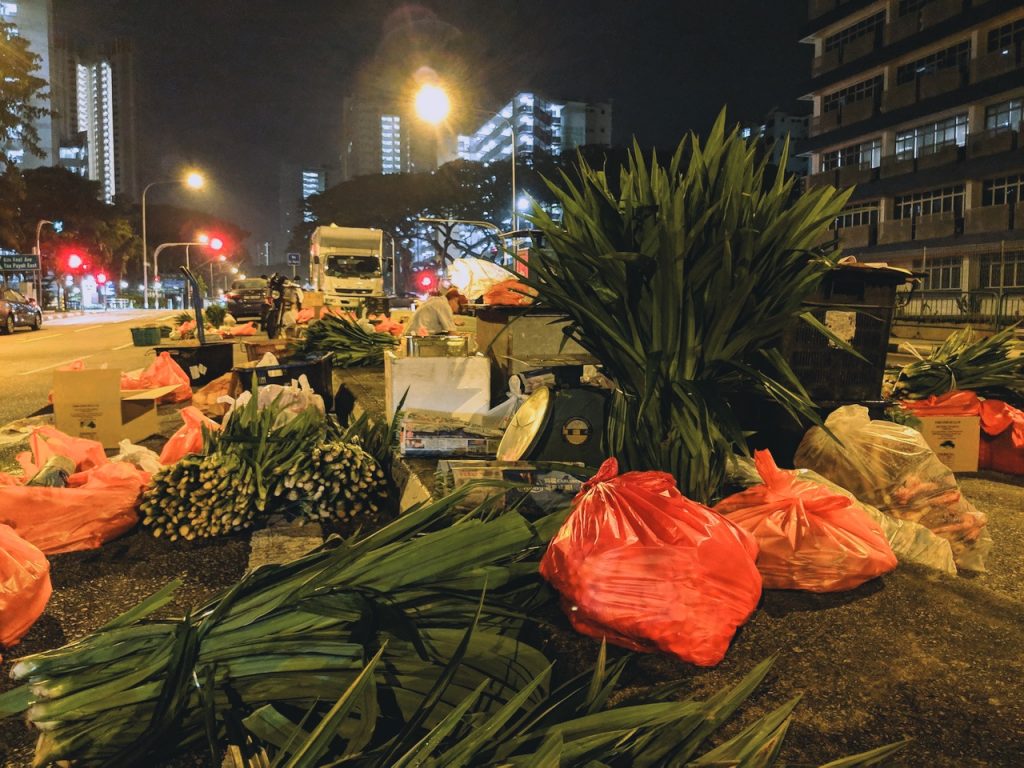 Unlike the other vendors, who give non-committal replies, Mr. Wu snorts derisively when I ask if business is good. He throws out a single despairing arm to gesture at what he considers a  "non-existent" crowd. He tells me that in the old days, this place would be packed to the brim with customers until daybreak. Nowadays, he starts at 9.30 PM and is mostly done by 12 AM, which is why he can spare the time to talk.
"Business? Where got business? Today even supermarkets are 24 hours," he said.
Mr Wu has 2 sons, and they are both well-to-do professionals. His eldest is a director who works in Beijing for a five-figure salary, while the younger runs self-service laundromats. He can afford to retire comfortably, but wants to work until he cannot work anymore, because he believes that life will end when he leaves the market.
"I've been working for 40 years, but if I stop, I will be dead in 3 or 4 years," he said, crooking his index finger to make the gesture for death.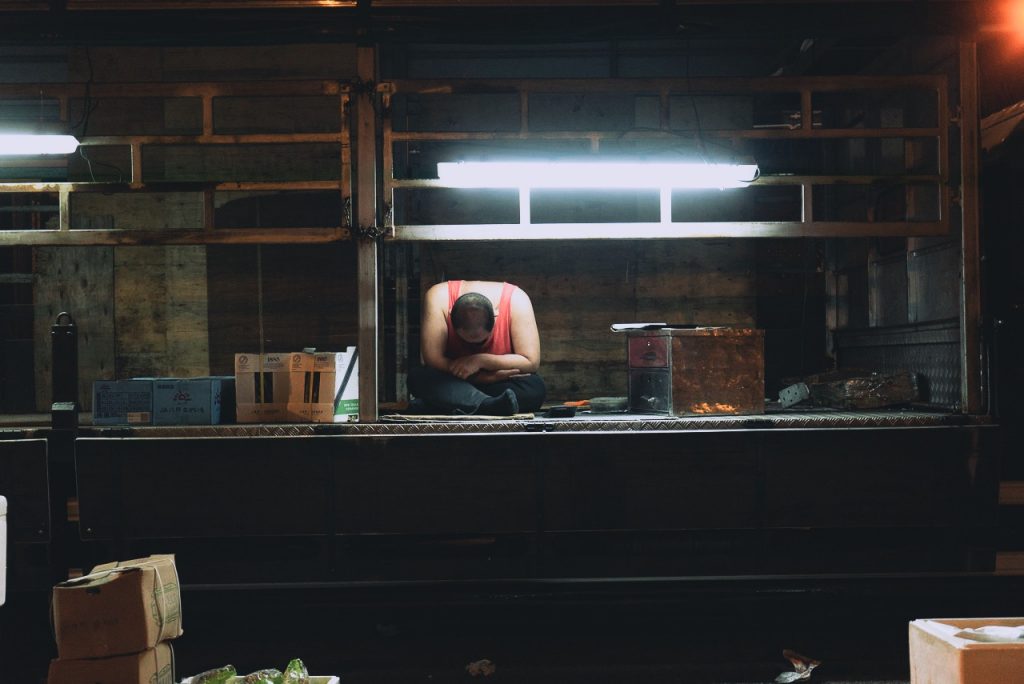 For him, the work of growing vegetables—and selling them—is something so fundamental that he cannot imagine life without it. It's "good exercise" to till the soil, he lectures me, and "we farmers have better health than factory operators because we work under an open sky and feel the soil beneath our feet".
Today, he still tends a small garden, but it's nothing like the old days. In fact, he wishes he could turn back time and trade-in his Ang Mo Kio flat for a kampung.
"Things were so much cheaper then. If I wanted vegetables, I just need to open a door and pluck them. Or I could buy them for 50 cents. Nowadays, where to find?"