Forget everything you know about Indian Muslim food.
Yes, this is a bold, melodramatic statement to make, but I've been getting the mad feels: last week, I had one of the greatest food epiphanies of my life and it all started from a decision to order Poori instead of Prata.
I remember it clearly.
I was stumbling home after my usual Friday night drinking sesh and I ended up where I always do – at the local Indian Muslim restaurant near my place. Being a creature of habit, I was looking to order my usual supper menu, a plain Roti Prata (or Roti Canai, if you're Malaysian) washed down with an iced coffee.
But before I could place my order, the restaurant manager suggested that I "try their Poori set instead". Perhaps he was sick of seeing me order the same thing all the time. Or perhaps the kitchen had an excess of Poori dough that they needed to move. Whatever it was, making suggestions to a drunk person is a great sales strategy because it usually results in compliance – I said okay, bring out the Poori already!
I immediately regretted my decision not to have Roti Prata but I was too lazy (read: drunk) to change my order, so I sulked in my chair for about 15 min.
And then the Poori arrived: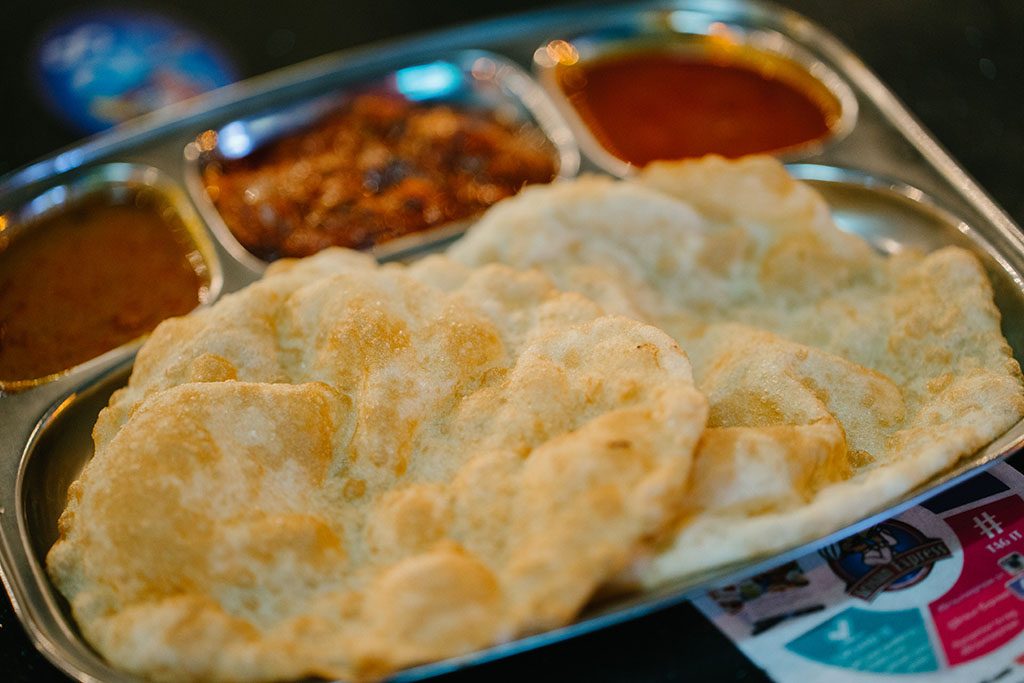 Maybe it was because I was inebriated. Or maybe it was because I was really hungry. Either way, it blew my fucking mind.
What is a Poori?
For the uninitiated, a Poori is an unleavened Indian bread that's deep fried in ghee. It has a crispy shell which is light yet indulgent at the same time, and each bite has the familiar consistency of a Chinese dough fritter. It is in effect, a Roti Prata on steroids.
Unlike Roti Prata however, Poori has not quite taken root in mainstream Singaporean and Malaysian food culture. This is despite the fact that you can order it at most Indian Muslim restaurants; if they serve Roti Prata, chances are that they serve Poori too. Perhaps it's not quite as well marketed as its more famous cousin, but having sampled Poori, I can't think of a reason why I would ever order Roti Prata instead.
Despite its virtues, Poori remains relatively under-appreciated by the Roti Prata loving crowd.
For one, it just tastes better. It's puff pastry exterior gives way to a moreish taste that is absent in most Roti Pratas. The unique consistency of the pastry also means that it absorbs curry better than Roti Prata, a critical component of the eating experience (for the Nonya Chinese reading this, it evokes a feeling of dipping a French loaf into a bowl of your mother's chicken curry).
Logistically speaking, it's also easier to eat. Unlike Roti Prata, which tends to pull off in irregular chunks, Poori can be easily torn apart into nice bite sized pieces to fit a variety of mouth sizes – a perfect introduction to Indian food for junior foodies.
And perhaps most significant of all is the simplicity of the dish. In a world where you can literally order Roti Pratas with 100 different types of fillings – from egg, to cheese to durian, there's an existential purity in the fact that there's generally only one type of Poori that you can order.
Despite its virtues, Poori remains relatively under-appreciated by the Roti Prata loving crowd. Jayanthi Elan Goven, the owner of Sri Sun Express, seems to understand this and has made efforts to raise the profile of the dish in her restaurants. Sri Sun Express serves a ridiculously tasty version of the Poori by deep frying each piece to order. Check this out:
Will Poori ever overtake Roti Prata in the popularity polls?
Unlikely, but that doesn't really matter. As for now, all we can say is this: the next time you go to a Roti Prata restaurant, ask for Poori instead.