Photography from Let's Walk by author. This article may contain spoilers.
I feel very stupid around art. I'm far more comfortable at a festival like ZoukOut than trying to figure out how a streak of paint across a blank canvas carried by a man running on stage in a skin-tight bodysuit represents life.
To some people, accessible art spaces automatically mean good art. To me, museums, studios, and theatres mean shelter from the weather.
When I attended Yayoi Kusama's exhibition at the National Gallery last year, which was relatively mainstream, I struggled to make sense of her work after taking my share of Instagrammable shots. I remember nodding sagely in conversation with my friend at the end of our visit, and probably threw in some commentary about depression.
I might not understand art, but trying to understand it has made me worthy of an Oscar.
Nonetheless, I decide to go for three events in this year's M1 Fringe Festival to see if I will finally be enlightened.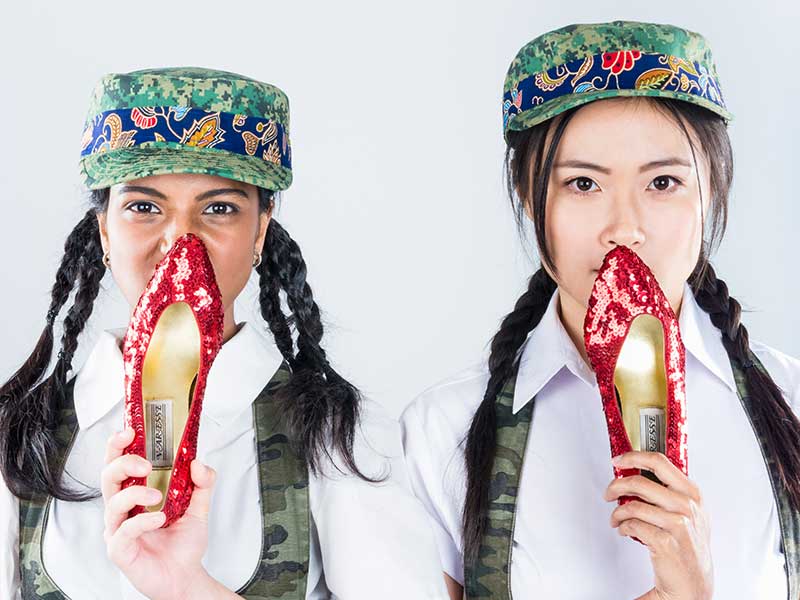 The lights dim in the studio theatre of the Nanyang Academy of Fine Arts (NAFA), and I hear the clickety-clack of high heels getting louder by the second. This is my first event of the festival:
Step Outta Line
by Thong Pei Qin and NAFA.
I keep an open mind, even though the online synopsis reads more like an esoteric academic paper than a marketing promo.
According to the guide, Step Outta Line is about "an army of quirky characters, as colourful as the assortment of ladies' high heels they brandish, questioning female transgressions, aggressions and negotiations within a patriarchal society".
It deals with "representations of femininity vis-à-vis masculinity", while tackling personal stories. It doesn't take me long to see that the production is as I expect: layered, complex, and mentally taxing.
On stage, there is a single male actor and about 10 women. All the women wear the same bright red heels, which I hazard a guess represent a woman's burdens. These include caring for one's children, the parameters of marriage (i.e., how men and women are conditioned to behave differently), breast sizes, and unrealistic fairytales that we're fed as young girls. Timely topics like workplace sexual harassment are also discussed.
A significant portion of the production deals with society calling women fat virgins. The most powerful line of the night is uttered, and I swear I hear the room catch its breath, "For a woman to be a fat virgin, it is not necessary for her to be fat or a virgin. Just a woman."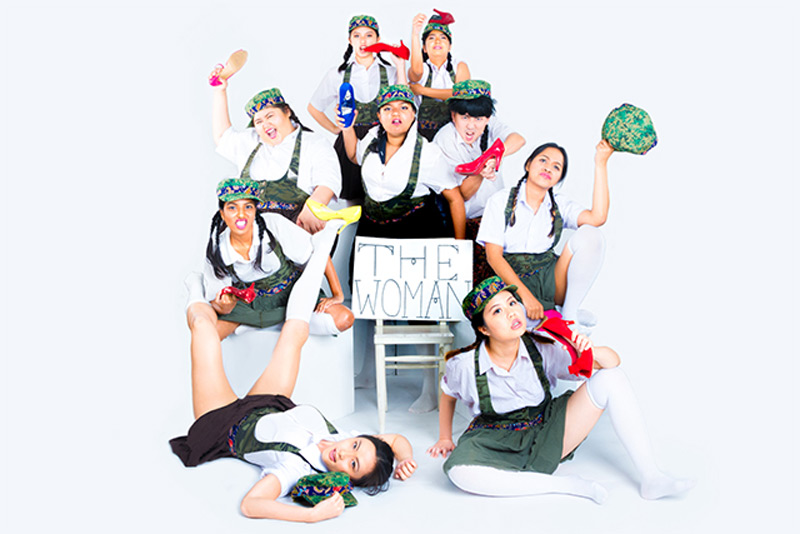 At the end, the girls come together to form a tree. I
think
this is meant to be a viable alternative to finding a man in life. The male actor takes their high heels off their hands and walks off stage. Again, I think this is meant to symbolise the removal of their burdens. But I'm not Channel NewsAsia's Mayo Martin so your guess is as good as mine.
To be fair, Step Outta Line does its best to be deeply relatable, which is a good start. If art hopes to make an impact, then it should tackle familiar topics in both the simplest and most affecting ways possible.
When the lights come on, I look around at the audience around me, many of whom are drama students from the School of the Arts. Throughout the show, they'd let out consistent gasps of appreciation. I also recall them in enthusiastic and articulate conversation before the show.
All I see now are their glassy-eyed facial expressions. One of them asks the group, "Do you get it ah?" Another replies, "Huh?"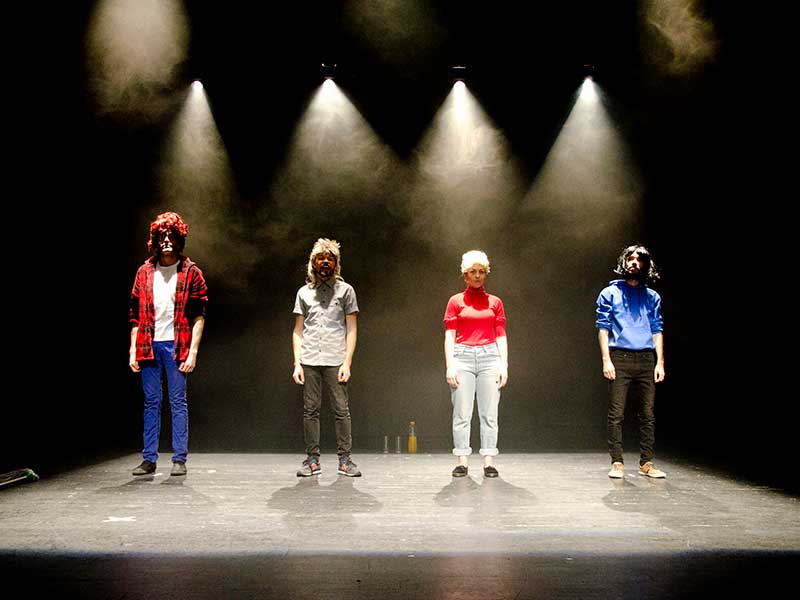 Armed with a warped sense of accomplishment for having semi-understood the previous night's show, I attend
All In
at the Esplanade the next day. This is the Asian premiere of Spanish theatre company ATRESBANDES' performance.
The synopsis tells me that the show "blends striking visuals, physical theatre and absurdist text, to present this darkly playful exploration of the human condition". It features "vignettes set in seemingly disparate worlds, incorporating dictatorships, nightclubs, national anthems, education and self-help manuals".
All this sounds very intimidating. However, the common thread that runs through the M1 Fringe Festival is the individual desire to break free from convention, and I can relate to that.
In any case, I figure that since I kind of grasped the underlying meaning to women marching around on stage in red heels, I can do this.
10 minutes into the show, I can't do this.
All In is (unintentionally?) humorous, but also complex af.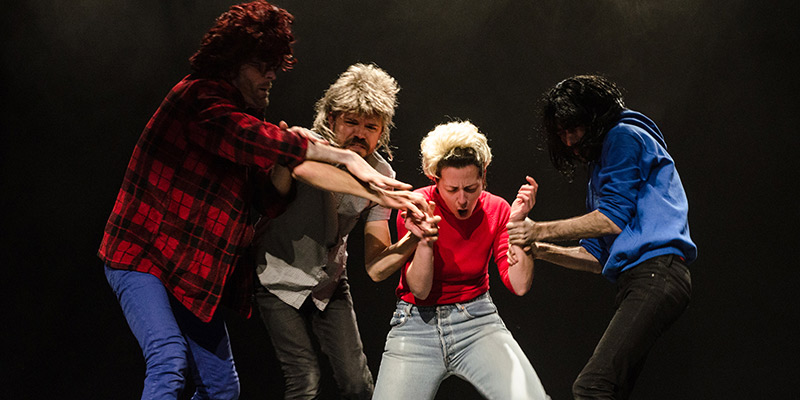 In the main act, the protagonist meets three friends, who invite him home for a meal. There, social norms ensue. From repeating conventional greetings among each other to coercing him into eating meat even though he is vegetarian, the three friends reflect the various ways society forces one to conform.
The protagonist rebels by vomiting onto the chicken and pizza, which is incredibly absurd yet a display of perfect comic timing. The entire hall erupts into peals of laughter. I laugh along, and wonder if I'm only doing so to fit in.
My favourite part of the production comes at the end, where videos of North Korea's Arirang Festival (mass games) are shown. The accompanying monologue states, "The people's addiction to the dictator can't be fought because it is inherently tied to the fear of being isolated and having one's life mean nothing. So you sell your soul to the highest bidder."
In relation to the festival's theme of straying from the norm, this is exceptionally poignant.
More importantly, it is the only part of the show that restores my faith in my intelligence.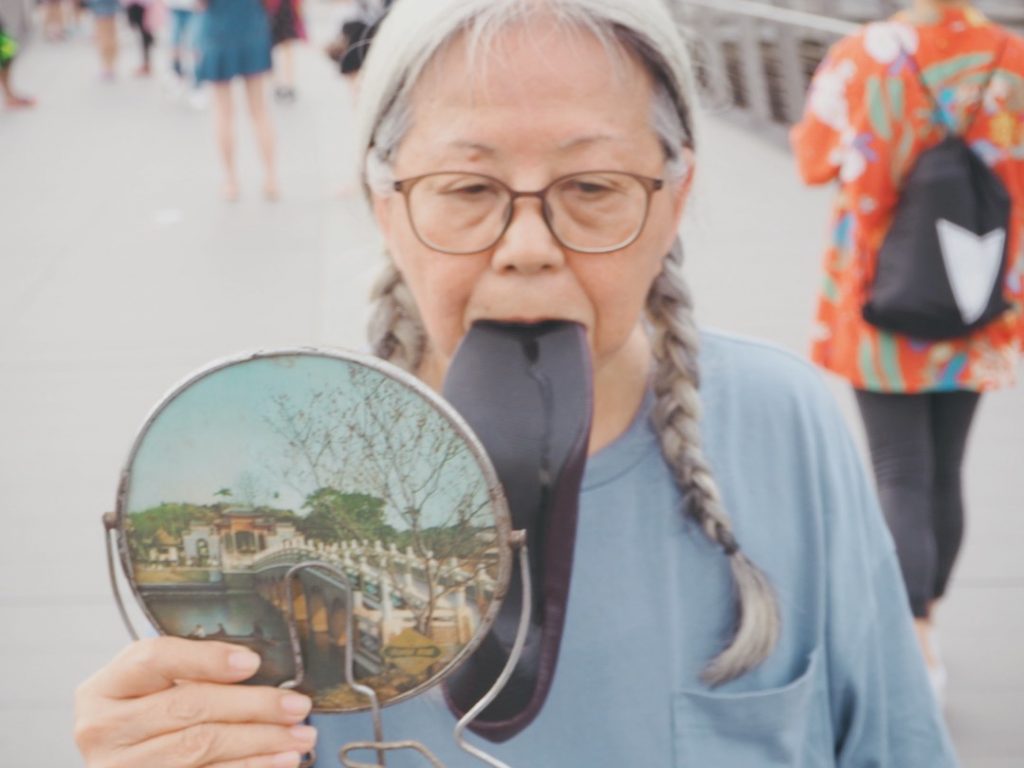 I haven't had any experience with performance art before, so I don't know what to expect when I turn up at
Let's Walk
by local performance artist Amanda Heng.
Her performance artwork invites participants to walk backwards with bare feet, holding one high heel in their mouths. At the same time, they hold a mirror up in front of their faces, which may mean nothing more than to ensure they don't bump into any obstacles behind. The route takes us from the Substation to the Merlion Park, across busy roads and amused drivers.
Leong Man Wei, 18, who is observing the walk for her school work, is pleasantly surprised that there are men partaking, as the activity strikes her as decidedly feminist. As she accompanies the group, she gets questions from onlookers.  
"What struck me was that the people who are curious tend to have an accent usually associated with the English-speaking demographic," she says.
I know exactly what Man Wei means. Art in general can feel elitist in nature, and somehow exclusive to the demographic she mentions. Most art is consumed by the same crowd, who mainly share it with other people already possessing that interest, resulting in an insular community.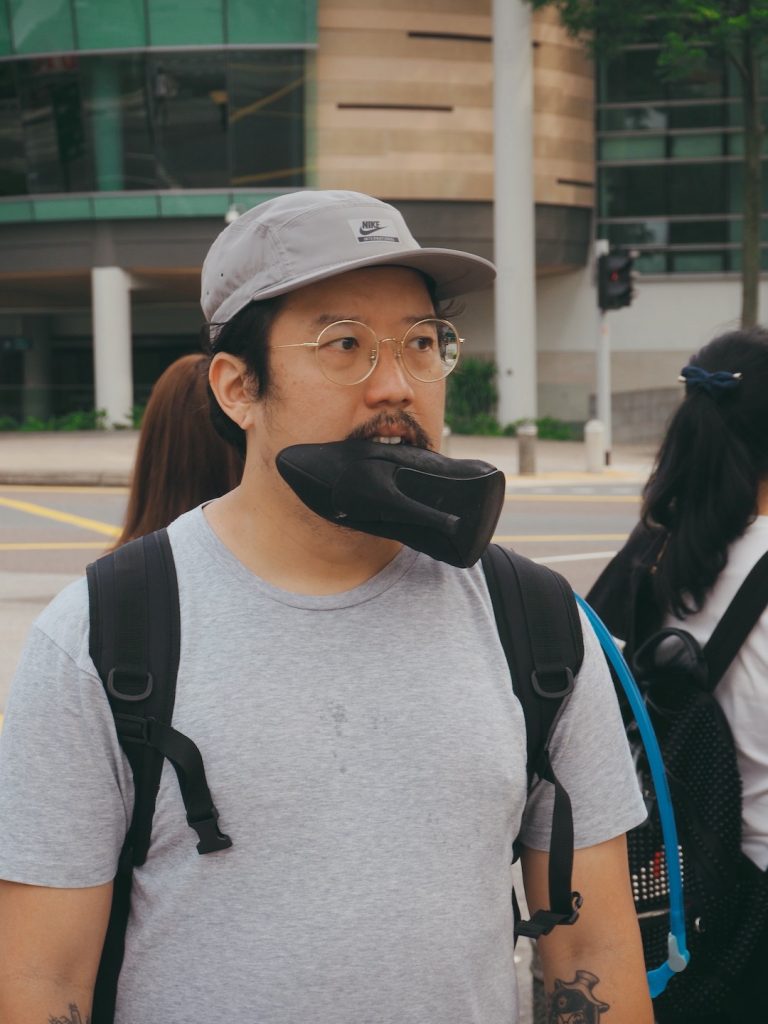 Zhang Weili, 26, agrees with this perspective, but doesn't think it's a bad thing per se. After all, he reasons that there is a place for art made for the masses, as well as art that's specifically tailored for a small community.
His friend and fellow participant on the walk, Austin Chia, 19, is no stranger to performance art either. The two of them come from an art background in secondary school.
Of Let's Walk, he says, "Even though I'm an audience member in this performance art by Amanda, I've also become part of the artwork as a participant. As I was walking, I overheard people talking about us, asking each other what we were doing. They probably thought we were lunatics going around."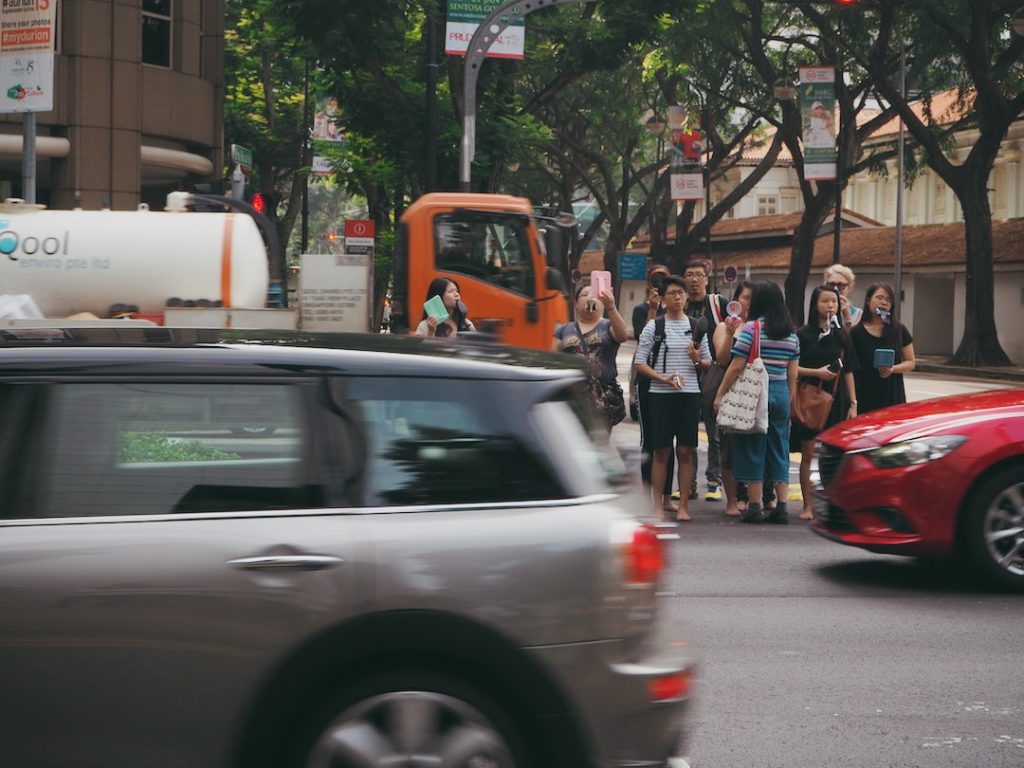 Both of them understand that the walk is a commentary on the objectification and burden of women in society. They get stared at by everyone because of the high heel in their mouth. Accordingly, this helps them empathise with the self-consciousness women go through daily.
Concurrently, the outdoor aspect of performance art draws in members of the public who would not otherwise interact with art. I suppose these are baby steps towards bridging the perennial gap between the art community and the 'average Singaporean'.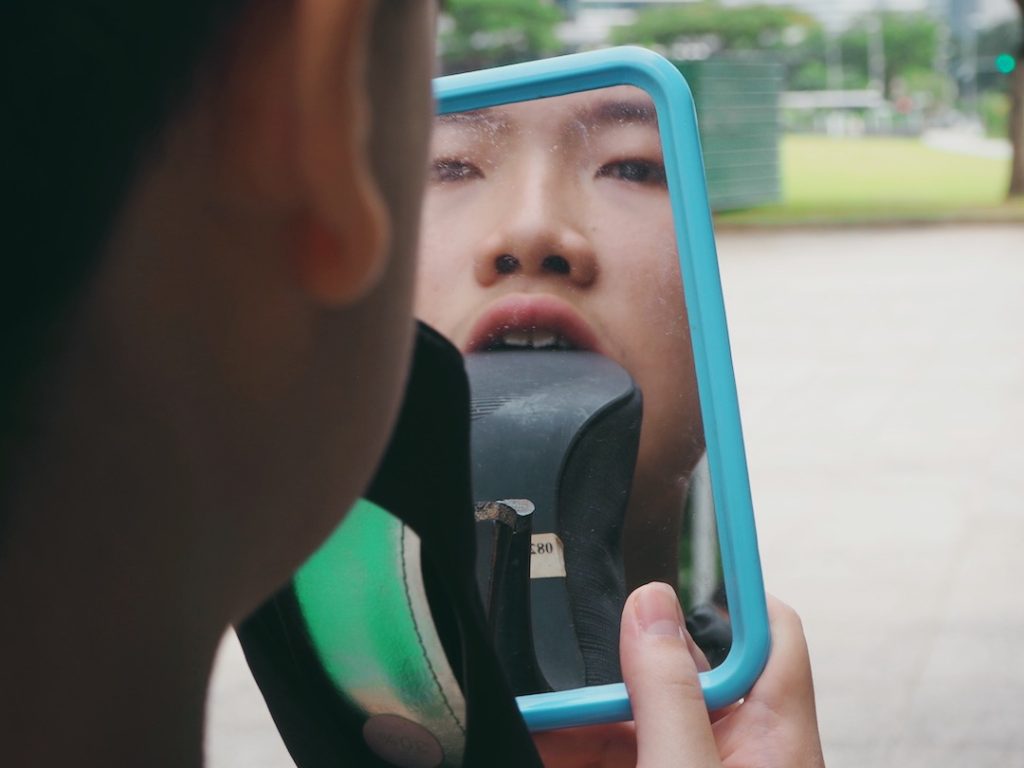 All the same, I am overcome with the familiar feeling of being out of place at artsy events. I did not carry a shoe in my mouth, but feeling intellectually inadequate around those who naturally get things like this made me feel self-conscious.
At the end of the three chances I give myself to experience the M1 Fringe Festival, I appreciate the effort put in to engage the masses. However, I don't develop a more profound appreciation for this type of art.
Actually, I am as confused as ever, and mentally exhausted. In millennial speak, I literally can't.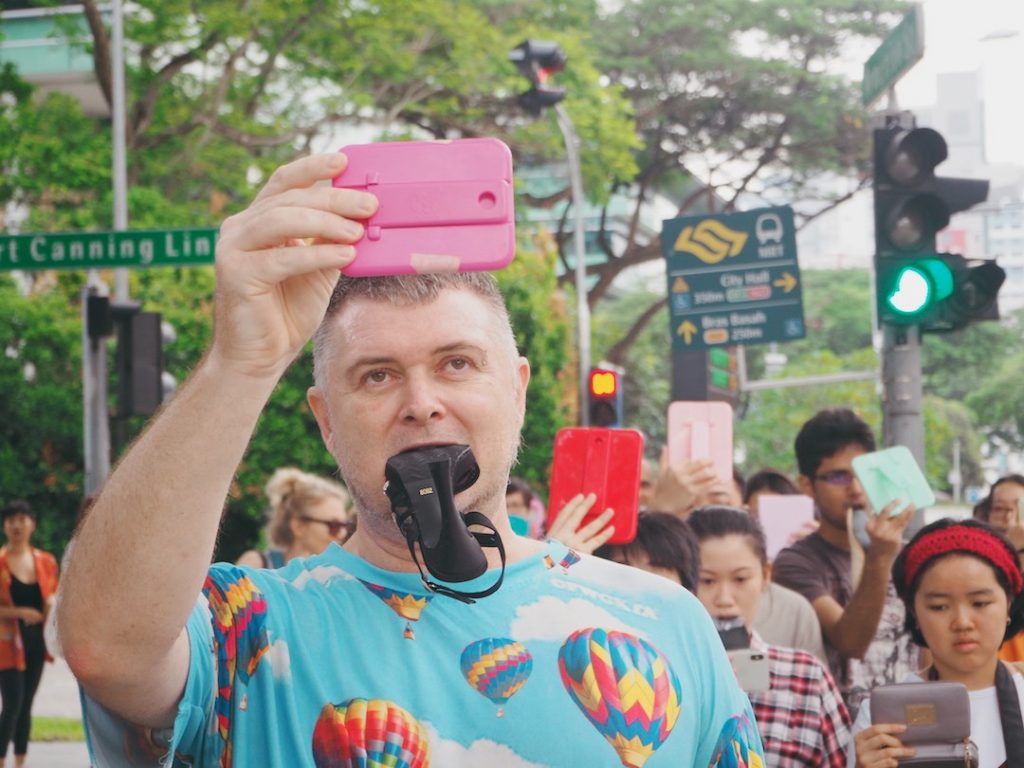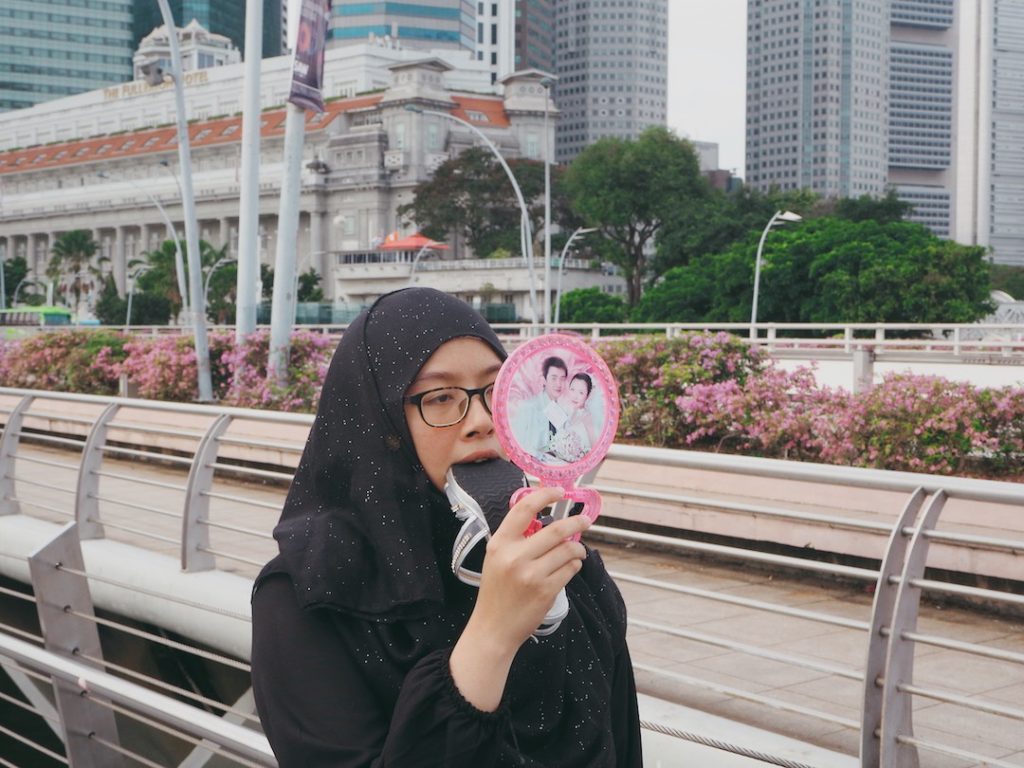 I make a pact with myself to learn to accept that I won't impress anyone with my knowledge of art anytime soon. It's too tiring to act like I know what any of this means.
And if I attend the next major art event or festival, I won't pretend I'm there for any other reason but the sole purpose of getting excellent Instagram photos.
I am basic as hell when it comes to art appreciation and I'm not ashamed of it.