62 year old Alice Wong is unlike any cobbler I've ever met.
For starters, while most cobblers are men, she's a woman. And instead of a makeshift stall set up outside an MRT station, at People's Park Complex or under a HDB walkway, she operates through the window of her home at Moh Guan Terrace in Tiong Bahru.
A hidden gem in a trendy neighbourhood, her storefront (or window front) is simple yet iconic. From the yellow floral-patterned half-curtains to the shoe soles stuck on cardboard, it's a far cry from the hip cafes and restaurants just around the corner from her home.
But while her storefront has been featured on multiple articles, less is known about the woman behind it. My Thursday morning conversation with her yielded not just shoe-repair tips, but also face-reading advice, criticism about the "millennial lifestyle" and other unique perspectives gathered from the 46 years that she's spent as a cobbler:
 (1) H&M is the Enemy
With the emergence of fast and affordable fashion, Alice's business and others like it have suffered.
"Now the shoes outside all so cheap $6, $10. You young people won't repair these shoes. You all say to me "my shoe costs $10 you charge $12 to repair, cheaper for me to buy new one."
Moreover, it doesn't take a genius to figure out that such cheap shoes aren't very foot-friendly.
"Young people always keep buying cheap shoes. These shoes are bad, they're very flat and the sole is very thin. You buy, wear awhile only and it spoils, then you throw away. You all don't know that good shoes are important for health."
What's created is then a vicious cycle, with consumers continuing to hurt their feet just to save a few dollars and shoe repair businesses in a rut without shoes to repair.  
So next time, don't skimp on your shoes.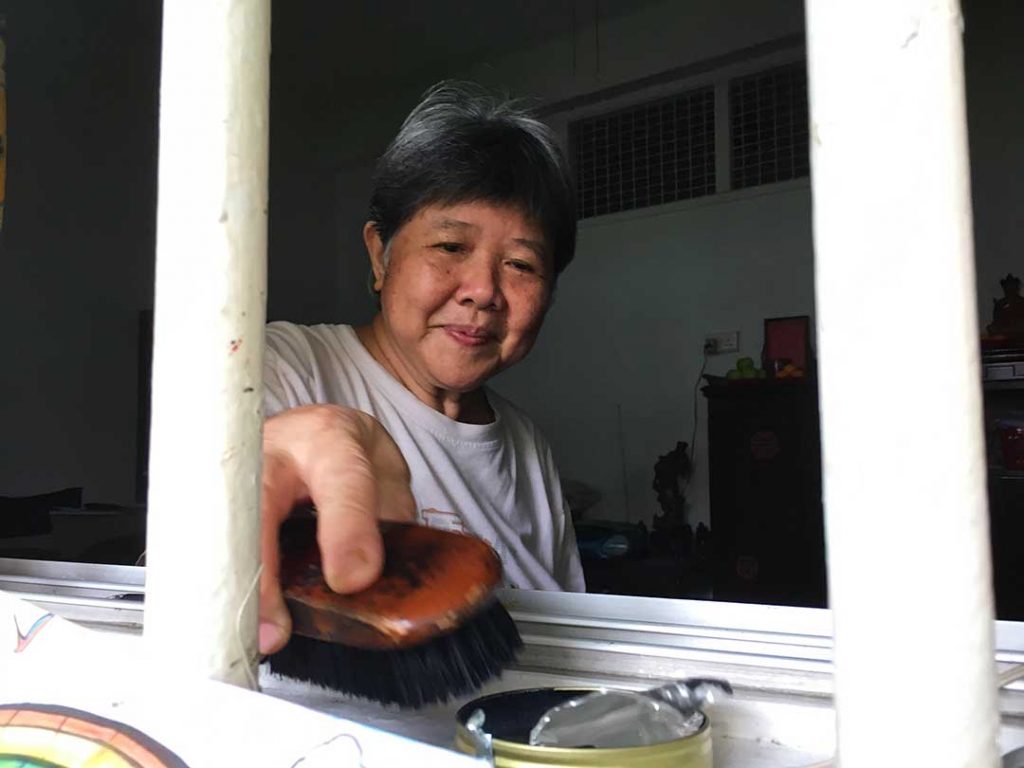 (2) You can make a living repairing shoes … if you know how to save
Although business has suffered, Alice is not unduly worried. "I've been saving my money for a long time, now I've got just enough to be happy. I don't really worry about money. A lot of people don't know this but repairing shoes can earn you enough. Last time all those shoe shiners, how do you think they got by? "
In fact, she's saved enough just by repairing shoes to take a trip to China next month. Her only problem is she's not quite sure what camera to buy.
(3) The shape of your lips will determine how long you live
She tells me that people from her generation, have a long philtrum, and that means a long life. These days, everyone's philtrum is short, "like yours" she points at me. I shrug, trying not to take offence.
Meanwhile I make a mental note to go home and inspect my philtrum (FYI: It's not that short).
(4) Cobbler's are born, not made
Like Alice, both of her parents were cobblers too, it's in her blood. While they never specifically taught her the trade, she says half-serious, half-jokingly "inside the mother's stomach sure got learn a bit."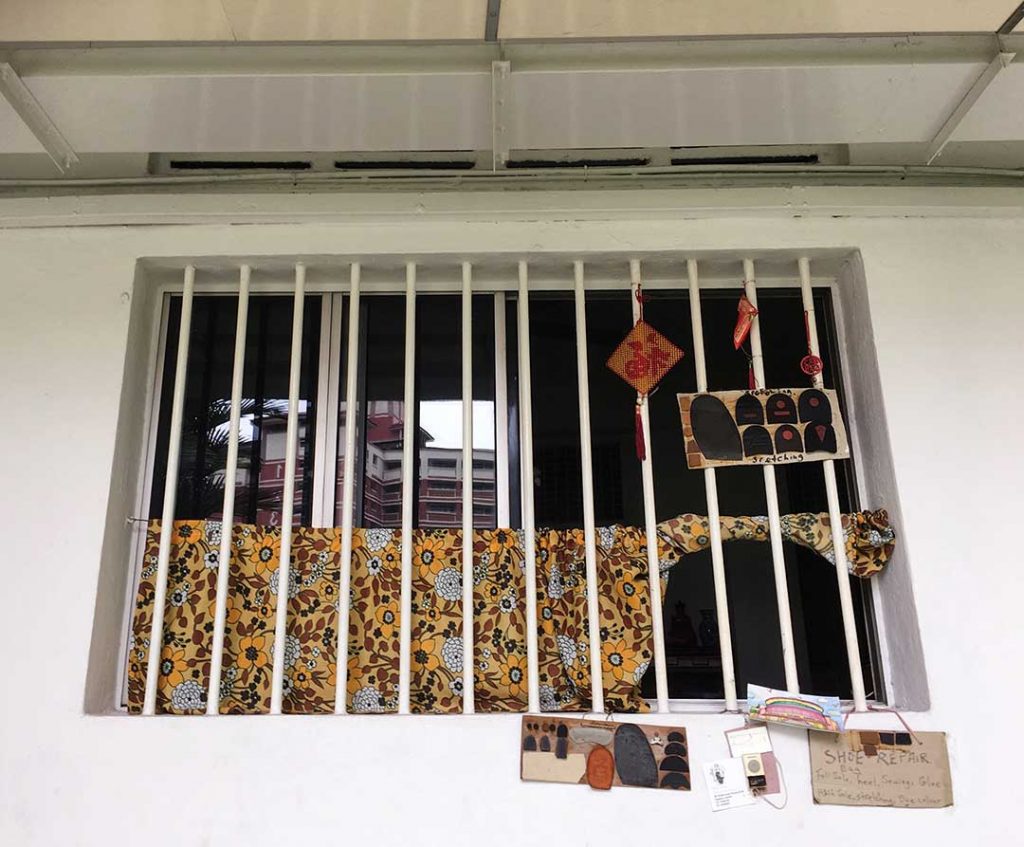 (5) Why are millennial eyebrows so thin?
"Everywhere, everybody all the eyebrows cut cut cut, where got power? Thick eyebrows were a good thing last time. It meant success, happiness. Now everybody pluck until they must put black colour on their brows."
We'll leave this for you to decide whether or not you're going overboard with your brows but to be fair, Alice does sport a decent set of eyebrows for someone her age.
(6) Don't expect to be spoon-fed
Alice is a self-taught cobbler, starting at the tender age of 16.
"I learnt how to repair shoes on the job," she tells me.
She's also picked up a few tips and tricks through observing experienced cobblers at Shenton Way in the past. "I would go to their store, sit down and watch. You see the jobs that they do are very fast, neat and precise. I admire that. You need to see for yourself and have a good habit of learning everything. Then you can develop your own style."
(7) Embrace failure
Learning on the job is never an easy task and one is bound to make mistakes.
In fact, Alice had to go through over a hundred pairs of shoes before getting the hang of it. "A hundred pairs wrong, a hundred people scold you. But you will learn. Once you do something wrong, you can do it right."
Even though Alice and I might disagree on which face shape guarantees longevity, her work ethic is one that I can agree with. Whereas most people shun failure, Alice has embraced it as a necessary part of improvement.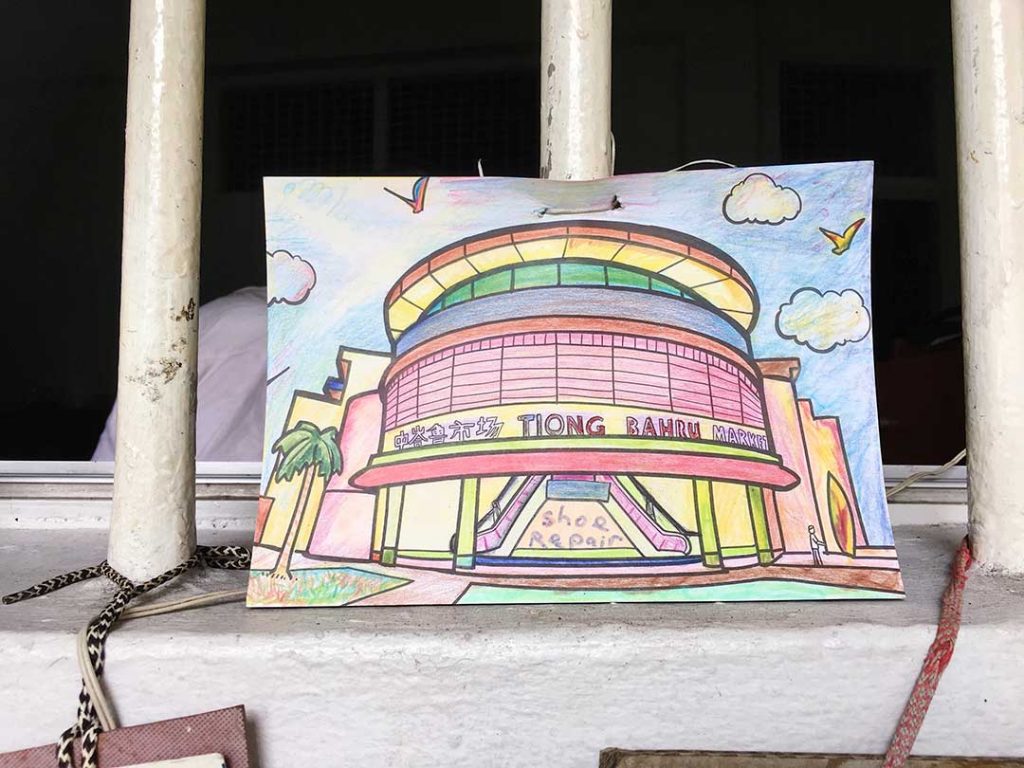 (8) Invest in relationships
How do you keep a dying trade alive? Maintain a good reputation and relationships with your customers.
"I have customers from all over Singapore. Not just Tiong Bahru. They like to come to me because I am willing to try and do everything. When other cobblers can't mend people's shoes, they recommend me."
And how does this make her feel?
"When people come and find me, I'm happy. You know why? Because that means that I'm doing a good job. All the customers know and treat me well. Especially ang mohs. Sometimes they put me on Facebook also."
Throughout our hour and a half long conversation, Alice pauses several times to wave and greet passersby who she knows, her face lighting up each time. Although none of them approach her with shoes to repair, it's clear that she knows to value relationships.
(9) You never stop learning
Cobbling isn't Alice's only skillset, in fact, she's enrolled in several courses at the Tiong Bahru Community Centre to keep her mind active. She pays about $60 to $190 per course and while it's expensive for her, it's worth it.
So far, she's taken pottery and portrait drawing class and next month, she's planning on learning the Erhu.
(10) Good work, low salary = never mind
When Alice suggests I pick up cobbling, I laugh and politely decline but she challenges me "why not? Now the job market is bad. I tell people, go and do shoes! If your heart is good, you can survive. If your work makes you happy, low salary never mind."
And even though she sounds like she's reading off from a BuzzFeed and Thought Catalog article, because she walks the talk, her words carry infinitely more weight.
But still, maybe not cobbling.
—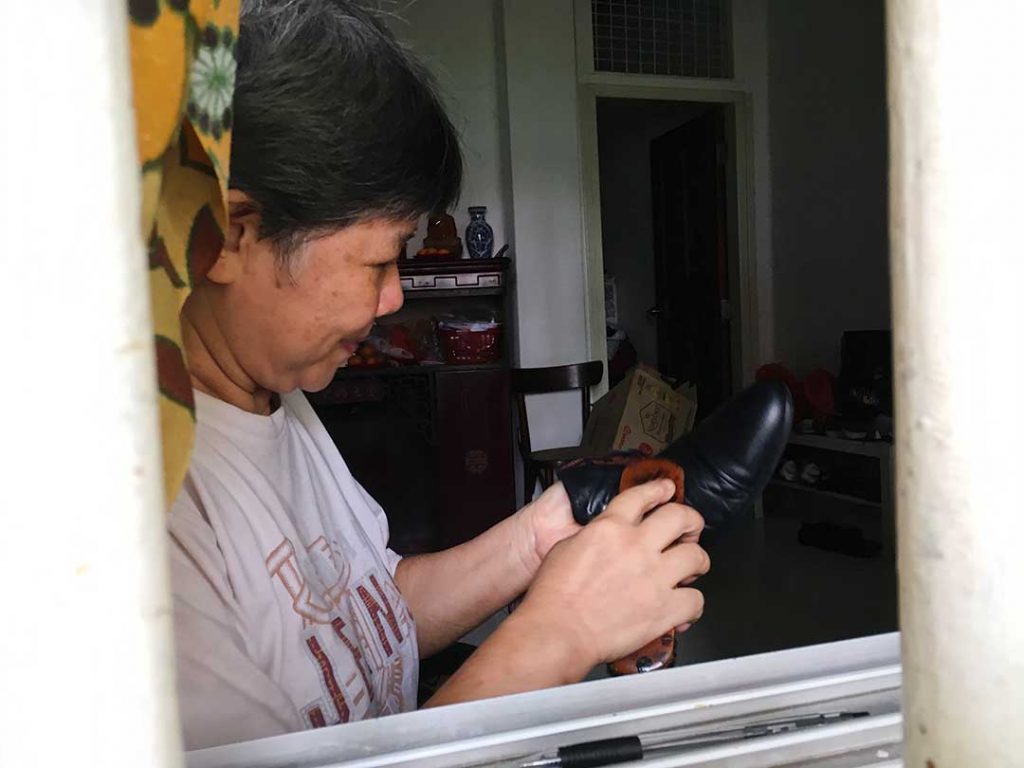 So with all that said and done, what's next for Alice? Well, cobbling.
"I will only stop when I can't do it anymore. I want to do this all the way. It's fun! Business is less but it's enough to be happy. Most importantly, I help people save their handbags and shoes, like that, can already."
In the 90 minutes I spent with her, it was at times, all too easy to dismiss her as a grumpy old woman with a chip on her shoulder. But once I looked past the grumpiness, I quickly realise that Alice is just a woman trying to make a way for herself and for her trade in a fast-changing world.