Cover photo by The Straits Times.
On Saturday, The Straits Times teased an "exposé" that would be in the next day's papers, hinting at the possibility of revealing a Harvey Weinstein-esque scandal within local showbiz.
The actual article turned out to be frustratingly underwhelming.
It opens by saying, "There are a few men in the Singapore entertainment industry notorious for their sexual misconduct".
Yet none of these men are identified.
It just gets worse from there. Very quickly, it becomes thoroughly confusing what John Lui was trying to achieve with this in the first place.
Why call it an exposé if you protect the perpetrators from identification and hence, consequences? By granting them anonymity, ST only gives them a "get out of jail free" pass to continue with their sexual predation.
At the same time, this has only led to speculation about the possible suspects the article might be referring to.
And where ST lacked courage, Singaporeans were far more brazen online. From the comments section on Facebook to Reddit, one name has surfaced multiple times.
Jack Neo.
It's hardly a surprise too, considering the scandal he became embroiled in. In 2010, it was revealed that he was involved with at least 11 women, many of them in their 20s and budding artistes.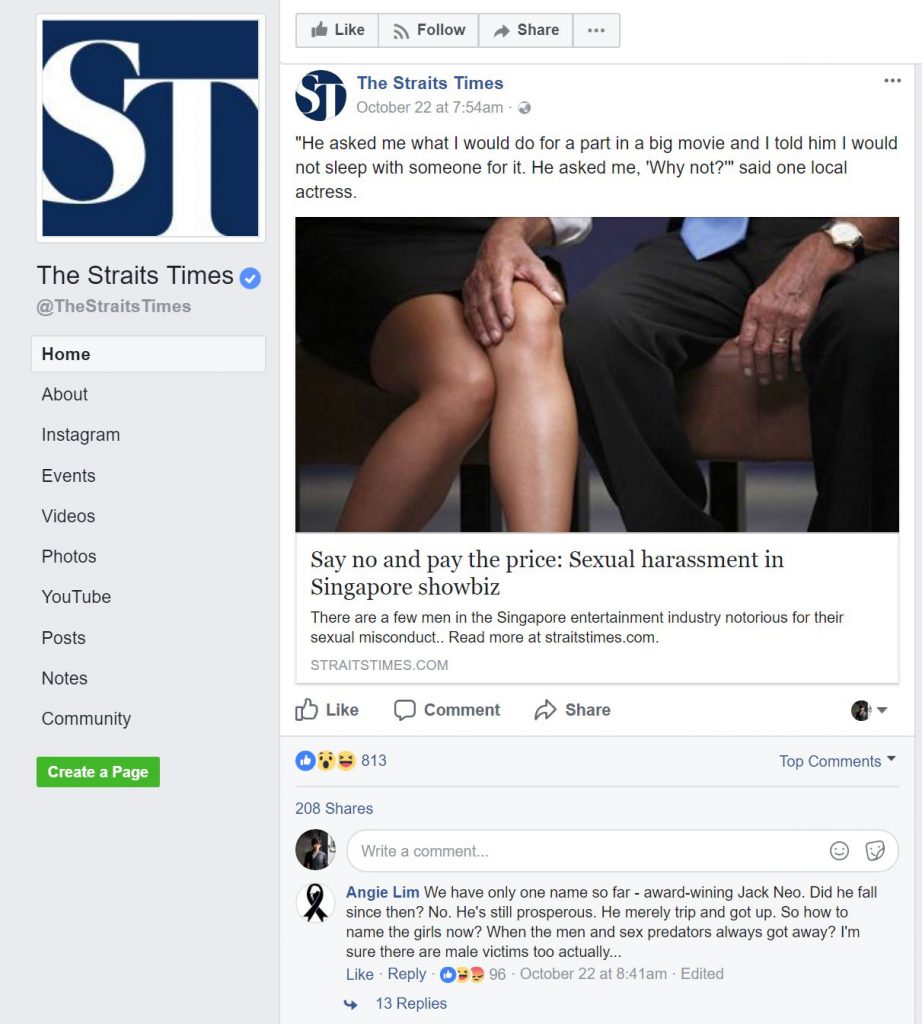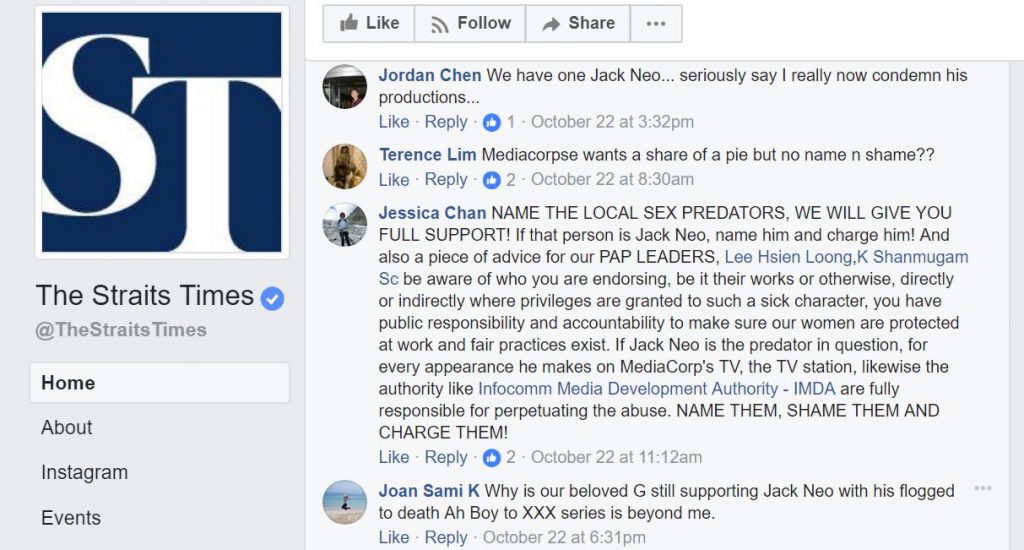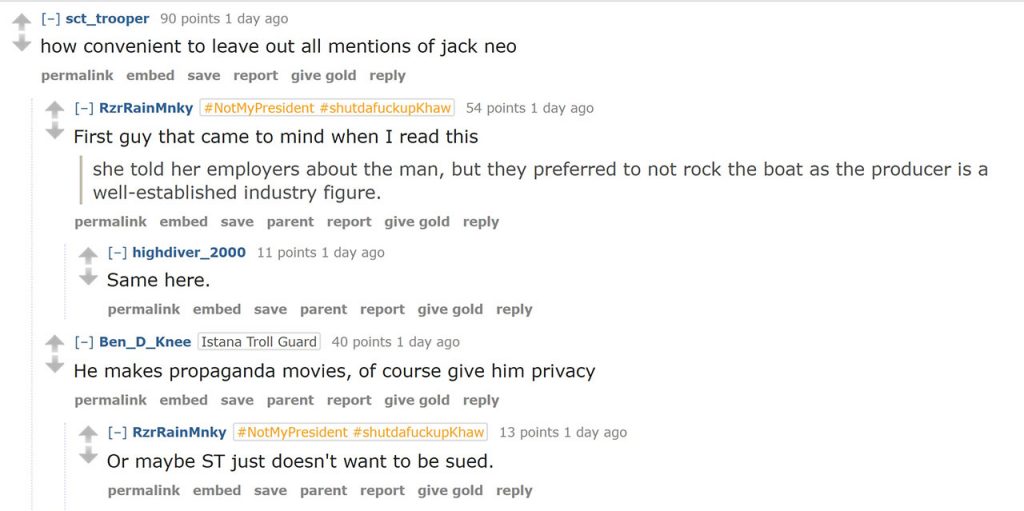 At first glance, this story seemed like Singapore Press Holdings's attempt to look edgy and relevant. Given the tumultuous two weeks that the company had gone through following its massive layoffs, this is something the company definitely needs.
Instead, I was given a dose of journalistic blue balls.
There was no real insight, and it left a lot to be desired.
Who are these men in question? What have they actually done to Singaporean actresses? And have they actually helped these women climb the showbiz ladder in the process?
Is it even Jack Neo or not? At this point, only Jack Neo himself or the Straits Times can clarify this. But the fact that it needs clarification at all is a testimony to how inadequate this "expose" was.
In the wake of the sexual harassment scandal at Mediacorp, Lui's article does nothing to help bolster the national conversation about protecting Singaporean women and their rights.
While the story touched on some instances of sexual harassment, the attempt to fit these experiences into a supposedly larger problem simply takes the limelight away from that problems that we know for a fact exist.  
It's like saying, "Here are these women who have experienced harassment, but there's a bigger problem of more guys doing much worse things but we're not going to talk about those things or those guys. In fact, there are a lot of guys who aren't predatory, and let's celebrate that!"
And at the end of everything, there's not even a call to action, except for putting the responsibility on women to not be afraid to speak out when faced with unprofessional propositions.
That ST is afraid to call these men out is not very reassuring, and leans towards hypocrisy even, considering that many women in this industry have been victims of predatory behaviour.
When it comes to The Straits Times, we still have a lot of respect for the hard work and integrity that the journalists put into their writing. And as the national broadsheet, it still has an important role to play in shaping society.
However, by keeping those guilty of sexual misconduct anonymous, John Lui's article undermines that role.
It also points to a systemic problem of the newspaper not comprehending how to stay relevant in a changing media landscape.
So it's either that there is a culture of fear holding ST back from publishing the truth, or it simply doesn't know who these men are, and is only hinting that it does in order to drum up sensationalism.
Either way, the newspaper proves that it deserves its demise.
In previous instances, John Lui has had the audacity to tell us not to use "bro" and "dude". It's clear that this is a guy who isn't afraid to ruffle feathers with his opinions.
Unfortunately, both Lui and his editors seem to all be in the same sinking ship. After all, here we are once again asking more questions about an ST article that should have given us better answers in the first place.