For anyone who has seen the Netflix Original Chef's Table and come away with a hunger for more of such intimate, confessional moments, Tsukiji Wonderland arrives as a much-needed panacea.
Having premiered at the Seattle International Film Festival back in May this year, Tsukiji Wonderland has recently reached cinemas across Asia. It is a film in which passionate individuals talk about their love for food and high quality produce, and also an intoxicating journey through the place that Jiro Ono (Jiro Dreams of Sushi) calls Tokyo's Kitchen. More effusive devotees to the Tokyo Metropolitan Central Wholesale Market have also called it a "culinary mecca" and the "Vatican of all things piscatorial."
In sweeping, profoundly romantic shots of Tsukiji fish market, located in the heart of Tokyo's Chūō ward, we see rows of giant tuna and vibrant formations of all kinds of seafood. It's almost beautiful enough to make us ignore the literal sea of styrofoam and plastic that accompanies the fish.
A quick google of 'styrofoam tsukiji fish market' reveals a grim and almost terrifying reality behind the market's operations. 1,700 tons of fish products are handled in the wholesale market daily, which equate to a lot of styrofoam. It's worth noting that in many cases, styrofoam can't be recycled—in fact it takes longer than the hundreds of years plastic takes to decompose—and so most of it heads straight for the country's landfills.
And then there's the overfishing. Jiro himself has spoken out about the situation, saying that even he can't get the ingredients he wants, and that it is getting harder to find fish of decent quality. "The future is so bad," he laments.
Earlier this year, The Guardian ran an article in which it mentioned that the Pacific bluefin (tuna) population has plunged 96% over a century of fishing. About 80% of global bluefin catch is consumed in Japan, and like other tuna-fishing nations, Japan has refused to agree to conservation measures. Tsukiji, whose predawn fish auctions are both a tourist attraction and a cultural mainstay, has played a significant role in fuelling excessive demand and almost obscene prices for increasingly rare tuna.
because of a near-excessive love for packaging, the Japanese have become one of the most progressive nations when it comes to waste management
What many of us don't know is that Tsukiji's biggest and most valuable giant tuna are not in fact caught in Japan. Instead, they come from off the coast of New England in the US, Newfoundland in Canada, off the Gulf of Mexico, and in the Mediterranean. The best of this is delivered to Tsukiji.
Japan and the U.S. are approximately 11,000 KM apart, and this gives us some sense of the carbon footprint that this piscatorial industry is responsible for. It's also normal for buyers to fly in from New York, London and Paris, where top-grade tuna is flown in to be served at Michelin-starred restaurants.
Amidst all this, we catch a glimpse of the Japanese love of packaging. They love it so much they even have a word for it: tsutsumu. The word itself turns wrapping into a practice that both honours the contents of the package as well as its recipient. As Tsukiji Wonderland plods along, we see this in action: everything is wrapped in plastic.
The beautiful irony of this is that it is also because of this near-excessive love for packaging that the Japanese have become one of the most progressive nations when it comes to waste management.
Japan generates about 45,360,000 tons of municipal waste every year. Due to its limited land, it cannot possibly bury all of it. As such, every town has a 'gomi guide' which basically outlines the town's practices for trash sorting and disposal. This allows garbage to be easily transported for incineration. Unlike countries in the West that rely primarily on landfills, Japan's method is more efficient, and also generates power in the process.
Thus far, this technology has been exported to countries like China, Thailand and Singapore. 20.8% of Japan's trash ends up recycled, and the rest of it that ends up in landfills have also been purposed creatively for land reclamation. At a more cultural level, the influence of a return to furoshiki wrapping traditions encourages the cutting down of the use of packaging.
As for the styrofoam that accumulates at Tsukiji market at the end of everyday, the Tokyo metropolitan government has now found a way for it to be heat-treated and recycled.
At Tsukiji, we confront the obstacles facing not just Japan's fishing industry, but all cultures and traditions encountering erosion in the face of millennial disinterest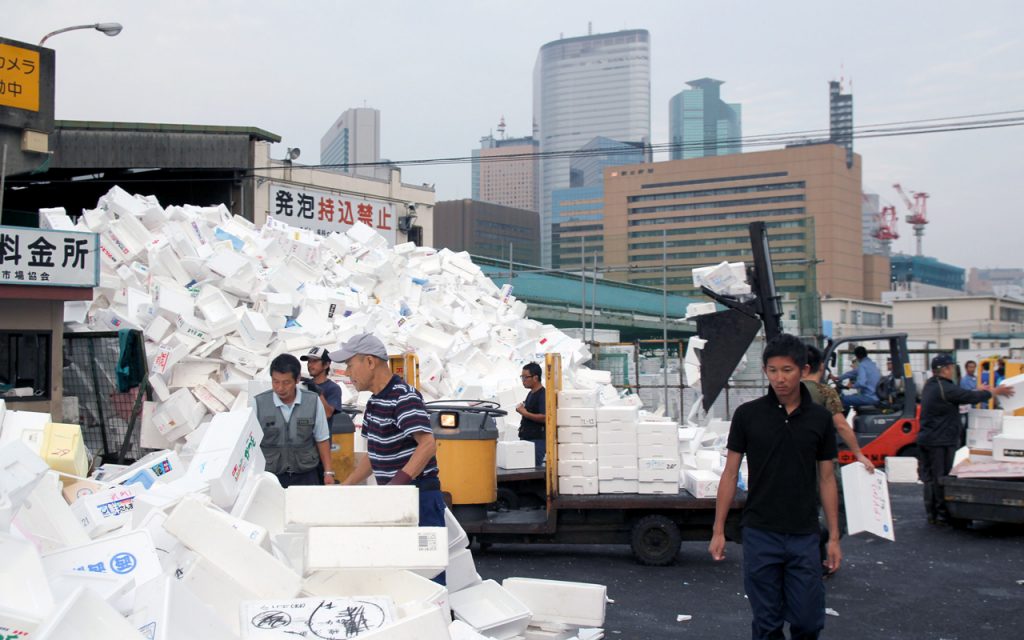 While it's not all doom and gloom for Japan, we still need to take this seriously as the holistic impression that Tsukiji Wonderland attempts to depict still leaves a lot unsaid.
Sure, we have a Harvard anthropologist guiding us through the market's history. We hear from a chef how 30 or 40 eels are rejected for every one he buys. These are fantastic stories of individuals with a near-legendary command of the most esoteric kinds of knowledge. But as we watch Tsukiji Wonderland, it's also a glimpse into a world still deeply entrenched in the past—a world whose implications are not fully explored.
At Tsukiji, buyers and traders work with nothing more than flashlights, metal hooks, pencils, paper pads, and fingers. We see the absence of young people. In these instances, we confront the obstacles that face not just Japan's fishing industry, but also all cultures and traditions currently encountering erosion in the face of millennial disinterest and other more modern pursuits.
It's important that we think about the environmental impact of places like Tsukiji because it is only in their adaptation and evolution that they can be brought successfully into the 21st Century. By understanding how practices must evolve to consider contemporary concerns, we can then learn how to keep this (and any other) heritage industry relevant as it braces itself for the move of a lifetime.