Top image: Universal Pictures (left) / Warner Bros. Pictures (right)
Oppenheimer and Barbie. It's a pairing set to inspire too many 'name a more iconic duo' memes.
This weekend will be in no way comparable to the bum-rush SingPost outlets faced earlier this month with Taylor Swift ticket sales. But, for those who care, it's D-day at their local cinema.
It's called Barbenheimer. Two astoundingly different films scheduled for release on the same day (July 20th in Singapore, 21st in the US) is a movie-going experience anticipated by a small but loud crowd who adores its inherent dissonance.
Few countries have different plans, like Japan. For reasons unknown, Barbie is out there on August 11th. And for (very likely) complicated reasons, Oppenheimer doesn't have a release date yet.
For most countries, this weekend is sacred Barbenheimer territory—a justifiable reason to spend an entire day at the movies. But… why?
Let's Go Party
Traditionally, two blockbuster films released on the same day will result in cutthroat competition. This is a rare moment where such tension is nowhere to be found.
Barbenheimer has gotten enough traction to leave a cultural footprint online within the last few months. It's spawned plenty of memes and thinkpieces, like how it can save cinema or how it might also ruin cinema.
But one verdict remains clear: Many are excited about both films.
It also has a catchy name (Opparbie doesn't cut it, neither does B.O. Day) and a Wikipedia page.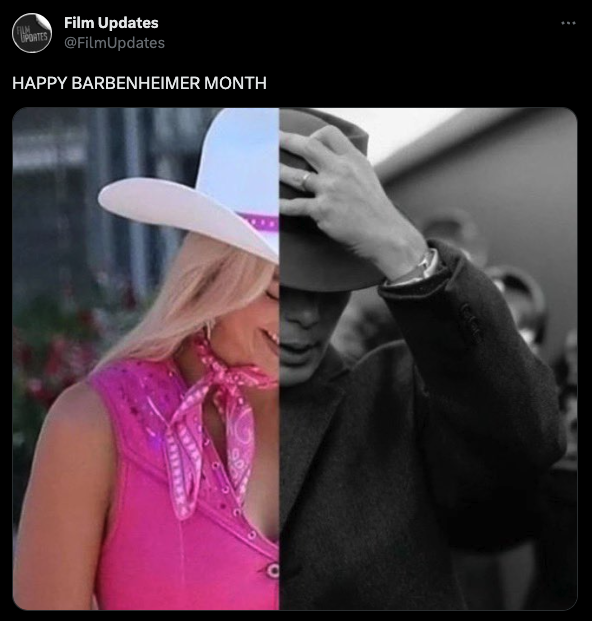 Barbie doesn't need much to sell.
Margot Robbie as Barbie and Ryan Gosling as a silly guy can do enough heavy lifting for marketing. It just also has an acclaimed filmmaker at its helm (Greta Gerwig, taking a hard left-turn from Little Women and Lady Bird), a playful cast, a hip Mark Ronson-curated soundtrack, and a pinky promise that Barbie will indeed party.
Oppenheimer, obviously, isn't a fun film. But it is still a hell of a draw. It follows the life of J. Robert Oppenheimer, the scientist responsible for the nuclear bomb, and the personal, political, and existential crises that succeeded it. It's a supersized Christopher Nolan film with the promise of heavy drama, supersized storytelling and, admirably, zero CGI in a film about the man responsible for the biggest explosion in the world.
What draws people into seeing both films is the proposition of seeing two big spectacles in one day.
The pastel pleasures of Barbie being at odds with the black-and-brimstone fury of Oppenheimer is embraced as a fun, cheeky event by anyone who's excited by either film.
Margot Robbie herself has called it "a perfect double bill". Nolan routinely bangs the drum for watching his films first on the big screen. And people have listened, from Inception to Tenet. COVID be damned.
In an era where we're predisposed to resorting to visual comforts over the thorny and difficult world we face, maybe it makes sense people will gravitate to a large-scale, communal version of that.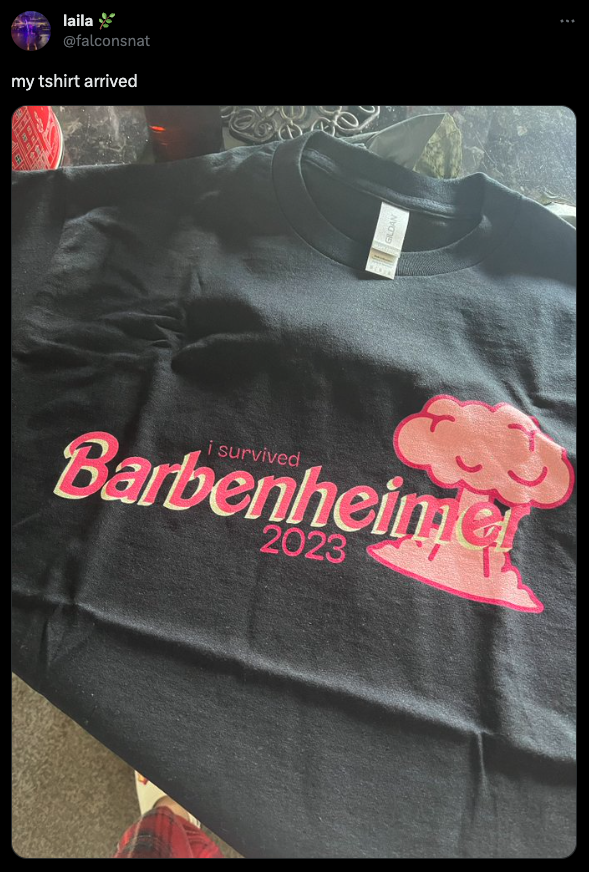 So, it's clear watching both on the same day will be an experience. Not an easy one, but one that rarely comes by. The hype and anticipation that followed Barbenheimer has mostly been shown by American filmgoers. How would it go here?
Opp-Opp-Opp-Opp
As instructed by my editor, I crossed off July 20th, a weekday, to spend a day out at the movies with my friends.
Last week, only Oppenheimer was available to book. This is an IMAX movie, so it demands an IMAX theatre. Many wouldn't think to go to the IMAX screen at Paya Lebar Quarter, but let me be clear: it's the best one, no contest. Its screen fills up the entire front, with no distracting patrons entering the hall from the side.
IMAX Lido has the largest one… but it's also at Lido. I'm not spending my morning in Orchard. Anywhere else is too far, and Punggol is for little crying children.
With no Barbie showtime in sight, this was the default choice for the first movie at 11:30 AM.
As I would learn, I wasn't the only one with similar plans. I get texts from my roommate and his girlfriend—who plan to watch both this Sunday with their friends—stating that their friend Denise had eight Oppenheimer tickets. And she needed them off her hands ASAP.
"My friend bought 8 tix for the wrong day," a text by my friend Kristie reads. With several crying-face emojis, she asks for help.
Denise ended up booking Thursday by mistake. For 11:30 AM. At Paya Lebar Quarter. It was simple: she gets to unload a $200 burden, and I'll get tickets to Row C, right through the middle. Denise's eye might have missed out on crucial details, but she sure as hell knows the best seats. I needed them.
I figured Shaw themselves knew the demand for these movies would be big. As Denise had reached out to Shaw, they offered to help. Their customer service officer–or "Mummy Shaw" as Denise called her–was helpful as she stayed on the line with her. They released those seats and transferred them to me, even as their ticket system took a while to get cracking.
About an hour later, the bag was secured. Thank you, Mummy Shaw.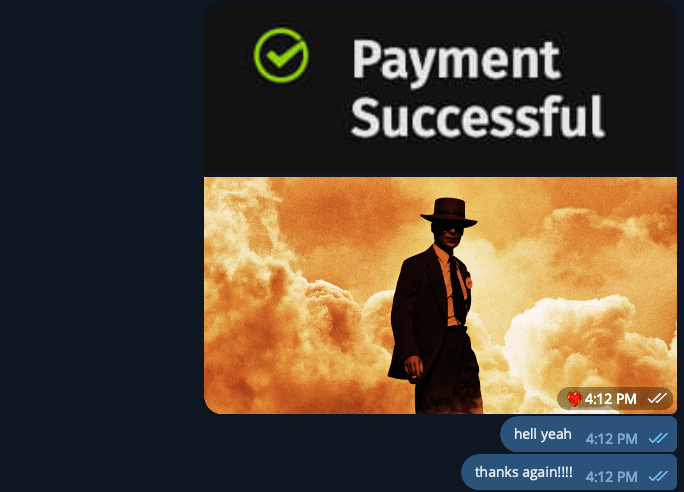 The following Tuesday, Barbie tickets were out. No issues there.
Oppenheimer Style
It's show day. It's raining. I'm getting roasted for booking a morning show.

Barbenheimer is definitely a thing in Singapore. Nowhere near pandemonium, but at 11:30 AM, as my friends and I turn up to IMAX PLQ Best Screen in Singapore, we already see a near-full house for Oppenheimer.
Yes, we loved it. Cillian Murphy, best known for inspiring countless #grindset males who misread his Peaky Blinders character, plays a gaunt and tragic (if not foolish) figure.
We first see Oppenheimer as a charismatic, ambitious rock star in his field. Outside of his academic world, however, he ends up a tool for a bloodthirsty US government, and he soon learns the consequence of playing their game of power and control.
There's a lot of dialogue to follow (which isn't hard, unlike Tenet) and its pulsating sound design and score elevates it to a searing level. For scenes where dense theoretic concepts are discussed and barbs are thrown 1940s-style, the resulting experience feels like a ticking time bomb all the way to its sad conclusion—a deflating end to a cosmic tragedy of manmade horrors.
The bomb explosion scene? It's genuinely startling. Of course, made lifelike thanks to IMAX PLQ Best Screen in Singapore.
Now, to follow this up with Barbie?
To Party and Think About Death
Barbie has sharp meta-humour, and it's got Michael Cera and Dua Lipa. I spot two people in pink rhinestone cowboy hats on the way in. This hall is much smaller and, surprisingly, a sparser attendance on its seats. If 4 PM was cutting it a bit too close for those who watched Oppenheimer, I wouldn't blame them. My head was still buzzing.
Barbie is everything that it's been made to be. It's self-consciously light, deliriously fun—even if a bit too self-consciously so—and is never afraid to go dense. Director Gerwig takes a chance at taking its story seriously with bursts of existentialism, a concept that people on TikTok are well acquainted with.
If Oppenheimer displays man's ambition to destroy the world in order to save it, Barbie is keen on preserving—the gift of being human and embracing everything around you.
That's my only take on what makes both movies complimentary to each other. Because, let's face it, they are two very different movies. The counterprogramming magic of Barbenheimer is really just that: a silly accident (or is it?) that resonated with the right audience before it was even handed to them.
Hype begins with sentiment, and it can blow up in the most unpredictable ways. Barbenheimer may just be the only phenomenon where everything lined up perfectly.
Already, others are hoping to replicate it. There's the upcoming Willy Wonka origin story coming out the same month as Joaquin Phoenix's take on Napoleon. In a maybe even-more manufactured way of packaging the bizarre, there's Saw X on the same day as Paw Patrol: The Mighty Movie.
Gerwig and Nolan, Call That No Wig
Not everyone is impressed by the Barbenheimer hype train. My friend Ruby outlined her criticism over text as I drafted this piece.

Barbenheimer's traction undeniably plays into gender stereotypes: Barbie, the fun romp for girls and gays. Oppenheimer, the serious night out for the boys.
But that's a lame way to enjoy movies, for obvious reasons.
Barbie itself has ample fun with a terminally millennial sense of humour, and Oppenheimer is just a serious drama that will appeal to anyone who wants three hours of tension and explosions. Everything about it that might be gender-coded is only embraced by people who spend way too much time online.
So, if you're planning to take on Barbenheimer this weekend, or any other week, bring friends who want to spend a good time as they do on most days: A big party with existential dread.
My friends had a ball. You will too.
TL;DR, watch Oppenheimer first, then Barbie. Just give yourself enough time in-between.
---
If you haven't already, follow RICE on Instagram, TikTok, Facebook, and Telegram. If you think Barbenheimer isn't what it's made out to be, or that you should watch Barbie first, argue with our writer at daniel@ricemedia.co or at community@ricemedia.co.