Top image: Win (@cheetouk)
Lights, feathers, action.
For a performance that bills itself as being all about unpredictability and spontaneity, the overall aesthetic and costume design of its performers are flawlessly immaculate. Explosions of cabaret, drag, and burlesque dominate the stage with dazzling displays of sequined tops and lacy corsets, each performer unique from the others.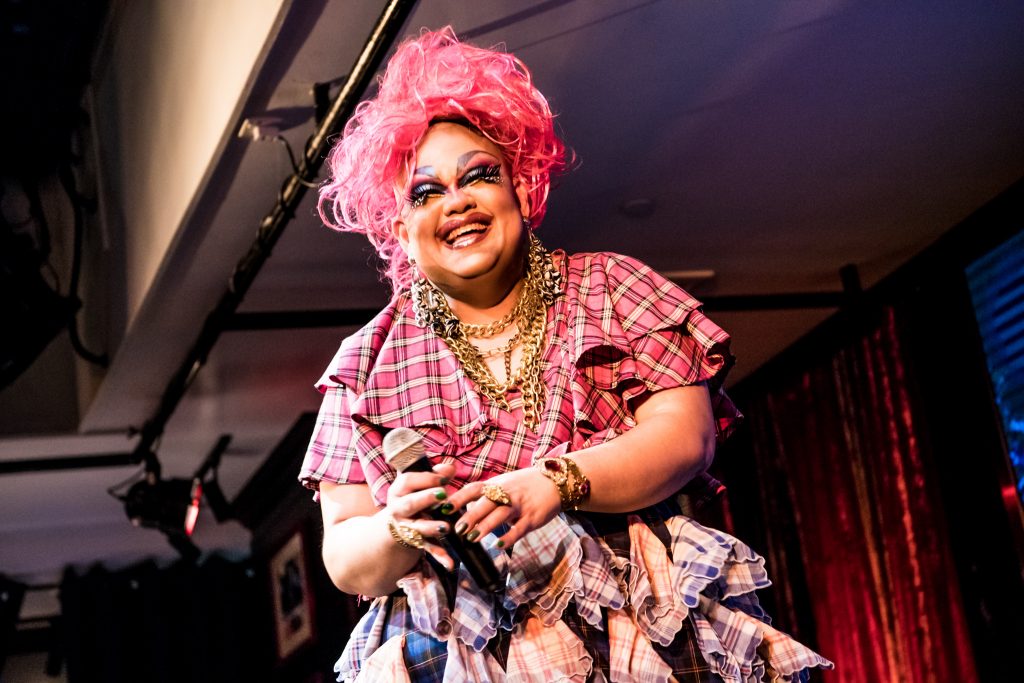 In the next moment, lines of spoken poetry, verse, and music by home-grown singer-songwriters fill the air; the mood shifts from visual spectacle to introspection. Following this, stand-up comedians rotate onto the stage, introducing their own snazzy brand of tongue-in-cheek punchlines and witty heckles. Organised chaos reigns supreme in this realm of blinding artistic flair and captivating showmanship.
This is T:> Works' upcoming performance piece, entitled Cabaret Joy.
As Part of their Festival of Women N.O.W 2021 lineup, the piece, which premiers on the 29th of July and lasts up till the 31st, is set to take place in-venue with an accompanying live-stream.
Cabaret Joy celebrates not just the expression of joy by performers of the queer community, it also embraces a welcoming diversity that places each and every performer in the spotlight regardless of their orientation, style, or artform. This diversity of individual segments allows for an explosion of flavour and appeal that ensures engagement from a multi-sensorial perspective.
Yet despite the variety of the segments that go into the event, an undeniable theme is woven into every individual performance—that of a cry of joy and a call-to-arms to celebrate, even under such trying times.
As Deonn, Co-Creator of Cabaret Joy and main programmer of the event puts it: "There's been so much hurt from marginalized communities, and that's the energy that surrounds us now. And they have every right to feel this way."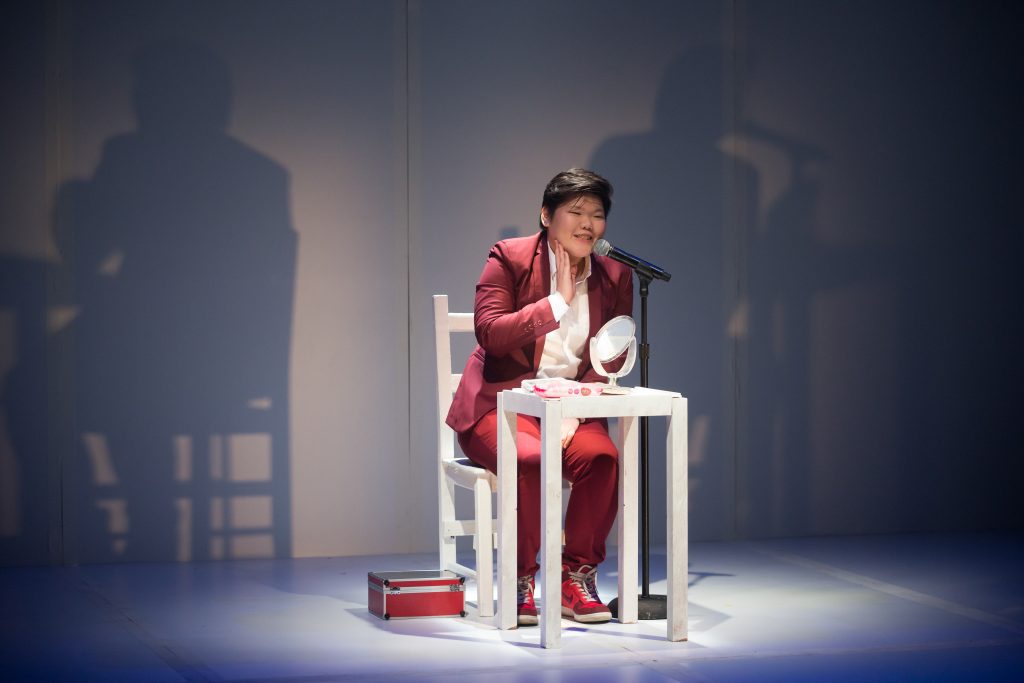 "But when the opportunity presents itself for us to celebrate something that's uniquely us, why not take it? And spread a little cheer, a little love, a little joy, because there's only so much time we have in this world."
A Definition that Resists Definition
To find out more about what actually goes into Cabaret Joy, I spoke to Becca, co-creator of the event.
"This is a show about joy as a sort of radical act of reclamation on one hand, but also creating magic that can happen in these moments of juxtaposition and collision," she tells me.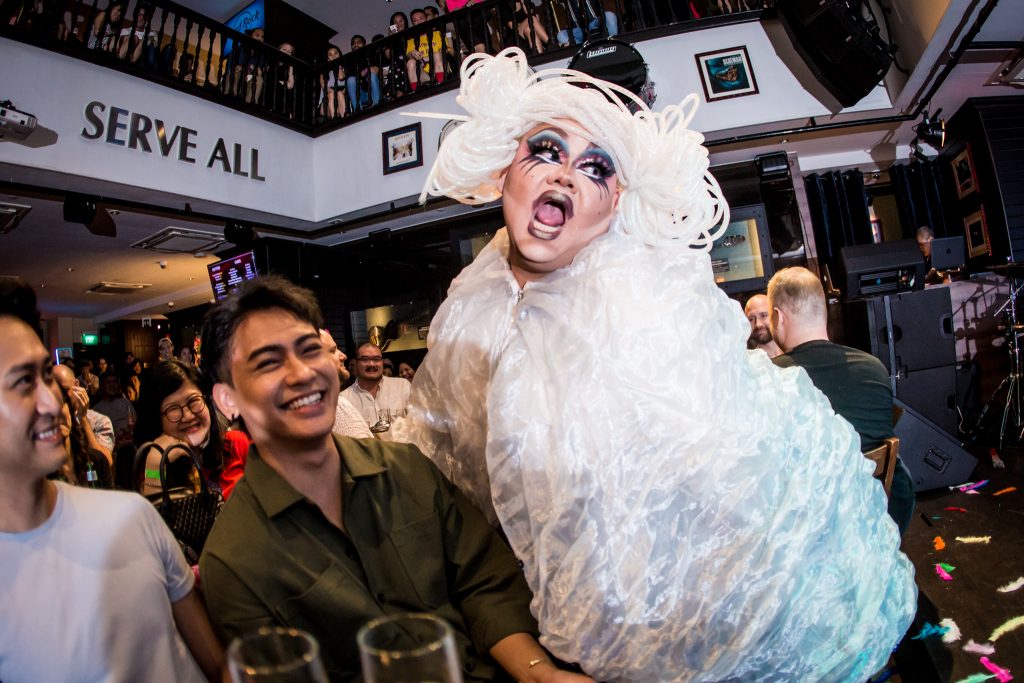 This is a performance that actively resists categorisation and definition, and is also one that celebrates this fluidity of form and collision of different art styles.
An important aspect of Cabaret Joy's brand of juxtaposition is also the diversity it promises. Even within the drag segment of the performance, the wide net cast by Cabaret Joy in organising its ensemble of performers ensures a celebration and inclusion of other types of drag—beyond just sequins and feathers or the grotesque and carnivalesque—that embrace normative standards of attractiveness.
While Cabaret Joy does seek to resist standardised conventions of beauty and queer performance, it is perhaps this unpredicatability and incoherence that makes the performance that much more intoxicating.
As Becca tells me: "We're not looking to make them cohere across the board, that's not how this works. We want to enjoy the pleasure of the whiplash."
An Articulation of Joy
More than anything, however, the performance celebrates joy not merely as an emotion and sensation, but something to be proud of and articulated.
Becca notes: "It isn't just about saying oh my god, please give us all our rights. It is actually about saying in spite of it all, we're still alive and we're thriving."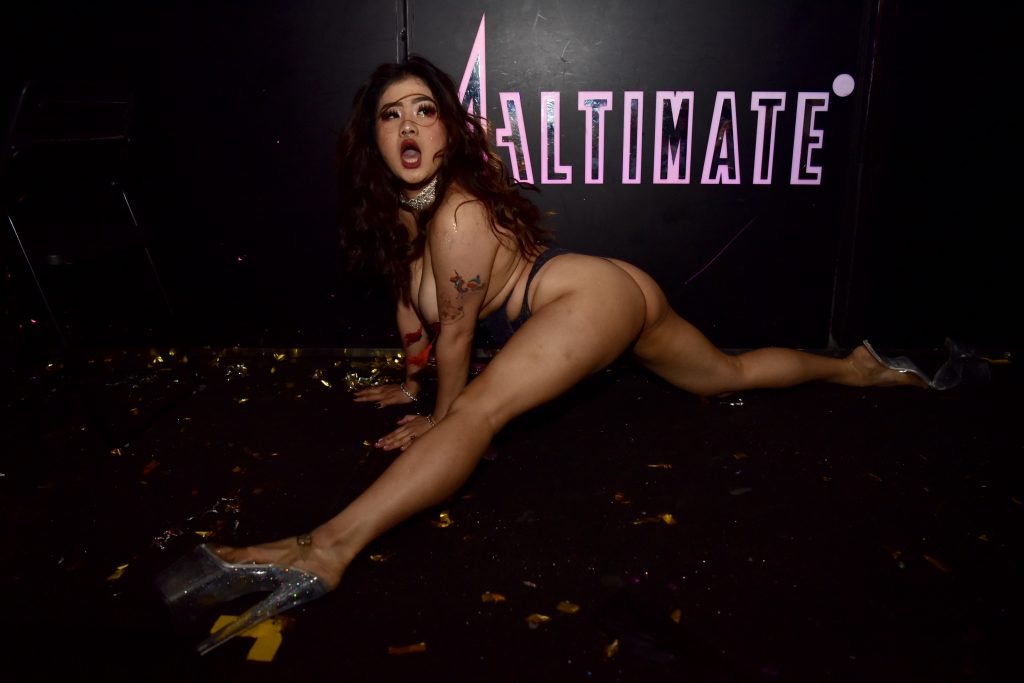 What sets Cabaret Joy apart is the active choice made by the individual performers and by the event organisers to put aside stories of struggle and failure, and instead shift the optics towards something more positive—being alive and having a good time.
Perhaps this is precisely why Cabaret Joy is significant. It speaks to a shared common humanity across all demographics, be it queer or otherwise. It speaks to the fundamental human capacity to express joy.
"The world has always come for us, and we're not dead yet. So let's dance. Let's party."
The reach and impact of Cabaret Joy extends outwards towards the larger community. As performer Lychee Bye, who will be performing a hybrid form of striptease and drag for the show, tells me: "The main thing for me is creating a space for queer people. Especially for people who are just coming out during the pandemic, there's nowhere really for them to go."
In the pandemic-stricken world that we live in, circumstances have made it all the more difficult for members of the queer community to do things like come out or even seek physical safe spaces where an accepting community can provide them with the support they need.
In this way, Cabaret Joy still retains and acknowledges stories of struggle and failure. Moments of despair and sorrow have become painfully familiar amongst members of the queer community. Yet the performance seeks an alternate take by also showcasing stories of success and celebration in tandem.
As Lychee Bye points out, "You're also celebrating the long line of people who had to fight for where we are today. You need to be the ancestor that you needed in the past."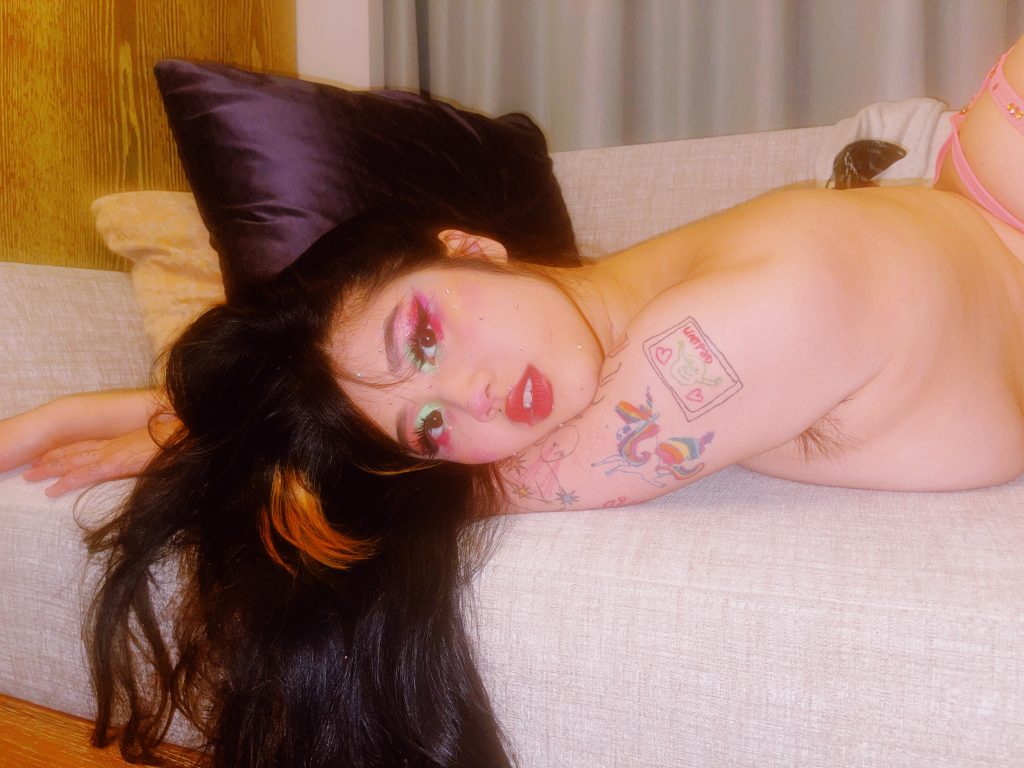 While things may not be perfect as right now, what the queer community has today, whether it may be support structures or icons of hope, has been achieved by standing upon the shoulders of heroes. In this context, Cabaret Joy takes on a resolute call-to-arms that declares that these are successes worth celebrating and embracing.
The impetus to celebrate also goes further, offering an alternative route of participation within queer discourse that has oftentimes been shrouded by inaccessible jargon.
As Becca tells me: "You may have read all these books and done all this research and have access to this giant archive of information, but the point of Cabaret Joy is to then transcend all that and make it mean something."
A Resolve for Change
Yet despite this valiant push, Becca, as well as the rest of the performers of Cabaret Joy, all recognise the precarious position of queer performance in Singapore.
"It's so expensive to run these spaces that business owners have to lean more towards tried and true ways of conducting business", Becca languidly laments. "This means that risk-taking is difficult. It can be very challenging to try new things."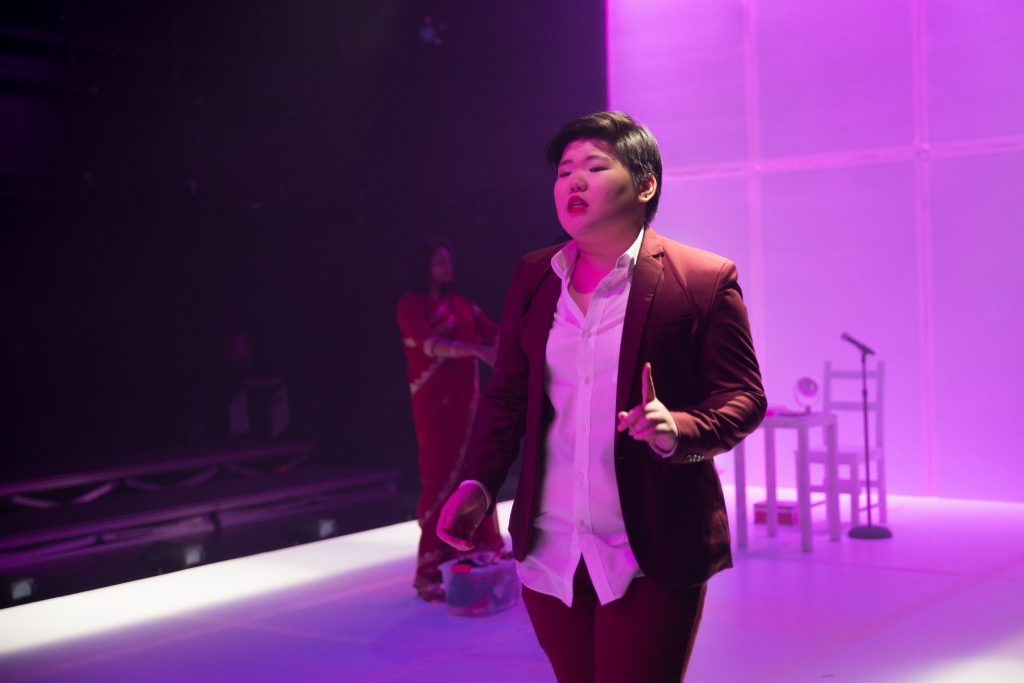 She is not alone in feeling this way. Lychee Bye echoes Becca's sentiments: "When you're queer, it's difficult for example, to apply for grants with other arts performances," they tell me.
"I think it's nice and comforting when you watch a queer performance and see all these people who are out about and okay, and happy doing things that they love. I think that in itself is very revolutionary."
Indeed, even in the absence of the pandemic, organisers and performers of queer performances have always had to grapple with sourcing for spaces and venues to host their shows. This situation has only worsened with the economic downturn from the pandemic.
Soaring rental prices and risk-adverse landlords have made it all the more harder for not just for queer performances to take place, but specifically for new and budding performers who may not have the resources and opportunities to explore the art.
With the closure of prominent art venues such as the Substation for rehearsal and performance, the survival of the arts in general has been a growing concern in the past year.
Venues that have had a history of staging drag shows and queer performances, such as Hard Rock Café and The Projector for instance, are both few in number and also relatively expensive to secure.
Cabaret Joy thus offers a platform, and a decently large one, for performers who have been struggling over the past year or so to exhibit their art, and to enjoy doing work that they are passionate about.
More than that, having a large platform such as T:> Works to facilitate the program also allows for the introduction of queer performance into the mainstream. As Becca suggests: "Cabaret Joy is a way of saying hey, these things are possible, these people are worth looking at, and there are other ways of conceiving what a show can be".
While queer performances such as burlesque and drag have often taken place in smaller spaces such as cafes and bars, the hosting of Cabaret Joy in this larger performance space offers an alternate view on what queer performance is capable of achieving in terms of scale and presentation.
Cabaret Joy thus attempts to normalise queer art and performance as an art form that more venues and businesses ought to embrace. Noting the history of cabaret and drag for instance, it seems only apt that especially within our safely-distanced environment, hosting queer performance could very well be the way to go. As Becca puts it: "These are the people who are experts at doing very small shows."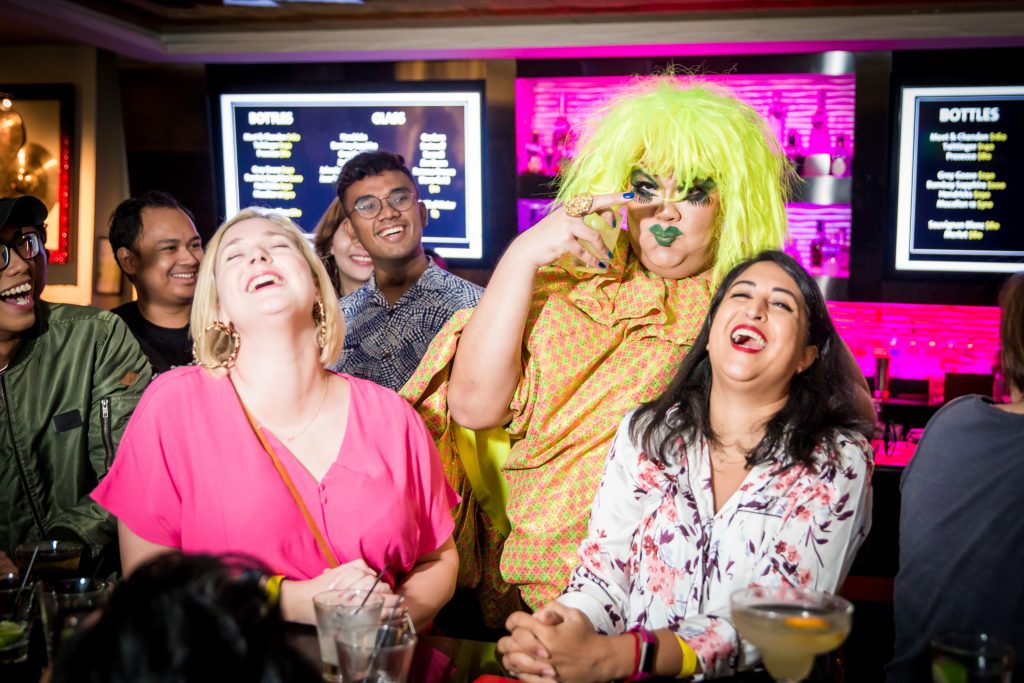 "There's so many reasons to not celebrate. There's so many reasons to be angry and upset at the situation and society. But that gets tiring. We need to carve out spaces for ourselves to just celebrate the fact that we're here and that we've made it this far."
At the end of the day, if nothing else, Cabaret Joy exists as a space for entertainment and the expression of happiness. There is definitely still a part of the debate regarding queer discourse and theory, which will most likely still find its way into segments within Cabaret Joy in some form or another. But it's not just about that. It's also about having fun.
For some, that's what's important right now.
When quizzed on the reasons as to why celebrating joy is so personal to her, Becca astutely and resolutely responds: "If we don't claim the things we need to celebrate, who will claim it for us?"
She proceeds to look me square in the eye, a glint of passion and guile in her gaze.
"If we don't decide that these things are worth celebrating, who will decide for us?"