Top Image: Eugenia Clara / Unsplash
Changi Airport looked like a ghost town. 
Less than half a year ago, you could barely walk through the airport without bumping into someone you know. The non-stop human traffic was a testament to its reputation as one of the world's best airports.
But when Rachel* stepped into the airport on 2 June, there were barely any flights, let alone people.
The once-bustling airport was now a quiet shadow of what it was just a few months ago. An entire terminal had been shut down, the ever-present line of taxis was now dismally short. The departure board, which once flickered every few seconds because there were so many flights, now had more empty grids than flight numbers. 
Even the iconic indoor waterfall was out of bounds. The vortex had been shut off, the rhythmic sound of water crashing down conspicuously absent. 
As Rachel walked around an eerily empty Jewel, the silence was deafening.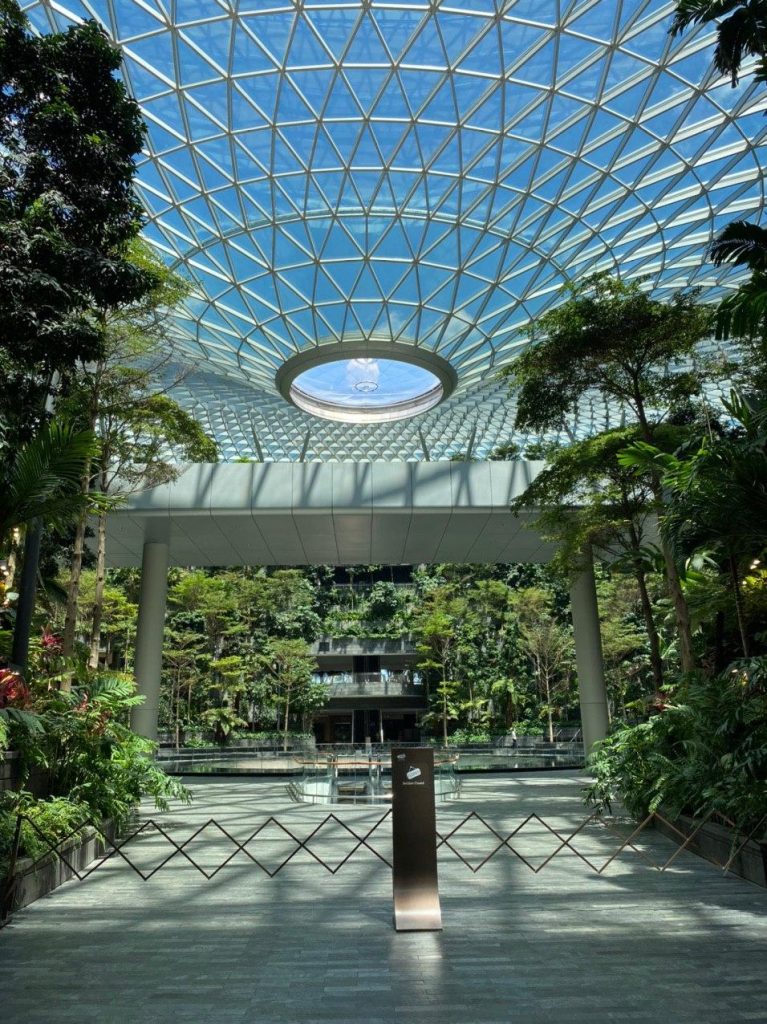 Singapore to China
The last time Rachel returned home was during Chinese New Year. Back then, Covid-19 was still being dismissed as 'just a flu' by the international community. 
In late May, she spent days deliberating about whether she should take the risk and fly home to visit her family. A family emergency had cropped up, and it was best if she could head back to sort it out in person. 
But flying would also mean an entire month of quarantine—two weeks in China, and another two weeks in Singapore, on the return leg—and would put her and her family at risk of catching Covid-19. Even worse, the Covid-19 situation was incredibly volatile; things were quite stable in China, but could easily worsen in the blink of an eye, and lockdown measures were constantly changing. 
Her mum worked in a hospital back in China, and she'd heard firsthand the stories that came with dealing with the frontlines of a pandemic. As early as January, she dutifully wore a mask in public, and learnt how to fold it properly so that it wouldn't get contaminated. 
Even when Rachel flew back to Singapore after visiting her family prior to Chinese New Year, she entered a self-imposed quarantine. She did not want to take any risks. 
This time, things were different. 
Lockdown measures and quarantines were actually mandatory, and the chances of contracting and transmitting Covid-19 were that much higher. 
What if Singapore decided to ban all travel into the country while she was still in China? What if her PR pass got revoked, and she could never come back? What if she caught Covid-19?
In the end, after multiple WeChat conversations and a lot of stress, Rachel mustered the courage and booked a round-trip from Singapore to Guangzhou.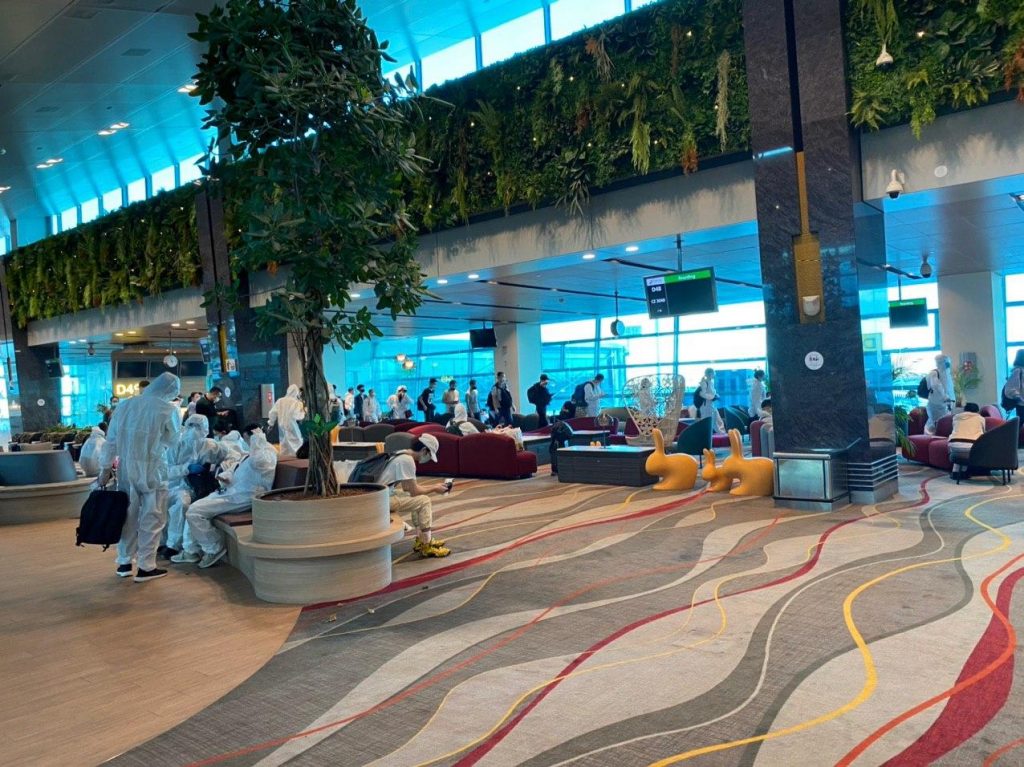 Breathe in, breathe out
.
Rachel willed herself to calm down.
She had made the decision to go home, and she was now here, in the middle of an airport, about to step onto a metal contraption with hundreds of strangers. But despite the anticipation of getting to see her family again, nervousness still roared loud in her mind. Excitement and anxiety, two emotional extremes, were interwoven.  
At first, everything felt strangely normal. Other travellers milled about leisurely, wearing just masks for protection and nothing else. It was a bit too cold, the space was a bit too big, and everything smelled a bit too clean—just like another day at Changi Airport, except slightly quieter.
But everything changed when she passed through customs. It was, in some twisted way, like stepping into the set of Contagion.
Passengers started pulling out protective gear from their carry-on bags, donning white gowns. Latex gloves snapped against wrists as people struggled to put them on. Some even put up their hoods, obscuring their entire face. 
Rachel felt naked next to them.
She had brought an extra jacket—a white windbreaker of sorts which, if you tried really hard, somewhat resembled the top half of a PPE outfit—and latex gloves, but even that wasn't enough to distract from how exposed she felt. Despite being fully covered from head to toe to fingertips, she couldn't help but shrink into herself every time she walked past another person.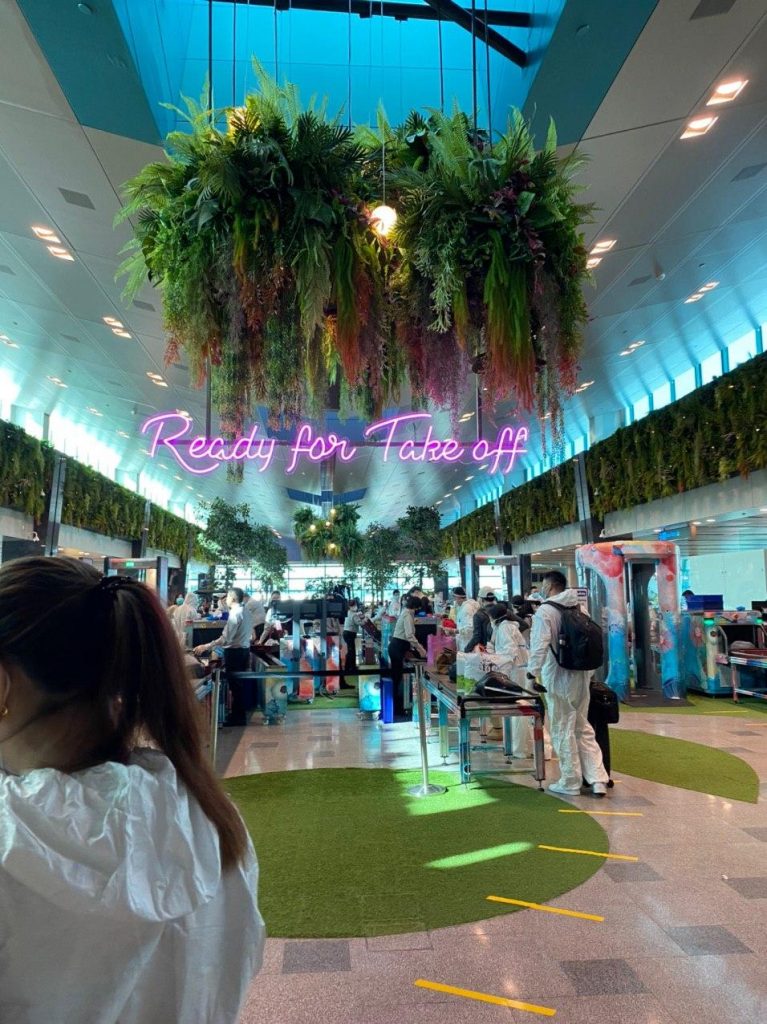 The scene seemed strangely surreal: people dressed in identical white suits, walking through electronic gantries, set against a backdrop of carpeted floors, indoor plants, and neon pink signs asking if you were "ready to take off". 
She felt like an extra in a Black Mirror episode. At first glance, everything seemed perfectly in place—people going above and beyond safety measures, staff doing their best to make the travelling process comfortable. But, as she took in her surroundings, there was that slight sliver of dissonance, like something was just that tiny bit out of place.
Things just got weirder from there on out.
On the plane, she found a plastic bag full of snacks in her seat that looked like trash a previous passenger had left behind.
Eventually, she realised that it was Southern Airlines' idea of an in-flight dining experience. They weren't allowed to serve hot food because of enhanced safety and hygiene measures, and instead resorted to a bag of snacks not much different from what you'd pack for a school trip.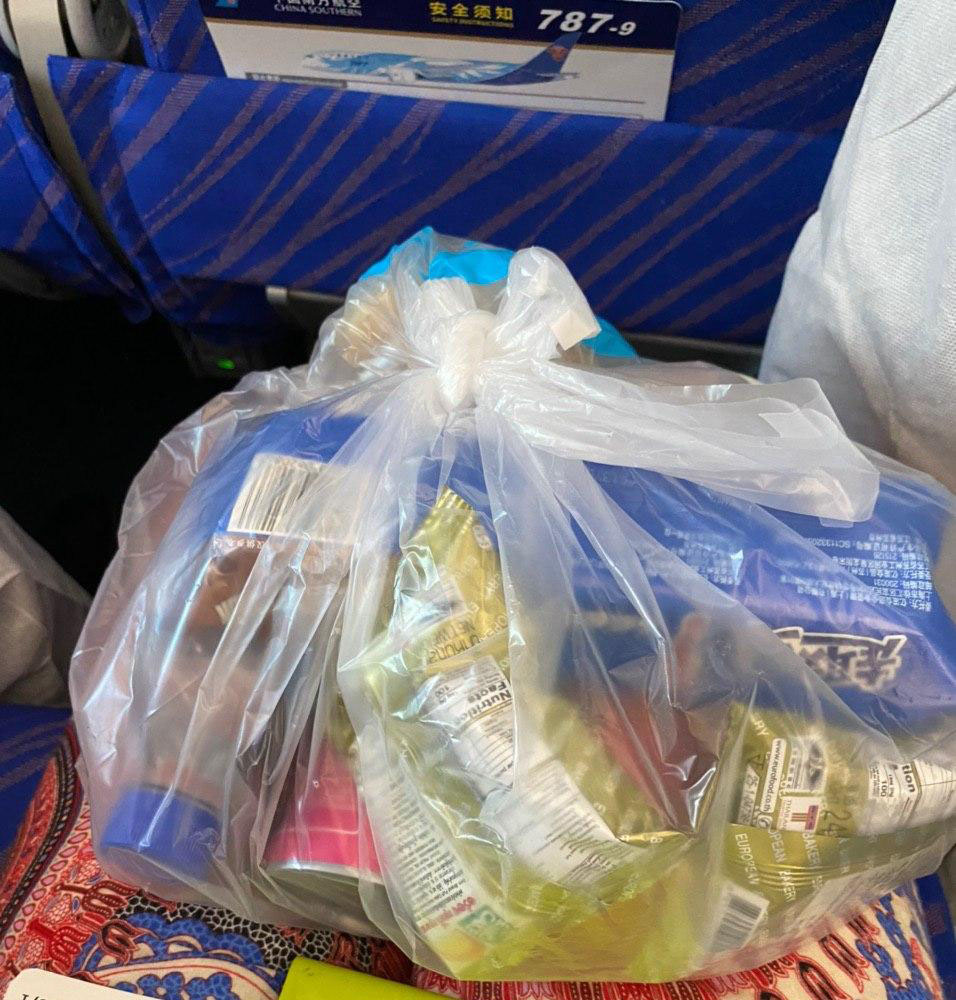 The flight attendants, too, were all clad in PPE, their white gowns making them indistinguishable from passengers. She would have mistaken the attendant for another passenger, albeit one with nicer hair and makeup, if not for her overly enthusiastic "Welcome aboard!". The attendants had scribbled all sorts of messages on their backs—their names, "Pikachu", words of encouragement—in permanent marker. 
This particular flight was packed, because flights to China were incredibly rare.
Rachel was seated next to an old lady who was very chatty for someone travelling during a pandemic. Every time she leaned over to Rachel, just a little bit too close, Rachel's throat would tense up. When she gave Rachel a light pat on her shoulder, she almost felt her soul leave her body.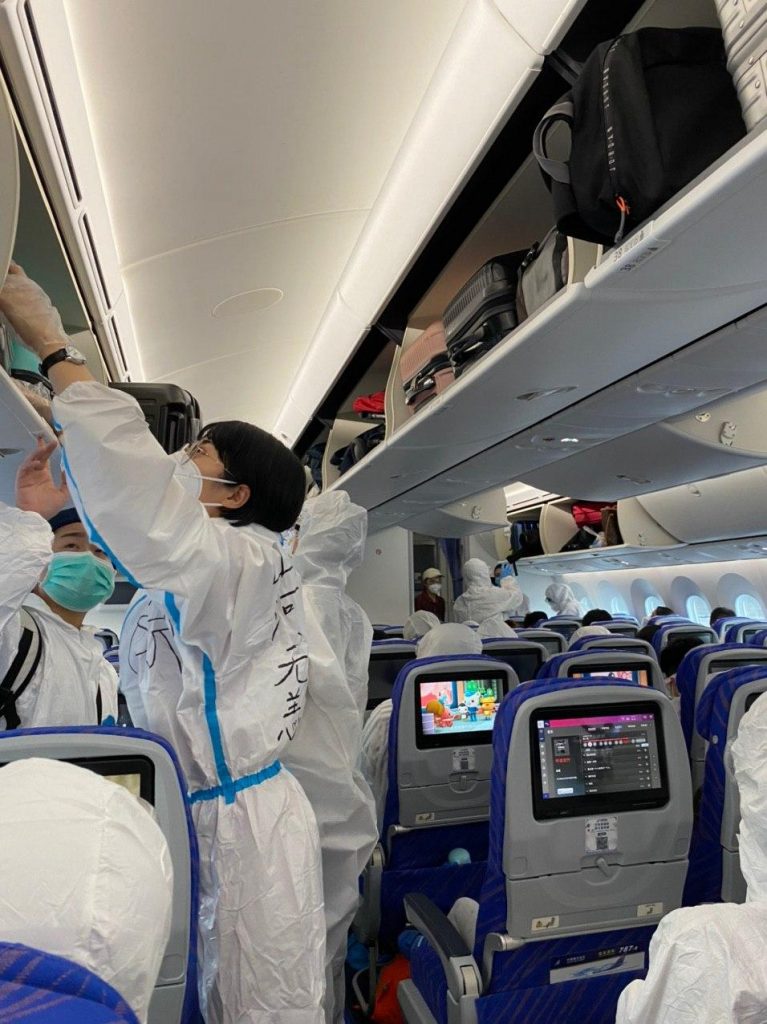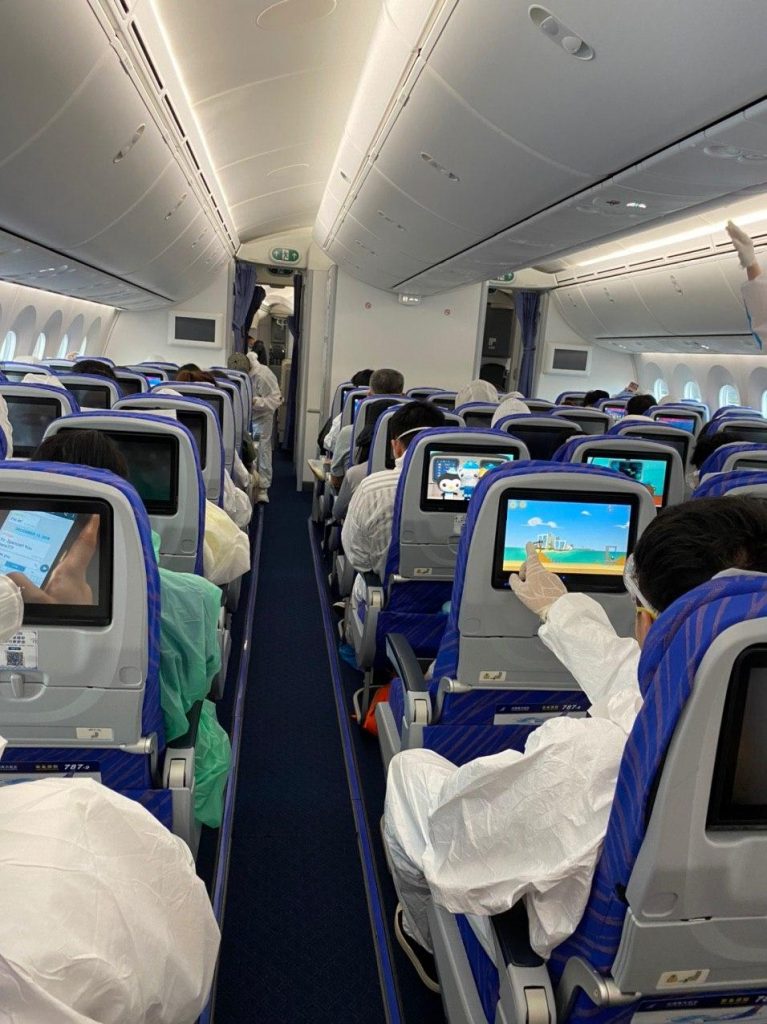 She spent four agonising hours on a cramped plane. 
Logically, she knew that air was being pumped out at regular intervals, and that being on a plane really didn't pose that much more of a risk. But she still fought to calm herself down, paranoia biting away at her whenever she tried forcing herself to sleep.
After arriving in Guangzhou, passengers were ushered out to a holding area, where they waited their turn for registration, a swab test, and immigration. 
Everyone sat far apart, fiddling with their phones. The air of anxiety and tension gradually simmered down into something more akin to boredom. Even though she desperately wanted to get out of the airport, to take in some fresh air, she told herself that strict measures like these—implementing a swab test for every single passenger—were better than no measures at all.
To make the wait a little bit easier, airport staff wheeled around a trolley with coke and light snacks, but people barely even glanced at it. No one wanted to share food with strangers at an airport during a pandemic.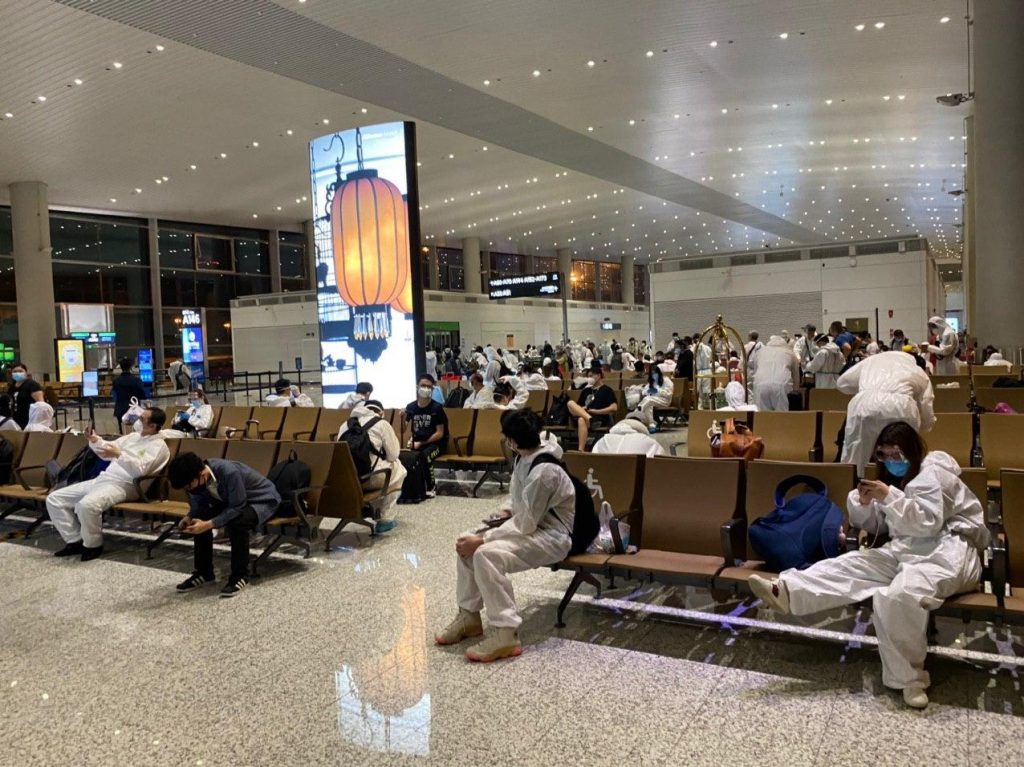 During the swab test, the staff shoved a hard stick up her nose and stuck another down her throat. She almost gagged.
But everything moved surprisingly fast. QR code this, QR code that, and she was in and out of the arrival hall. Everything had been streamlined for maximum efficiency.
Even the baggage area had been transformed—everyone's suitcases had been arranged by colour so that people could leave the area quickly and avoid loitering around. Rachel found her suitcase in mere seconds.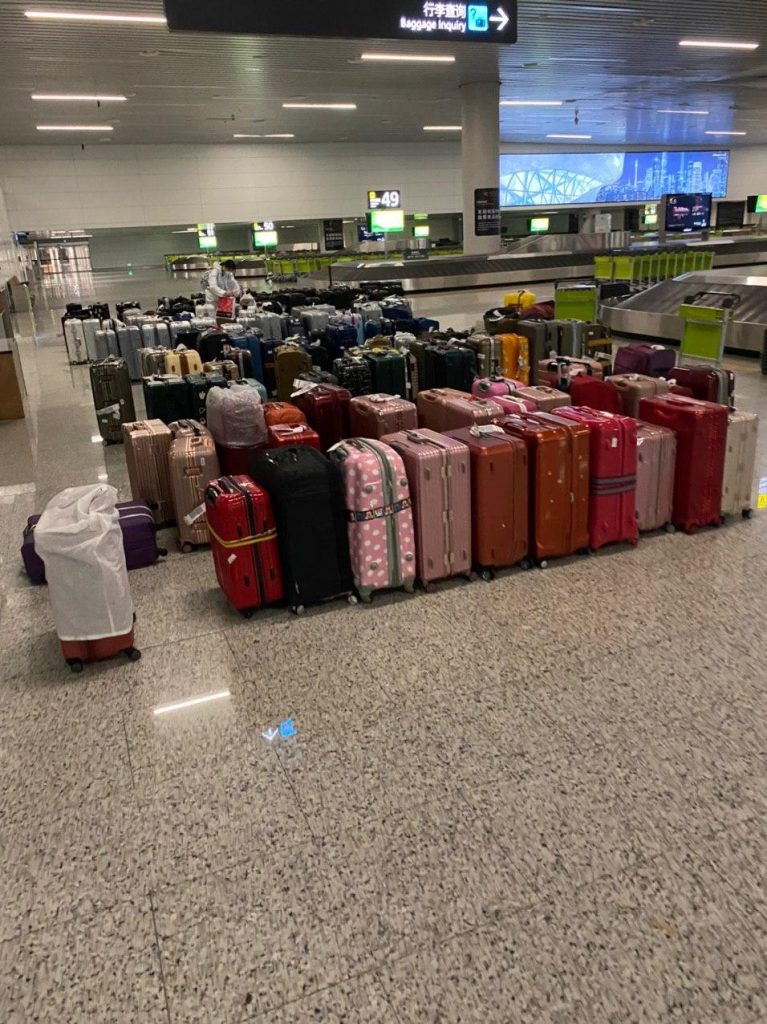 On the bus to the hotel, the staff chirped: "
Hui jia la, xin ku la.
"
You've come home, you've worked hard.
Everyone had indeed worked hard. All the passengers slumped in their seats, barely responsive despite the staff's valiant enthusiasm. The flight arrived at 9pm, but it was almost 1am when they finally got on the bus. 
Rachel, too, could feel fatigue bite at her bones. She knew the processes had been necessary—a second wave could come at any time, and incoming travellers like her carried the highest risk of starting a new Covid-19 cluster—but that didn't make the four-hour wait any easier.
Like the airport, the process of checking into the hotel had been streamlined to prevent people from interacting with each other. Everything was done via QR Code: entering the hotel, paying your deposit, and so on.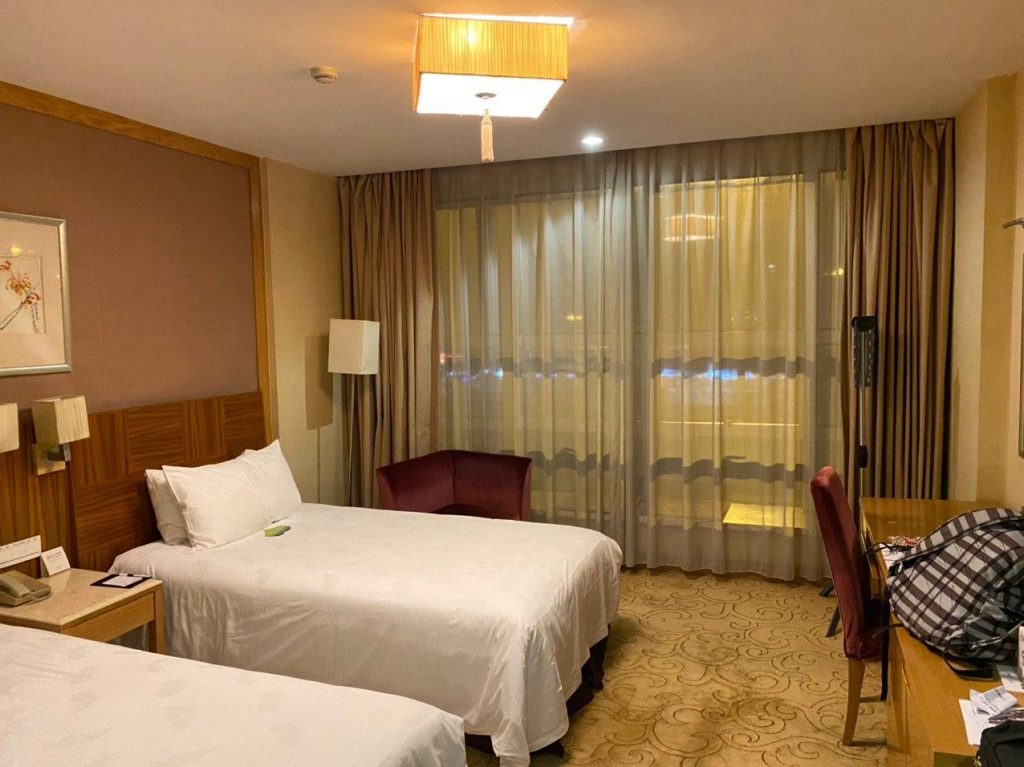 The room was luxurious, with carpeted floors and the fluffy pillows—as expected of a four-star hotel. She'd forked out her own money for the quarantine.
She dropped her bags to the floor and finally relaxed.
On the table, there were a few documents that provided surprisingly comprehensive information about her quarantine order.
Aside from pragmatic concerns like what she was allowed and not allowed to do, the brochures also included information on mental health, and even hotline numbers you could call if you felt anxious or stressed during quarantine. There were even fitness suggestions (qigong, apparently, is soothing for the mind and body) and a list of Covid-19 symptoms to watch out for.
Her days passed by in a blur. Trapped in a fancy hotel room, she drowned herself by scrolling through Taobao, watching dramas, and ordering takeout.
But, looming in the background, was that ever-present sense of anxiety. She would only know for certain if she'd contracted Covid-19 when the results of the final swab test came back. Even then, simply moving from place to place already put her at higher risk of catching the virus. 
At the end of her quarantine order, staff came to the hotel to do one last swab test, before she was finally released. 
She took the high-speed rail from Guangzhou to her hometown, relieved that, at least for now, she was in the clear.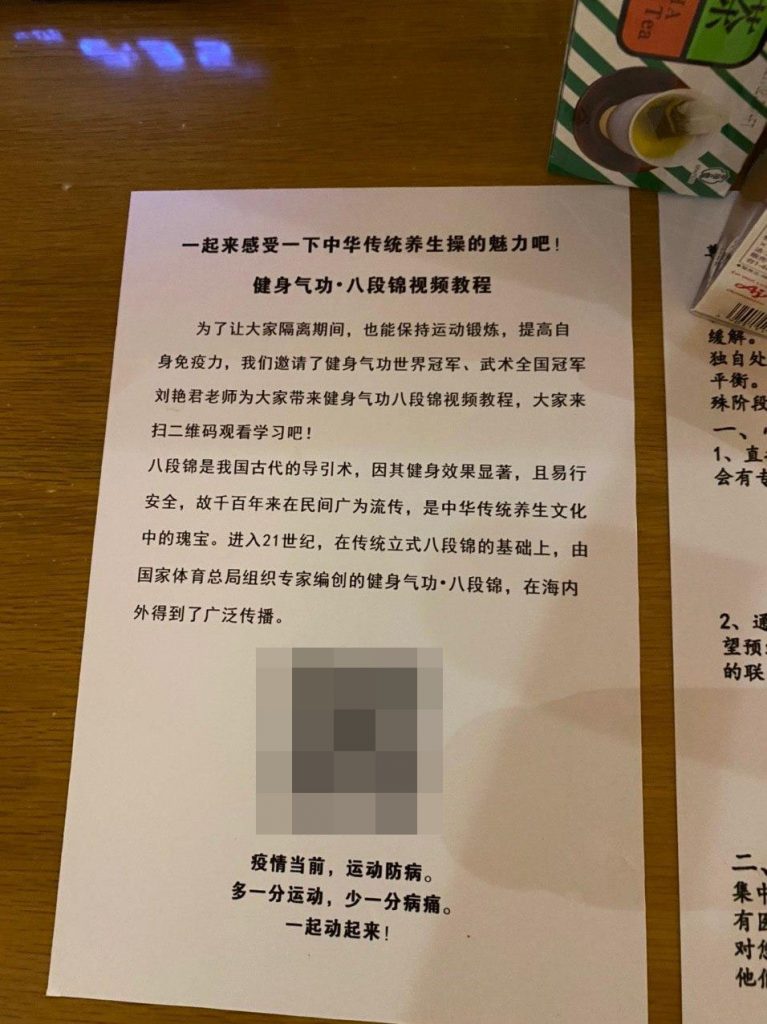 China to Singapore
The flight back was surprisingly empty—not that many people wanted to travel to Singapore, it seemed. The attendant that greeted her was dressed in her regular uniform, shirt pressed cleanly and hair neatly tied back in a bun. 
Except for the requisite masks, it felt like everything had returned to 2019.
But when the plane was about to land, the attendants started to put on their PPE. 
Gone were the prim, proper stewardesses with perfect hair and make-up. Out came the biohazard scene specialists, all geared up in white suits, walking down the aisles to make sure everyone had their seatbelts on.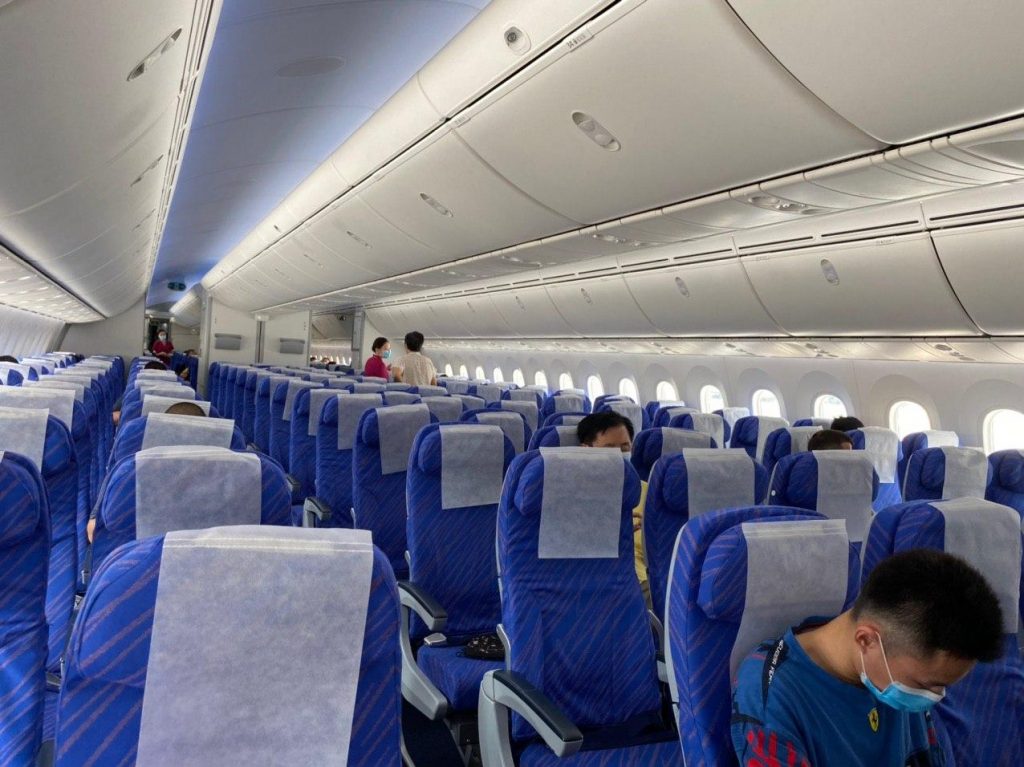 Entering Singapore was weirdly normal compared to entering China.
Changi Airport felt almost exactly the same, other than  a few temperature sensors to scan passengers and make sure no one was coming in with a high fever.
The only noticeable difference was that the automatic queues—those slightly intimidating gantries that required your thumbprint to open up—were closed. 
Rachel walked up to the immigration officer, who told her to pull down her mask so that they could check her identity. 
Maybe she looked nothing like her passport photo, or maybe the officer just had bad eyesight, but by the time she was done with immigration, her mask had been off for almost four minutes. She grimaced as she walked away, trying to forget that she had been standing around without a mask for so long.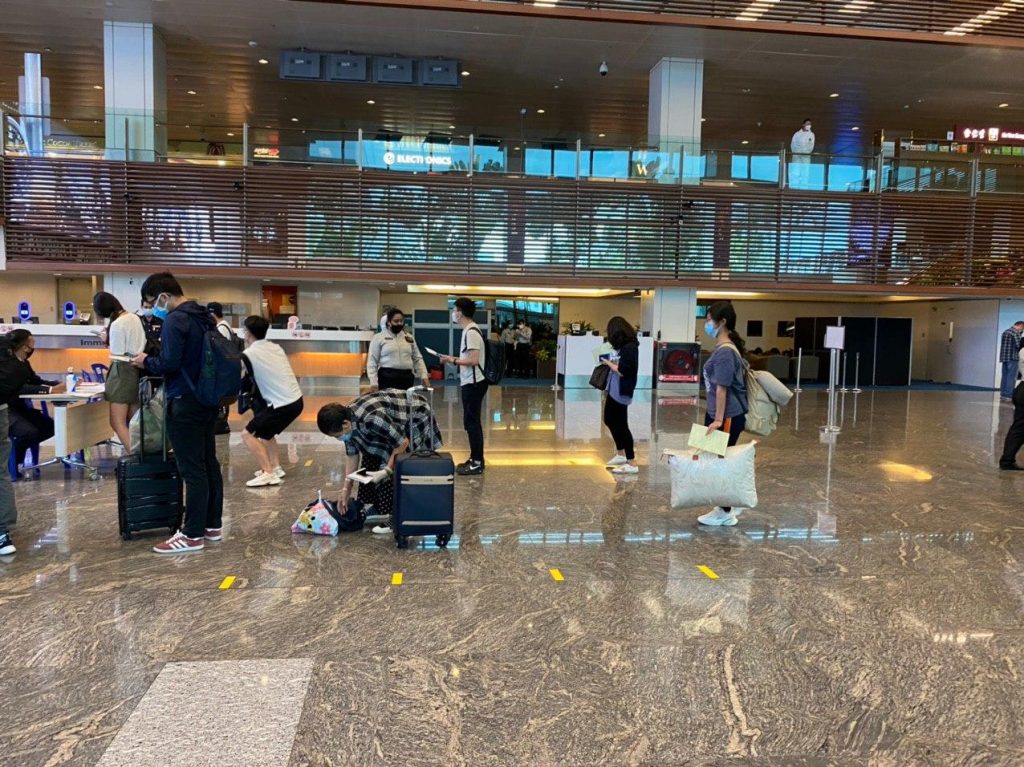 Surprisingly, there were still taxis idling outside the airport, quietly waiting for someone to request a ride.
Rachel flagged a taxi—incoming travellers weren't allowed to take public transport, which was a good thing, because no one wanted to become Patient Zero for a brand new East-West Line cluster.
Even the knowledge that everyone from the same flight had dispersed, scattering into different Grabs and Comfort DelGros, was worrying.
She was glad to be back. Her heart and mind were settled for now, and she had the next two weeks to Do Nothing before becoming a full-fledged working adult. But she knew that her mind would not be fully at ease until she received the results of her final swab test, at the end of her quarantine order in Singapore.
As she stewed in her own anxiety, watching the Singapore skyline zoom by through tinted glass, she asked the driver: why do you still come to the airport? What if you catch Covid-19?
"Zhong jiu zhong la," he replied, with all the nihilism of a kopitiam uncle. If I catch it, then I catch it.
*Name has been changed to protect Rachel's privacy.
Do you have any Covid-19 travel stories? Let us know at community@ricemedia.co.