Main photography by Benjamin Lim; photos of house visits by author.
Kate Spade ends her life exactly a week before I meet Tin Pei Ling for the first time.
The 34-year-old Member of Parliament (MP) and I are having coffee at 6oz Espresso Bar in OUE Downtown, where she pays for my flat white and a pastry that we share. The eerie timeliness of the American designer's suicide enables me to launch into the incident that Pei Ling does not want this piece to focus on.
"Let's move on," she appeals to my sense of newsworthiness. It's been almost eight years.
In any other situation, I'd readily agree that harping on her social media baptism of fire during the 2011 General Elections is a media anecdote that should be retired.
Yet Kate Spade's suicide isn't merely relevant to our conversation because of the infamous viral photo of Pei Ling posing with a turquoise Kate Spade box when she was first fielded as a potential MP.
It's also important because Kate Spade suffered from depression—one of the causes that Pei Ling feels deeply for happens to be mental health. (The other, more often covered by the media, is elderly issues.)
So we talk about the elephant in the room.
Opening up about how she cooped herself up at home, except for Meet-the-People sessions (MPS) and house visits, all while dealing with scrutiny and being publicly taunted, Pei Ling's recount is clear and detailed even though it's been, yes, almost eight years.
I feel exhausted on her behalf, but before I move on, I ask if there is a silver lining to unwanted fame.
"Yes, at least my residents can't say that they don't know who their MP is," she quips, without missing a beat.
"As a politician, you're fighting for a few causes. Because of what happened to me back then, now whenever I make a speech in Parliament, everyone pays attention. As a result, they pay attention to the causes I stand for too."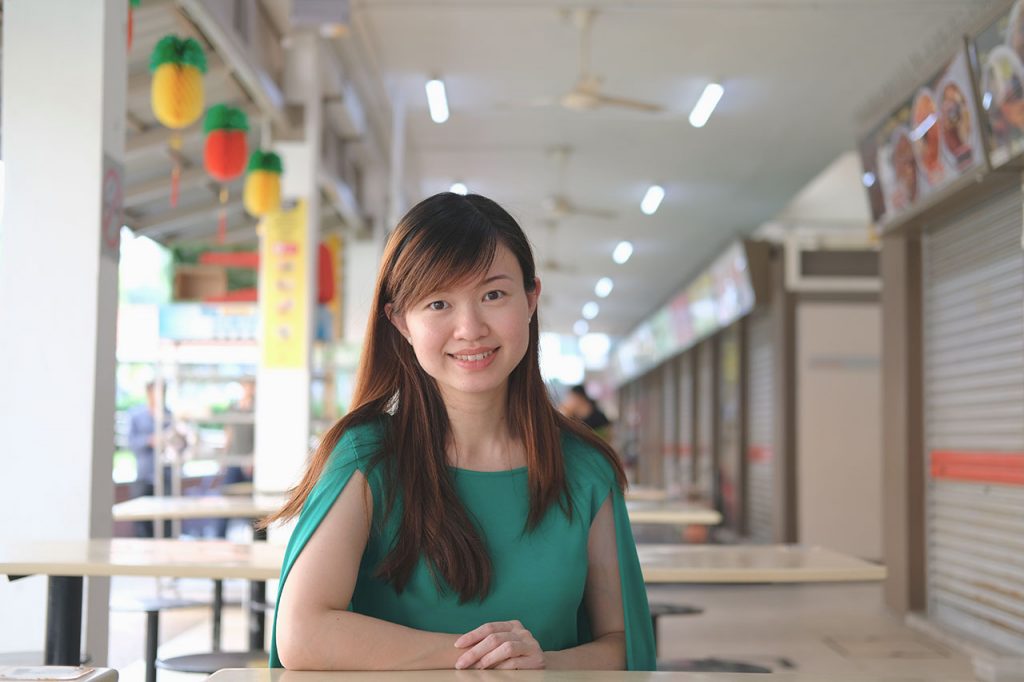 Let's face it, the flak surrounding Pei Ling's initial nomination arose mainly because she's part of the PAP. Even today, many detractors continue to focus only on the party's
'bad' decisions
and
Parliamentary faux pas
.
They don't care that there are individuals within who are doing good work and making a difference.
Only 27 when she took on the role of full-time MP, Pei Ling was the youngest PAP candidate to ever be fielded. Almost eight years later, she recently took on a full-time role as CEO of Business China in May. She's also a mother to one son, with another child on the way. Basically, she holds three jobs now.
The only thing that hasn't changed is her insistence on championing the causes she cares about.
"It's very hard to last if you don't have a sense of mission and passion. Just imagine doing house visits every week for 52 weeks per year [for at least four years]," she says, describing just one aspect of being an MP.
She's always believed that young people need to have a cause they're passionate about before joining politics.
Since her junior college days, Pei Ling has wanted to break the stigma surrounding mental health, eventually pursuing psychology at the National University of Singapore. Through seven years of grassroots volunteering experience, she realised the necessity of normalising talk about mental health, not least so people are aware of their own mental health struggles.
"Once at an MPS, a resident claimed her father was Lee Kuan Yew. She refused all financial help. I thought something was unusual so I asked questions to test the logic of her reasoning. It took me a long time to convince her to accept welfare assistance," she shares.
"At that time, I knew the reason I could detect her behaviour was because I'd studied abnormal psychology in school."
So Pei Ling reached out to the Institute of Mental Health, and organised a session for fellow volunteers to understand the basics of mental health, and to educate themselves on what they could do to help other residents who exhibited symptoms.
I don't realise it then but this seemingly ordinary anecdote reveals essentially who Pei Ling has always been. The woman gets shit done.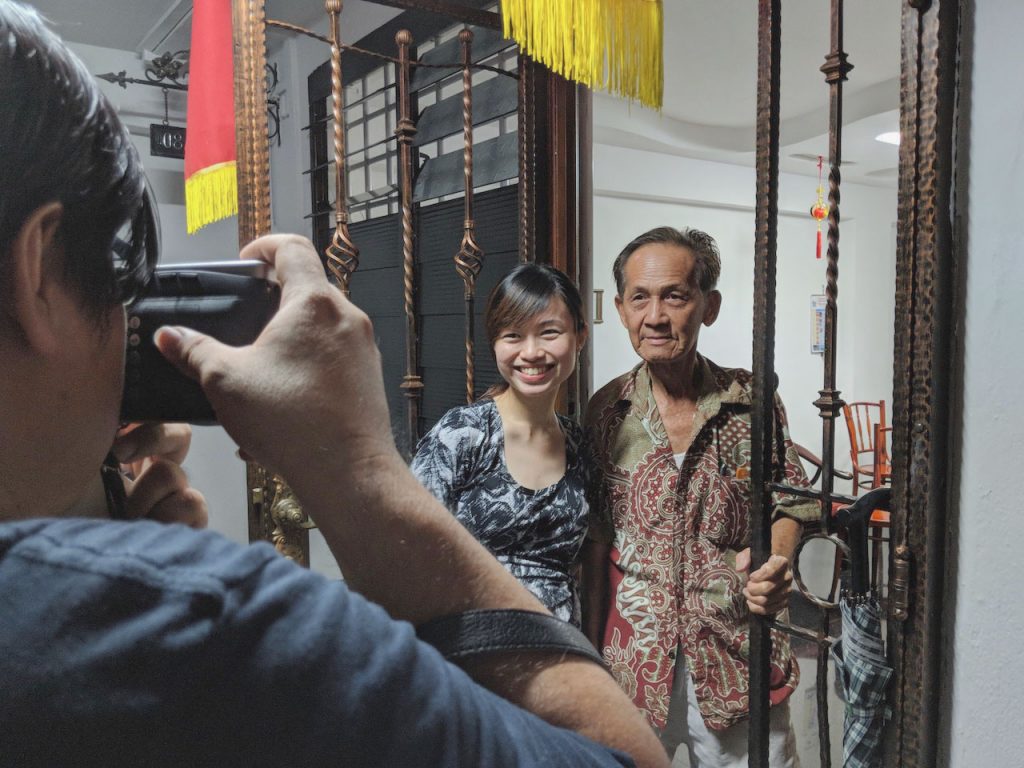 This 'less talk, more action' work ethic is more obvious when it comes to Pei Ling's work with the elderly community, which comprises a large part of MacPherson SMC.
As the next phase, she hopes to transform MacPherson into a smart community, but knows that the core demographic of her residents (elderly and lower income) means this will hardly be a walk in the park.
To ensure that they don't inevitably cause vulnerable groups like the elderly and lower income to be left behind, she and her team have surveyed rental blocks (i.e. the most vulnerable group) to see how they'd take to digital solutions, such as an integrated app to be launched in November 2018.
It's interesting because when the recent initiative on cashless EZ-Link top ups was announced last year, many wondered if the government had bothered speaking to the elderly before rolling out the new technology.
Still, Pei Ling says that the main obstacle to embracing technology is access to resources.
As I soon discover, raising her own money for programmes within MacPherson is something that Pei Ling does often. Initiatives like the MacPherson CARE Fund and NTUC Fairprice vouchers that MacPherson gives out to its lower-income families are "not government money" and she "doesn't have a lot to spare".
After realising the families tend to use up majority of the NTUC Fairprice vouchers on milk powder alone, Pei Ling raised the issue of the rising cost of infant milk powder in Parliament last year. She reasoned that if she was able to help with milk powder, the families would have more cash leftover to buy other necessities.
The invaluable ability to influence action is her favourite part of being an MP. Waiting for policies takes time, she says. If there's an immediate need for an interim solution, she believes in solving it herself.
"Imagine if all you do is talk, debate, and have a contest of ideas in Parliament," she explains.
"You can go on for months yet still have nothing on the ground. I know that I can do something, so I plug the gap first."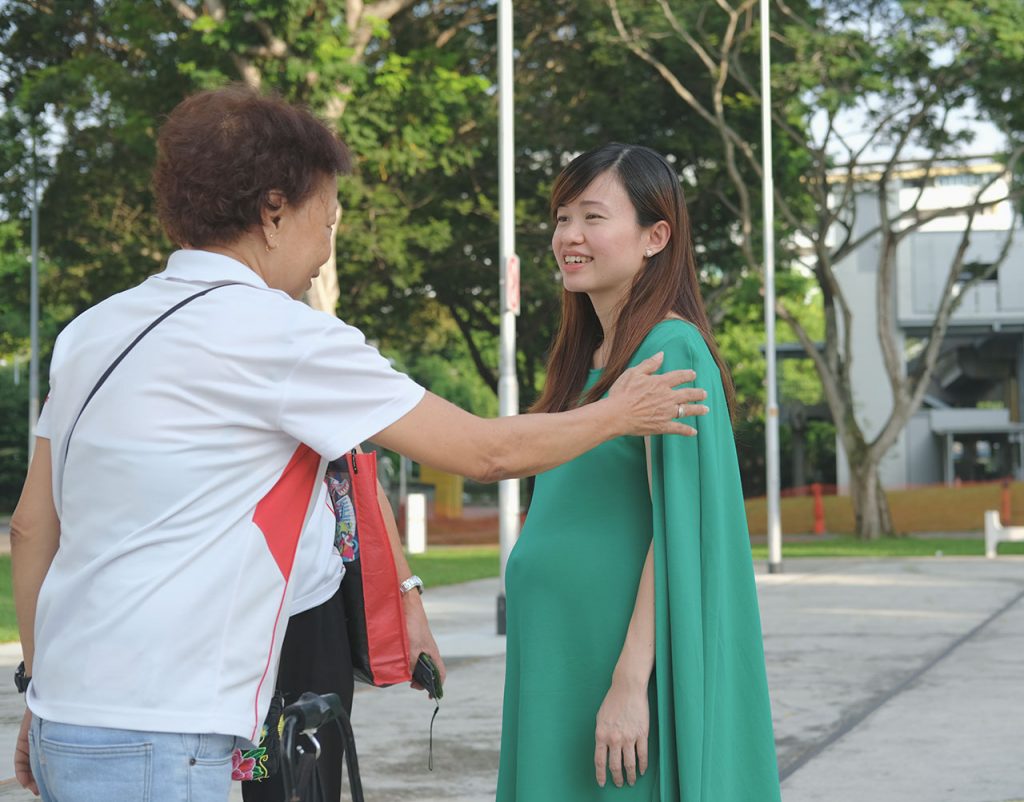 Like most people are with causes close to their hearts, Pei Ling's passion for the elderly stems from a personal place. In her third year of university, her father suffered a heart attack. She took over his job—selling coffee in a kopitiam—while he recuperated, eventually taking a Leave of Absence from school when she found herself missing deadlines.
This was how she developed a deeper interest in the elderly community, and learnt to empathise with other Singaporeans who face similar struggles.
The affection is evidently mutual. She shares a story of an auntie who keeps track of the number of times she sees Pei Ling at the market. Apparently the number has reached more than 70, which is at least 70 times more than I've met my own MP.
Ironically, I've also met Pei Ling more than my own MP over the course of this story. We've gotten relatively comfortable with each other, and occasionally I find myself talking to her like a friend. For example, when we're walking around the MacPherson neighbourhood, I tell her about a vegan pizza cafe that just opened opposite MacPherson Community Centre.
"You know they serve vegan cheese. When I tried it, I was like, it's actually freaking legit???"
On another occasion, as she sips on her latte, six-month pregnant Pei Ling lowers her voice and sheepishly confides, "Doctor say one day one cup, but I cannot lah."
That cup, I believe, was her second for the day.
And when we talk about hobbies, she shares that just a few years ago, she used to binge watch Chinese period dramas late into the night. These days, she spends most of her downtime with her three-year-old son or catching up on sleep.
In all, we meet three times. Now I just need to have at least 67 more meetings with her to catch up to the aforementioned overachieving auntie.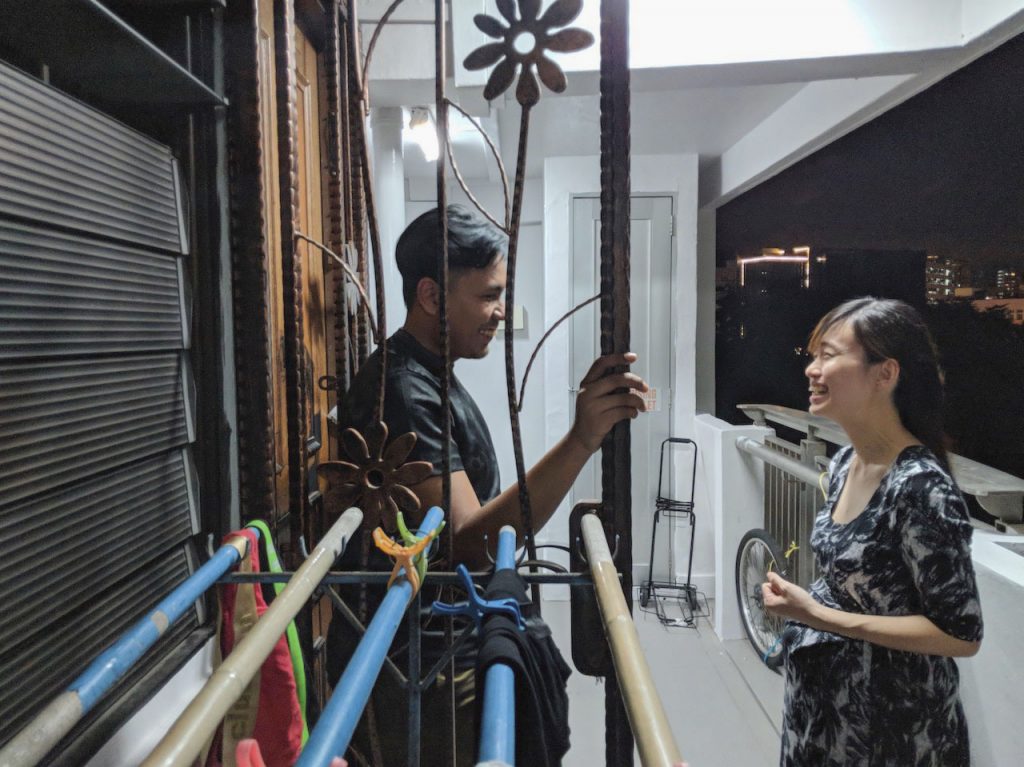 Even though a major part of my job involves being able to quickly establish a sense of camaraderie with anyone, from politicians to ah peks, Pei Ling gives me a serious run for my money.
I observe this natural affability manifest during her interaction with residents, when I accompany her on a night of house visits, which she does at least once a week. She navigates the corridors with a spring in her step, never mind that she's just rushed over from work or that she's six months pregnant.
Joining us are officers from the Community Centre, HDB, Town Council, and a few volunteers. It's important that these officers are on hand to address residents' questions immediately, especially if the answer involves diving into the nuance of a policy.  
From 7:45 PM to 10 PM, we cover about 25 units at 83 Macpherson Lane, which has just received notice of en bloc. At each unit, Pei Ling stays for an average of five minutes. We see a spectrum of residents that night, from middle-aged and older ones who are upset about moving, to several who have reluctantly resigned to fate, and even a few who take the chance to complain about the government.
Through it all, Pei Ling reassures residents that she hears their concerns and will be there to tide them through any difficulties.
"I can't change the decision of HDB, but I'm here to facilitate," she tells a resident who gets a little worked up.
With some elderly residents, she holds their hands and puts her arms around their shoulders (sometimes through the gates). Other residents, after noticing Pei Ling's stomach bump, offer her a seat inside their home.
"If I sit, I won't want to stand already," she jokes.  
When Pei Ling was pregnant with her first son, she did house visits up till a week before delivering him. But don't call her superwoman, she's simply "very slow" by her own admission.
"I don't believe in rushing through house visits. Of course I can direct residents' problems to someone else who can help, but I'm not sure if that's the best solution. As a people representative, I want to see for myself what's affecting them and how severe the issue is," she explains.
"I need to spend time to understand their problems, what they like and don't like, and what they're happy or unhappy about. So when I go to Parliament, or even to meetings with other public service agencies, I don't just talk on theory."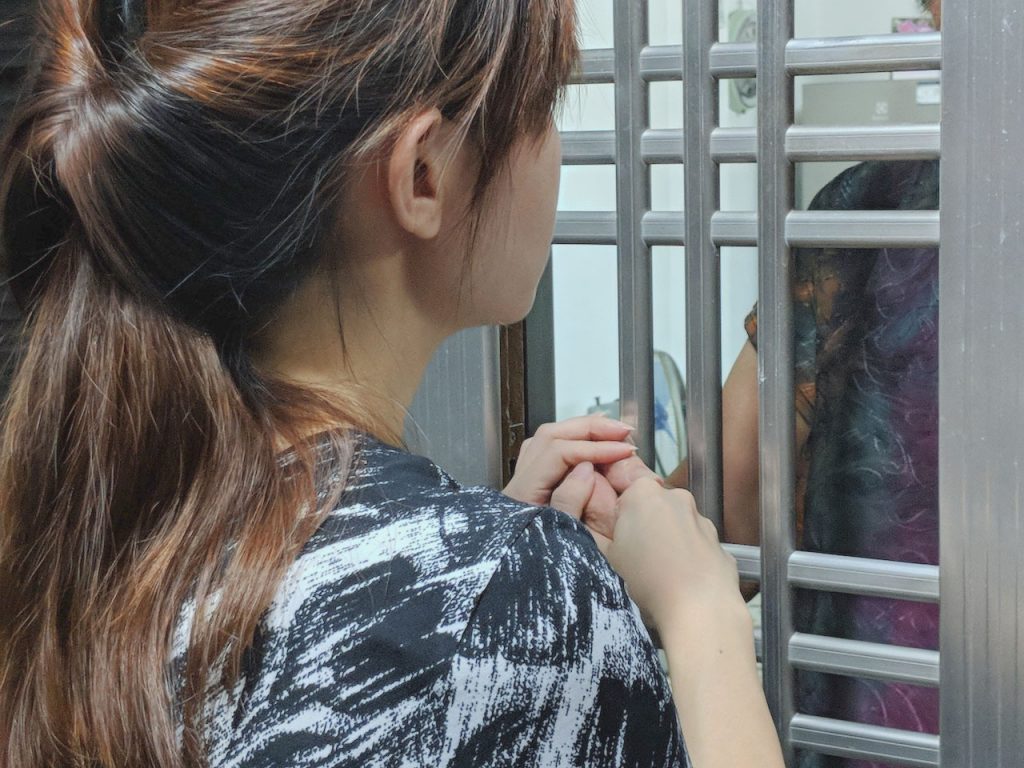 As Pei Ling regularly takes on tens of thousands of other people's personal problems, I wonder how she prevents her own emotional burnout.
"If someone doesn't seem to be responding to my help, I will tell them that my offer is there, but it takes two hands to clap. I analyse the situation with them, but the decision is theirs. My team and I are ready to help. I am here," she says.
It's challenging to meet everyone's expectations, especially when some residents believe that MPs should literally solve anything. Issues raised can be as absurd as requesting to chop down trees for, and I quote, "feng shui".
She also feels bad about being unable to grant her residents' wishes to see her more often. To test the feasibility of doing this without compromising on the duration she spends at each home, I spend an hour walking around the MacPherson estate before one of our meetings.
The flats are densely packed. Within the hour, I barely finish covering three blocks, and that's without stopping at any unit. Frankly, it's insane to think anyone can cover all the blocks more often, work on multiple other MP duties, hold a separate full time job, be a parent, and spend a substantial amount of time with every resident.  
Nonetheless, Pei Ling tries, if only because she's unhappy when her residents are unhappy. It takes one perfectionist to recognise another—and she is exactly that through and through, which I already realise before she tells me.
She's also impatient with problems that need to be solved; it's okay if results aren't immediate, as long as things get moving. As such, she admits that her volunteers are "longsuffering", having to meet her "very high standards" in order to adequately help residents.
I ask what's the latest Pei Ling has stayed after an MPS to work on residents' problems.
4 AM.
And her volunteers? 5 AM.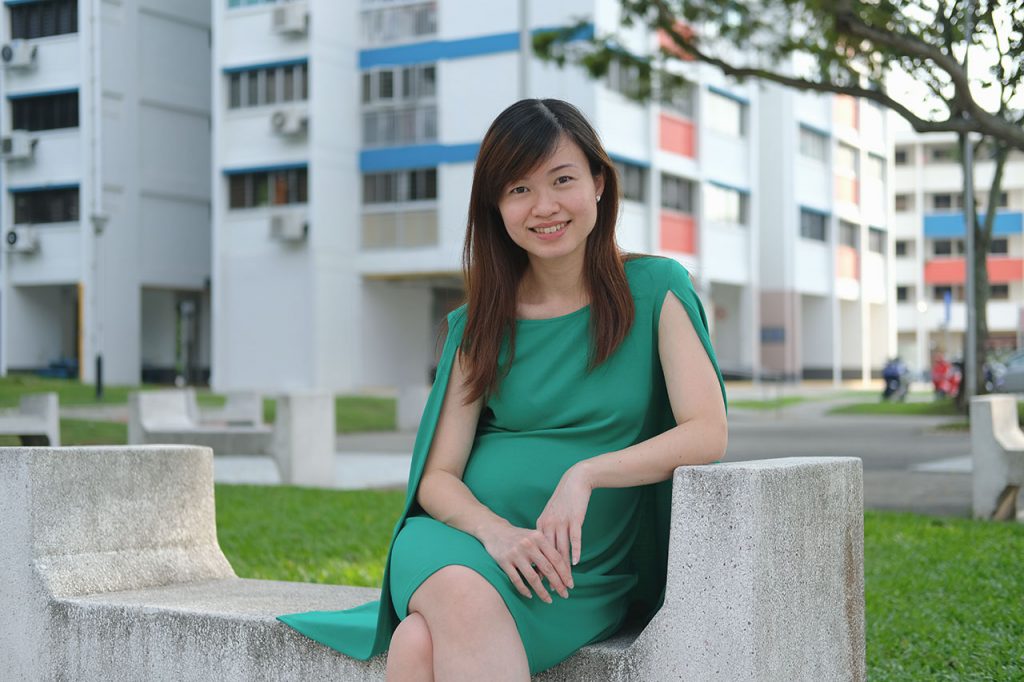 Yet as she's relatively young, Pei Ling still has energy to 'chiong'.
"The benefit of being young is that, if I do 'well', I hope it'll give others the confidence to trust the young and allow them to take on more responsibility. The challenges I faced have also made it easier for future young leaders to enter politics," she shares.
After hanging out with Pei Ling, I'm reminded that the PAP must take its leadership renewal seriously if they want to re-engage Singaporeans. It's clear that superficially diversifying race, age, gender, education background, or socioeconomic status within the government isn't enough anymore.
However, looking at the number of men who constitute the 4G leadership, there's no denying that the party needs more women in its upper ranks. With Pei Ling's recent appointment as CEO of Business China, it wouldn't be a stretch to reason that she's being groomed for heavier responsibilities, since previous CEOs Sun Xueling and Josephine Teo eventually became Senior Parliamentary Secretary and Minister respectively.
Singaporeans want empathetic leaders who work effectively and efficiently. After all, it's no longer just the thought (or having the right sound bite) that counts; it takes a specific type of individual to translate words into actions that benefit society.
As we bid our goodbyes on our final meeting, Pei Ling and I gently graze each other's arm at the same time. It's a subconscious gesture for both of us, but it manages to establish solidarity without intimacy.
We are friendly yet not quite friends, a crucial distinction that I realise is key to being a relatable and respectable MP. It's imperative that residents feel as though they know you, but just as necessary to maintain a sense of your own private life.
It's an art that Pei Ling has mastered, alongside the lethal combination of perseverance and hard work in the face of darker and more turbulent times.
I recall asking her during our first meeting what to do when you hurt from caring too much. At that time, I was mainly seeking general career advice not for use in this article, but her reply feels apt in hindsight.
She said that change requires patience. You will get heartbroken, more often than not by your own expectations, but you learn to manage them better with time. The thing to remember is never to become indifferent.
This unreserved caring is so subtle you hardly realise you've been infected. It takes its time to win you over, regardless of the increasing dissatisfaction with her party from Singaporeans. It chooses to prove her capability through results, such as a visible improvement in her residents' living conditions.
For now, Pei Ling's brand of optimism appears to be the antidote to the skepticism she faces.
Curiously, it is also precisely what the Kate Spade brand embodies.