All images courtesy of Nadine Villaret.
Note: In light of many of us receiving our SkillsFuture credits by 1 Oct 2020 (and for some 31 Dec 2020), the following account is part of RICE's Extreme Upskilling series, where we speak with an individual who has gone above and beyond the norm in what we now refer to as skills upgrading. This account has been lightly edited for clarity.
Girl on a Mission
My name is Nadine Pamela Barrios Villaret (23) and I'm a 2nd year medical student at the School of Medicine and Public Health at the Ateneo de Manila University.
With 4 more years to finish my dual-degree programme (MD and MBA), I am following in my father's footsteps to specialise in the cardio-thoracic discipline in the medical field. My father currently works as a laparoscopic surgeon in a government hospital.
Metro Manila has been in lockdown on and off since March 15. At the behest of my family, I moved back to my provincial home with my parents and three sisters, together with my two grand-aunts and uncle.
Frankly, the pandemic has made my anxiety skyrocket. With community quarantines being extended every 15 days, it has been very difficult to return to the university for my exams.
One way I've found to combat it is by staying productive.
So stuck at home and finding comfort bonding with family and friends (over video, voice calls or Netflix), I got started on online courses, as a way to fill in gaps in-between studying for our medical exams.
The Courses I Took
I didn't expect that over 73 full days, I would have completed 100 certification courses.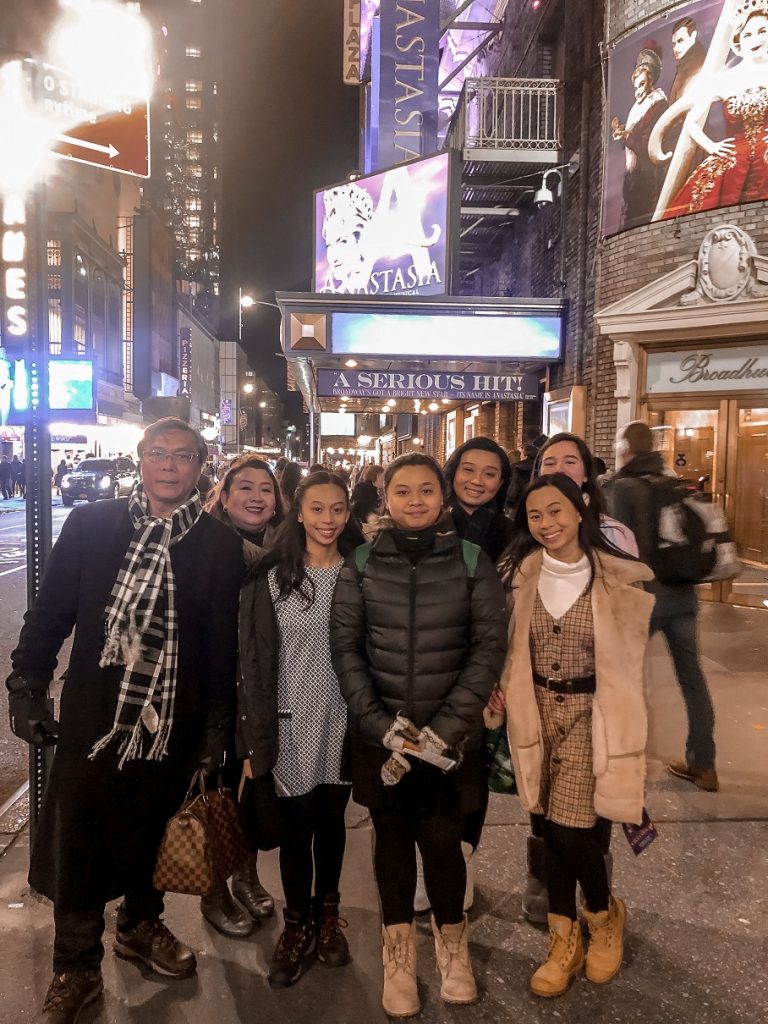 While all of them were free, I just had to pay for one:
Lessons from Ebola: Preventing the Next Pandemic
from Harvard University. The rest were from various big-name universities like Macquarie, Leeds, Johns Hopkins, Monash, Harvard, etc.. You can find them on platforms like Coursera and Future Learn.
At first, I thought they would be easy, since they were all self-paced. But the challenge came when I had to find the discipline to juggle them and finish them all. Each course takes about 2-6 hours to study per week and completion ranges between 2 to 4 weeks each, so to put it bluntly, there were many overlaps.
Some friends have asked: why complete so many? What's the rush? Surely, I had better things to do right?
Firstly, most of the courses fall within my chosen field of study anyway—medicine, psychology, Covid-19/Ebola, social trauma and healthcare systems … so no surprises there.
Secondly, I think what kept me going (and probably in record time) was this magis mentality of my alma mater. Magis is a Latin word meaning "more" or "greater". It's a motto to mentally push myself to do more than is asked, to do more than is expected and to go beyond my own limits. Maybe it's just who I am.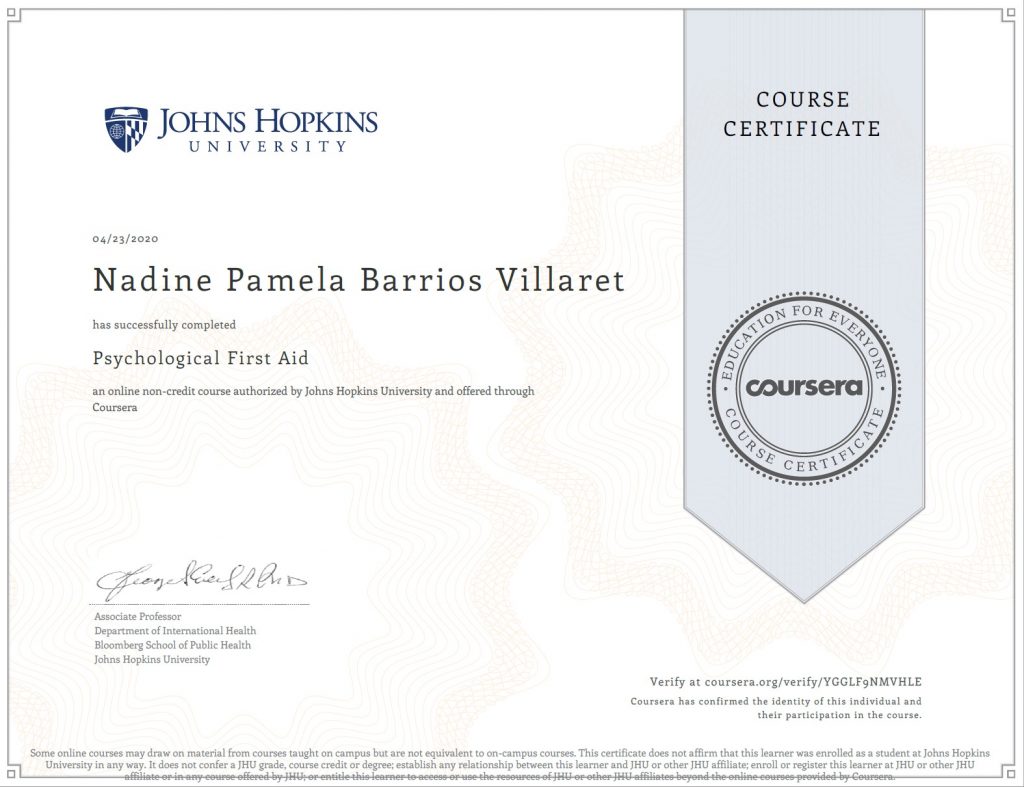 I started with what I thought was the simplest course: Psychological First Aid from Johns Hopkins University.
I got hooked. After that, I just kept going and I couldn't stop myself.
Staying Motivated
But here's where self-paced studying is really all about self-pacing.
Some days I'd finish one course, other days as many as five, and some days none. It would depend on a number of factors, like how much material the course had, how familiar I was with the topic, how quickly I could pass the quizzes or submit peer-graded homework. Oh yes, some of them required peer reviews.
To stay productive, I set a daily goal of what I wanted to accomplish each day. I adhered to the "pomodoro technique", where I began in intervals of 25 minutes and gradually increased the interval over time.
Then, I used an app to ensure that I hold myself accountable for my study sessions. The app basically planted a tree in a virtual forest each time I finished a session. If I faltered, trees slowly wither, so it really helped me focus and not get distracted by my phone, social media, etc.
The trick is to create a practical and personalised schedule. I had to push myself to stick to it, but leave some wiggle room for flexibility and fun. I often rewarded myself with activities (Netflix, K-drama, comics, movie night with my sisters, etc.) as a treat at the end of each day. Taking breaks is a definite must.
Distractions are the worst! To combat them, I used site blockers to stop myself from opening certain websites (an app called SelfControl) so I could maintain my deep focus mode while I studied.
Despite all of my efforts, I don't always finish my daily goals. There were times I'd barely touch a page of the readings from both my online courses and med school, while some days I tunneled right through and did more than I ever set for myself.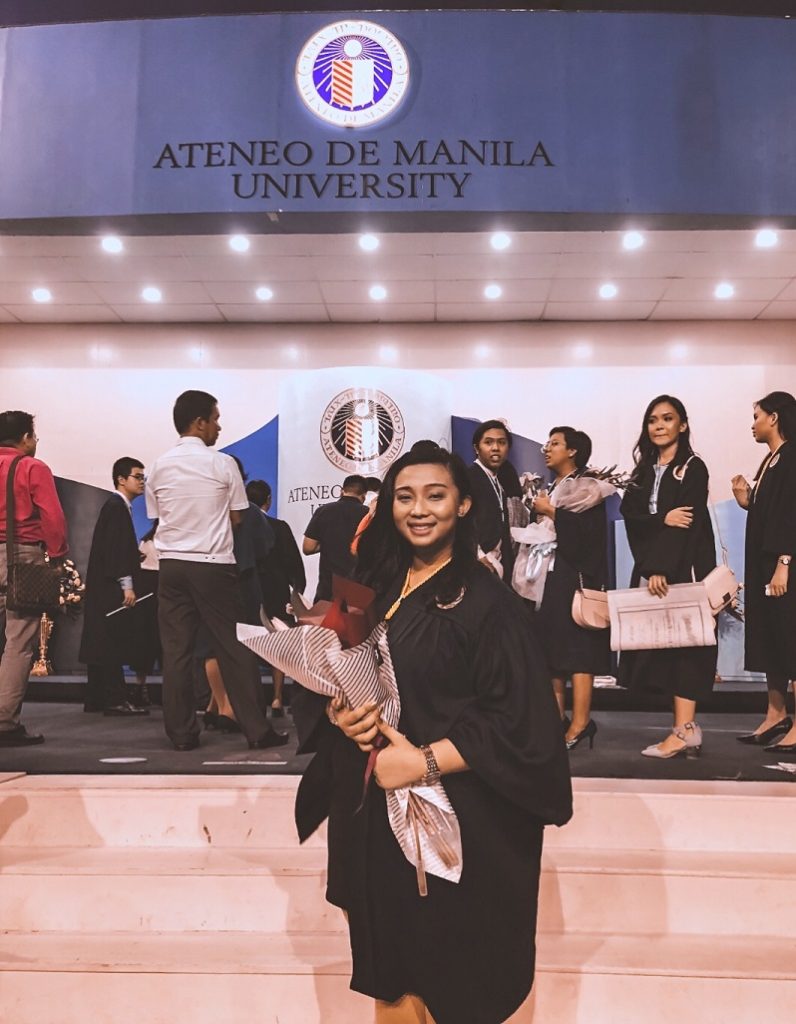 But in hindsight, while the courses range from easy to hard, all of them gave me insights that built my mindset, character and awareness that I figured I may not gain elsewhere (or at least, in such a short amount of time).
Learning About Pandemics During Covid-19 (and other revelatory courses)
Harvard's Lessons from Ebola: Preventing the Next Pandemic had a video where one of the speakers gave an insight that's relevant to our current pandemic.
He said that even if the vaccine had been available before Ebola struck, there was no assurance that it would be delivered effectively enough to prevent the mortality and morbidity that ensued.
What he meant is that having the best biomedical technology isn't going to be enough. Developing countries need better infrastructure and resources to receive and deliver vaccines to their people. It will be the same when a vaccine for Covid-19 is found.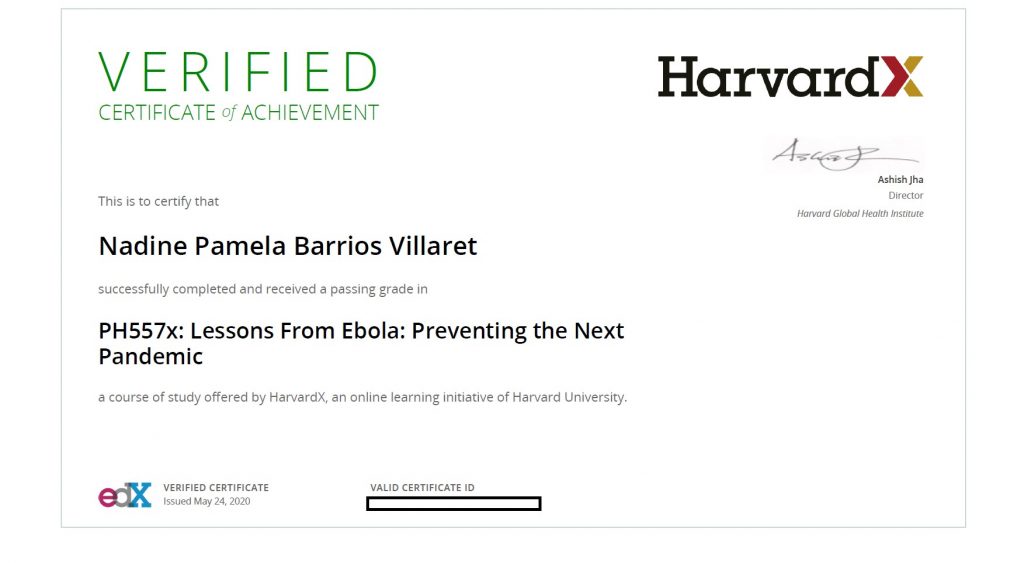 Another interesting course I took was The Museum of Modern Art's Fashion as Design. Besides wanting to explore my own style and learn the complexities of fashion (using symbolism, fashion movements, its role in sustainability and the like), it has helped me keep up in conversations with my two best friends, both of whom are up-and-coming fashion designers.
Two other courses I like are from the US Institute of Peace: Gender Inclusivity in Peacebuilding, and Media and the Arts for Peace. Both made me realise just how much more work we need to do to fight for respect and acceptance in the LGBTQA+ community.
In case you're wondering, I've yet to receive job offers as I've not tried to apply for any job or internship. My focus now is to study for my upcoming modules and complete my 4 years.
How This Year of Intense Learning Has Changed Me
But through these courses, I've become far more conscientious than I was before. For example, as the world grapples with this pandemic, I'm starting to see more of us utilising single-use products, like disposable masks, plastic containers, and so on.
Yet I also understand that right now, we don't really have a choice. The medical field is forced to use disposable items in order to contain the spread of the pandemic. Eventually, over time, the amount of waste will accumulate and it will become extremely devastating. So I feel that medical-grade but sustainable, reusable, and more eco-friendly options need to be created.
I've also learned that my country needs better narratives, symbolisms, and ideologies to stop the perpetuation of direct and structural violence. We've had centuries of colonisation, foreign and local oppression, bloody revolutions—all influencing our methods for achieving peace.
But structural violence is a weed that will grow unless it is pulled from its roots, and one way to do so is to ensure the right narrative is told in proper context and form.
After 73 days of self-paced learning, I've become a firm believer that learning, or more importantly, knowledge, should never be a privilege, it is a right. The next step for me is most likely experience.
While we should all work towards a particular goal in our career (in my case, to become a doctor and find ways to improve our public healthcare systems), my insight from taking these courses has made me realise that we should not limit ourselves to just our career-centric fields alone.
Because we are the sum of what we learn, in school, at work and in life.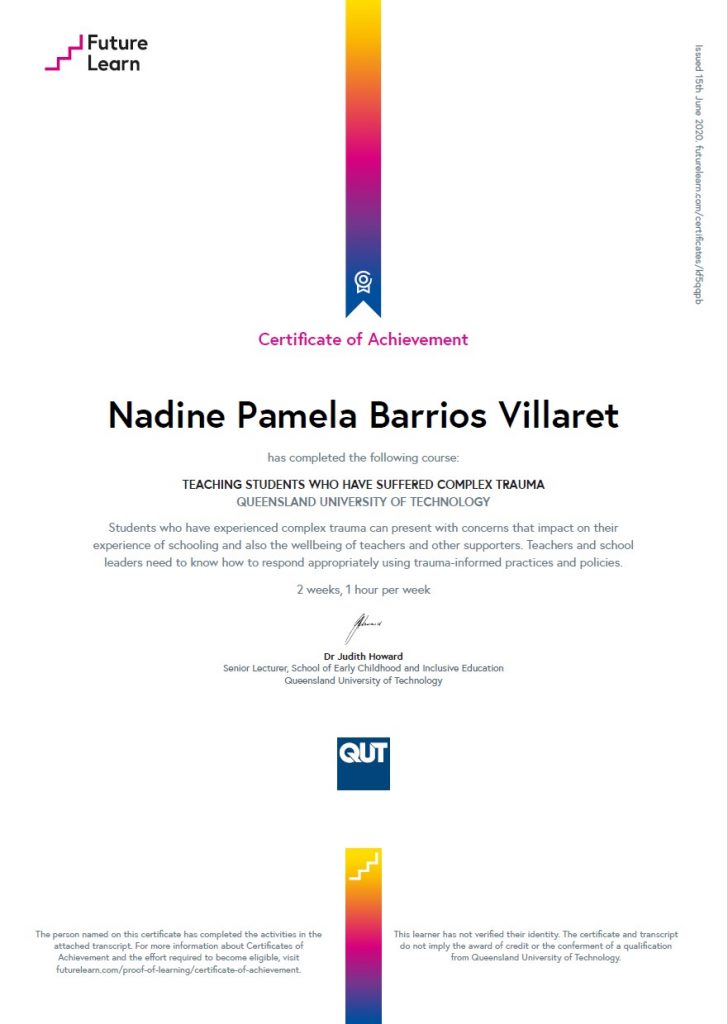 * Here are the 100 online courses Nadine completed over 73 full days. They were mostly taken via Coursera or Future Learn websites with each course requiring about 2-6 hours of study per week on average, and completion within 2-4 weeks.
Big History: Connecting Knowledge by Macquarie University

Bullying in Schools: How Should Teachers Respond? by Queensland University of Technology

Bushfires: Response, Relief and Resilience by The University of Newcastle Australia and Cifal Newcastle

Collaborative Working in a Remote Team by University of Leeds and Institute of Coding

Communication and Interpersonal Skills at Work by University of Leeds and Institute of Coding

Conflict Analysis Micro Course by United States Institute of Peace

Converting Challenges into Opportunities by University of California San Diego

COVID-19 Contact Tracing by Johns Hopkins University

COVID-19: Effective Nursing in Times of Crisis by Johns Hopkins University, JHPIEGO, and Johns Hopkins School of Nursing

COVID-19: Global Health Perspectives by University of Melbourne and The Nossal Institute for Global Health

COVID-19: Helping Young People Manage Low Mood and Depression by University of Reading

COVID-19: Psychological First Aid by Public Health England

COVID-19: Tackling the Novel Coronavirus by London School of Hygiene & Tropical Medicine and UK Public Health Rapid Support Team

COVID-19 Training for Healthcare Workers by Stanford University

Create a Professional Online Presence by University of Leeds and Institute of Coding

Create a Social Media Marketing Campaign by University of Leeds and Institute of Coding

Decision Making: How to Choose the Right Problem to Solve by University of Leeds and Institute of Coding

Designing Community-Based Dialogue Micro Course by United States Institute of Peace

Design, Monitoring and Evaluation for Programming in Fragile Environments Micro Course by United States Institute of Peace

Dino 101: Dinosaur Paleobiology by University of Alberta

Disease Screening in Public Health by University of Geneva, University of Lausanne

Ecology: Ecosystem Dynamics and Conservation by American Museum of Natural History and Howard Hughes Medical Institute

Epidemics, Pandemics and Outbreaks by University of Pittsburgh

Epidemiology: The Basic Science of Public Health by The University of North Carolina at Chapel Hill

Essentials of Global Health by Yale University

Essential Skills for Your Career Development by University of Leeds and Institute of Coding

Evidence and Data Collection for Problem Solving by University of Leeds and Institute of Coding

Fashion as Design by The Museum of Modern Art

Future-Proofing the Health Workforce by Griffith University

Gender Inclusivity in Peacebuilding by United States Institute of Peace

Global Biosecurity for One Health by Murdoch University

Global Health: An Interdisciplinary Overview by University of Geneva

Governance Micro Course by United States Institute of Peace

Healthy Futures: How Can We Create the Most Effective Healthcare System? by Murdoch University

How To Write A Resume (Project-Centered Course) by The State University of New York

How to Create Great Online Content by University of Leeds and Institute of Coding

Ideas for a Better World: Leading Change Through Policymaking by British Council

Inclusive Education: Essential Knowledge for Success by Queensland University of Technology

Infection Prevention in Nursing Homes by University of North Carolina at Chapel Hill

Introduction to Business Management by King's College London

Introduction to Creative AI by UAL Creative Computing Institute and Institute of Coding

Introduction to Indie Games by UAL Creative Computing Institute and Institute of Coding

Introduction to Nursing: The Role of Nurses around the World by King's College London

Introduction to Peacebuilding Micro Course by United States Institute of Peace

Introduction to Personal Branding by University of Virginia

Introduction to Production Design for Film and Screen by Australian Film Television and Radio School

Introduction to Psychology: Biological Psychology by Monash University

Introduction to Psychology: Developmental Psychology by Monash University

Introduction to Psychology: Sensation and Perception by Monash University

Introduction to Psychology: The History and Science of Psychology by Monash University

Introduction to Psychology: The Psychology of Learning by Monash University

Introduction to Psychology: The Psychology of Personality by Monash University

Introduction to Sustainability and Development by Deakin University

Introduction to Virtual, Augmented and Mixed Reality by Lancaster University and Institute of Coding

Investigating Innovation by Deakin University and Coventry University

IT Ethics: Professionalism and Ethics in Computing by Charles Stuart University

Leading Culturally Diverse Teams in the Workplace by Deakin University and Deakin Business School

Leading Strategic Innovation: How to Lead With Purpose by Deakin University and Coventry University

Learn About Current Digital Workplace Trends by University of Leeds and Institute of Coding

Learning and Memory: Understandings from Educational Neuroscience by Central Queensland University

Lessons From Ebola: Preventing the Next Pandemic by HarvardX, Harvard University

Managing Mental Health and Stress by Coventry University

Media and the Arts for Peace Micro Course by United States Institute of Peace

Mediation Micro Course by United States Institute of Peace

Mindshift: Break Through Obstacles to Learning and Discover Your Hidden Potential by McMaster University (completed with Honors)

Negotiation Micro Course by United States Institute of Peace

Neuroleadership and Conceptual Approaches in Educational Neuroscience by Central Queensland University

Neuroplasticians and Neuromyths by Central Queensland University

Nonviolent Action Micro Course by United States Institute of Peace

Orientation to Educational Neuroscience by Central Queensland University

Overcoming Imposter Syndrome: Identify the Patterns Undermining Your Confidence by University of Southern Queensland

Plagues, Pestilence and Pandemics: Are You Ready? by Griffith University

Positive Psychology: Martin E. P. Seligman's Visionary Science by University of Pennsylvania

Population Health During a Pandemic: Contact Tracing and Beyond by University of Houston

Poverty & Population: How Demographics Shape Policy by Columbia University

Preparing for Peacebuilding by United States Institute of Peace

Presenting your Work with Impact by University of Leeds and Institute of Coding

Professional Resilience: Building Skills to Thrive at Work by Deakin University

Psychological First Aid by Johns Hopkins University

Religion and Peacebuilding by United States Institute of Peace

Safeguarding Adults: Level 3 Training by Health Education England

Sit Less, Get Active by University of Edinburgh

Sleep Deprivation: Habits, Solutions and Strategies Teach-Out by University of Michigan

Social Psychology by Wesleyan University (completed with Honors)

Social Services for Families, Seniors and Those with Disabilities by Columbia University

Strategic Planning for Professional Service Firms in the Time of COVID-19 by College of Law

Successful Career Development by University System of Georgia

Supporting Adolescent Learners: Social and Emotional Wellbeing by Griffith University

Supporting and Engaging People with Autism by Swinburne University of Technology

Teaching Students Who Have Suffered Complex Trauma by Queensland University of Technology

The Challenges of Global Health by Duke University

The Essential Financial Management Toolbox for Film, Screen and Broadcast by Australian Film Television and Radio School

The Power of Podcasting for Storytelling by University of Wollongong

The Science of Success: What Researchers Know that You Should Know by University of Michigan

Think Again I: How to Understand Arguments by Duke University

Transitioning from Friend to Leader by University of Southern Queensland

US Social Services Compared by Columbia University

US Social Services: Where did they come from? by Columbia University

Wellbeing and Resilience at Work by University of Leeds and Institute of Coding

What is Leadership? by Deakin University