Top image: Prof Chong Keng Hua. 
The arrival of each weekend induces a rumbling on group chats across Singapore calling for ideas on where to convene IRL. Brunch suggestions are invariably tossed about, along with accompanying complaints of overpriced food and tight budgets.
Still, we persist. We brunch.
We do it because brunch serves a social need. It creates a comfortable communal space for us to linger with friends. We choose brunch (which should really be defined as "a meal characterised by its prioritisation of aesthetics and relief from the muggy Singapore heat above gastronomic experience") and the hefty price tag attached to it because there are not a lot of other options available to us that serve this purpose.
At least, that's according to many millennials I spoke to for this story.
Brunch sucks because it tells me that the license to dwell in a space comes at a premium—I must be willing to fork out $25 for chicken and waffles. And if my party orders a round of cocktails or a bottle of champagne, only then do I get permission for an extended stay.
Insofar as this idea perpetuates physical divisions between social classes (i.e. high SES people congregate at brunch cafes, low SES people do not), it infuriates me as a writer with a meagre salary that my willingness to spend money on expensive poached eggs is taken to reflect how much I value time with my high-income friends.
So now that we've established I am a cheapskate, I would like to present my thesis statement: we can take advantage of public spaces in Singapore that don't cost us a thing to enjoy even better social interactions than in some swanky dining establishment.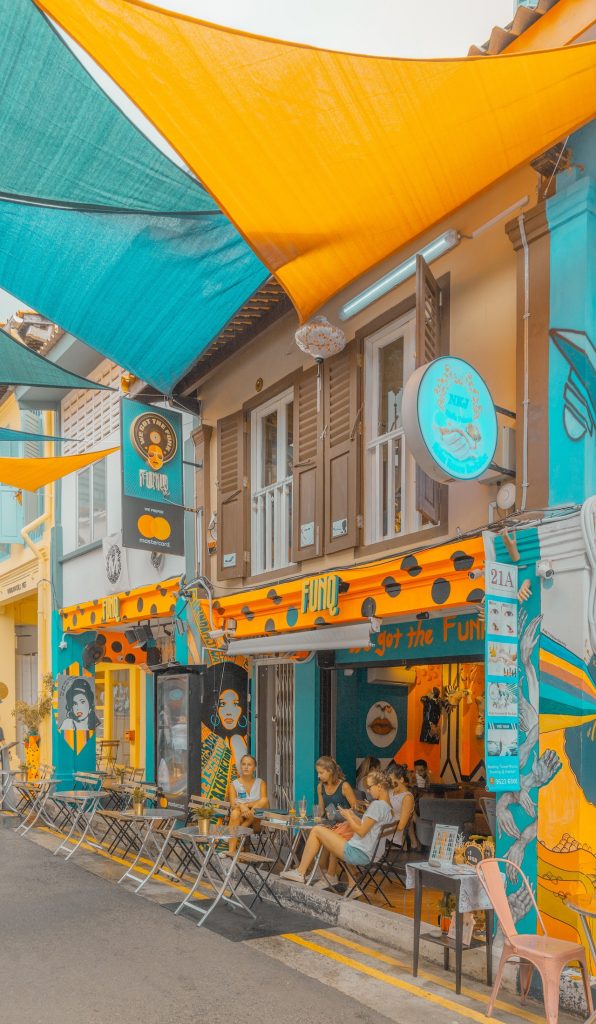 Are there places where we can chill for free?
For proof to back up this claim, I turned to 50 millennials—specifically ones who are childless and working—to find out where they go to hang out with their friends for free.
More than half of the people I polled said they just stayed home, or went to a friend's house.
This was the obvious answer. Homes are meant to be sanctuaries into which we retreat to escape work and external stressors. But because most of our cramped living rooms are shared with parents and siblings who appreciate privacy, bringing our social lives into our homes is not always welcome.
I wanted a more permanent fix. Some people helpfully suggested public parks like the Botanic Gardens, or East Coast Park. These places are beautiful but unbearably hot on a sunny weekend afternoon. Not ideal for chilling (get it?) and certainly no competition to an air-conditioned restaurant.
One person had a particularly innovative solution: "[We go to] Starbucks. We pretend the used cup was ordered by us—sorry, very low SES but [we get] air-con."
I see that you too look incredulous. If you want free space, don't expect comfort, you say. You pay for what you get.
"I don't think I've really chilled anywhere for free. I feel obligated to pay for taking up space," one respondent confirmed this sentiment.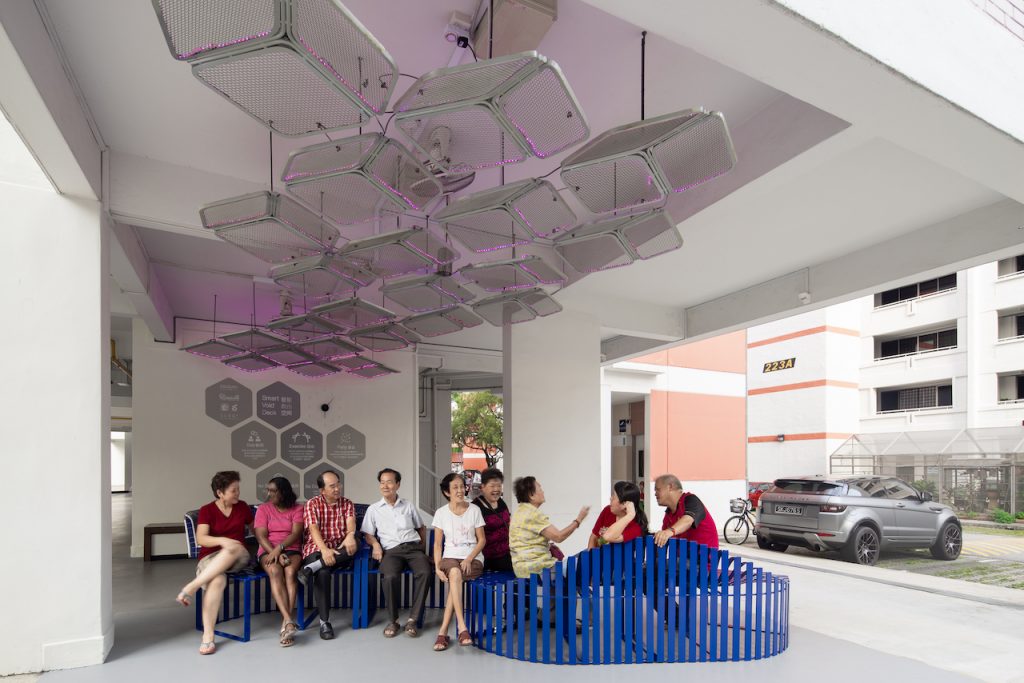 Free air-con is for kids
Millennials couldn't tell me where they now go for free, so I urged them to return to a time when we didn't feel bad for taking up space. Where did they use to hang out for free when they were a teenager?
The answer was easy and almost unanimous: shopping malls.
Millennials recalled how they used to wander aimlessly through Cineleisure or Parkway Parade, huddle in a corner of the Junction 8 roof, or in the basement of The Cathay with takeaway fast food and a pack of cards.
Then they grew up.
"As we come of age, we become more acute of the quality of spaces and setting we spend our time in," says Seah Chee Huang, director at DP Architects. "The way we use and interact in a space changes based on shifts in our needs and way of life as well as offerings by the space."
Once upon a time, all we wanted was a physical place we could be with our friends, away from figures of authority and pesky parents. Now we want more, but what exactly we want more of isn't so clear.
Mr Seah says it's easier and more effective to design an environment for a demographic with a clear set of needs. For instance, children may need spaces that stimulate curiosity and imagination such as play-based spaces while the elderly with increasingly limited mobility may prioritize accessibility and safety features.
Millennials are more complicated.
"It's very difficult to define this group by functional need, or based on capabilities," says Mr Seah, who was the principal architect for Our Tampines Hub (OTH).
OTH has a range of facilities that cater to various interests—from the many sports facilities to the library and community gallery—but they cannot possibly cater to every segment within the millennial generation.
And then, Mr Seah says, there are millennials who just want to, in his words, "lepak".
Even then, the considerations are extensive.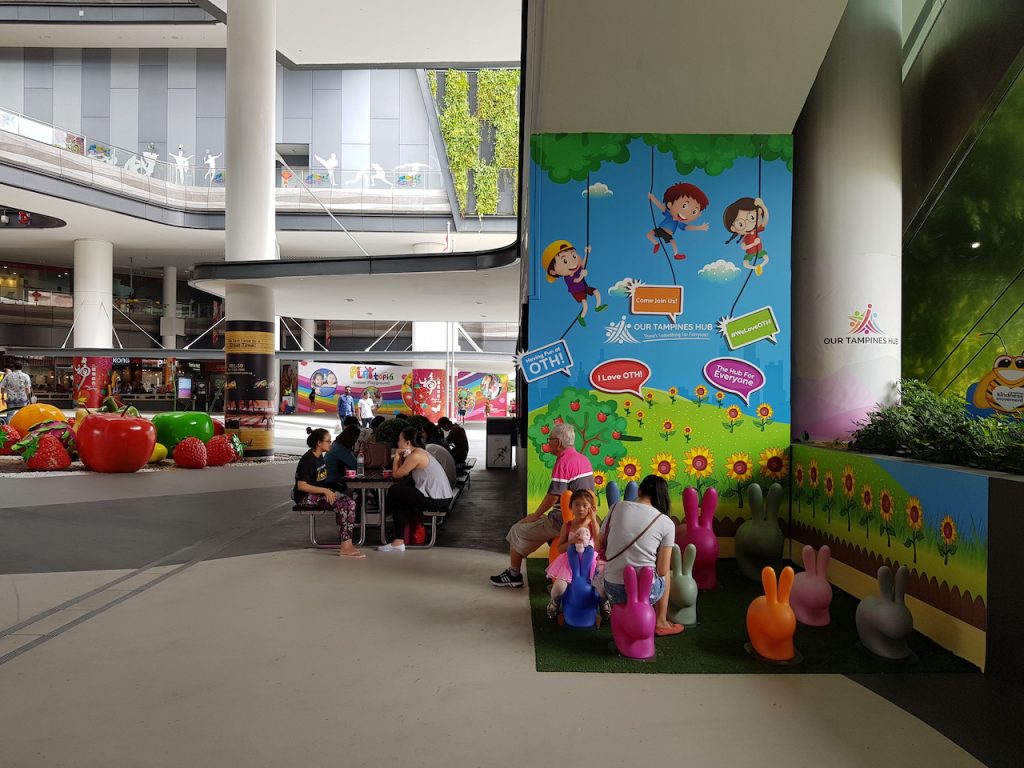 "These are subtleties and details that can be injected into the design of public spaces to make them more conducive," says Mr Seah. "In OTH, different kinds and placement of public furniture such as seatings cater to varying forms of interactions. A simple bench provides comfort to sit and relax. When one places a table with it, it extends the element of dwell in the space as the setting now offers the possibility to eat, study and work in the area."
"[Most seatings] also come with a suite of ancillary provisions like ceiling fans and power points. Whenever possible, these seats are often located near vending machines, water coolers and toilets."
These amenities make it easy for us to stay in one place. In fact, they invite us to dwell, something especially precious in land-scarce Singapore.
That need to feel welcome is one that many of us wouldn't be able to articulate right away, yet we feel it acutely when it is not met.
The other need we all have, regardless of age, is the need to be among people. Research has shown that urbanites actively seek out places to people-watch and be around other members of the public. Children swarm to void decks and playgrounds armed with soccer balls and kick scooters in search of playmates, teenagers claim their territory within malls. The elderly flock to community centres and common areas because they are designated contact points to meet their friends.
"The social aspect becomes the main criteria to differentiate how people use public space," explains Prof Chong Keng Hua, principal investigator of the Social Urban Research Groupe (SURGe) and co-lead of Opportunity Lab at the Singapore University of Technology and Design. He and his team conduct demographic studies on how Singaporeans enjoy public space.
"[Millennials] don't see the need for having a public space to connect because now you have online platforms and communities for that."
Moreover, Prof Chong says, they have the spending power to afford "nicer" places that meet their high expectations of space.
"So why would you need to meet at a [free public] place?"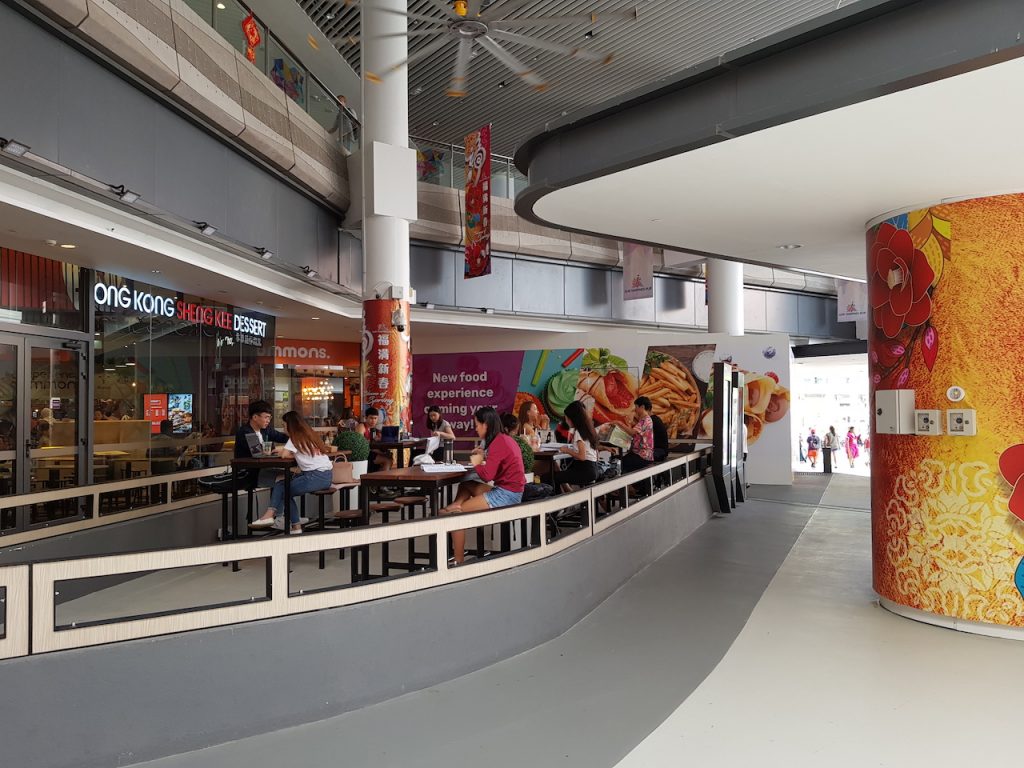 Free public space immerses you in your community
Maybe millennials don't need these public spaces. Maybe we can afford expensive brunches. But I argue that we still should hang out in free public space because of the socio-emotional payoff. Free public space fosters the (wait for it) kampung spirit. Cliched as it might be, you simply can't find the feeling of familiarity, security, and mutual obligation in the stranger next to you at a cafe nursing a flat white.
There's a unique bond that forms among people who belong to the same place; a geographically-bound pride that pulls us together.
Think of your Eastie friends who won't shut up about the food in Katong, or how excited you get when you hear a Singaporean accent abroad. The sense of place grounds us in where we are. And it can only be achieved in communal space because we give each other permission to participate in each other's lives simply by being there. (Whereas paying customers at a brunch restaurant are entitled to be there, no matter how many decibels their bratty child produces when he doesn't get an extra scoop of ice cream.)
The residents at Woodlands Street 13 can attest to this. Last year, carpenter Tan Koon Tat built a festive log cabin on a patch of grass outside a carpark in the neighbourhood, complete with candy cane fences, a sleigh, and a life-size Santa Claus.
Over Chinese New Year, Prof Chong visited the site to gather data for his research. Santa had been swapped out for Cai Shen Ye, and the cabin was decked out in red and gold. Crowds thronged and neighbours mingled, making small talk and enjoying the festivities together.
"Everybody was so happy. The neighbours told me that they all wanted to contribute but Mr Tan said he doesn't need help, he just wants to do it for the community," Prof Chong says. People were happy to hang out with one another on a street corner because it allowed them to participate in their community.
The Woodlands log cabin hits the sweet spot of being a free public space that was initiated by private individuals and not some nameless people from a government stat board. The shared spaces we gravitate to are things that come from us because we believe they truly belong to us, and us to them.
The Urban Redevelopment Authority (URA) is keenly aware of this phenomenon and has jumped on the bandwagon.
According to a URA spokesperson, "We put in place Our Favourite Place programme in April 2016 to [provide] opportunities for the community to step forward and activate public spaces, and allow more people to experience and enjoy interesting public spaces. These projects can be in the form of pop-up installations or small scale interventions that are temporary, non-commercial and beneficial to the public."
At Bencoolen Street, for example, the URA partnered with students and alumni of the Nanyang Academy of Fine Arts (NAFA) to design benches and installations placed along a widened pavement. What used to be a congested road with little space for pedestrians is now an urban 'living room' inhabited by youth and hipsters who take selfies, admire the students' creative works, listen to music, and even read by themselves.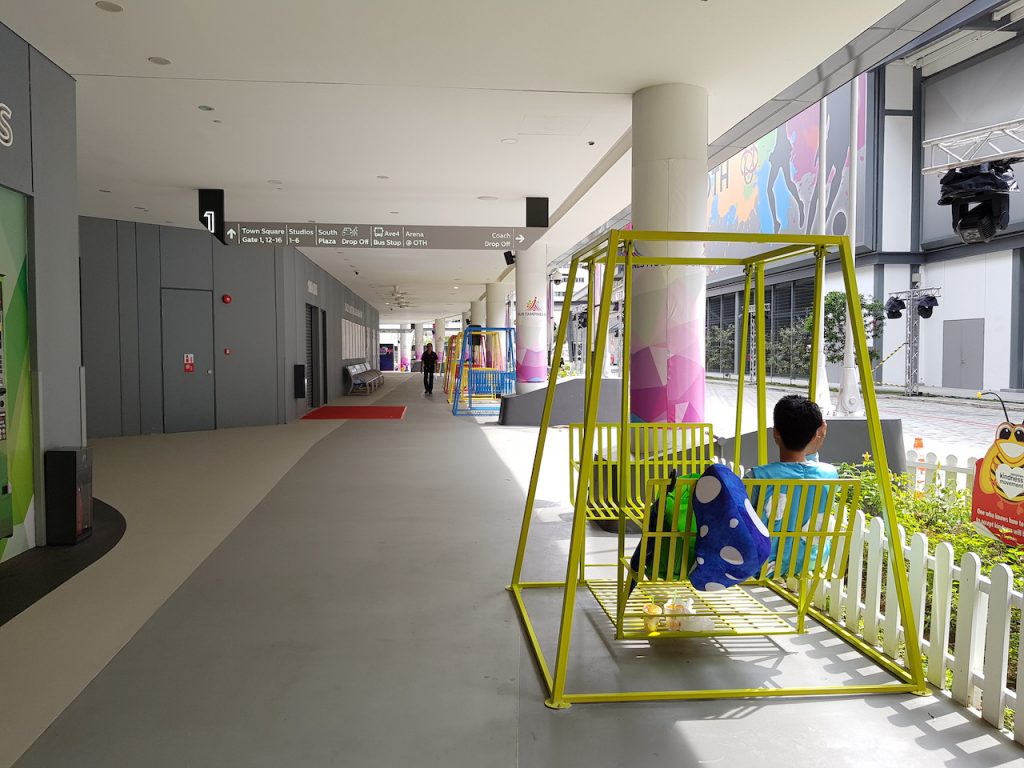 We are what makes free public space great
For this story, I visited so many places in Singapore I would otherwise have not have given a second thought. I spent a drizzly afternoon having lunch under the veranda at Dhoby Ghaut Green, watching as office workers skittered past me in their unsuccessful attempts to dodge raindrops. Then I worked along the corridor of OTH for an entire day without being chased away. And one evening, I reclined on a deck chair in front of the Marina Bay Sands and enjoyed the night breeze.
None of these places could live up to my own neighbourhood playground and exercise yard, where I sat on a bench early one Monday morning. I observed seniors chatting exuberantly as they kept a watchful eye on their toddling wards. Young parents greeted one another warmly and walked in step towards the kindergarten, their children running excitedly ahead of them.
A few people my age made rounds around the running track, nodding to the speed-walking aunties as they passed by. I waved at one auntie I recognised from my regular morning jog.
Sure, it wasn't the most comfortable spot to be, but it felt good to be a part of all the activity.
Prof Chong says millennials may not need free public space, but free public space needs us.
"When there is an emergency or when anything happens, this is where we can look for resources. These are the people who will come out and come together, coordinate and respond. Rather than we just wait for someone else to come and help."
Plenty of retirees have the time to contribute, but not the resources and the energy that we millennials do. But engaging in these spaces requires the one thing we lack.
"Time [is] the main constraint Singaporeans are facing, but as architects I don't know if we can create time," says Prof Chong wryly.
For what it's worth, urban planners and architects are working hard to draw millennials back into our public spaces. Our beautiful waterfronts are the most visible evidence for this. But the URA even encourages private developers to provide quality public spaces by providing gross floor area (GFA) exemptions if certain conditions are met, and commercial buildings like Asia Square and Tanjong Pagar Centre have transformed their first-floor public areas accordingly.
"Quality and user centric spatial design may not be fully addressed through top-down approach with policy-making and planning strategies," Mr Seah notes.
"Ultimately, the purposeful 'social production' of space is a relationship; a two-way exchange between people and place. It can be enhanced through co-creation and shared ownership. Users who are keen to create meaningful spaces for their usage or enjoyment, should be active participants in the design or shaping of such spaces too. The result will also encourage collective ownership and identification of the space as truly unique and bespoke."
This way, the space that is dreamt up is not another person's idea, but your own.
If you're like me and you want more free public space, then let's respond to the URA's open call and tell them our ideas. Whether it's through permanent changes like the Bencoolen Street revamp or temporary interventions like weekend street parties and Parking Day, a yearly affair where car park lots are transformed into creative spaces for interactive activities and recreation, we can create that space for ourselves.
If not, I'll see you at brunch.
Have something to say about this story? Write to us at community@ricemedia.co.