top image: hjtan123 / Flickr
I had a friend whose parents told her to pick from a list of approved professions: doctor, lawyer, banker, or accountant. She could only pursue one of the four. This conversation happened when my friend was 18, right after she received her A-Level results.
Despite getting straight As, the grades didn't really help her decide what her future path should be, so her parents pressured her into taking one of the "safer" options.
It turns out that a life of chasing paper qualifications and stellar grades can't really get you to your destination if, well, you don't know where you're headed in the first place.
This was a real situation, and though it's just an anecdote, this problematic scenario is so typically Singaporean that you can imagine it happening easily enough.
But I'm starting to witness an encouraging mindset shift within our society.
On May 25, I was invited to cover an event organised by The Astronauts Collective (TAC) in collaboration with Lifelong Learning Institute under SkillsFuture Singapore.
Titled Day X, short for "a day of exploration", the event was organised to help Singaporean youths make well-informed choices about their career. Think of Day X as a career fair, but focused on breadth and exposure, rather than converting kids to a specific career path.
It was a full-day event, where more than 700 students from various secondary schools were invited to interact with more than 80 volunteer professionals.
On the ground level, students could visit a Human Library, where participants 'borrowed' a professional to listen to their sharing.
On the upper floors, students who preferred a more hands-on experience could visit themed "Worlds". In each World, students were invited to participate in interactive activities devised to illustrate an important aspect of a professional's work.
Stepping into a room full of fresh-faced, uniform-clad secondary school students, I felt pretty out of place. I'm sure I looked it too, dressed in casual wear but probably not mature enough to pass off as one of the teacher chaperones. Even though I missed the event's target age demographic by quite a bit, I wanted to camouflage myself within the crowd of excitable teenagers and fully immerse myself in the experience.
As I took a cursory stroll around the Human Library, I passed by what seemed like over 50 booths.  A wide variety of professionals were in attendance: a Head of Communications could be situated right next to an Aerospace Engineer or Scientist. Even uncommon professions like Podcaster were represented as well.
They were clearly veering away from the conventional Doctor-Lawyer-Banker-Accountant-type occupations.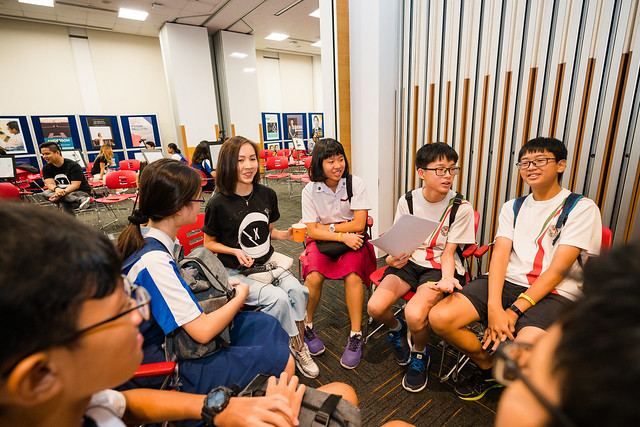 Throughout Day X, I often caught myself wondering how great it would have been if I was exposed to similar programmes in my younger days.
This hit a particularly poignant note for me. I experienced a rather tumultuous period after graduating from Junior College, where I came to the belated realisation that I really wasn't sure where I wanted to go or what I wanted to do.
Essentially, I was so caught up with the rat-race of Singapore's education system that I did not pause to question what it was all for. What ensued was disillusionment, and a struggle to find a clear sense of direction.
Putting my personal history aside, my point is: I think my experiences were far from unique. Singaporean children are rarely given the space to explore their interests or to consider their future career options. They are often bogged down by more immediate concerns like major examinations or gaining entrance into the next institution of learning.
Aside from the focus on academics, we should really think about giving children the opportunity to explore their interests and find themselves. While it is comforting to see that in recent years there is a shift away from academic results within MOE's policy, it might take parents and students a bit longer to change their thinking.
Showing them the available options out there and empowering them to make a choice can have a very powerful impact on a young person's development.
Taking some time to talk to the volunteer professionals, I realised many of them echoed my sentiments. Given the opportunity, they wanted to ensure that today's kids could enjoy these opportunities that they never had.
Ling, who introduced herself as a Policy Maker, shared with me the avenues she took to inform herself about potential career options. Fresh out of college, she spent time scouring LinkedIn for people with "interesting job positions". After connecting with them online, she would ask them out for a chat over coffee to learn more about their profession.
While she took the initiative to put herself out there, these students had much more structure. "All they needed to do was walk into a room, and they had 50 different professionals very willing to share about their profession," she reflected.
To put it bluntly, they were handed these opportunities on a silver platter.
Make no mistake, this isn't one of those angry "kids these days have it so easy…" tirades. I think Day X is a great thing—and I think we should give these kids much more credit.
When speaking with the students, I was honestly taken aback by how confident and eloquent they were. This was especially noticeable at the Human Library, where students flitted around—sometimes in groups and pairs, sometimes alone—striking up easy conversations with the professionals. Many of them were also perfectly comfortable conversing with complete strangers, and none of them shied away when I approached them.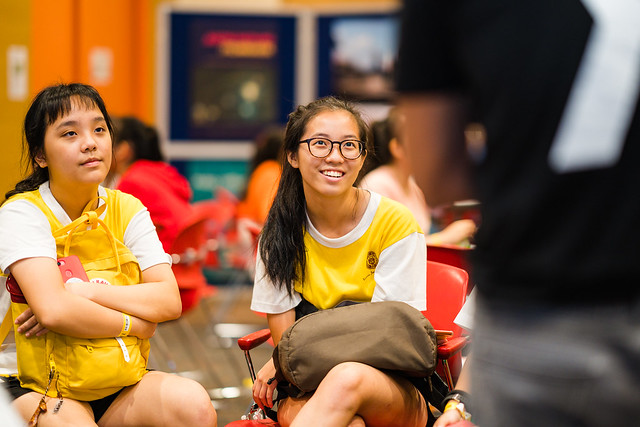 Many of them attended the event not because their schools forced them to, but because they saw its value.
The first group of students I spoke with were a group of girls from Bukit Panjang Government High School who were awaiting an audience with the Aerospace Engineer. (Side note: yay to breaking gender stereotypes!)
Despite only being Secondary Two students, they signed up to attend Day X because the school impressed upon them the importance of exploring various career options.
This sentiment was echoed by two Secondary Four boys from Chung Cheng High School, who solemnly told me that it was "very important" for them to start making decisions about their future.
I tried to encourage them to take things less seriously, reassuring them there was still plenty of time to figure things out. These kids were, well, kids.
And yet, I hope I am painting a picture of just how surprisingly mature these students can be. They were perceptibly thoughtful and proactive in asking questions, and many of them came prepared, having done research about the industries they were interested in.
Speaking to a pair of Secondary Three girls from Sembawang Secondary School, I learnt that they came to find out more about the creative industry. Prior to our conversation, they'd spent quite a bit of time talking with a professional filmmaker about his craft. As aspiring filmmakers themselves, they each have their own YouTube channels where they occasionally upload original video edits.
Okay, they were pretty darn cool. How inspiring is it to hear 15-year-olds speak of pursuing their passion, despite knowing it's a path less trodden?
What I'm trying to say here is: yes, these students are really lucky to be born in a time where they can reap the benefits of such unique opportunities.
At the same time, they are milking it for all its worth. Perhaps it is a natural consequence of growing up in the internet age, but most of them seem to be maturing much faster. The young-uns are changing, and my interactions with them suggest that this change isn't all that bad.
As recent articles suggest, young people are starting to look for work that is meaningful to them, and not just jobs that pay well.
For the younger generation, work is becoming less about social and economic goals, and for that, we should be thankful.
About The Astronauts Collective:
TAC is a non-profit initiative that helps youths in Singapore explore diverse career options and discover their interests. Many youths often need to make important education and career decisions with minimal knowledge about the world of work and little understanding of their interests, often resulting in suboptimal choices.
They are fully volunteer-driven, each of them with a full-time day job. They have more than 100 volunteer professionals, and more than 1,000 youths have experienced their two key programmes (Mission X & Day X) since Jan 2015. This article focuses primarily on their Day X programme, but I would urge you to explore Mission X which offers 6 sessions of mentoring in schools that focus more on deeper immersion.
Missed this year's event? Or interested in helping out as a volunteer? Do check out their website: https://www.hellotac.org/