All images: Syrena 
Singapore's first mermaid has found herself a victim of intellectual property and identity theft.
Yesterday, Syrena, whose real name is Cara Neo, shared a video on her Facebook page that allegedly used her story and her film footage without her permission. The video also showed Syrena being impersonated by a random woman.
According to the Facebook post, the real kicker was that the video was actually a submission for a marketing competition which required teams to pitch ideas that would be judged on "originality, target audience, marketing channels, presentation and use of budget".
The video belonged to the winning team, Magnificent 7, who bagged the top prize of $7,000.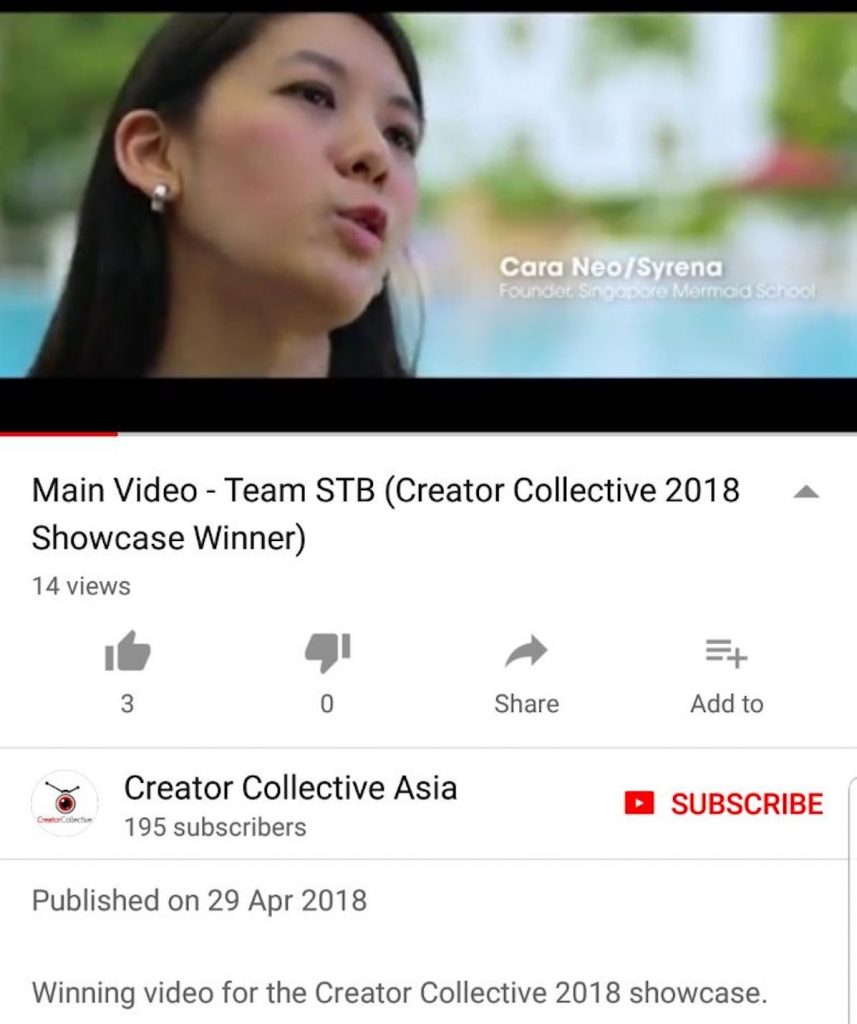 Speaking to Syrena to understand the situation, she shared the following:
"Magnificent 7 contacted me, wanting to pitch my story to the Singapore Tourism Board. They made it sound like it was for an official campaign, so I indicated interest and sent them my underwater footage to show how filming with me underwater looks. There were no written agreement, forms, or contracts for them to use the footage.
Based on the impression I was given that this was an official campaign, I agreed to meet with them in person. When we met, they clarified that this was actually for a student project and competition.
This competition was run by Creator Collective, which is a free content creation and marketing education course organised by Brand New Media and the Info-communications Media Development Authority. According to the Straits Times article that covered this, it's also supported by Singapore Press Holdings (SPH) and the Asia Content Marketing Association."
After the meeting, Syrena texted to inform them that she would not be able to commit or be involved.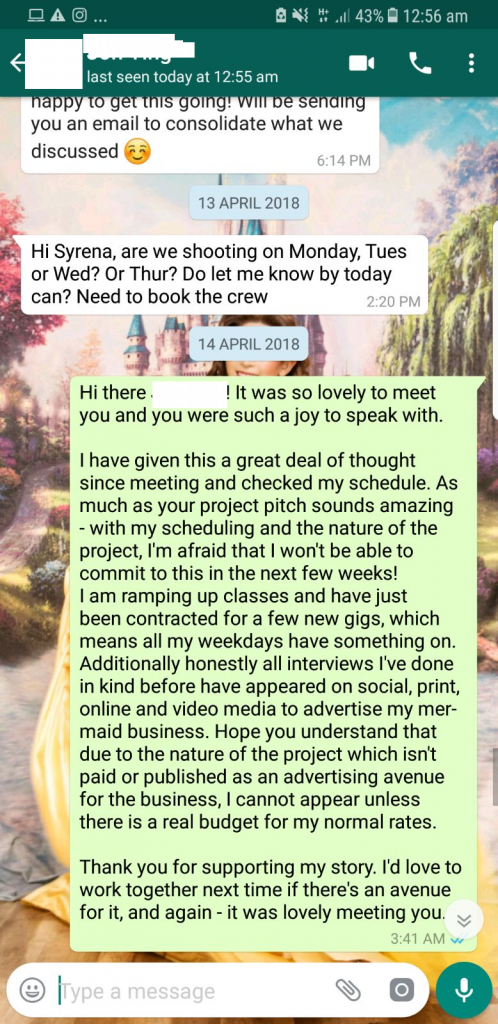 Since the video went live, she also realised that the team didn't just use her underwater footage and name without permission. They snagged videos of her and her Singapore Mermaid School activities off YouTube.
"This means multiple infractions since numerous people, including children, were featured without consent or knowledge. One of the clips belongs to CNA so that's further IP infringement.
I have uploaded all the necessary screenshots in a folder on my google drive."
Syrena also informed me that she has been in touch with the team, Brand New Media (who is in charge of Creator Collective and the competition), and ST.
"First, I heard from Brand New Media via email. The managing director, Joanne de Rozario, seemed to want to make amends and told me that she would call me on Thursday when she returned to Singapore.
Next, I heard from ST who unfortunately only removed all mention of me from their article, without addressing the issue.
The team also sent me an apology email. They said that they were sorry if they 'may have caused' grievance. They also said they never intended to abuse my IP."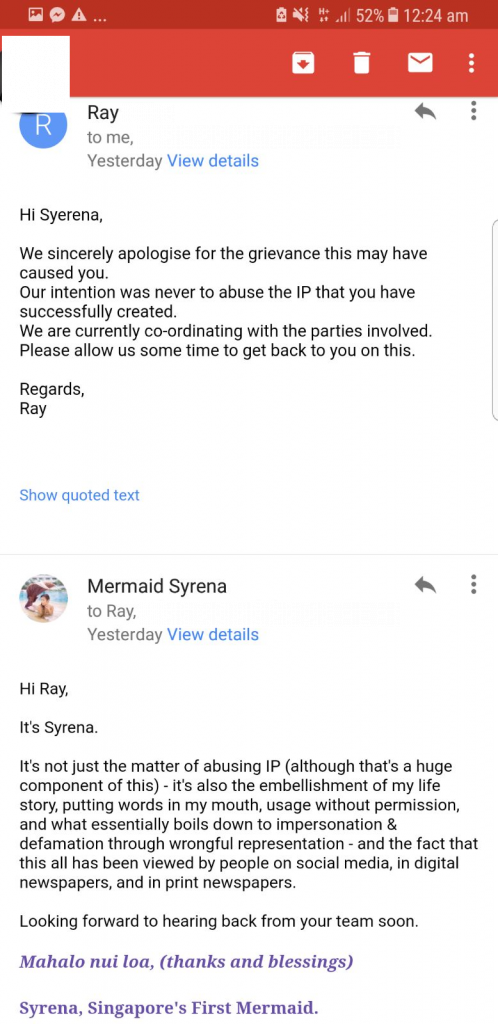 Then, Syrena decided to take this
to Facebook
.
"I got an immediate call from Joanne, the managing director of Brand New Media, which manages Creator Collective. She claimed that STB complained to her that they were presented in a bad light in my post.
She also said that STB told her company to inform me to take down my post. I immediately clarified that nowhere in my post did I blame STB. The blame falls squarely on the winning team.
I also declined to remove my post, to which Joanne asked, 'Why not?'
I explained that as the victim here, I had the right to share what really happened. Joanne replied, 'Oh well. I'll just have to tell STB that you refuse to take the post down.'
My business partner called her back, and obtained her admission of responsibility, an apology, and a guarantee that she would rectify my image with STB. She would also CC me in all correspondences with them. Towards the end of the call, my business partner said, 'Please act on this as we are in talks with our legal counsel.'
Joanne replied, 'We have lawyers too.'"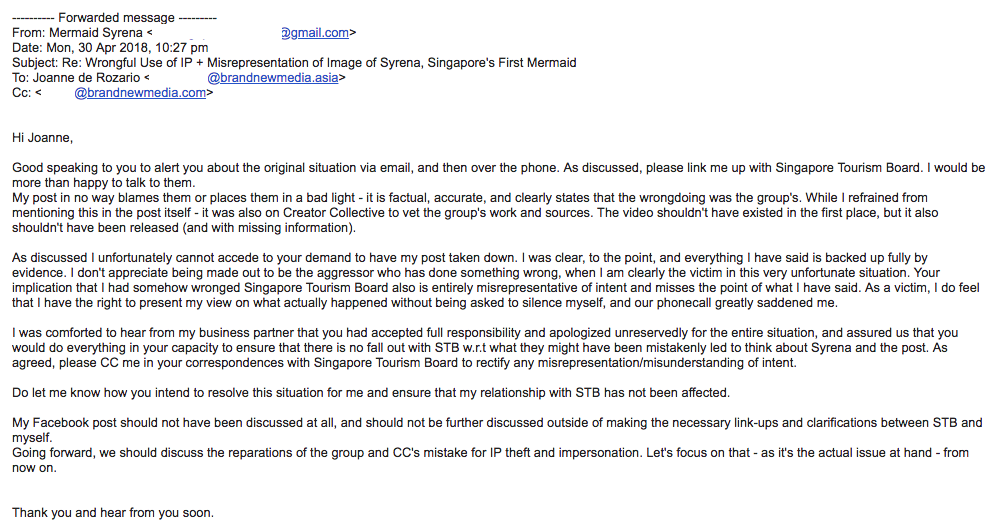 Syrena added:
"After the phone call, I emailed the CEO of Brand New Media, Damien Bray, as well as representatives from STB to clarify. I don't want Brand New Media/Creator Collective possibly misrepresenting me to STB, whom I've worked with before and hope to do so again.
Creator Collective has since taken down their social media posts about their winners. But there hasn't been an official public apology yet from either them or the group."
Joanne from Brand New Media, who also represents Creator Collective, had this to say when we reached out for her side of the story:
"The team asked for Syrena's reel, which she provided. She informed them that she would not be able to part of their project, so they asked her for her fees. They didn't receive a reply. This happened about two days before their scheduled shoot date."
We clarified this with Syrena, who showed us a screenshot of her rejection to Magnificent 7 on 14 April (see first screenshot). An earlier email from the team also said that the video would have to be ready by 23 April for the pitch on 28 April. From the day Syrena backed out to the day the video needed to be put together, the team had a total of nine days to come up with another plan.
Joanne added:
"The team decided to go ahead with Syrena's story, but did not inform her of their decision. They thought this was an internal workshop pitch for a brief that was not actually going to become a reality. They clarified during their presentation that the person in the video was not the real Syrena.
When we were notified of the problem at 5 PM on 30 April, we immediately removed the video from the Creator Collective website. We have since taken all other pitches and videos off the website too."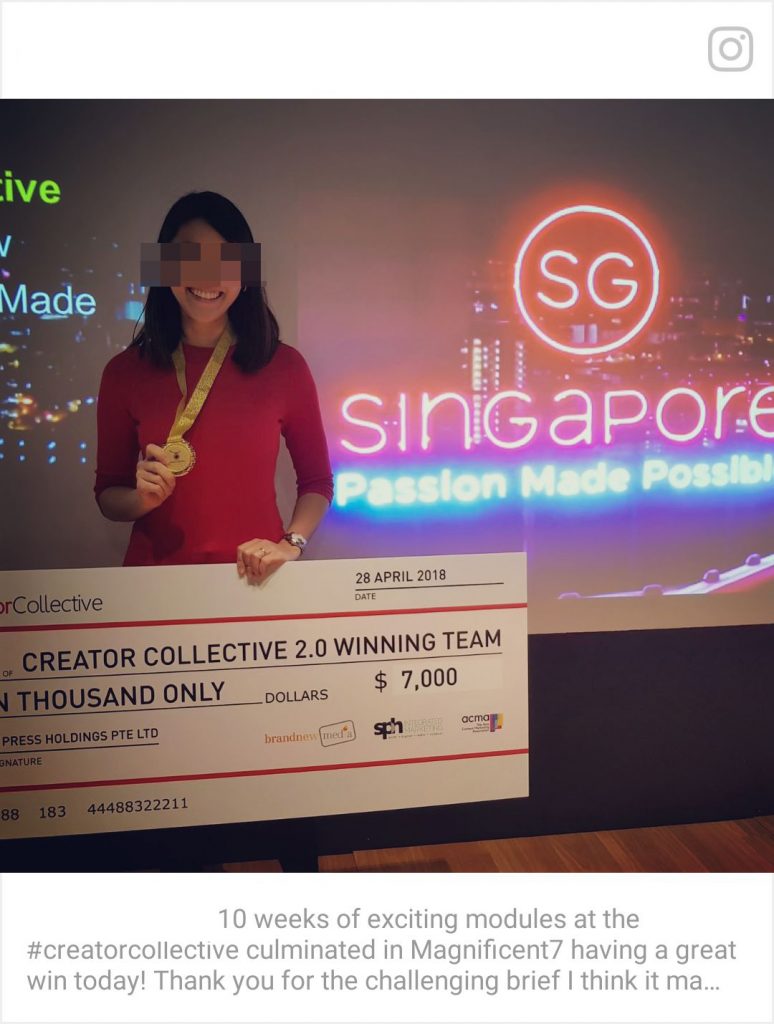 Joanne shared that Creator Collective did, in fact, vet the submissions for plagiarism. She also insisted that even though the winning team and Creator Collective committed a mistake, no harm was meant.
"Magnificent 7 had the footage on hand, so we assumed they had cleared the rights to use it and they had Syrena's permission to use someone else to tell her story. We should have double—even triple—checked this and will do so in the future."
Besides removing the winning video immediately, Creator Collective also spoke with ST and Business Times regarding their coverage of the competition.
They recommended that the team be disqualified and the grant of $7000 be revoked.
Furthermore, they put Syrena in touch with STB, and offered to produce a professional video for her, to which she would own full rights.
Both Joanne and the winning team requested to meet with Syrena in person to explain themselves.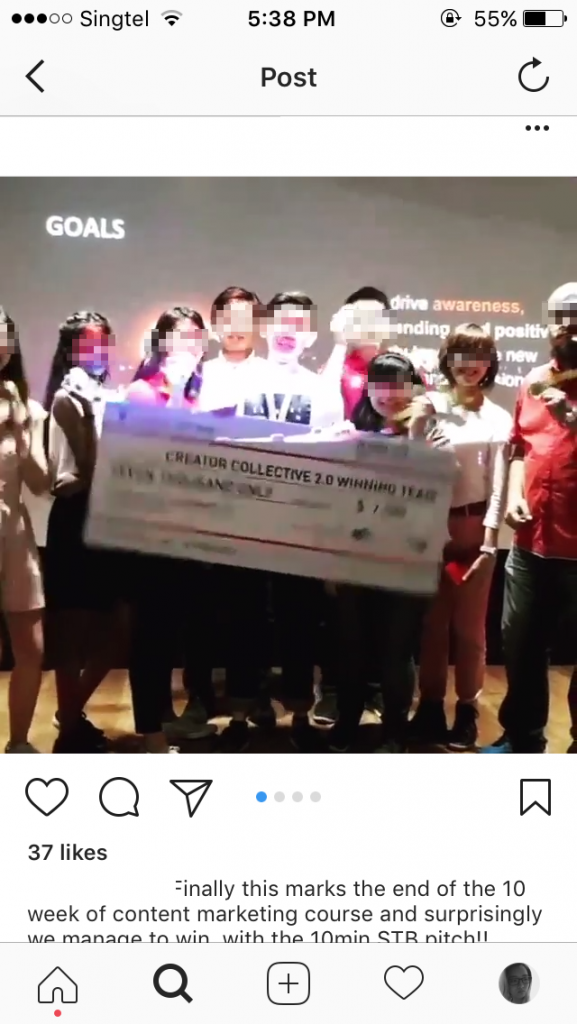 Joanne also addressed her call to Syrena and why she asked Syrena to remove the Facebook post.
"We communicated over email and I informed her that we were doing all we could on the eve of a public holiday. The post now implicated STB, who had actually alerted me to it. To be clear, I did not speak on behalf on STB. I was merely stating my opinion.
I was disappointed that, despite Creator Collective having done what we could when we were alerted about the problem and informing Syrena about our efforts, she decided to post what she did.
We understand that she was upset, but it's not like we didn't act on the issue, you know what I mean? That said, we also understand her need to be heard."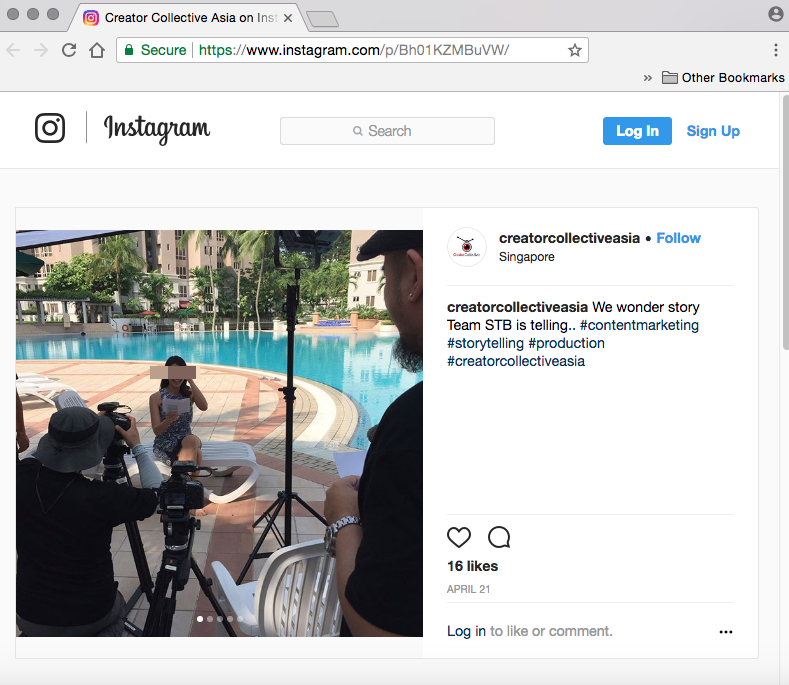 To recap, Syrena never gave Magnificent 7 permission to use her videos or her story in their submission to a competition organised by Creator Collective. They went ahead anyway and won. Creator Collective now says it was a mistake.
Creator Collective also implied that Syrena's Facebook post painted STB in a bad light, but she clarified that this is solely about Creator Collective and Magnificent 7. Syrena has also left comments on some public shares of her Facebook post that STB wasn't aware of the situation.
Today, IP theft has become so common that it's no longer sufficient to apologise when it happens. You don't get to excuse yourself after you say you "meant no harm".
If Magnificent 7 or Creator Collective had any respect for original creators, such as Syrena, it would be clear what harm blatant deceit and plagiarism would cause in the first place. This should be even more obvious since they are creative professionals too.
Ultimately, it doesn't matter if one didn't intend to cause damage. Impact should always trump intent. At this point, an apology just isn't good enough, and you can't expect forgiveness just because you 'removed' said mistake.