Top Image: Workers Party / Facebook
Disclaimer: Rice does not endorse or support any political party in Singapore.
"When it's too bright, it becomes too blinding for anyone to see properly. Too dark, it will be hard to look for a way around," Pritam Singh says, as the background lights transition from blinding to non-existent. 
Whether you think Pritam Singh's metaphor is cringe-worthy or pure genius, no one can deny that the six-minute trailer released by Workers' Party (WP) yesterday was an immense success. 
Younger voters, like myself, appear to be their target audience, and the video spread like wildfire across my Facebook timeline and Telegram chats. To date, it's been viewed more than 250,000 times and shared more than 3000 times. In fact, the production quality of the video is so good that people have been sharing it on their feeds for that reason alone.
The video was preceded by a 15-second teaser released on 23 June, which already displayed great viral potential and awareness of a younger voter base. 
Shot in portrait mode, which makes it perfect for sharing on mobile, there is no voiceover, no distractions. Instead, 12 members of the party are filmed as they're sitting down to speak. They settle in, they smile. That's it. 
Then there's that soundtrack. You can't quite put your finger on it, but it reminds you of every epic movie you've seen in the theatre, with soundtracks scored by Hans Zimmer, or John Williams. 
In this instance, it almost sounds like WP hired French outfit M83 to produce a soundtrack that would fit right into the climax of any shounen anime. That moment of silence at the end, right before Pritam spoke, gave me goosebumps.
The 6-minute video expands on the teaser to include narratives on when each of them joined the party, what stands out from walkabouts, Meet-the-People sessions, and why there is a need for healthy competition in politics. 
Between Yudhishthra's comment that he might have been assigned to photo-taking duty because he was young—a disarmingly honest guess—and everyone's gentle eye-smiles, WP's members come across as real and relatable. 
The videos clearly target a younger demographic. Millennials and Gen Zs, some of whom are first-time voters, practically live online and are the most likely to share the videos on social media, like this viral Instagram highlight that broke down why WP's video was "brilliant". 
Whoever is managing WP's social media pages must have gotten the memo too. In response to a fancam of the WP members, the WP Twitter account took inspiration from Beyonce: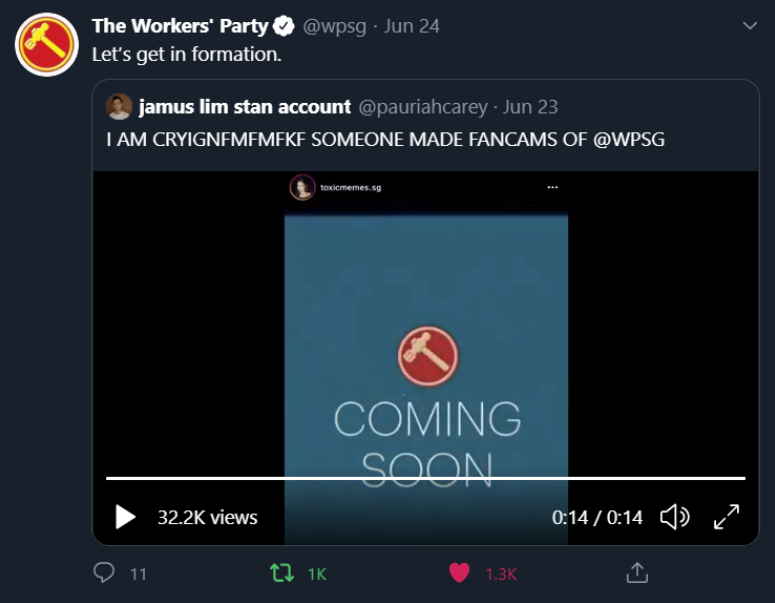 Putting aside the fact that someone has named themselves "Jamus Lim stan account" (???!!!!), WP is clearly trying to appeal to Gen Zs, even referencing Beyonce and going along with memes instead of trying to silence them. 
For younger voters like myself, it was the sincerity that resonated the most. Everything came together seamlessly to portray them as down-to-earth Singaporeans who are committed to their constituents and to our country as a whole.
It's apparent that WP knew an election during a pandemic was possible, even probable. What the videos show is a party that came prepared for a general election in which the adrenaline generated by massive crowds at rallies, the speeches and ability to create solidarity, would all be missing.
In essence, WP has taken the digital format and maximised it.
Kickstarting their campaign by targeting younger voters also shows that the party is aware of the anxieties and aspirations of this demographic, especially during a crisis. 
The party has announced that it will be contesting in 4 GRCs and 2 SMCs this election. While they'll have to tackle bread and butter issues, put forward policy proposals, and reach out to an older voter base in the coming weeks, the impact of this initial online campaign has been significant. 
Seeing such a personable style of campaigning in Singapore politics is not only refreshing, it's practically unprecedented. 
Elections in Singapore have rarely been about the theatre of politics, or the art of oratory. The prevailing belief seems to be that voters want to hear from bureaucrats, who will fix problems and address grievances, quietly, without much fanfare. 
During election rallies, there's a bit more noise and the garlands come out. Then everyone goes home.
The WP have upended all that and it only remains to be seen what else is in store, both in terms of style and substance, in the coming weeks.
This GE, we're not just interested in the winners and losers. Join RICE as we satirise, over-analyse, and dissect everything from how we talk about politics and politicians to what we think we know about how Singaporeans vote. 
Have a lead for a GE 2020 related story? Write to us at community@ricemedia.co.