Disclaimer: Rice does not endorse or support any political party in Singapore.
This morning, Lee Hsien Yang officially joined Progress Singapore Party (PSP). Over breakfast at Tiong Bahru Market, a hawker centre in Tanjong Pagar GRC—his late father's stronghold—he was presented with a PSP membership card by opposition leader Tan Cheng Bock. 
But, by joining PSP, Lee Hsien Yang has carried his personal family drama into the public (and political) sphere, and gives the impression that the PSP is capitalising on sibling rivalry to attract attention. 
The fact that Lee Hsien Yang's membership was only announced months after he actually joined, and with a combination of both fanfare and calibrated intrigue, may potentially delegitimise PSP. It casts doubt on their motivations: are you running for government because you want to improve Singaporeans' lives, or because you want to add fuel to a fire that should have died down a long time ago?
The move comes three years after the Oxley Road Saga. Personal and political agendas were questioned, jibes and spats were had. Eventually, it left Lee Hsien Yang and Lee Wei Ling estranged from their brother, Singapore's Prime Minister Lee Hsien Loong—a relationship that has not been mended since. 
After the party was launched last year, Lee Hsien Yang wrote on Facebook: "I wholeheartedly support the principles and values of the Progress Singapore Party." He's also been spotted with Tan Cheng Bock  on multiple occasions. So it's not entirely surprising that he's joined PSP, though having another member of the Lee family in politics has definitely raised eyebrows.
The addition of Lee Hsien Yang is also a little puzzling given that PSP has so far fielded impressive candidates, all of whom are very much capable of standing on their own merit. Even if Lee Hsien Yang does not contest, the headlines he will inevitably generate might distract voters from the other candidates, simply because he comes with all the baggage of the Lee family.
Despite the fanfare surrounding the announcement, the details of his membership are vague. 
Is he helping PSP financially? Will he appear in campaign videos? The answer is simply: "quite possible". When asked whether he would be contesting this time, his response was similarly cryptic: "When I'm ready to disclose that, you will find out." How exactly he would be supporting PSP was just as mysterious—in "many ways". 
In the coming days, this is the question that will undoubtedly be on everyone's mind: will he be advocating for actual policies that will improve Singaporeans' lives, or is he pushing a personal agenda?
The onus will be on PSP to show voters that Lee Hsien Yang's membership is not merely a publicity stunt. This can be done by clarifying what he will be contributing to the party and by extension, to voters as whole.
This is perhaps more important for Lee Hsien Yang than any other potential candidate. If PSP is betting on weaponising Lee Hsien Yang to galvanise the anti-establishment voter base, this is unlikely to work out well—the demographic is smaller than online chatter would have us believe, and it will look opportunistic. 
Lee Hsien Yang reportedly joined PSP a few months ago, just before circuit breaker kicked in. PSP's decision to unveil his membership only now, right before the elections, shapes him up to be a "trump card". Except, this time, their "trump card" is Lee Hsien Yang's reputation as the Prime Minister's brother who was infamously embroiled in the family drama of 2017. 
Interestingly, the announcement of Lee Hsien Yang's PSP membership appears to have been foreshadowed. Barely two weeks ago, Lee Wei Ling posted on Facebook commemorating three years since the very first post that kickstarted the Oxley Road dispute.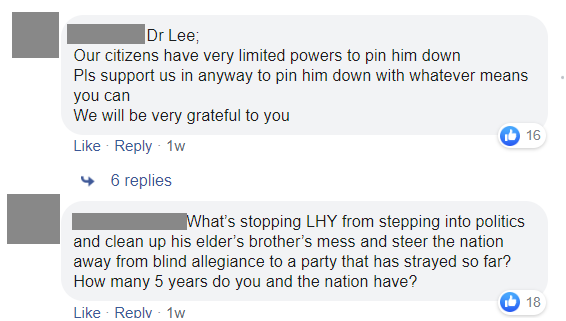 She repeated the stance that she and Lee Hsien Yang do not trust Lee Hsien Loong as a brother, nor as a leader. Some commenter-prophets even urged Lee Hsien Yang to venture into politics and "clean up his [elder] brother's mess". 
But before this fantasy becomes reality, PSP and Lee Hsien Yang must convince voters that this move is not personally motivated, and will ultimately benefit Singapore, by allowing for a diversity of voices in the political sphere.
This GE, we're not just interested in the winners and losers. Join RICE as we satirise, over-analyse, and dissect everything from how we talk about politics and politicians to what we think we know about how Singaporeans vote. 
Have a lead for a GE 2020 related story? Write to us at community@ricemedia.co.