All images by Marisse Caine for Rice Media
When I learnt that Singapore Democratic Party's Chee Soon Juan had opened a new cafe on June 25, I was in disbelief.
Local celebrities, sure. Many have opened restaurants and cafes. But political figures? That's something new. I had to visit the cafe, Orange & Teal, at Rochester Mall in Buona Vista, to take a look for myself.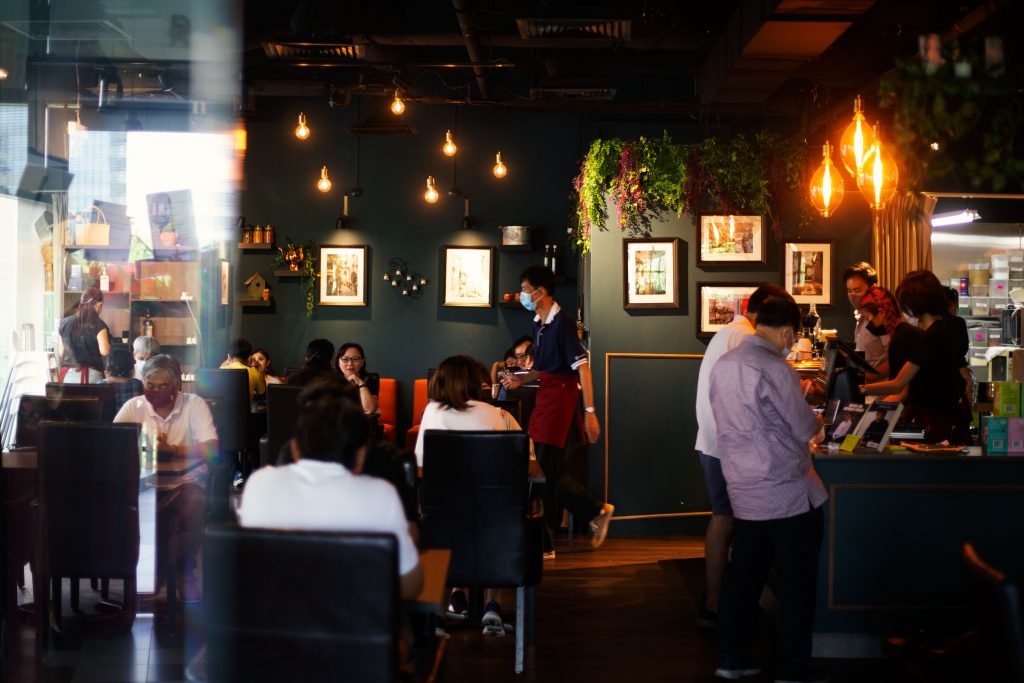 The first signs of the newly-opened cafe can be seen on the second floor of the mall: A row of about 10 congratulatory flower wreaths for Dr Chee from party members, friends, and organisations. Not bad for an opposition politician whom Singaporeans used to shun out of fear. 
Inside the cafe
Once inside, I'm mesmerised by the cafe's vibes. The aroma of the cumin-spiced brisket, the dark teal interior, and the dim, warm lights remind me of a British pub. The piano and other household fixtures make the cafe even more cosy and homely.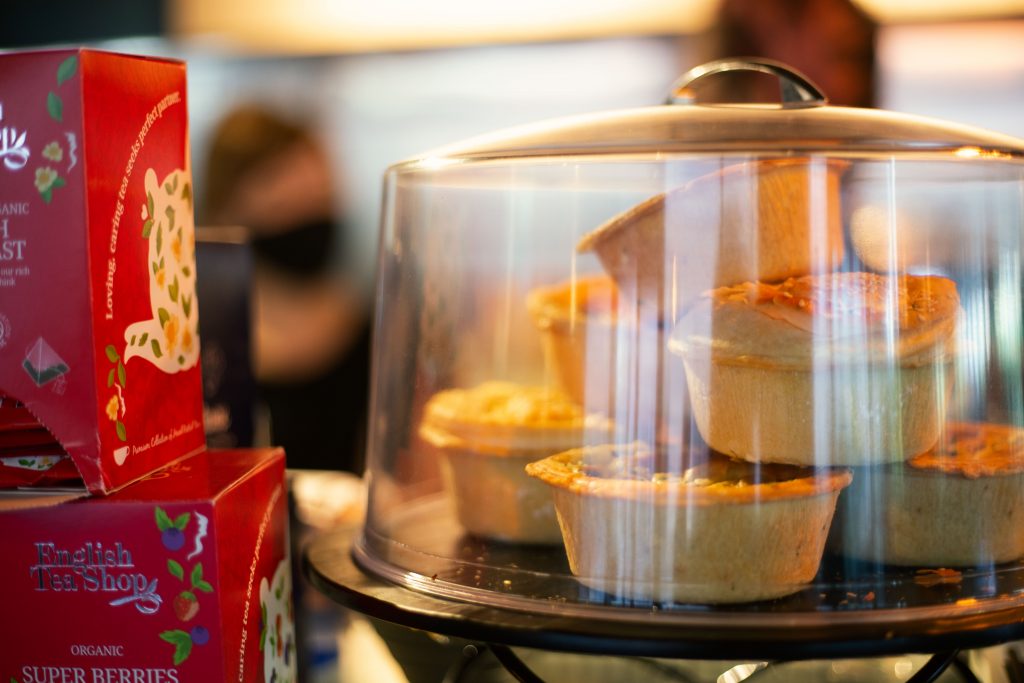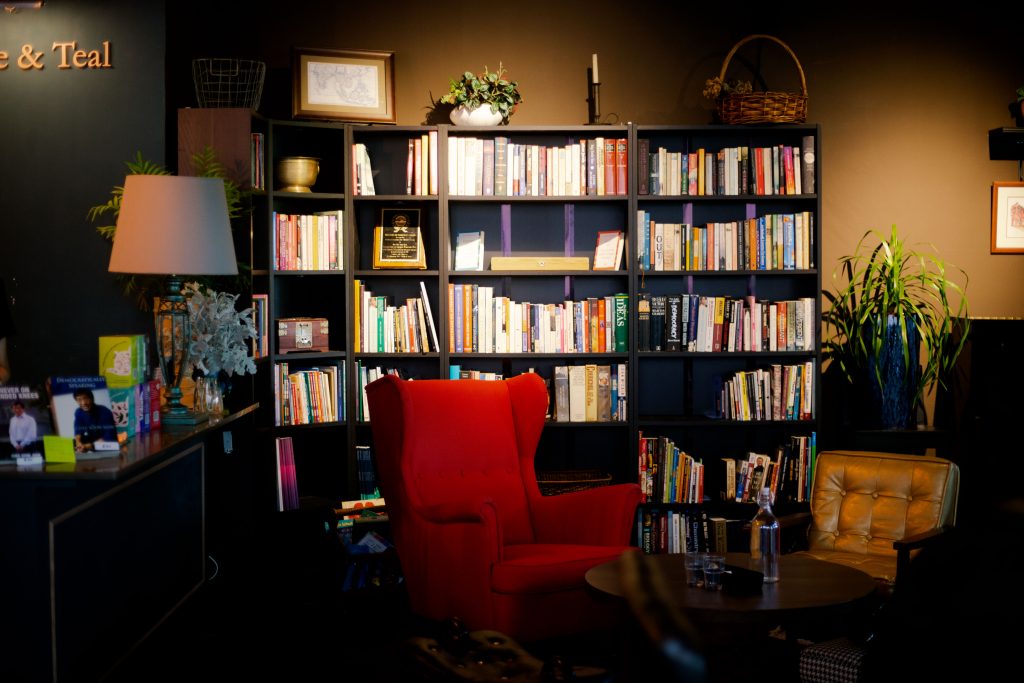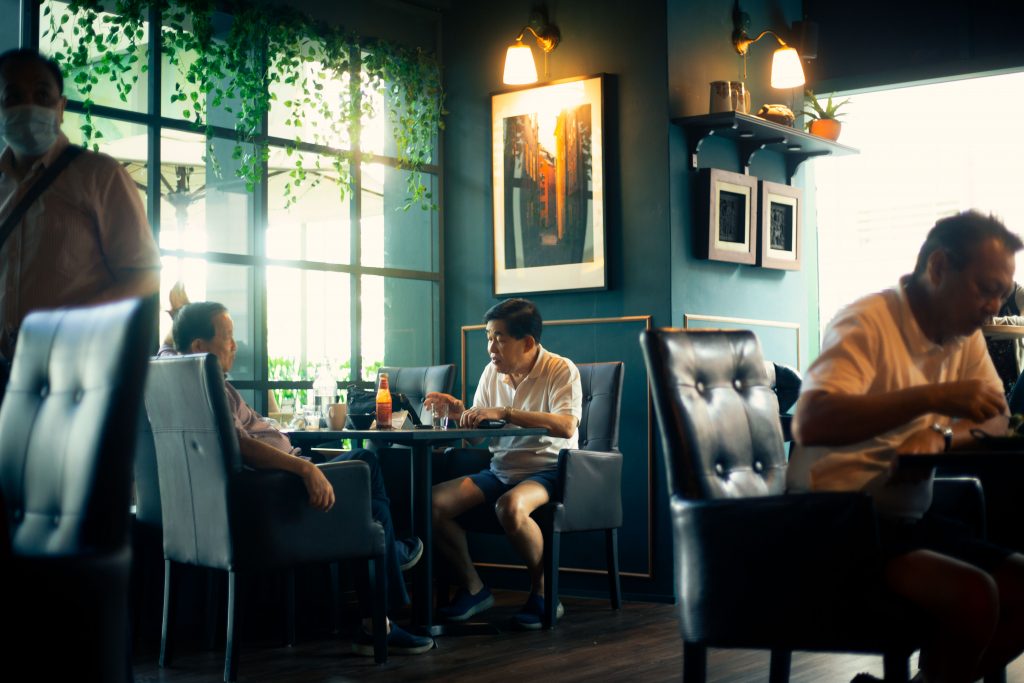 Like other customers, I'm hoping to catch a glimpse of the man. In many instances of celebrities' restaurants, the famed personality simply appears once for a photo op, never to be seen again during daily operations.
But not Dr Chee, who gets his hands dirty running the outlet. I am barely seated when he comes by my table, taps on my shoulder like a friend, and apologises for the wait.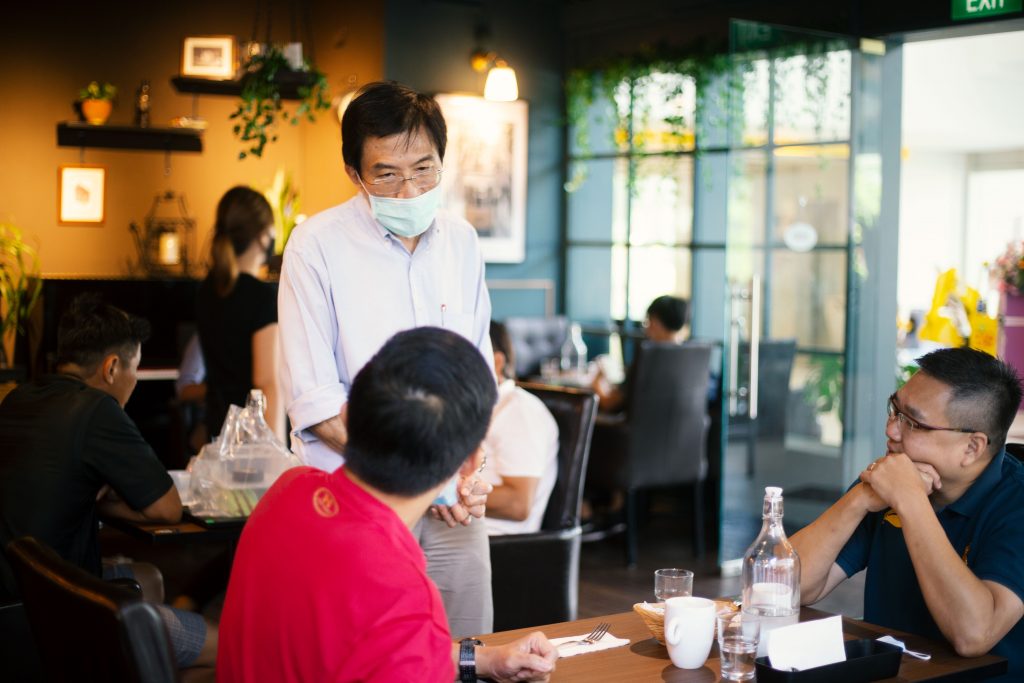 "If the food is good, let me know. If you want to complain, tell it to the kitchen," Dr Chee quips. It is rare and refreshing to see this light-hearted side of him—so different from the grim-faced, combative political persona we're so used to. 
After ordering two plates of creamy butter tuscan salmon and poulet roti, I decide to explore Dr Chee's mini library near the counter. You can learn much about a person's character from his bookshelf.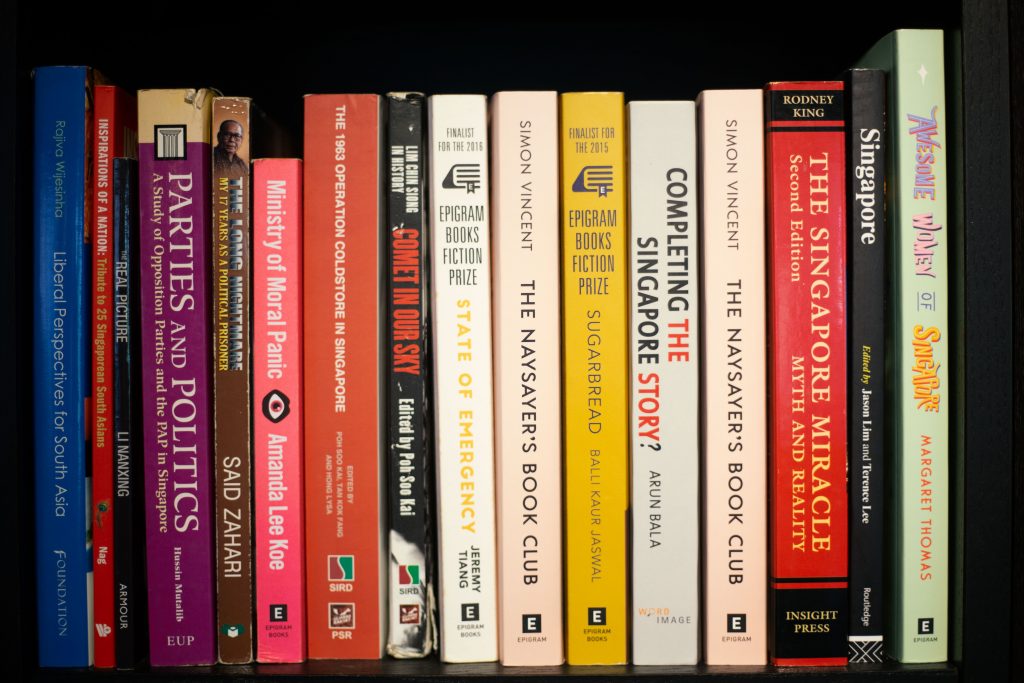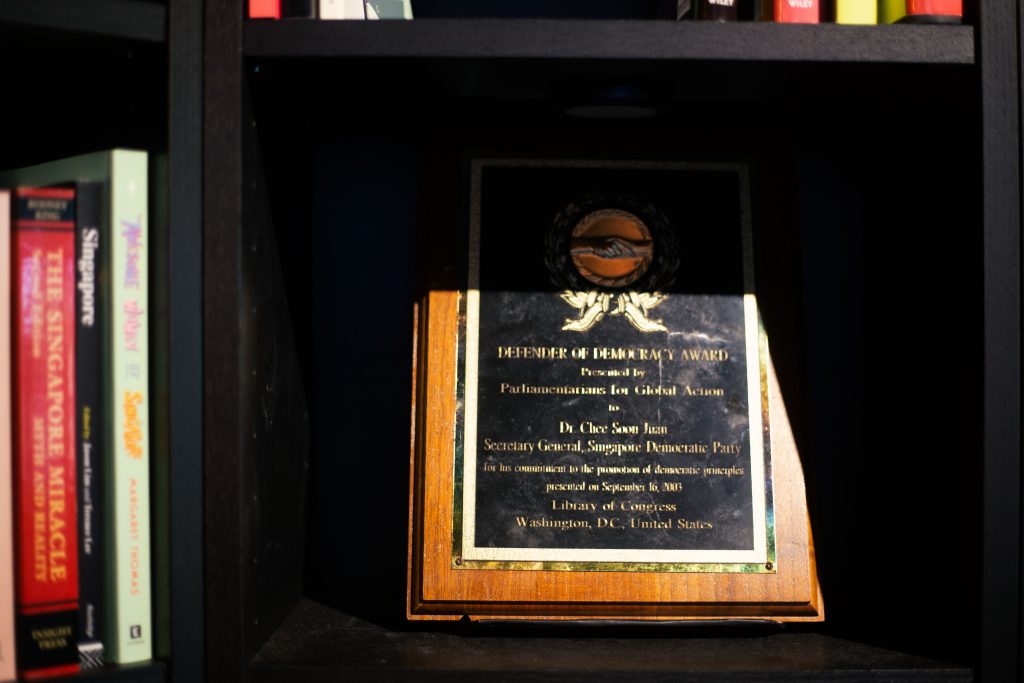 As a known bookworm, the books belong to him, with some contributed by party colleagues Wong Souk Yee, Paul Tambyah, and others. Not surprisingly, there are books on politics and world history, alongside other novels like those by Haruki Murakami and Veronica Roth. And yes, Dr Chee also features two books authored by him which he sells at $30 each. 
The makan eventually comes. It may not be Michelin-starred quality, but the food is unpretentious. Western fare is offered here because it is easier to prepare, given the small kitchen.
Speaking to the man
But I'm not here just for the food. I want to uncover the restaurateur side of Dr Chee.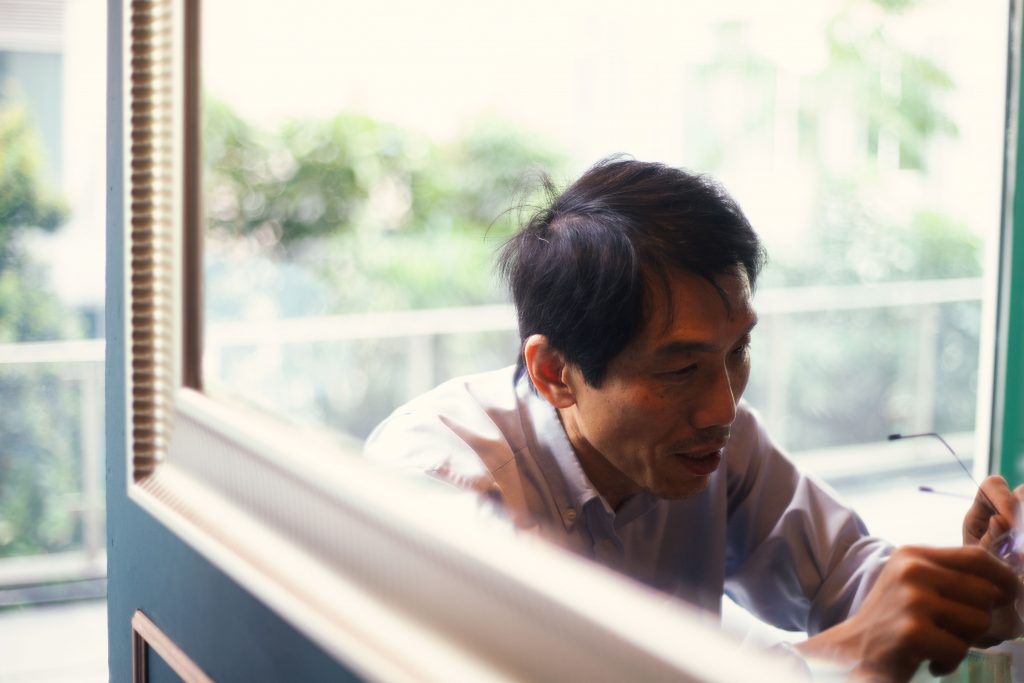 He is a busy man. When he isn't serving dishes, he is either expediting orders in the kitchen or taking selfies with customers. It is only when Dr Chee finally sits down with me for an interview that he catches his breath. 
I'm surprised when he reveals that the idea to set up a cafe has been floating around for a decade, as he and his party members wanted a place for Singaporeans to connect. But they never got beyond discussions. 
Then came post-GE2020. 
"I told them if we're going to get this done, let's do it and stop talking already," Dr Chee says. Together with investors and some party members, they chipped in funds to set up Orange & Teal. He makes clear that the cafe isn't a party enterprise. 
The money side of things, settled. What about location? Not easy. This is when I learn that the political climate of fear still exists.
Dr Chee shares that Rochester Mall wasn't his first choice. There were other places in mind, but when approached, landlords claimed they were taken.
"Some saw me and didn't want to do business with us. There was a point when I asked my wife to just go and see [the shops] and I don't show up," Dr Chee sighs. 
The folks at Rochester Mall are more straightforward, and the paperwork was done uneventfully, he says. For a shop space of about 1,300 square feet, Dr Chee claims he pays about $7,000 per month in rent, an amount he deems as reasonable and allows him to keep food prices modest. 
While footfall at Rochester Mall is lower than the adjacent The Star Vista mall, Dr Chee doesn't think it is a problem.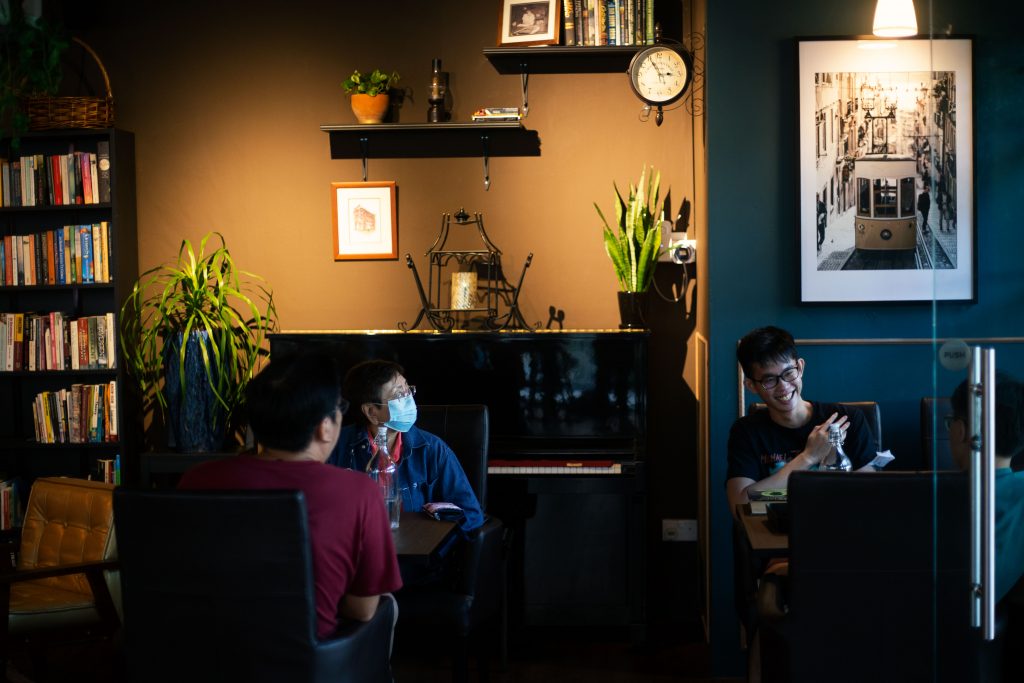 After all, he doesn't envision his cafe to have high human traffic, with customers fleetingly coming and going. Rather, he wants it to be a getaway for Singaporeans to slow down for conversations and coffee with friends. 
Politics should be left at the doorstep, he adds. "You don't have to be of a certain political stance to come here and eat. Just enter." 
Taking the chance, I tease and ask if anybody from the establishment has popped by for a drink. That would have sent a cohesive message that food can transcend political differences.  
Not yet, he says. But he has a politically-bizarre idea: inviting Education Minister Chan Chun Sing to his cafe for lunch. After all, the minister's office is just a stone's throw away. 
Challenge accepted, Minister Chan?
Once the dust has settled, Dr Chee intends to develop the cafe towards a social enterprise model. 
Ideas in the pipeline: giving local artists, musicians and writers a free space to showcase their work. Employing disabled Singaporeans. Inviting those invisible to us to eat at the cafe, such as cardboard collectors. 
In fact, he has already done the latter, having treated cleaning staff at the mall to a meal at his cafe. "I want the cafe to not just be about dollars and cents. It should be a place where humanity counts," says Dr Chee. 
The man and his family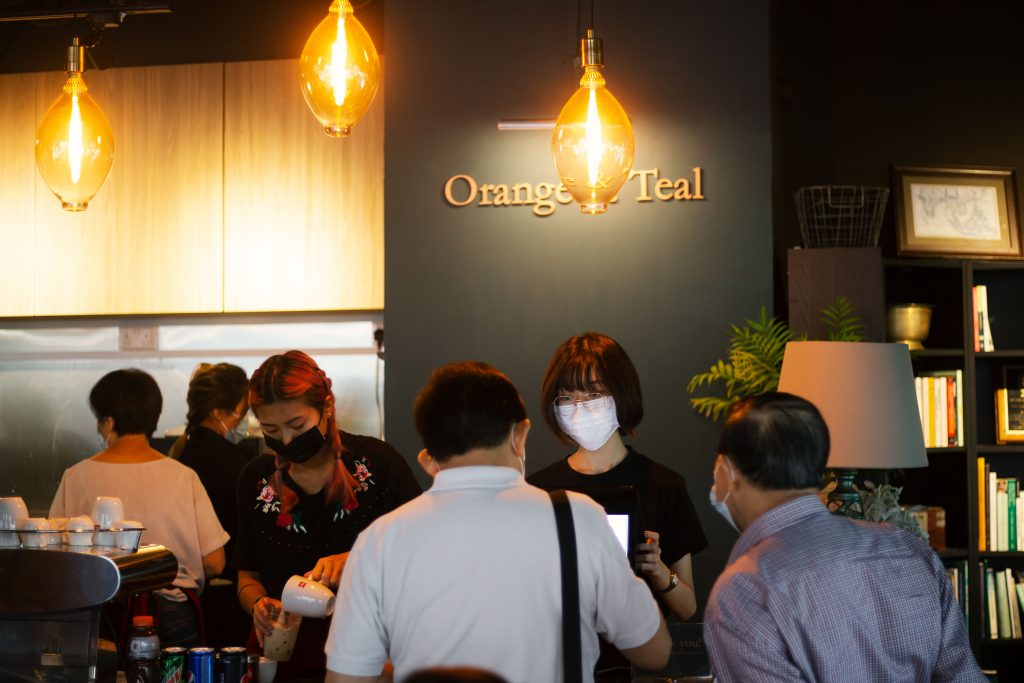 While Dr Chee and I are chatting, the cafe continues to run with the help of his family. Everyone is involved: Wife Huang Chih-mei and their three grown-up children, An Lyn, E Lyn and Shaw Hur. The past week has been exhausting, but Dr Chee shares it has been worthwhile to do this as a family. 
"When I first told my friends I'm opening a cafe, they said I'm crazy, given the current F&B situation. But I didn't spring it on my family. They were unsurprised as they already knew I had wanted to do this for some time."
His 22-year-old daughter An Lyn, who handles the cafe's publicity, says she feels bad for her dad and mom when she sees them working tirelessly to keep the cafe going. 
True enough, Dr Chee hardly has free time these days. Before the cafe opened, there was much coordination to do. When not at the cafe, he walks the ground in Bukit Batok, the constituency he contested in last year.
The cafe as a soft power?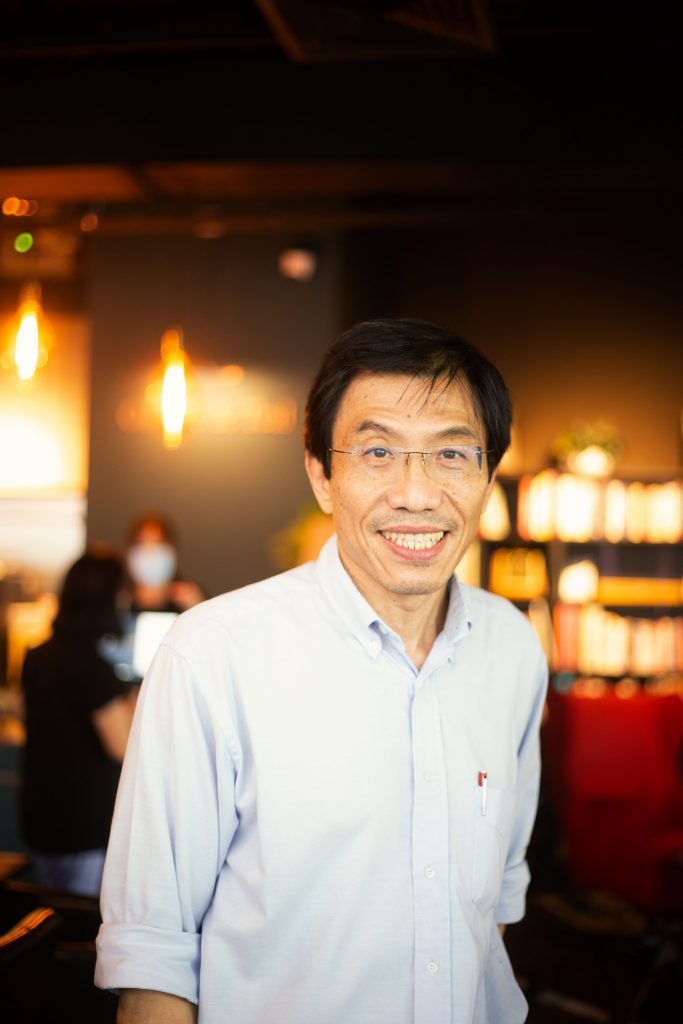 I've known Dr Chee as a confrontational figure. I have read about his arrests for illegal public assemblies, and his scathing criticisms of the government.
I don't always agree with his causes, but I respect Dr Chee's tenacity. Realising combative methods and overly-ideological ideals don't sit well with most Singaporeans, he changed tack. 
During GE2020, he delved significantly into municipal issues instead of focussing entirely on national policies or "fighting for democracy". Now, he has opened a cafe, apparently a first among local politicians. 
Is this as a political move to gain goodwill from Singaporeans and rejuvenate his public image as a politician who experiences the first-hand challenges of operating a food business?  
Already, I have observed that his cafe has attracted many middle-aged customers, which is peculiar since it is usually the younger ones who patronise cafes.
Perhaps many are either his long-time supporters or Singaporeans who have been observing him for years and are curious what he has up his sleeves.
Dr Chee has always been idealistic, be it with the causes he advocates for, or foraying into F&B during the pandemic when many in the industry are barely surviving. The profits from running a cafe aren't high, more so with the way he intends to run it. 
But I have to admire his perseverance, even with hurdles ahead. This is a trait worth emulating.
Orange & Teal operates from 11 AM to 9 PM from Sundays to Thursdays, and till 10 PM on Fridays and Saturdays. The cafe is closed on Mondays. Address: 35 Rochester Drive, #02-12 Rochester Mall. Singapore 138639.
Have you visited Dr Chee's cafe? Tell us about it at community@ricemedia.co.
If you haven't already, follow RICE on Instagram, Spotify, Facebook and Telegram. If you have a lead for a story, feedback or just want to say hi, you can also email us at community@ricemedia.co