All images: Stephanie Lee/Rice Media, unless otherwise stated.
"Joo Chiat has transformed into a 'young people' place," booms Max Lee, the owner of Joo Chiat Sofa & Cushion.
The 49-year-old is dressed in his everyday fit of a tailored shirt, jeans, and a sparkly ring on his index finger. He looks very much like the towkay of an upholstery business—or any business for that matter.
On any given day, you can find Max in the company of his crew of craftsmen, all armed with pliers, ripping apart old cushions and restuffing their insides.
A little further up the street, the scene is a wee bit different.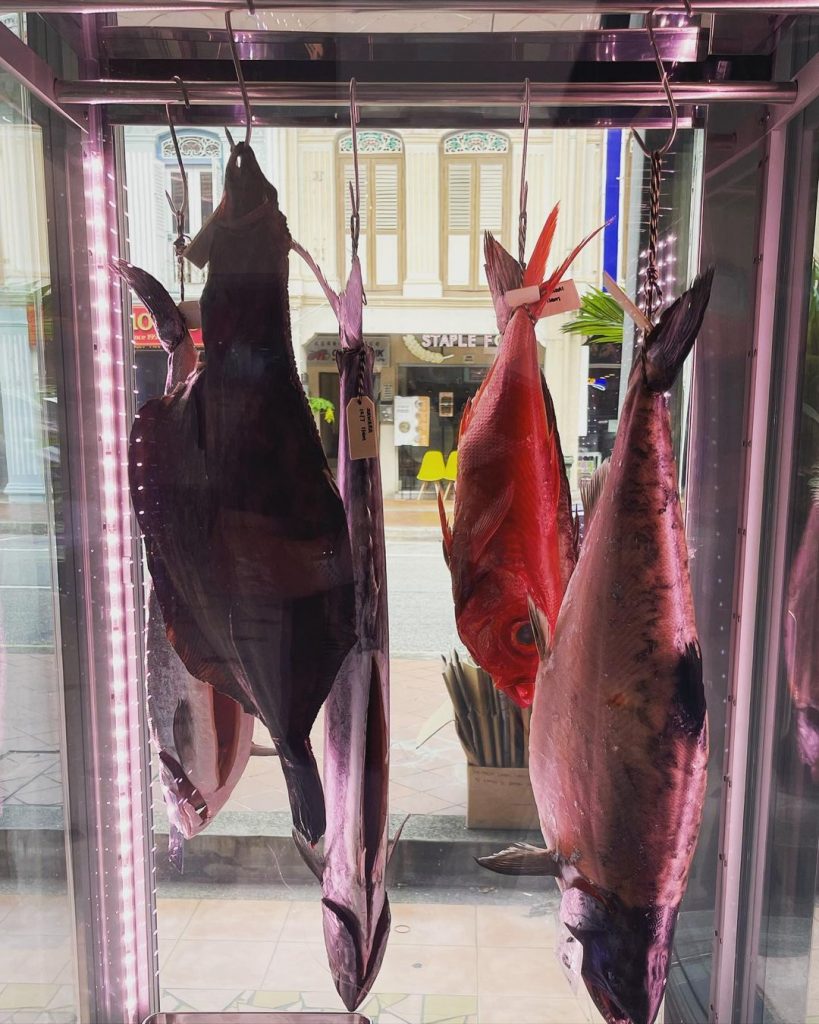 At unit 175, a King Ora Salmon and Samegarei (rough scale flounder) hang proudly in a dry-ager in the storefront of the street's newest gourmet seafood grocer.
Bleu (like the colour, but ✨French✨) is the newest gourmet grocer in Joo Chiat, where you can find dry-aged fish and the likes of Alaskan King Crabs and Boston Lobsters for a typical Tuesday evening home-cooked dinner.
Truly, this is what a street in the throes of gentrification looks like—where trade pairings are incongruous, and product offerings are jarring.
Most times, the phenomenon of gentrification is regarded as a detrimental process. You can tell when it happens. Wealthier, more affluent residents start moving into old and sometimes long-forgotten estates, often in search of that precious and intangible 'charm' an older neighbourhood brings.
With their moving in, some argue, comes the displacing of the low-income folks who've been living in those areas for decades. These long-time residents find themselves strangers in a place they no longer recognise.
And while that circumstance holds in most instances, gentrification takes a different shape in Singapore. It is perhaps not a careless 'out with the old and in with the new' but a more thoughtful facelift that meets the needs of the current generation.
Nowhere is this more apparent than the once-seedy streets of Joo Chiat Road, where gentrification is underway. The street's gentrification-in-progress gives us precious insight into what an urban sprawl can look like—and whether long-term shop owners and their traditional businesses are faring better or worse from it.
Sleepy Streets and Sordid Pasts
This trendy alcove in the east of Singapore didn't always look like this. Just over 20 years ago, Joo Chiat did not carry connotations of single-origin coffee or mindful yoga.
It was a little more unsavoury than that. And I'm not talking about the deliciously sweet pastries of Tigerlily.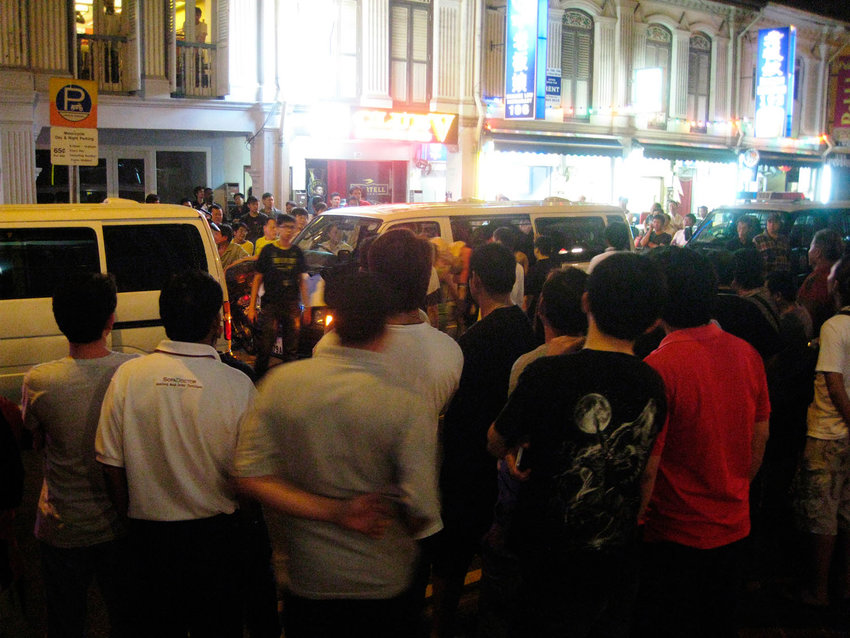 For one, drunken bar fights were an almost nightly occurrence, seedy karaoke lounges were found by the dozen, massage parlours populated alleyways, and pay-by-the-hour hotels were all the rage.
"20 years ago, this place was very ulu (remote)," exclaims Max. "Joo Chiat was not populated at all. No one came here and paid no attention to this road."
"Now, there are so many bakeries up and down Joo Chiat—it's almost scary," he guffaws.
"If you want bread, you don't need to go elsewhere. There is French, Italian; anything you want. You just have to peer outside, and you'll see, wow, a new bread shop, wah there are tarts here, and across the street, there are cakes there also."
"Now, there is even this new Italian place along Tembling road, that one you have to make a reservation one month in advance. Have you tried it?" he asks me excitedly.
Learning to Swim in a Sea of Cafes
I settle into Max's office, surrounded by boxes of bird's nests from his previous ventures. Gold watch gleaming on his wrist, Max asserts he is not threatened at all by these young enterprises.
"I can learn so much from them. We are exposed to so many new things," he says. Notably, he agrees that the introduction of new businesses is aggressive, but their unorthodox marketing tactics are something he is constantly learning from.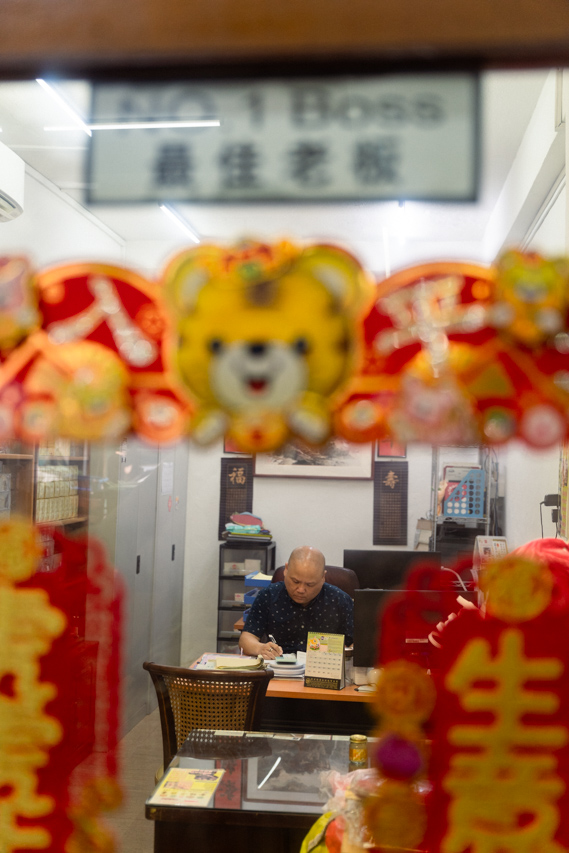 He cites a corner coffee joint that began with a pay-as-you-wish model before they fixed their prices. "This idea is so innovative and creative. The back alley was rented out cheaply to sell handicrafts or whatever. There are just so many business opportunities available."
This is what is posited by researchers Benjamin Hu and Gabriel Callabero in their paper, where they endeavour to uncover the "existence of 'positive' gentrification in Singapore".
As they argue, one possible (and wordy) way to gain the most benefits from gentrification requires "the social mixing of new and existing residents to forge a cohesive community that effectively retains creative people in a conducive milieu to contribute to Singapore's economy."
Of course, attempting to foster cohesion is easier said than done. While government organisations can undoubtedly assist with this process, it is vital that new and old tenants make that first move or meet each other halfway and cultivate relationships where they learn from each other.
A Clash of Businesses
A few doors down, Thia Seng Lee, owner of Teong Theng Co., is also seemingly unperturbed by these changes.
Walking up to the storefront, it is characteristically and classically Joo Chiat. Spilling out onto the five-foot way, seemingly hundreds of glossy rattan chairs, stools, and rocking horses stack on top of each other, crowding the entrance. There's even a mural of futuristic cats painted on the side of the shophouse.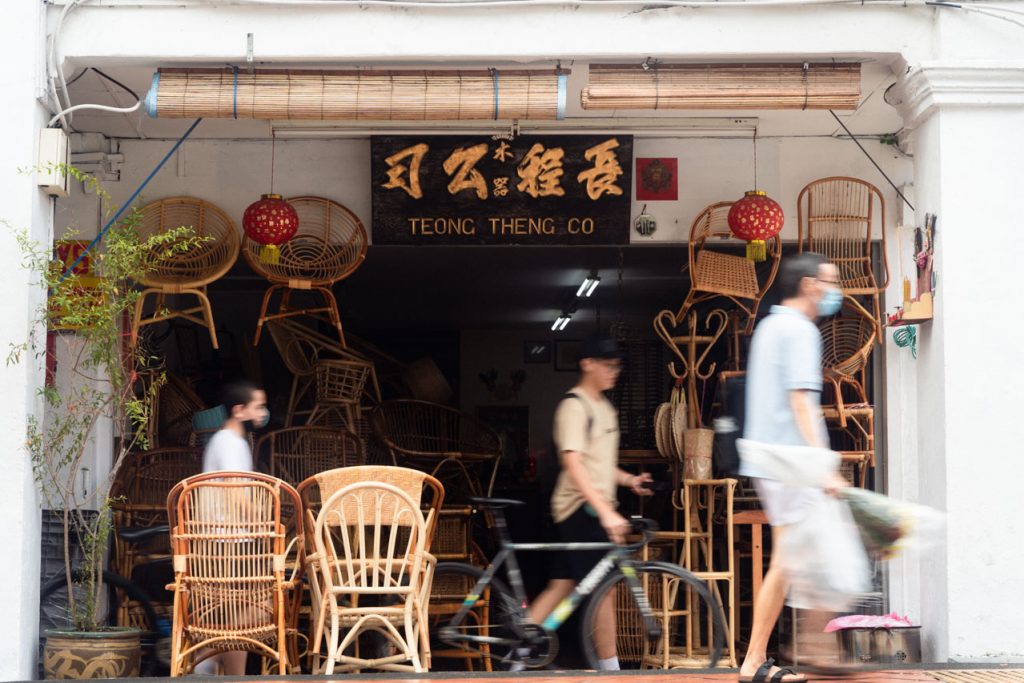 With over 77 years of tenant-ship in Joo Chiat Road, it is safe to say that Seng Lee, who is in his sprightly 60s, has truly seen it all.
A television hums on a makeshift office table, and Seng Lee is hunched, pencil in hand, marking his 4D sheet, while his wife reads the newspaper—a slow day at the store. Having grown up in Joo Chiat, Seng Lee took over the furniture business from his father.
"My neighbours sell all these weird things, like women's vintage clothes and all that. You know, they will buy clothes from other countries and bring them back here to sell."
He doesn't understand all these trinkets and knick-knacks that pepper the streets. To Seng Lee, it's bizarre that anyone would like and spend money on these lavish baubles.
"One keeps opening right after another," he mutters, "I think Western people prefer them more, not us. Some people like them, but I guess now it's the trend."
Kopi-o vs Artisanal Coffees
Perhaps this marked shift in tastes has more extensive reverberations than we would like to admit. Off the top of Seng Lee's head, maybe the most egregious habit cultivated in modern times is shelling out a whopping S$7 for coffee.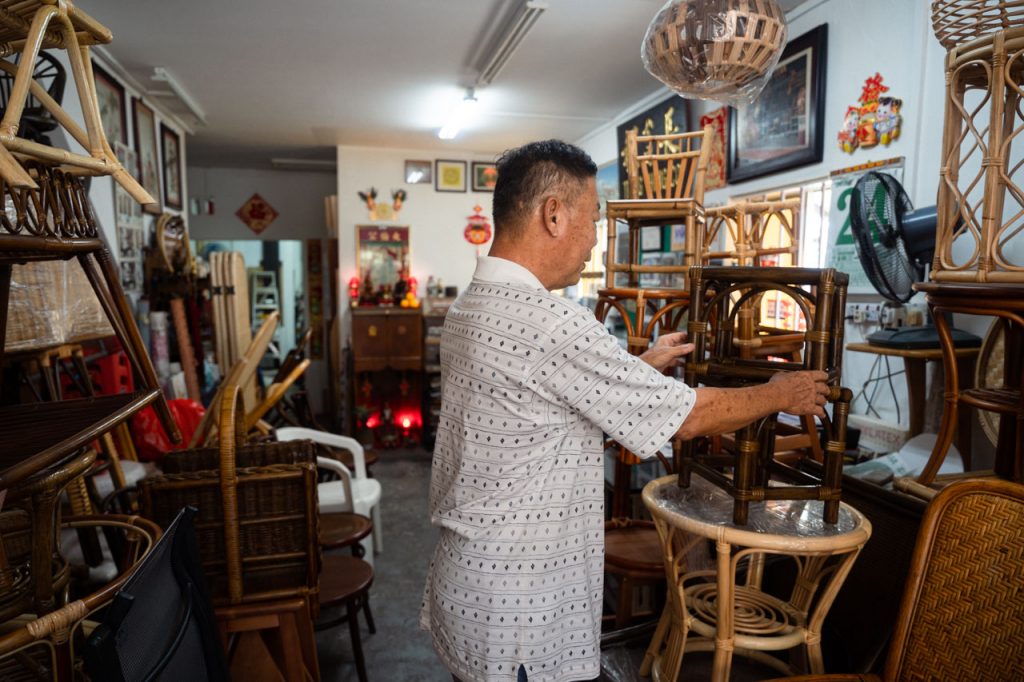 "Young people are so careless with money. They are spending so much on coffee when it used to cost just $1 for a Kopi-O," says Seng Lee.
He looks at me knowingly and nods, sensing that I've had my fair share of matcha and cold brew runs myself.
As much as we are willing to spend on coffee when it comes to purchasing quality pieces of wooden furniture, Seng Lee believes it's a different story altogether. "Young people are so technologically savvy, so they don't like these things," he laments and gestures to the rattan chairs before him.
"People of my age actually like this furniture, or you can only appreciate these rattan pieces if you have grown up with it. Young people like cheap things; they don't look at the quality. If the price is right, then they will buy it."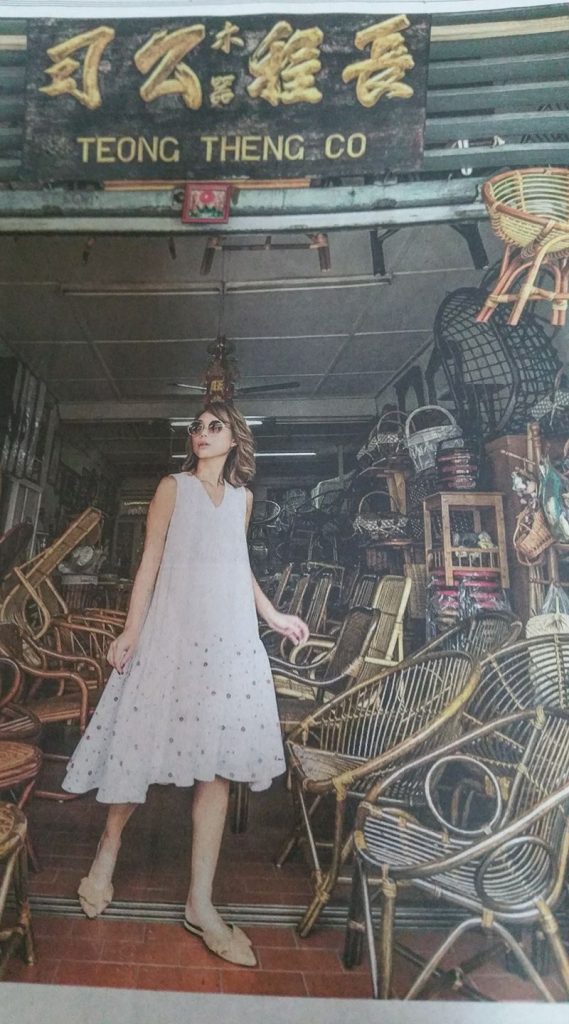 Still, as much as he scorns the fickle young customers, he still needs them. It's evident from the laminated newspaper cutouts of local influencer Drea Chong visiting his store.
Despite Seng Lee's prickly attitude toward the influx of overpriced coffee and outlandish vintage wear, he cannot escape the apparent benefits gentrifications brings. The exposure and glamour that comes from these Joo Chiat juxtapositions only seek to add to the allure of the street. In turn, the wares of Teong Theng Co.
The Knock-on Effect of BOSS trousers
Seng Lee is not the only one that notices our evolving buying habits. Katong's good-natured dry-cleaning couple notes a changing demographic of customers. "Now, when young people buy their pants, it's not made of just polyester anymore," chuckles Mei Fu Chai, 70.
Fu Chai and his wife, Yvonne Chan, 69, are the proud proprietors of Shanghai Chen Hin Dry Cleaning Co. Step into this charming laundromat, and you'll realise it is untouched by the overwrought hand of warm neutrals and minimalist sensibilities.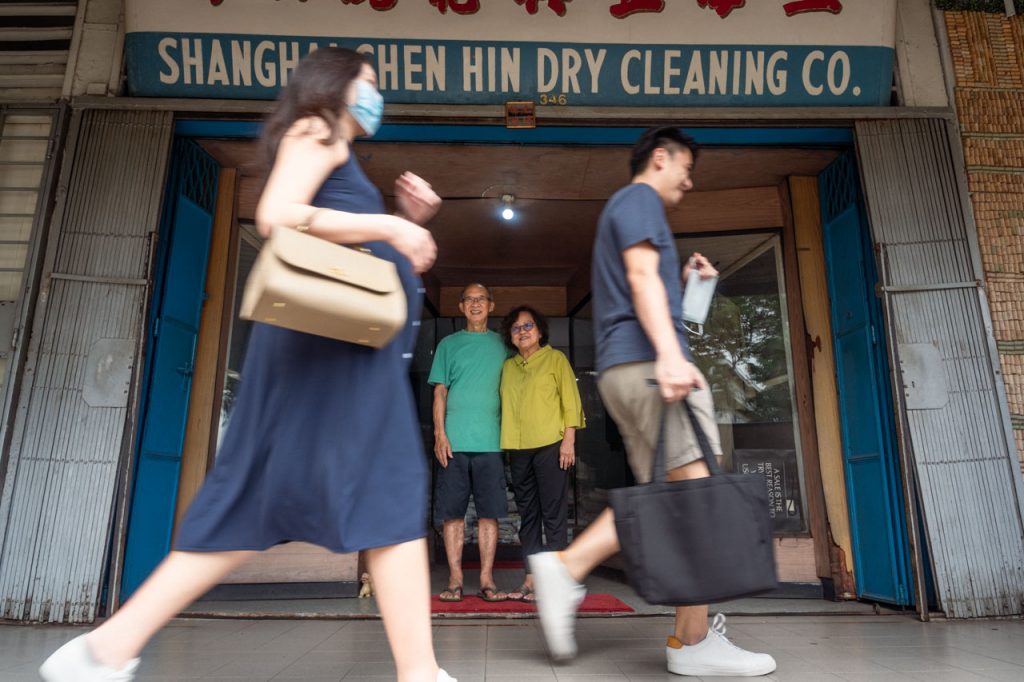 Instead, the shop is an endearing organised mess with towers of folded clothes and faded blue tiles. It's a stark contrast to the gaggle of sleek cafes and pet shops sprouting in the area.
While Fu Chai and Yvonne are keen to explore these new-fangled delights, their well-worn routines of forty years keep them grounded. He is tasked with ironing and primary cleaning duties, while Yvonne acts as the unofficial concierge, taking orders and speaking to their customers.
Their crowded workshop spilling over with skirts and blazers might belie an inefficient organisational system. However, to the keen observer, it just means that the jobs never stop coming in, no doubt helped largely by the influx of younger customers.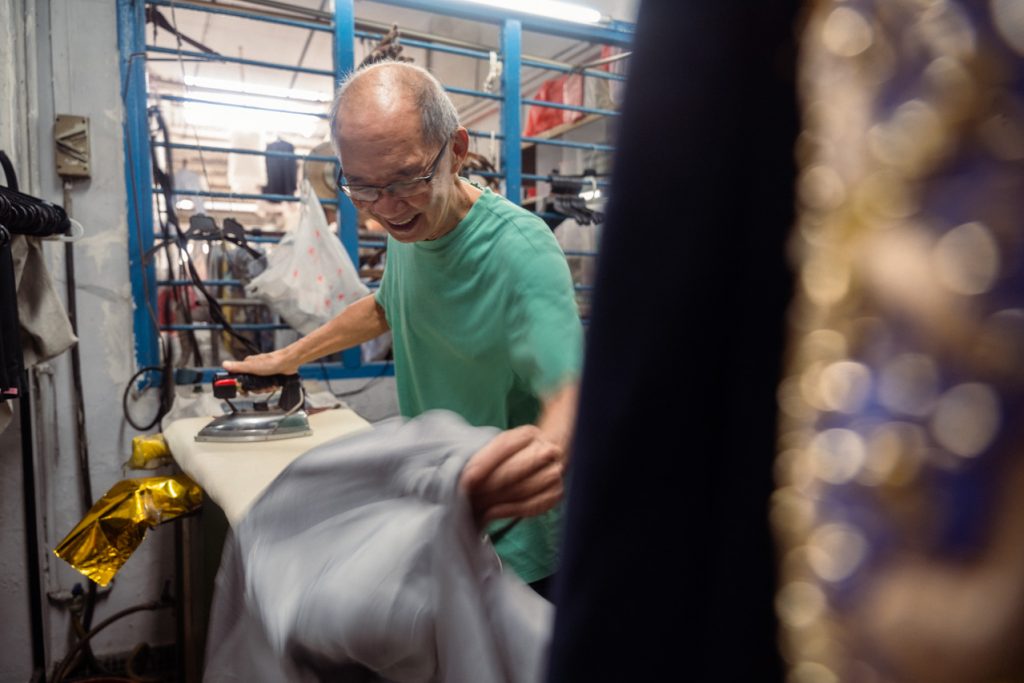 "A good pair of pants from BOSS can cost thousands of dollars. These young people need us to dry clean and take care of these pants," Fu Chai shares when explaining his shop's longevity.
Perhaps this is the solution to quelling the generational wars that gentrification often brings—where both generations seek to gain something from each other.
From what I sense, they're just astute business owners gamely riding these changes and hoping for the best. After all, the more populated the streets are, the more laundry orders are for them.
It's a practical arrangement and advantage that serves to bring their humble laundromat more profits. In this unpredictable economy, it's hard to oppose any arrangement that keeps one afloat.
Keeping Up With The Now
Every Thursday, when Fu Chai hangs up the last trousers of the day at 7pm, he traipses to Hougang for an invigorating game of badminton. On the other hand, the smiley Yvonne would climb up the stairs to their living quarters just above the business and indulge in Chinese dramas with their nearly 13-year-old corgi.
With such an established routine, it's no wonder the couple is unfazed by the many openings and shutting along the street. They prefer to go with the flow.
"Yes, there have been many changes to the Katong area, it's true," says Yvonne jovially, her eyes drifting back to her television drama every so often.
"But, we just have to adapt, you know, move with the times. This way, I can catch up with the kids. If not, you will always be left behind and can never be on the same footing."
"With all changes, there is nothing you can do about them," her husband chimes in. "A lot of it stays the same. I'm used to it now. I'm so accustomed to all the new openings; it's no longer exciting anymore."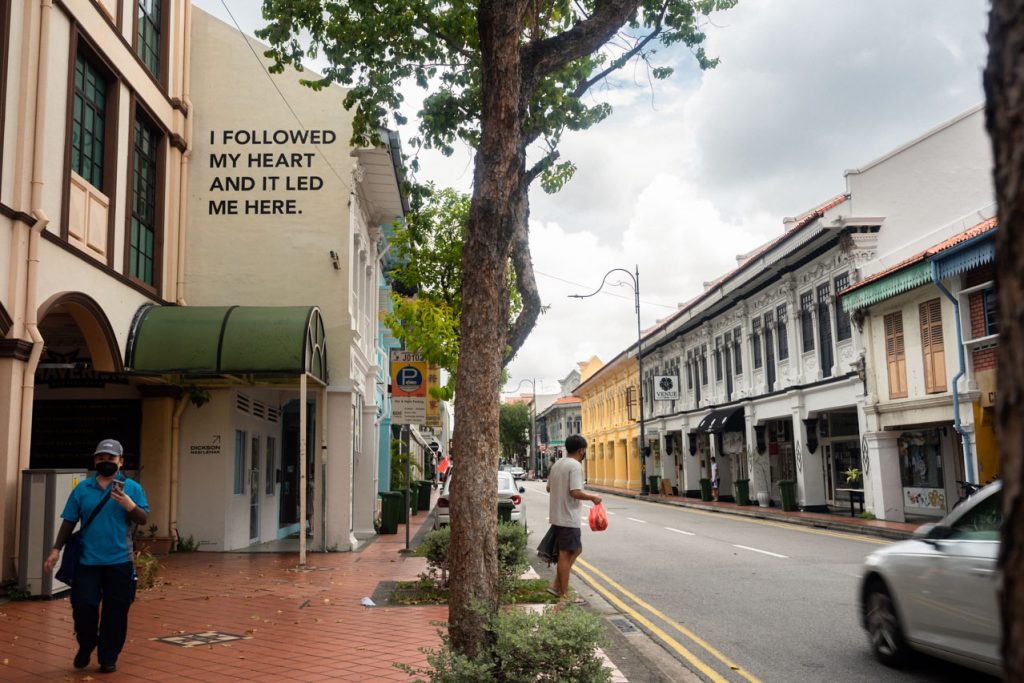 At its best, the Joo Chiat-Katong area can be regarded as a pastiche of modern and historical sites. At its worst, this locale can be described as entirely confusing with Frankensteinian properties that just can't be tamped down.
Indeed, the area is in transition—and during these transformations, things might not make sense now. Holding on too tightly might only cause more grief.
"I'm not so caught up with these kinds of feelings or overly yearning for the past," says Fu Chai, seemingly taking a cue from Eckhart Tolle's Power of the Now.
"If I compare what was in the past, there is no end to it. You can't pit them like that. It's an unfair comparison. I don't think so much. Every day I come to the store, iron my clothes and then rest. I play ball and hang out with my friends if I have time. I don't dwell on so many things."
Back at Joo Chiat Sofa & Cushion, the sentiments are similar. "Of course, it's sad when we lose our neighbours," says Max as another call rolls in.
"But I believe this is inevitable if you want this place to become even more bustling and lively. Bring on the gentrification, I say."
---
If you haven't already, follow RICE on Instagram, TikTok, Facebook, and Telegram. If you have a lead for a story, feedback on our work, or just want to say hi, you can also email the author at nicole@ricemedia.co or us at community@ricemedia.co.