All images and videos by Stephanie Lee unless otherwise stated.
"'Tell me a ghost story,' that's what I say to anyone who says they are Singaporean," says the jovial Pugalenthii Ramakrishnan from across his dining table.
"If you are Singaporean," he continues, "you can surely tell me a ghost story," the 60-year-old storyteller challenges.
Behind him is a sprawling bookshelf that threatens to spill over with all sorts of novels and reference books. There's also a hefty volume of Lemurian Scrolls and a kitschy Manchester United collector's box set that sings the iconic 'Glory, Glory, Man United' anthem every time it's opened.
Taking pride of place at a corner close to the top shelf is his storied Nightmares collection—and other spooky works published by Pugalenthii's now-defunct publishing company, VJ Times.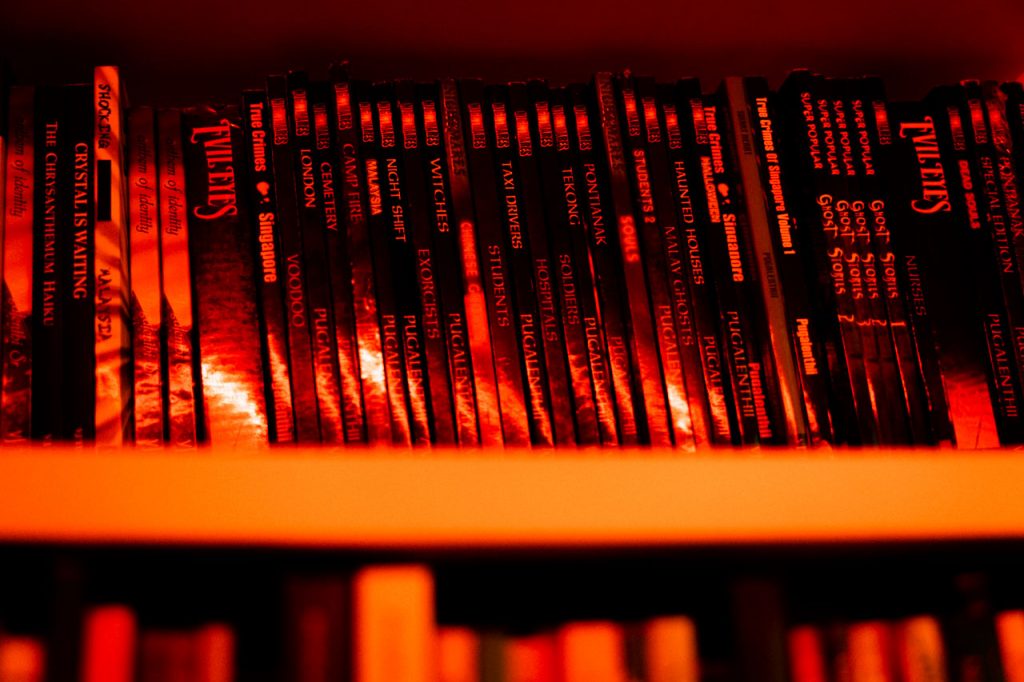 From tales of haunted hospitals and eerie encounters in school to the ever not-so-friendly Pontianak, there isn't a corner of the Singaporean supernatural that Pugalenthii has not investigated and written about.
As much as bubble tea, chope-ing, and complaining about the weather are emblematic of being Singaporean, so is this fascination with horror and things that go bump in the night (and no, we're not talking about your noisy neighbour).
The days of poring over pulpy works of errant spirits, bomohs, and undead infants might be a bygone era. However, the preoccupation with horror remains—albeit in a different realm.
On Spotify, MALAM SERAM (translates to fright night) remains the top horror podcast helmed by former Ria 897 radio deejay, DJ KC. He used to host the station's nightly horror story program (popular amongst listeners on the night shift) before he quit in 2019 to do podcasting full-time.
Then, there is Mr Zhou's Ghost Stories @ Singapore Sightings on Youtube, where deejay and local personality, Dennis Zhou, investigates supernatural sites in Singapore along with special guests from local television and media. Each episode garners at least 100k views. As a spectral cherry on this supernatural pie, there is even a 24/7 live streaming of Singapore Horror Stories hosted on Mediacorp's YouTube channel.
The Man, the Myth, and the Founding Father of Ghost Stories
Mention ghost stories in Singapore, and the prolific Russell Lee of True Singapore Ghost Stories (TSGS) fame comes to mind. His cloaked identity adds even more to the allure of his enduring series.
Still, unbeknownst to many, Pugalenthii's Nightmares series was just as popular. One could argue even more so.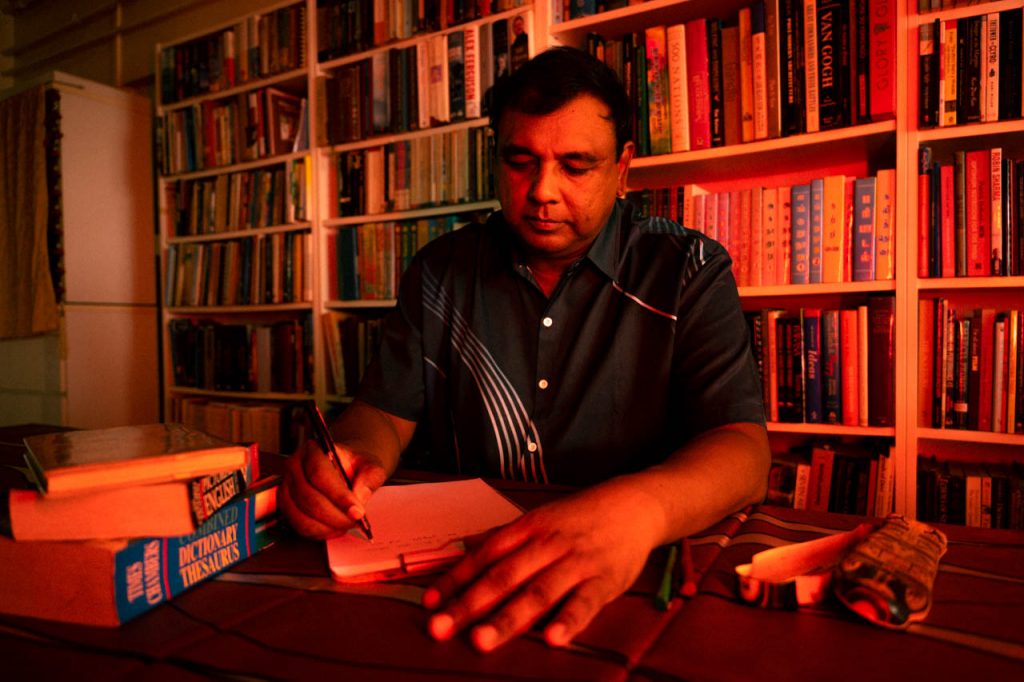 "In its heyday back in the '90s, you could sell 100,000 books in a blink of an eye. My first print of 30,000 books can all be snapped up—just like that," recounts Pugalenthii, his eyes gleaming.
The series was so well-received that it crossed international borders to places like Brazil. One of the novels even became a textbook in Malaysia.
"True Singapore Ghost Stories came first, but then I wanted Nightmares to sell overseas," says Pugalenthii. It was a careful balance for him, treading the line of creating stories that will appeal to the current market and beyond.
More than Pugalenthi's skill is perhaps his ace marketing plan to divide the Nightmares series by subject. With topics like nurses and army ghosts, it was relatable enough for people outside of Singapore to identify with. The effort certainly paid off as Pugalenthii continued to receive letters from far-flung places such as America or Japan, gushing about his books.
Like any astute businessman, Pugalenthii sold his company at the height of his success and left the horror writing business behind. He now writes Tamil dramas, works as a motivational speaker for SINDA, and runs a drama company. You know, just your average overachiever.
Indeed, the multi-hyphenate is plenty busy. But a mischievous glint in his eyes tells me it won't be long before he makes his way back.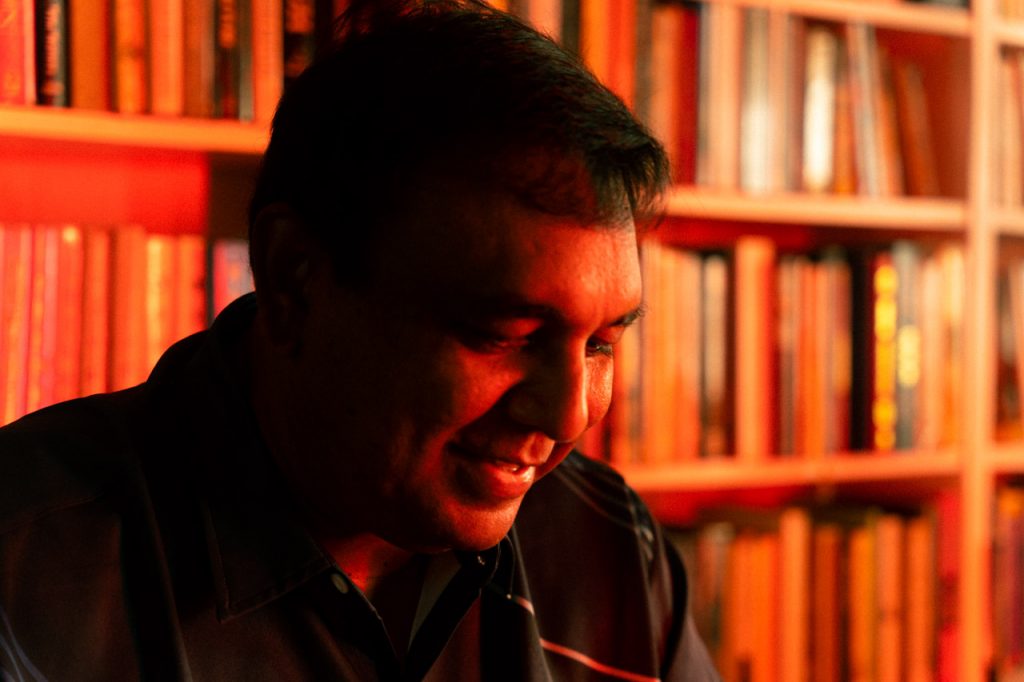 The Method to His Madness
For a man that peddles such frightening and dark subjects, Pugalenthii is smiley and effervescent as he shows me the extensive volumes of reference material on his shelves.
His writing process has stayed the same all these years: a thick stack of blank A4 paper on the back of a clipboard, different coloured pens from a sarcophagus-shaped pencil case, and dictionaries.
These handwritten pieces of paper are then transcribed on the computer, where further editing takes place. It's now a shorter and more efficient process with Google's scan-to-text function. It's quite an old-school method, he admits, but he just can't type as fast as he writes, he tells me, chuckling.
"You will notice with all my stories; they're always very visual. It's like a camera moving or a comic book style so that people can follow," explains Pugalenthii.
Along with keeping things visual, the key lies in the length of the sentences. He keeps them short. All to accommodate wavering attention spans and maintain accessibility to the story.
How to Write a Singaporean Ghost Story
Poet, playwright, and journalist Ng Yi-Sheng, who is in his 40s, notes that this way of writing is "very democratic"—especially since "it's not regarded as high culture and it's very cheap." Books like Pugalenthii's were kept at an affordable price of S$10 per copy.
"In the time of Pugalenthii and his ghost story books, writing in 'presentable English' didn't really matter," adds Yi-Sheng. "People were happy to accept something that wasn't written that well but would scare you."
"Singaporeans like something that's light reading," Pugalenthii concurs. "The number of words in a sentence is very important, so it's easy to read."
Indeed, much of his success at the time and even now is due to a keen and intimate understanding of his audience. Perhaps, the thing Pugalentii does the best is championing the reader more than anything.
"Now and then, I go back and check in on the recent ghost stories, and unfortunately, it is very badly written. They can be too heavy-handed gore," sighs Pugalenthii.
"The readers cannot be taken for granted," he asserts, "or else they will feel like you're just patronising them or not being truthful. There's no authenticity in the ghost stories they're telling." ​
Authenticity is vital to Pugalenthi. Not only does it ground the story, but it also enhances its overall 'scariness'. After all, the best kind of spooky tales are those that stay with you long after they've been told, especially when you are walking home alone at night.
The Evolution of Horror Storytellers
Pugalenthii regards himself as a collector of stories, tapping on the community to harness the kind of authenticity he needs. In a time when the internet was non-existent, he did his due diligence and research by gathering as many accounts of a place as possible.
Everyone lies, Pugalenthii tells me; not only do people love lying, but they also exaggerate.
"The same place will have a different version of the story," he explains. "One person would be bluffing, one account would be hearsay, and one actually happened. You've got to verify them. That way, when I write, I don't lose the essence of the story."
There was no stopping Pugalenthii from getting his stories. From old ah mas and nurses at Tan Tock Seng hospital to bomohs at Malaysian cemeteries, everyone's accounts were up for grabs.
"The written word is not really where Singapore's horror culture lives," say Yi-Sheng, "it's not like Western horror in which a lot of it is built on solid published works, like Dracula and Frankenstein. It's been very much about an oral or living oral tradition."
Yi-Sheng's words ring even more true when we consider the most popular form of consuming horror content now: TikTok.
Condensing Horror into 60 Seconds
Indeed, the well of content that never runs dry is TikTok. If you are on the platform, you will know it offers everything and anything under the sun. Viewers can learn everything there is, from rearing fish and learning a new language to indulging in amateur investigative journalism.
One of the rabbit holes you can find yourself in is the world of horror, where there are paranormal investigations, POV-style horror Toks, and the good ol' storytime. TikTok is where creators share creepy encounters from either their own experience or retell crowd-sourced stories.
"I did a spin-off on an existing Mediacorp show called Incredible Tales," says Kai, 24, a student and part-time 'local ghostbuster', at least according to his TikTok bio. He references the classic horror series shown on the coveted Friday 11pm timeslot, with successive runs from 2004 to 2011.
As Kai's series developed, so did the number of DMs flooding his inbox, where his followers would contribute stories.
"I guess I became like the voice for these things. Many people don't like to address these things because it's taboo. I became like a storyteller or even like a messenger. I will deliver their stories and stuff."
Reading vs TikTok
For Kai, who was an avid fan of TSGS, there is a palpable difference between reading ghost stories and experiencing them on TikTok.
"I think during the True Singapore Ghost Story era, you can't really tell who's into horror. It is a very lonely activity," observes Kai. "I mean, the only time you can tell is when you see someone reading the same book, or you go to Popular and see someone crowding at that section."
Of course, before the advent of the internet, there was a higher investment in reading physical books. Reaching out to like-minded folks was also a little more challenging.
And as a reader himself, Kai acknowledges how one's imagination can carry you through your reading experience. Pugalenthii agrees: "Once you start reading, the imagination is scarier than anything else."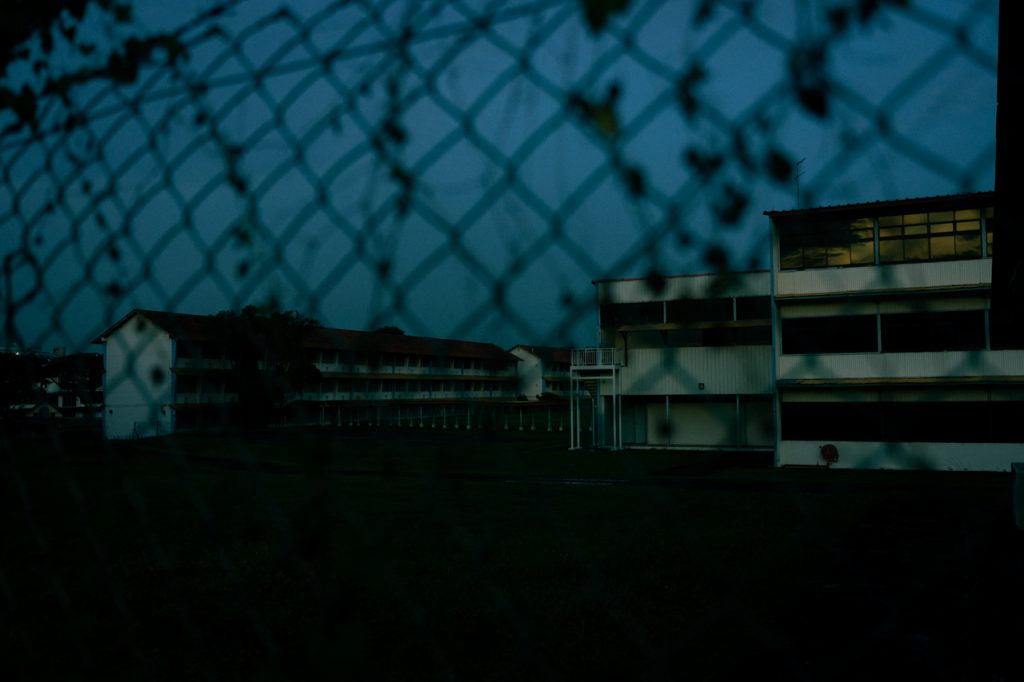 Still, while the imagination is more than enough for some, Kai believes the ability of TikTok to visualise the story becomes even more powerful and effective. But, there is a downside. Even though TikTok boasts a higher reach, creators like Kai only have seconds to capture the attention of their viewers before they swipe away all too soon.
"I think for TikTok right now, we have a lot of different elements to make that one or two minutes of the storytelling session immersive," mentions Kai. "I think one thing that I always do is that I use scary music, even though people have asked me to stop," he laughs cheekily, "I have a whole library of scary music to choose from."
More than the differing mediums, Pugalenthii believes that the most compelling ghost stories have to do with relatability. He notes that while there is a whole host of horror content on popular streaming platforms like Netflix, to him, the resonance is not there, especially for Asians.
Given our rich history of ghosts, occult, myths, and legends, there is much material to mine and should be mined in our backyard. It is those ghosts and spirits that send chills down his spine.
A Community of All Things Spooky
When it comes to relatability for Singaporeans, it stems broadly from two areas: our beloved Singlish and shared experiences.
"If you look at all the ghost stories across the world, it will always be places where something bad or something historical has happened," says Pugalenthii, "like the murder at Sentosa where all the Chinese have brought to the water to be killed."
Just as language connects, so do spaces. "I think mostly, my SP (Singapore Polytechnic) TikToks are very popular because I think it relates to like the folklore of poly culture as well," says Kai.
One of Kai's most popular TikToks revolves around the particularly infamous W3 SP tunnel that has been used for many a fright night.
The urban myth or unofficial rule passed down from seniors time and time again is simple: when one is in the tunnel, do not look up.
Kai was part of the camp committee and needed to mark out some areas for the activities later. Lost in his duties, Kai inadvertently glanced up and saw a bone-chilling sight. It is an image that continues to haunt him today.
"I think many people will see them and instantly say, 'Oh my God, wait, my senior told me this!' Or, 'I walked past that tunnel, and my friend literally told me not to look up, and I didn't know'. So people have heard these things before, but they never really know why it persists," shares Kai.
"I think ghost stories in school represent the gelling factor for students," Pugalenthii offers. On top of connecting with your peers, these ghost stories are seen as authentically Singaporean.
"Singapore ghost stories incorporate different traditions. All it is a mirror of the model of multicultural Singapore that is reflected back to yourself," notes Yi-Sheng.
"They are reflective of the mass Singaporean experience, and that's how it captures an audience."
---
If you want to share your story with us or have feedback on our work, email us at community@ricemedia.co. If you haven't already, follow RICE on Instagram, TikTok, Facebook, and Telegram.