Top image: Joy Lai / RICE file photo
Everyone loves hearing about extramarital affairs. Or if we're in the mood for euphemisms, 'inappropriate relationships'.
Singaporeans love drama—from Korean dramas to the current wave of political drama. Which, ironically, isn't arguing about bills and laws being passed.
We don't need to go through the whole thing again, do we? Two political parties, two extramarital affairs, four resignations. Press conferences were held, and analyses were made about how everyone involved dealt with the issues.
Not to mention the 'uncanny coincidence' of it all. But it seems that Singaporeans on the ground still have high hopes that the government will keep doing its job well enough.
Unfortunately, while everyone's eyes were peeled on the (tabloidy) details of affairs, some of us might have missed out on some pertinent headlines.
---
Minister Iswaran's Arrest
On July 12, Deputy Prime Minister Lawrence Wong spoke to the media about Transport Minister S. Iswaran's involvement in a Corrupt Practices Investigation Bureau (CPIB) probe. However, he was "unable to provide more information" as the CPIB investigations were still ongoing. But it was serious enough to warrant Minister Iswaran to take a leave of absence.
On July 14, a spokesperson from CPIB announced that Minister Iswaran was arrested and released on bail on July 11, the day the formal investigation started. Singaporeans didn't understand why the arrest wasn't publicly announced in the first place.
The term 'arrest' does make quite a difference. Why wasn't it disclosed earlier? According to the Prime Minister's Office (PMO), it's the CPIB that releases information on people who've been arrested in connection with its investigations—not ministers.



Singaporeans were left with more questions rather than answers.
Would the CPIB have released the information about the arrest if they weren't asked? There is a clear distinction when CPIB uses the phrase "assisting with investigations" instead of "arrested". Where do they draw the line?
POFMA Strikes Again
In regards to the arrest of Minister Iswaran, online blog Political Sophistry questioned if the government was actually "upfront and transparent".
The Protection from Online Falsehoods and Manipulation Act (POFMA) issued a correction direction to Political Sophistry for falsely communicating that PM Lee and DPM Wong did not want to share about Minister Iswaran's arrest because it was (1) It was "politically embarrassing" and (2) they wanted to hide it.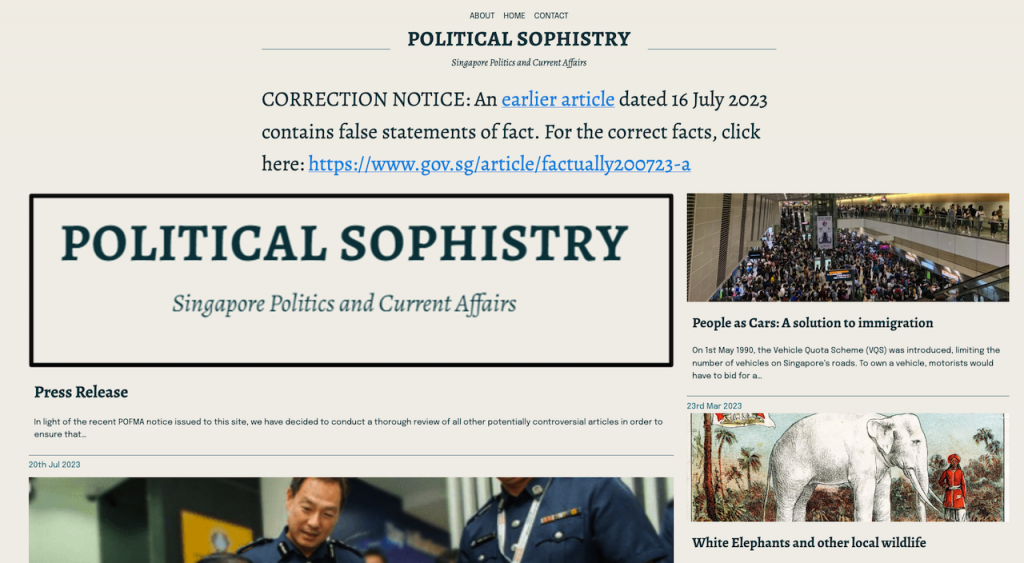 With the aim of rectifying online falsehoods, POFMA required Political Sophistry to add a notice on their original post, with a new link to the government website informing readers that their article "contains false statements of fact".
We'll leave you to draw your own conclusions on both the article and Factually.
Racial Harmony
Just a few days before Racial Harmony Day, local rapper Subhas Nair was found guilty of attempting to promote ill will among racial and religious groups.
Everyone knows the music video he did with his sister, Preeti Nair, which contained lyrics targeted towards the Chinese community. The video was put out in response to an epaysg.com advertisement that featured Mediacorp actor and DJ, Dennis Chew, caricaturing a character from each race.
During his trial, he confessed that he knew that people in the Chinese community would be offended. The rapper was given a two-year conditional warning by the police. Then he reoffended by posting comments on social media.
District Judge Shaiffuddin Saruwan was said to have found Nair's testimony "not cogent". Now that he's convicted, sentencing (a jail term of up to three years, a fine, or both) will follow at a later date.
Lapses in Government Agencies
In a report released on July 19, the Auditor-General's Office (AGO) highlighted possible abnormalities in multiple government agencies, including the People's Association (PA), Public Service Division (PSD), Ministry of Communications and Information (MCI) and Civil Aviation Authority of Singapore (CAAS).
Across seven occasions, one grassroots organisation under PA transferred a total of $707,000 from its bank account to two staff members' personal bank accounts. 
According to the PA, this method was used due to "operational needs". Still, it was not acceptable for proper accountability. Understandably, it's ill-suited for funds from GROs to be mixed with personal funds.
Even though the AGO did not find any evidence of funds being lost or embezzled during their checks, anything could have gone wrong. The risks involving public funds are way too high.
Funnily enough, this isn't the first time PA got into hot water for flagged lapses in their processes. Back in 2021, the AGO observed possible irregularities in PA's documents related to the construction and maintenance phases of Our Tampines Hub and Heartbeat @ Bedok.
It involved payments, lapses in contracts, and possible falsification of quotations, alteration of hardcopy payment supporting documents, among others.
Minister for Culture, Community and Youth Edwin Tong assured back then that PA would be taking all appropriate measures to buck up.
Road Safety of Singapore's Migrant Workers
On July 18, a tragic accident involving three lorries and 26 men took place along the Kranji Expressway. Two of the lorries were ferrying migrant workers.
Less than two weeks ago, MP Louis Ng wanted to renew a call for a ban on ferrying workers on lorries. This has been an ongoing topic since 2021, but nothing has changed.
Why is it still legal to ferry workers at the back of lorries? How many more have to get hurt before things change?
These are the lives and the welfare of people who (literally) build Singapore, after all.
Uvaraja Gopal
36-year-old police officer, Mr Uvaraja Gopal, was found lying motionless at the foot of an HDB block in Yishun on July 21. He was taken unconscious to the hospital before he died.
Before his death, he posted on Facebook and made strong allegations of racial discrimination, harassment and bullying at work. He also outrightly named individuals who were allegedly involved.
The Singapore Police Force (SPF) says that they were aware of the challenges he raised in his post and "extended various assistance to him". Investigations into the issues he raised will be carried out.
Minister of Home Affairs and Law K Shanmugam assures that SPF will "get to the bottom of it" and will "investigate the facts".
Shanti Pereira: Go for Gold
Not all news is bad news; some need to be celebrated.
By now, we should be familiar with national sprinter Shanti Pereira—Singapore's first gold medallist in the Asian Athletics Championships, clinching two gold medals. She beat the national record for the 100m sprint and, two days later, the championship record for the 200m sprint.
In the words of 80-year-old retired sprinter C. Kunalan, "She is now Asia's best… Young athletes will be saying to themselves, 'If Shanti can do it, I want to do it too'."
It'll only be a matter of time before she becomes the face plastered on Milo packets.
---
If you haven't already, follow RICE on Instagram, TikTok, Facebook, and Telegram. If you have a lead for a story, feedback on our work, or just want to say hi, you can also email the writer at nathan@ricemedia.co or at community@ricemedia.co.