Top image credit: James Kwa
It's a mass like any other evening. Except this evening, parishioners are clad in brightly coloured sarong kebayas and intricately patterned batik shirts. Rich cerulean blouses come adorned with proud peacocks strutting alongside the hem of blushing peonies tracing the curve of each blouse.
Elsewhere, chrysanthemums and delicate orchids embellish an array of cherry-red and lemony blouses, peppered by the darker, rich hues of silky baju lok chuan sit amidst the congregation.
Intricately beaded shoes on dainty feet settle among the pews; hands are clasped in prayer while the priest goes through the day's readings. Besides the colourful garb, parishioners also have their tummies full from their reunion dinner hours before—customary on the eve of Chinese New Year.
Two huge crates of oranges sit at the front of the altar, awaiting blessings, while the priest carries on with the readings entirely in Baba Malay.
This is pretty much the scene at the yearly Peranakan Mass at the Church of Holy Family in Katong. At least, according to 33-year-old James Kwa when he lived in the Katong area and attended these yearly masses from the age of seven till he turned 23.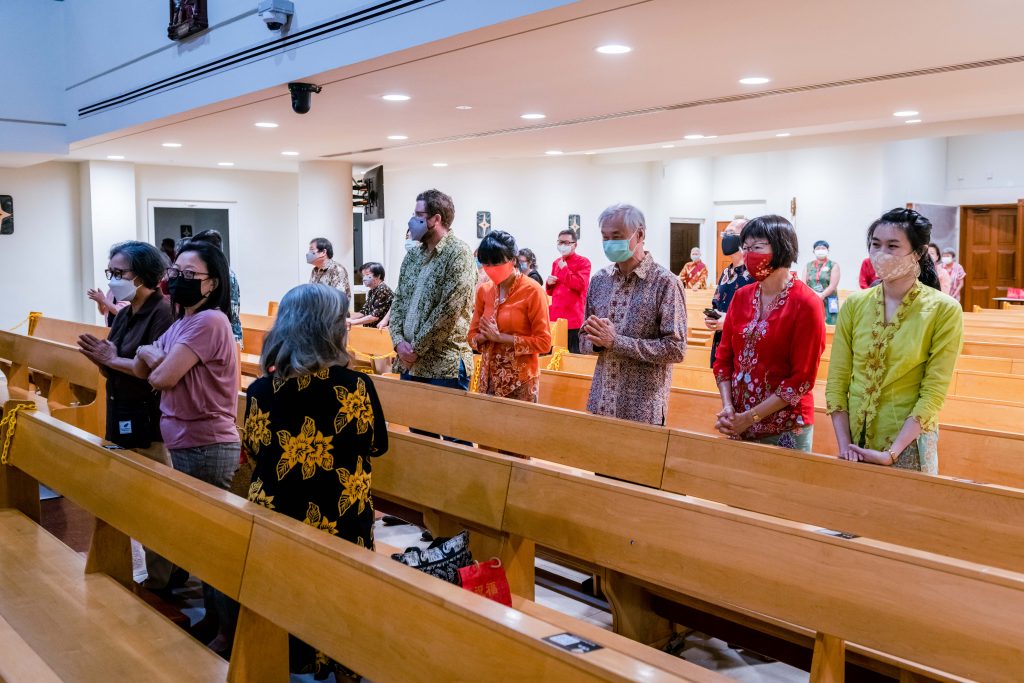 A Very Singaporean Mass
The idea of a Peranakan mass in a Catholic Church might seem like a novel occurrence. However, for the Peranakan community living in the Joo Chiat and Katong area, this has been a yearly affair since 1984.
The Peranakan masses began with Father Alfred Chan Tai Koon, who was also Peranakan and appointed the Parish Priest of the Church of the Holy Family in 1973.
Considering the large concentration of Nyonyas and Babas living in the area, he began to conduct afternoon catechism classes in Baba Malay.
For Father Chan, this was in line with his (and the church's) bid for inclusivity—he was already providing services in Bahasa Indonesia for his Indonesian parishioners once a month. This extended to catechism classes taught in other Chinese dialects for senior citizens.
According to a 1985 article in the Straits Times, this idea was suggested to Father Chan by some of the Peranakans within the community as a way of combining both religious and cultural practices. The mass is officially known as 'Mass Sambot Kepala Taon Baru', which translates to 'the mass that welcomes the head of the New Year'.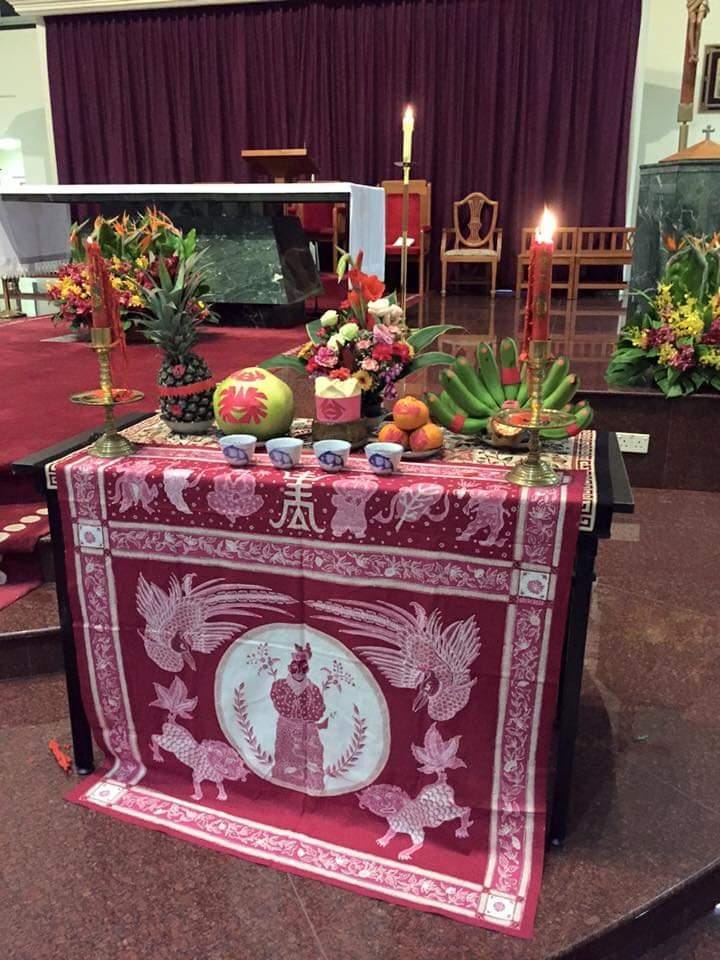 A Mass By Any Other Name
"I mean, there's not much difference with this Peranakan Mass from the normal weekend masses. It's just that language is different," James explains over a phone call. "Of course, there are some additions to the mass of the altar as well, such as the Tok Semayang, which is a prayer table."
As the centrepiece of the mass, the Tok Semayang is hard to miss. The table would be bedecked in an incredibly bright and auspicious red tablecloth, complete with phoenixes soaring and spreading their wings.
Two tall red candles supported on Chinese brass candle stands take up each corner of the table while the usual suspects of fresh fruit fill up the spaces in between.
On the table, lime-green pomelo symbolises continual blessings, chunky stalks of sugar cane for sweetness, pineapples for prosperity, and bananas for abundance. For an extra kick from the prosperity god, all the fruits are happily branded with a "福" (Chinese word for prosperity) sticker for just that sprinkle of extra blessings.
The crowning jewel of the table is the small pyramid of oranges placed atop a chanab (an altar offering box). An ornate stand that is usually six-sided and made of glossy pinewood, Peranakans usually use it for important ceremonies such as weddings and Chinese New Year prayers. The Tok Semayang, in all its blazing glory, can appear a little jarring when set in the middle of a Catholic nave.
If not for Lunar New Year, this whole set-up can feel a little, you know, blasphemous.
The scene before you is made of many incongruent parts. One is of stained glass windows with nativity scenes and crosses. Another is, instead of the usual aroma of sweet-smelling incense, deep citrusy smells of stangee (a mix of lemongrass, sandalwood, and daun limau purut) fill the air, while parishioners sing hymns in Baba Malay.
The pieces don't seem to fit, but you cannot help but remark on how incredibly Singaporean it is.
At the end of the hymns and homilies comes the most Singaporean act of all—the blessing of oranges. Towards the end of the mass, the aspergillum (Christian liturgical implement for holy water) swings not only to the members of the congregation but to the crates of oranges as well.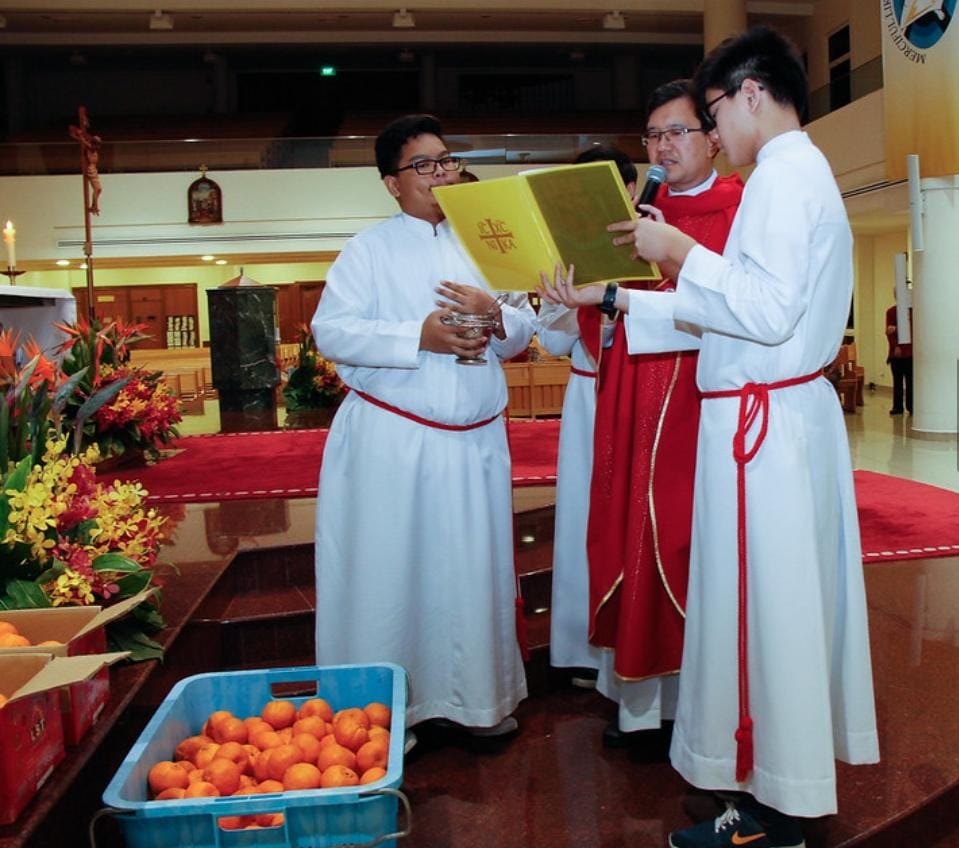 Parishioners would line up to collect them as they would for communion. Along with the usual wafers, oranges are also offered. A little peek into some photos suggests that during Covid-19 times, these oranges are packed in pairs and given out to each individual instead.
That's not the only adaptation, according to an issue of The Peranakan. To add to the joyous celebration, the congregation also puts their spin on folk songs to end on an extra special note.
"We sing popular songs which have been revised to give a flavour of the occasion. For example, 'Rasa Sayang Eh!' was adapted to become 'Rasa Sayang Selamat Taon Baru', and many more," says Reverend Father Damian De Wind, one of the priests of Holy Family Church, in the magazine.
Double the Blessings
It might seem comical and even slightly ridiculous to bless oranges, but it is a perfect example of Singaporean-ness at play. Seeing as oranges represent gold during Chinese New Year (and giving them symbolises blessing and prosperity), having them blessed is almost like getting extra bang for your faith.
It is all in the name of kiasu-ness and exemplifies the ultimate Singaporean trait: Value. After all, why just bank on the auspiciousness of the time when you can also have extra blessings from the Church?
"It's a good example of how Catholicism as a religion is married into this kind of cultural celebration, like the Chinese New Year," notes James. "Since the blessing is done using the sprinkling of holy water, there's obviously a religious belief and practice from the Catholics. The oranges are a Chinese cultural thing."
"It is a marriage of both culture and faith to give you prosperity, good luck, and a religious blessing," observes James, "because in the Catholic Church, in normal circumstances, holy water is sprinkled on us. For Chinese New Year, the object being sprinkled on are the oranges."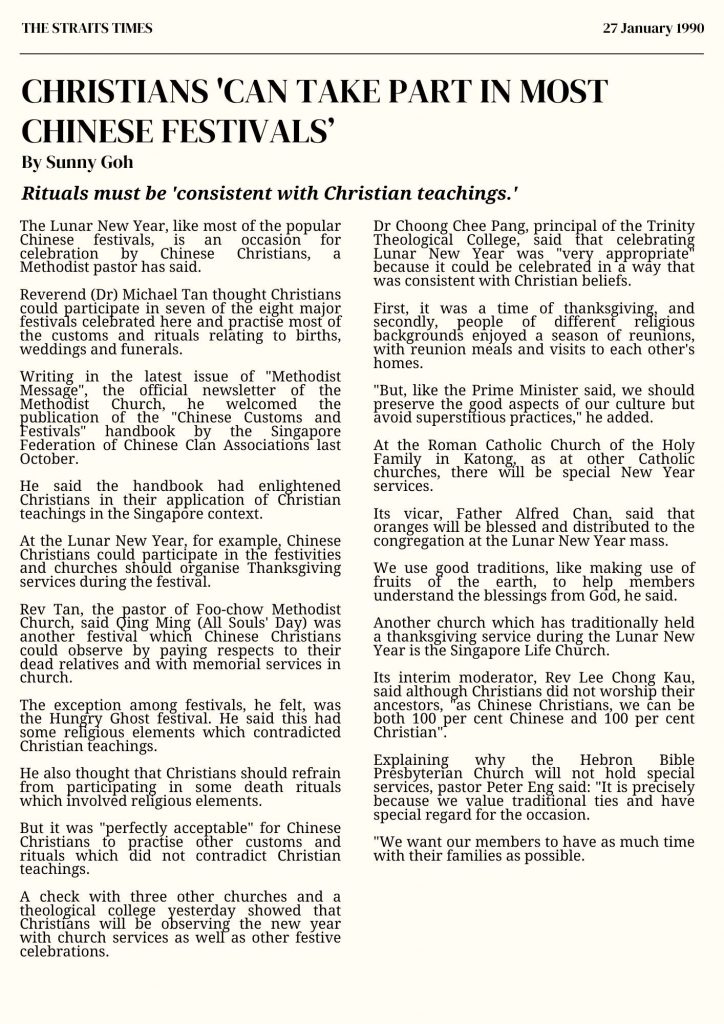 The enculturation of objects and symbols from culture to religion can seem dicey and toeing an awfully thin line. It explains why there was even a newspaper article in the Straits Times that gives an affirmative 'okay' for Christians to celebrate Chinese New Year and other Chinese cultural festivals.
The top line of that article: Chinese festivals are okay if they align with Christian beliefs. Meaning other festivals like Qing Ming, where relatives will pay respects to the deceased, are okay.
The article goes on to inform that other festivals like Hungry Ghost Festival, which has a heavier religious overtone, where you would pray and burn paper money, are seen as contradicting Christian beliefs.
Even so, other festivals that promote togetherness and family are all the more encouraged.
A Blended Singapore
The blending of culture and religion can be used to strengthen either identity or faith.
"We use good traditions, like making use of the fruits, to help members understand the blessings from God," says Father Alfred in a Straits Times article.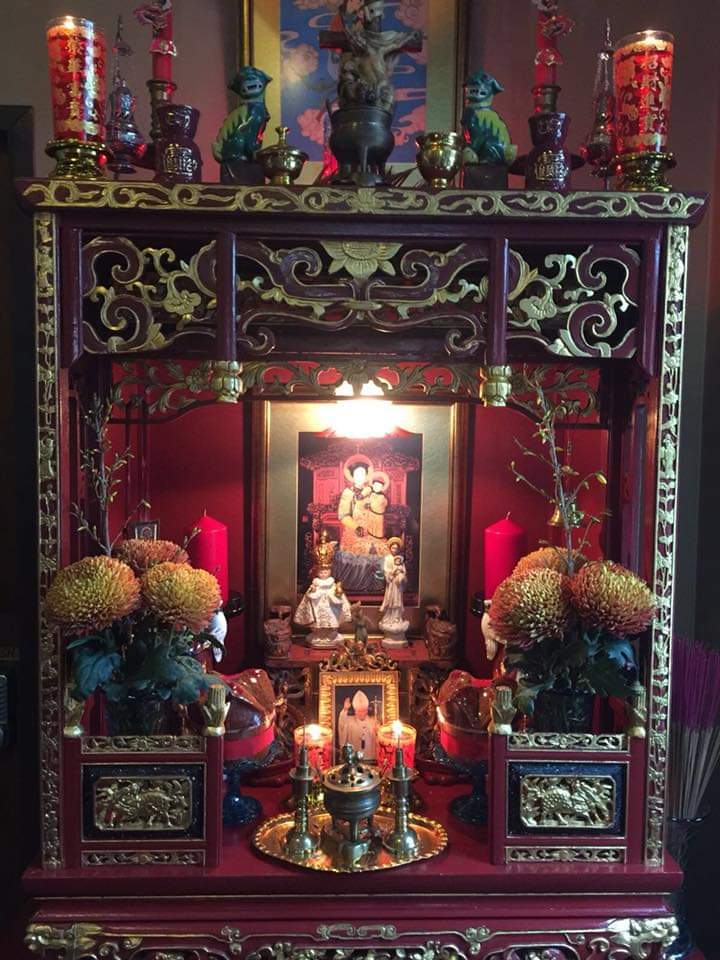 "I think this practice of having a Peranakan mass breathes life back into the Peranakan community and what it stands for," says James. While James can't speak baba Malay, he realises how important it is to have a priest who can converse entirely in the disappearing language.
"The Peranakan community and culture are rapidly dying out. The only kind of instance or example we see right now is going to Peranakan restaurants for food," says James.
"To see people going to all these cultural practices and listening to a true Baba Malay and to see the Tok Semayang further cements my identity as a Peranakan more than faith, actually."
---
If you haven't already, follow RICE on Instagram, TikTok, Facebook, and Telegram. If you have a lead for a story, feedback on our work, or just want to say hi, you can also email the writer at hykel@ricemedia.co or at community@ricemedia.co.