Syiqah's face barely registers a reaction as I gush over the intricate handicraft on one of her recent artworks. The mount maker neither blushes nor writes off my compliments. Instead, she showers me with more information about the story behind her work, her process and her craft.
This geeky side of Syiqah is at odds with the lady I met in her workshop mere minutes ago. The one who picked up a metal cutter half her size with the choreographed movements of someone who has done it so many times. Or the one who bashed away at a thick stainless steel rod with a hefty hammer.
Bending, curving, and moulding unforgiving metal rods; scrutinising exhibits at museums to ensure that the artefacts have not budged the slightest; custom-mixing paint colours. All in a day's work for 27-year-old Nur Rasyiqah Nabilah.
Her official designation? Senior Display Officer at the National Heritage Board (NHB). But really, she is a craftswoman who makes the metal mounts that hold up museum artefacts. She is one of the few in Singapore—if not the world.
You'll find yourself in good company if you aren't aware that mount-making is a career option. Syiqah herself didn't know about it until her first internship at NHB.
But don't ask her to explain her job to you. Years of doing so with little success have left her quite weary.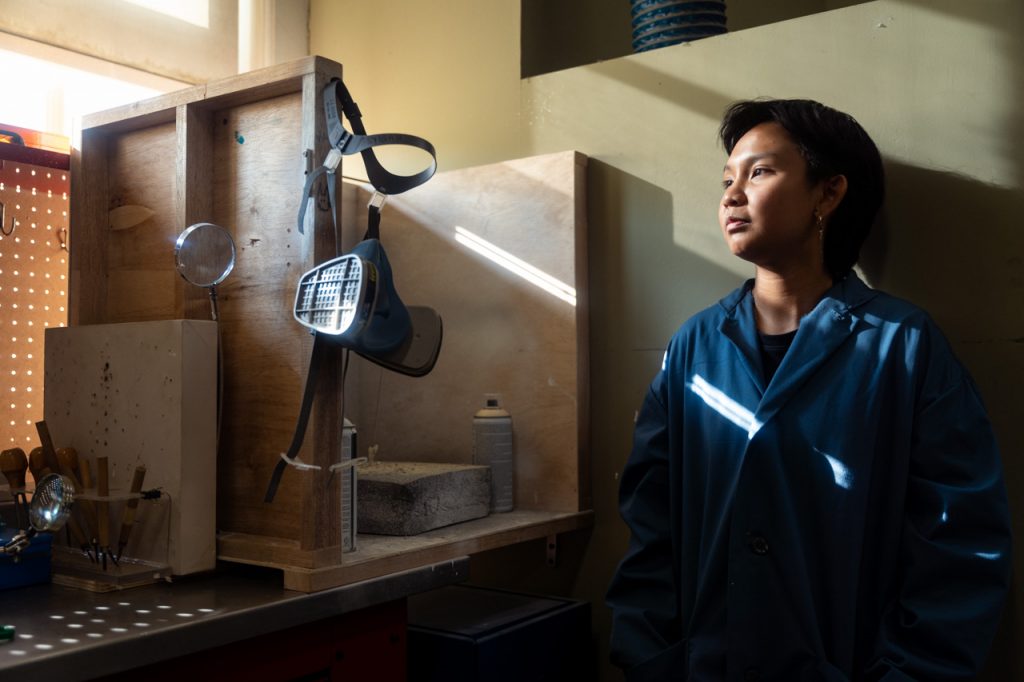 Bend It Like Syiqah
Spotlights, informative display panels, and even virtual reality technology play an important role in the visitor's interaction in a museum. Still, what makes or breaks an exhibit (literally) is the frequently unseen and overlooked brass or stainless steel mounts holding up the artefacts on display.
"If you put your phone like this, is it enticing you from afar?" Syiqah asks, pointing at my phone that's lying flat on the table. "So, when curators want items to be displayed slanted or at an angle, that's when I come in," Syiqah said.
The process in which raw metal rods turn into durable mounts that bear heavy loads is far from straightforward.
In designing mounts for art, Syiqah takes into account various considerations. This includes the conservation of the artefact and the need to present the artefact at the best possible angle. All while ensuring that the mount doesn't obscure intricate details or attract too much attention.
She even needs to factor in the remote (hopefully) possibility of an earthquake.
Syiqah then goes to work, physically making the mounts from scratch, leaning on the skill and craftsmanship she has honed over years of practice.
"People think [making] mounts for artefacts is just like that, you know. They don't know it takes a lot of steps to make a mount," she said.
Take fragile objects like ceramic plates, for instance. The mounts must be curved, requiring Syiqah to physically bend the metal rods to the correct angle. It's something that took her almost two years to master, she reckons.
"You have to sit down with two pliers and bend the rod. If it is out of shape, it will not fit the artefact. And when you are bending, if your arm strength is too strong, sometimes you will break the rod. You need to have momentum and your grip must be firm."
Syiqah also points out that different mount makers will come up with very different designs given the same object to mount. Every mount maker, she tells me, has their own style.
What's hers? I ask.
"Invisibility".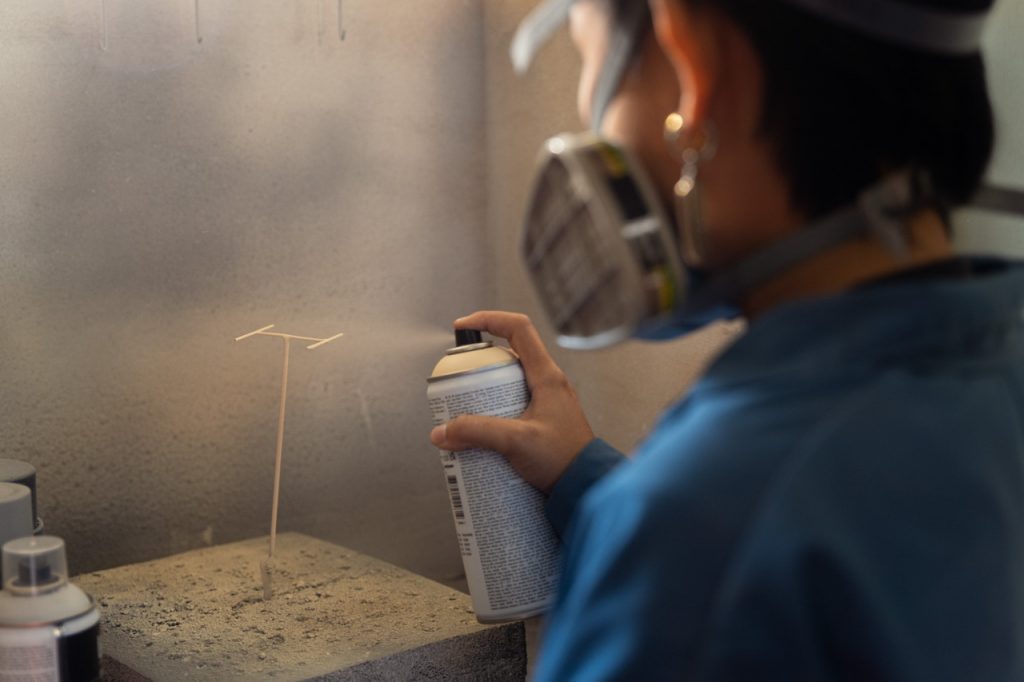 Working in the Shadows
While she isn't a CIA hitman or a lawyer for the criminal underworld, discretion is something that Syiqah takes very seriously. It is one of the ironies of her job—working hard to ensure that her work remains unseen.
"Most people want their work to be seen and admired. But for me, I don't want you to see my mount. If you cannot see my mount, that is, for me, mission accomplished. My target is for the artefact to blend seamlessly with the holder," she said.
"Of course, I cannot make it really invisible, but I will try my best to minimise attention," she added with a laugh.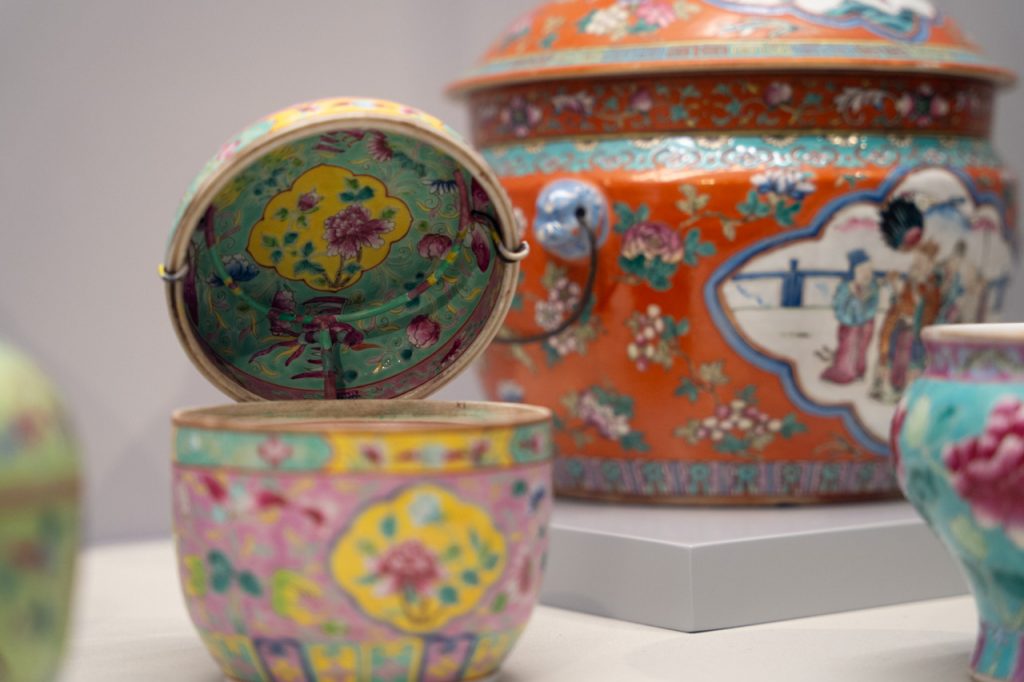 Case in point: her recent work for a set of elaborately decorated ancient porcelain chupus (a type of covered jar) from either the late 19th or early 20th century. Syiqah carefully hand-painted the supports using paints she custom-mixed, making sure her mounts blend seamlessly into the intricate patterns on the lid. The endeavour took her a whole day to complete.
Syiqah also often finds herself scaling ladders and squeezing her tiny frame into showcases to install artefacts. All while moving gingerly "like a robot" to ensure that a stray elbow does not inadvertently knock over a priceless relic.
And with several curators and numerous others watching as she handles actual national treasures, she has no choice but to remain calm.
"My brain is constantly working, but I cannot have anxiety for this job. I tell myself, 'imagine you are alone. Just focus on the artefact. Just make sure you don't drop it.'"
Still, the high-stakes is what Syiqah—who considered signing on as a soldier before discovering the world of mount-making—finds to be the most exciting part of her job.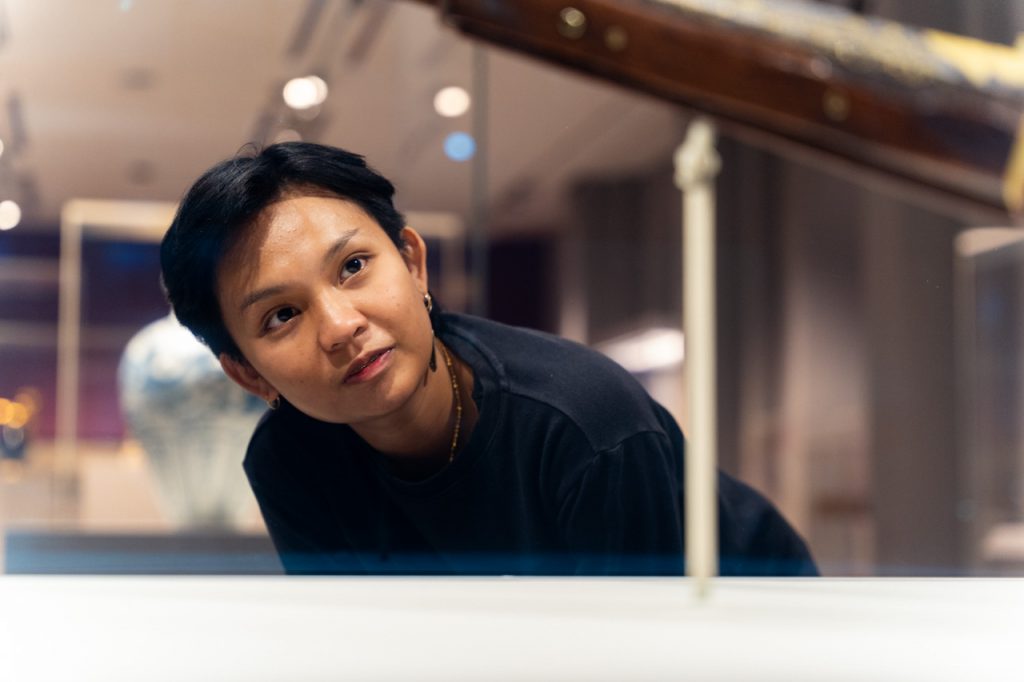 Alice in Wonderland
Her foray into the world of ancient relics and national treasures was far from pre-ordained. "I didn't even know the Asian Civilisations Museum existed before my internship here," she said. 
Syiqah was an Advanced Manufacturing Engineering student at ITE Central in 2015 when she was told that there were internships that students could sign up for during the holidays.
"The internship was not even compulsory. I saw Keppel and NHB on the list of companies offering internships. I was curious why NHB wanted engineering students."
She admits with a chuckle that she almost did not sign up for the internship because it was during her holidays.
But after she made the plunge, she remembers enjoying herself right from the get-go. She vividly remembers watching the installation of a special exhibit—involving Buddhist art from the Indian Museum, Kolkata, the oldest museum in Asia—in the first week of her internship.
"It was really fun… I got to see the curators, the art handlers, and the managers all working together at the back of the house (to put together the exhibit). That was what got me interested in this job," she said.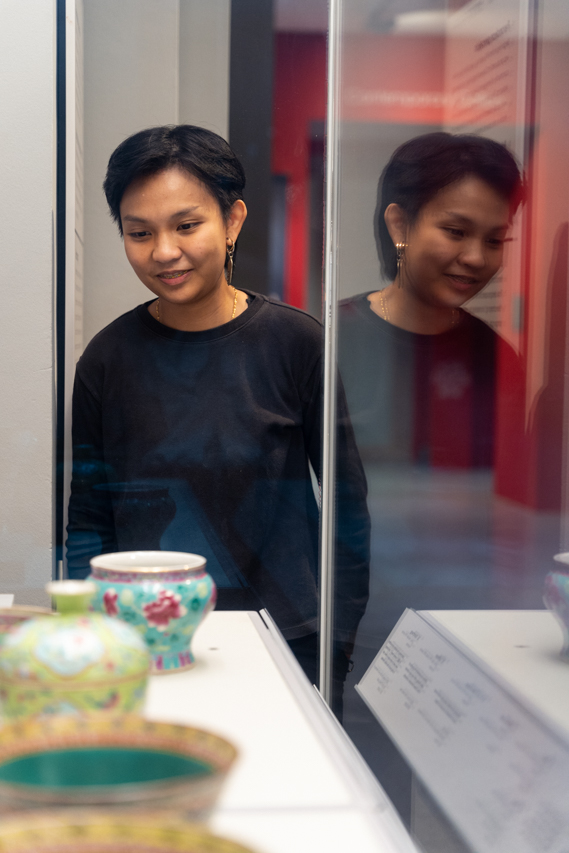 'He Was Like a Grandfather to Me'
Another reason she fell in love with mount-making was her mentor, Mazlan, a figure who looms large in Syiqah's career and her life.
The late Mr Mazlan Bin Anuar was a pioneer mount maker in Singapore whose career in exhibition displays and design began in 1983.
When she first joined as an intern, Mazlan educated her on the art of mount-making. While initially soft-spoken and introverted, Syiqah said he opened up to her over time, and the pair grew closer.
"I (would) like to train more staff in this skill and aid in developing more museum mount-makers for as long as I can," Mazlan said in an interview he gave to Muse SG, a magazine published by NHB.
In Syiqah, Mazlan might have done just that.
"He taught me everything I know (about mount making). I connected with him—he was like a grandfather to me. Even when I was new to the job, he would ask me for ideas and feedback."
As nurturing and kind as he was, Mazlan also expected high standards, demanding the utmost attention to detail.
"Even if I had already mounted an object, he will tell me you can do better and ask me to do it again. He would say, doesn't mean you join already you can stop practising. I am also still practising, although I have been doing this for 30 plus years."
Her time as an apprentice ended abruptly with Mazlan's sudden demise.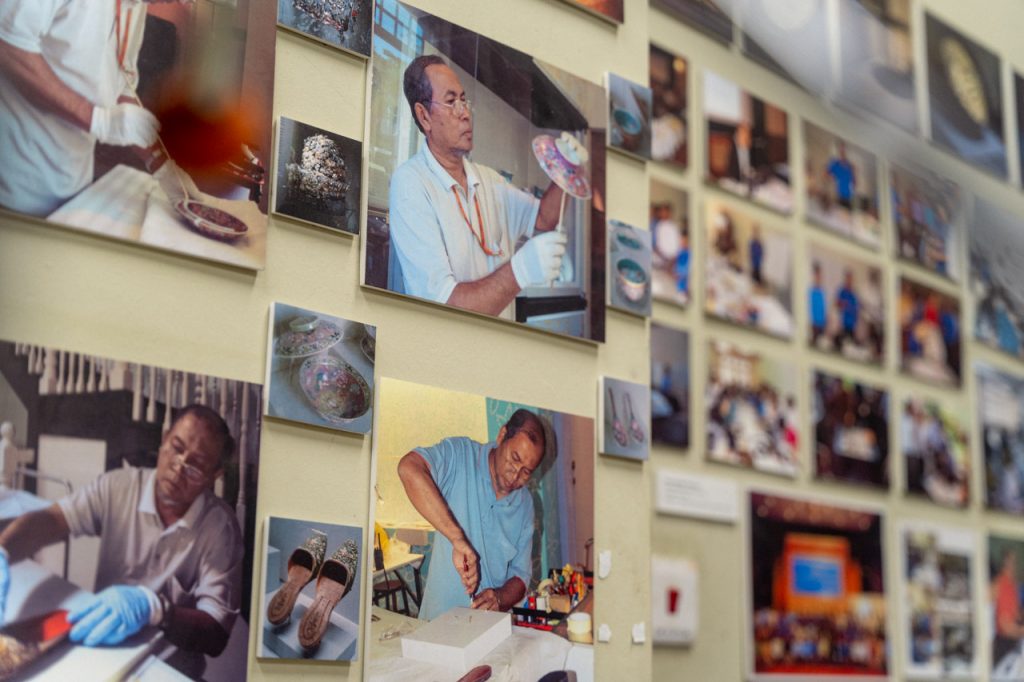 Filling In Big Shoes
Syiqah was at the workshop on a Friday afternoon in February 2020 when she heard of Mazlan's passing.
"I grew quite close to him, right from my time as an intern. And he left me just like that," she said. "A week after his death, when I had to do mounts, I would ask myself, what should I do? There were times when I even broke down inside the workshop."
It took some time for her to adjust to his absence. She's thankful for the support of her colleagues and help from Mr Wafa—a fellow mount maker at the National Gallery. Syiqah also communicates regularly with other mount makers overseas through her Instagram page who gave her the confidence she needed.
"I am fortunate to have joined when Mazlan was around. If I joined now without his guidance, I probably wouldn't make it," she said.
More than two years after Mazlan's passing, his legacy lives on—both in the craft he taught Syiqah and on the workshop's walls.
Newspaper clippings, photos of him conducting training sessions for museum staff in Myanmar, and pictures of every batch of interns he had under his wing (including Syiqah, his first) remain untouched near the workshop entrance.
Mistaken Identity
"My family thought I was a cleaner," Syiqah chuckles when I ask what her family thought of her career path. "A Chinese TV channel filmed me cleaning a platform, so they thought I was a cleaner."
"I told them, no, that's also part of my job—I have to maintain the artefacts and the gallery," she mentions.
Syiqah shares that it was difficult for her to explain what she does to friends and family. It's a long-term affliction for Syiqah—and one that's particularly unideal. Her pursuit of a diploma was placed on hold when she was offered a job as a mount maker upon graduation from ITE.
"It was difficult because my parents weren't supportive. Of course, every parent wants to see their children (stay) in school and study until their degree, right?" Syiqah says.
Although her parents grew to accept her job over time, the turning point was seeing her featured in a CNA documentary.
"They saw the show and said, 'Orhhhhh so this is what you have been doing all these years.'"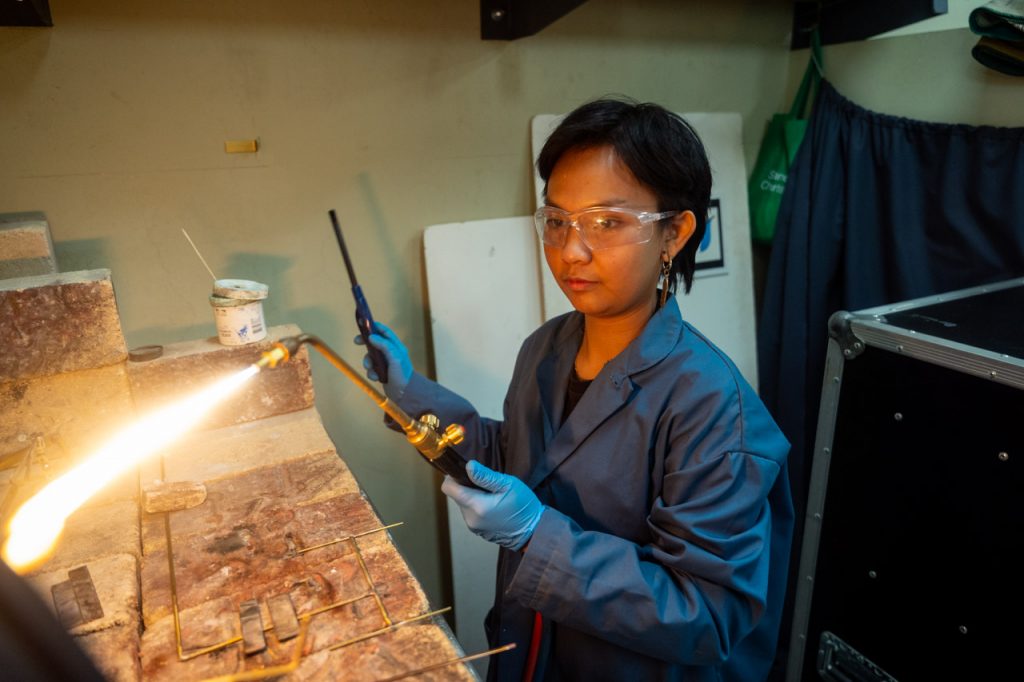 Serendipitous Passion
"If you talk about money, of course, I can get higher pay in Engineering. But because of the rareness of this job, I have remained here all these years," Syiqah says. She adds that her favourite part of the job involves being up close with priceless, historic treasures.
"Others can only see these artefacts behind glass, but I get to handle and touch them," she gushes. "I really, really enjoy my job, and so when people ask (why), I just say I like doing it—I am quite lucky."
When I gingerly broached the subject of gender stereotypes by pointing out the physicality of the job, she quickly sensed what I was about to ask before I could even finish my question.
"Questions like this make me think. How do you define a man's job? I have already proved to them that, although I am a woman, I can do things like climbing ladders, grinding, hammering," she offers matter-of-factly.
Syiqah also wants to introduce others to the rarified world of mount-making and pass down her knowledge to others. She aims to impact others with her passion for the craft the same way Mazlan had on her seven years ago.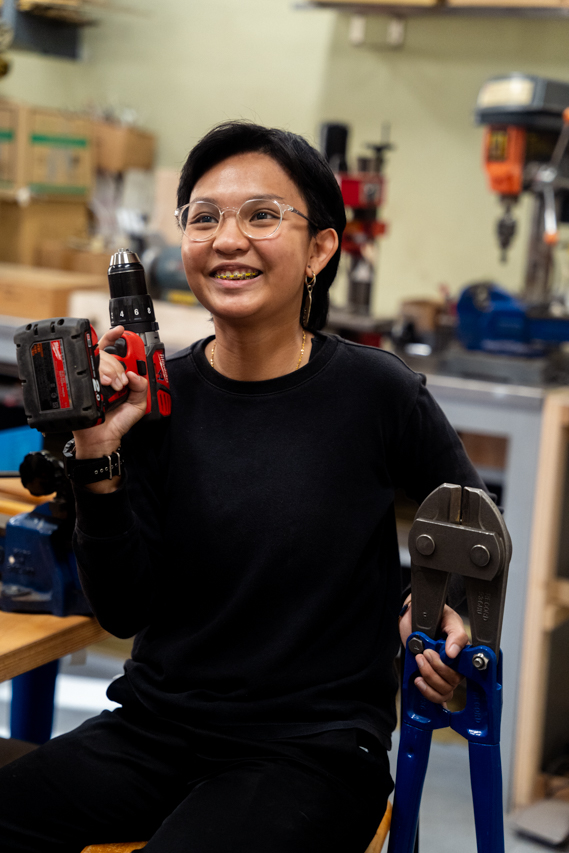 A Tribute to the Unsung and Unseen
Speaking to Syiqah about her craft made me think about the last performance piece of American artist Tehching Hsieh.
Unlike his other pieces that involved Hsieh setting extreme restrictions on his life—like spending a year locked in a cage forbidden from any activity or not entering a building of any sort—his last piece was slightly different. Titled "Thirteen-year plan", he said he would make art for 13 years but not show it publicly—ever.
In many ways, Syiqah is not much different. She has spent years perfecting and honing her technique and craft, going above and beyond so that her work remains unseen by others. It's poetic if you think about it—crafting perfection for absolutely no one to see.
Syiqah is also a part of a larger group of skilled tradesmen in Singapore—people who spend years quietly working on their skills and craft behind the scenes.
In his book The Mind At Work, Michael Rose observes that by segregating between blue and white collar jobs or pitting mental versus manual labour, we overlook certain things. This includes, "the complex interplay of the social and the mechanical", "the choreography of hand, eye, ear, brain" and "the ever-presence of abstraction, planning, and problem-solving in everyday work."
That might explain why in a survey this year, 76 per cent of Singaporeans said they would not pursue a skilled trade, even though 92 per cent said the workforce needed more of them.
We often see the work of tradespeople as dirty, physically demanding, and challenging. Still, we disregard the fact that the work they do is also complex and difficult. The "trade" in "tradesman" requires years of honing one's craft.
Syiqah sums it up well when explaining why she chose this particular craft.
"Not many people know how to do mount making. To do it well takes time. All these things take practice, and until now, I am still practising. Even if I grow old, the world is constantly changing, confirm got new ways of mounting."
---
If you haven't already, follow RICE on Instagram, TikTok, Facebook, and Telegram. If you have a lead for a story, feedback on our work, or just want to say hi, you can also email us at community@ricemedia.co