All images by author.
At its core, running is about discovering your capacity to surprise yourself when you push your boundaries.
When I catch Rebecca Hatten at the boardwalk outside Marina Bay Sands, she's decked in a tank top and tights. Her outfit barely shows off her stomach bump, which I only notice after she shares that she's expecting her second child. In fact, when she takes part in the Standard Chartered Singapore Marathon (SCSM) half marathon next month, she will be five months pregnant. 
"I'm not aiming to do a personal best this year. I'm just planning to enjoy the race, endure, and finish it, while still doing it justice. I don't want to use my pregnancy as an excuse. I still want to train," she tells me.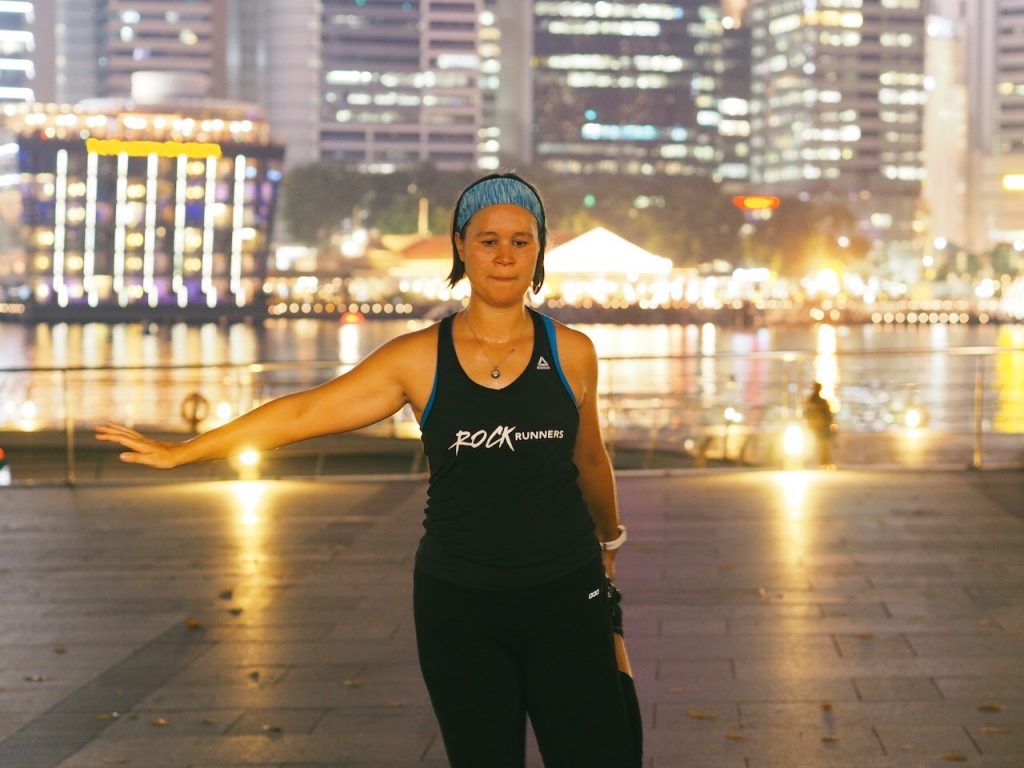 Rebecca's toned body belies her modesty towards her athletic prowess. Even though the 34-year-old has been active in various sports all her life, from swimming to cycling, she only recently fell back in love with running after getting diagnosed with postnatal depression when her first child was born. 
She started with short runs alone around the block, then eventually ran with her child in a stroller. Now, with that child being almost three, the entire family goes for weekly family runs around Marina Bay. 
A large part of what helped her fall in love with running again was ROCKrunners, which she discovered after relocating from Australia for her husband's job in Singapore. 
Stuck in a new country with no social network, she chanced upon the running group. Since then, she joins them regularly at the boardwalk in front of Marina Bay Sands where they gather every Tuesday evening to train together.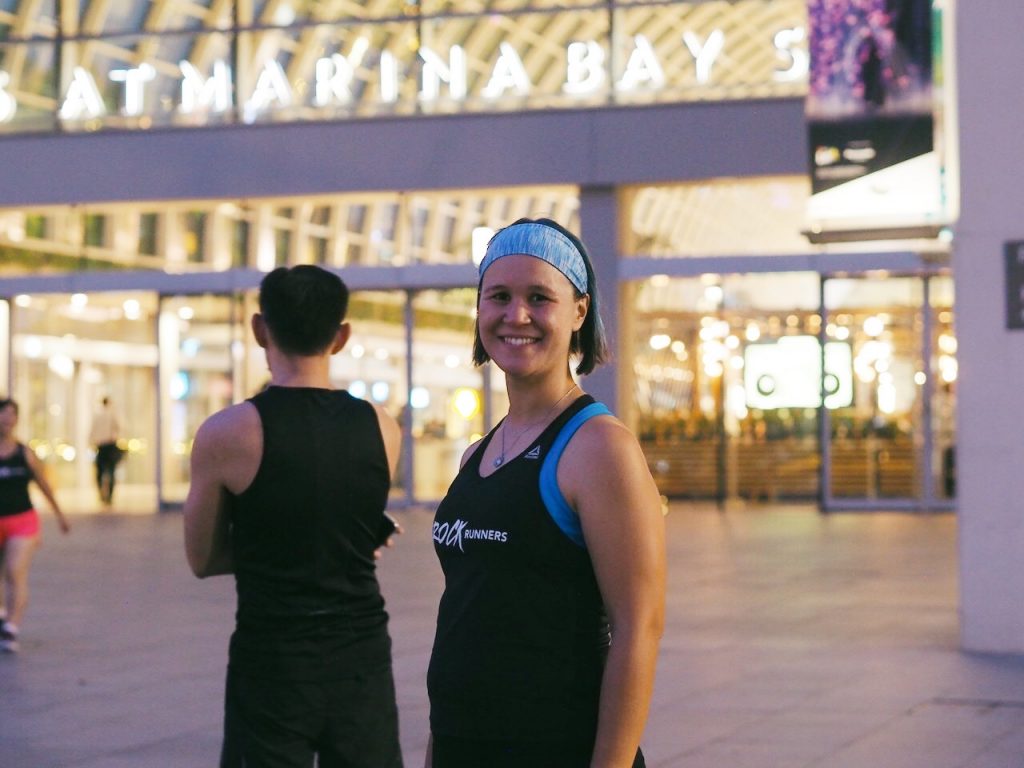 "I prefer running with a group. I love talking to people when I'm running, as much as I can when I'm not running out of breath. It's also more motivating, trying to keep up with them and supporting others," Rebecca says. 
When she's not talking to people, she listens to podcasts on her runs—and only on her runs. Running is, apparently, her podcast time. 
"I'm both more intelligent and fitter at the end of my run," she quips, before excusing herself to warm up and begin her run this evening.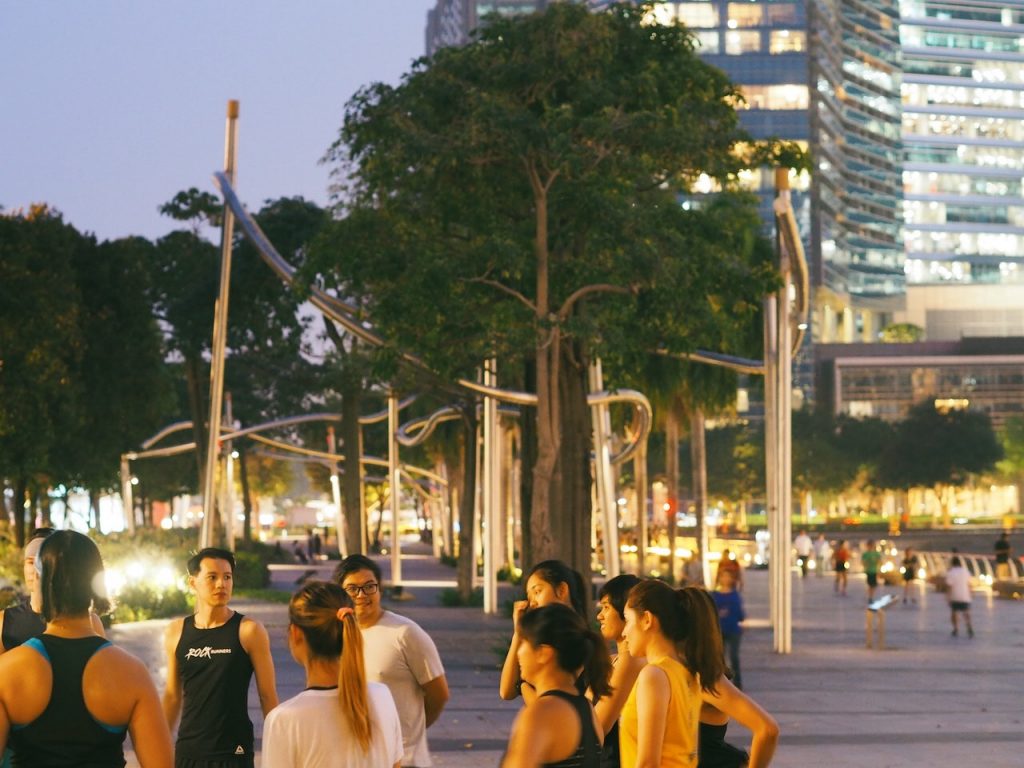 As I wait for Zaiman Yusoff to finish his run, I can't help noticing the easy camaraderie of runners. There are runners who sprint off into the distance, while there are those who take a leisurely stroll, but they all come back to the starting point and congratulate each other on a good workout. Everyone is so friendly that I blurt out that I'd like to join them after I publish this story. 
Sure, anytime! You know where we're at! They chirp. 
In fact, Zaiman was drawn to running precisely because of this supportive nature of the runners. Even though he only picked up running last June, his newfound friends have been integral in helping him to ease his way into the overall running community. 
"Gym memberships are costly, and I don't know how to gym properly anyway. Sometimes, if I go to the gym, I can feel the judgement if I use lighter weights or if I don't know how to do the stations properly," he shares. 
"So when I was first introduced to this community by my best friend, I thought it'd be a very male-dominant and competitive kind of environment. It's not—unless you want it to be. The people here were all very friendly, so I started improving over time."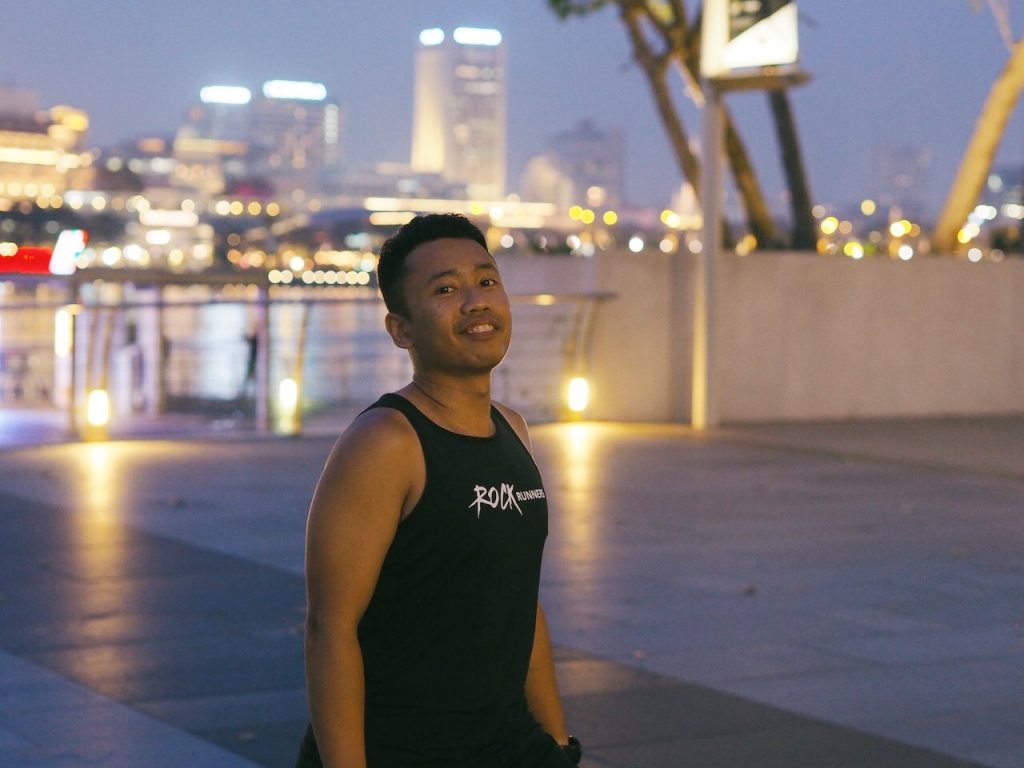 This year, Zaiman will take part in the SCSM. It will be his first marathon (42.195km); the fact that the race is at night was an added incentive since he missed the registration for a previous marathon also held at night. 
Signing up for a marathon barely over a year since picking up running is a big deal. But the 32-year-old owes his progress to the fact that running with people—at least at the start—gives him the extra push to continue breaking his personal best. 
"That said, I feel the pressure if someone has to conform to my speed. I don't want people to suffer or injure their body since I tend to run from fast to slow. By the end, I'll usually be running alone," he laughs. 
Like Rebecca's outward appearance, Zaiman's jovial persona and healthy state of mind were shaped by his running. No one would be able to tell Zaiman used to have "a lot of negative thoughts", or that he was "very emo". 
"Running makes me more confident. I used to be more introverted; I was very self-conscious about my body and how others look at me. Now, because of the friendly running community, I've learnt to open up and talk more. I'm still not very proud of my body, but I'm no longer shy," he says. 
Zaiman reminds me that running is about more than physical health. It also significantly alleviates mental health, partly by allowing you to embrace a whole new community. Even if you might not enjoy the idea of running with others, having friends to cheer you on or keep your pace at the start pushes you to go further. 
Running and finding others to run with has, in essence, changed his life for the better and made him a happier person.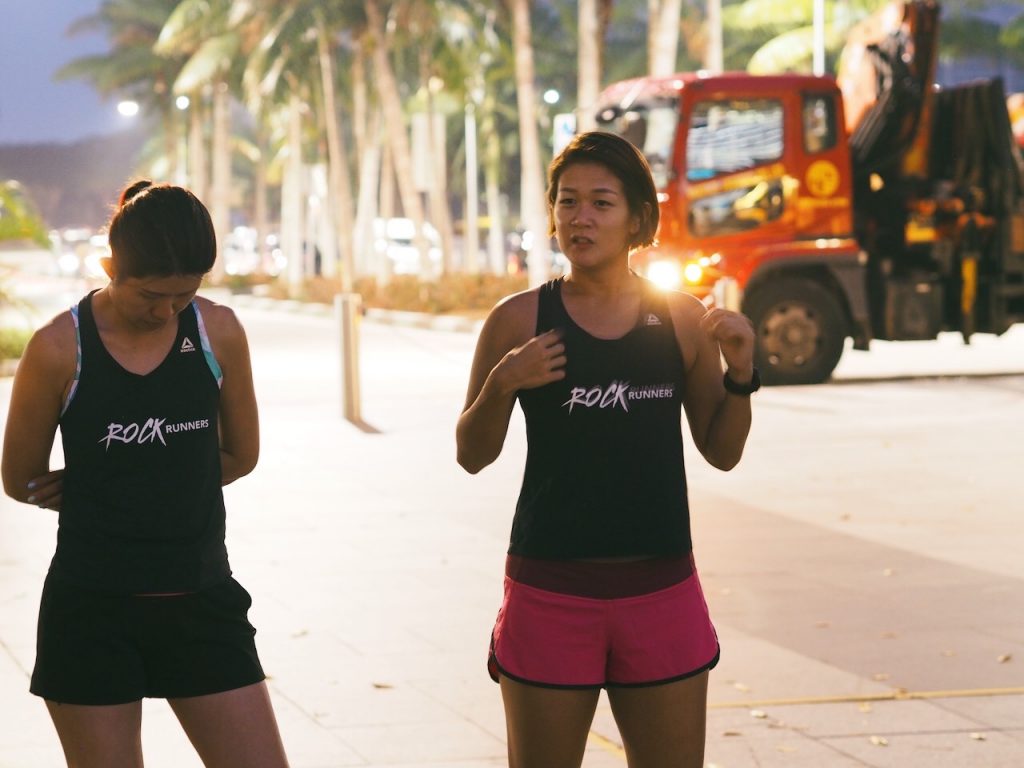 33-year-old Cheryl Tay decided to start Rock the Naked Truth after overcoming her own spate of body image struggles and eating disorders. 
When she was 18, Cheryl started "abusing running" by using the sport as an unhealthy means to lose weight. Having been a member of the cross country team in secondary school and junior college, she would clock 20km in the morning, 6km in the evening, and then do two to three hours of kickboxing at night, solely to be skinny. 
It worked: she lost 20kg. 
However, the trade-off was spiralling mentally into a dark place—and staying there. In university, she picked up running again to lose weight from the hall suppers, yet never quite managed to fall in love with the sport again. She ended up having a relapse of eating disorders.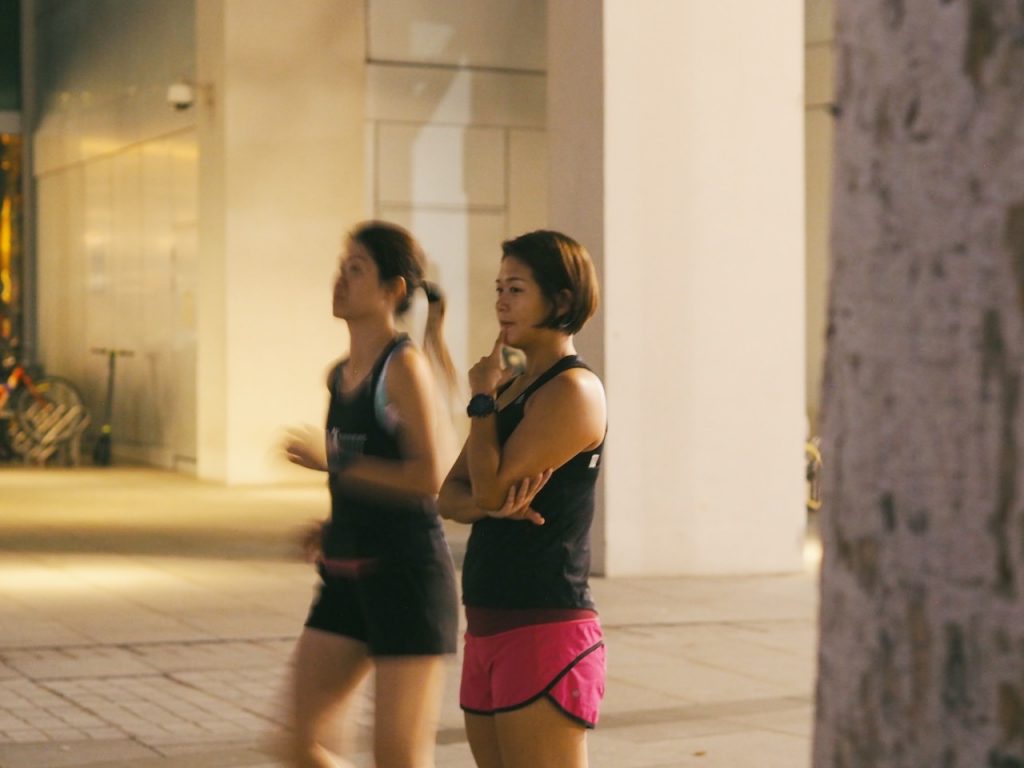 In 2013, she ran her first half-marathon, and slowly started to prioritise what her body was capable of doing instead of how it looked. Eventually, in 2015, she came clean and shared her story with the media: she'd been suffering from anorexia and binge eating. 
Instead of people congratulating Cheryl for overcoming her demons, they asked her how she lost weight. Realising there was a larger problem with society, she decided to start Rock the Naked Truth to help others see that there's more to life than the number on the weighing scale. 
This objective was reinforced after she went through a bad break up around 2016, when she realised she was over-relying on her ex-partner for validation. Instead of the confident woman she thought she'd learnt to become, she felt lost.
"Then I realised there was another part of body image. It's not just about the external, but the internal. I had to start treating myself as a 'one', not as 'half'. You don't need someone to complete you; you are complete yourself," she explains. 
In that same vein, starting the running club helped her to bring fellow 'one's together. Through hearing others' stories, Cheryl has rediscovered her love for running in a different way. Right now, running is more than just a sport; it has become a form of engagement with people and a tool to empower. 
With this community, she organises workshops that include yoga classes and strength training, which help each runner get better physically and mentally. These are opportunities for her to educate and spread the message of confidence and body positivity. 
"If not for running, where will these people get their support for each other? It's more than just putting on a pair of shoes and hitting the pavement. Here, you have someone to share the pain with," she says. 
Together with her team of runners, Cheryl will also take part in the SCSM this year. Even though she's done an IRONMAN, this is her first time doing a marathon on its own. And SCSM, in her opinion, is a good place to start because its large scale ensures a variety of supporting programmes for participants, such as the free Tiger Balm Training Programme that consists of the Altra Pacer Run sessions and Garmin Women Squad Runs and Workshops. 
"The race is also at night this year. It really helps that it starts in the evening, because honestly waking up at 2 AM to be at the starting line at 4:30 AM is just … well, my body needs to sleep!"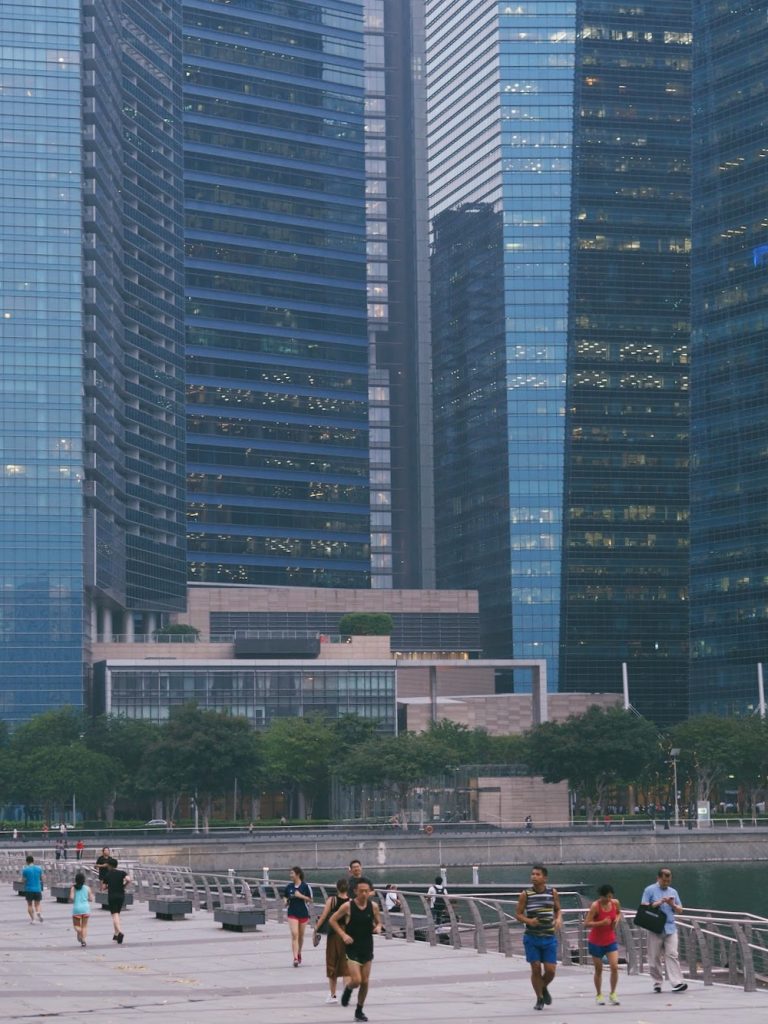 It's been four years since I took part in my own SCSM, though just the measly 10km race. But like Rebecca, Zaiman, and Cheryl, I picked up running to cope with a bigger problem in my life. 
In the years since, in the face of any kind of debilitating anguish, I think about the one year I spent running every single day. Whether I jogged a mere kilometre before my neighbourhood woke up, or finished off 10 in the dead of night, the simple act of running built endurance and resilience. At the end of every run, there was searing pain in my calves and fire in my lungs, but I was proud. 
Even though I might not run as much anymore, and I occasionally aim jibes at the masochists who put themselves through 42.195km (!!), I understand the draw of a marathon as significant as the SCSM. I know how the sense of accomplishment at the end can make you feel like you can do anything. I have witnessed firsthand how running can heal you from you so much, as well as prepare you for so much more of life, and love, and everything in between. 
Maybe next year I'll do it again. For all I know, I might even do it with a running club. 
This post was sponsored by the Standard Chartered Singapore Marathon.
Registration for this year's event is now closed. But you can come down to support our runners and be inspired for your own marathon run in the future. 
Alternatively, help our writer get back into running. Invite her to your running clubs here: community@ricemedia.co.