For many Singaporeans, office life is the worst. 
The long commutes. The desk-bound tedium. The back pain that comes from slouching in a chair all day. 
In general, few office drones love their workplace, and many fantasise about becoming yoga instructors or artisanal bakers.
Not Hui Lin. Unlike most, the 66-year-old Yio Chu Kang resident enjoyed her time as a clerical officer in the civil service. It wasn't the best-paid job or the most glamorous of occupations, but her social life was lively thanks to her work.
She played squash and went bowling with her kakis until a wrist injury forced her to stop, and thereafter took up karaoke as a substitute hobby.
But like many good things, it all ended abruptly. In 1994, she returned from work to find her mother complaining of pain and noticed—to her horror—a piece of bone protruding through her skin. 
As it turns out, the 70-year-old mother of six had fallen in the bathroom and fractured her hip. But after the surgery, it became clear that her hip was not the only thing damaged. Hui Lin's white-collar life would have to end as well. Someone had to take care of her mother, who was no longer able to walk, bathe, or feed herself. Someone had to stay in the family's 5-room flat to attend to her daily needs—at least until she could walk again.
"It's your mother, so it's very hard to totally trust a helper," she says.
When the siblings convened, she made the choice to stay at home and care for her injured mother as well as an older brother who suffered from health problems. The other siblings would provide financial assistance.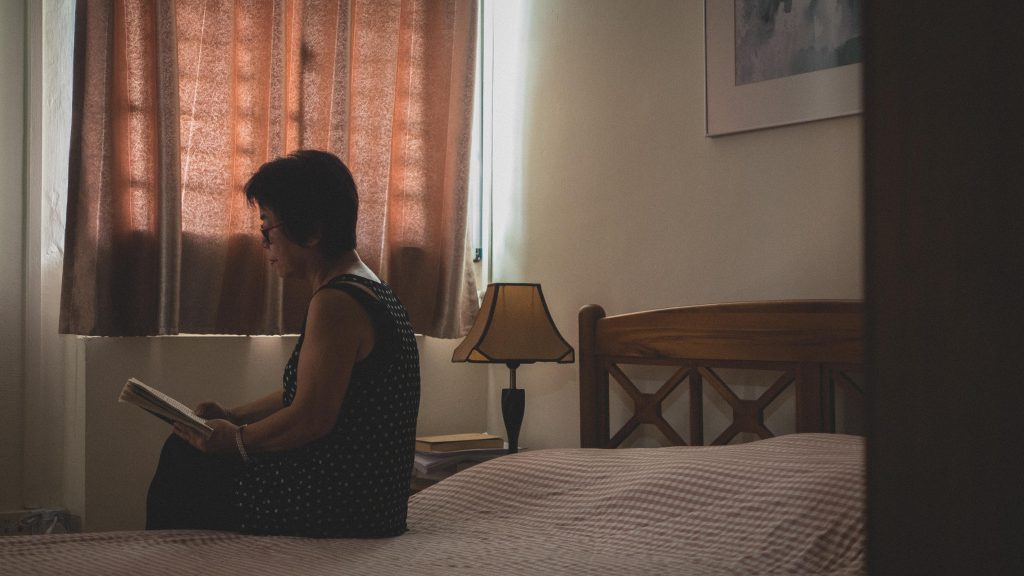 There was, however, more to being the family caretaker than just chores. Before long, she was acting as a surrogate grandmother for the entire extended family. 
For the majority of Singaporeans who cannot afford helpers, a full-time career depends—at least in part—on the support of older folks in the family, whose unpaid labour often goes unnoticed. Whilst parents pursue high-octane careers, retired grandparents fill in at home with the cleaning, the cooking, and childcare. 
Hui Lin's siblings were no different in this regard. After their mother's accident, they came to depend more and more on her for domestic aid. 
When her elder sister had to juggle a full-time job and a 4-year-old daughter who had just started kindergarten, Hui Lin stepped in to help. Every afternoon, she would fetch her niece home from school, prepare her lunch, and assist with her schoolwork, all the way from K-2 to PSLE.
Come evening, her sister would return from work, and they would enjoy a dinner cooked by Hui Lin before returning to their home in Bishan. Soon afterwards, Hui Lin began taking care of her younger brothers' children as well. The two nephews—also studying in Ang Mo Kio—came to her house after school, where they received healthy food and help with their homework. 
"My brother married very late in his 40s, so when my niece left for secondary school, I continued to coach my brother's children," she shares.
On weekends, the entire family visits Yio Chu Kang for a family lunch, again, cooked by Hui Lin. She calls her flat the 'gathering house' that maintains the relationship.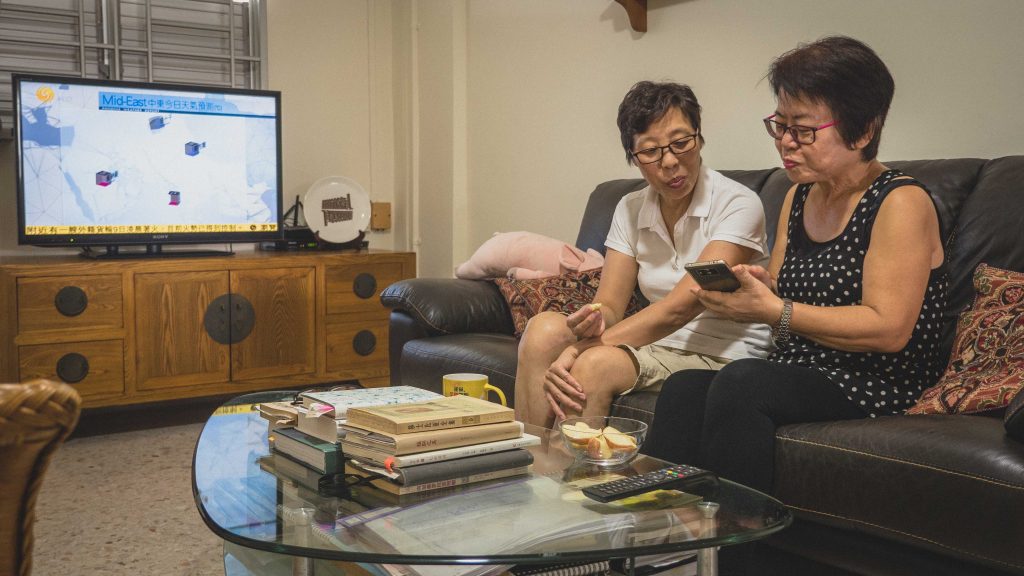 When I ask her if she found it tiring to cook every day for so many people, she laughs and waves my question away. 
"I'm so used to it! Anyway, my food is very simple. There's nothing fried and everything is stewed or simmered. One big pot of soup," she said.
Her culinary choices are often inspired by potential health problems. If the weather is too hot, she would make old cucumber soup or boil some bittergourd to cool everyone down. If it's the school holidays and her nephews are playing too many computer games, the menu will be changed to include tomato soup with red carrots and water chestnuts—a soup for sore eyes.
Whilst Hui Lin is stubbornly modest about her culinary skills, she's less reticent about her role as the family educator. She becomes noticeably more animated when the topic shifts from food to her nephew's impressive academic achievements.
"One of them is in Raffles Junior College," she tells me in an excited whisper. "The other is in Catholic High School."
It is plain that she cares more about their education than anything else we've chatted about thus far. While she is proud of the kids' academic achievements, she also laments that schoolwork is 'too difficult' these days. 
We commiserate. Grammar is important but the best way to learn is through exposure. Mathematics becomes more and more difficult every year, and past primary 4, she often "struggles with the tests".
"Some of the questions combine ratio and percentage all together. You can solve it with Algebra but how do you explain Algebra to primary school kids," she laments, with a tone of exasperation.
Nonetheless, they've passed their PSLE with flying colours all thanks to you, I suggest. She scoffs at the suggestion. "Some of the kids are just talented and love to read. They absorb things really quickly."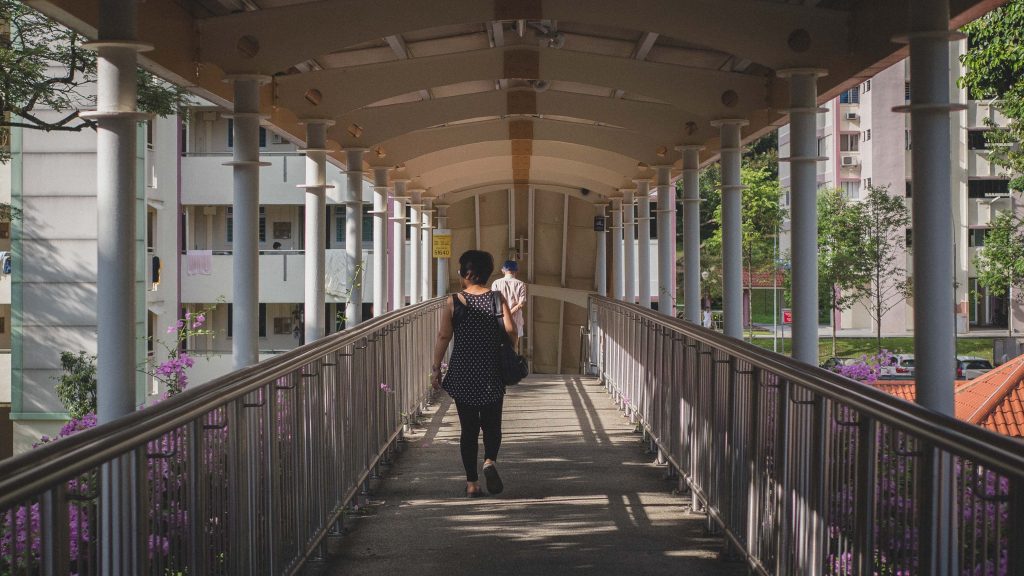 5 years after her first fracture, Hui Lin's mother passed away. The surgery/physiotherapy worked at first and her mother was soon able to walk. Unfortunately, a second fall put to rest any hopes of a full recovery. The metal implant in her pelvis was detached, and as a result, she became bedridden for the final years of her life, requiring constant care.
"That was in 2000, and after that with the siblings' childcare, I became cut off from the outside world for 19 years," she tells me, without any hint of bitterness or regret. These days, with her parents' passing and her nephews all grown up, Hui Lin's domestic burdens have lifted somewhat. 
Yet surprisingly, she has returned to the workforce. After 28 years at home, she has found work as a tea lady for a nearby childcare centre.
This fact leaves me a little stunned. Isn't it daunting to return to work at the age of 66? 
For her, it's not about the money. After many years at home, she enjoys the sense of freedom that work affords. She enjoys being out and about amongst other people. Life as a homebound caretaker can get awfully stuffy, she confesses, and the work gives her a sense of purpose and direction.
"Every day at home, you feel like a frog in the well," she confides, referencing the Chinese idiom of a frog who thinks that the whole world is just a well.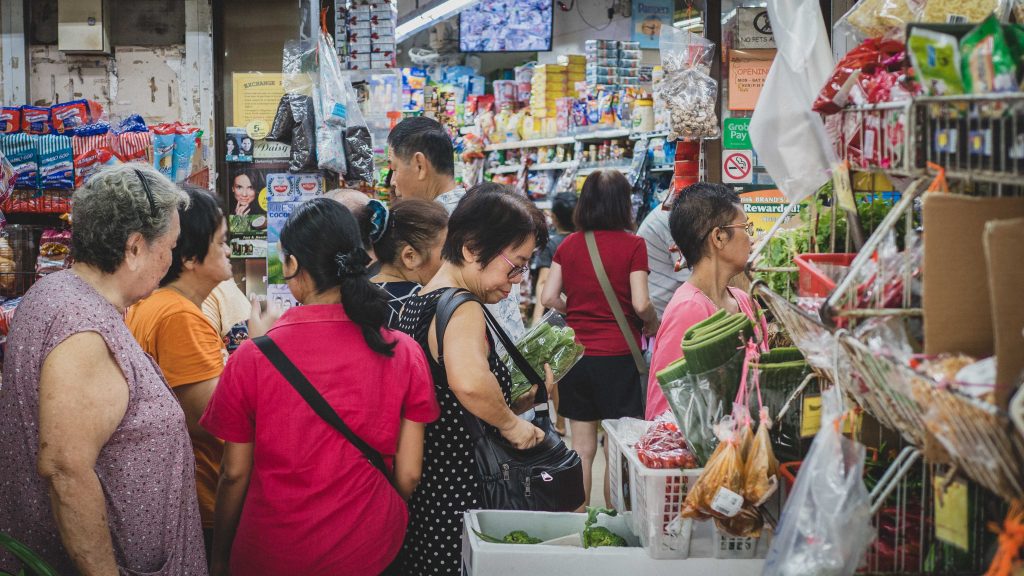 Life begins at 40/50/60/70, the clichés and self-help books tell us. You roll your eyes, but it's often true. 
After many years of looking out for others, Hui Lin can finally have the time to focus on herself. Saturday mornings are still spent shopping and cooking the big family feast, but for the rest of the week, she can live large a little.
"If you want a luxury life, it is not enough. But for me, it's good enough. I am contented," she finishes.
This post was sponsored by CPF.