4 months ago, we shared the story of Ikhmal, a father of 6 who lives in a 1-room rental flat in Jalan Kukoh. Most comments were supportive, but some accused him of bad family planning, being an irresponsible parent, or a drain on state resources.
In this follow-up article, Ikhmal shares his experiences being a father to 6 children, why he thinks Malay families tend to be bigger, and what he felt after reading these comments.
This story is told from Ikhmal's perspective.
I have 6 kids. 
They're all in school now. My oldest daughter is 7, in primary 1 this year. My other daughters are 6, 5, and 3. My eldest son is 16, the other one is 13. 
I have a big family also; I was also the eldest of 6. When we go Hari Raya celebration, I see all my siblings with all their kids. I have plenty of nieces and nephews. About 10, excluding my children.
It's the Malay culture la. Let's say you have many kids. It's rezeki [fortune, sustenance]. I don't know how to put it in … I don't know what it's called in English. So, for me, I believe in that la. Most of the Malay families are all Muslim. So it's mainly due to religion. The kids are given to you, it's a gift to you. Not to be a burden to you. 
If others see it as a burden, they are on the losing end. So I believe in that. That the kids are a gift to me. I will find wealth in it. Be it in monetary terms, or in terms of well-being, health, mentally, physically.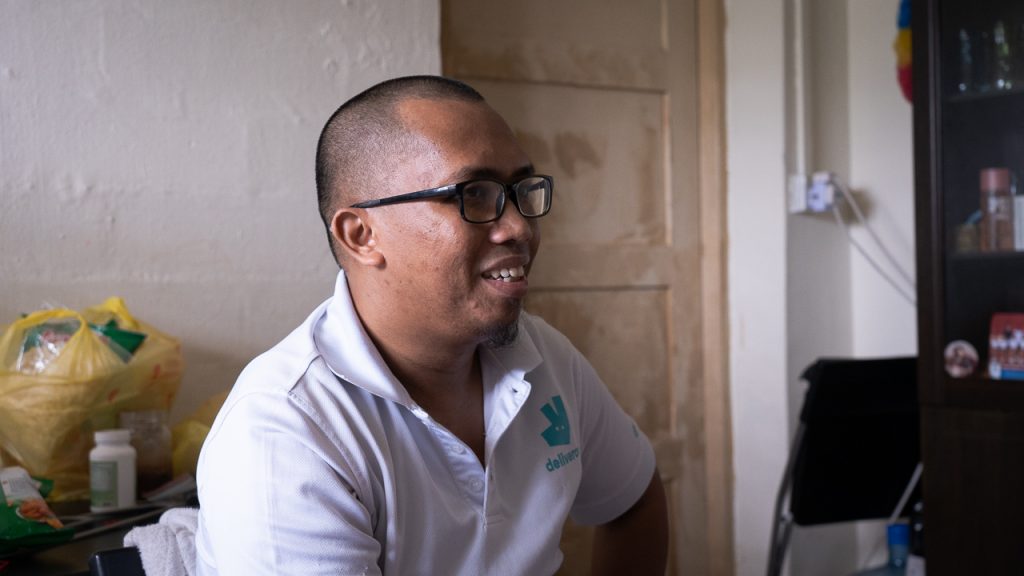 Usually Saturday, Sunday, when I got no shift, then I spend time with the whole lot of them together. Sometimes they play around with me. Horseback riding. But other times I'll be too tired, I'll be like "hey my back is pain already. Riding on the road [as a deliveryman] is no joke." 
Other times they just like to watch YouTube. I don't really encourage at such young age use handphone. So I'll watch what they watch. They like to watch the unboxing of toys. At times it scares me. They will be like "I want this one, I want this one. You buy okay when you have money." Then I will say, "Okay I see how. You make sure you study very well."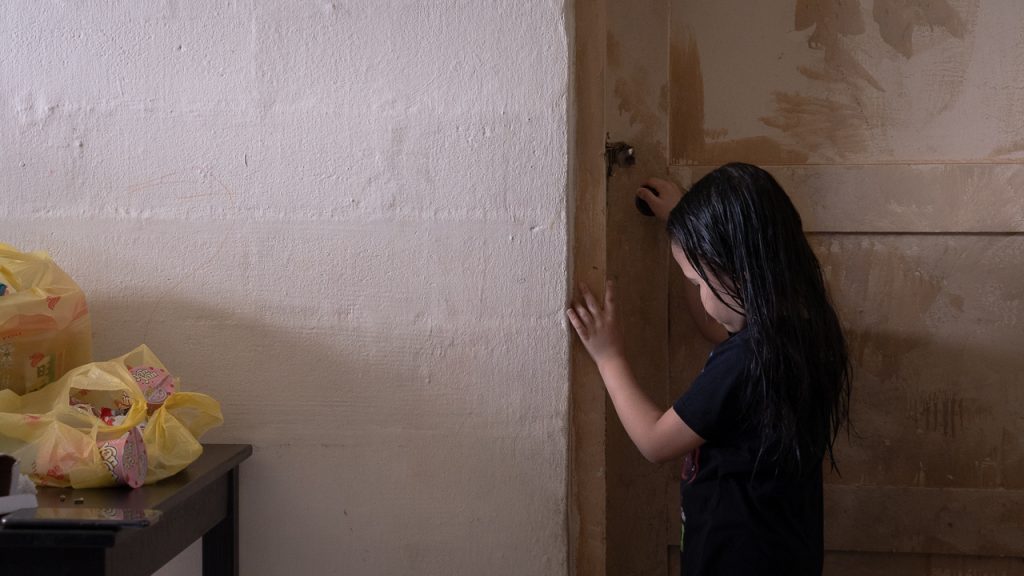 I've seen the [Facebook] comments. My wife was really affected by a few of the comments. I tell her, "Don't bother la. Don't focus on the negative aspects. Of 10 comments, there'll be at least 1 or 2, but the rest of them is positive. Some were saying like, encouragement and all that." 
I know most of them are trolls. If I get affected by that then I'll be the one on the losing end. They just type, stay behind their screen and all. It won't affect them in any way. Financially, mentally, or emotionally.
Yes, it wasn't planned for, but I [did] plan to have … kids. And the kids come, what you want me to do, abort them? So I do the best I can.
For me, one kid come, it's not a burden for me. There'll always be doors of opportunity opening up for me to provide for the kid. Even for all my 6 kids, I believe there's plenty of doors for me out there to go out, to hustle. You see every day on the road, people hustle for money. For their lives. To pay off mortgage. To pay off bills.
I see it as: I hustle to raise my family la.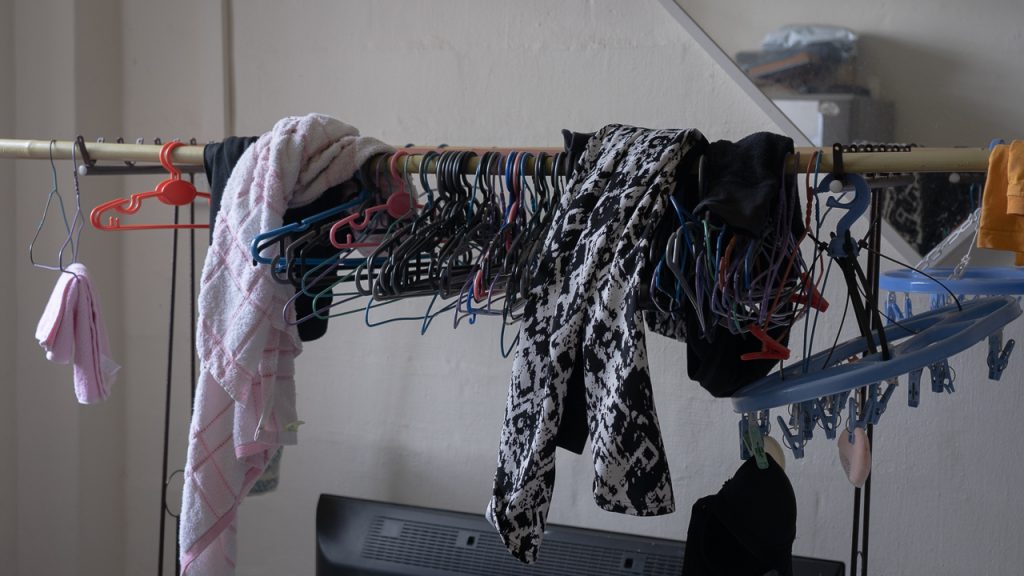 It's just me and my wife [taking care of the children]. Once a while, when we both have to work—my wife works as a part-time make-up artist, so she gets bookings for make-up now and then—we ask my brother to take care of the children. 
But I will ply around the area so if anything there will be time for me to rush back home to see what's happening. If that's not available or not an option then send to my parents' house which is in Woodlands. Just the 4 daughters. 
My sons are old enough to take care of themselves. They want food they know how to cook for themselves. We teach them from young how to operate the rice cooker, how to heat up any leftover food. 
I teach my kids life skills. I'm starting to teach my eldest daughter how to do laundry, how to separate the whites and the colours. 
When I'm cooking she likes to help out with the cooking. She will ask, "Daddy can I help you?" And I'll say, "Okay you can help me". But usually I just let her do the simple simple things, like how to beat an egg. I'll crack open the egg and say, "Okay beat the egg. This way." Then she will learn. From there progress to how to crack egg.
It's like, for me, essential la, these skills. The school won't teach you these kinds of life skills.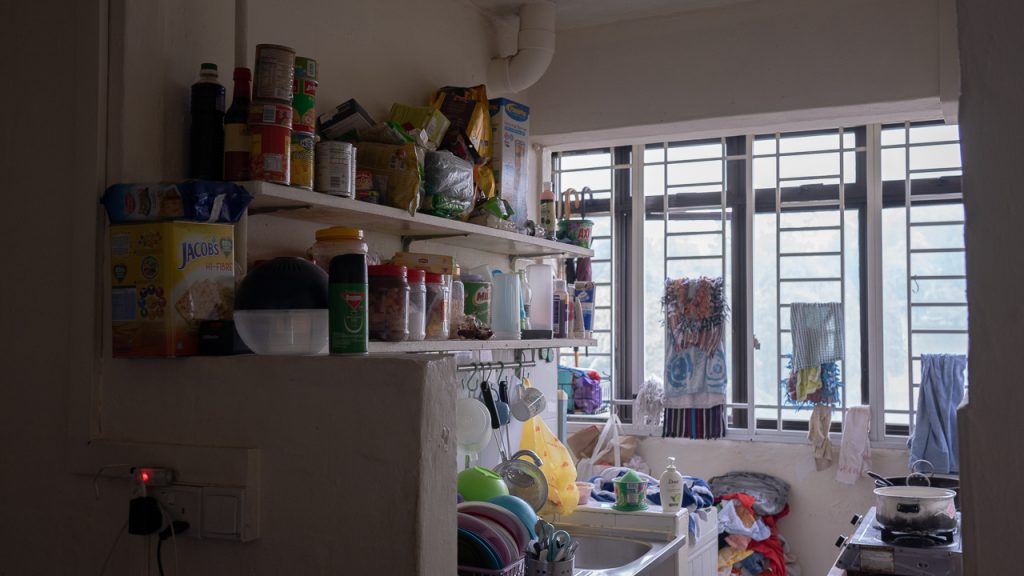 There's no right number of children you can have. Whatever you have, you make do with it. You try your best to provide them with what they need. As long as you work, you're honest, doing an honest living, providing for them

—

your family, hard work, no one can take away that.
No amount of negative comments can take away that. 
 It's hard to explain. The joy that kids bring. Nothing can explain that joy. If you put me and my kids and see how happy they are, and then put a stack of 50 [dollar bills] … I mean, you'll be tempted to take the money, but at the end of the day the money cannot buy that joy of seeing your kids successful, and then making you happy.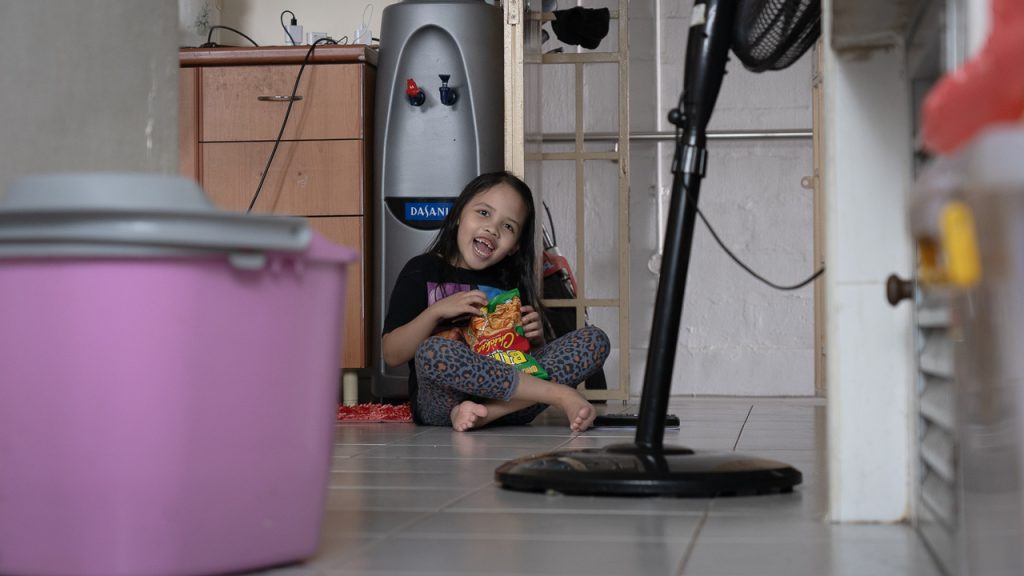 People can be rich but [if] deep down inside they are lonely, unhappy … they say money can buy everything but money can't buy happiness. Money can't buy your sadness away, buy your sickness away. 
So I want to impart the mentality that when my children grow up, they don't see only just material wealth. They don't see only the rat race in Singapore, that I need to just work, pay bills, next morning go in to work again. 
I want them to be—whatever they're doing, they're happy doing it. And then they do it with full motivation, at 100%. Right now, nowadays, people say, "Wah dragging myself to work." I don't want them to feel that way. I want them to be like, "I look forward to the next day, it's a new day, what can I do today?" So their mindset is positive. Then they are prepared to face the harshness of working life. 
That's my idea of success.