It is just past midnight when Mr Fang leans back and exhales. Around him, washing machines and dryers vibrate with a low, soothing hum. As he closes his eyes, a sharp, rattling crash of metal against concrete can be heard as a nearby shopkeeper shutters for the night.
After that, there is complete silence. If not for the unmistakable scent of freshly laundered fabric that soaks the air, its intensity deepening one second and fading the next like a pulsing heartbeat, it would seem as if time had stopped.
There is no other smell in the world that actually feels warm. But by some strange miracle, fresh laundry does. It is for this reason alone that 24-hour laundromats, despite their harsh, fluorescent lighting, seem to produce an atmosphere of both safety and comfort.
Strangers go about their business, inserting dollar notes into the little token dispensing machine, pulling wet clothing out of washers, and shoving tumble-dried bedding into large, plastic bags to be taken home. There is little conversation or acknowledgement of one another, but there is no wariness either.
Everyone, it appears, belongs.
And so when I pull a stool up to Mr Fang to make small talk, we start chatting with surprising ease, as though sliding right back into a conversation we had left off in a past life.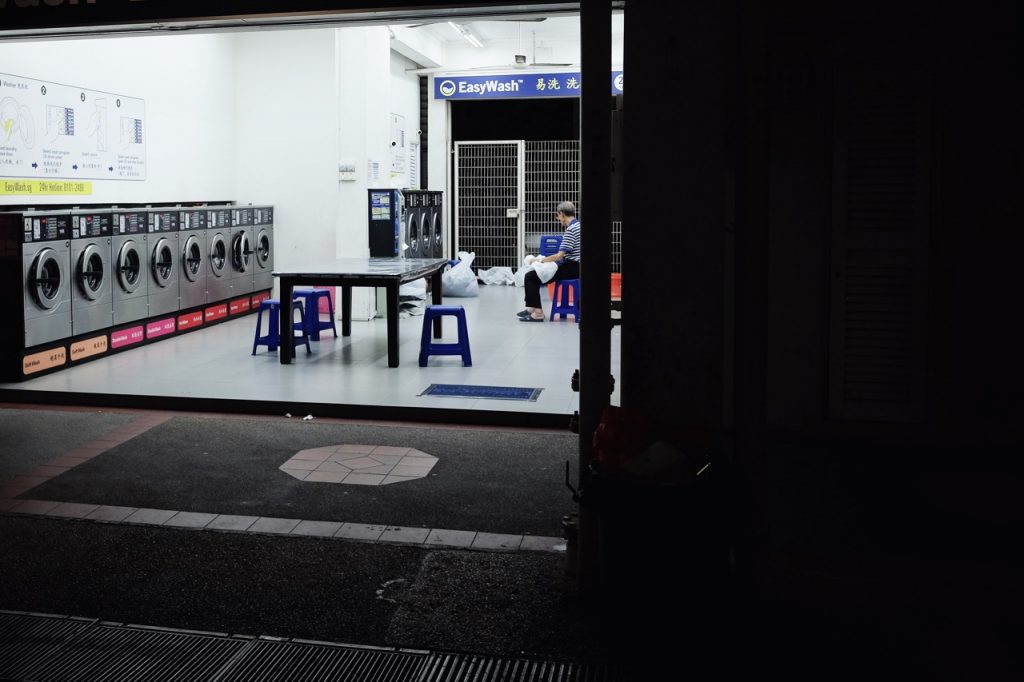 86 this year, Mr Fang has just returned from holidaying in Indonesia over the Chinese New Year break. It's 12:34 AM, but he speaks with lively passion about how things in Singapore are no longer what they used to be.
In the same breath, he shares about how his generation has been mostly unable to keep up with the pace at which technology has progressed, while also chiding me for not realising how lucky people my age are.
"I've been through war," he says in Mandarin, "How many Singaporeans these days understand what that's like?"
Between moving his laundry from the washer to the dryer, he tells me the story of his life.
Having come to Singapore from China in 1946 when he was just 13, Mr Fang began apprenticing as a tailor. After many years of hopping from one job to another, he eventually found himself returning to tailoring.
He's surprisingly forthcoming, and even shares that he has 2 children, one of whom—his son—no longer communicates with him.
When Mr Fang leaves, I have a short chat with a 25-year-old Burmese lady named Su. She shares that she and her three other housemates are spring cleaning, hence their use of the laundromat for its convenience and volume.
Eventually, when I tell her why I'm there, she replies, "Aiya, life is boring la. You're not gonna find anything here."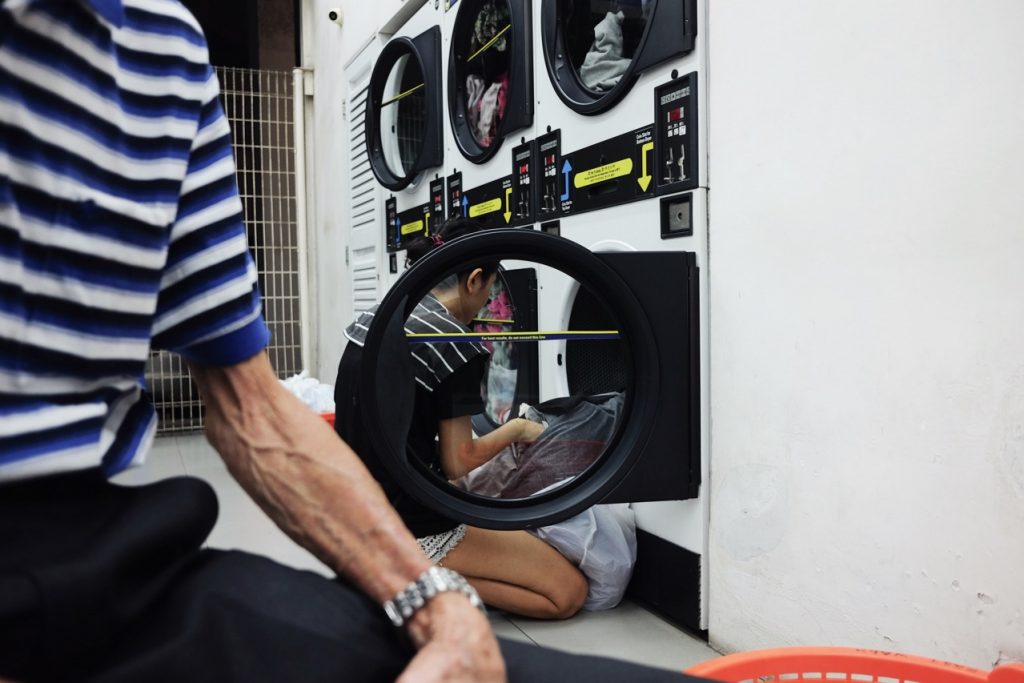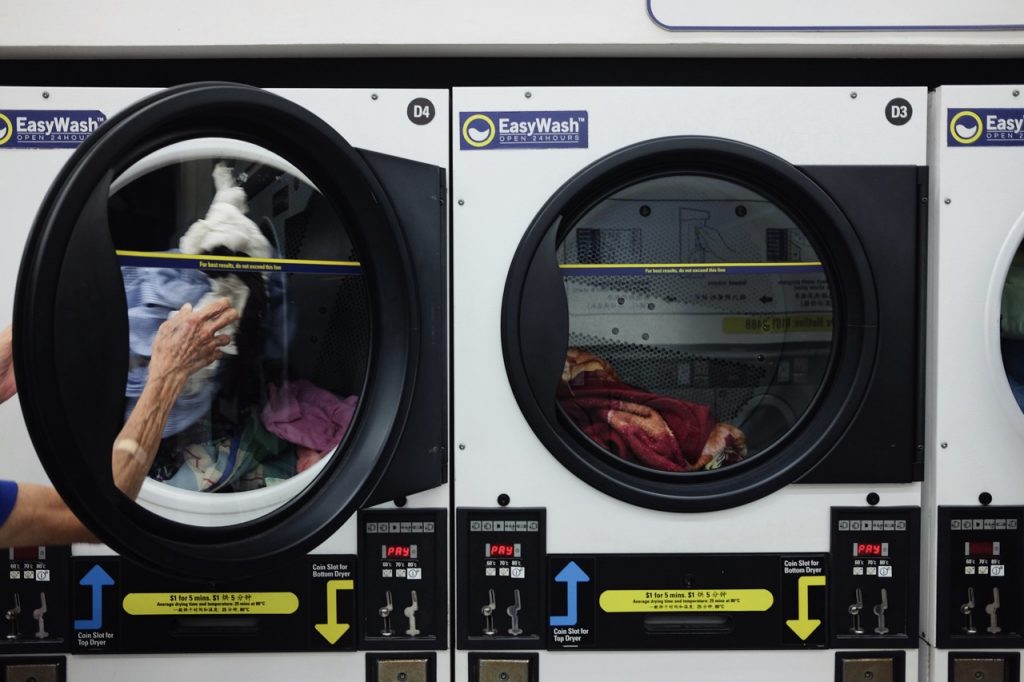 In Singapore, one might think that there is almost no need for laundromats. Most homes, whether rented or owned, come with washing machines.
Yet they've swiftly multiplied in recent years, popping up first in more central districts like Chinatown before infiltrating heartland areas like Toa Payoh and Bukit Batok. From housewives to foreign expats, there seems to be no pattern to who chooses to utilise these establishments.
In Balestier, I find myself hanging out with Min and Greg, a couple in their early 20s who use the laundromat as an excuse to get out of the house. Because Greg is a shift worker, he usually only gets home after 12 AM. Only then does he get to spend time with his wife.
"What we do is we go for a walk, drop off our clothes, have supper, then come back," he tells me.
"And I get to go out after being cooped up with my kid the whole day!" Min chimes in.
Later, at around 3 AM at Beach Road, I run into a bevy of ladies, all of whom speak limited English but possess a seemingly unlimited capacity for laughter. From their gestures, choice of clothing, and a stray "disco" I catch someone uttering—along with the fact that they turn immediately hostile when I take out my camera—I deduce that they likely work in the night life industry.  
At Toa Payoh and Boon Keng, I encounter individuals who have come to be alone with their thoughts, and appear a little irritated to have their quiet disrupted by me.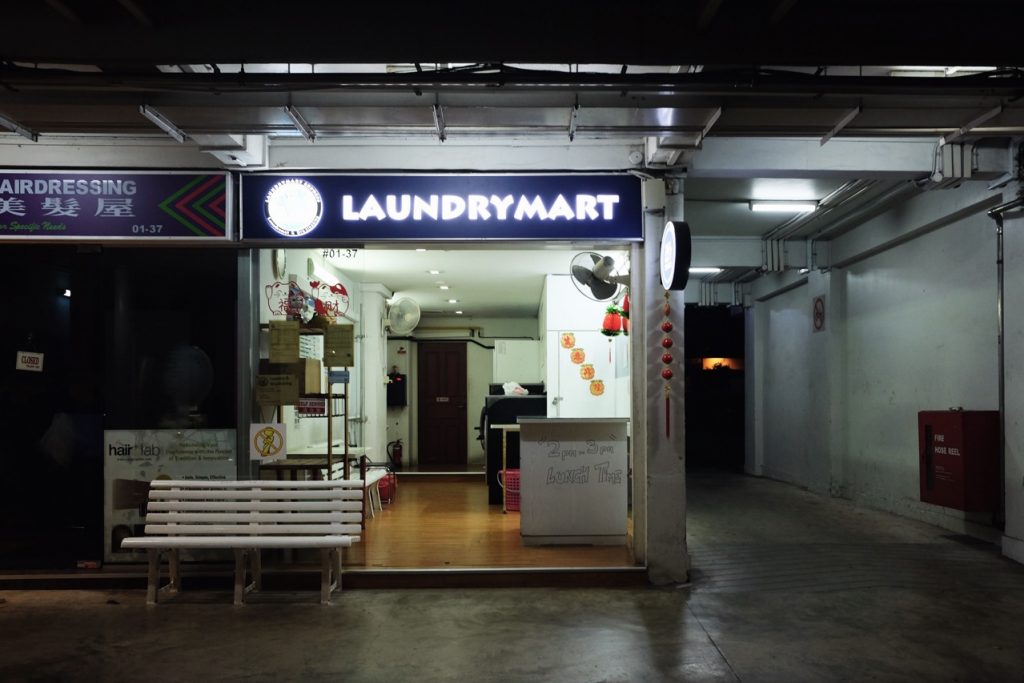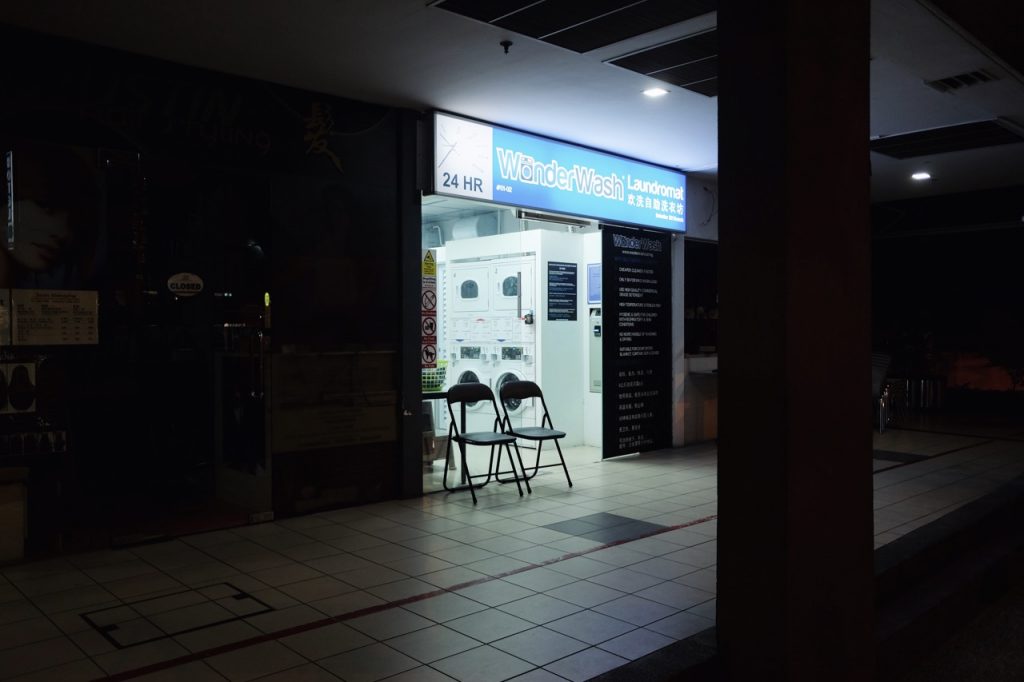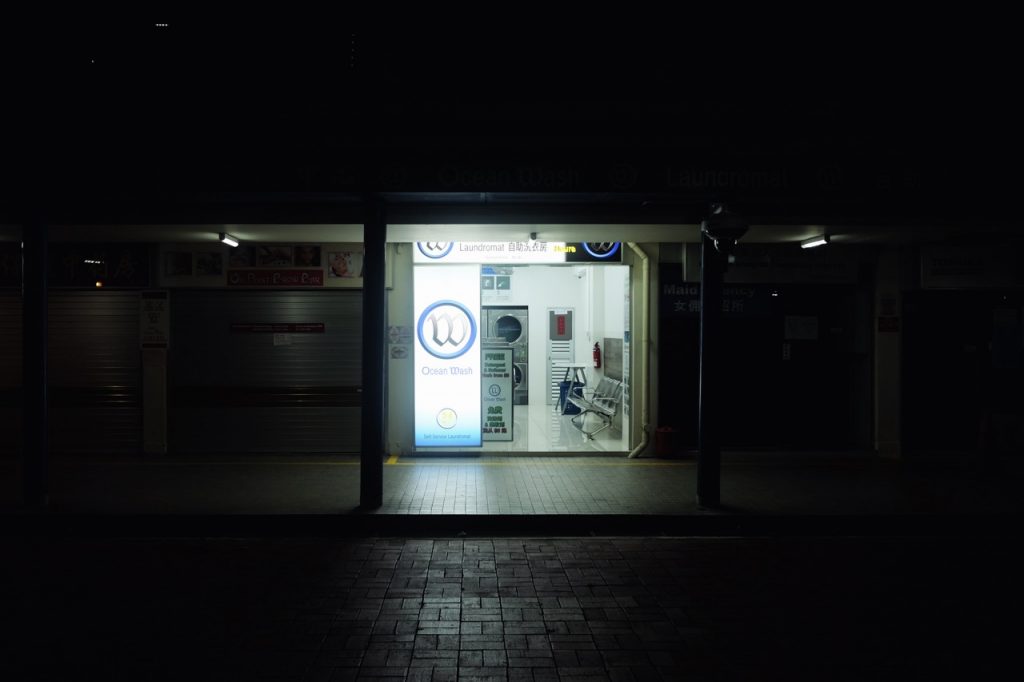 After my visit to the seventh (or so) laundromat, everyone's reasons for being there past midnight begin to sound the same.
Some come at this time because they can't sleep, others because they enjoy the kind of peace only twilight can bring. And then there are those who live lives that are the complete opposite of most people's; when others go to sleep, they are just starting their day.
As for everyone else, they simply have no choice. Their professional lives dictate that they are only able to do their chores after dark.
Most of them share that they use laundromats because it's just easier to wash bulky items like curtains or bedsheets. For those who do their laundry only once a week (or every two weeks), their machines at home lack the ability to accommodate the volume of all the laundry they have to get through.
So perhaps Su is right about life being boring, and there being no stories here to be told.
Yet there's no denying that a frank and singular beauty resides in the laundromat, especially at a time of day when surrounding businesses are closed, and few people are about. In a city like Singapore where public transport come witching hour is pretty much non-existent, and it can be difficult to go anywhere if you don't drive, 24-hour laundromats now glow as offerings of accessible sanctuary.
Unlike in the day when they feel just like any other automated service, they take on an unfamiliar yet peaceful quality at night. The stillness makes it feel like life has been put on pause, and you get to enjoy a completely different side of spaces that are otherwise crowded and cacophonous during the day.
Just by being there, you experience a rare solitude that compels you to look inward and contemplate your life.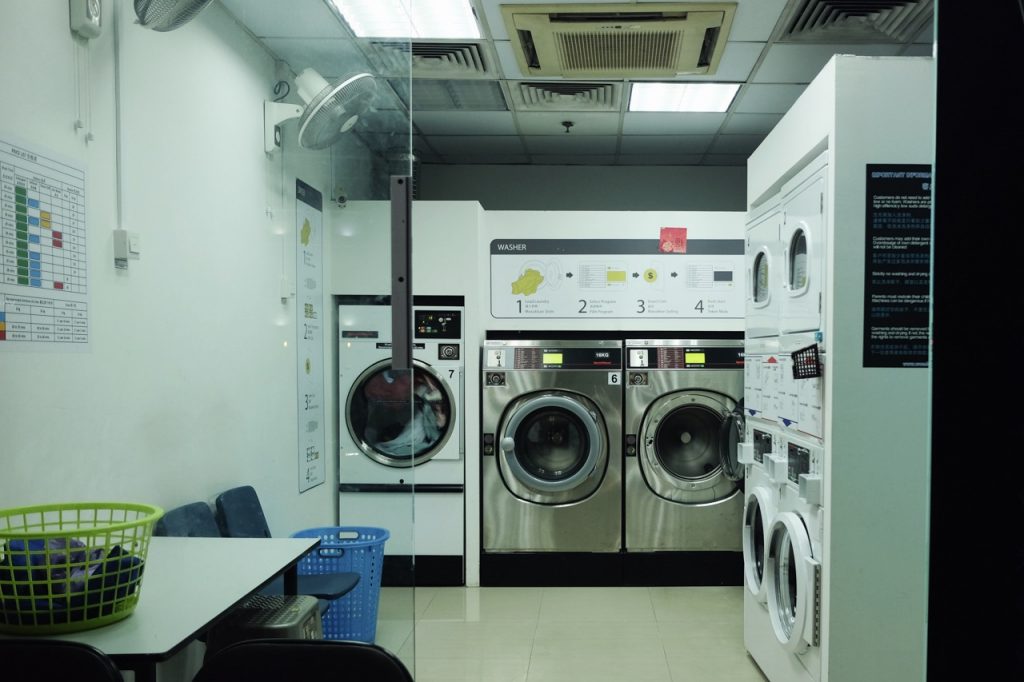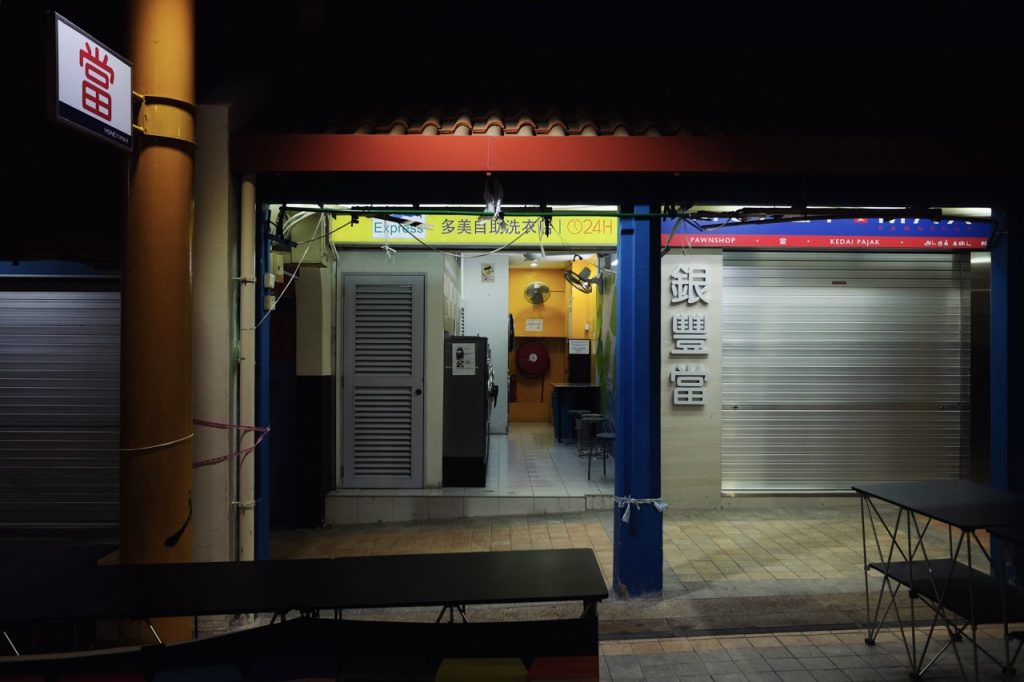 It might be strange to think that laundromats have this power. After all, they are simply places where you go to wash your clothes.
But in the same way that insomniacs might go for walks in the park or sit chain-smoking at their void decks in order to pass the time, some have started coming here because the scent of fresh laundry makes them feel things in a way that nothing else can.
Having spent several nights visiting these places, I'm beginning to understand why.