In a posture reminiscent of an early Romantic painting, a slice of raw fish gazes out into the horizon. In the imaginary speech bubble suspended above its head, the words materialise, "I just want to do my best …"
It is a moment fraught with unspoken anxiety. Having been liberated from its parent fillet, she wants nothing more than to be eaten—and hopes only to be delicious. Yet its freedom seems to beckon it towards something greater. Should she stay or should she go?
This is Kirimi-chan, one of Sanrio's lesser known creations compared to the likes of Hello Kitty, My Melody and Gudetama.
Having come to life after beating out 19 other Sanrio cartoons in an online election, Kirimi-chan made her debut via everything from plates and tote bags to substantially sized plushies.
While "Who wants to cuddle with a piece of sashimi?" is a valid question, Kirimi-chan oozes none of the sour tang of raw fish. Any hint of its high fat and omega-3 content has given way to an enigmatic half-smile.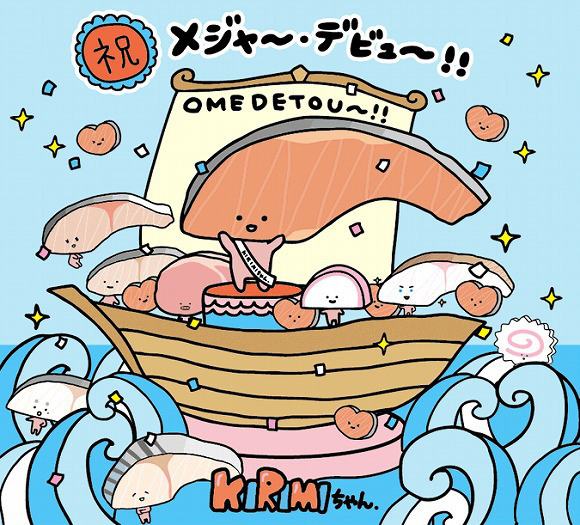 A little known fact about salmon sashimi is that it's a relatively new offering in Japan's sashimi (raw fish) market. Toro (tuna) has traditionally been the fish of choice, but when over-fishing dragged the country's self-sufficiency down to 50% in the 70s, it desperately needed new suppliers to meet the demand for sashimi.
Following a trade delegation visit in 1974, during which Norway discovered this opportunity, fisheries minister Thor Listau returned in 1985 with a seafood delegation and launched Project Japan. It was only a decade later in 1995 that they succeeded in convincing the Japanese to eat raw salmon. Previously, it was always eaten grilled.
Kirimi-chan occupies a poignant place in this narrative. She spends her days on the ocean or frolicking amidst the stars. There was even a brief flirtation with a pop music career. All these activities occupy places that exist on the periphery of our known realities. She either watches, or is watched.
Sometimes she finds her way into a bento or slides onto a sizzling iron griddle, snuggling up against some okonomiyaki. This is where she finds some flavour of home.
The thing about salmon is, they spend most of their early lives in rivers before swimming out to sea. Once matured, they return, with uncanny accuracy, to their "home" rivers to spawn. This is the salmon run which concludes their migration cycle, an act involving returning home, ensuring its legacy, and immediate death—in that exact order.
Much like how Gudetama articulates the existential malaise of the contemporary, salaried millennial worker, Kirimi-chan speaks directly to the tension of being caught between generations.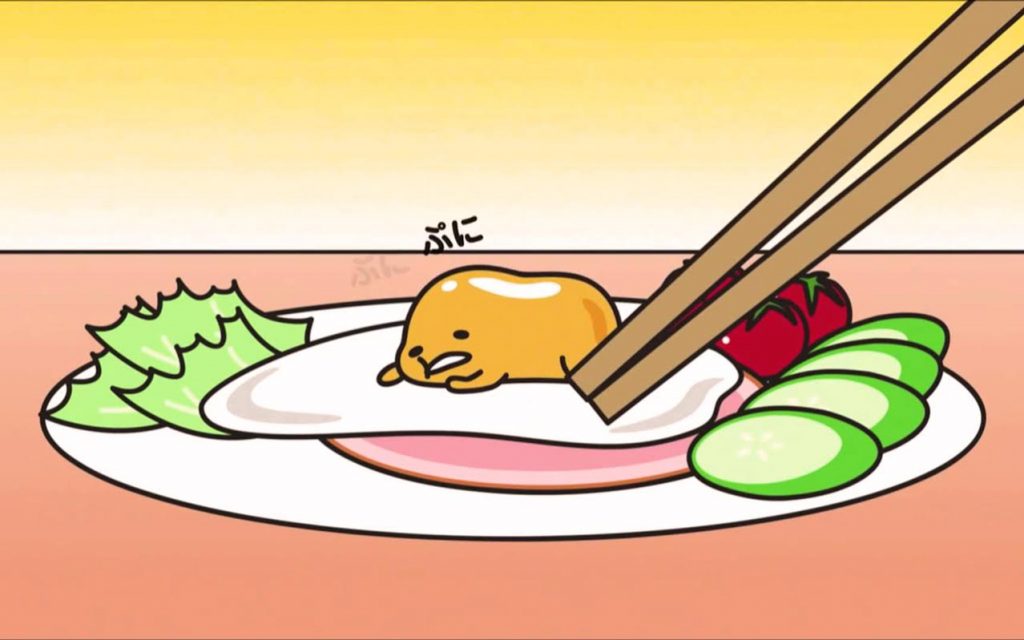 free as she is, a part of her will always want to return; never mind that it's to be marinated, grilled, and eaten
Whether we're talking Fresh off the Boat, the lifestyles of the fuerdai (as compared to their industrious parents), or the increasing dispassion of the Japanese youth, today's young adults know that they are not their parents. And we wrestle everyday to make this clear.
Deep inside, we have all been where Kirimi-chan has. Having fallen not far from the proverbial tree, we find ourselves in a precarious place—one defined by both the tug of our roots and our access to the world at large. As free as she is, a part of her will always want to return; never mind that it's to be marinated, grilled, and eaten.
Raw salmon entered the Japanese diet at a time we have now come to call the Lost Decade. At the turn of the 1990s, the Japanese asset price bubble collapsed within the economy, leading to a 5% drop in real wages. Accordingly, what followed was a sweeping disillusionment with the promise of job security and conspicuous consumption.
But really, this disillusionment speaks to the broader experience of being Asian in our contemporary world. We believe in family values, but we also want to have lots of pre-marital sex. We don't see family businesses as any of our business, and we've debunked, by our own initiative, the myth that success is only to be found in being doctors, lawyers, and engineers.
We want to respect our heritage and our elders, but we also want to be who we are. Inadvertently, the opportunities our parents fight so hard to give us expose us to the reality that there are options beyond the ones they want for us.
Despite and beyond all this, Kirimi-chan embodies a much deeper truth: regardless of our struggles with what's expected of us, home is where it's always been and always will be. We may never return to it, but it is never far from our minds.