All images by author.
Singaporeans are so obsessed with ma la xiang guo, a male friend tells me one day. So many girls on Tinder put their love for ma la in their bio like it's a personality trait! 
As amusing as it is, the phenomenon doesn't strike me as odd. The love for food—especially extra trendy ones—has long been a social lubricant or conversation starter in Singapore. From dim sum to donuts, the ma la xiang guo finally saw its day, and it seems like it's here to stay. 
As a self-proclaimed spice lover, ma la xiang guo hit all the right notes when I first discovered the dish last year during an office lunch break at an unknown stall situated at the corner of Jalan Besar stadium's hawker centre. I even looked forward to instantly tearing up from willingly biting into the dried red chilli.  
Over time, I realised that was the only ma la xiang guo stall I could appreciate. My taste buds took me across the island, from Ang Mo Kio to Chinatown, but there were none that could compare. 
Yet, no matter how often I ate it, I couldn't tell you what made that ma la xiang guo so special. I couldn't pinpoint whether my love for the popular Sichuan dish was influenced by the lack of a queue, the stall's branding, the atmosphere of the place, the chef's mood, a magical ingredient, or simply my damaged taste buds from over 20 years of eating spicy food. 
Eventually, determined to figure out the secret to a flavourful ma la xiang guo, I approached three chefs from Food Republic's ma la xiang guo stalls. Turns out, the  secret to a flavourful ma la xiang guo—one that keeps customers returning and even makes its way onto a Tinder bio—truly lies in the science behind its third word.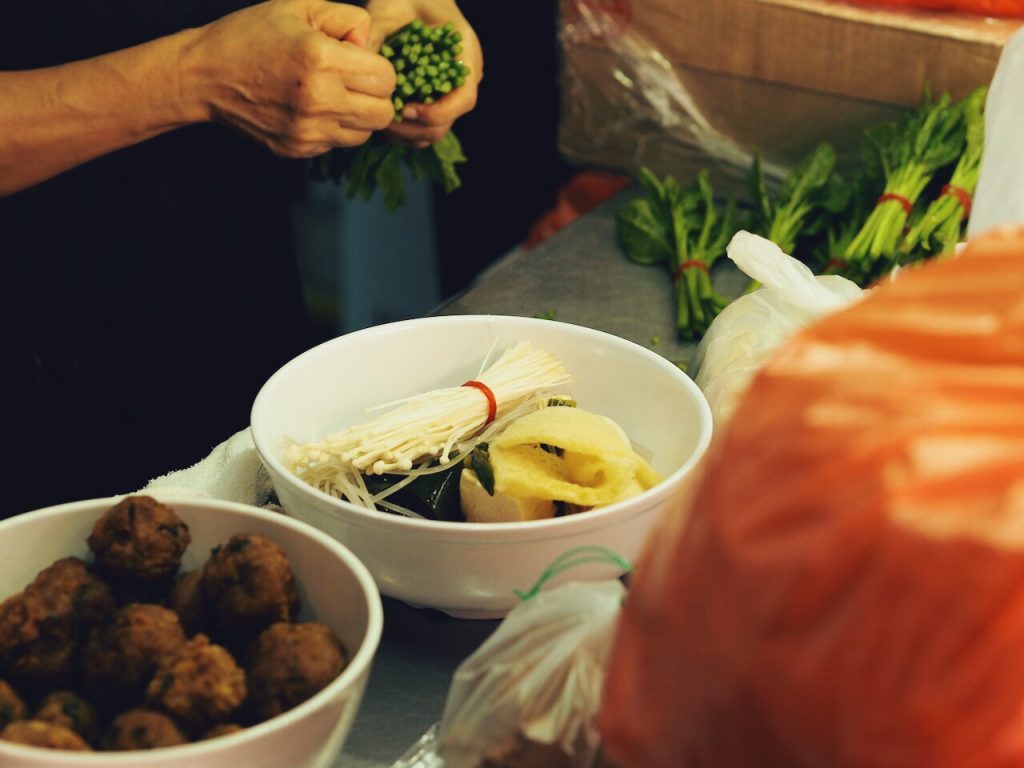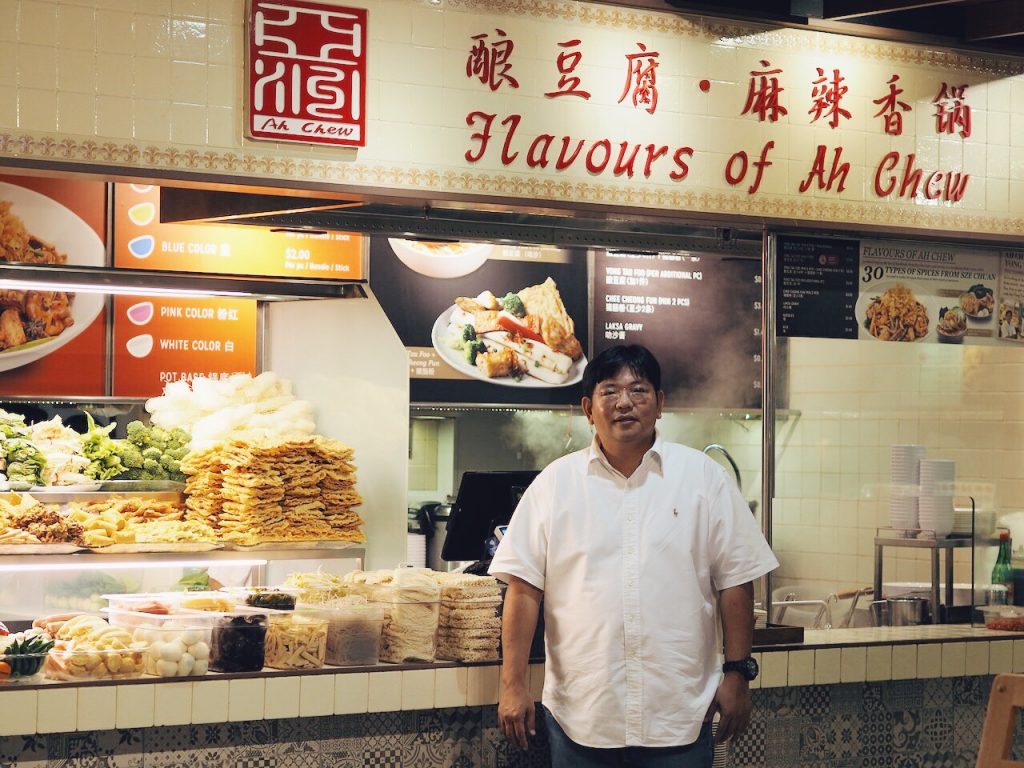 Many people think the most important parts of ma la xiang guo are its 'ma' (numb) and 'la' (spicy) components. But 'xiang', apparently, is the game-changer. 
In English, 'xiang' means fragrant. According to Jeffrey Tan, 47, this fragrance is derived from the oil. The owner of Flavours of Ah Chew at Food Republic in Capitol Piazza says, even if the hot pot base is excellent, or the chilis are plentiful, the entire dish could miss the mark if the oil isn't as fragrant as it could be. 
Simply put, mere oil could be the fundamental—and underrated—ingredient which elevates a passable bowl of ma la to something potentially life-changing.
At 10:30 AM on a Friday in front of Jeffrey's ma la yong tau foo stall, I find myself inhaling from his bowl of oil. But before it even arrives at the table, I catch a whiff and let out an audible gasp.
It is this simple, fragrant golden brown liquid that's made him a serious contender in the ma la xiang guo scene in Singapore.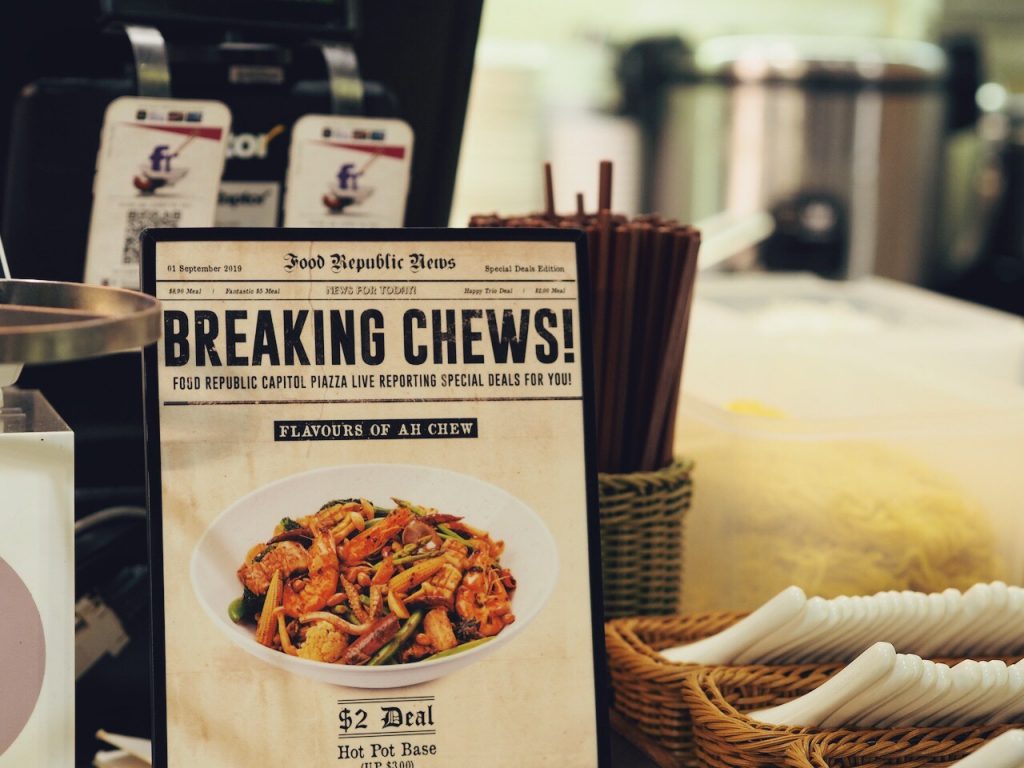 Prior to Jeffrey's bowl of oil taking centre stage in our conversation, he shares that going beyond mere survival in the F&B industry requires creativity. 
But creativity is more than knowing the right ingredients, making fanciful dishes, or bringing in the latest fads. 
It is firstly about understanding the taste buds of customers. Each area in Singapore where Jeffrey owns a yong tau foo stall comprises a demographic with a different palate. This is determined by a range of factors, including age, gender, the time of day that they visit, and their occupations.
To arrive at the perfect paste for his stall, he conducted a blind taste test among friends from Singapore and China. But he reiterates that one has to constantly evolve in F&B; if it can be better, he will make it better. 
Jeffrey also injects creativity into his offerings by trusting his "excellent and creative" employees to differentiate their offerings and cater to their varying demographics. For example, Flavours of Ah Chew makes their yong tau foo ingredients by hand to appeal to those who prefer authenticity, because the ingredients are made individually outside a factory. They also make a fried onion oil that, according to him, draw certain customers to his stall.
But yong tau foo wasn't always in his blood. His late father started selling beef noodles as a family business more than 30 years ago. When the mad cow disease hit Singapore, he had to think of an alternative. At over 50 years old, his dad started selling young tau foo instead. Using the same chilli for yong tau foo as he did in his beef noodles didn't turn out well; it made Jeffrey realise the importance of consistently upgrading in the F&B industry to remain current and competitive.
Due to similarities in the process of picking out the ingredients for both ma la xiang guo and yong tau foo, and the fact that the main ingredients of both dishes often overlap, the culinary matrimony was only natural to Jeffrey.
Hence the decision to merge two Singaporean favourites was born.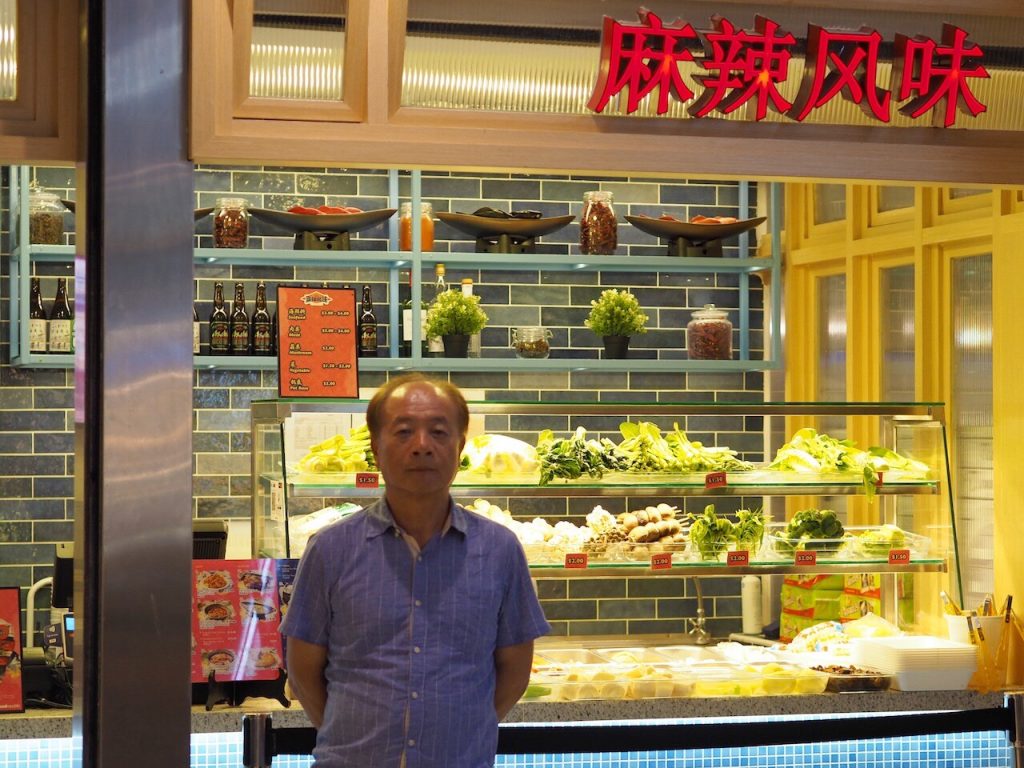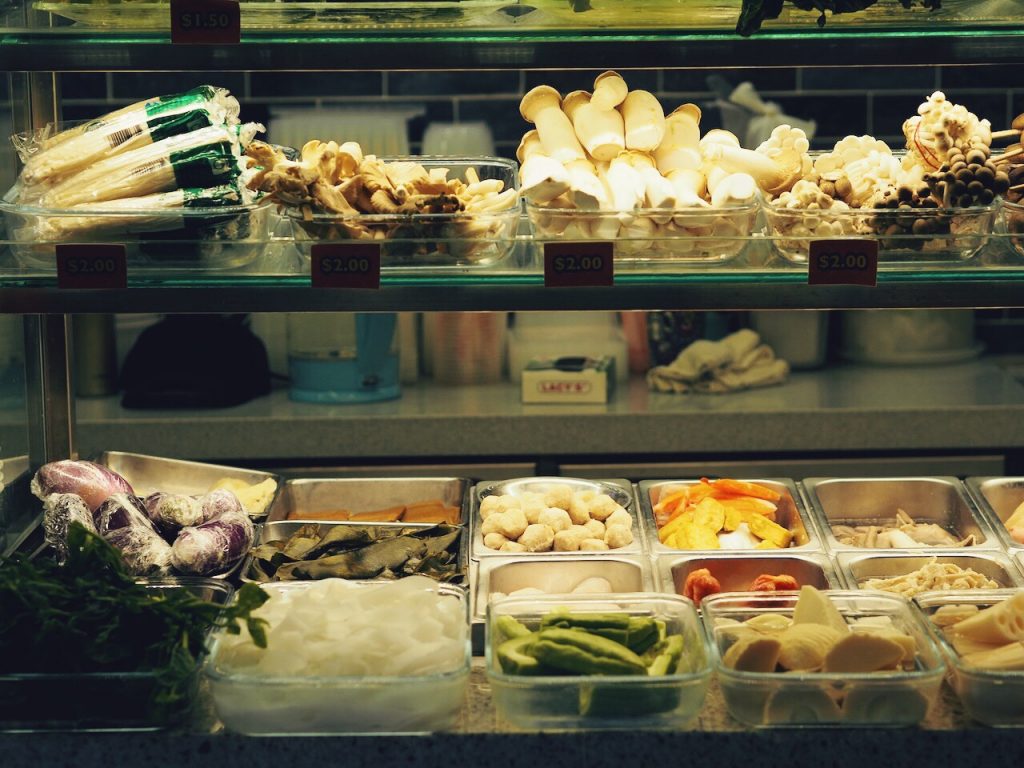 Similarly at
Mala Flavours by Formosa Delights
located at Food Republic (Parkway Parade), its big boss, Mr Liu, and his Taiwanese team took the time to understand his customers in the heartlands in order to cater to their taste buds. 
For example, he says, Sichuan experiences colder climates in general, so one can afford to have more 'ma' (numbness) in the dish. The 'ma' generates heat in the body that's necessary for staying warm. Singaporeans, however, don't take to 'ma' that well, though we are huge fans of 'la' (heat; spice). 
Echoing Jeffrey's take on how different demographics in each area affect the taste of the final ma la xiang guo, he shares, "For this outlet in Parkway Parade, not many people can take 'la', because there is an older crowd. But in Clementi, with a younger crowd, they tend to handle more 'la'."
Like Jeffrey, Mr Liu shares that his ma la xiang guo recipe has gone through "many rounds of stringent food tasting to ensure quality". Some stalls use a sauce that requires Chinese medicinal herbs, such as fennel seeds (茴香) and zi cao (紫草), and so that it can 'repair' and detoxify the body, but all stalls are inevitably different in their approach. 
What about your oil? I ask, remembering Jeffrey's quip that oil is the underrated—and perhaps most important—ingredient. 
"Add butter to make it fragrant," Mr Liu says. "Regular vegetable oil is not as fragrant." 
In this age, 'authenticity' is a word carelessly thrown around, as though assimilation or 'fusion' instantly reduces the quality of any cuisine. But the beauty of food, like culture, is that it's ever-changing. So it seems that one of the most pertinent factors in creating a successful ma la xiang guo is being able to cater to Singaporean taste buds and the climate, without completely abandoning the Sichuan flavour.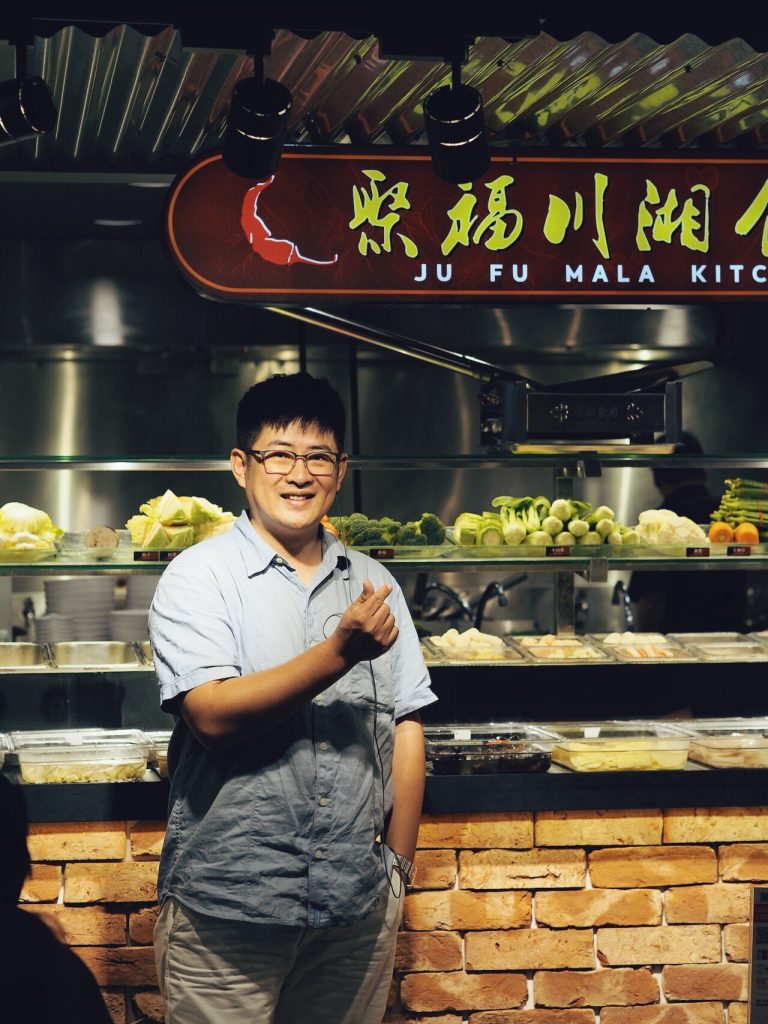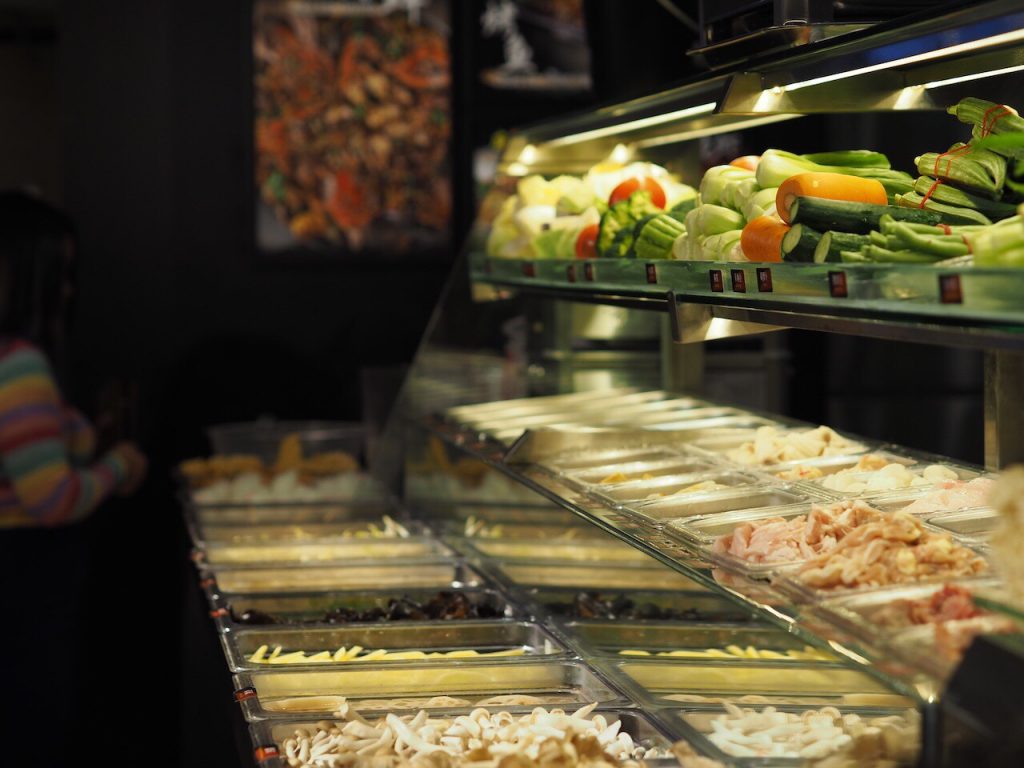 In F&B, creativity is also about consistency. Knowing how to replicate a uniform taste across different bowls of ma la xiang guo, regardless of the ingredients selected, can be quite a feat. 
For Frank from Ju Fu Mala Kitchen at Food Republic (Shaw Theatres Lido), this manifests in being particular with his seven herbs that are used to make his sauce, although most of these are secret. 
Coming from Hunan, China, he's used to eating spicier food than that in Sichuan cuisine, so he admits to adding bittergourd to his sauce to cool the body down. He also doesn't use preservatives, MSG, or taste enhancers, except for chicken stock to add flavour. 
Every morning, he picks a base sauce for his chefs to modify with their "secret recipe" comprising herbs, chilli oil imported directly from China, and broth that's cooked once in two days. 
Yet a burning question remains on my mind: how is it that the same 'xiao la' or any other spiciness level, for that matter, can differ so greatly between stalls?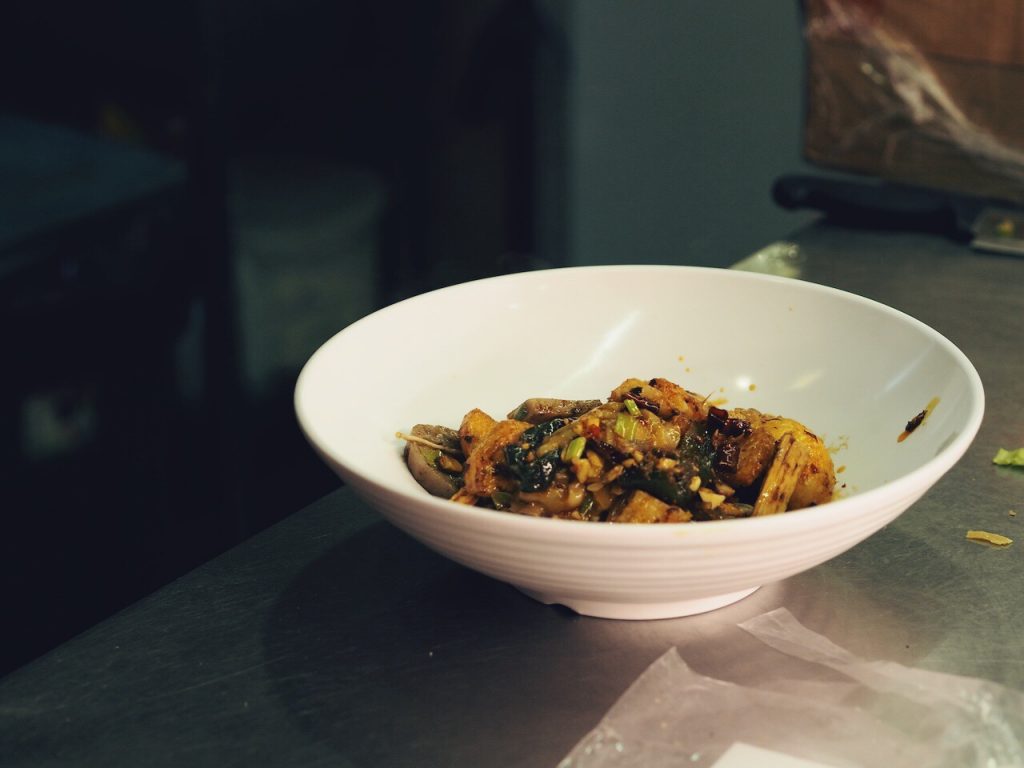 At
Ju Fu Mala Kitchen
, xiao la is akin to a tomato-based sauce; it falls on the sweet side. Zhong la is less sweet, although the chilli concentration is the same as xiao la. Da la requires additional chilli, as well as Sichuan pepper (hua jiao). There are eight to nine types of Sichuan pepper that Frank uses in his ma la xiang guo, which all serve to increase the numbing effect ('ma') and spiciness ('la').
Then there is bian tai la (insanely spicy or 'te la', which means extra spicy). This degree of spiciness requires an excessive amount of chilis to be added to the dish. Although borderline deranged, its mere existence reflects the popularity of spicy food challenges, where being able to suffer through a burning tongue and damaged taste buds is quite the mark of a hero. 
On the other end of the spectrum, for people who don't want any spice in their ma la (i.e. those who are just as miserable as people who don't eat ma la with instant noodles), Frank's stall uses soup to cook the dish. They also use bean paste as a substitute, making the final dish similar to zha jiang mian (noodles with soybean paste).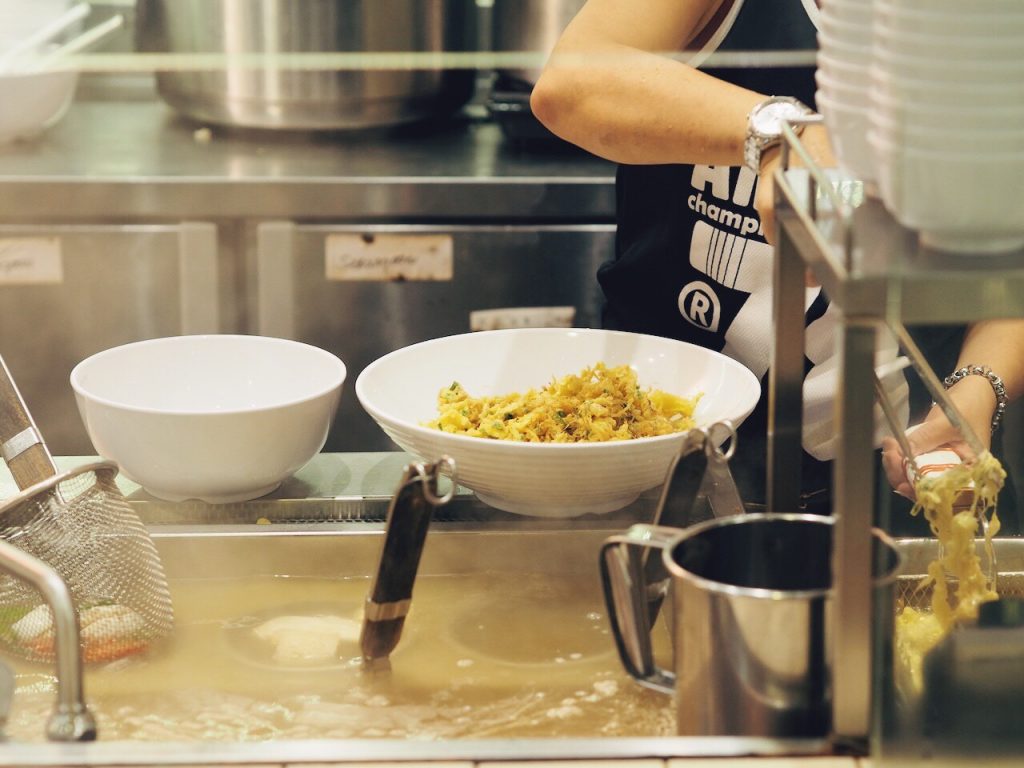 At Jeffrey's stall,
Flavours of Ah Chew
, consistency also means that whether a customer orders zhong la with eight or 30 pieces of ingredients, and whether the ingredients absorb or highlight the spiciness, the taste should remain the same. Knowing how to do this requires an understanding of how to tap into methodology and precision—two underrated aspects of harnessing one's creativity to elevate every dish of ma la xiang guo.
"If we have eight pieces of ingredients, we use X amount of pot base; if we have 20 pieces, we use Y amount. We need to be clear about how much is thrown into the wok and the time that's taken to fry it," explains Jeffrey. 
Jeffrey admits there will always be a margin of error where human behaviour is concerned. This unpredictability is part of the joy in cooking. Perhaps this is why downing a bowl of zhong la ma la xiang guo on one day might be easy peasy, while ordering xiao la on another day might set the roof of your mouth on fire.  
That said, his hybrid of ma la yong tau foo is an inherently creative dish. It requires customers to select their own ingredients and pick their spice level, essentially placing their overall enjoyment of the dish into their hands. 
After speaking with Jeffrey, Mr Liu, and Frank, the answer to my question of how the same 'xiao la' or any other spiciness level can differ so greatly between stalls suddenly becomes blindingly obvious. Each stall creates their paste, oil, and base soup with different ingredients, including types of chilli. They might also cook the same ingredients in a different way. 
It is as simple as that: the unpredictability of ma la xiang guo is a result of human nature—and that's the sheer enjoyment of the dish.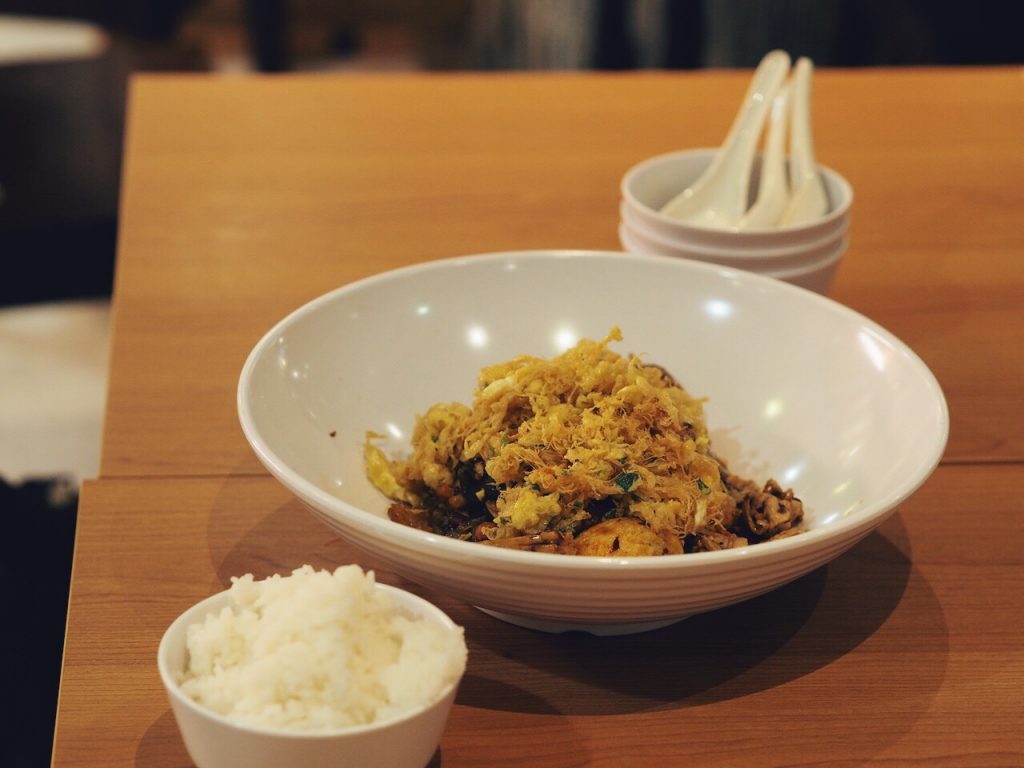 It's been several months since I've tucked into a bowl of ma la xiang guo, but that morning, I decide to break my streak with
Flavours of Ah Chew
; I order a zhong ma and zhong la. 
My bowl of ma la xiang guo is prepared within 20 minutes, and the stall even sprinkles fried egg floss atop my combination. Armed with a bowl of white rice to absorb the spice and oil, and my newfound knowledge and appreciation for what makes specific ma la xiang guo stalls great, I dig in and pray for the same happiness I once felt.
And there it is. 
This post is sponsored by Food Republic. 
Visit the stalls mentioned in this post:
Flavours of Ah Chew
Food Republic @ Capitol Piazza
13 Stamford Rd, B1-20/27, Singapore 178864
Ju Fu Mala Kitchen
Food Republic @ Shaw House
350 Orchard Rd, #B1-02, Singapore 238868
Mala Flavours by Formosa Delights
Food Republic @ Parkway Parade
80 Marine Parade Road, #B1-85 to 87, Singapore 449269