Top image credit: Rich Chigga's Glow Like Dat music video
As far as Asians go, most of us are blessed with the 'gift' of looking younger than we really are.
I have friends who are 21 and yet often mistaken for being in primary school. Similarly, I once knew boys and girls in upper secondary who looked like 12-year-olds.
Brian Imanuel (aka Rich Chigga) suffers from the same affliction. Born September 3rd, 1999, the Indonesian-Chinese rapper is 18 this year, although he could just as easily pass for 15.
Standing at 1.73m tall, teenage acne dots his forehead and cheeks. His hair, short and scruffy, has the habit of sticking up at awkward angles. In the music video for his song Chaos, he dons a pair of striped baggy shorts that give us full view of his pale, hairless legs.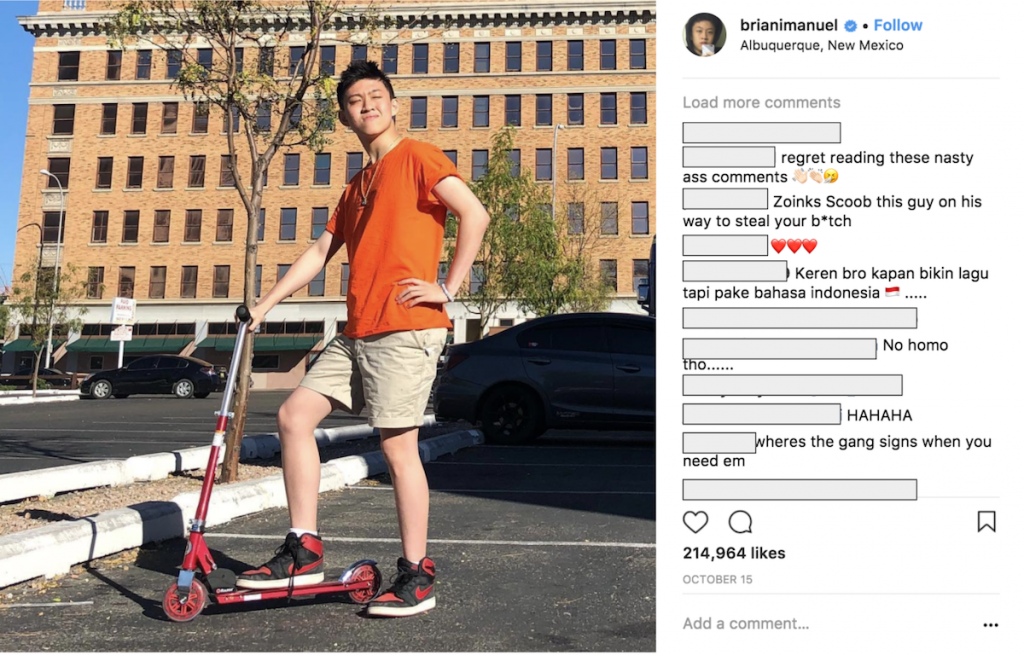 But Brian's boyish looks aren't the only things he shares in common with Singapore's teenage boys.
Like most 13 to 16-year-olds, Brian is also not immune to the (more than) occasional fashion faux pas.
At his own shows, he's hardly the most glamorous one, often dressed in head to toe black—black bomber jacket, black tee, black straight cut jeans and black sneakers.
There's a 78% chance he'll wear this same get-up when he performs Friday night along with the rest of the 88Rising gang including Higher Brothers, Joji and Keith Ape, in front of thousands of festival goers this weekend at Zoukout, Asia's largest beach music festival.
Or maybe he'll wear his other favourite outfit consisting of: a plain tee, bermudas and high top sneakers. Simple and hardly iconic.
In a recent video with Hypebeast, Chigga unabashedly proclaims "Fashion is fucking crazy, I know nothing about it."
I can almost hear the teenage boys from my youth echoing, "Amen."
It seems that keeping up with the latest fashion trends is not a priority when you're 16—or Rich Chigga, for that matter.
While rappers like A$AP Rocky, Kanye West and Tyler the Creator may have cemented their status as fashion icons, Brian's wardrobe of choice shows that just like most Singaporean teenage boys, he still has a ways to go before he comes into a style of his own.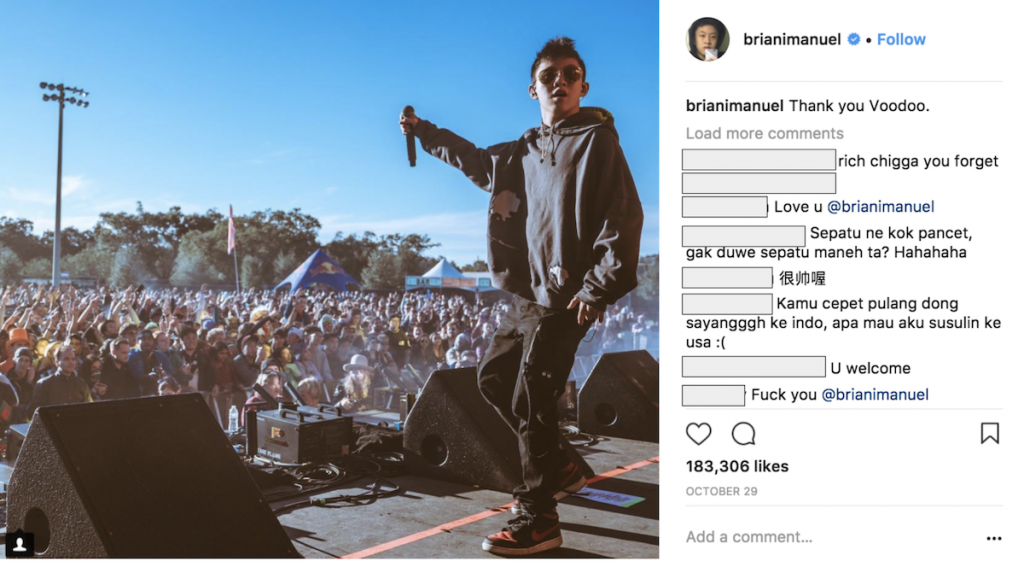 Teenage love. You had it. I had it. Brian had it too.
Brian may talk big on his songs, and rap about girls "[Calling] me D-Wayne, 'cause she licking on my Johnson like The Rock" and "I'm 18 now, women can legally have sex with me". In truth, he is every bit as inexperienced and innocent as most of us were when we were younger.
During an interview, when Pharrell Williams grills him on his past relationship, Brian becomes nervous and fidgets in his seat while picking at some invisible lint on his sleeve.
As he later reveals, he and his ex-girlfriend weren't physical. In fact, it was a long-distance online relationship and he had never met her in real life.
They were together for two months.
Sounding straight out of a John Green novel, he also confesses that the breakup left him feeling "so down", that he even penned a song about it.
If that isn't the epitome of bittersweet teenage love and heartbreak, then I don't know what is.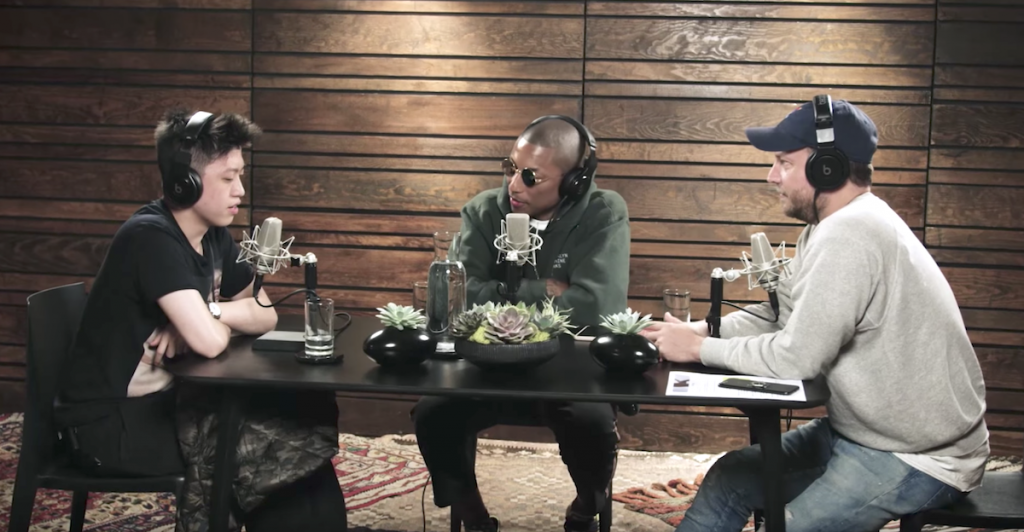 Remember how in school, there was always that
one guy?
The class clown, some would say. That one guy who was clearly different from the rest, with a highly unusual sense of humour and a mischievous twinkle in their eyes. The one who pulled the most inane jokes that normal people couldn't possibly dream up. The one who was so lame, it was funny.
Brian is that guy.
Prior to posting his breakthrough video Dat $tick in 2016, Brian had already uploaded five videos onto his channel, each one quirkier than the other.
In one video, he 'instructs' viewers on the technique of microwaving bread. After popping a slice of bread into the microwave, he stares down the camera lens for a good 10 seconds until the timer goes off. It's hilarious, and we never actually get to see what happens to the bread.  
In another, he conducts a "productb review #1" (yes, productb) of a musical instrument called the Kalimba. He plays it and sings to viewers to suck his dick. There is no product review, nor is there a part #2. The video currently has 20,000 thumbs up.
Like the class clown, one has to wonder where Brian gets his inspiration and ideas from. Many times, you find yourself questioning his sense of humour.
But one thing you don't doubt is how funny he manages to be.

Having successfully completed 16 years of education in (somewhat) one piece, I can safely say that school wasn't that bad of a place to be in. However, I do realise that some have it harder than others, and it all depends where you fall along the pecking order.
At the head of the food chain were those who were the blessed: the rich, the smart, and the good looking. In the middle were the rest of us, huddled together in cliques for survival.
And at the very bottom were the outcasts. Every school and every class had the ones who were 'weird' and never going to be popular—at least, in school.   
The ones like Brian.
Given his more 'unconventional' interests at the time, including scouring the Internet for bits of American pop culture and posting memes and photoshopped photos onto Twitter, Brian had many friends online, but little in real life. He was lonely.
As his siblings once stated in an interview, Brian eventually switched to being homeschooled for two reasons. One, because his parents were too busy to drive him to school and two, because he was "like, an antisocial freak at school." Apparently, he cried every day.
We don't want to admit it, but outcasts like Brian are everywhere. We all know someone who was knowingly left out, who wasn't paid much attention to, who didn't fit in.
And thank goodness for that, because it was from these differences that Rich Chigga was born. It is these idiosyncrasies that continue to define him.
In the eyes of many of Brian's fans, most of who are Asian or Asian-American, he's an inspiration. As Brian once told a magazine, "They come to me, and they're like, 'Dude, you have no idea. You make it seem like it's possible'."
If an outcast and oddity like Brian can make it, so can they. So can I.
So if you're bummed that you can't afford the $138 ticket to see him in person, don't be.
Chances are, you've already met a Rich Chigga. You just didn't know it was him.