All images: Zachary Tang/ RICE Media
"Chefs have a firm understanding about only taking small, fixed amounts of crops at a time," Christopher Leow, the 34-year-old head farmer of 1-Arden's Food Forest and executive at Edible Garden City tells me, "otherwise the balance of the food forest's ecosystem risks being disrupted." 
It's an unspoken rule the chefs here at the 1-Arden restaurants, must adhere to. It ensures that the crops are not over-harvested at the farm that sits 51-storeys above ground at CapitaSpring, a commercial building at the heart of 88 Market Street.
The 1-Arden Food Forest is open to the public during select hours and practices sustainable farming techniques along with a closed-loop farming approach—a routine that recycles organic matter material back to the soil that it grew in. Both restaurants here—Kaarla and Oumi—and the food forest have benefitted from this closed-loop arrangement. 
"The organic fertilisers obtained by composting the restaurants' food waste are a good nutrition replenishment for the soil. It's also a plus for the restaurants because they know what goes into the fertiliser, which ends up in the food they serve to their diners."
With their self-sustaining farming methods, 1-Arden hints at a shift in the local F&B scene to counter the issue of produce scarcity, exacerbated by recent food bans such as that of chicken from Malaysia or a shortage of fish for export.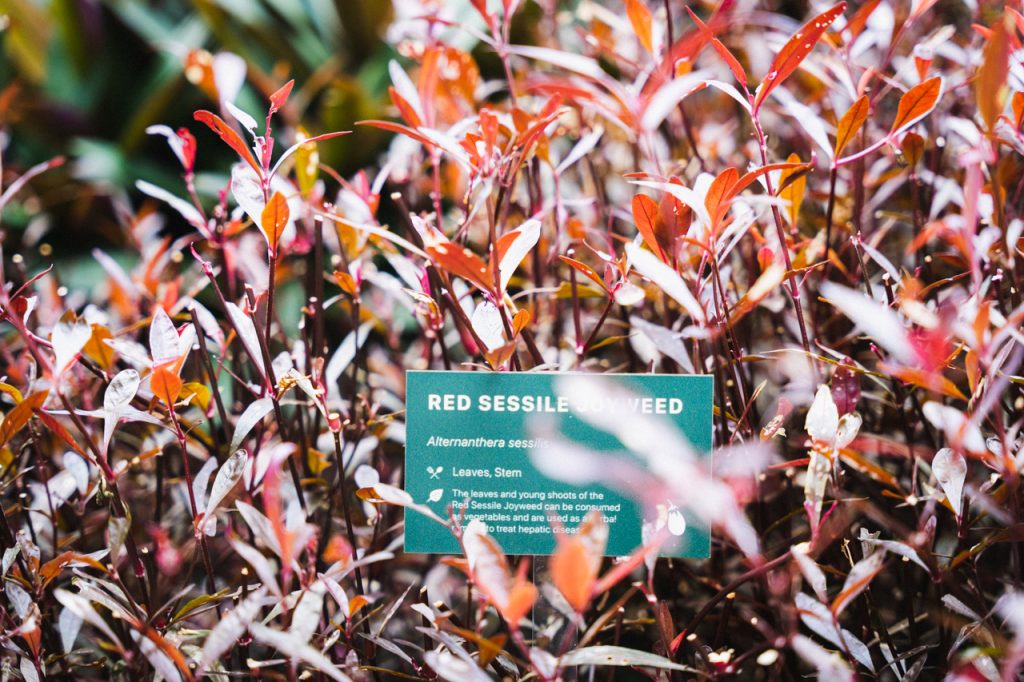 Sustainability in edible gardens
A stroll around the food forest reveals more than the plants found in community gardens. Here, plants of different native species, such as Okinawa Spinach, Rosemary, Lemon Myrtle, and Sabah Snake Grass are neatly planted and grouped in their respective plots of land; Singapore Food Heritage Garden, The Wellness Garden, The Japanese Potager Garden, The Mediterranean Potager Garden, and The Australian Native Garden.
Among these, Christopher, clad in a green shirt, khaki shorts and brown boots, lovingly tends to his crops, meticulous and unfazed by the sun and the surrounding chatter of enthusiastic clamour of retirees and tourists.
"Not all plants grown here are selected for their food value, some are selected because they can contribute to the ecosystem," Christopher explains. As an example, he refers to the Black Face General—the foliage of moss-green leaves a few feet in front of us. Although this plant has cancer-preventing benefits, it is currently not used in the kitchen.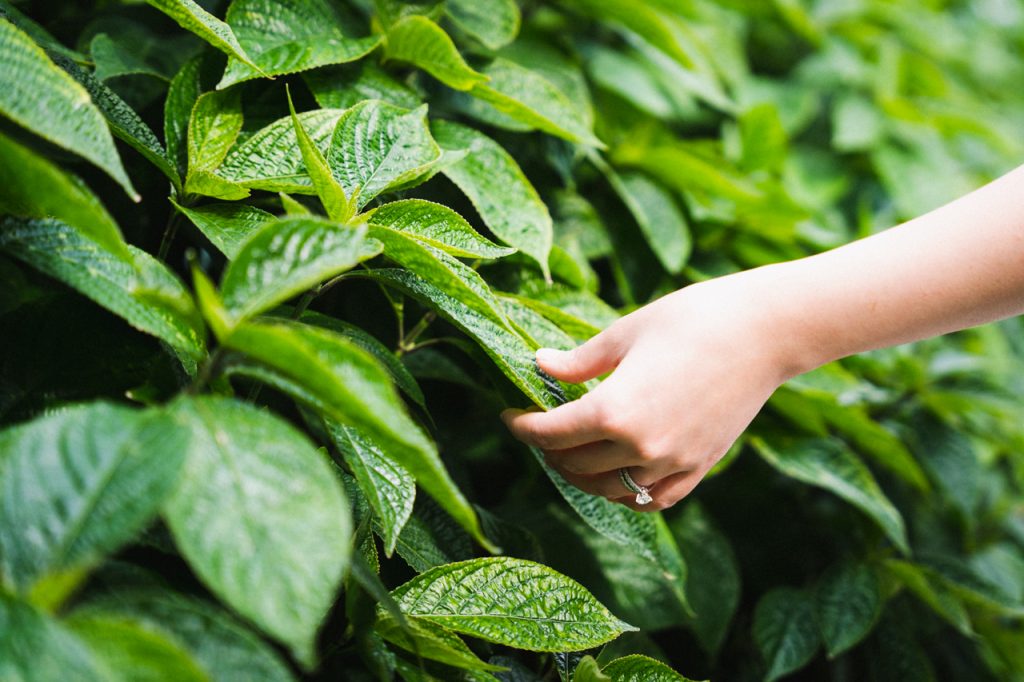 "Some plants in the food forest are there to inject more oxygen into the soil, which will benefit other plants. Other plants, especially the horizontally growing ones like the banana plant act as an armour that shields the soil and microbes from the rain's impact." Christopher explains, "This helps to reduce soil erosion and nutrient runoff."
The practice where the plants act as buffers is also known as a green cover, he explained, which also provides shade to the soil, lowering the temperature for microbes to thrive and improving the crops' health.
"If we want to extend the longevity of the soil for the next generation of farmers in Singapore, I think this practice of using green covers can help with the arability of the soil, and benefit the other plants."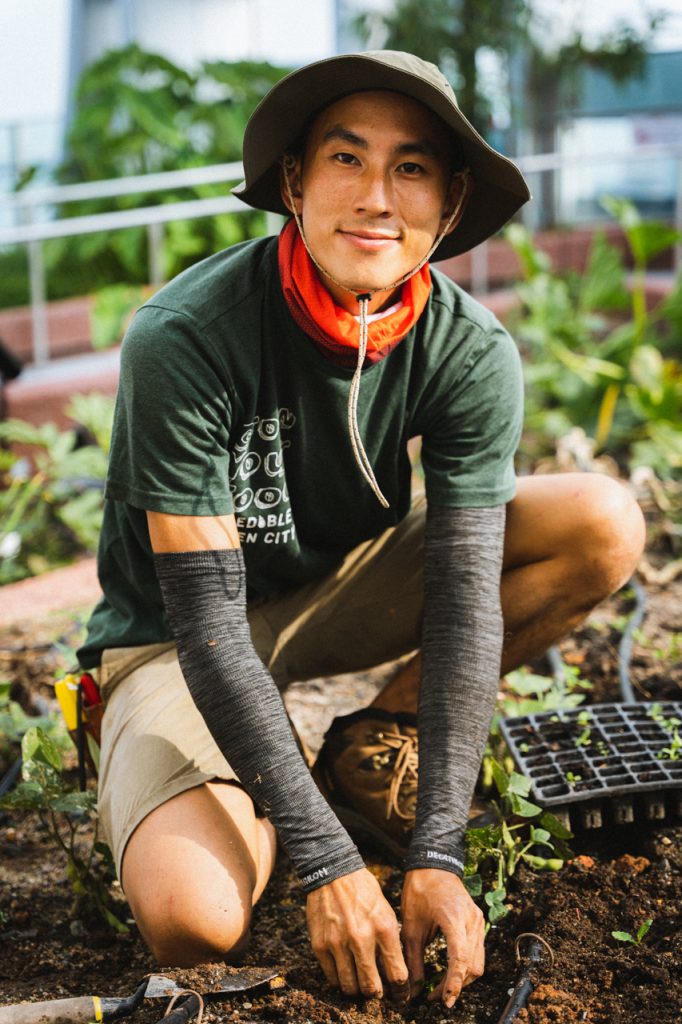 A man with green fingers
Being a farmer wasn't Christopher's first choice of a career. In an interview with Wonderwall.sg, he divulged that he was originally pursuing a degree in aerospace engineering—a decision he made due to societal and family pressure.
Eventually, he decided to become a chef. But the huge amount of food waste generated in the F&B scene, particularly in fine-dining restaurants, shocked him.
This pushed him to explore other options for producing food, Christopher said during a live stream on Ethos Books Facebook Page. "I also wanted to better understand where food comes from, so I went for a 7-month backpacking trip around the world."
The whirlwind journey landed him at a self-sufficient farm in New South Wales, Australia, where he stayed with a host family.
"Living with them really changed my perspective," Christopher shared on the live stream. "All their energy and food was created on the land they grew, they were completely self-reliant, and did not need any electrician's or plumber's help."
"I learnt so much there, so after I came back to Singapore, I've been advocating for this movement where we could be more self-sufficient."
Upon returning to Singapore, Christopher embarked on a few agricultural projects such as Nutopia, a community garden on a multistorey car park's rooftop in Serangoon North. He also joined the farming team at Edible Garden City as the Urban Farming Executive, growing food in underutilised spaces like rooftops, before being appointed the head farmer at 1-Arden Food Forest.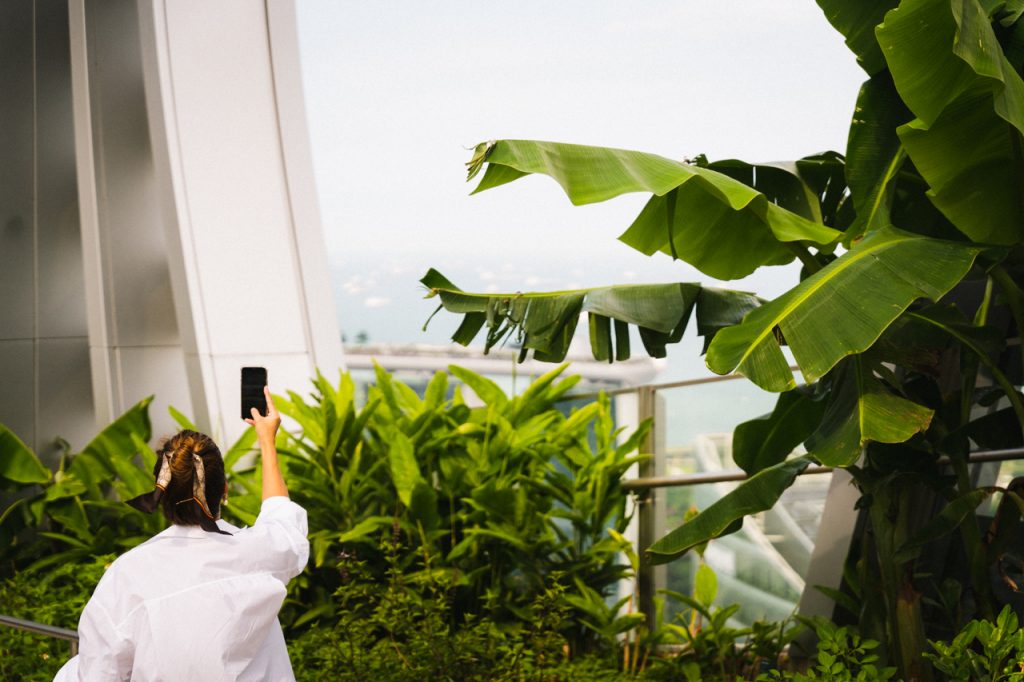 Composting as the new frontier
On a typical weekday, crowds of locals and tourists scatter around the food farm, armed with selfie sticks and smiles, while others stand quietly before the vedure, admiring them wordlessly. Camouflaged between the leaves, a black rectangular container around the size of a desktop processor is quietly humming away from prying eyes and unsuspecting casual visitors.
This mysterious box is Christopher's composting station.
"I hide it from the public because it's quite unsightly, "Christopher laughs. "This is where I ferment the fish guts or bones from the kitchen's food waste. When it's done, I will try it on different soil beds to see if it helps inject more nutrients."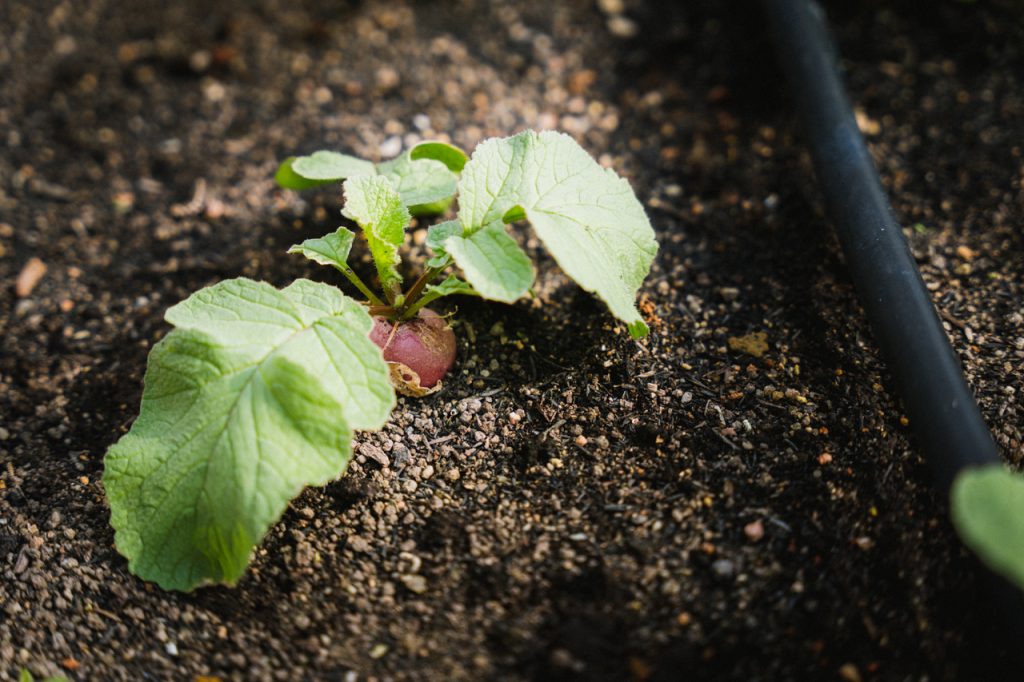 Such a practice involving recycling food waste into fertilisers could lessen the increasing amount of food waste in Singapore, which has increased in 2021 by 23%, compared to 2020, instead of contributing to it. "This is a meaningful way of recycling food waste since it can also better crop health," Christopher shares.
But he feels that these regenerative farming practices—sustainable practices to cultivate crops through soil restoration—have been overlooked in favour of agriculture technology.
This is especially after the announcement of the 30 by 30 plan – a goal by the government to self-produce 30% of local food by 2030 through bolstering the local agri-food industry.
"Much attention has been given to agriculture technology and mechanised farming systems. While that focus is not inherently bad, such systems might generate large amounts of waste and use significant resources."
A study by the University of Washington revealed that energy-intensive processing machinery used in farming is powered by fossil fuels, which leads to carbon dioxide emissions. An analysis of wastewater from processing plants in Mexico—used to process harvested crops— shows that the water is polluted with traces of heavy metals, from the corrosion of the plant's machinery.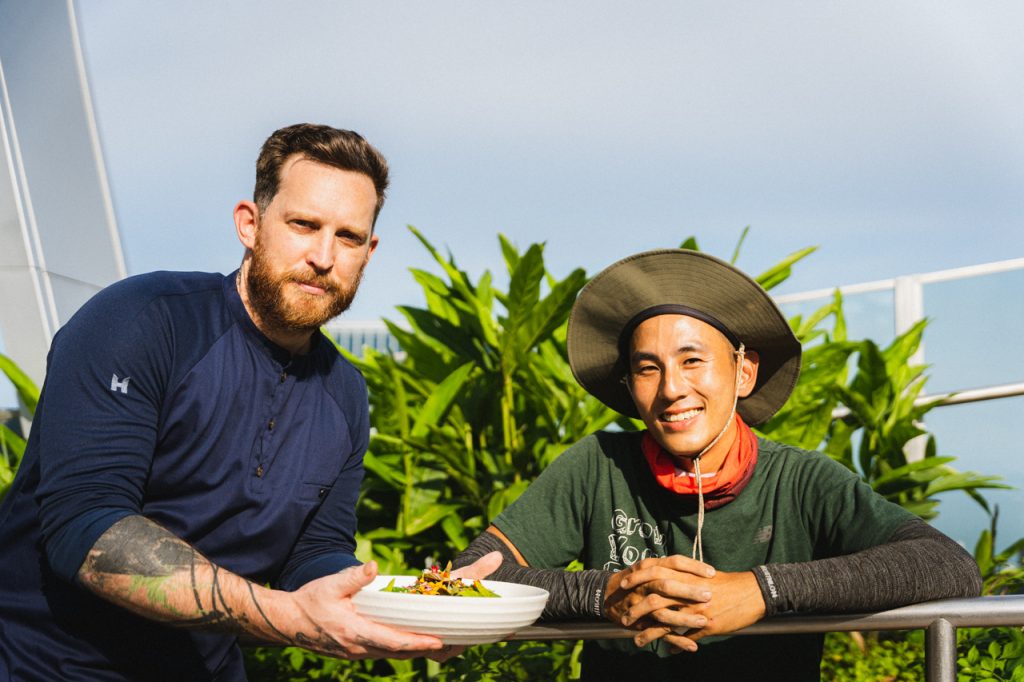 A harmony between F&B concepts and local farms
Beneath some large, lobed leaves, a few butter-yellow, half-open buds lay basking in the shade. These are soon-to-be pumpkin flowers, Christopher shares, and an ingredient the chefs are planning to harvest once they blossom.
He points out that, unlike imported produce, the kitchen team can utilise ingredients like pumpkin flowers in their prime, especially since these flowers only blossom for three to four hours a day, an advantage most traditional kitchens are not afforded.
A distance away from the pumpkin plants, a tall, bearded man clad in a dark blue shirt and black pants brisks toward us. He is John Paul Fietchner, the executive chef of the 1-Arden restaurants.
Later over Zoom, Chef John shares that using fresh produce, rather than imported ones, does make a difference in the dish's taste. He recounts how many diners have commented about the unique flavour and freshness of the dishes.
Moreover, the regime for both Christopher and himself is relatively exploratory, when compared to the run-of-the-mill routine for chefs and farmers, Chef John believes.
"Christopher is still shifting the plants around, trying to figure out the optimal spots in the food forest for the plants. And with the different harvesting dates for different crops, the ingredients chefs use change daily too."
This experimentation does have its drawbacks, especially regarding the productivity of chefs who are used to a steady and reliable supply of produce. Chef John, however, simply chuckled in sheer enthusiasm when asked about the challenges of the inventive nature of his role.
"I think it's every chef's dream and what chefs will look forward to. We're always thinking and tasting, seeing what we can do next. Since the produce changes daily, it's quite an exciting way to cook."
Of course, such trial-and-error processes are akin to feeling in the dark for chefs and farmers. Chef John reveals that the unconventional nature of their practices can be logistically challenging for both parties. "For our ingredients, we have to think a month or two ahead on what we can grow and how we can use the excess produce."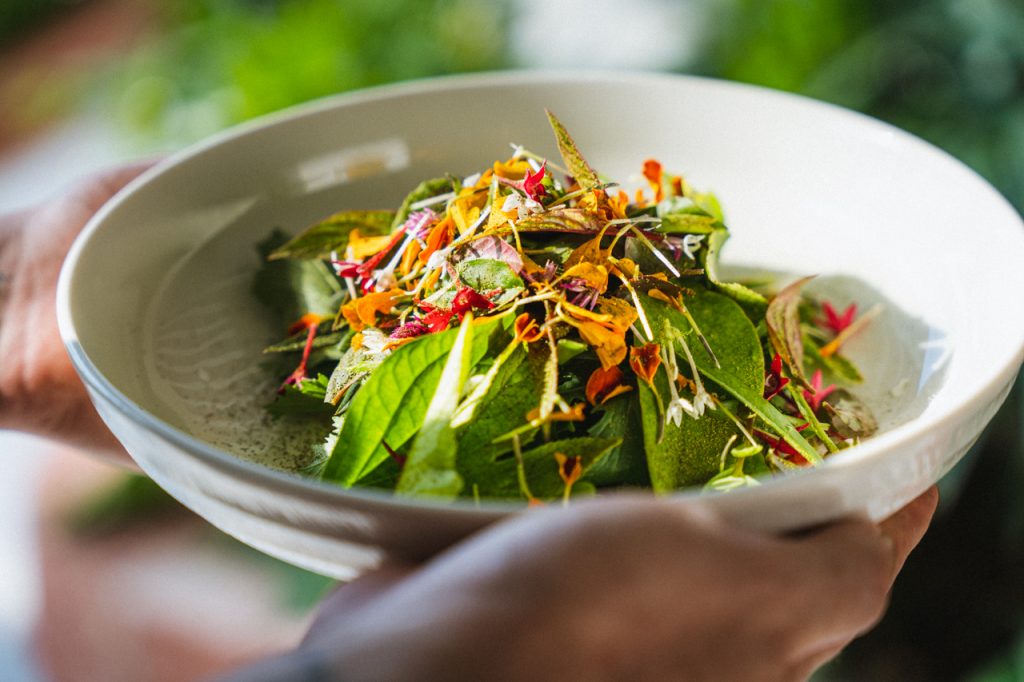 A lesser reliance on imported produce
"Many young people here are interested in farming," Chef John shares. "It's quite uncommon, especially where I'm from in Australia. I think a lot more restaurants will start growing their food." 
Christopher agrees with John that there is an interest in farming in Singapore, noting the rise of community gardens around the island.
"Regenerative farming can truly help to achieve many of our objectives related to food production in terms of yield, which is aligned to our national 30 by 30 goal. The best part is, in addition to that, it benefits the environment," Christopher explains.
With his experience growing produce in underutilised spaces like rooftops, he believes that many unorthodox spaces in Singapore have the potential to be utilised for farming.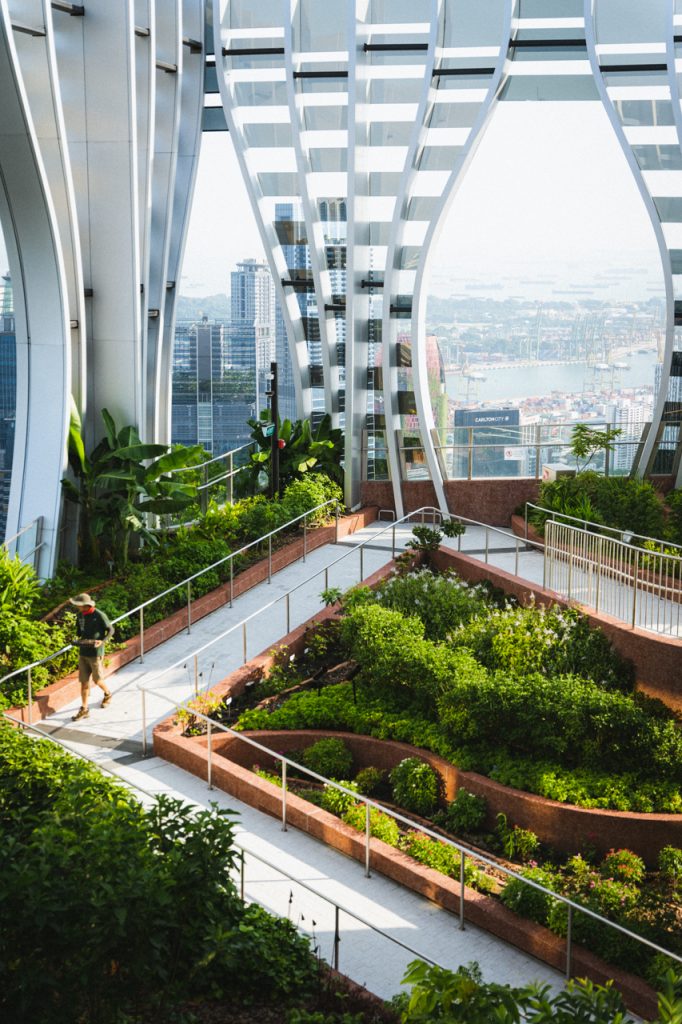 "The lower temperature of the environment here on CapitaSpring's rooftop helps the plants grow better," he adds. "Space would not be such a pressing problem, which was the case for conventional farming."
Nonetheless, Christopher believes in the vital need to grow what we eat in Singapore. "Especially in these geopolitically uncertain times where our traditional sources of imports are being shaken from climate change and political events. Just look at the global sugar shortage and the recent Malaysia Chicken ban. We need to increase the supply of food grown locally."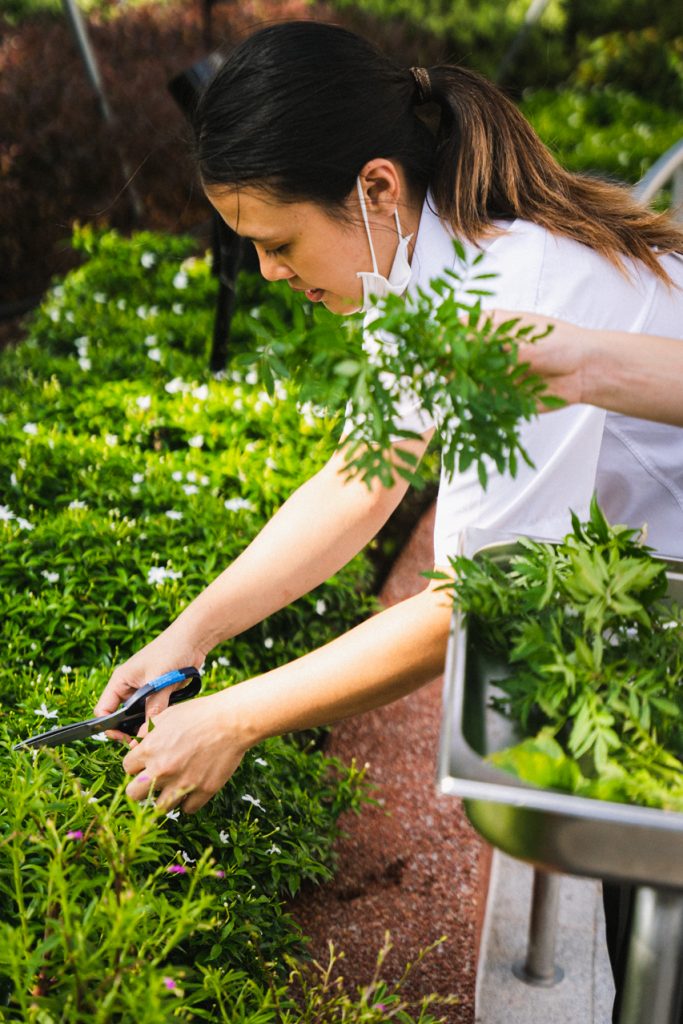 No longer a sunset industry
The future of farming in Singapore seems palpably bright, with mutually-benefitting and self-sustaining concepts like 1-Arden serving as a telltale sign that farm and restaurant collaborations can farm uniquely and still achieve productive outcomes.
Farms would no longer be short-changed for the lack of land in Singapore with the innovative use of space. This is a step towards higher local food production and our 30 by 30 goal, which also signifies a foot forward to reduce reliance on imports of farm produce.
"I think there is an interest in gardening in the general public, and this tends to be the most difficult to cultivate,' Christopher tells me when I ask his thoughts on the future of the local F&B scene incorporating a food garden such as the one here at 1-Arden.
"It is a good starting point for many, who otherwise would not be exposed to urban farming, to understand and appreciate the effort that goes into sustainable farming," Christopher elaborated. "Working with restaurants and culinary teams like the 1-Arden team also makes our produce more interesting, relatable, and even exciting to the general public."
---
If you haven't already, follow RICE on Instagram, TikTok, Facebook, and Telegram. If you have a lead for a story, feedback on our work, or just want to say hi, you can also email us at community@ricemedia.co.