All images by Zachary Tang unless otherwise stated.
'Before Service' takes you behind the scenes to the hours before an F&B outlet opens for lunch or dinner service. The hope is to shed some much-needed light on the humans who work tirelessly behind the scene to present a dining experience that is memorable and meaningful to the diners. Behind closed kitchen doors, what stories do these F&B staff hold?
We start off the series with a Singaporean-owned restaurant, Pangium. The restaurant is the brain-child of Singaporean chef Malcolm Lee, who, together with a team of industrious and zealous restaurant staff, presents a menu of selections inspired by comfort food from the Straits.
It's just after 1.30pm on a Thursday when I finally find reprieve from the blistering heat at the entryway of Pangium.
At seven months old, this restaurant at the fringe of Singapore Botanics Garden is a baby, birthed into this world by Chef-Owner Malcolm Lee, 38. The Singaporean chef's first project, Candlenut, carries the honour of being the world's first Michelin-starred Peranakan restaurant.
At Pangium, Chef Lee delves head-first into the world of Contemporary Straits cuisine—the food our grandparents cooked—reimagined with a modern twist.
The twists are subtle, classy. On the menu are items like tempoyak (a Malay condiment made of fermented durian) using Mao Shan Wang flesh, buah keluak sambal with oxtail and serunding daging (beef floss with roasted coconut), achar with rose apple, lotus root, starfruit and guava, and a hand-minced duck satay wrapped in caul fat.
I'd love to eat them all. But I'm here to demystify what goes on hours before a restaurant starts dinner or lunch service. Often, it's easy to critique, condemn, and shame an F&B outlet by the output they present—and in some small ways, that's fair.
But, if you know the life stories, deep-seated motivations, and honest goals of the people behind the scenes who are working tirelessly to present an experience for you, would you be able to practice empathy? Would you be more understanding?
In any case, I'm really expecting a lot of pushing, shoving, screaming, and panicked cries of "Get the fuck out of the way!" ala The Bear (just finished season one!). Fingers crossed
Chef Lee's wife, Jessline Lee, 33—also Pangium's Senior Operations Manager—greets me at the restaurant's entrance. Her sprightly demeanour instantly eases my nerves, which I attribute to my hope of not intruding on the team's service preparation. After all, I expect people to scream at each other—not at me.
She invites me for a stroll around the kitchen, introducing me to the chefs hard at work. Dinner service starts in less than six hours.
Six hours is not a lot of time for food prep. Still, the kitchen is a picture of tranquillity and calm. Soft pop melodies play in the background amidst a metronome of chopping, slicing, and dicing. No one's yelling.
It's all so meditative. So focused. I feel I'm not about to see any sort of dramatic ego trip play out in this kitchen. "But the day is young, and I do love drama.
1:30 PM — Kitchen
For at least the first two hours, the chefs are buried in their workstations. Only murmurs are heard in the kitchen, save for the clattering of pots being stirred and the rhythmic see-sawing of knife work. The sound of a knife sawing through celery is greatly amplified in a kitchen as quiet as this.
The team is in good spirits; they run like a well-oiled machine. Chef Lee takes the lead at the helm, setting the tone for the evening's service with a steadfast strategy in hand.
"The team will check through reservations, dietaries and table requirements, mise en place, ingredient order, organising for the week, and organising their station ahead of service," he tells me.
"There are a lot of little details in each of these tasks. Missing one small detail can cause stress and hold the team members and the service back."
As for Chef Lee, the first thing on his mind is to complete all the urgent administrative work—not limited to replying to emails, HR matters, menu planning, ingredient and equipment sourcing, and campaign engagements—so he can fully focus on the kitchen. "Because once I am hands-on, I will fully immerse myself in it, and that will be the only thing I do until the end of service."
Helping him maintain discipline in the kitchen is his right-hand man, 32-year-old Executive Sous Chef Brian Chan. Before joining Candlenut, Chef Chan had a head start on his culinary career at Michelin-starred French restaurant La Folie in San Francisco.
He is tasked primarily with preparing each course's varying components, including portioning cuts of meat and searing them before they get used in different dishes. From amuse-bouche to main courses, he ensures they are expertly executed.
Chef Chan is also responsible for assisting the team with any other prep required for the day.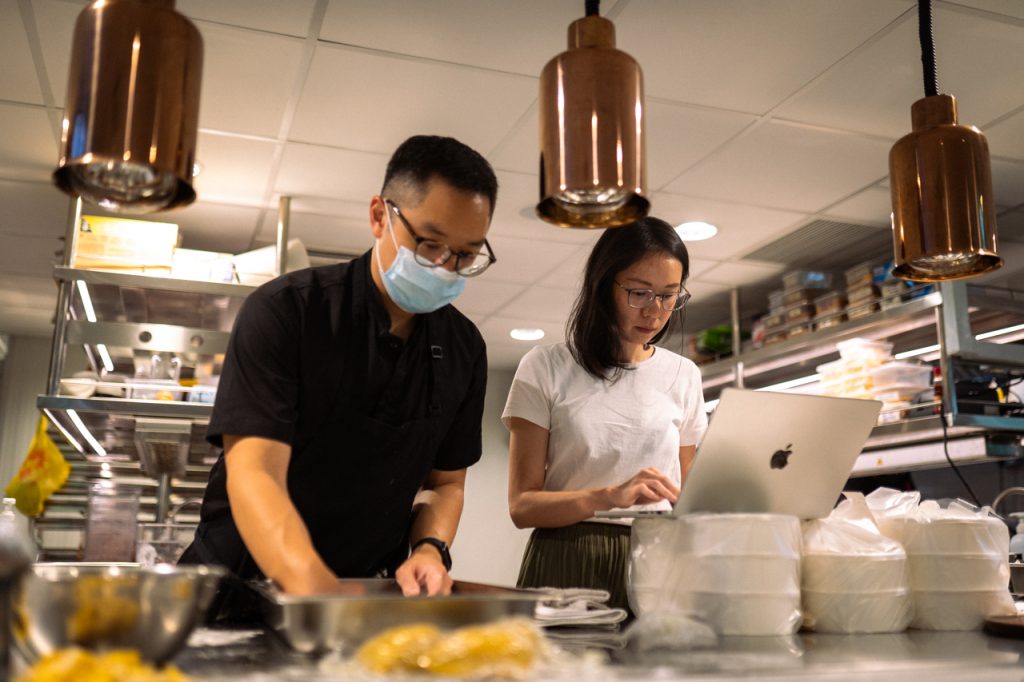 Just out of my peripheral vision, Chef Lee assists a fellow chef with a pot of bright yellow curry and doles out advice on the intricacies of cooking it. Its aroma is only mildly earthy at this point, but I'm confident it'll blossom into a potpourri of spices with time.
"You have to keep stirring to avoid burning it. It'll also get thicker over time," Chef Lee points out.
2:15 PM — Front-of-house
At 2 PM, the front-of-house staff report for duty. Senior sommelier Helen Chong, 43, hosts a meeting with a wine supplier in the private room while Assistant Manager John Tnee, 32, sets the tables.
Chong was previously a sommelier at Summer Pavilion, while Tnee was at Odette for two and half years before a stint as Assistant Restaurant Manager for Esora.
While setting tables might seem rudimentary—or possibly inconsequential—when it comes to the dining experience, Tnee justifies that a well-placed table demonstrates refinement and great attention to detail.
This is demonstrated by his insane precision in setting out cutlery and glasses. Every hand movement is deliberate, and every napkin fold is symmetrical.
"Guests generally don't see the level of precision in our table setting. But everything is in the details; it shows our level of attention and the general tidiness of a full table setting," Tnee elaborates.
Once again, the long arm of social media finds another way to influence Singapore's F&B industry. Given Tnee's attention to detail, I'm sure he does intricate table settings even when no one's looking—like when he's at home, for instance.
Tnee brings 14 years of F&B experience with him and works the factory line of folding napkins as he shares his favourite part of working at Pangium.
"I love tasting the food and wine. In my opinion, if you only eat to live, you are unable to express what the chefs' intentions are," he excitedly tells me. I can tell Tnee has a fondness for his work as he pauses at each table to observe his immaculate table setting.
Restaurant Operations Manager Lee Jia Ling, 34, oversees the table settings and ensures the front-of-house supplies (napkins, menus, forks, spoons, small spoons, big spoons, soup spoons—you get the gist) are sufficient and organised for a seamless service.
Her composure mirrors the kitchen's calmness as she multi-tasks, sorts menus, and holds idle chatter with Tnee.
"As front-of-house, we act as the bridge between chefs and guests. We are the medium to share stories about the cuisine and the restaurant concept while delivering professional service in the dining room," she explains.
Ling adds that finding the right talent who understands hospitality, is willing to put in the hours, and brings a huge deal of passion and love for people is a real challenge here in Singapore.
Formerly of 3 Michelin-starred Odette, she works in tandem with Tnee to set the scene for the evening's dinner service.
Ling left her post at 3-Michelin-Star Odette in search of a change of pace, which Pangium has fulfilled. "The work-life balance here is great and something I truly appreciate."
Like Candlenut, Chef Lee's 1 Michelin-starred restaurant, the team operates on a roster with a four-day workweek.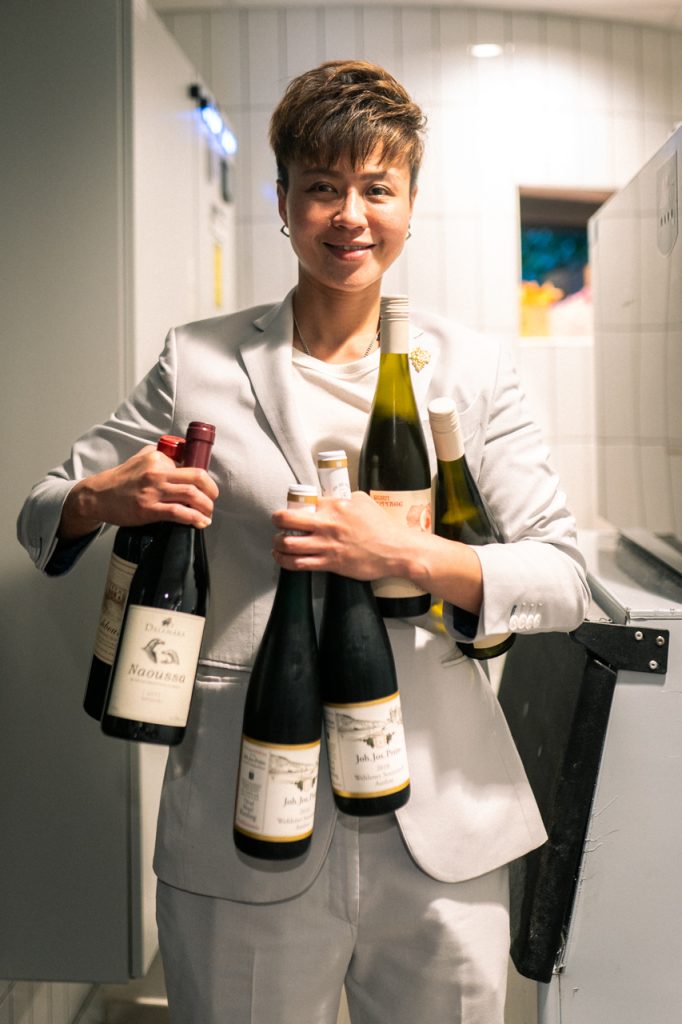 Chong manages the wine list at Pangium—she organises them by flavour and taste as opposed to the varietal or country of origin. When navigating Asian flavours, Chong leans on the sauces to find the most appropriate pairings.
"An integral component in Pangium, and much like the cuisine in the region, are sauces which I use to navigate wine pairings," Chong says.
"I usually pick wines with low tannin and medium-to-high acidity for dishes with buah keluak, belachan, and sambal. The acidity helps to balance the flavour and can be used as a palate cleanser," Chong elaborates.
As Chong is engaged in a meeting most of the afternoon, my brushes with her are brief. She's a busy bee fleeting here and there, always in motion. But her in-depth knowledge of wines and spirits is undeniable and, in no small way, impressive.
I make a mental note to ask her for a wine recommendation for home. I'm hoping she might hand me a bottle to bring back.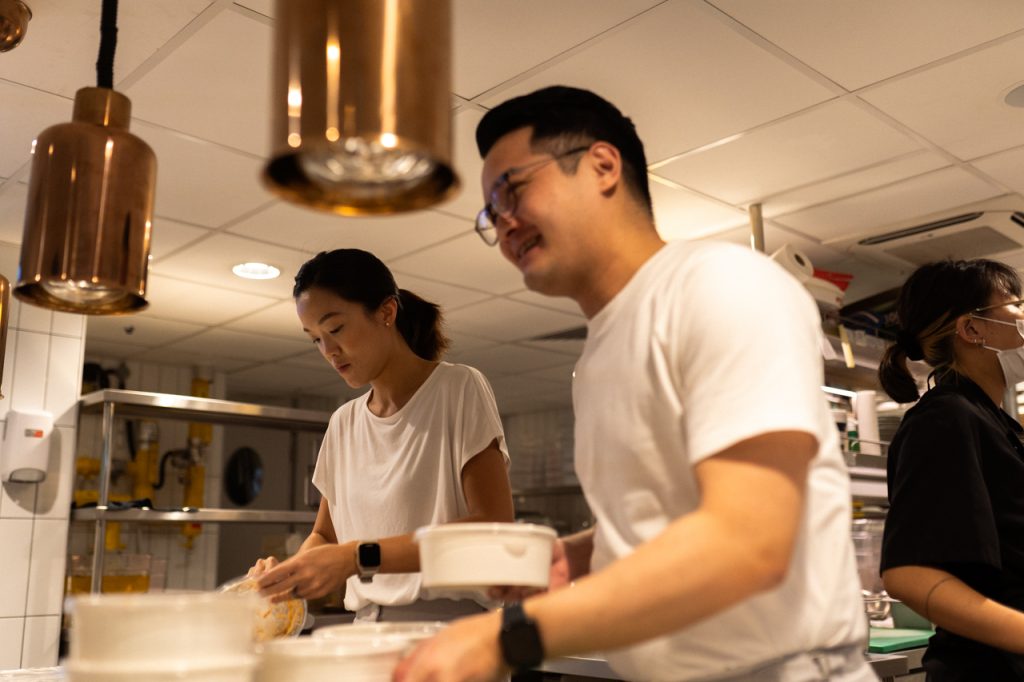 It's almost 4pm, and we're inching closer to service time. But before that, the team needs to be fed in what's known in the industry as the family meal.
Jessline emerges from the kitchen to take orders from the front-of-house team. She even takes down mine, a generous gesture that's unexpected but undoubtedly heartwarming.
In a restaurant, the family meal serves more than just a moment of sustenance for everyone. It's also an opportunity for the team to break bread and bond over conversations outside of their daily grind. Today, the team's family meal is Korean cuisine—my favourite.
3:45 PM to 5 PM — Back to the Kitchen
I pop back into the kitchen to see Chef Lee still slaving over the pot of curry from earlier in the afternoon. I hope he hasn't been standing over the stove since last I saw him two hours ago—though given Chef Lee's perfectionist tendencies (which chef isn't?), I wouldn't be surprised if that's the case.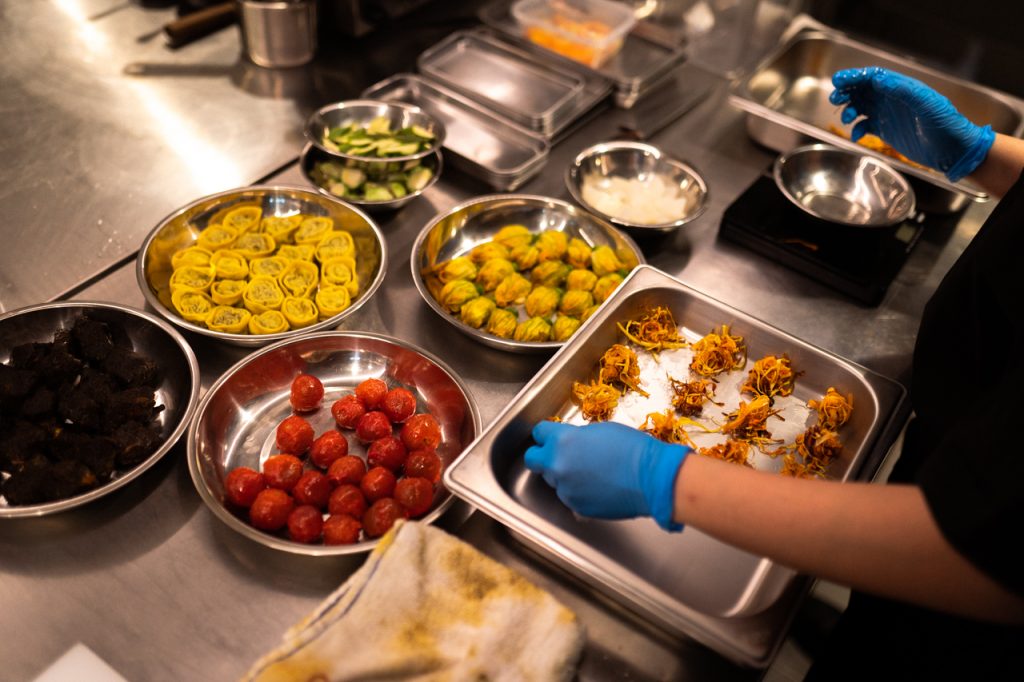 "Sometimes we are so focused on prep work that we don't hydrate ourselves enough, and eating becomes a second priority," he says. Chef Lee acknowledges that this hyperfocus sometimes leads him to neglect his well-being.
With dinner service quickly approaching, the kitchen is quieter now as the kitchen crew hustles to complete the tail-end of service prep. Jessline sidles up next to me. As we observe the room for a bit, she shares with me the quality she looks for in the hires at Pangium.
"Hospitality is wanting to take care of strangers, which translates into the willingness to take care of guests. That's what we look for in potential hires."
For them, a more desirable trait is someone with passion and compassion who can translate their efforts into a successful service.
"When hiring, we don't necessarily look at someone with years of experience; it's about understanding the spirit of service," Jessline reveals.
A team of pastry chefs from Candlenut enters the Pangium kitchen bearing sweet offerings for Chef Lee to try. This happens when Chef Lee is short on time and unable to pop by Candlenut to check on the team's progress when coming up with new or seasonal dishes.
For the most part, Chef Lee greenlights the desserts—except for a few components, like a cookie base for a mango sticky rice treat that he sets aside before eating whatever's left.
It's culinary sass if you ask me.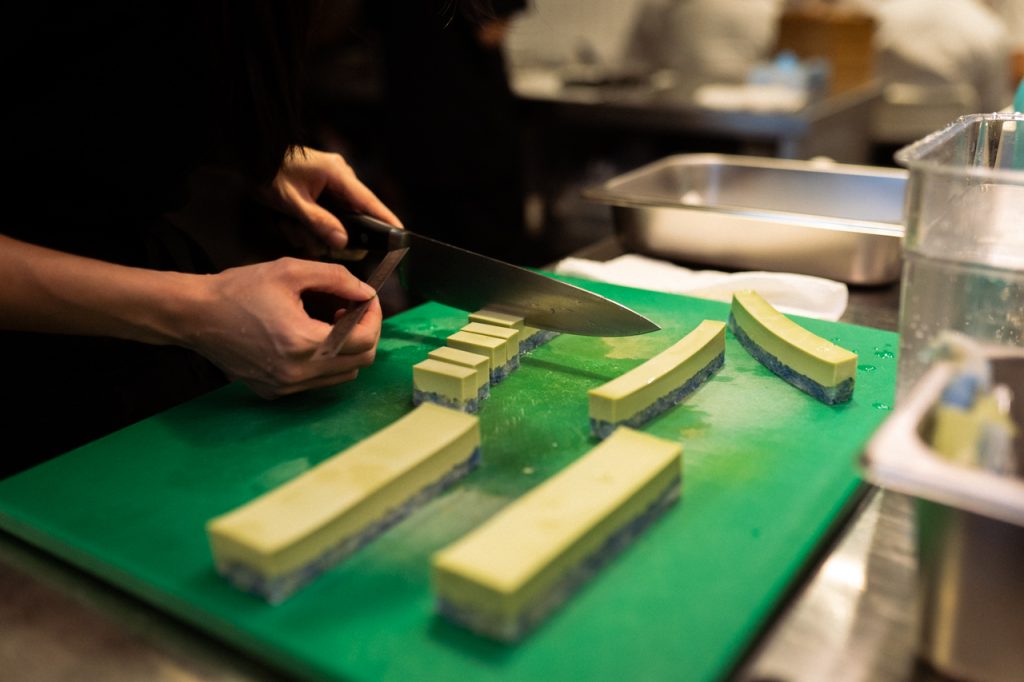 The evening's desserts are slowly coming together—including a scaled-down portion of Candlenut's Kueh Salat. There's precision and patience needed for portioning. A trusty metal ruler—duly sanitised, of course—is used to measure each rectangle of kueh for accuracy.
Pastry Sous Chef Ham Hyeseon, 29—who previously worked at contemporary French restaurant Gunther's in Singapore and then at Michelin-starred Jungsik in Seoul, Korea—agrees that this is the restaurant's most challenging dessert to create. But that's not to say everything else is a breeze.
"Despite having a recipe that we follow to the letter, adjustments are constantly made based on the daily temperature and humidity to ensure that every bite of our desserts at Pangium is created at an optimal level for guests," adds Chef Ham.
5:15 PM to 6 PM — The Guest Sheet
The kitchen's energy shifts again as dinner service draws close. Knives, chopping boards, and other excess produce are labelled and stored away, while prepped ingredients are set aside for cooking and assembly.
The front-of-house team brings the guest sheet to the kitchen. The sheet of paper details the number of guests for the evening, along with dietary considerations, special requests, and any other information the kitchen needs to take note of.
I subconsciously step aside, half-expecting the pace of the team to quicken with urgency as service is close to commencing.
Tonight is a partial house; only 19 people are on the guest list, including a few returning guests. At capacity, the restaurant can seat 28—but for a Thursday evening, this is already considered quite a feat.
Armed with clean towels, Jessline and Ling are wiping down wine glasses at the back of the kitchen. The rest of the front-of-house team slowly trickles into the kitchen to have their family meal—the delivery order placed by Jessline earlier.
This unassuming gathering brings to mind an earlier sentiment she shared. "If we take care of the house, we can take care of service. To be able to look after guests, we must first take care of each other."
Everyone looks to be in high spirits. Chong notices a team member drinking a cup of coffee and comments that it's impressive that he can consume coffee so late in the day without worrying about the risk of insomnia.
"It's all mental; if you think you won't be able to sleep, you won't be able to," he replies. The whole table chuckles in amusement.
The rest of the kitchen crew are putting the finishing touches on their prep and mise en place, organising their stations for dinner service. The show is about to begin.
6 PM — Front-of-House
The front-of-house team gets dressed and prepares for the pre-service huddle—a routine briefing that keeps everyone informed of what to expect in the next few hours. Their attires mirror the dining hall's muted hues—a pale grey blazer, matching pants, and a white t-shirt.
Jessline leads the briefing, noting that one of her friends on the guestlist that evening has a disability. She forewarns the team that her friend may require additional assistance and due consideration during dinner.
It's also a night of celebration for most guests—birthdays and anniversaries—except for a table belonging to one Mr Chen. A 'welcome celebration', marked by a simple extra sweet treat, is prepared for him so he too can partake in the festivities.
Chong then briefs the team on suggested wine and sake pairings for the evening, noting a slight change for this updated menu. She takes on a nurturing tone, educating the team on encouraging diners to order sake that evening for better alcohol pairings. Everyone listens in rapt attention.
They also briefly discuss what needs to be prepared and arranged ahead of a private event the next day.
Part of Jessline's job is to boost spirits, and she shares feedback from the guests on the previous day's service. This consistent support and encouragement is a testament to Pangium's belief in wanting to be a breeding ground of positivity and growth—a quality frequently forgotten in a dog-eat-dog industry.
"The food was amazing, and the pace was excellent," she shares. "All of us put our hearts on the table and genuinely looked after them. So, let's do that again tonight."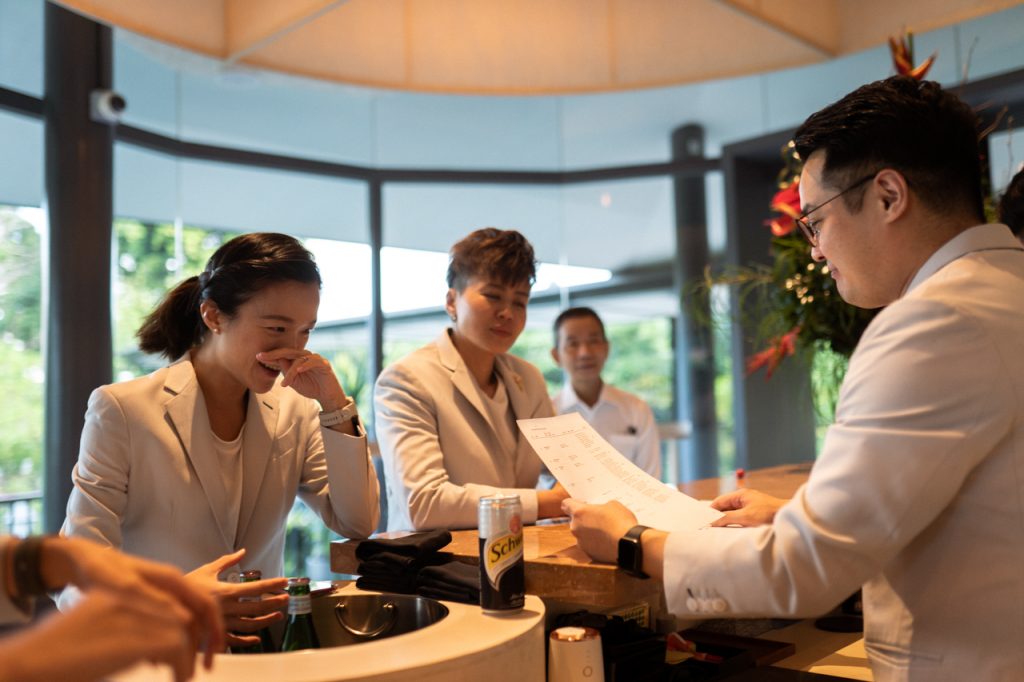 "On the floor, let's take care of each other and extend hospitality to our guests. Okay, guys, let's do a great one tonight. Thank you so much—have a good one!"
Mellow music pipes in through the dining room speakers, signalling the cue to take my leave. Jessline leads my photographer, Zach, and me to the kitchen's back door with our takeaway dinners.
We thank her and steal a quick glance at Pangium's dining hall, now fully lit and glowing like a lantern in a dense forest. The first couple of guests have already taken their seats, and from what I've seen this afternoon, I am certain they're about to have a good time.
6:30pm — Service Begins
---
If you haven't already, follow RICE on Instagram, TikTok, Facebook, and Telegram. If you have a lead for a story, feedback on our work, or just want to say hi, you can also email us at community@ricemedia.co.