Top Image: Pink Dot SG
At noon on March 23rd, young Singaporeans who, unlike me, weren't terminally online enough to have heard the news earlier, would have found themselves tapping on a link embedded in someone's Instagram Stories, only to find an error page saying the survey was no longer available.
REACH Singapore, a department under the Ministry of Communications and Information, had just opened a survey to gather public opinions on attitudes towards the LGBTQ+ community. The day after it was published, I heard—or more accurately, read while idly doomscrolling to avoid having to make eye contact in my university's crowded shuttle bus—about the survey on someone's Instagram story. Shortly after, I received a cryptic Telegram message from a friend about it.
"Do fill out this survey if y'all have the time!"
It was accompanied by a heart reaction from myself, pretending that I had even read his message or visited the attached go.gov.sg link that I had assumed to be nothing more than the usual government survey whose purpose was nothing more than to, in typical government-speak, "listen to the ground," without any specific action promised.
Needless to say, I didn't expect that it would soon dominate the airwaves—or 24 hours of social media ephemera.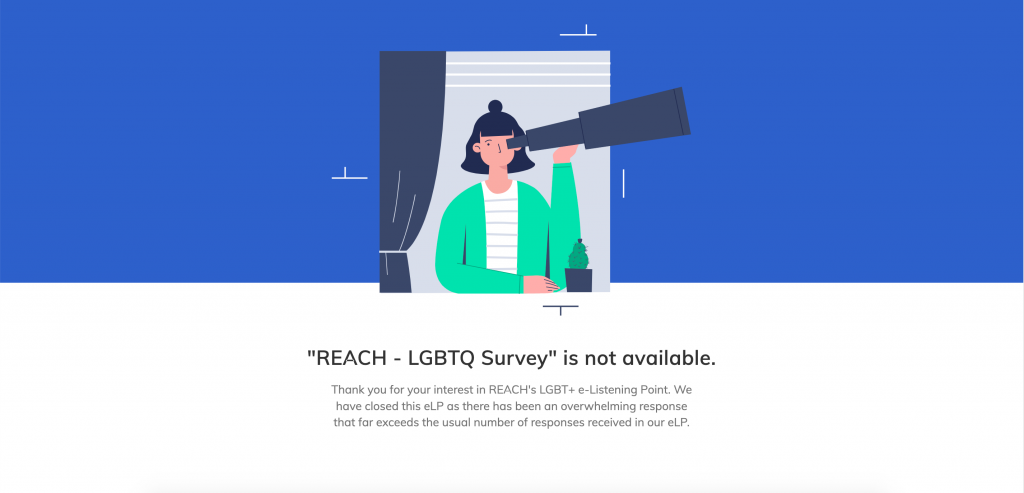 Fastest fingers first
Probably like most of you, I found out about the REACH survey's closure the same way I learnt about it: social media posts expressing dismay, if not annoyance, about the survey's short-lived fate.
My favourite reaction was one comment on a Reddit post: "I poured my heart out with my life story and teared up when writing it, only to have it blue ticked :("
A number of theories explaining the survey's abrupt closure soon followed on social media and online forums.
One theory, probably semi-ironic, posited that the government had wanted to hear the opinions of the public, but the responses were getting too supportive in favour of LGBTQ+ people, prompting them to take it down.
Those on HardwareZone's Eat Drink Man Woman seem to believe that this is due to the gays rounding up their foreign conspirators to inundate the survey. Of course, this theory could work the other way as well, with the survey making its rounds among those antagonistic towards LGBTQ+ interests.
Another theory, of a flavour characteristically Singaporean in its pessimism, was that the government had no intention of repealing Section 377A in the first place and was conducting a survey merely to show that it had at least tried to collate responses beyond lip service, or even gather an arsenal of negative responses to support its retention of the law.
My theory is grounded less in evidence than in wishful thinking: the survey, designed to collect public feedback, might have been intended to fly under the radar and receive little publicity, as with most REACH surveys. (Historically, a handful were given a signal boost on their social media channels. Needless to say, a signal boost wasn't necessary for the LGBTQ survey.)
Subsequently, LGBTQ+ individuals and allies working in the government might have quietly spread information about the survey with their friends and trusted circles. Or it might even be government units themselves that covertly shared the survey with LGBTQ+ community groups they work with. Perhaps they wanted to gather purposeful feedback via official channels from the relevant members of the population who are impacted by the law.
They might have wanted to do all this in relative obscurity so as to minimise the noise that is inevitably generated by reactionary conservative groups whose sole raison d'être seems to be the Sisyphean task of pushing back as the tide of public opinion continues to shift in favour of the LGBTQ+ community.
My wishful thinking and stupid optimism aside, supporters of LGBTQ+ interests promptly left comments on Instagram posts by pages such as Wake Up Singapore, advising them to remove the post, so it doesn't gain hypervisibility and fall into the hands of conservatives who are inimical to LGBTQ+ interests.
A text message received by TheHomeGround Asia similarly instructs recipients to circulate the link only among closed networks and not on social media.
The threat of conservative astroturfing is palpably felt by some LGBTQ+ activists and individuals. Anti-LGBT circles so frequently wield the "silent majority" narrative, co-opting the silence of those who are either on the fence or have no opinion. The opposition against LGBTQ+ acceptance is hence rendered to look bigger than it actually is, like a shadow that can be seen but ultimately contains no substance.
Mine is bigger than yours
And so it very quickly turned into a numbers game when people realised that the REACH survey link was posted on Facebook groups such as the infamous We are against Pinkdot in Singapore. The group seems to have refashioned itself as a "public policy group" after years of controversy—its members have gone the extra mile with their homophobic hate speech, with one man even being charged for asking for "permission to open fire" at Pink Dot.
Social media was abuzz with calls from both sides to respond to the survey. The relevance of Section 377A—a law that criminalises sex between men—to conservative heterosexuals remains to be seen, apart from being a rallying point in the so-called culture war.
Nevertheless, voices from both sides called on their supporters to participate in the survey. Both supporters and opposers of repeal openly did so on their social media groups and channels.
LGBTQ+ advocacy group Pink Dot similarly called on its followers to participate in the survey. However, they urged users to regard the survey not as a numbers game but as an opportunity to move beyond dichotomies between majorities and minorities to have "real conversations" about LGBTQ+ experiences in Singapore.
Indeed, as the aforementioned Reddit comment suggests, the REACH survey was more than just a survey, but an opportunity to convey one's heartfelt, vulnerable, almost confessional thoughts, to a state instrument that so rarely listens.
A shoddy survey
Still, several commentators have levied criticism of the REACH survey, rightly highlighting the methodological flaws of the survey and its dissemination, ranging from an apparent lack of security measures to ensure each person can respond only once, to ambiguously defined questions.
For instance, how does one even assess the statement "I feel that the LGBT+ Community is accepted in Singapore"? Does agreeing with the statement mean the LGBT+ community is already accepted enough in Singapore (and therefore, nothing more has to be done), or does it mean they should be accepted in Singapore?
And how was the survey distributed to capture an accurate range of responses that represent what the larger population thinks?
Given the shoddiness of the survey's methodology and sampling method, what good, then, is the survey, which, according to REACH Singapore, garnered over 30,000 responses in two days? And what does the conversation surrounding the survey's very brief lifespan tell us about the current state of affairs?
The survey, released less than a month after the Court of Appeal's dismissal of three challenges to Section 377A, might have been mistaken by some as a sort of referendum.
This seems quite unlikely. Aside from my faith that the government would construct a much more rigorous survey instrument for something that could be controversial, the government isn't even predisposed towards referendums as a means of decision-making in the first place, with the last one being the 1962 referendum on merger with Malaysia.
After all, referendums merely indicate popularity, and Section 377A should be repealed not merely because it is the popular choice but because it has no place in our society.
Being queer is not a choice. And hypothetically, even if it were, what sense does it make to outlaw sexual relations between mutually consenting men, especially with a law that is unenforceable?
Why cling on to a law that, according to documents recently declassified by the British government, was installed in 1938 because the colonial government did not want their European—read: white—officers succumbing to Asian male sex workers?
Furthermore, does the government need to conduct yet another survey to poll citizens on LGBTQ+ acceptance? A study was just conducted as recently as 2018 by the Institute of Policy Studies, which found that attitudes towards sexual relations between two adults of the same sex had become less conservative.
Although an independently run survey by market research firm Ipsos found that more than half of Singaporeans still supported Section 377A, four in 10 thought most Singaporeans are more accepting of same-sex relationships than they were five years ago.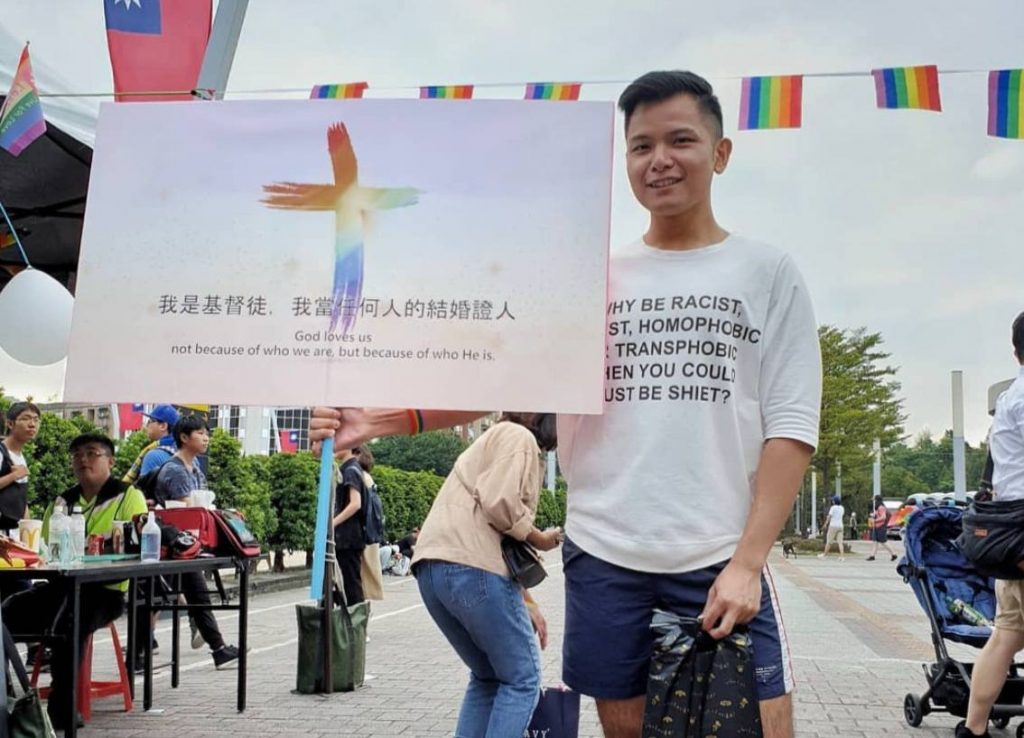 Beyond REACH: Taking charge of the narrative
It is understandable why the REACH Singapore survey carried a sense of urgency for many of us. How often does the government gather feedback on thorny issues such as these? If we don't get our voices heard now, then when can we?
Furthermore, the Speaker's Corner had been closed for two years due to Covid-19 regulations, giving Singaporeans one less avenue to make their voices heard through protest. The Speaker's Corner has since been reopened last week.
During this period, five LGBTQ+ activists had no legal avenue to demonstrate, following a transgender student's account of being denied the right of obtaining hormonal replacement therapy, and held a protest in front of the Ministry of Education instead in January 2021.
With the already narrow window for discourse, can anyone be blamed for wanting in on such a rare chance to be heard?
But there is reason to be hopeful. Over the past five years, the government has conducted closed-door discussions and private visits with various LGBTQ+ community groups, including Sayoni, Oogachaga, and The T Project.
Since then, the Maintenance of Religious Harmony Act has also been updated in 2019 to explicitly protect LGBTQ+ individuals against violence incited by religious groups or movements.
This is not to say that the only next thing to do is to sit around and wait for the next viral survey to show up on our Instagram stories in between memes and reposted TikTok videos. There is more that citizens can do than participate in the tribalistic displays of support that are often enabled with a very low barrier to entry on social media—which, don't get me wrong, can be a powerful tool as well.
But speaking up does not end with poorly publicised surveys with poorly constructed questions. And the ones struggling to cling on to public support for the retention of Section 377A know this, having wasted no time in organising a privately publicised counter-petition, as well as organise a panel about the "artificial values" such as the "freedom to love", with panellists including someone who had previously been detained under the Internal Security Act.
Missed the 12pm cut off? Meet-the-People sessions remain open, conducted once every two weeks. Can't physically meet your member of parliament? Their email addresses are in the public domain.
We don't know when the findings of the REACH Singapore survey will be released, if at all. And we don't know what subsequent steps will be taken either.
What we do know is that political participation can come in many different shapes, apart from an online survey. Pink Dot has announced that it will return to the Speaker's Corner this year on 18-19 June 2022, after two years of being held online.
And still, you don't have to wait until June. Write a letter, make your voice heard, volunteer with an LGBTQ+ community group, or donate to a non-governmental organisation supporting LGBTQ+ individuals in need.
If anything, the response to the REACH survey is proof of a deep-seated thirst among Singaporeans to play a more active role in local politics.
And there are many ways to quench it.
What next?
At Parliament on 4th April 2022, Minister for Home Affairs and Law K. Shanmugam said that the government has been consulting with "diverse groups" of Singaporeans on the matter, and will consider various views carefully as it decides on next steps.
He also acknowledged that "societal attitudes towards homosexuality have gradually shifted" since 2007, when Section 377A was discussed in parliament.
To the uninitiated, the debates that took place in 2007 involved then-Nominated Member of Parliament Professor Thio Li-Ann likening anal sex to "shoving a straw up your nose to drink."
In his parliamentary speech on the matter back then, Prime Minister Lee Hsien Loong said, "We will stay one step behind the frontline of change; watch how things work out elsewhere before we make any irrevocable moves."
"So I suggest… we keep this balance, leave Section 377A alone," concluded the Prime Minister.
Indeed, a lot has changed since 2007, but none of this happened miraculously without the work of community groups, advocates, and most importantly, individuals who were willing to wear their hearts on their sleeves as they used their life stories as material for public education in the face of shocking, clickbaity analogies about straws and noses.
Fast forward to 2022. At Parliament this week, Mr Shanmugam said, "We will consider the various views carefully, and assess the best way forward that tries to balance the different viewpoints."
Now, I am not one to believe in horoscopes, or connecting the dots to imagine something that isn't there. But I most certainly did major in Literature, which trained me to read between the lines.
Saying we have to "balance" different opinions before making a decision is nothing new.
But was the promise of a "best way forward" meant to be a hint of better things to come? The stars seem to be aligned.
---
If you haven't already, follow RICE on Instagram, TikTok, Facebook, and Telegram. If you have a lead for a story, feedback on our work, or just want to say hi, you can also email us at community@ricemedia.co