Top Image: Courtesy of Kimberlee Ang
In Singapore, a nation where rest days for domestic helpers have to be enforced, some employers forget that their live-in housekeeping aides are actual people with interests and lives of their own.
Maybe that's why one particular TikTok video made such an impact. Kimberlee, 40, posted a video of her surprising her live-in helper, Nur, with a concert ticket to catch Suga (of BTS) at the Singapore Indoor Stadium in June.
The 30-year-old migrant worker is one of the lucky fans in Singapore who got a ticket in the ARMY membership presale run. Fans who are part of the K-Pop group's official fan club have priority in snatching coveted tickets. Instead of queueing for tickets with casuals on April 5th, card-carrying fans could get their tickets first on April 3rd.
And if there's anyone who deserves a concert ticket, it's Nur. An underdog story that everyone—BTS fans or not—can get behind.
She Said Never Mind
Nur had approached Kimberlee to ask for help queueing for the tickets because of her unfamiliarity with ticketing platform TicketMaster. But after one look at the ticket prices, Nur changed her mind.
"Initially, I didn't know what the prices were. Nur was the one who told me to forget it. It was too expensive," Kimberlee says.
Prices for the tickets range from $168 in Category 6 (with or without a restricted view) to $348 for a VIP Standing Priority or VIP Seated ticket. A steep price for anyone, really.
But knowing how big of a fan Nur is, Kimberlee discussed it with her siblings and decided they would share the cost of buying a ticket for her.
"She is a very big fan of BTS. We wanted to get her somewhere near the stage so she can really experience the concert and see [Suga] up close," Kimberlee shared.
Rarely do we hear this kindness extended towards Singapore's domestic helpers. A 56-page report released last year by the Humanitarian Organization for Migration Economics revealed the extent of emotional abuse many domestic helpers face in Singapore—acts that range from "threats, intimidation, and insults; social isolation, surveillance, and the invasion of privacy; and disrespect toward the worker's position as an employee, which can inculcate feelings of embarrassment and powerlessness."
It is this grim track record of the treatment of foreign domestic helpers in Singapore that makes the chummy relationship between Nur and Kimberlee so wholesome.
First Love
Nur has worked for Kimberlee for seven years. Of those seven years, Nur has liked BTS for five. In that time, it appears that Nur has become especially close to the family, forming close relationships with Kimberlee's siblings as well.
They are so close to the point that the fact that Nur is a fan of BTS is not a secret. Kimberlee and her siblings know this all too well.
"Way before this happened, we already told her that if a BTS member were to come to Singapore, we would try to get her a ticket for her."
When I ask Nur if she has a favourite member, Kimberlee very knowingly teases: "Oh, yes, she does."
As all of this is divulged to me over a video call, the two of them sit closely on the sofa next to each other, laughing like friends. It feels like we're having a sleepover, exchanging embarrassing secrets.
Their relationship goes beyond just a transactional relationship between employer and employee. It's casual, familiar and informal.
Nur shyly admits that her bias (a K-Pop fan's favourite member in a group) is Jimin—evidenced by her shrine of sorts.
While the poster on the wall that overlooks the little nook of merchandise is one featuring all seven BTS members, the two Chimmy soft toys, the Jimin Funko Pop figurine, his two photocards, two cans and a bottle of coffee with Jimin on the packaging showcase where her allegiance lies.
Kimberlee shares: "Sometimes when we message her, we will purposely send her GIFs of Jimin, for example, doing a heart-shaped gesture. And it makes her so happy."
"I like all of them. Even if this wasn't Suga's concert, if it was J-Hope's or any of the other member's concert, I will still go," Nur says.
Kimberlee laughs as she recounts Nur's response when asked what she would do if she had the opportunity to shake Suga's hand.
"I'm not going to wash my hand for the rest of the night until the next day," Nur had said.
Other than albums and soft toys, Nur also buys clothes that some of the BTS members wear. An observant commenter mentioned that even the shirt she was wearing in the famous TikTok clip was a shirt that Suga is known for wearing.
"I also have a jacket that Suga wore in In the Soop, and other shirts that Jimin, Jungkook and Suga have worn."
Love Maze
Nur first came across BTS in 2018, remembering 'Mic Drop' as their first song she came across on YouTube.
Since then, she has only fallen down the rabbit hole of fandom life. She excitedly shares how she watches many of their videos on YouTube, TikTok and Weverse, a social media platform dedicated to content from Hybe Entertainment, BTS' company.
The reason that she continues to support them fervently dispels some of the assumptions people make about K-Pop fans.
"It's not just because of how they look or that they're handsome. I like them because of their journey, how they grew bigger from being an underdog."
"They work hard. Their stories are touching. [Their stories] support me, and I believe that I can never give up on myself as well. They give me positive energy."
The Most Beautiful Moment in Life
When Kimberlee was given a queue number of over 5,600—competing with the thousands of other people for the ticket—Nur had already given up hopes of getting one. The queue number had got up to above 125,000 at one point.
"Nur told me to forget it and that I wouldn't be able to get it because we were so far behind in the queue," Kimberlee says. At that point, Nur had put the matter to rest and left to continue with her work while Kimberlee held onto hope and persisted in trying her luck.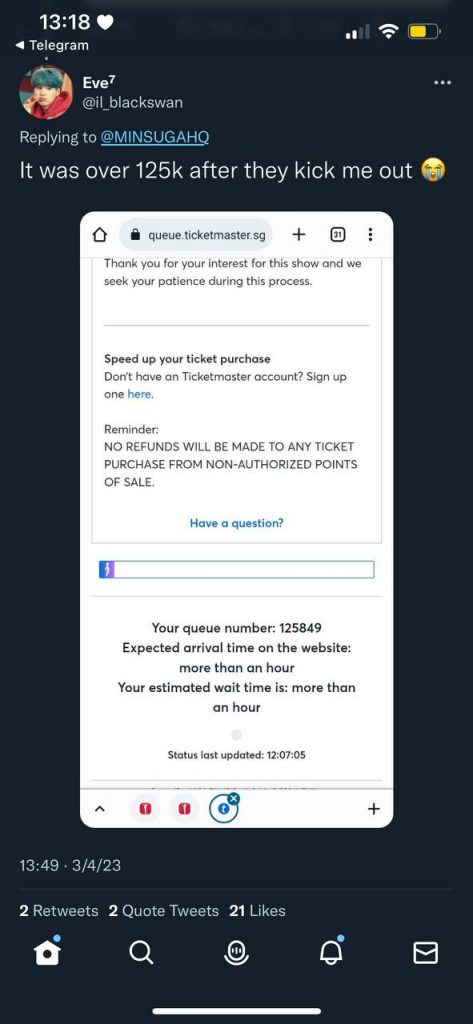 After a nerve-wracking 25 minutes spent waiting and another 30 minutes buying the ticket while constantly being bounced out of the website, Kimberlee emerged a winner. The prize? A standing pen ticket to Suga's second day of the concert.
Nur still had no idea. Wanting to surprise her, Kimberlee sneakily messaged Nur the ticket and asked her to check her phone. The rest is captured on camera and viewed on TikTok by over 100,000 people as of writing.
"I was shaking and crying," Nur recounts, laughing.
But while she is happy and excited about the concert, she is equally nervous.
"I'm worried because it's my first time, and I don't have friends. I'm alone and I don't know what to do. I'm scared to go in alone."
You Never Walk Alone
But when you're part of a global fanclub, what do you have to worry about?
"There was a fan from Australia who asked me to meet with them on the 16th before the concert because they wanted to give me an ARMY gift bag."
"A lot of fans have reached out to me, saying that they will accompany me and make sure that I have fun at the concert. They told me not to be nervous or feel alone because there are a lot of ARMYs there for me. They're very nice," she says.
Clearly, Kimberlee's TikTok clip struck a chord with fans and non-fans alike. Some praised Kimberlee's act of kindness; others expressed their happiness that even if they didn't manage to get tickets, they're glad a fan like Nur was able to.
"For ARMYs who didn't get the ticket, don't be sad. Maybe one day, you can go to the concert when they are coming back together. And I will show you the videos when I go to the concert."
---
If you haven't already, follow RICE on Instagram, TikTok, Facebook, and Telegram. If you have a lead for a story, feedback on our work, or just want to say hi, you can email the writer at joy@ricemedia.co or at community@ricemedia.co.