All images by Zachary Tang for RICE Media unless otherwise stated.
Strobe lights flash every few seconds as Philip Lee knocks back his glass of martini and bobs along to the likes of Elvis Presley's Heartbreak Hotel. He sits at the rear end of the bar with his friends (all libation lovers, of course), rejoicing in Happy Hour.
This is The Tap. Whether you like your drinks shaken, stirred—or specifically a Negroni Sbagliato with Prosecco in it—you can and will get it here. Behind the counter, the bartender on duty slings drams of a fluorescent pink liquid that perfectly matches her circa 2007 Avril Lavigne hairdo.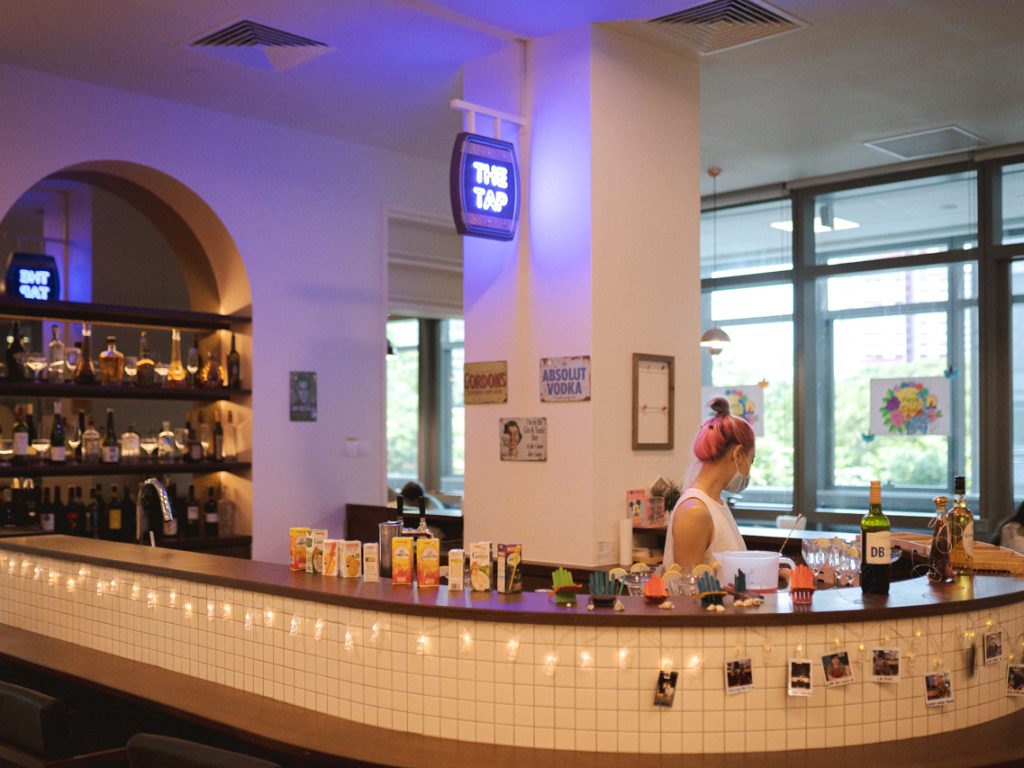 The music in the background loosens the atmosphere even further as bar patrons knock back their tipples, shoulders moving ever so slightly to the addictive beats. Disco lights pulsate on the ceiling and bounce off walls—the mood is as frothy and effervescent as the drinks poured.
This would be a familiar sight at a bar on a typical Saturday night, except for the fact that Happy Hour at The Tap begins early at 2 PM.
86-year-old Phillip is a regular here at Oasis@Outram, a day hospice facility with a concept I'm totally on board with: In the face of inevitable death, we clink glasses and boogie. (As much as they can, of course. Many of the patients are weak and immunocompromised, not that it's stopping them)
Impending death never looked so lit.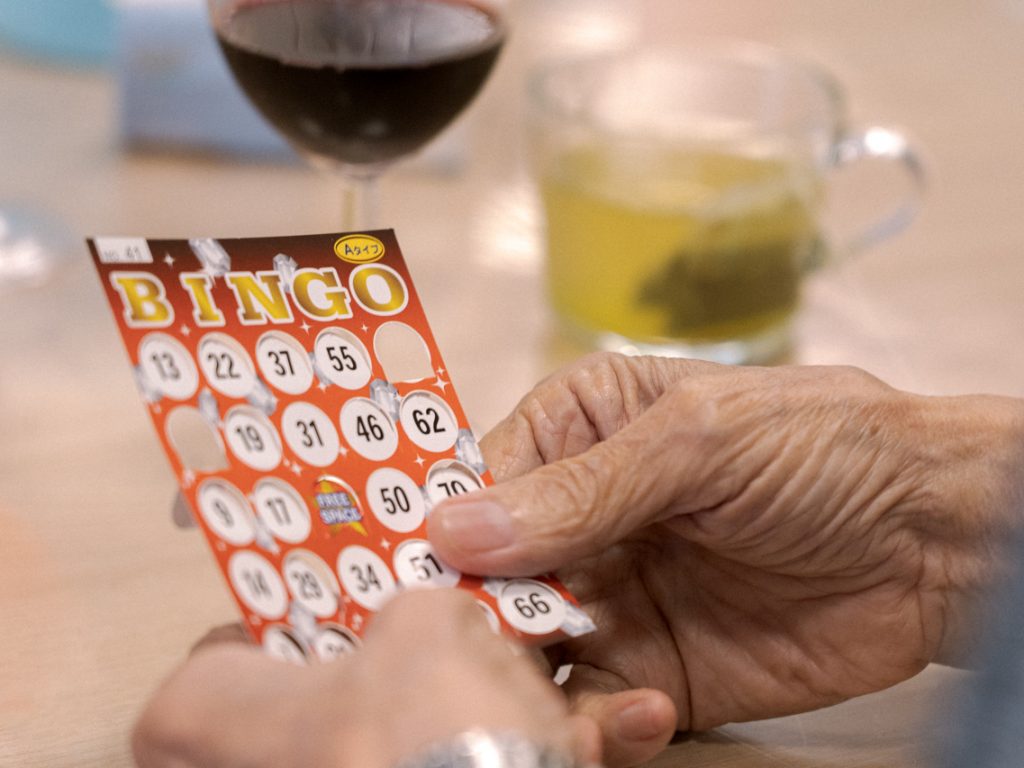 A Day Hospice Like No Other
Like its namesake, Oasis@Outram is a safe palliative care haven located amidst the busy hubbub of central Singapore.
Once a week, Oasis@Outram opens up its in-house bar, The Tap, to serve patients their favourite drinks. The facility transforms into a snazzy speakeasy, complete with bartenders sporting overalls and fedoras.
Laughter reverberates through the space as more than a dozen elderly patients gather around tables, frolicking in the throes of an afternoon Happy Hour. I watch the facility's cooks pass piping hot curry puffs around for a quick mid-day snack.
An intense game of Bingo is currently in progress. Judging by the tension in the air, it's about to reach its peak. Volunteers assist sight-impaired patients with their numbers and hold up the winner's hand in triumph every time they win. No one is left out at Oasis@Outram.
A few moments later, a dark-haired woman with the kindest expression lets out a soft 'Bingo'. She lowers her mask in glee and raises her drink triumphantly to the crowd, posing for a quick photo before putting the mask back on again.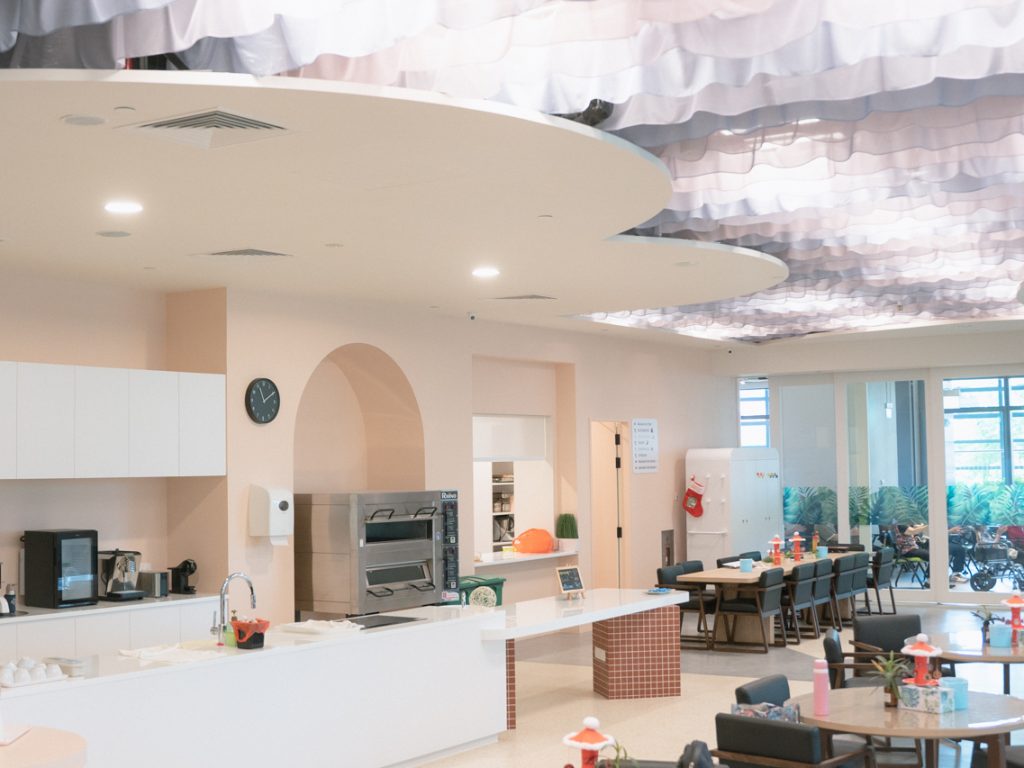 A Walk Through the Oasis
Day hospices have never felt more welcoming than Oasis@Outram. A transparent doorway allows curious eyes to take a glimpse into the world of modern palliative care.
Palliative care often refers to an interdisciplinary medical caregiving approach aimed at optimising the quality of life and mitigating suffering among people with serious, complex, and often terminal illnesses.
Oasis@Outram is the first inter-generational hospice daycare in Singapore, where there are both elderly palliative patients and paediatric palliative patients. Patients with a prognosis of fewer than 12 months need to be referred by their primary doctors—their GP, hospital or polyclinic doctor.
All HCA Hospice's (HCA) services, such as Oasis@Outram, are free for patients. As such, HCA relies heavily on public donations to continue operating.
While we seem to understand what hospice care is all about, hospice daycare as part of palliative care is still a relatively new concept.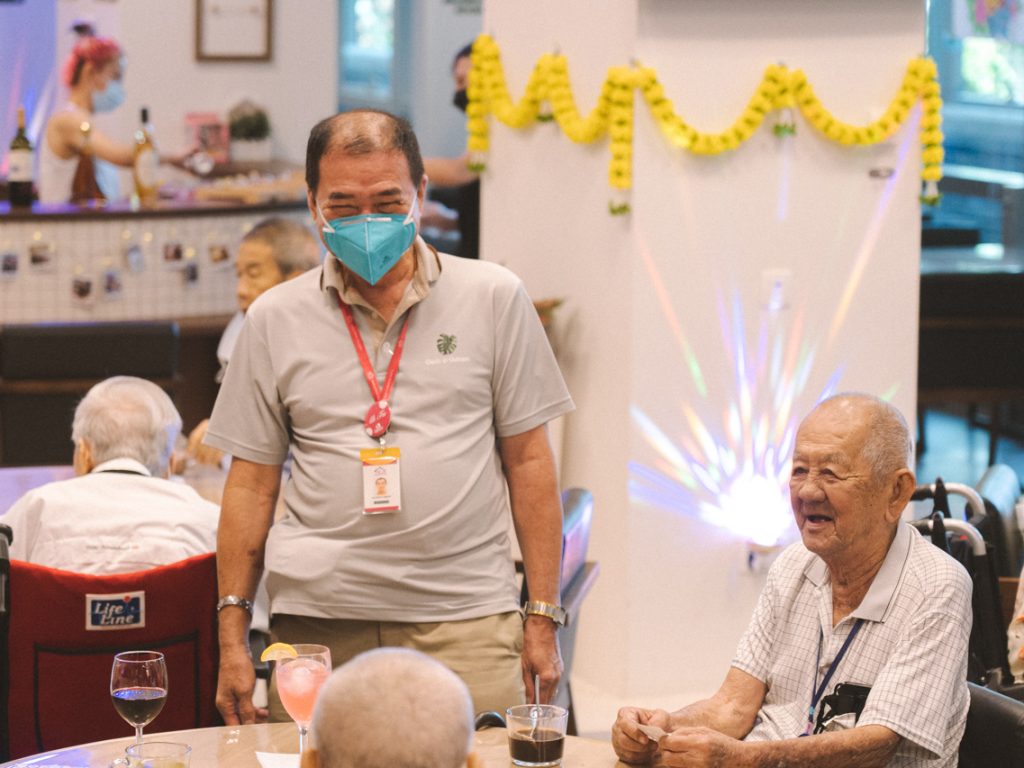 I was eager to see what made Oasis@Outram so distinguishable, which is how I found myself there on a Thursday afternoon. I wasn't ready for day drinking but when in Greece, you know?
I wait outside the facility as a young volunteer spring excitedly towards the door, buzzing me in. Oasis@Outram seems to defy all expectations of what a day hospice can look like—soft, soothing pastels are splashed across the walls and classical music murmurs from the speakers. Its namesake is fitting, indeed.
The first thing that catches my eye is the activity wall to the left of the entrance that informs visitors about the activities taking place on that day.
In the main hall, tables and chairs are spread across the space so patients can sit for games, relax, or even sleep in sleeping pods.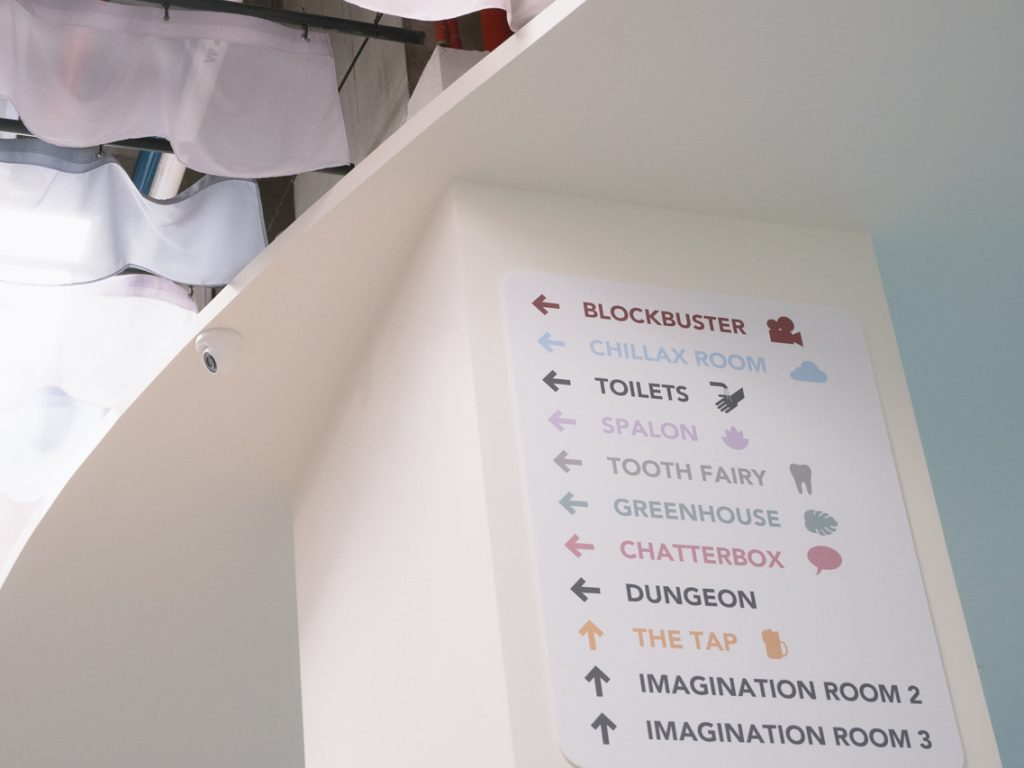 In the Imagination Room, the familiar clicks and clacks of mahjong tiles indicate a game in progress, complete with dramatic cries of "PONGS" and sighs of defeat. All in good fun.
Nearby, the Spalon is decked out in calming hues of emerald green, offering an array of services ranging from spa treatments to nail art sessions and haircuts. "Women like to look beautiful, no matter their age," another Oasis employee remarked.
As I walk through the facility, I realise every room at Oasis@Outram is intentionally designed to give mundane activities a fun and amusing twist.
The room for medical care is renamed colloquially to the 'Sensei Room'. One thing that remains integral for the care of palliative patients is a medical facility. A doctor conducts regular check-ups on patients visiting Oasis@Outram in this room, maintaining all vital medical information for their safety.
The spacious dental clinic, on the other hand, is given a childlike moniker with 'Tooth Fairy'. And unlike the drab and austere appearance most dental clinics have, here, it's plastered in soothing shades of pastel. Dental care is another oft-overlooked part of palliative care; having good dental hygiene is another way Oasis@Outram maintains patients' dignity at this stage of their life.
Josephine Ang, a 70-year-old daycare assistant, explains that Oasis@Outram wanted to be as inventive as they could with the names so people wouldn't be afraid of visiting a doctor or a dentist.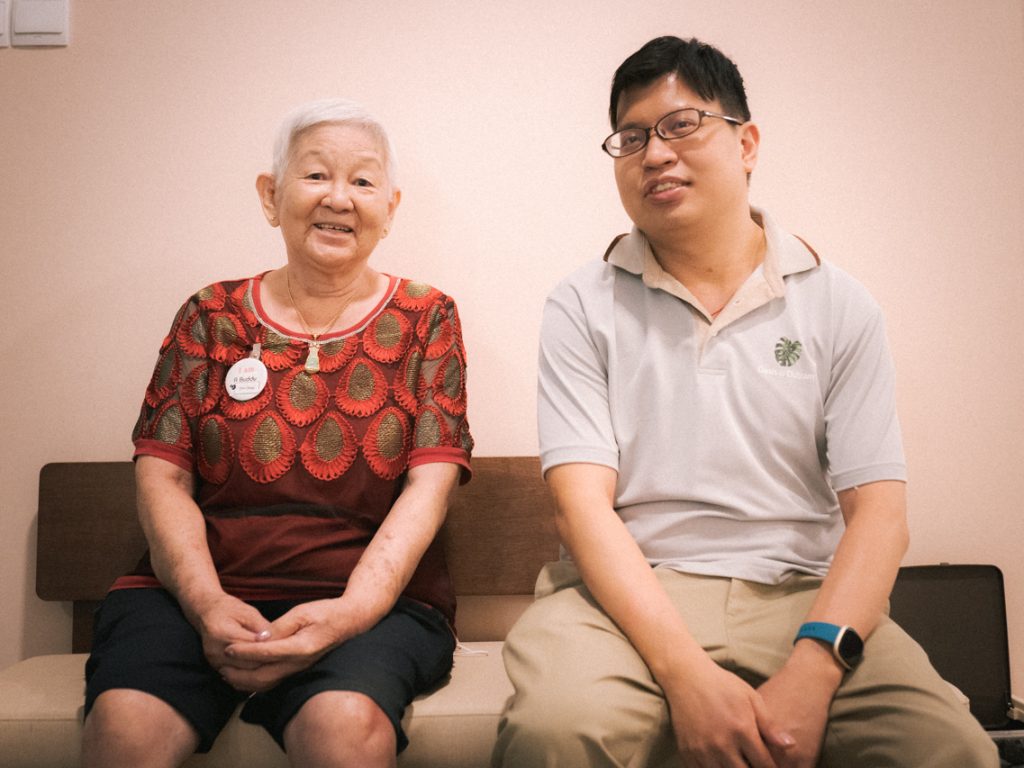 Where the End gets a Beginning
Josephine then walks me towards 27-year-old Benjamin Lim. "He has an interesting story," she shares, smiling.
Benjamin was diagnosed with a brain tumour in his early twenties.
Like other patients here, Benjamin used to come in every morning, do the 'Welcome Dance' (the choreography involves simple rhythmic hand movements that act as a physical warm-up for a busy day ahead), and participate in various activities at Oasis@Outram before heading home in the afternoon. That was before he became a full-time volunteer.
He was initially hesitant to join hospice care, thinking he was too young to be a part of such a facility.
It was after his friends convinced him that he decided to become a patient a year ago. His objective is two-fold.
Still, Benjamin's introverted nature hindered his ability to make new friends. He was also resistant to taking part in activities at the hospice.
This all changed when he was partnered with a patient buddy tasked with making him feel more comfortable at the daycare. Over time, he began to adjust to the environment and accept it as his place of comfort.
"I've changed a lot since I came here," he shares. "When I got my brain tumour diagnosis under control, I decided to get a job here to help care for others like me."
Today, Benjamin has no problem going above and beyond his duties. He picks up and drops off patients at their homes. If they need anything in particular, he gets it for them.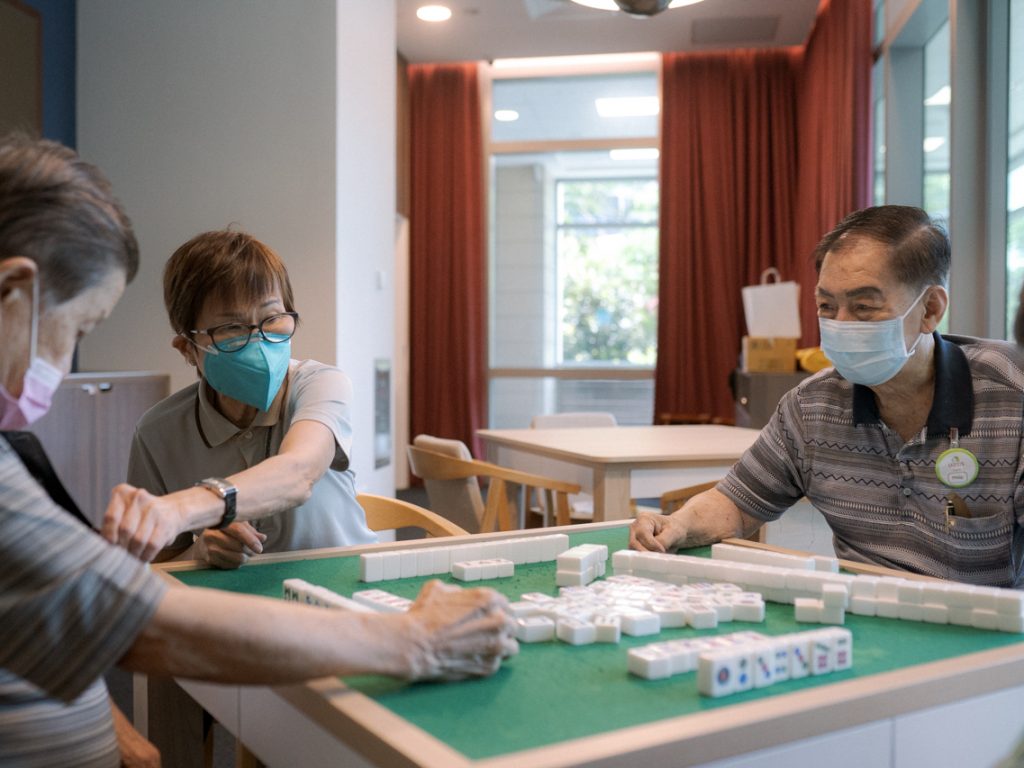 'I think about this place even if I am not here.'
As a 77-year-old palliative patient diagnosed with terminal cancer, Yew Huay enjoys the greenhouse area —she finds it calming to create something new.
"People should accept their situation instead of being sad about it. I am staying strong and awaiting the birth of my grandchild," she shares when I ask her if she was taken aback by her diagnosis.
Yew Huay is a regular at Oasis@Outram, and her days are marked by spirited activities and laughter. She believes Oasis plays a significant role in making her last days meaningful.
"I think about this place even if I am not here."
Her day starts with a filling breakfast arranged by the Oasis chefs, followed by the 'Welcome Dance'. Once that's over, Yew Huay can choose from the plethora of activities at Oasis@Outram. She's partial toward yoga and exercise.
Post-tea break around 3PM, she heads home.
A Paediatric Suite for Children
One of the more interesting corners of Oasis@Outram is their paediatric section called 'The Dungeon'. Here, younger patients under the age of 19 are cared for. 'The Dungeon', Josephine explains, is a unique addition seldom offered by other hospice facilities.
Palliative care is more complicated than standard medical care; doctors require different training to deal with serious illnesses and make patients comfortable. With paediatric palliative care, it is a different ball game altogether. You need specialists who know how to handle serious children's diseases.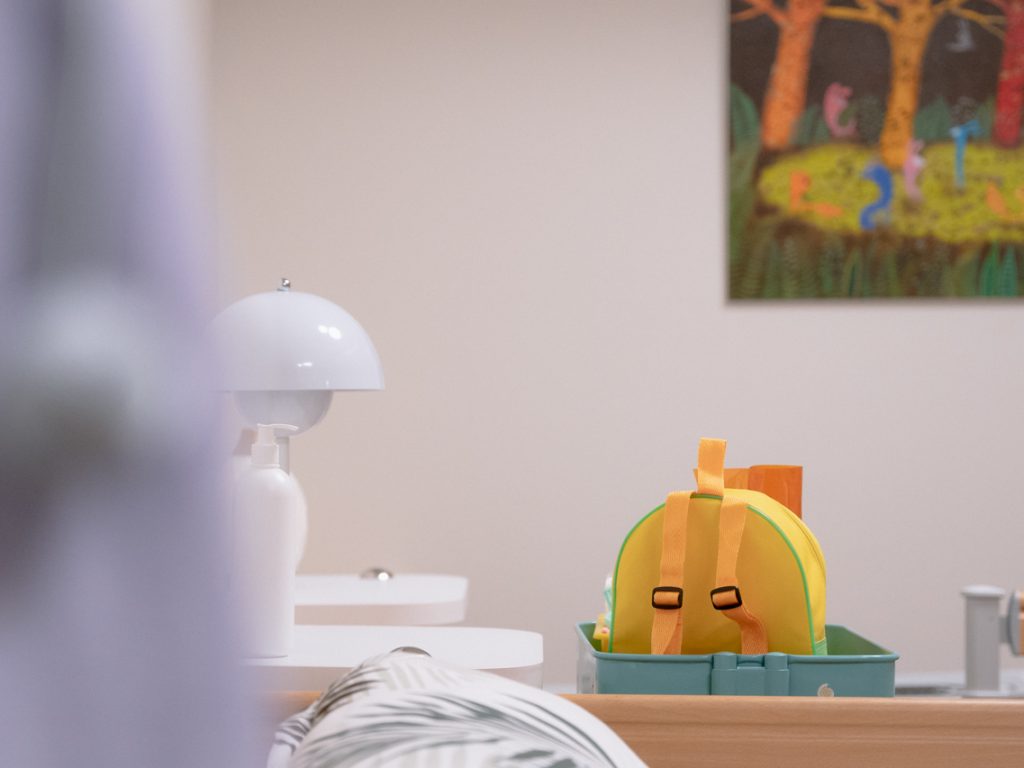 At Oasis@Outram, the children they care for tend to have more complex medical conditions—which is why it takes more effort and training to have a paediatric section.
With its chic cave-like interiors, 'The Dungeon' feels like a warm cocoon of fun and delight that houses a two-bedder area chock full of toys, fluffy quilts, and bean bags all around. Parents are free to come in and take a break from taking care of their children and allow the staff at Oasis to take over.
At the back, drawings hang from a wall. They're artworks created by the child patients of Oasis, offering words of gratitude to its staff.
As children leave the daycare, they scribble words like "I had fun". They call the team "Superstars".
Getting a Sense of the Outdoors, Indoors
During my visit, the patients at Oasis@Outram were busy at work preparing for Diwali celebrations. Vividly-coloured garlands hang from kitchen counters; flowers are being put up around the facility.
In the arts and crafts room, a group of patients sit crouching in chairs. They remain focused, painstakingly cutting and painting candles for Diwali celebrations. Apart from being ace at arts and crafts, patients at Oasis@Outram are also avid gardeners. The Greenhouse at the facility is brightly lit with skylights, arches, and rows of plants hanging from the ceiling and trailing down walls.
Patients do planting and gardening weekly with help from volunteers at Oasis. Indeed, they are all regular #plantmoms and #plantdads here. As we all know from the throes of the pandemic, gardening is said to be therapeutic and calming. It's especially so for palliative patients.
There's another reason why gardening is such a big thing here. Gardening is symbolic—even as the lives of these patients come to an end, they nurture another. If the patients pass away, these plants are passed on to their families to remember them.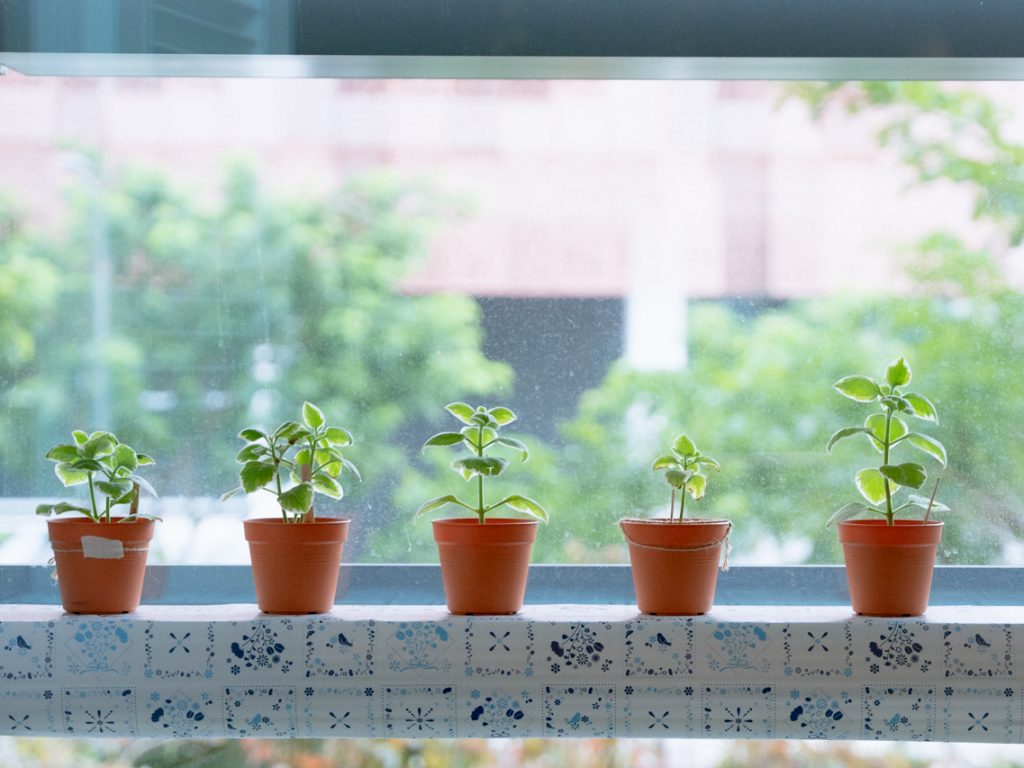 A Prescription to Happy Life
While the hospice brings much-needed comfort to the dying, it also impacts the lives of the people who work there—people who have years ahead of them yet.
For Serene Wong, working at Oasis@Outram changed her outlook on life. She now believes in living and cherishing moments right up to the very end. "I will live meaningfully and purposefully until it is time for me to die."
The 47-year-old nurse has been working at HCA for more than nine years and is now a medical assistant at Oasis. She assists the doctor in caring for adults and children who come to Oasis.
For her, this daycare offers a stark change from the dark and gloomy hospice cliché. "At Oasis@Outram, things are lively and colourful, and everyone works to have a positive attitude every day."
On top of typical nursing duties, Nurse Serene will also hold the patients' hands when they are treated or entertain them during more complex treatments.
"Patients need love, acceptance and support, while caretakers need courage," she says.
Our conversation is interrupted by a chef, who surprises us with Happy Hour mocktails. She laughs, exclaiming: "This is the Oasis experience!"
Looking at the delicious, colourful mocktails lined up before us, I can't help but join her excitement and raise my glass for a toast. A toast to mortality.
---
If you want to share your story with us or have feedback on our work, email us at community@ricemedia.co. If you haven't already, follow RICE on Instagram, TikTok, Facebook, and Telegram.