In Part One of this series, we went on the ground in Saigon to find the best spots for Pho, Vietnam's most iconic dish, and Hu Tieu Nam Vang, a lesser known, but equally delicious breakfast staple. In Part Two, our correspondent digs even deeper to uncover Com Tam Suon Nuong and Bo Kho, two breakfast favourites in Saigon that are still relatively undiscovered.
Words by Simon Stanley. Translations by Cam Tu Tran.
Part Two of a three part series.
In this pressure cooker of a town, famously frenetic and famously laid-back, with culinary influence plucked from all over the world, breakfast comes in many forms. It can be a ham and egg banh mi sandwich on the backseat of a motorbike; it can be a long, lazy affair with friends and noodles and endless chatter, or it can be a two-dollar sushi platter at your desk on the 28th floor.
Modern flavours of the West are indeed starting to creep their way onto Vietnam's breakfast menu, but old habits die hard and traditional dishes are still preferred. The banh mi sandwich will probably always be the outright winner due to its portability and flexibility, yet there are plenty more options out there for hungry, bright-eyed visitors wishing to soak up the flavours of this enigmatic city.
Here's a rundown of two of the best and oldest breakfast spots in Saigon, each specialising in just one or two dishes for which they have become legendary.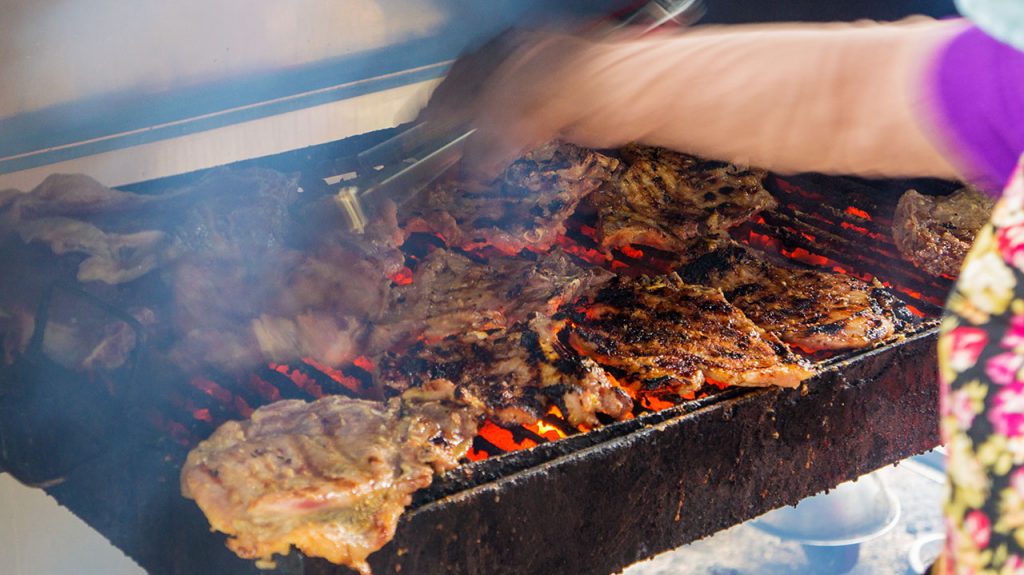 Com Tam Suon Nuong
Pork is one of those meats that so easily lends itself to breakfast-time, regardless of the country or the continent.
Whereas some breakfast staples focus on nutrition, pork is all about comfort eating, easing you into the day with warm, salty, smoke-rich flavours. No better example of comfort food exists in Vietnam than com tam suon nuong – broken rice with a grilled pork chop. And, as any Saigon resident will tell you, there's no better place to get it than Com Tam Ba Ghien in Phu Nhuan District, a simple five-kilometre hop from the city centre.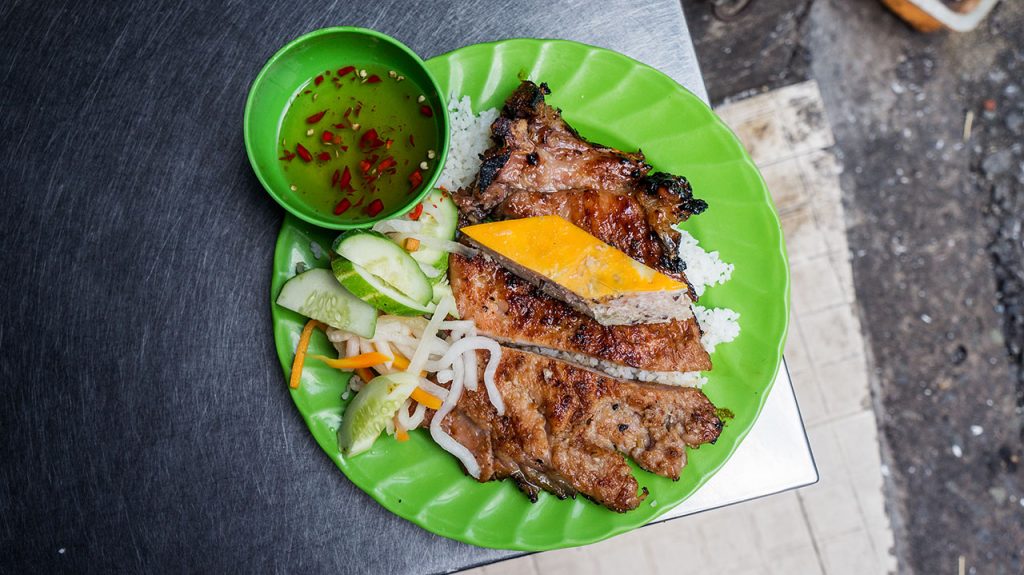 Looking more like an industrial unit than a restaurant, guarded by a giant crackling barbecue and no less than 25 coal-fired rice cookers, this buzzing joint is all about the food and nothing else, frequently packed to its steel rafters whether you show up at six o'clock in the morning or six o'clock at night.
In only a portion of the immense floor space that Ba Ghien now occupies, the family-run business started in 1995, making it an almost historic landmark in a city that has undergone such radical change of late. The recipe, however, is much older: current owner, Nguyen Ngoc Diep, learnt the secrets of com tam suon from her mother who once made a tidy living from the dish way back in the 1970s.
"I'm famous because I sell good food," says the 59-year-old. "I buy the best certificated pork. It's then marinated in good quality fish sauce, sugar, garlic and lemongrass."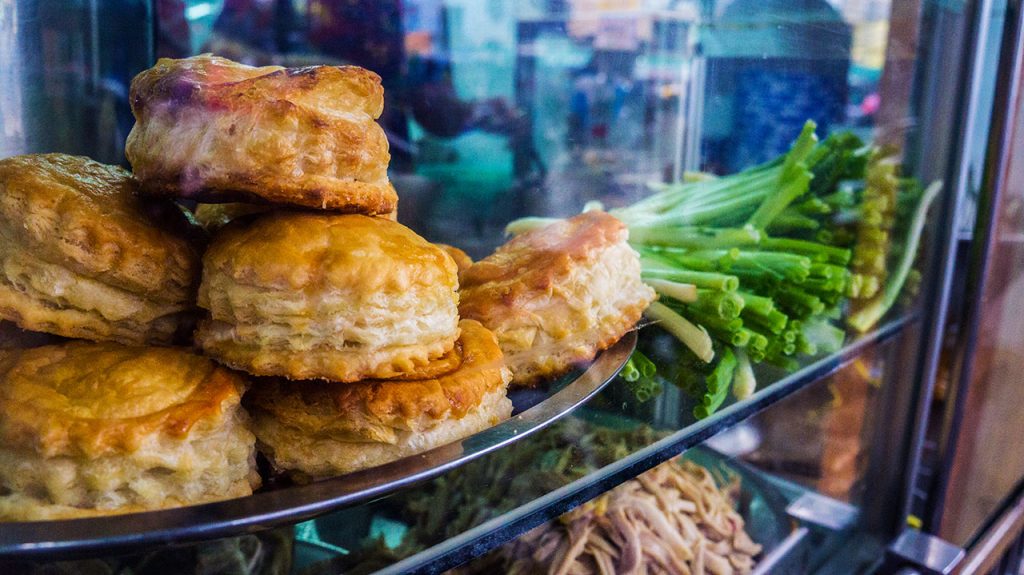 Plucked from immense vats of marinade, the meat is grilled until tender and juicy. With the sugars caramelised to sticky pork perfection, the pork chops are served with pickled carrot, daikon and cucumber, plus a fried egg and/or a slice of cha trung hap – a pork, noodle, egg and mushroom meatloaf. A saucer of sweetened fish sauce with chilli and garlic is also added for dipping or pouring. So full are the plates here that the bed of broken rice beneath gets almost completely covered by the goodies on top. Starting at just VND50,000 (US$2.25) a plate, it's an absolute bargain.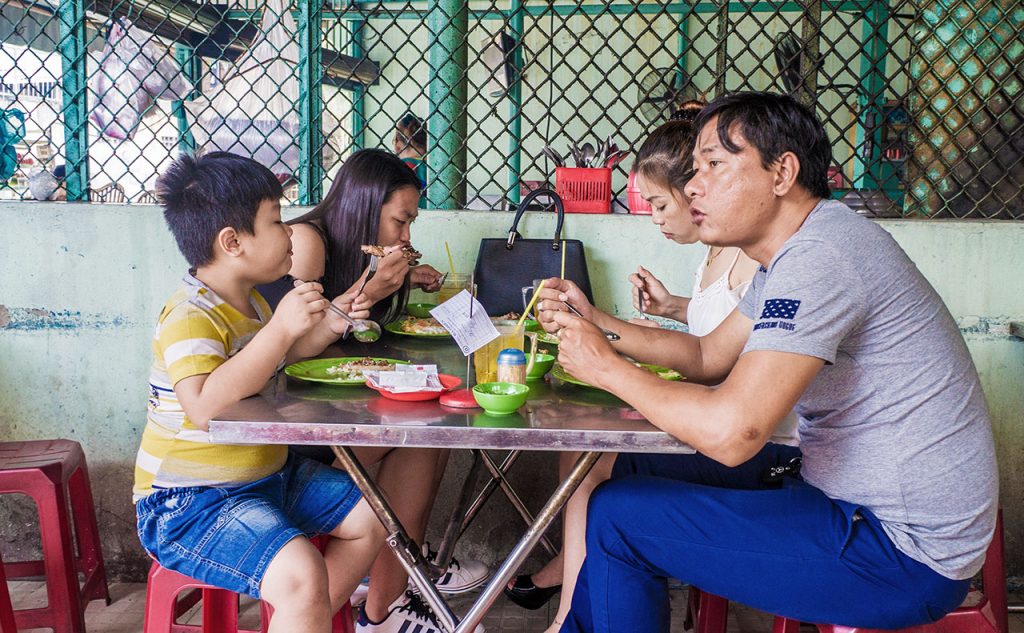 Breakfast is, they say, the most important meal of the day, although Mrs Diep prefers to disagree. "Lunch and dinner are more important," she says with a sparkle in her eye, "because that's when I get more customers!"
Com Tam Ba Ghien is at 84 Dang Van Ngu, Phu Nhuan District, Ho Chi Minh City.
6am to 10pm, 7 days.
Bo Kho
It's 7am again and a sudden rainstorm has caught the city by surprise. After a flurry of plastic ponchos, drawstring hoods and hastily deployed awnings and umbrellas, it's soon back to business-as-usual for the residents and shopkeepers of Nguyen Cong Tru Street, a lively thoroughfare carved through one of Saigon's most historic neighbourhoods. At its heart sits Vinh Thai Tra Gia, a 60-year-old restaurant near the junction with Calmette Street. It's a simple setup: a small kitchen in front, a few tables and chairs behind, no menus, no fuss, just some of the best breakfasts in the city. "I can't remember the first time I came here," says 66-year-old regular Nguyen Huu Tai, "because I was just a child."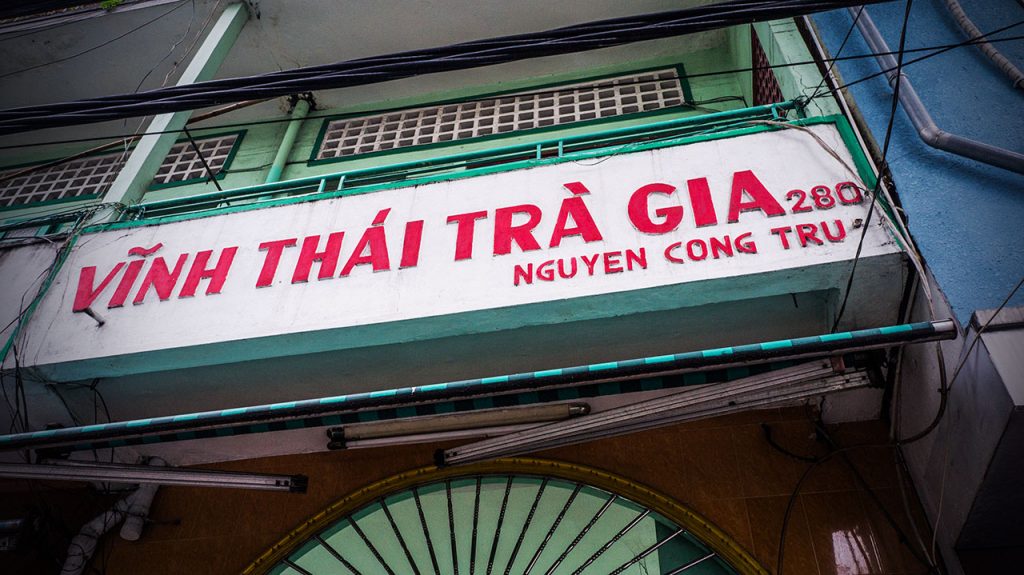 Cooked from fresh each day, the handful of choices here are an atlas of foreign influence in Vietnam. Hu tieu is the first, the Cambodian-Chinese mashup, served here in any combination of fish, chicken, pork and prawn, with either rice or wheat noodles, or both.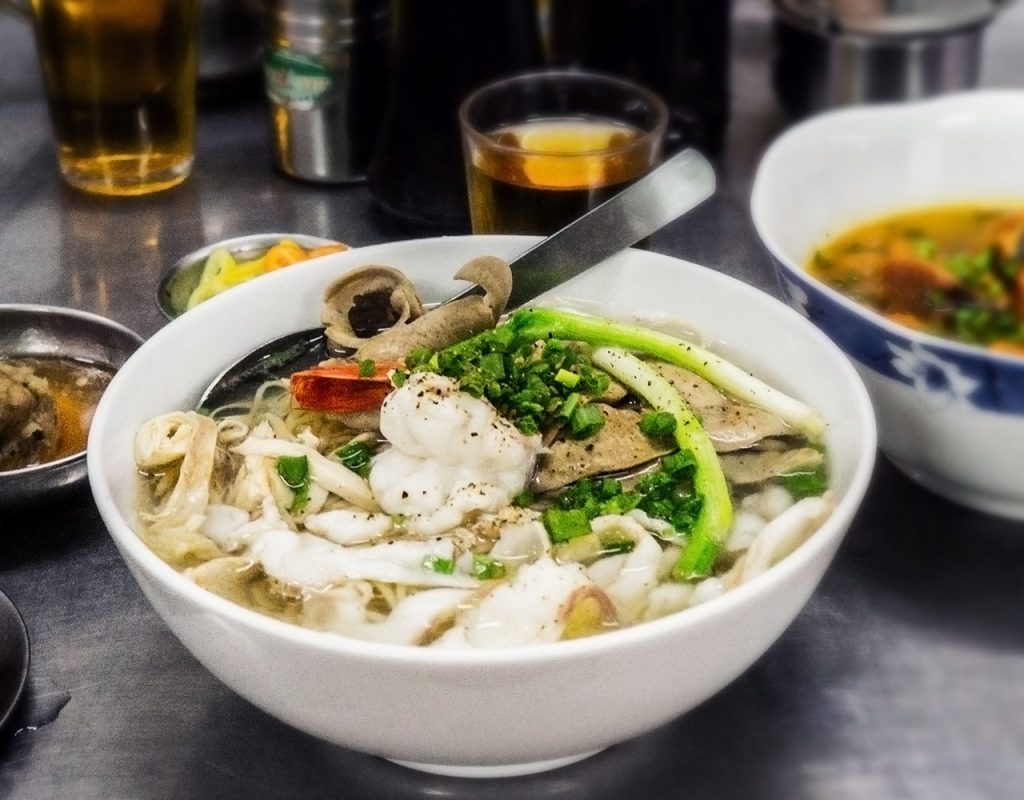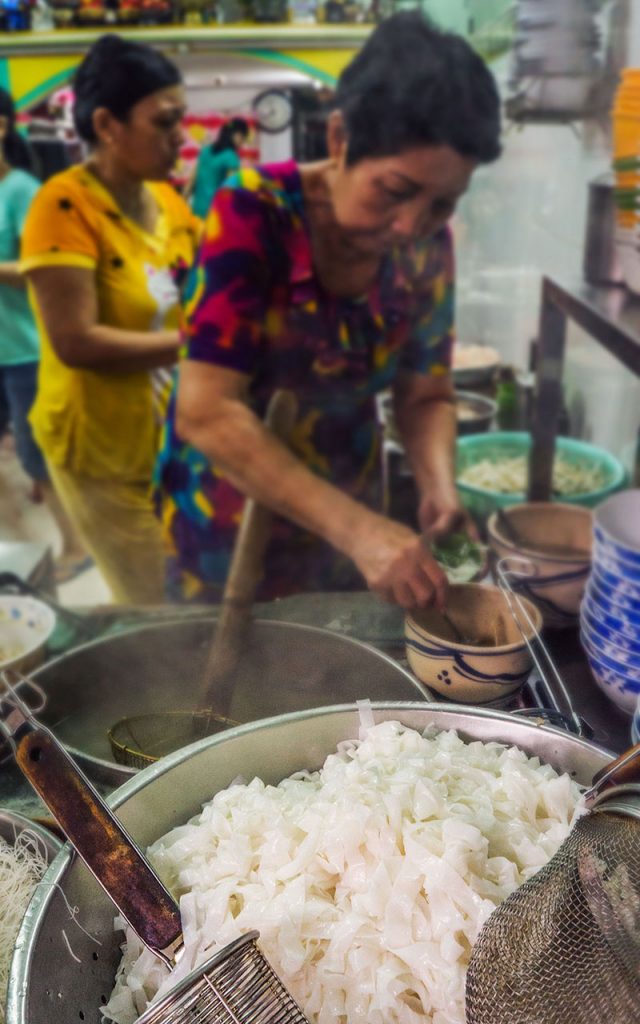 The pork and prawn dim sum selection, a nod to the Chinese heritage of Vinh Thai's owners, is so popular that it will probably arrive without you even asking. Next comes the French era and the golden banh pate so stacked in a cabinet by the doorway. These tasty puff pastry parcels filled with ground pork take their name partly from the generic Vietnamese word for cake (banh), and partly from the French 19th-century term for hot pastry, pate chaud.
Finally we find the most warming and comforting wake-up call you could ask for on a rainy day like this. Bubbling in a giant pan on the countertop, luxuriously deep red in colour and with an unmistakable aroma that could drag you in from across the street, is the rich and delicious bo kho – beef stew. Casseroles first came to Vietnam with the French empire in the late 1800s. As the local population began adopting the recipes of the Europeans, the classic beef bourguignon was spiked with local flavours like chilli, lemongrass, star anise and cinnamon, and bo kho was born.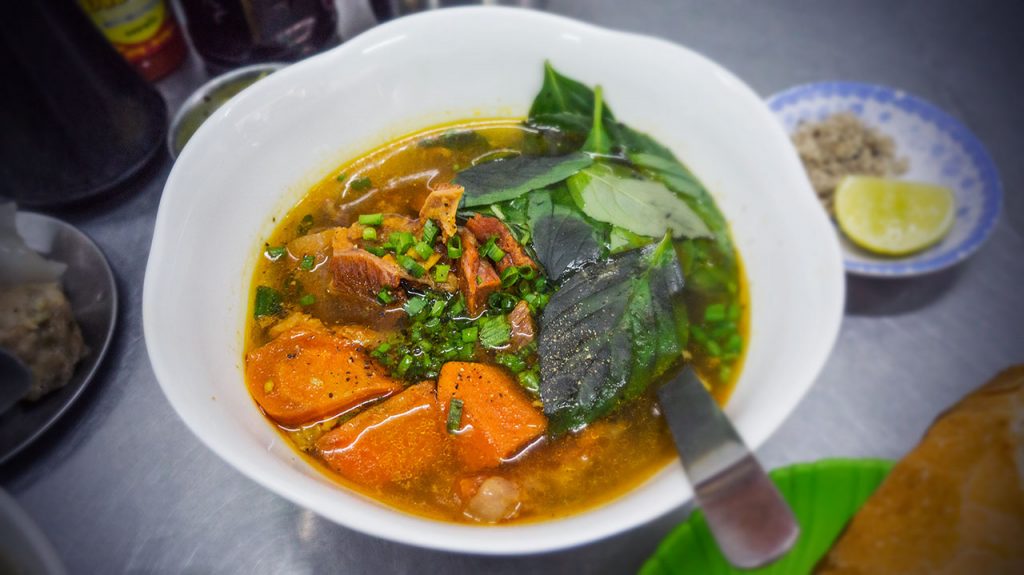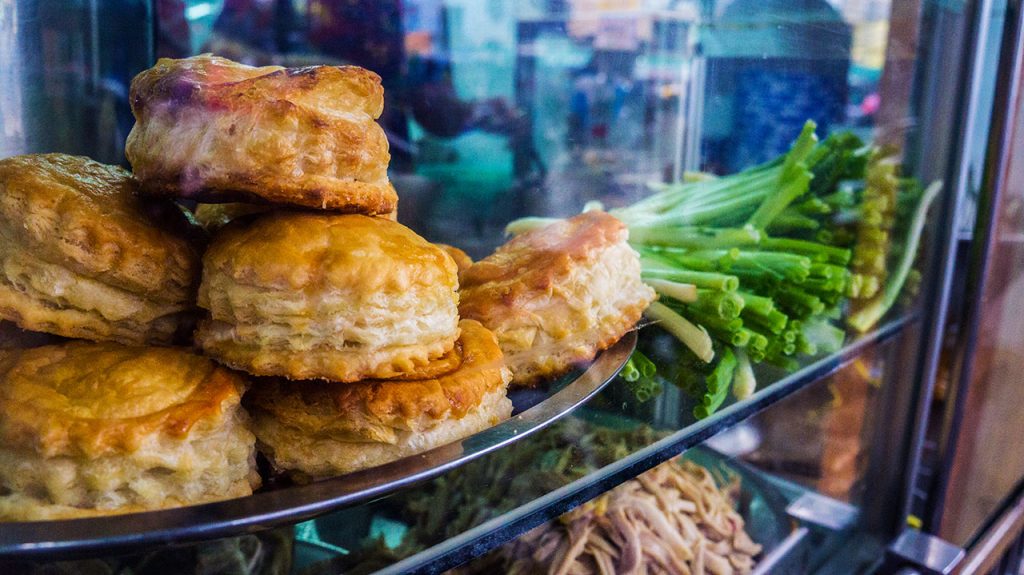 A serving of rice noodles is a popular accompaniment (known as
hu tieu bo kho
), but for the true Franco-Viet package ask for
banh mi bo kho
to get a crispy bread roll instead. Don't forget to add plenty of fresh basil leaves to the stew, then squeeze lime juice into the salt and pepper mix for a tasty meat dip.
Bo kho
offers a range of flavours not found elsewhere in Vietnamese cuisine.
Vinh Thai Tra Gia is at 280 Nguyen Cong Tru, District 1, Ho Chi Minh City.
6am to 10.30am (or until sold out), 7 days.
Tune in next week for Part Three!