In this edition of City Hacks, our correspondent in Saigon eats with the locals to bring you the best breakfasts in the city.
Words and photographs by Simon Stanley. Translations by Cam-Tu Tran.
Part One of a three part series.
Whether it's our favourite brand of cereal eaten over the day's news headlines, a buttery slice of toast hurriedly munched on the way to the station, or a full-blown multi-course feast, breakfast is a universal ritual, a time and place to re-engage our minds with the present through a nostalgic nod to the past.
On the streets of Saigon, breakfast is served early. At the very first flickers of daylight, the backstreet kitchens and food carts get to work. Alive with markets and street vendors, wrapped in steam and the heady aromas of barbecued pork, strong coffee and pho noodle soup, this is the best time of day to experience Vietnam.
In this pressure cooker of a town, famously frenetic and famously laid-back, with culinary influence plucked from all over the world, breakfast comes in many forms. It can be a ham and egg banh mi sandwich on the backseat of a motorbike; it can be a long, lazy affair with friends and noodles and endless chatter, or it can be a two-dollar sushi platter at your desk on the 28th floor.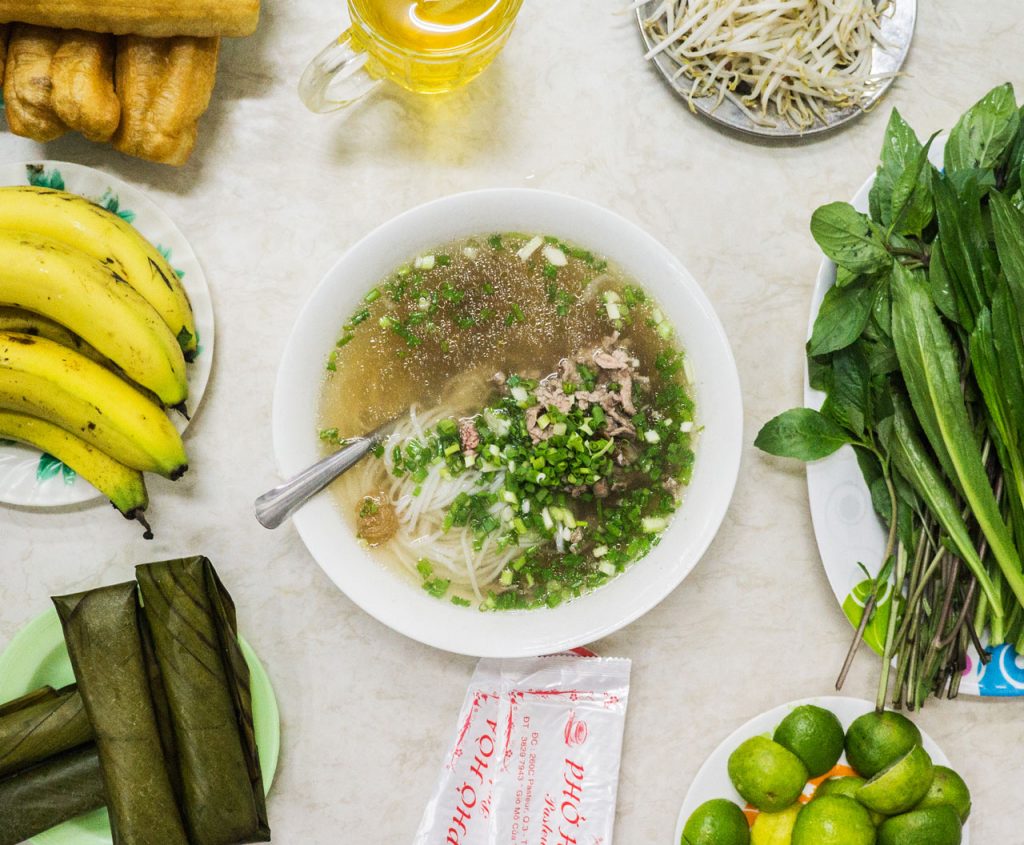 Modern flavours of the West are indeed starting to creep their way onto Vietnam's breakfast menu, but old habits die hard and traditional dishes are still preferred. The banh mi sandwich will probably always be the outright winner due to its portability and flexibility, yet there are plenty more options out there for hungry, bright-eyed visitors wishing to soak up the flavours of this enigmatic city.
Here's a rundown of some of the best and oldest breakfast spots in Saigon, each specialising in just one or two dishes for which they have become legendary.
Pho Hoa
Vietnam's national dish. This rice noodle soup, commonly topped with beef or chicken, filled with a plethora of fresh herbs, spices and bean sprouts, is a popular early morning option. Like many of the country's breakfast bites, however, it can be (and is) eaten at any time of the day or night.
Having been in operation for almost half a century, Pho Hoa is the oldest and most famous pho spot in the city, if not the world. If you ever wondered why so many Vietnamese restaurants outside of Vietnam were named 'Hoa' or 'Pasteur', this two-storey, family-owned diner on Pasteur Street is why.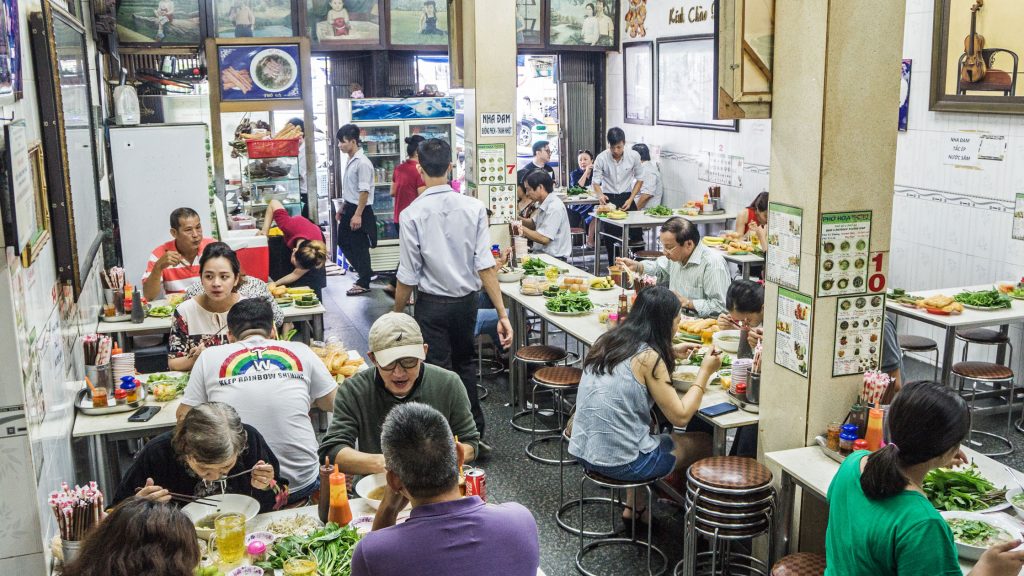 Thin slices of raw fillet are added to a beef stock, a complex broth that takes hours to prepare. The meat cooks in the heat of the soup leaving it tender and pink, and fresh leaves such as basil, sawtooth coriander and mint are added at the table by the customer. Lime juice is also essential.
"I don't know the secret as to why my restaurant has survived for so long," says Hoa's current owner, 44-year-old Pham Thanh Tien, grandson of the original founders. He's being modest. It's because the pho here is simply outstanding.
The best-selling item on the menu (helpfully presented with pictures and English translations) is also the oldest. Pho bo tai, or 'raw beef' soup is where it all began (from VND65,000 / US$2.90). "The recipe has been the same since 1968," adds Tien.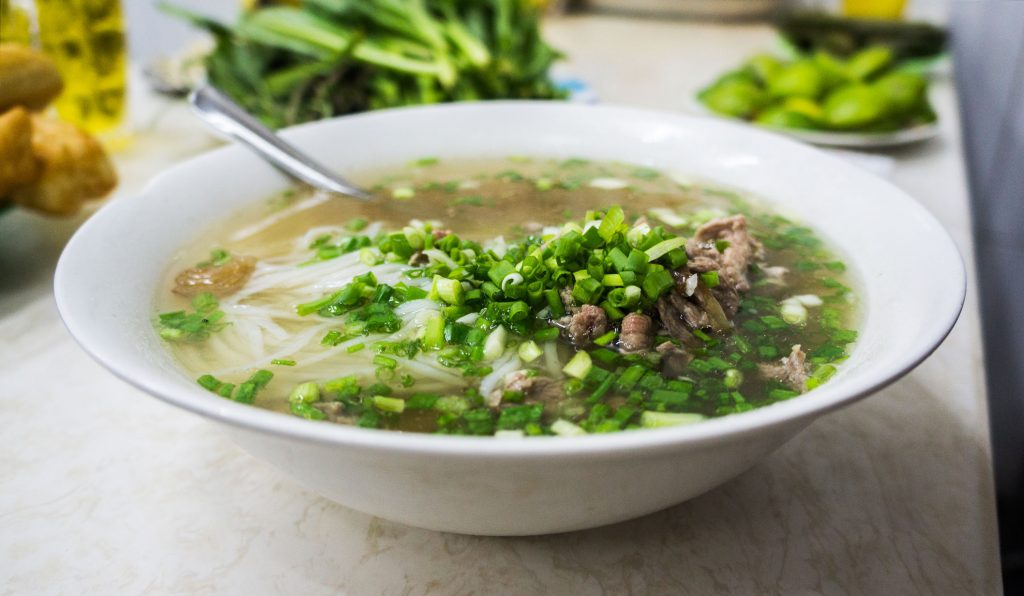 'Eat breakfast like a king, lunch like a prince, and dinner like a pauper,' as the saying goes. On a Saturday morning in October, as the staff buzz about him and groups of young families sit nattering nearby, 66-year-old Truong Van Nghia looks like he is sticking to the old adage. Dining alone, with a giant bowl of pho and numerous side dishes gathered around, each piled high with Chinese breadsticks, steamed pork parcels, pork pastry cakes and bananas for dessert… plus all of the usual accoutrements that pho demands, one thing's for certain, he won't be leaving hungry.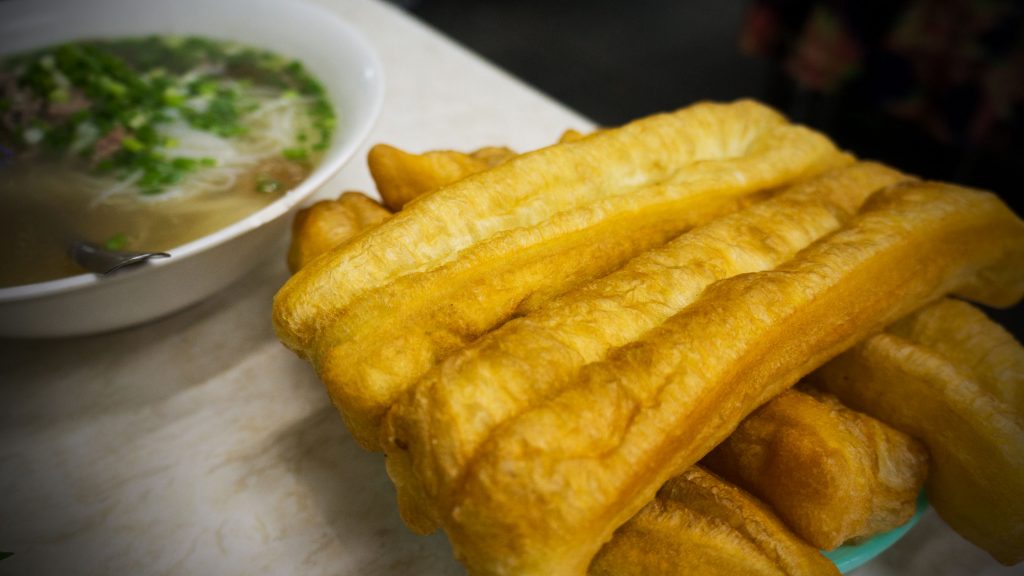 As he slurps the last of his noodles, Nghia explains how he came to know and love Pho Hoa as a young man, back when he and his family lived nearby. Now retired and living in Go Vap District, some five kilometres away, he's still a regular customer. "I come here every Saturday and Sunday," he says quietly. "I come on my own, by taxi. The pho here is so delicious. I've tried other restaurants but they don't suit my tastes."
Pho Hoa is at 260c Pasteur Street, District 3, Ho Chi Minh City.
5am to midnight, 7 days.
Hu tieu Nam Vang
Like pho and countless other breakfast favourites, Hu tieu Nam Vang is another dish that takes hours to prepare. It is for this reason that dining out at local restaurants in Vietnam is normally preferred over cooking and eating at home.
Hu tieu Nam Vang is a lighter, perhaps more refreshing alternative to pho, based on a pork bone broth instead of chicken or beef, and packing roasted pork slices, rich pork liver, and a crisp fresh prawn or two. It's a dish that came to Vietnam from abroad, from neighbouring Cambodia in fact, having arrived there in the recipe books of Chinese immigrants settling in Phnom Penh. Nam Vang is actually the Vietnamese word for Cambodia's capital, with the 'hu tieu' part being an adaptation of the Khmer kuy teav, a similarly-styled noodle soup that's ubiquitous across the border.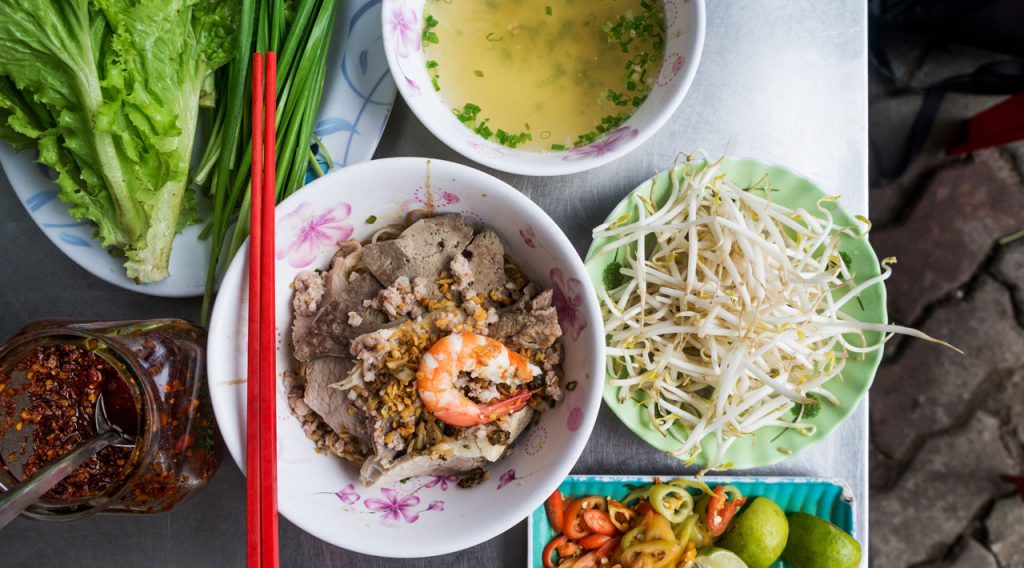 The most obvious feature of this dish is the option to have it served dry, the zingy broth arriving separately to be added according to your taste. At Quan Anh, an old-school kerbside diner on the border of districts 10 and 3, that's as far as the menu choices go: Phnom Penh noodles, dry or wet.
It's 7am and as the early morning mist begins to sizzle away, the lids are lifted on the cauldrons of broth, each having sat bubbling over a coal-fired stove since before sunrise. A team of ladies in their traditional pyjama outfits shuffle about the place, tending the stock, slicing the pork, slowly bringing the dish together before us; the mountain of herbs and leaves, the bean sprouts fresh from the market, sliced limes, sliced chilli, the bowl of rice noodles beneath layers of meat and seafood, and finally the steaming broth.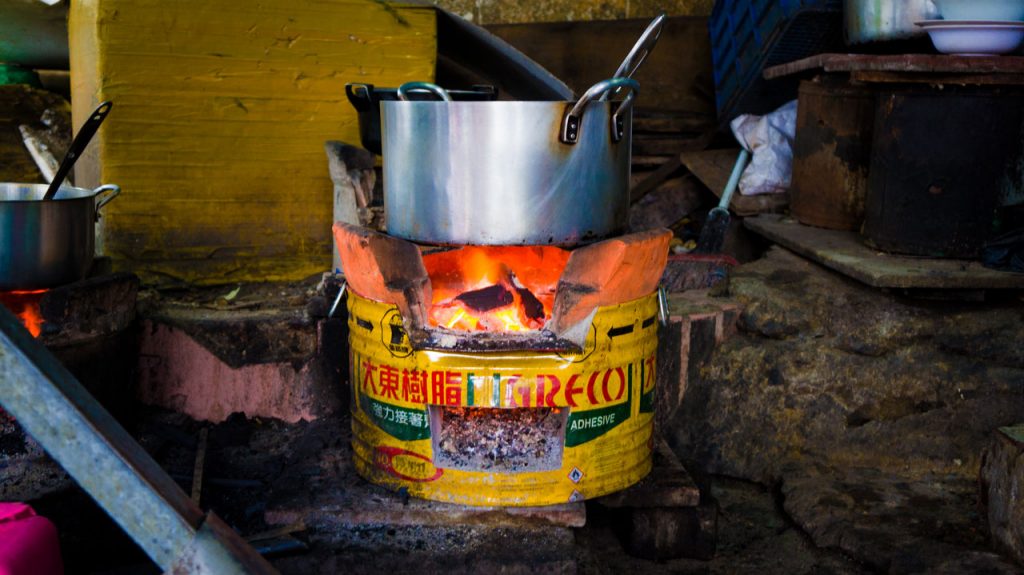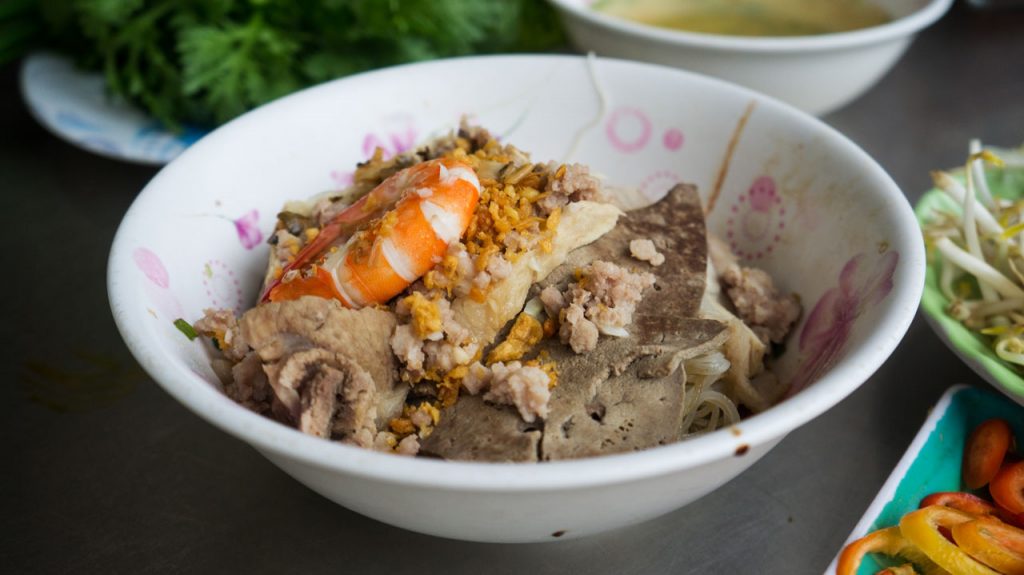 With a generous squeeze of lime juice, Hu tieu Nam Vang is an ideal way to start the day, the citrus, the salt and the spice all working together as a much-needed pick-me-up after a heavy night on the Bia Saigon. With rich meaty flavours and refreshing aromas comes a welcome shot of goodness in the prawns and the vegetables. Add a strong iced coffee with condensed milk (known as ca phe sua da) and, at just VND45,000 per dish (approximately US$2), it's easy to see why this is a go-to breakfast for the partygoers of Saigon.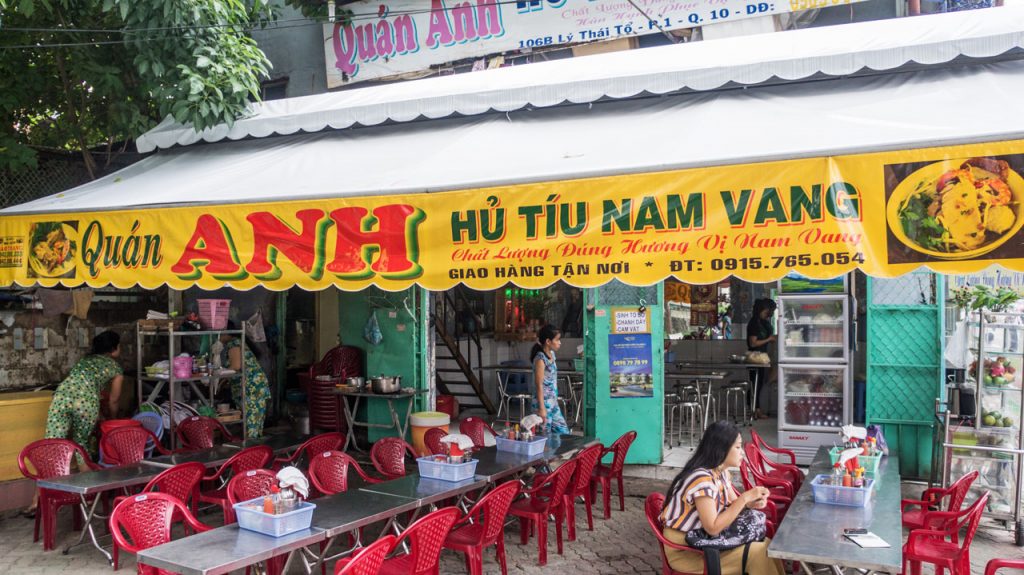 Quan Anh Hu Tieu Nam Vang is at 106c Ly Thai To, District 10, Ho Chi Minh City. Look for the bus shelter on the south side of the street.
7am to 9pm, 7 days.
Tune in next week for Part Two!