Top image: Paolo Candelo. All other photographs by the author. 
"Hello!" she waves in the blistering heat. 
My student tour guide, standing next to her scooter, is in a bright yellow jacket spotted with tiny floral prints. After exchanging quick greetings in the 38 degree Celsius weather that is August in Hanoi, we jet off to an eatery.
"I volunteered because I want to learn natural English expressions and give quick responses to conversations. Speaking is the best way to do so, I think," Minh explains after we settle down at a pho restaurant. 
Like Jack Ma, she has been giving free tours—alongside studying in university—to hone her own English skills.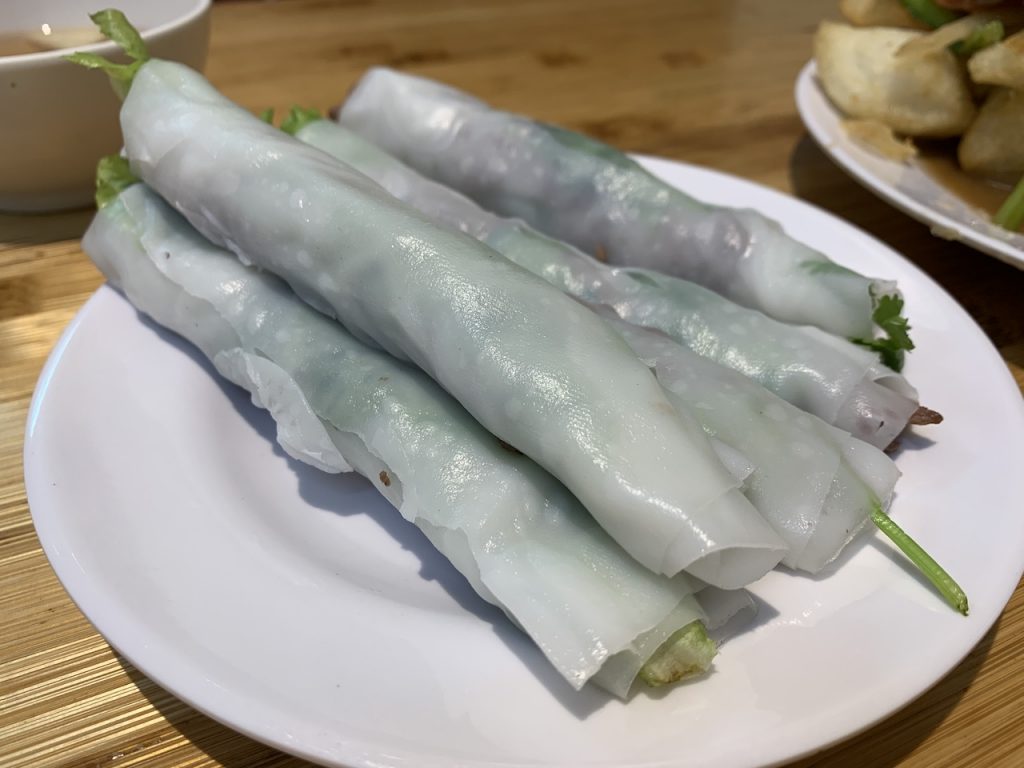 A penultimate 21-year-old student, Minh is studying Business English at Hanoi's Foreign Trade University. She is one of the many student volunteers giving free guided tours to tourists in a bid to hone their English speaking skills and propel the Vietnam travel industry forward. 
"They teach English, not just grammar or vocabulary, but also how sound is produced," she tells me when I ask what her course entails. 
"I also learn finance, contracts, and marketing."
She shares that in big cities like Ho Chi Minh and Hanoi, children begin their English education at maybe four or five years old. 
"In villages like where I am from, maybe nine." 
Being able to learn English used to be a privilege, but is increasingly becoming a prerequisite. Minh recalls that a decade ago, knowing how to speak English alone made one an outstanding job candidate. But given the influx of investments coming in from China, Japan, and Korea, there is now an increasing need to learn more than just English in order to stand out.
Finishing lunch, we take her scooter around the largest lake in Hanoi—The West Lake. As the wind beats against me, the helmet cap Minh has given me rattles against my skull, the loose straps barely keeping it on my head.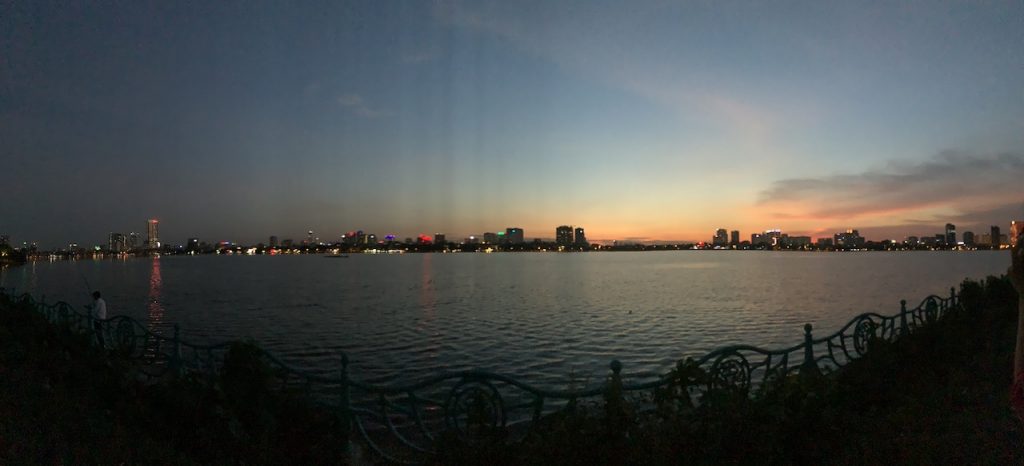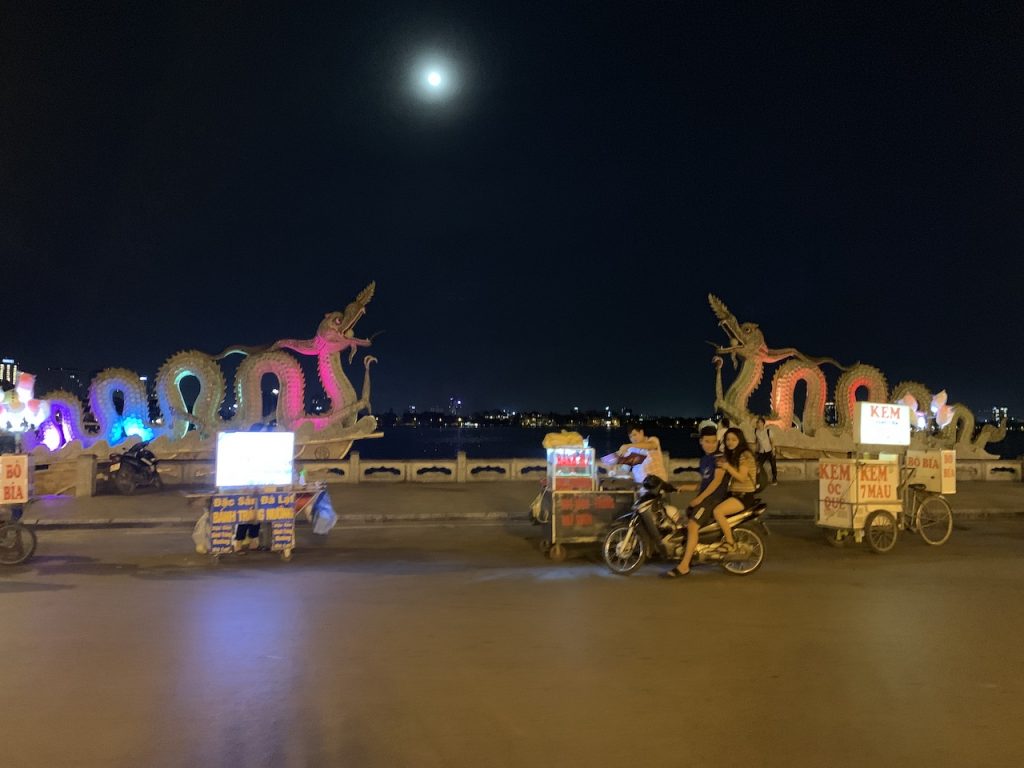 On the road, buses, cars, and pedestrians cross the road concurrently yet confidently. Some scooters ferry families of three or four, mostly laden with babies or small children. Some riders are also carrying large plastic frames or steel rods.
As the sky darkens, we ride past several police officers who are brandishing what look like tasers. The noise is electrifyingly frightening, and I swear I see sparks coming out of them. I ask if this is normal.
"If he don't have that, nobody will care about him." 
I later learn that this is normal at night, and prevents people from speeding. In comparison, Singapore's speed cameras suddenly feel tame.  
Scanning my surroundings, I come to a sudden realisation that a lot of these scooters don't actually have side mirrors. Minh tells me that this makes it easier for them to squeeze into narrow spaces in traffic, so some riders hammer off their side mirrors.
"Isn't this illegal?" I ask. In her own side mirror, I see Minh laughing.
As she starts to speed up, I adjust myself to get a peek at her speedometer. It reads '0'. 
"Oh, it's always like that. Second hand." 
Again, I ask her if this is normal. 
"Not normal, but I think it's not important." 
I give a nervous laugh and ask how many years of riding experience she's had. 
"Three."
Has she ever gotten into an accident?
"Of course! Many times." 
I gulp. She laughs.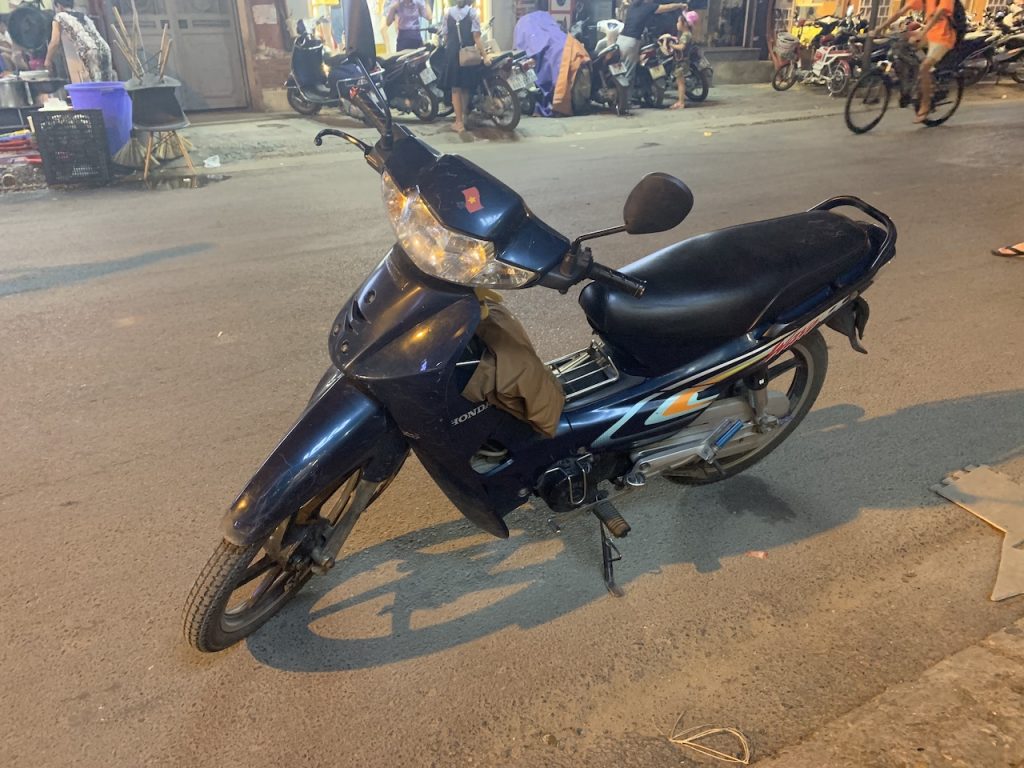 Feeling peckish, we stop for a snack. Having been to Hanoi many times, I find myself looking for something new and exciting. She nods and we head to our next location.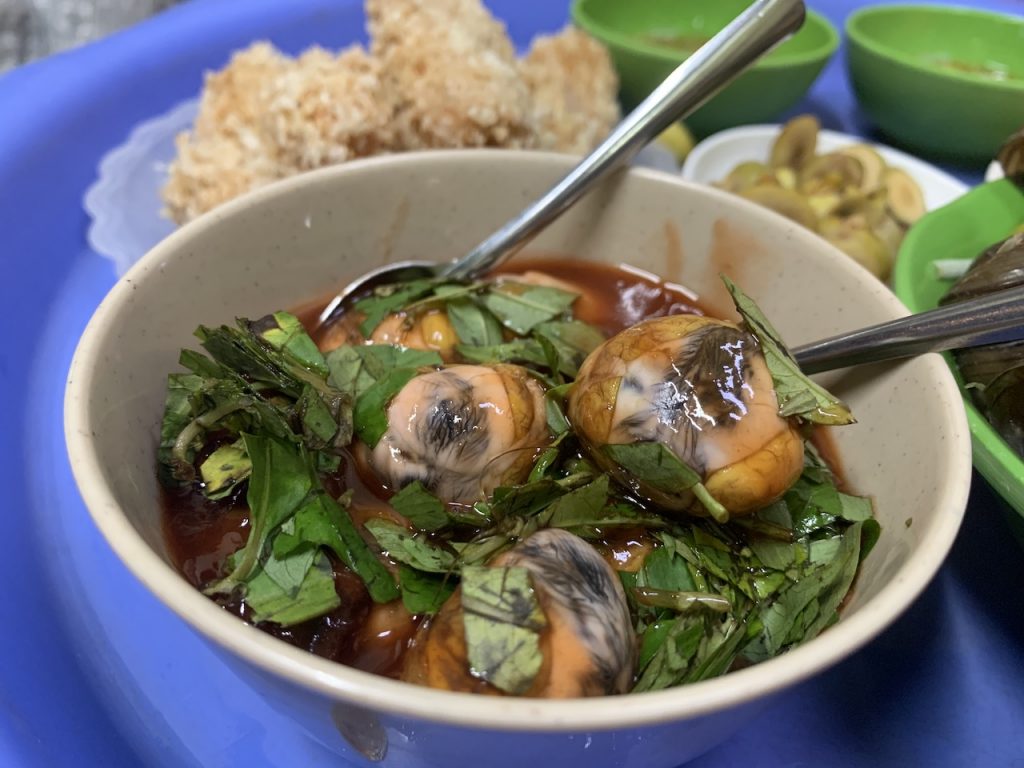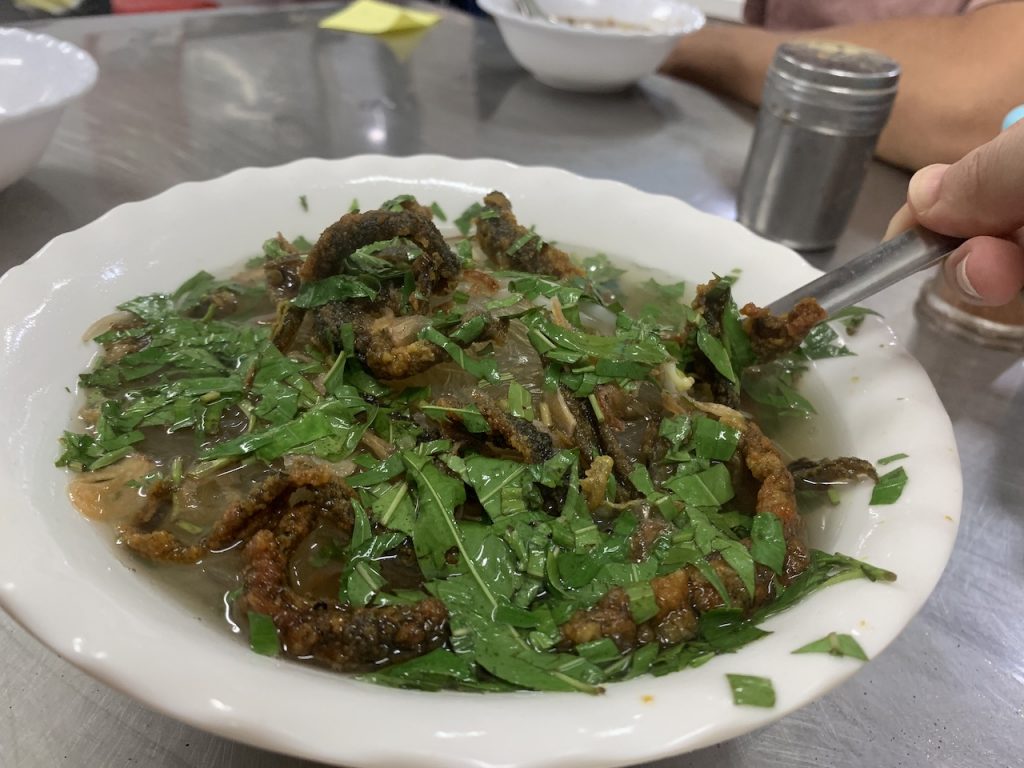 I didn't know that anyone did balut for quail eggs. Cringing, it takes me 10 minutes of contemplation before I manage to eat two and a half of them. I catch the couple sitting next to us laughing.
When asked what she thinks of Singapore, Minh responds without a second of hesitation that it is the cleanest and richest country. 
"Singapore is very modern. Many people who are sick can go to Singapore to be cured. Everybody likes Singapore."
I couldn't agree more. A country as small as Singapore cannot afford to offend anyone. We are always neutral, friendly, welcoming. Because of our bilingualism, we more often than not blend in well in more than one country. These curated relationships with the world are perhaps how we got to host the Trump-Kim summit.
Next, we head to Minh's university.
"This is one of the smallest universities, but very good," Minh says as we enter the unlocked gates. It is very dark.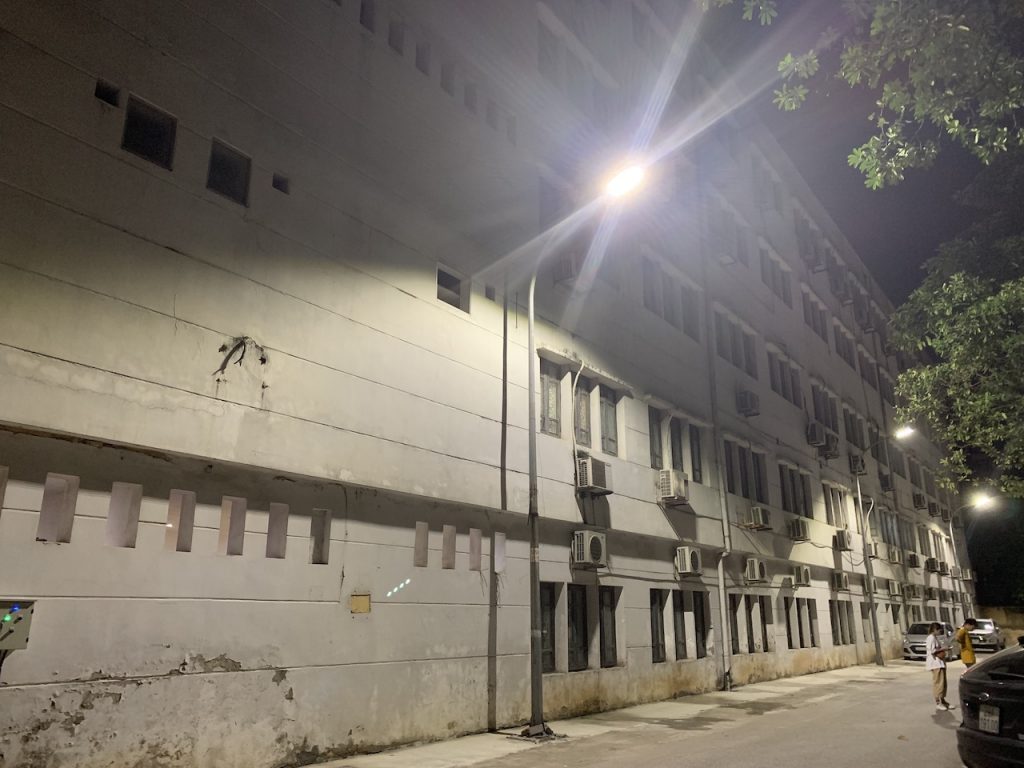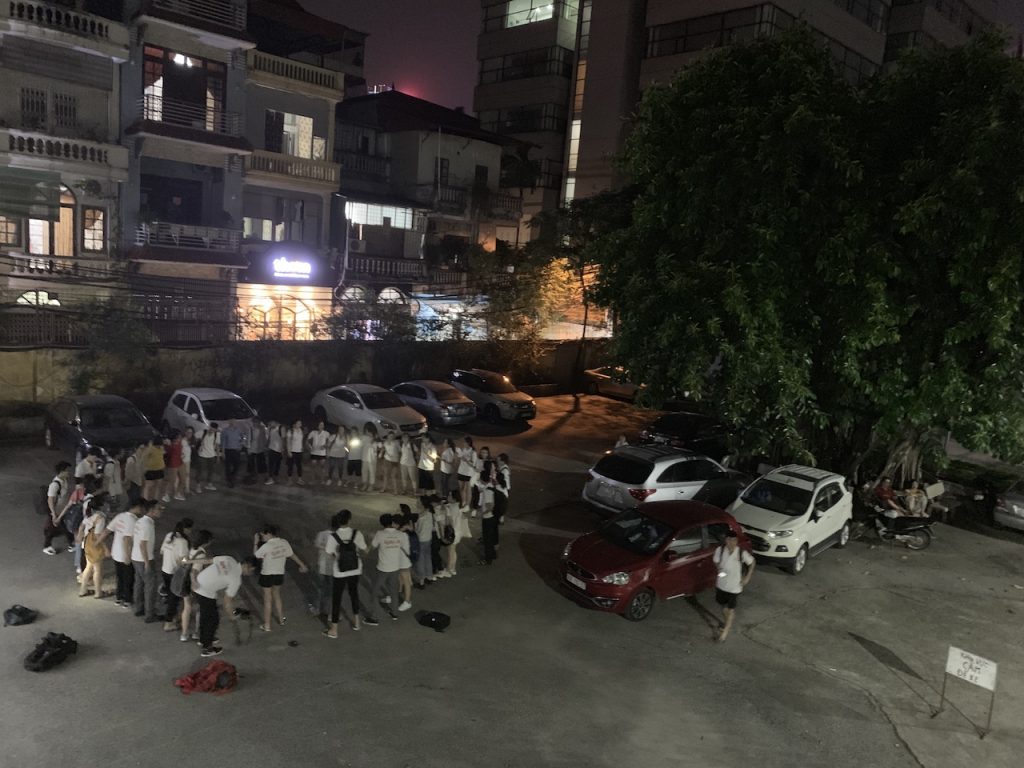 I point to what appears to be an orientation group huddled in a circle. Minh explains that it is common for students from the same province to form a support group. They continue to sing Vietnamese pop songs for the next twenty minutes as Minh and I chat.
Pointing to a nearby hostel, I ask Minh why she doesn't stay in one. 
"6-8 students are in the same room. It's very crowded and smelly," she says. 
Later in the night, students begin setting up small speakers and dancing to hip hop music. I asked if Minh is in a student club. 
"It's more difficult than taking a school subject," she laughs. I nod in agreement.
We then up to the higher floors to one of the classrooms.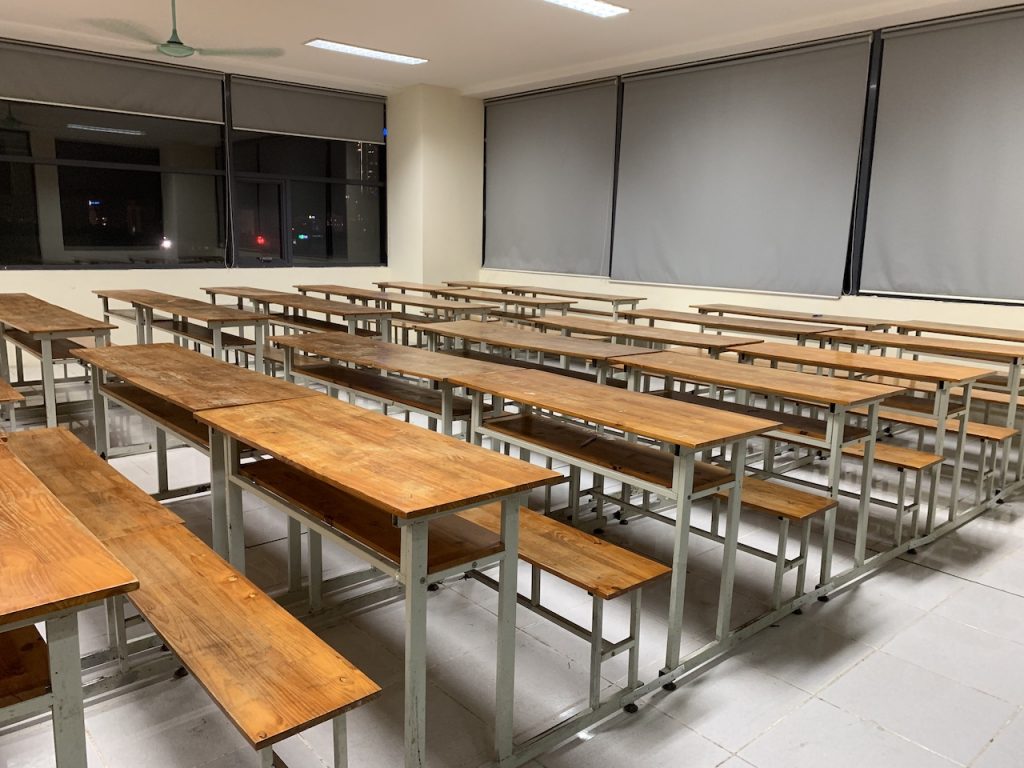 "There is air-con, so it's very comfortable," Minh beams.
Later, back at the assembly ground, we lean against the railing and continue chatting. 
"Do you want to hear about the ghost story about level nine?" 
I shake my head in mock horror, only for her to tell me about how the building's lift can never reach level nine. I beg her to stop and we laugh, but she persists, the building façade's peeling paint making the situation more eerie than it should be.
"Stop it, it's the hungry ghost festival in Singapore!"
"Oh, that is scary. We just call it ghost month here," Minh laughs.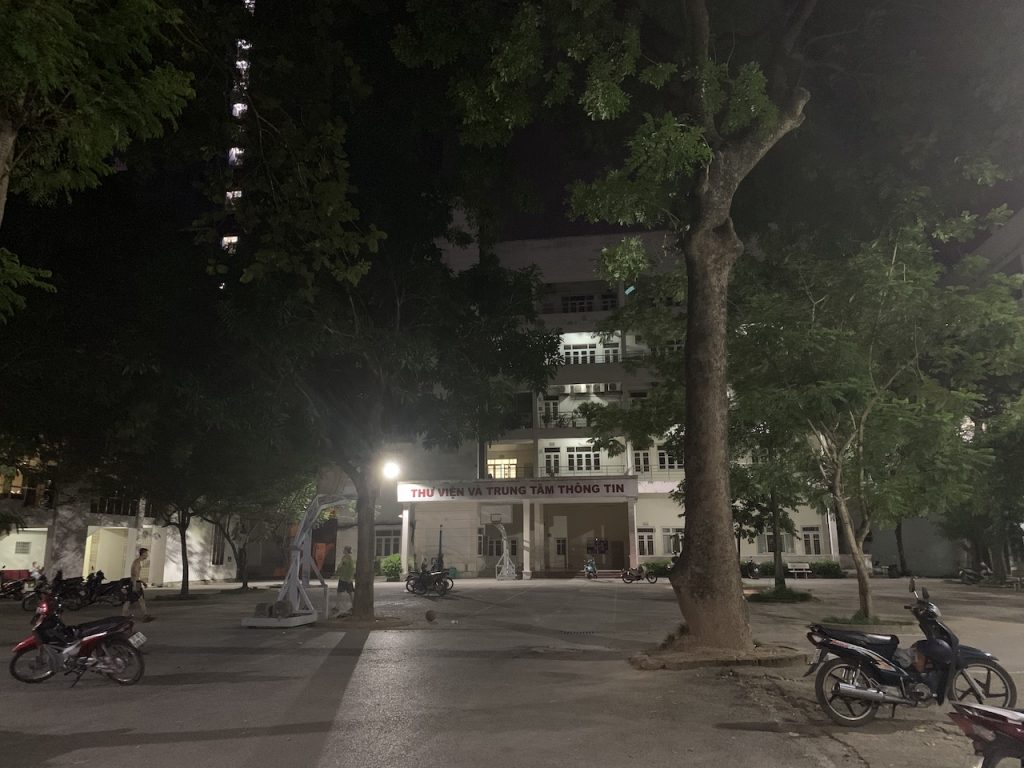 Leaving the school grounds, we head off in search of milk jelly for dessert.
For someone who loves anything with a milky taste, this is perfect. 
"This place sells one of the best milk jelly. Thick," Minh tells. If this was served in a fancy restaurant and marketed as a Hokkaido milk jelly, I would believe it, hands down, without a doubt.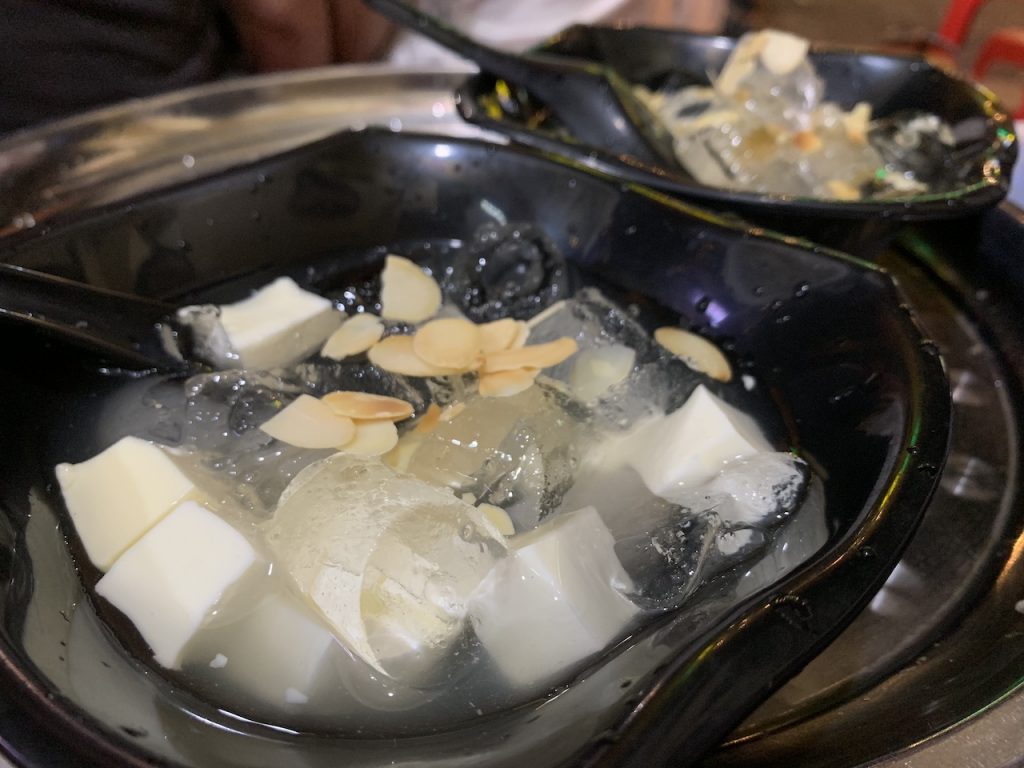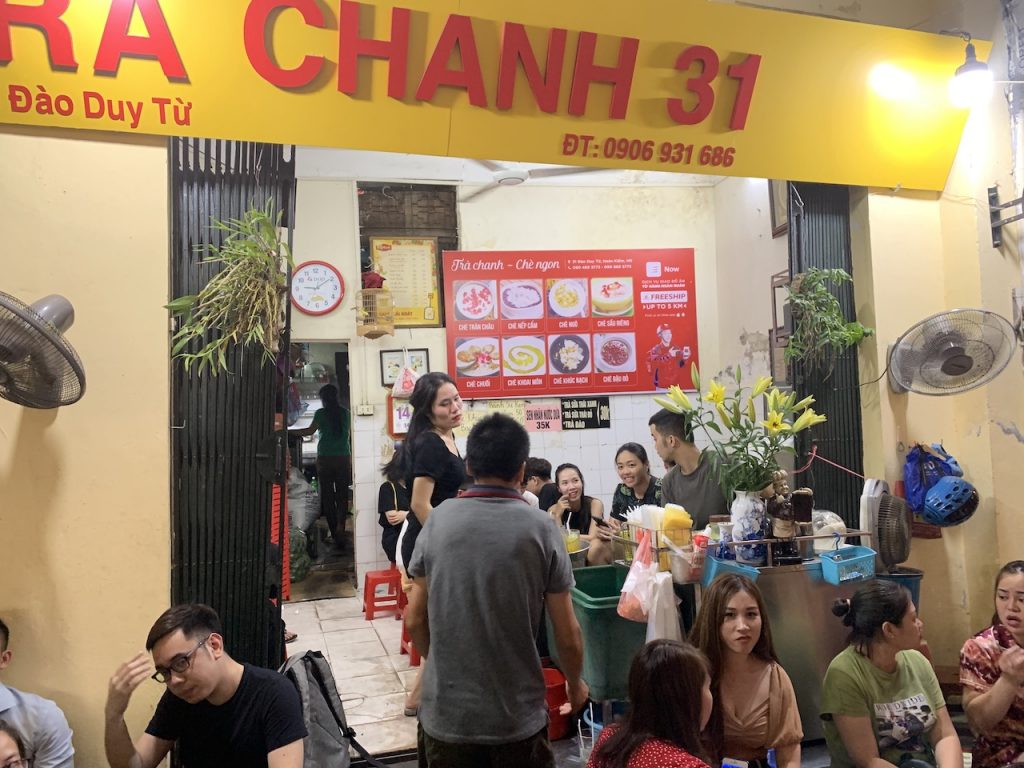 Where we are, a layer of seed shells covers the floor. Looking around me, I see everyone with a drink and a basket of seeds. 
"The locals can drink and eat seeds, and sit here and chat for three hours."
To call this place noisy would be an understatement. Vehicles drive by and honk every other second. Beside me, a toddler begins to cry. His mum balances him on her thighs while sitting on the tiniest stool. Meanwhile, we are breathing in the smoke from passing scooters, and having sat by the roadside for the past 15 minutes hunched back on a tiny stool, my back has begun to ache.  
"It's very relaxing," Minh laughs.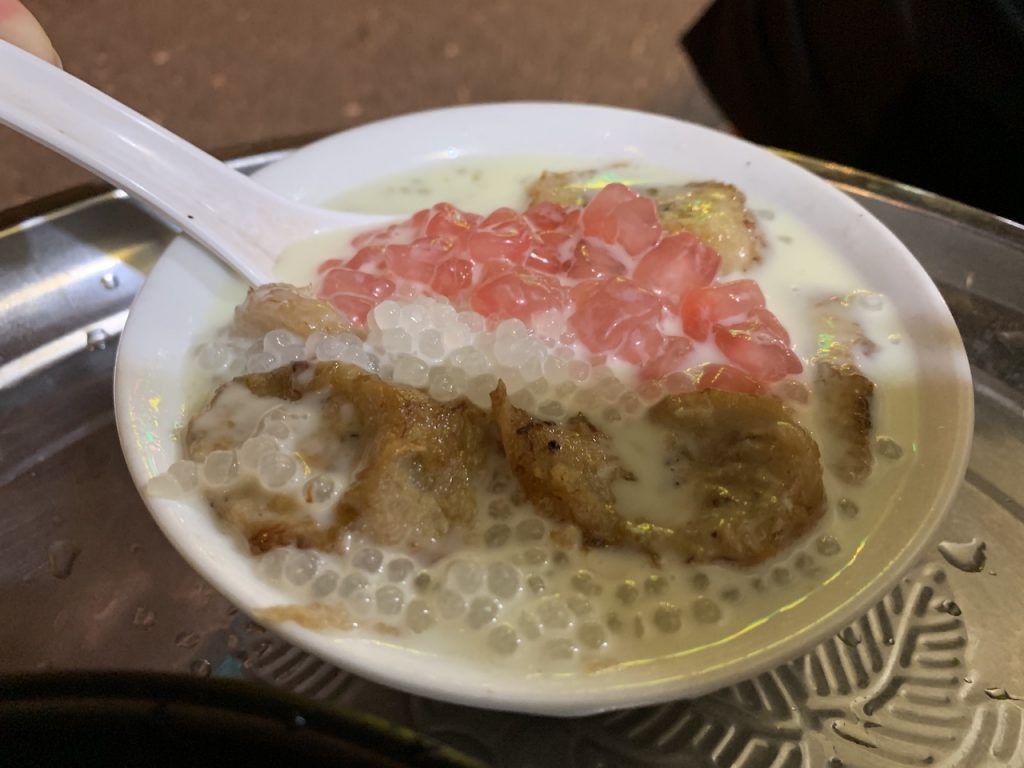 As I readjust my butt on the tiny stool, and stretch for the umpteenth time, Minh laughs again.
"Maybe we like to talk privately in a public space," Minh muses. 
"Nobody can hear what you are saying, it's so noisy," she says as I smile at the irony.
By now, I've noticed that every inch of Hanoi sports the same chair. To be more specific, the whole of Hanoi is filled with the same, tiny, blue, plastic stool.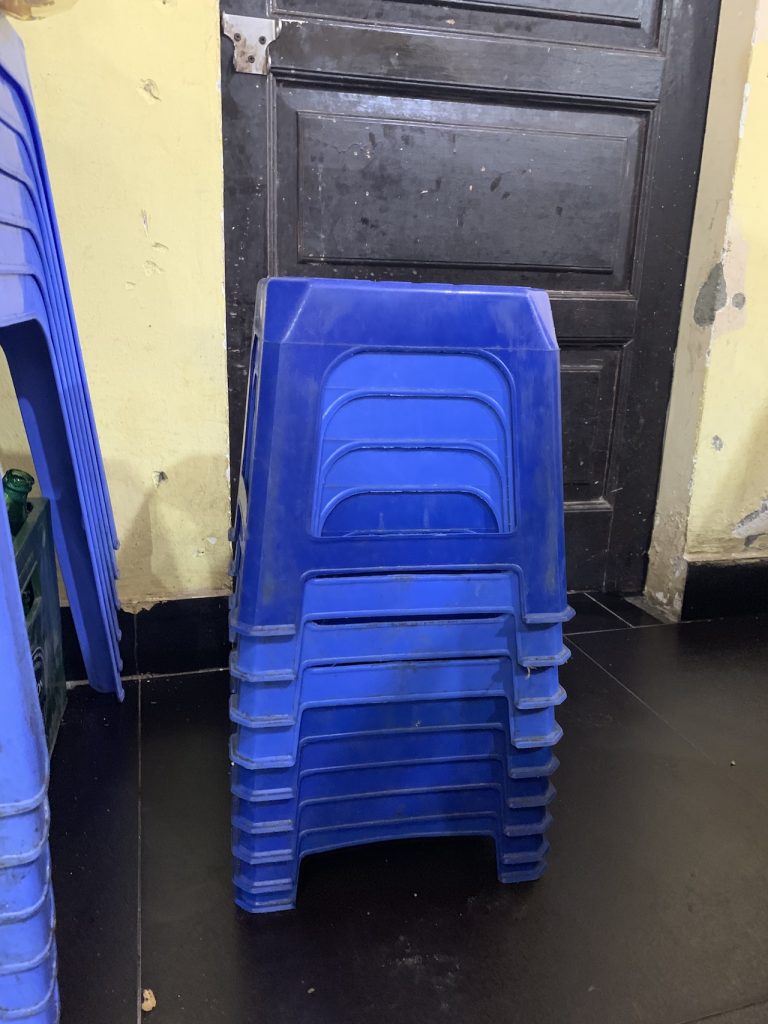 Minh and I suspect that they are all from the same supplier. Meanwhile, the store continues to fill up, and we give up our seats to be polite.
As abrupt as our tour started, it came to an end. Before we bid farewell, we add each other on Facebook. I think for a moment about what the older generations had to do to stay in touch. Be penpals, send postcards? All of this seems so distant now.
"See you soon!" Minh smiles. And she's off.
Have you travelled to a part of the world that you didn't expect to survive? Tell us your story at community@ricemedia.co.