Photography by the author.
It's 12.13 AM and I'm seated on a red plastic stool at a creamsicle-coloured table. Above me, "Lorong 9 Beef Kway Teow" casts its glow out onto the busy street that is Geylang Road, drawing in hungry customers like moths to a flame.
"Mei nu, what you want?" asks a middle-aged lady who's come over to take my order.
Before I can request for a plate of their famous beef kway teow, I hear a loud noise from across the road.
An Indian couple is fighting. The lady pushes the man onto the road, shouting and screaming at him. Another lady tries (in vain) to hold her back. The man, seemingly oblivious, has his eyes glued to his phone.
I stare, unabashed, until I realise that neither the waitress—nor anyone else in the coffee shop for that matter is paying any attention to them.
This is Geylang after all, where 'normal' doesn't exist, where rules are made to be broken and where the old and traditional has already started making way for the new and sometimes foreign.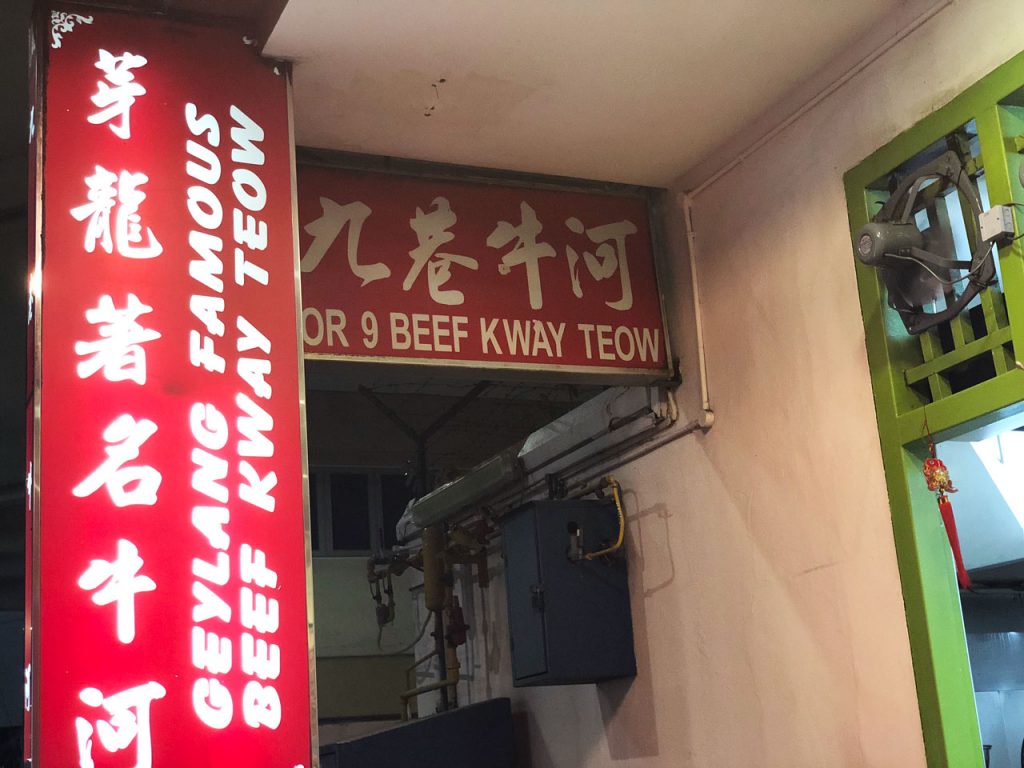 Ask anyone above the age of 50 and they'll tell you that Geylang was once a thriving place with a reputation that precedes itself, and a nightlife best described as "colourful".
And although much less visible now, illegal gambling dens, contraband sales, prostitution, secret societies, and drunken fights still continue to this day
Online forum posts dating back to 2007 describe how Geylang Lorong 18 was "infested with 369 people," a known territory of the gang. As for the sex work that takes place in Geylang, it has been covered time and time again.
Exactly how these vices came to congregate in Geylang is a little known fact. Blogger Jerome Lim says that illicit activities and prostitution have been around even before the rise of Geylang, in places like Chinatown and Bugis.
Hazarding a guess, he tells me that these activities probably started to spill over to Geylang due to overcrowding and increased regulations in Chinatown. It was also thanks to the steady influx of soldiers and single, migrant men from the Vietnam War (60s and 70s) when Singapore served as a supply centre to the US.
These men had needs, evidenced by the boom in the number of hotels along Geylang Road.
Hawkers tell me that there used to only be 2 to 4 hotels along the entire stretch. At its peak, there were 4 to 5 hotels along every Lorong.
While Geylang's seedy reputation for vice has made it a less desirable area to operate a traditional business from, it has on the flip side, become an attractive location for food businesses.
Not only are more hawkers drawn to the area because of the cheaper rent, the neighbourhood's vibrant nightlife means that hawkers are always guaranteed a ready clientele at all hours of the day. Even though it's after midnight when I show up at the threshold of Lorong 9's Famous Beef Kway Teow, the place is far from empty.
$7 and 10 minutes of waiting later, I'm presented with a large plate of stir-fried kway teow, smooth and chewy, generous slices of tender beef, and a whole lot of brown, sticky, beef-infused gravy.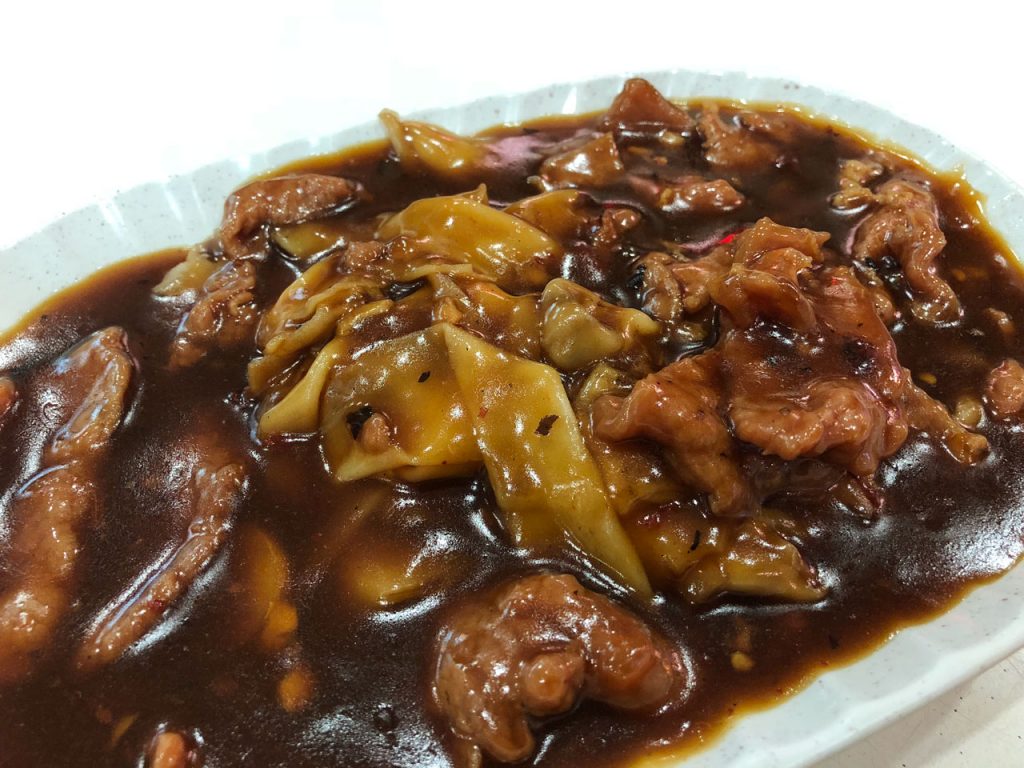 Having been around since the 1960s, I'd heard rumours that the beef kway teow was no longer as good as it once was.
They were right. Although the dish looked absolutely delicious, it tasted average. The green chili that accompanied the dish was also too sour.
My second stop for the night, Eminent Frog Porridge, fared much better. Eminent opened an outlet in Geylang in 2004, alongside several other frog porridge stalls that have flocked to Geylang over the years.
Most of the stalls open from 3PM and close after 3AM.
According to Jeffrey, who runs Eminent, this is because a dish like frog porridge is best eaten late at night—much like how economical beehoon is best eaten in the morning.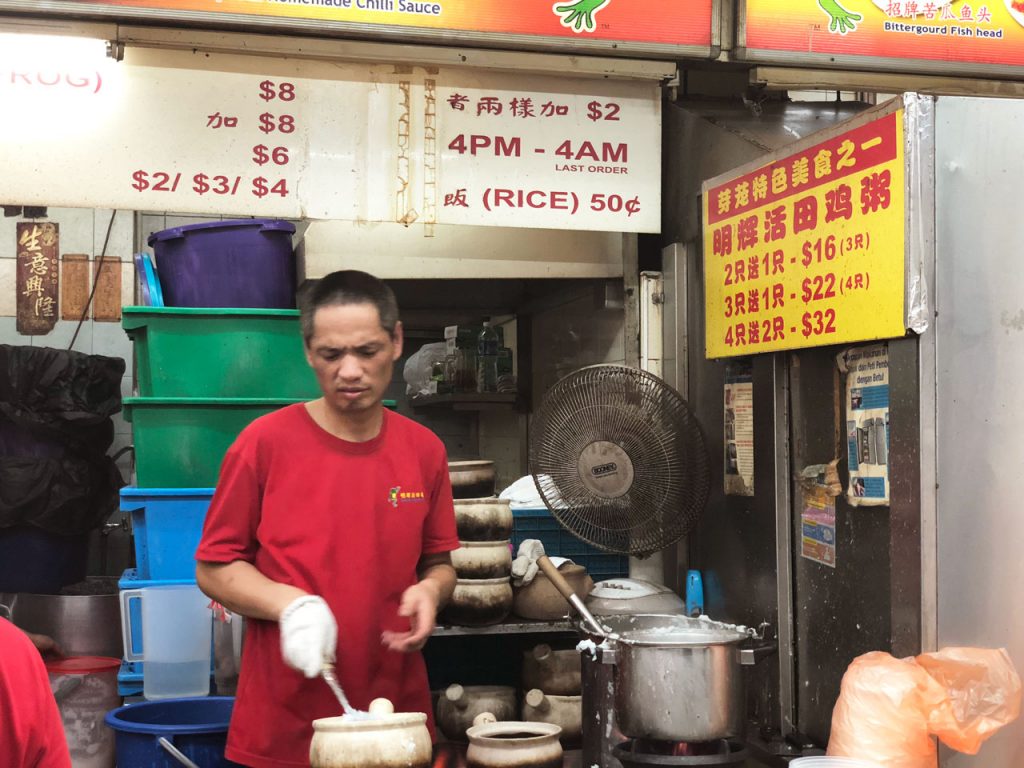 Eminent's food is cooked and served in a claypot which helps keep the porridge warm longer while bringing out the traditional aftertaste. Eaten alone, the porridge is smooth but plain, an ideal base for absorbing the flavour of the spring onions, dried chilis, and dark sauce that the frog comes cooked in.
Eaten together, one ends up with a dish that is piping hot, heartwarming, and rich in flavour. The meat tastes like a cross between fish and chicken, and is fresh and tender.
Open till 4.00AM, nightclub operators and their tired guests would flock to these eating spots for dinner or supper after a long night of partying. They make for a noisy, rambunctious bunch, but rarely cause trouble and are always polite.
"Not all troublemakers are from Geylang," says Jeffrey. "Sometimes they drink at other places, get drunk, and then head to Geylang for supper."
That's when the trouble starts. As recently as March, a fight broke out in their coffeeshop which proceeded to go viral.
When asked if such incidents affect business, he shakes his head.
"Singaporeans aren't concerned."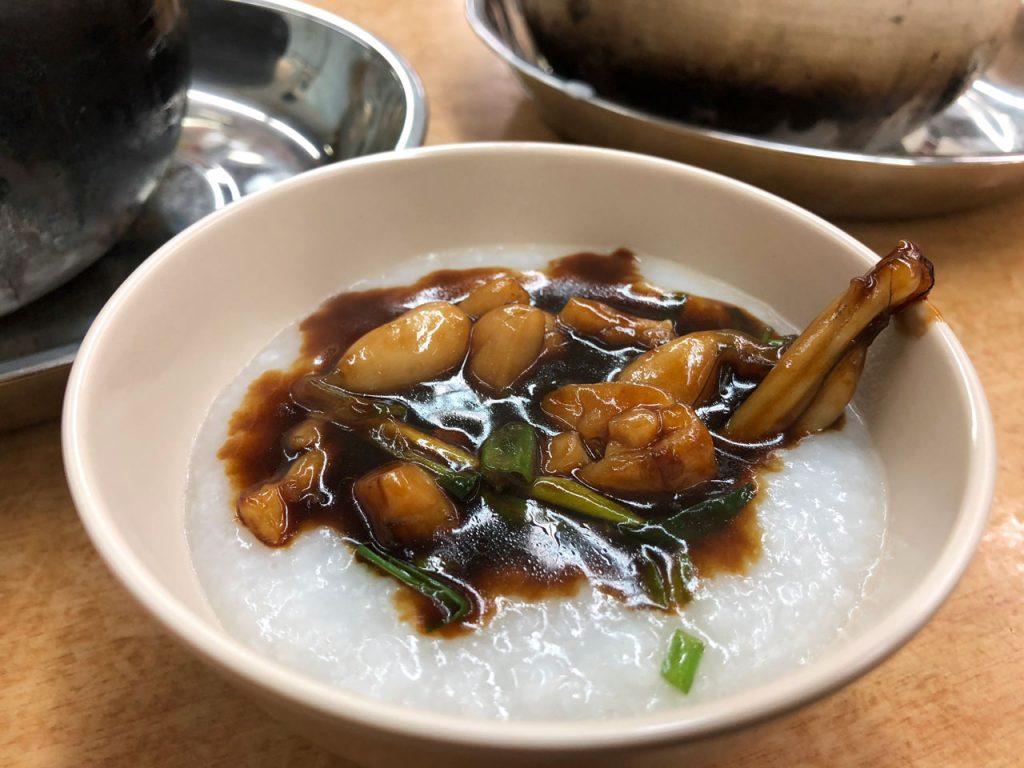 Sadly, Geylang is no longer the rebellious teenager that it once was.
After the 2013 Little India riots, Parliament passed a Bill that designated both Little India and Geylang as Liquor Control Zones. This banned drinking in public places and the retail sale of alcohol from 10.30PM to 7AM.
This, as everyone predicted, has cost Geylang its business and its flavour.
Sex workers are less visible now, as are the gambling tables. The beer ladies have dwindled in number, along with the bars. Many coffee shops that weren't good or established enough shuttered within 2 or 3 months of the Bill being passed.
Hawkers tell me of a time when the coffee shops would be full of people by 5 PM. Back then, the atmosphere was merrier, with everyone talking and laughing all the time.
These days, stalls like Sean Kee Duck Rice in Geylang close by 5 PM.
Says Ron, part of the trio who runs Sean Kee, "We used to open from 10AM to 8PM last time. But we noticed that after the alcohol ban, customers trimmed down quite a lot."
Now, they run their stall from 11AM to 6PM to capture the lunch crowd.
It's close to 2.30PM when I take a seat at Sin Huat Eating House where Sean Kee has been located since 1978. Despite it being so late, nearly all the tables are occupied with patrons tucking into plates of duck rice. I decide to do the opposite and order a bowl of duck porridge—just the way my father taught me to eat it.
For $9, I get warm, thick porridge, a bowl of soup, a saucer of chili, and a large plate of duck meat, innards, braised peanuts, egg, tau gua, cucumbers, and bean sprouts topped with their family's secret gravy—a gooey, sweet braised dark sauce. It's the same sauce that their father used to make some 40 years ago.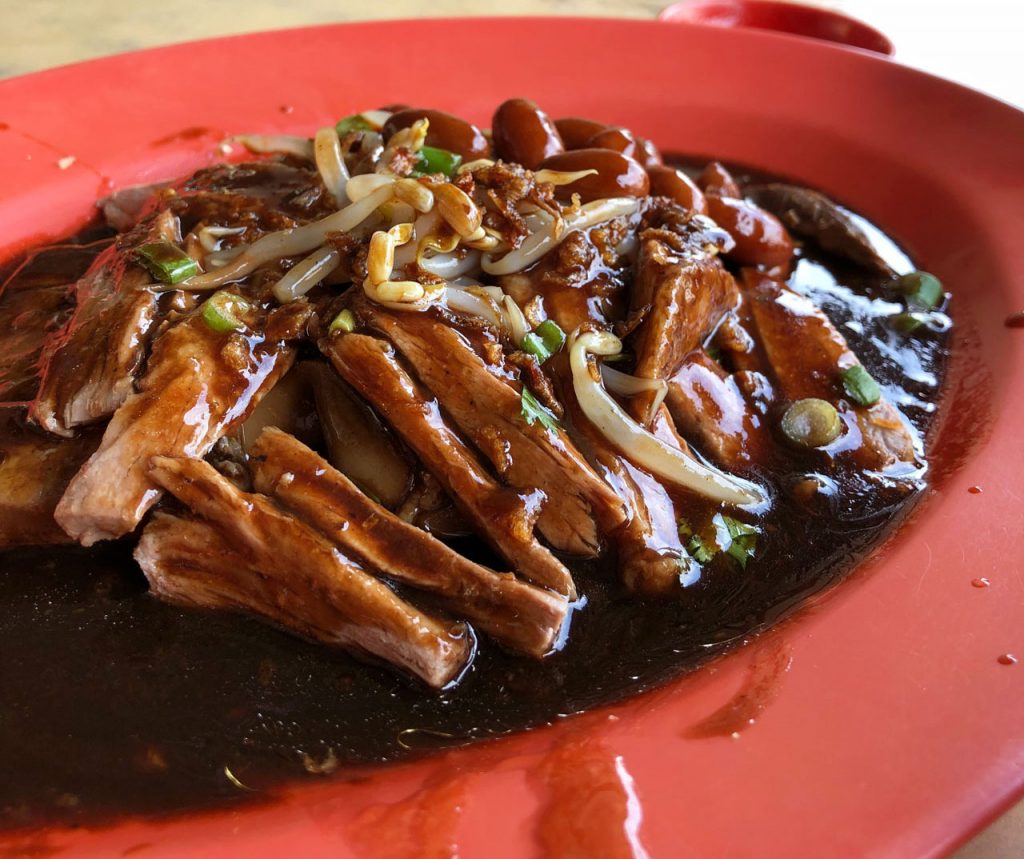 "After the government clamped down on the red light district, with the raids, it gradually became quiet," Ron tells me. Even with an established business like theirs, it's still been an uphill climb.
"Setting aside the long working hours, the rental is a killer and there is a lack of manpower," Ron adds.
For some like Mr Koung Boon Kong who's been running Koung's Wantan Mee in Geylang since 1964, taking difficulties in one's stride is part and parcel of being a hawker.
He apprenticed for two years at a push-cart wanton mee 'stall', before moving into a proper coffee shop in 1960.
"I was only paid 40 cents a day!" he tells me in Mandarin, "40 cents!"
When the 1964 race riots broke out in Geylang, the Malaysian hawker that Koung was working for decided to return home. This was when Koung decided to take over the business. He was more than capable, after years of secretly observing how his boss made wanton mee.
"Last time no such thing as teach one. No one will help you."
Thankfully, Koung's observation skills were on point.
His mee is soft but springy, coated in a mixture of chili, oil, and soy sauce. The char siew—fatty and tender—is homemade, marinated and barbecued by Koung every morning, while the wanton skin is slippery smooth and paper-thin.
Despite being over 70 years old, Koung is quite the warrior. His daughter, Sharon, tells me that her father has had two major heart operations within the last two years.
"He rested 1 month cannot take it, go back to work. It's in them, they are used to working 14, 16 hours. It's hard for people who've worked all their lives to stop."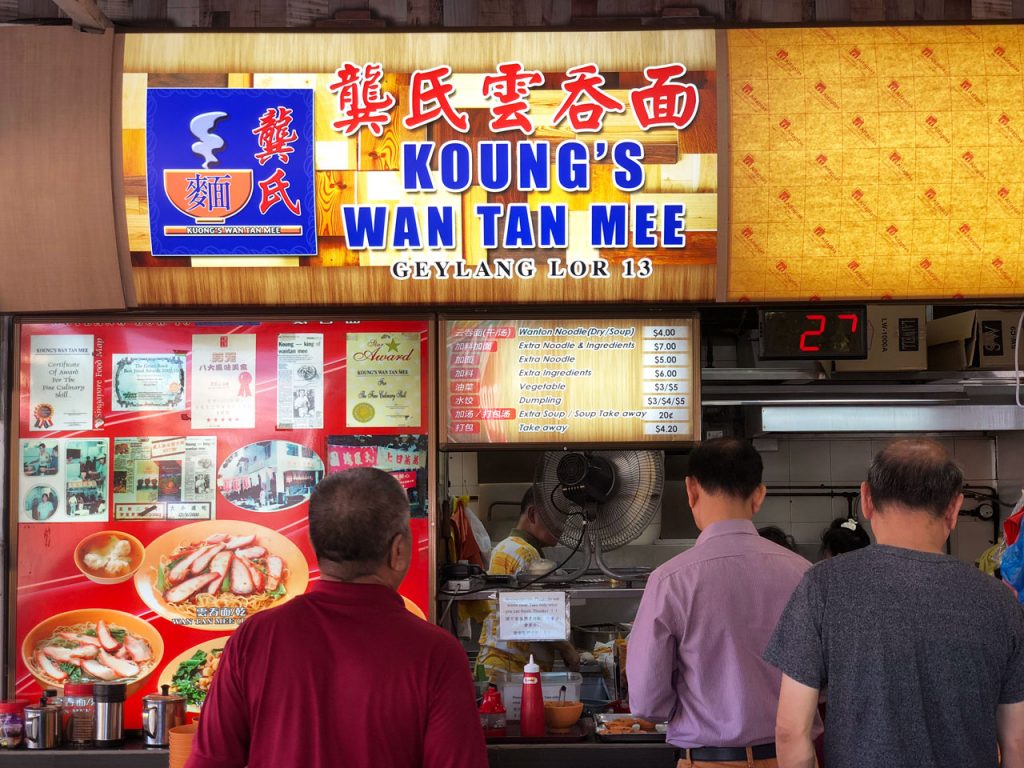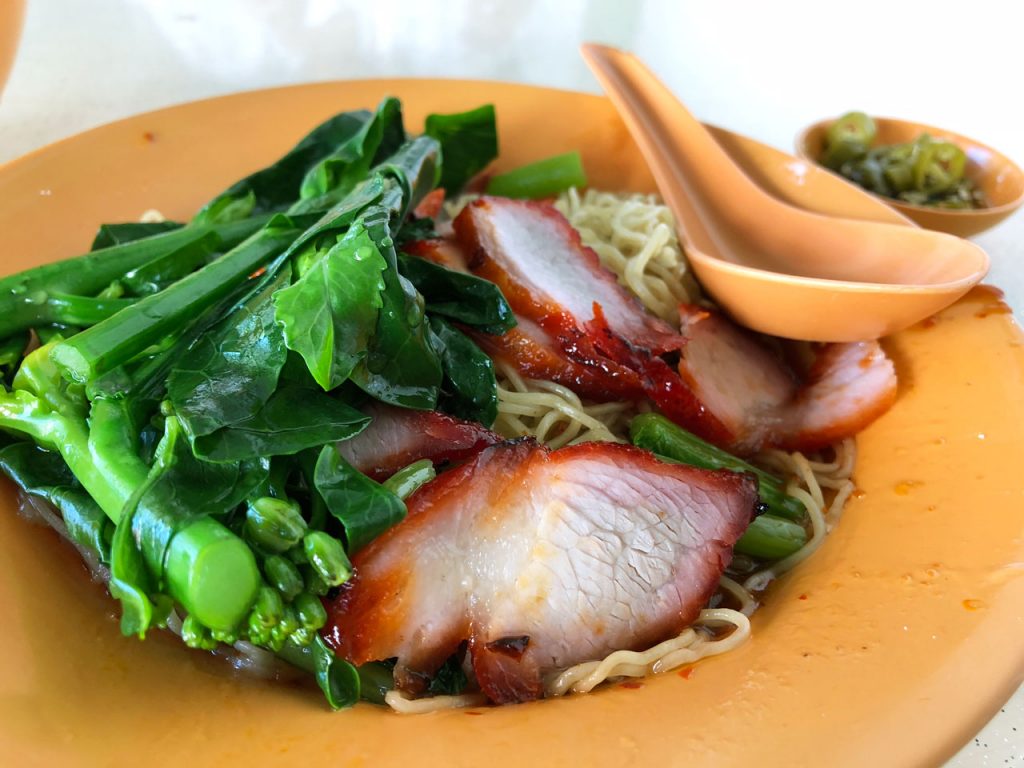 That said, Geylang's hawkers aren't just known for working hard. They work smart too.
Take Geylang Laksa. Before the stall was taken over by Johnny Lim in the 80s, it was run by his father in the 60s.
Using a trishaw, Johnny's father would roam the streets in search of business. Starting at Lorong 1 at 7AM, he would make his way to Lorong 42 and be back at Lorong 1 by late afternoon.
"Customers would run after him, holding their own bowls for his laksa," laughs Johnny.
Staying on the move not only meant more customers for Johnny's father, it meant he could avoid the health inspectors who were there to remove and re-house itinerant hawkers from the streets into purpose-built hawker centres.
Only when Johnny took over was he persuaded by the police to settle in a coffee shop along Sims Avenue just off Geylang Road.
As most of the coffee shop's customers visit only during the day, Johnny starts early, opening at 4.30AM and closing by 1PM. I arrive at the store and join the queue at 12.38PM, sweaty and slightly frantic. I make it in time and settle for a $3 bowl of laksa.
It's 30 degrees out but still, I down it all. For $3, you get 3 half-prawns and 5 cockles. The gravy is fragrant (without relying too heavily on oil and coconut milk) and full bodied with just a bit of a spicy kick. According to food critics, it's "Old School".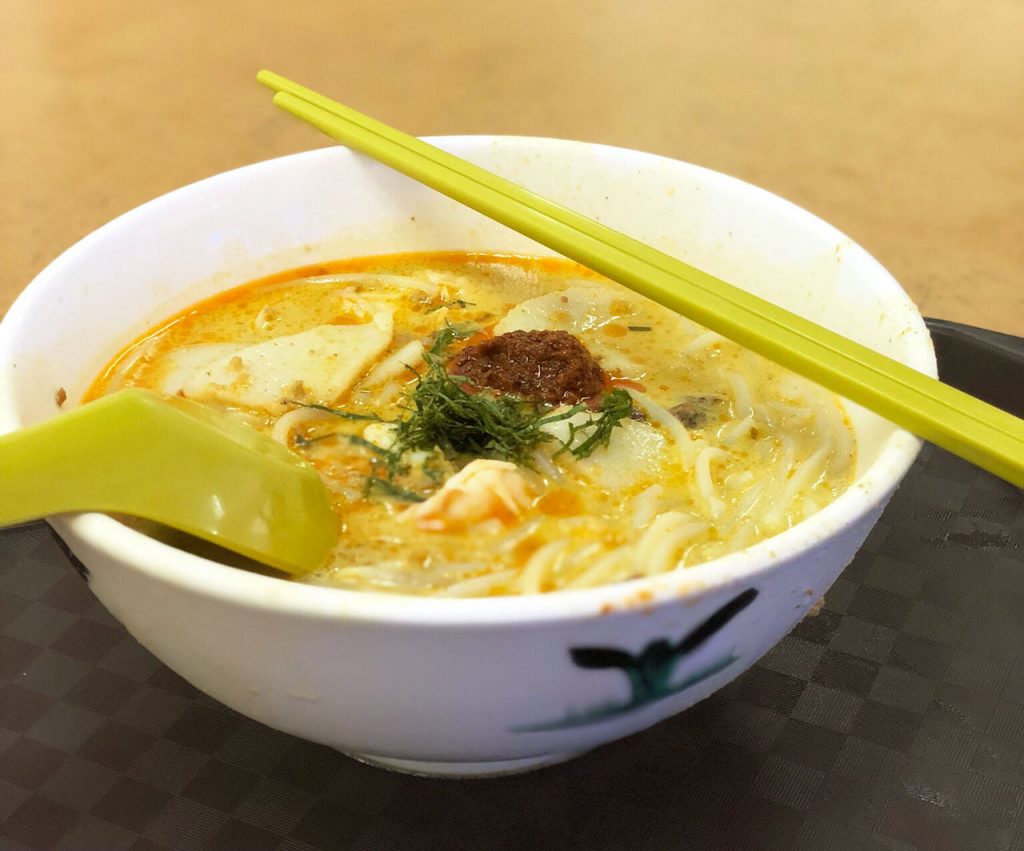 Geylang's Kwong Satay is yet another famous "Old School", dish.
The store has its roots in the 1960s, when Mr Wong Chee Kwong's grandfather used to peddle satay from a trishaw in Katong. 20 years later, Mr Wong continued the family tradition, only this time he opened his own satay store at Geylang, Lorong 29.
They have maintained "the style of the good old days" by strictly adhering to their family recipe, a fusion of Hainanese, Chinese, Peranakan, and Indian influences, in both their satay marinade and peanut sauce. 
I order 6 sticks each of pork and chicken for $0.60 a piece. Although I like my satay with more fat and the sauce a little thicker, the meat is still incredibly tender and well marinated with a perfect charred-to-grilled ratio of 1:5.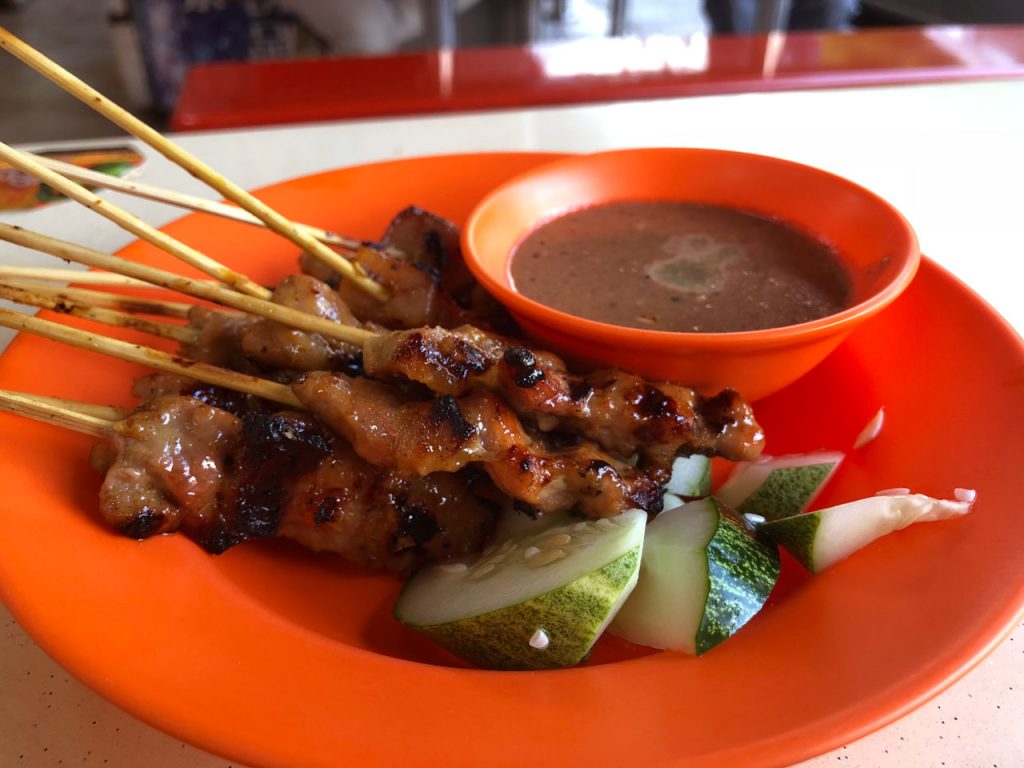 But beyond secret family recipes and tough-as-nails hawkers, there's one more reason that explains why Geylang might have some of the best food in Singapore.
Three words: privately owned shophouses.
Beginning from the early 1900s, Geylang's plantation farms started making way for more urban developments, fueled in part by Geylang Road which was a busy thoroughfare, linking the downtown of the Singapore River to the northeastern part of Singapore.
As evidenced by the varying styles of shophouses found along Geylang Road, development wasn't a linear process. Instead, it has happened in pockets, favouring certain lorongs over others and spanning 40 years from 1910 to 1950.
Lower-rise, minimally decorated 1910s early-style shophouses can be found at Lorongs 11 to 14 and 27 to 29 while 1950s modern-style shophouses are located at Lorongs 24A, 22 and 20.
And it is in a 1930s-style shophouse, with its simple facade, curved windows and Chinese ornamental characters etched onto the walls, that I find Geylang Claypot Rice.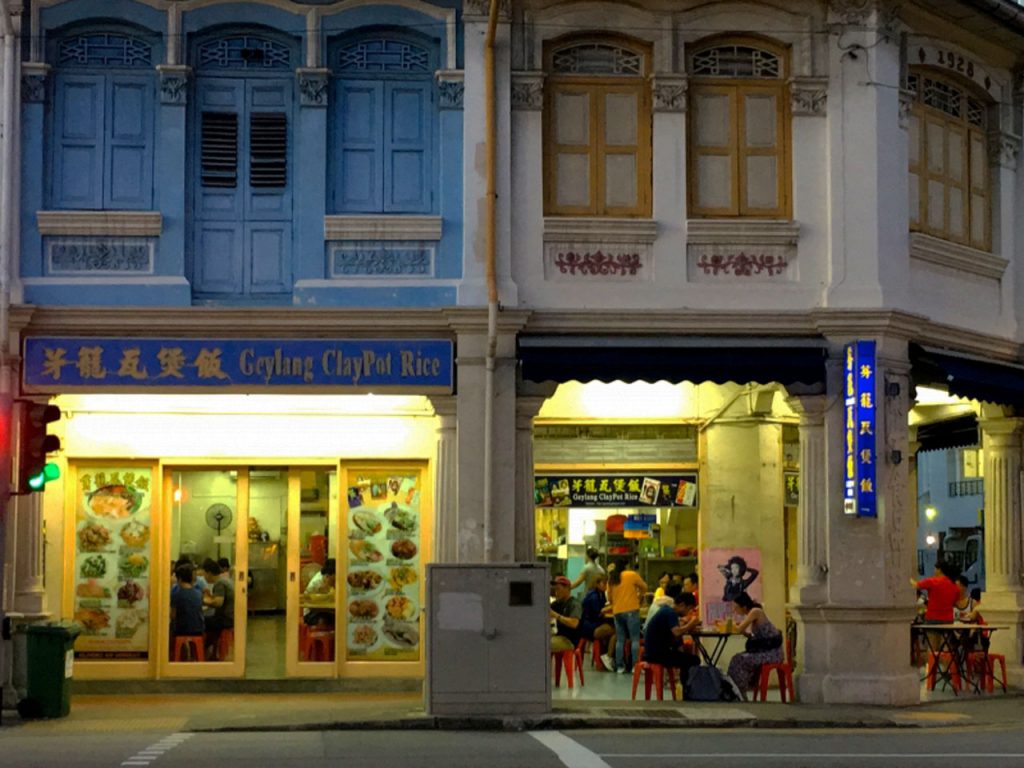 Back in the 70s, one Mr Ng Kim Hock learnt from the hawkers in Chinatown how to cook
sar poh fan
(claypot rice). After mastering the requisite skills, he decided to move to Geylang and set up his own store in the early 80s. 
According to Ah Lai, who's been working there since its inception, their sar poh fan is special as it's cooked the traditional way, over charcoal.
A window that's built into the kitchen offers me a glimpse into the cooking process. First, the claypot is preheated using charcoal. Next, the rice is added and left to cook until it is almost ready. I watch, transfixed, as the flames from the charcoal lick the sides and lid of the claypot, cooking both the top and bottom of the rice evenly and imbuing it with a distinct smoky flavour.
When the rice is about 70% done, the ingredients are added and the dish is served.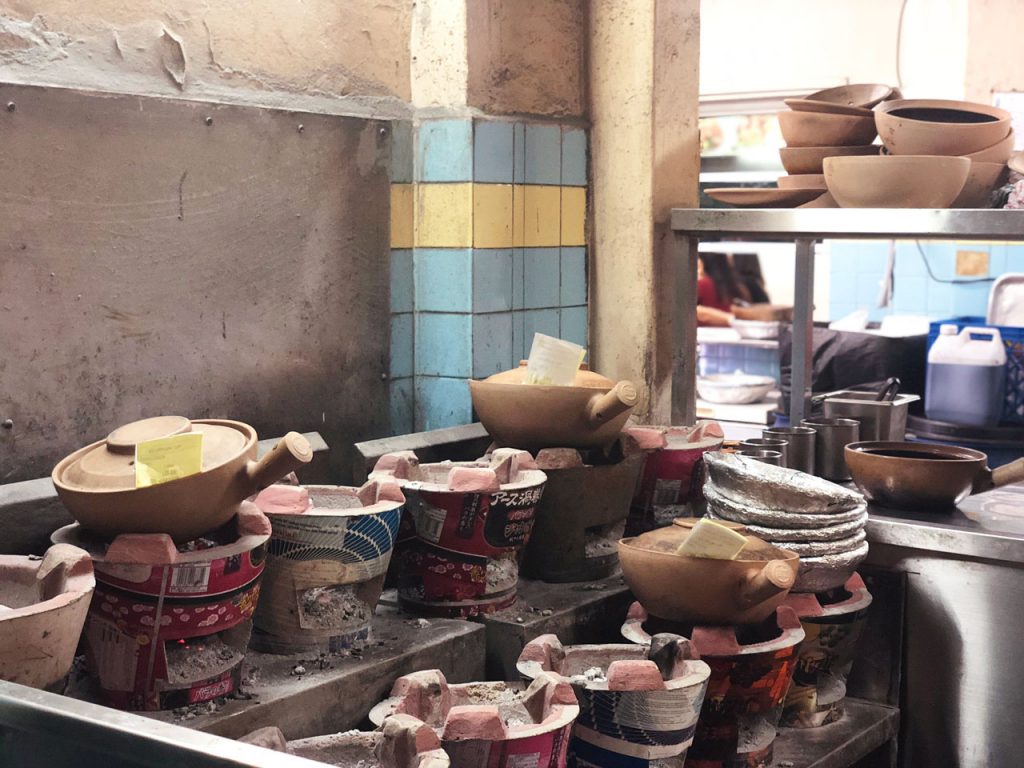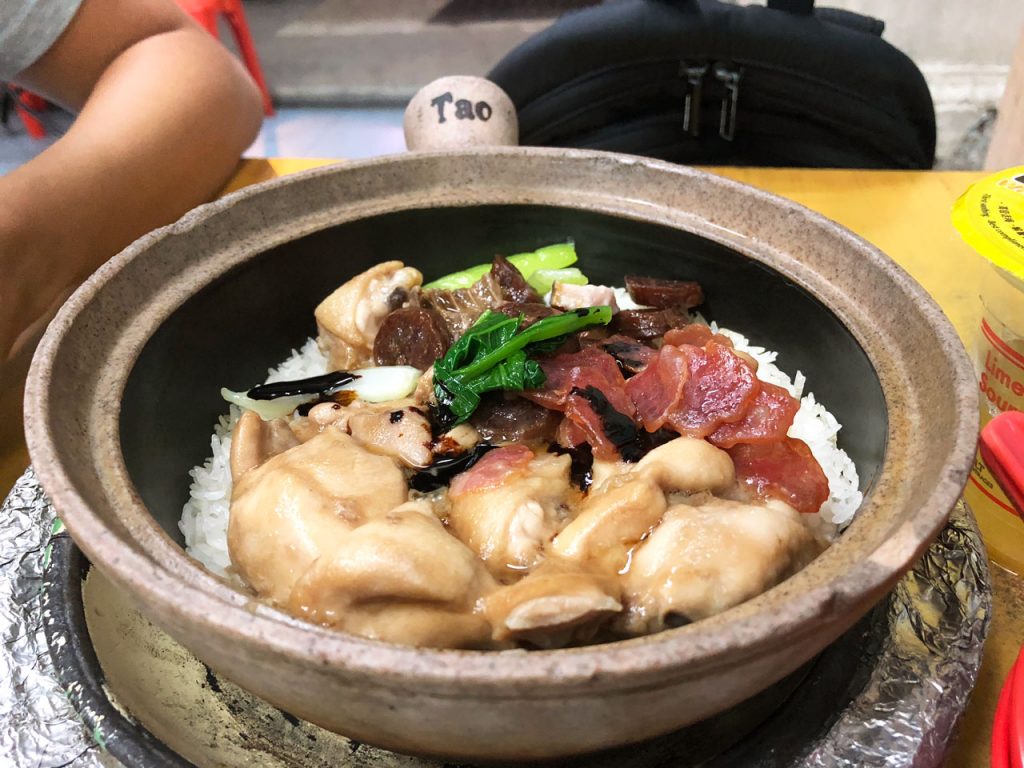 With a healthy squirt of dark soy sauce, a large ladle, and a strong right forearm, I scrape all around the pot, mixing together grains of perfectly crunchy rice, pieces of succulent chicken, and tender, oily
lupcheong
.
Goodbye no-carb diet.
Now you're probably wondering, if charcoal is so great, why doesn't everyone just use it?
Well, they can't.
In hawker centres, the use of charcoal is prohibited as the embers pose a fire hazard. However, in Geylang where shophouses are privately owned and with the permission of landlords, places like Geylang Claypot Rice can continue to cook the old-fashioned way.
The same goes for Geylang's famous Swee Guan Hokkien Mee—located in a recently renovated 1950s style shophouse—yet another store that has since 1968, relied on the use of charcoal.
Touted as one of Singapore's best, the Hokkien Mee is painstakingly prepared.
It all begins with a powerful charcoal-fueled flame and a large wok. To this, oil, a dozen eggs, and a bags worth of noodles are added. Once the noodles are cooked, all but a small portion of noodles are removed. More eggs and sauces are then added to the wok, creating a thick gravy.
The noodles are re-added and stirred. Finally, everything is taken out again, save for one portion's worth of Hokkien Mee.
This is what they eventually scrape onto a plate, along with prawns, squids, bean sprouts, a side of sambal chili and a lime, and hand to me.
The wok hei fragrance is undeniable. The prawn stock is thick, bordering on jelat, and smoky, while the noodles are soft and act as the perfect base for absorbing the gravy.
Yum.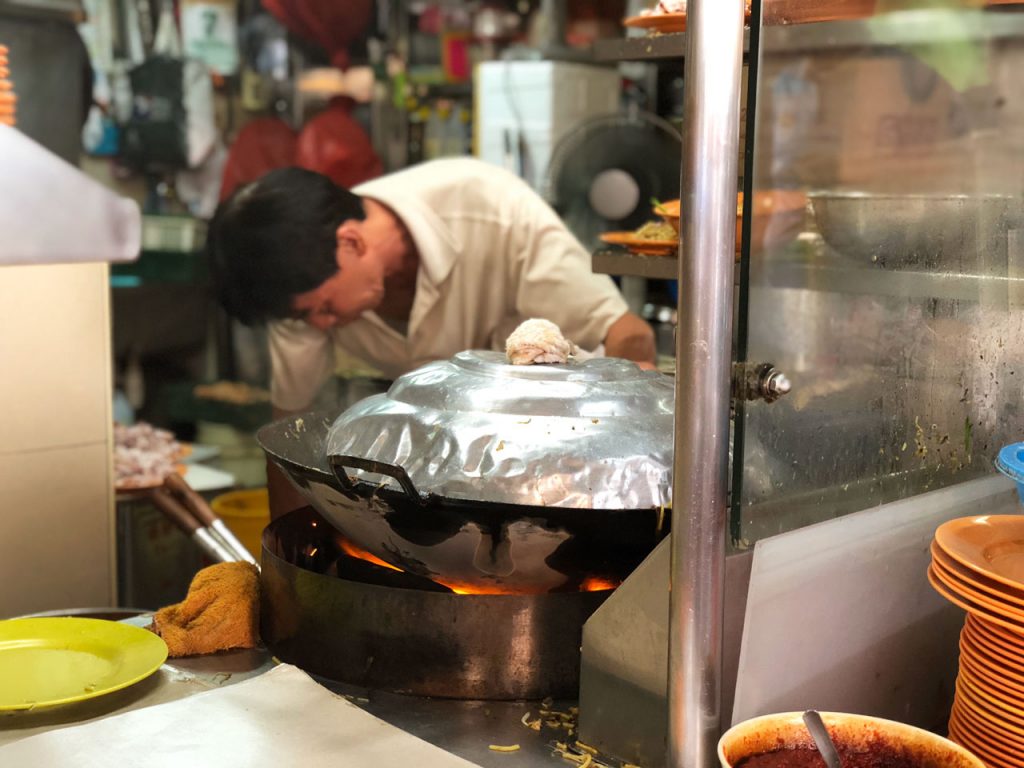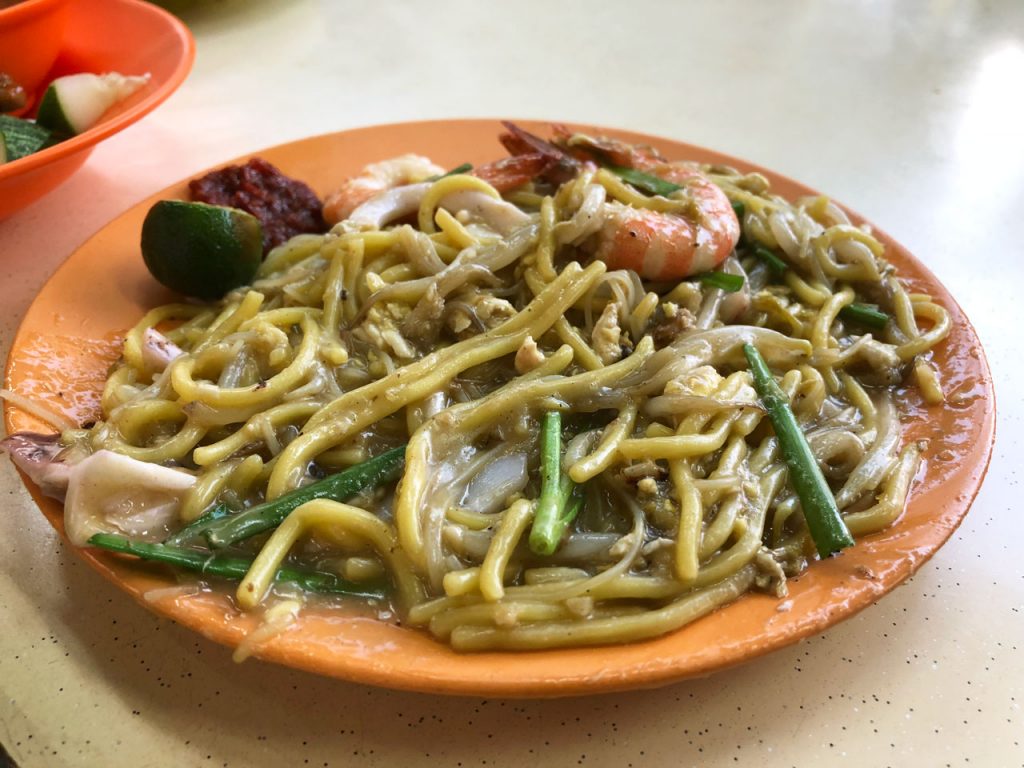 Few things however, can be relied upon to stay the same.  
The passing of the Liquor Control Bill isn't the only change that Geylang's seen as of late.
Since 2015, there's also been a steady increase in Geylang's population of foreigners.
Says Ron from Sean Kee, "Ever since they built a lot of these apartments, you have Hungarians, French people coming to try the food."
And they aren't tourists, but expats.
"They absolutely love it here. They say that is where the real Singapore is," says Jerome.
As I'm seated at L32 Kopitiam Ban Mian in Geylang, waiting the minimum required time of 15 minutes for my ban mian to arrive, I notice it too. At least 3 of the 15 or so tables are occupied by foreigners—either hungrily slurping down their noodles or patiently waiting for their orders while sipping on plastic cups of lime juice.
Despite being one of the newer stalls along Geylang, having opened just 10 years ago, L32 Kopitiam Ban Mian has already made a name for itself.
I never thought a dish such as Ban Mian, with its bouncy white noodles, milky, ikan-bilis infused soup (that has been cooked for over 10 hours) and tender minced pork would appeal to Western tastebuds, but it does.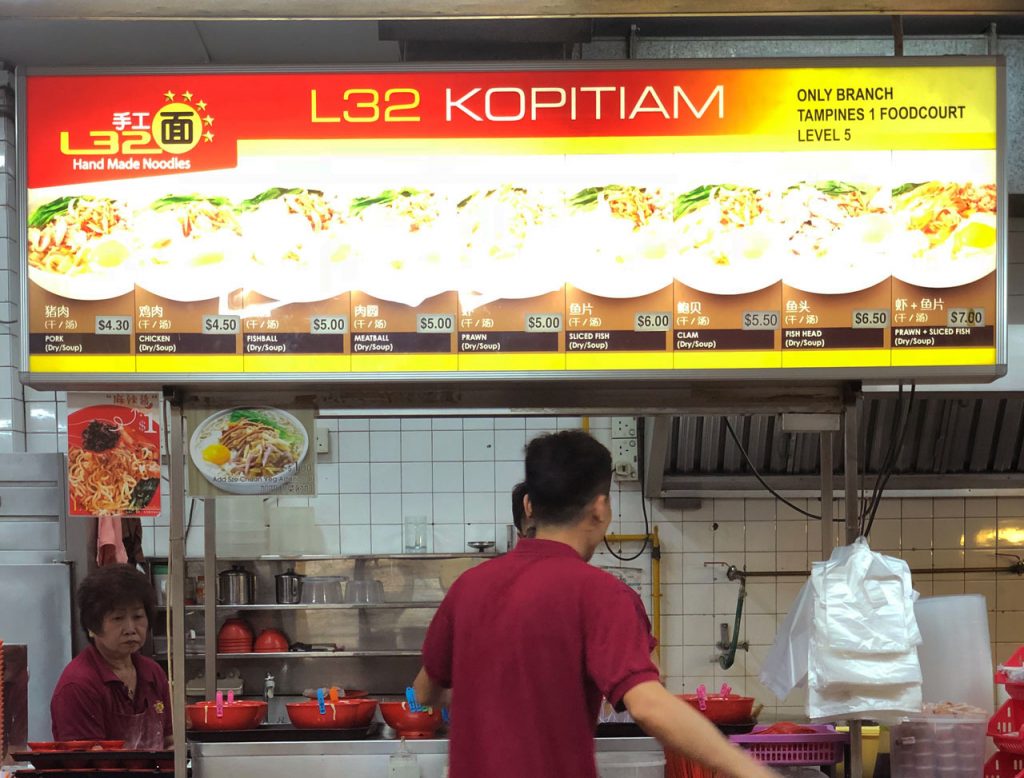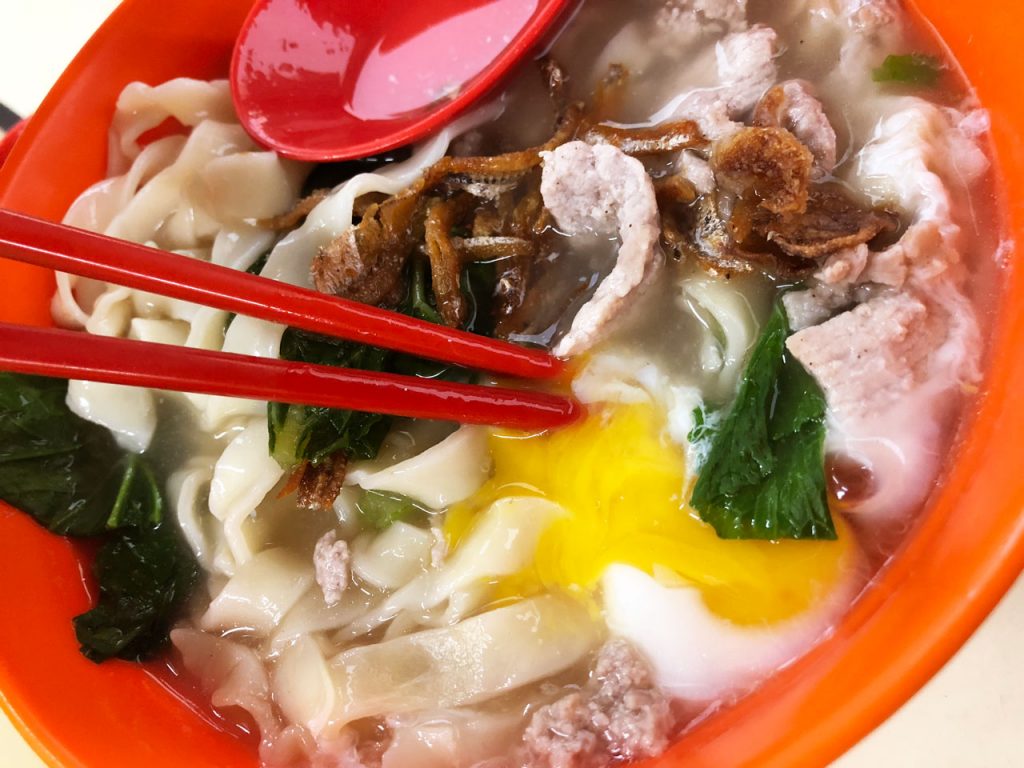 Besides Westerners, Geylang has also seen an influx of Chinese working class nationals.
"There are a few Chinese working quarters located along Geylang," says Ron.
Not only is it convenient for them to get around Singapore for work, but the rent is cheap as well.
To cater to this new demographic, a large number of Chinese KTVs and restaurants have sprung up along Geylang in recent years, snapping up previously empty shophouse units.
In addition, mala hot pots, Chinese BBQ skewers, and Tsingtao beer can be found around every Lorong.
And while this has certainly gone towards increasing Geylang's foot traffic, most hawkers perceive this change to be for the worst, believing that these businesses change the well-worn exterior of Geylang, and lend a colder, more closed off vibe to the place.  
To them, the flashing neon-lights, dim lighting, glass facades, and air-conditioned interiors don't blend in with Geylang's style of hot and sweaty roadside dining.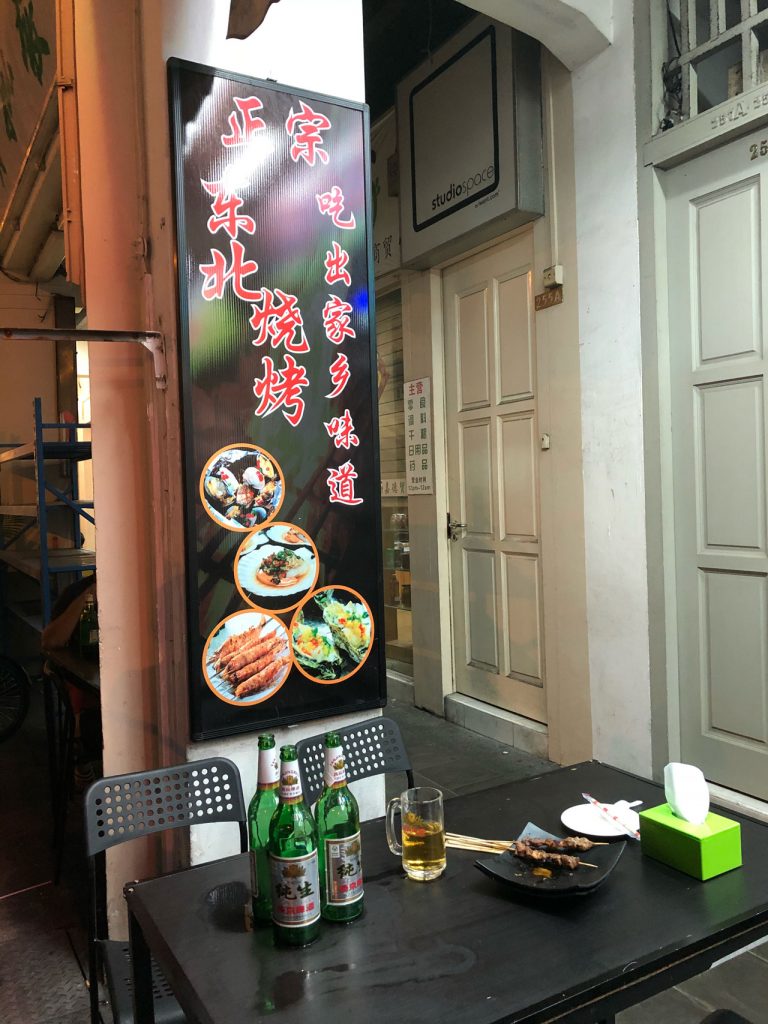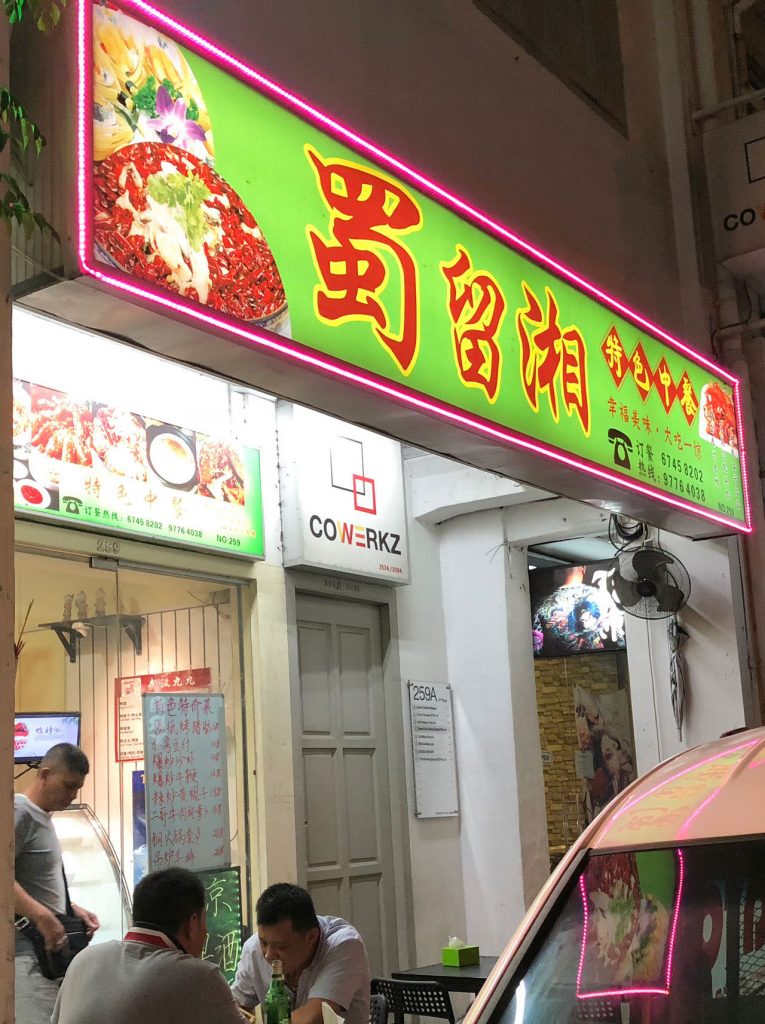 Sure, it's no longer the same Geylang which others remember from decades ago the shophouses are more vacant, more dilapidated, and the crowds are a little less rowdy, a little more foreign—but this is
Geylang, 2018.  
And by the time 2020, 2025 and 2030 rolls around, a lot more of Geylang's history will surely have been lost to time.
But should anyone wish to remember, all they have to do is take a look at Geylang's food, for in it one can find a story of a neighbourhood that once was, that presently is, and what it is likely to become.
Congratulations, you made it to the end. What are some other neighbourhoods we should explore? Let us know at community@ricemedia.co.