Top image credit: Bar Cicheti
Generally speaking, Friday night in Keong Saik sets my teeth on edge. Bass thumping, craft beer flowing, heritage-chic shophouses borrowing grit from the KTVs and Hotel 81s, homogeneously glamorous people spilling onto the streets. It's ostentatiousness masquerading as chill, and my introverted, inveterately judgey self is really not feeling it.
At first glance, Bar Cicheti seems little different. Everything about it has been calculated to draw a well-heeled, urbane crowd, from the open kitchen to the Aesop soap in the bathrooms, the small plates to the art lining its walls, like an extension of its equally curated Instagram feed.
Here's the rub, though: I actually really like this place.  
Amidst the eye-watering pretentiousness of its surroundings, Bar Cicheti is that elusive thing: achingly chic without being trendy. And the food—well, I'll get to that in a minute, but here's a taster: it makes it very difficult to be cynical.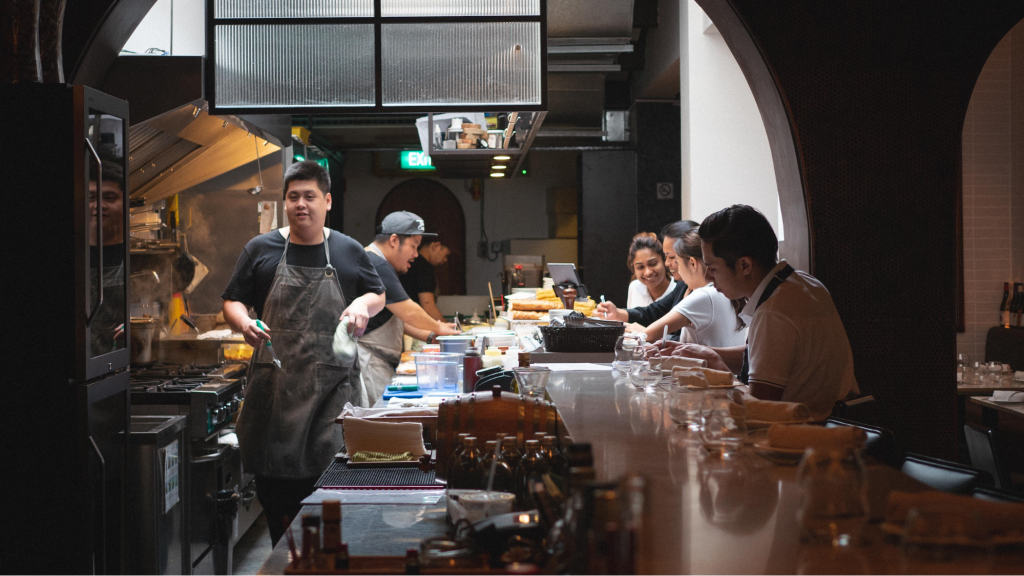 "I wanted something which would age well," Liling Ong tells me, as we stand by the bar, watching her team get ready for dinner service. Her co-owner and cousin, chef Lim Yew Aun, is already in general mode, watching a junior cook slice focaccia with military precision while keeping an eye on a bubbling pot of pasta.
I first meet the pair, along with their sommelier-partner Ronald Kamiyama, for the interview on a sultry Tuesday afternoon. Bar Cicheti, a pasta-and-wine bar and sexy little sister of their first restaurant—the original Cicheti—is their third and newest venture.
For Italian restaurants, the origins of the Cicheti group are quite geographically diverse. Its story starts in London, where Liling lived for several years, right around the city's mid-range dining boom of the late 2000s.
She tells me about her former stomping grounds: the original Ottolenghi in Notting Hill and Bocca di Lupo in Soho, as well as older establishments like Daphne's in South Kensington—places, she says, "Which weren't just occasion restaurants. You could go in on a Monday or Tuesday for a meal, or on a weekend and make an event out of it."
When she moved back to Singapore at 25, she found herself missing that: the notoriously elusive mid-range restaurant, elegant but relaxed, with quality food that didn't cost the earth.
"Back in the day, Singapore simply didn't have such restaurants," she tells me, eyes widening in earnest. "There was genuinely no restaurant that fulfilled me."
Meanwhile, Aun, who grew up in Penang and moved to Singapore at 18, had fallen in love with Neapolitan pizza while working at the L'Operetta Group.
"I thought it was so challenging because it [pizza Napoletana] uses a wood oven, and there's no thermometer showing you the temperature … then there's the dough, which needs a long fermentation. I just thought it was so beautiful," he says.
He trained under a Japanese chef, filling in the gaps in his knowledge via YouTube tutorials and cookbooks, and gradually began experimenting with handmade pasta. When Liling approached him, eager to start a restaurant inspired by her London haunts, it was only a matter of time before Bar Cicheti was born.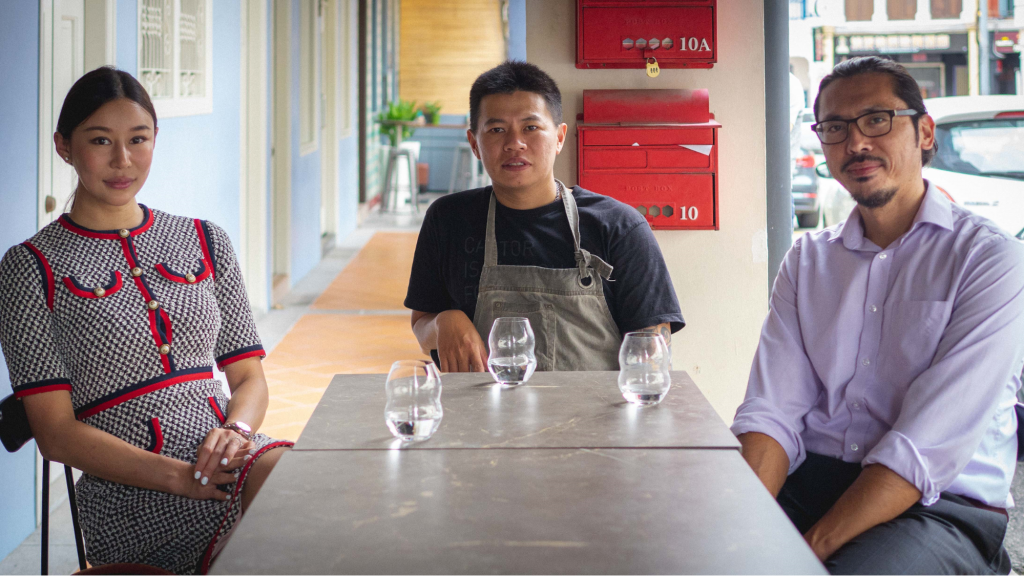 For the most part, dishes at Bar Cicheti are fairly authentic, and use ingredients imported from Italy. The pair's main contribution has been to amp up their flavours for Southeast Asian palates.
In this vein, much as the pair wanted to honour traditional Italian dishes, putting their own stamp on things was always part of the plan.
For example, Aun explains that Italians are traditionally very garlic-averse, fearful of overwhelming ingredients' natural flavours. Singaporeans, used to concentrated stocks and bold flavours, have no such squeamishness.
To this end, cicheti refer to a very specific kind of Italian food: small plates of appetisers and bar snacks, served in the bacaros (wine bars) of Venice. At its peak in the 1300s, Venice, as a major maritime power and trading port, was a gateway between Italy and the broader Mediterranean, and Venetian cuisine has borne the marks of this openness ever since.
"Cicheti has an Italian sound to it, but what I liked about it was that it didn't typecast us as serious Italian food," says Liling.
Their intention, she explains, was to carve out a brand story which took into account that they weren't Italian. The name gave them leeway to experiment with foreign ingredients, not to mention wiggle room for branding.
"I guess it's something we're now starting to leverage on, but in the beginning, it was also to justify that neither of us were Italian."
Was this something they felt they had to justify?
"In the beginning, yes! Definitely. It was something I was petrified about whenever I spoke to the media. I mean, if you look at a lot of other Italian kitchens—No Menu, Ristorante da Valentino, Pete's Place—they all had Italian chefs behind them. We were half their age and not Italian. It was very intimidating."
Her confession takes me by surprise; I had assumed that Singapore's diverse culinary heritage would make diners less hung up about authenticity (at least, when it comes to non-native cuisines). The observation, however, makes sense. For years, the big names of Italian cooking in Singapore have all been, well, Italian; Beppe de Vito of Il Lido, Osvaldo Forlino of the Osvaldo Group, and the Scarpa family of the Da Paolo chain come to mind.
On top of that, the cousins had chosen a particularly unforgiving approach: a menu focused on just one kind of dish.
"We were very nervous [about opening Bar Cicheti] because it's so focused on pasta. There just wouldn't be much to hide behind if our pastas sucked."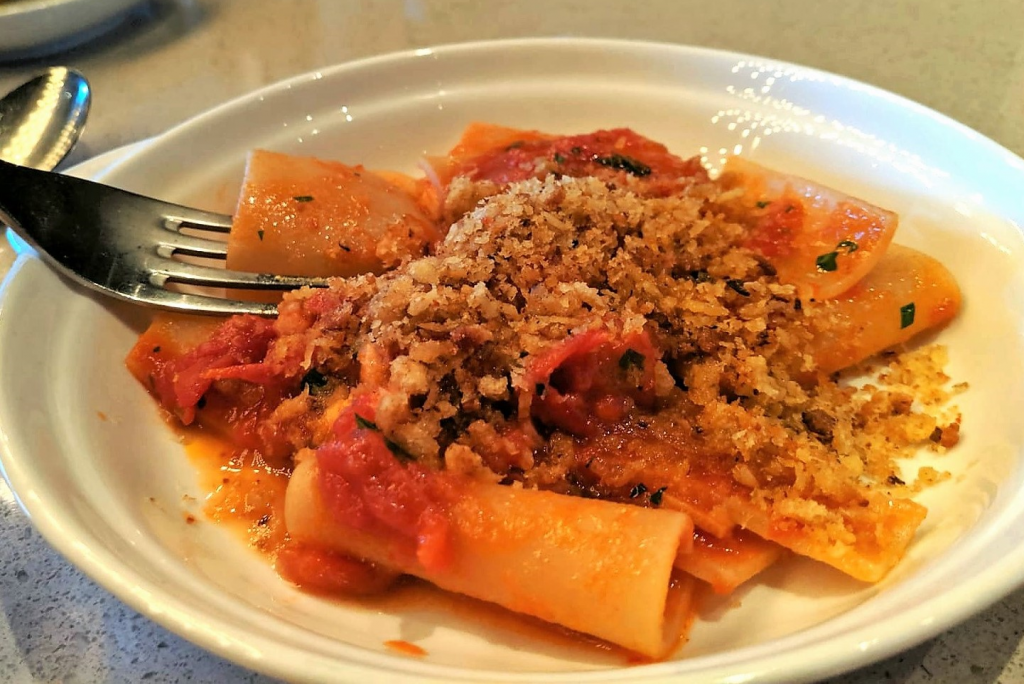 A few days after the interview, I call up under a friend's name, snag a space at the 6 PM seating—the only one with room left, apparently—and bound out of the office.
The bartender looks nervous when my companion and I order the fried sage leaves to start. I don't know why he worried; the fragrant, slightly salted leaves, like tempura by way of the Adriatic, are very moreish. Our one grouse is that they could have been better fried; the batter is a shade too dense for the delicate leaves.
It's the pastas that we're really here for, though, and they do not disappoint. We dive face-first into their carby embrace.
I mean this figuratively, but only just. There are dishes to be nibbled in delicate forkfuls, and there are those which should really be shovelled with adoring gusto, politeness be damned. Pasta, be it in the eating or the making, is like love; you can't do it half-heartedly. You have to go all in.
We get off to a promising start with the paccheri, wide, smooth tubes in a briny puttanesca-style tomato sauce, studded with tender nuggets of octopus and topped with crunchy toasted breadcrumbs. Next up is the pici cacio e pepe, the classic cheese-and-black-pepper pasta and my companion's favourite of the lot. Making it is a notoriously finicky feat of alchemy, as the chef has to coax pasta water and cheese—and traditionally, nothing else—into emulsifying; get the temperature or timing even a little off, and you wind up with oily water and clumps of cheese.
Aun's hand-rolled pici are thick and chewy, almost like udon, rich parmigiana thrown into contrast by fiery Sarawak black pepper. We attempt to twirl the noodles gracefully around our forks, which in retrospect was a stupid decision. This is a dish best suited to being vacuumed up in shameless abandon. The tasting portion is gone in five bites.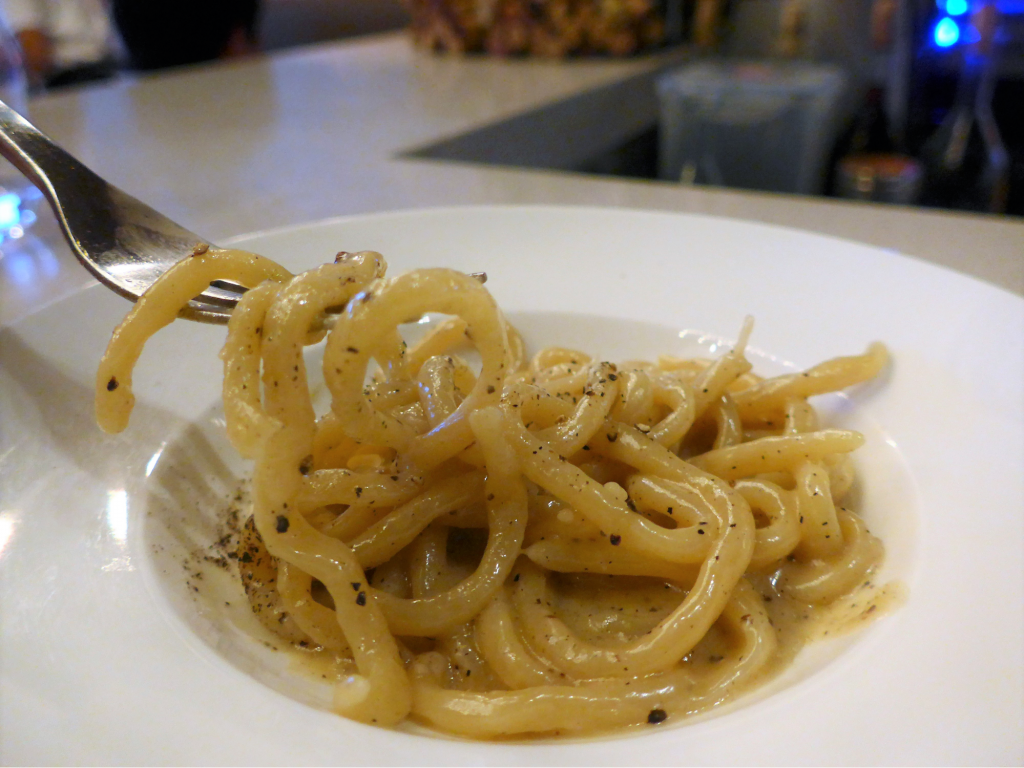 Then come the agnolotti, tiny jiaozi-like parcels no bigger than a large garlic clove. I bite into one, pause, and have to hide my grin behind a palm for fear of looking uncool. These velvety little pillows are
indecent
.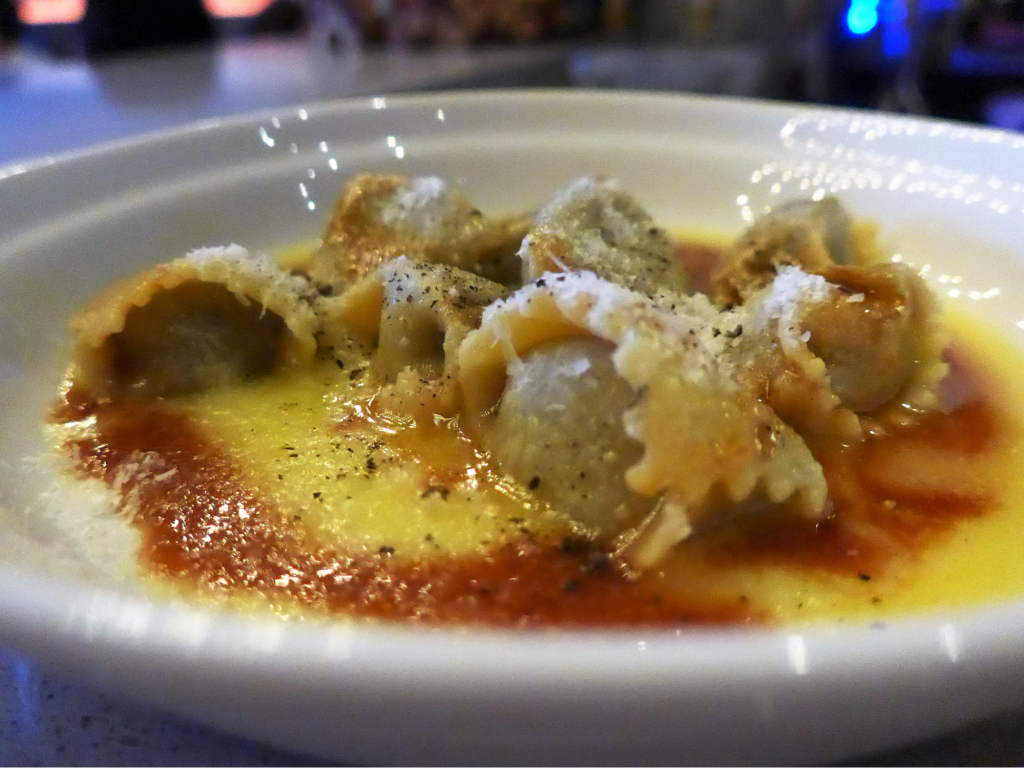 I have no idea how Aun and his team managed this. The filling explodes in a burst of full-bodied, unadulterated, bovine goodness, meat and bones cooked down to 100% essence of cow and finished off with cheese for extra punch. The sauce it comes in is just as good; I keep sneaking spoonful after spoonful even after the pasta is gone. The waitress hovers behind us, looking to clear the plate. I move it closer to me and take another spoonful.
On impulse, we get a last plate of pasta ('to help finish our wine', we tell the bartender, who smirks knowingly). Unfortunately, after the glory of the last two dishes, it's a slightly disappointing finish to the meal.
The anolini—flat discs stuffed with taleggio and ricotta cheeses, dotted with caramelised onions and hazelnuts—make sense on paper, but come off confusingly like dessert on the palate, thanks to overly bright citrus notes in the butter sauce. The overall effect is a little like cannoli in pasta form, and my tastebuds aren't sure if they're down for it.
Nonetheless, it's hard to feel anything but pleasantly, woozily sated. The carb coma is settling in, helped along by the wine, and we sink uncomplainingly into its depths.
The verdict?
I'd happily brave Keong Saik on a Friday night for this. Given the price point, I wouldn't call it casual Monday-or-Tuesday-night fare, but it's equally well suited for a special midweek treat as it is to date night or other celebrations.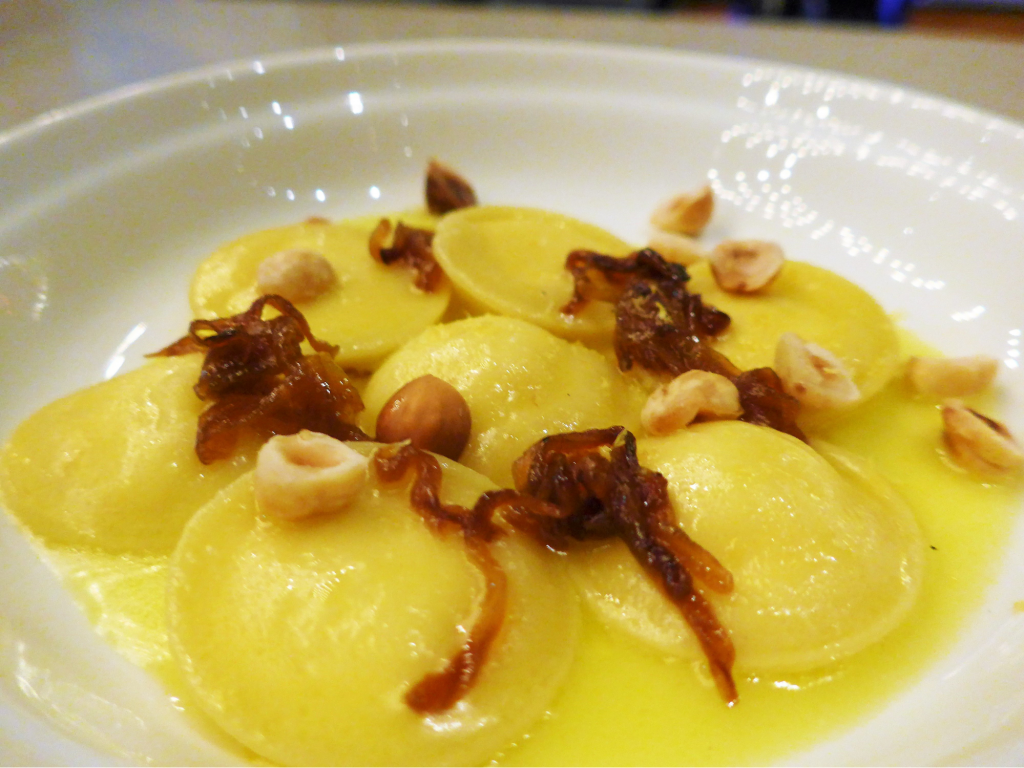 It's remarkable how much diners' expectations have evolved in the last few years. Not so long ago, mid-range restaurants could serve up Hawaiian pizza, rubbery mozzarella, or neon-orange Thousand Island dressing and get away with it. Accessibility meant offering as wide a range of dishes as possible, a something-for-everyone approach which often meant trampling on Nonna's heirloom tomatoes.
The growth of the middle class, however, coupled with an increasingly diverse population, and an explosion in food-related media, from Chef's Table to food blogs, means that Singaporeans' culinary awareness is now higher than it's ever been. Increasingly, local diners know their fusilli from their linguini and that traditional carbonara is made sans cream.
"Singaporeans nowadays are very curious," agrees Liling. "They're a lot more informed, they have a lot more opinions, they travel a lot."
I'm not sure how they'd feel about the comparison, but Bar Cicheti in 2019 is probably what Da Paolo was to Singapore in 2008. Insofar as Italian food is concerned, it reflects the latest evolutionary stage of mid-range dining: an increasingly niche focus, dishes pared back to let the ingredients shine, with an emphasis on quality and seasonality.
"This is something you see across all industries, right? People wanted to be more specialised, tearing up their product and really getting into the soul and bones of it," says Liling. "You see it in wine, where winemakers aren't content to just make your standard wines that please everyone—they wanna dig deeper, look for the meaning of what it means to work with a certain grape varietal."
"In a way, it's about bringing things back to basics, but doing it very, very well."
This post was not sponsored; Rice paid for our own meal.

Total cost for 2 (one starter, four portions of pasta (smaller size), two glasses of wine, service charge and GST): $137
We love hearing from readers as much as we love our carbs. Tell us what you thought of this piece at community@ricemedia.co.