(Top image: Giant)
Of all the customs and traditions associated with the Lunar New Year, none is more sacred than the reunion dinner. 
No new year clothes? Totally fine. Failing to Marie Kondo your room? Just be prepared for the lecture on how it's not the year of the pig. 
Ditch the reunion dinner, however, and that's it: game over. Dishonour on you, dishonour on your cow. For some reason, it's the surest way of telling your loved ones you don't care about them, and that you're better off Marie Kondo-ing your way off your family tree.
I'm not alone in failing to understand what the big deal is. For most of us millennials below 30, the annual reunion dinner is just the fancier version of Sunday brunch at grandmas'—like that one uncle who studied at Oxbridge and now sips Darjeeling instead of regular Chinese tea. Reunion dinners involve the same people doing the same thing: eating and bitching, albeit around a steamboat with everyone draped in every shade of red imaginable. Same same, not so different. 
As such, we tend to see these annual dinners as yet another tiresome tradition we may not particularly enjoy, but put up with for the sake of keeping a roof over our heads. It's an Asian obligation. 
Recently, however, I've discovered that I've been missing the forest for the trees. For too long I only focused on stalking that lone piece of abalone that I was blind to the rest of the hotpot. In other words, once you understand the perspectives of everyone else at the table, you realise why the reunion dinner is so significant. Especially to the older generation.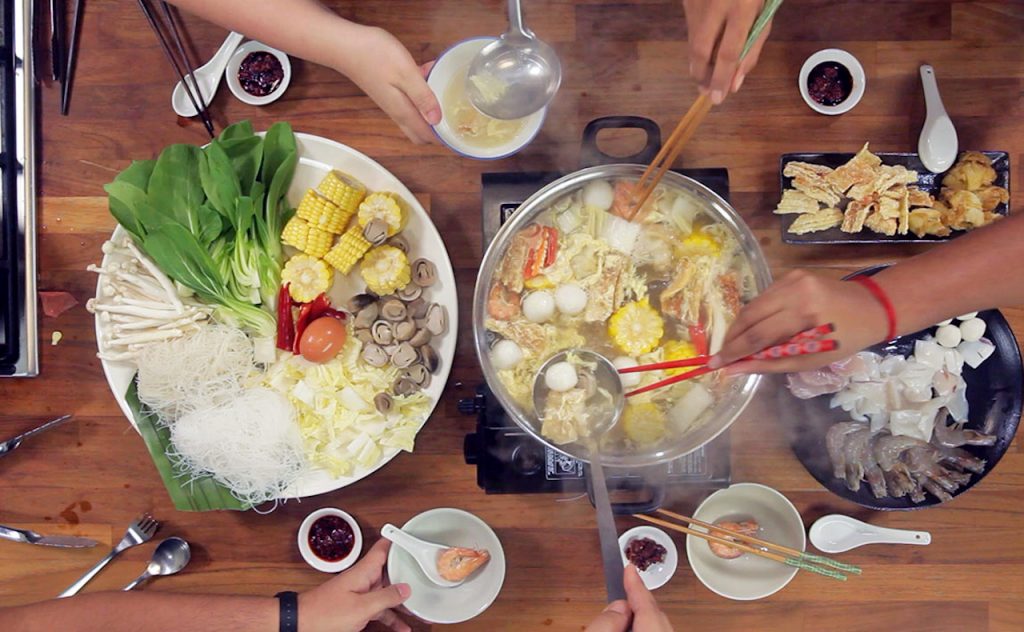 At the core of the younger generation's blasé attitude towards reunion dinners is ignorance. Ever since we were introduced to the tradition as children, nothing has been expected of us save for showing up. Year in year out we repeat this cycle, remaining woefully unaware of the tremendous effort that goes into preparing a nice meal for the entire extended family.
Someone who knows all about this is Gideon Lim, 29. For years he hated the seemingly meaningless tradition and did the bare minimum just so his parents wouldn't get angry with him. Spoiler alert: they still did.
Stressed out and annoyed at how her son never seemed to truly help, Gideon's mother screamed at him one year, imploring him to start pulling his own weight in the household. Aged 22 and not knowing any better, Gideon retorted that he'd take charge of the next reunion dinner. As expected, his mother called his bluff.
"A few weeks before the next Chinese New Year, my mother asked me to find out if any of my relatives had food allergies and if they had any preferences for ingredients. That was tough. We have a pretty big family and I had to message everyone individually. I had no idea the prep work started so early!" he tells me.
Gideon goes on to share that that was just the tip of the iceberg. There was still the mayhem of the Chinese New Year grocery shopping crowd to face—something he jokingly says has forever traumatised him.                                                                
Seated on his right, Gideon's 60-year-old mother, Mrs Lim, chuckles as she recounts her son's virgin Lunar new year shopping trip.
"Even though he's accompanied me to the market before, I've never seen him look so lost! He made a grocery list but he just froze. I don't blame him. It doesn't matter whether you're in the supermarket or wet market—everywhere is packed. It's very chaotic, everyone is impatient and it's easy to get overwhelmed, even for experienced aunties like me."
However, this first-hand experience of chaos helped change Gideon's perspective on reunion dinners. Surrounded by aunties elbowing their way to freshest pieces of fish and stalks of kalian, Gideon only had one thought in his head: why? Why would anyone willingly put themselves through this madness every year? Why was it so crowded in the first place? 
Watching his mother expertly haggle over minced pork, Gideon finally realised why she went to so much trouble just for a meal; he understood why she made him contact all his relatives asking about allergies when she'd been preparing the family's reunion dinner for years. This wasn't about grocery shopping. This was about family.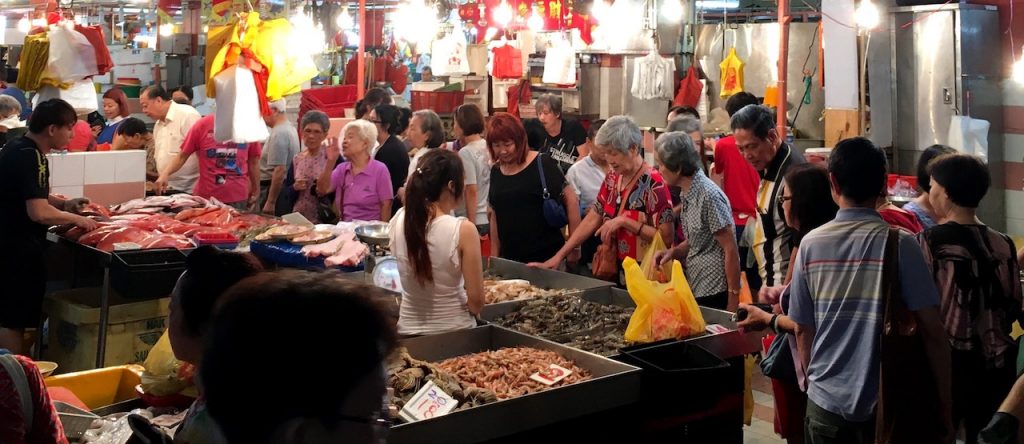 Indeed, to Mrs Lim, reunion dinners have always been about maintaining strong family bonds.
As the eldest of 7 children, Mrs Lim has been exceedingly familiar with looking after her younger brothers and sisters ever since she was a teenager. While their parents were busy working to support the family, she was the one in charge at home, ensuring her siblings kept up with their schoolwork, stayed away from bad influences, and navigated the world with as much guidance as possible. She cooked their meals regularly too.
Part-parent, part-sister; part-disciplinarian, part-confidante. Mrs Lim shares that life was difficult back then, but the one thing that kept her going was the strong relationships she had with each of her siblings. They all knew that their big sister would always have their backs. Family came first no matter what.
Today, not much has changed except for the family in question. Every one of Mrs Lims' siblings is busy living their own lives and looking after their own families. They rarely go out together anymore and conversations mostly happen in a WhatsApp group chat.
As such, Mrs Lim sees the reunion dinner as the one occasion where everyone deliberately makes time for one another; putting the emphasis back on where they came from instead of where they're headed. Between mouthfuls of soup, they relive the "good old days", reinforcing bonds forged through shared hardship. This is what she sincerely hopes her own children do in the future as well. 
Remove the reunion dinner then, and Mrs Lim fears that the relationships between family members will slowly but surely fizzle out, eventually reaching the point where everyone stops meeting or worse, talking altogether. Related only by blood, and nothing else.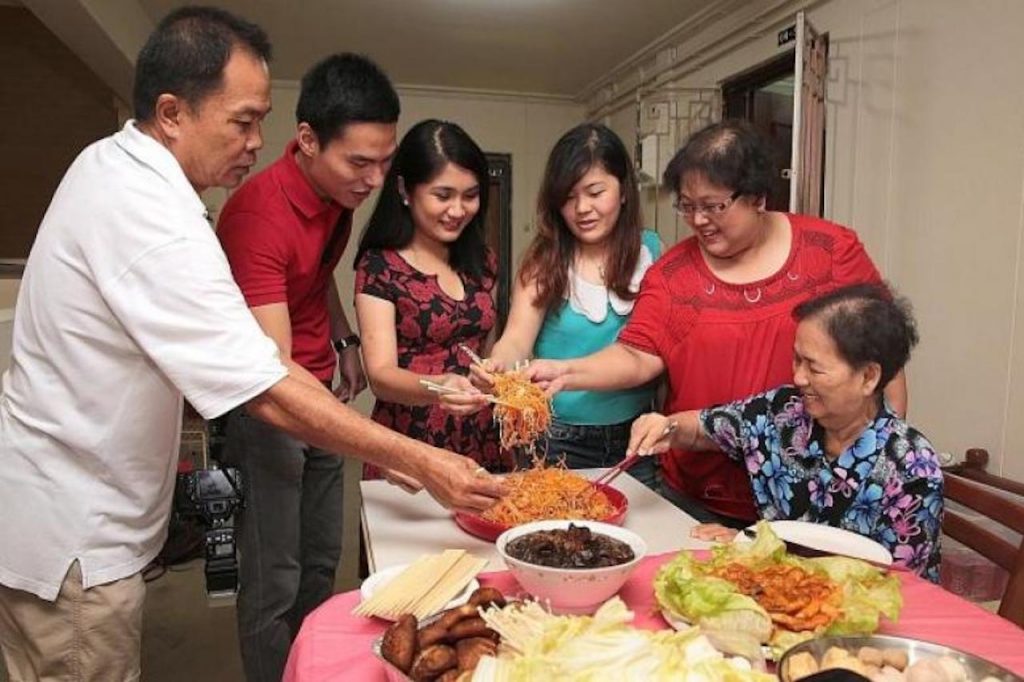 This is the same fear 73-year-old Madam Choo lives with—although for a decidedly less altruistic reason. Her family's reunion dinner is simply the one time in the year she feels the least alone.
As a widowed mother to 9 happily married children (2 of whom are now living abroad), Madam Choo is all too familiar with the concept of letting go. She knows that her children are all grown up and she's long come to terms with the fact that as filial as they are, she won't see them as often as she'd like. But just because Madam Choo has accepted that they've left the nest, it doesn't mean their absence isn't felt. Which makes their return—even if temporary—that much sweeter.
"No matter what they're busy with, or where they are on this earth, everyone comes home for dinner. Being able to see all my children and grandchildren at the same time really makes me very happy. It gets quite noisy because my flat is small and there are so many of us but I look forward to how lively it is every year." 
Unfortunately for Madam Choo, the sound of silence is still the most deafening. As soon as the festivities wind down and her children go back to their usual lives, the matriarch is once again reminded that it will be a full year before her house is filled with the same warmth again.
There's simply nothing quite like the magic of the reunion dinner to Madam Choo. For one evening each year, she doesn't have to compete with anything or anyone for her children's attention. Schoolwork can wait. That meeting with your colleagues can be rescheduled. There are no other houses to rush off to or friends to meet. It is an evening dedicated solely to spending quality time with your family.
Deep down, Madam Choo knows that there will probably come a day when one of her children won't be able to make it for the reunion dinner, and that she's been extremely lucky thus far. So until then, her only wish is for her children to stay just a while longer.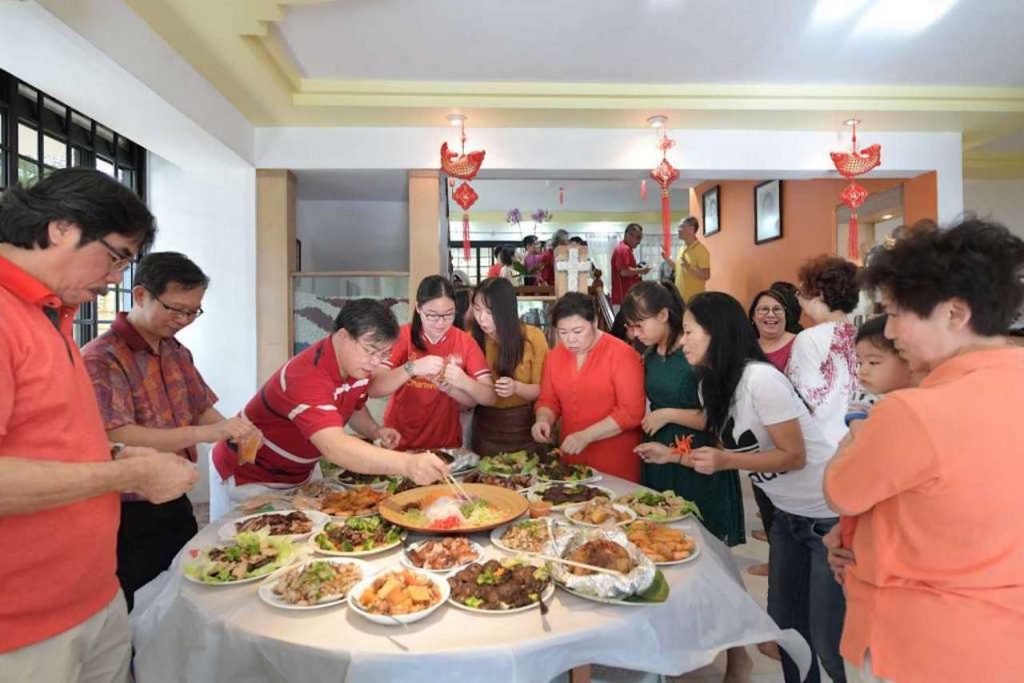 As mentioned, the age-old tradition of having a reunion dinner to usher in the lunar new year means something completely different to each generation of Singaporeans.
That said, whether we see it as a time for us to reconnect with our children, strengthen bonds between relatives, or simply a chance to express our gratitude for this wonderful thing we call family, no reunion dinner is complete without food.
But in the wise words of Gideon: why subject yourself to aunties pushing and shoving you in the name of fresh produce? Why cause yourself unnecessary stress by waiting in the long line in the supermarket only to find that they've run out of your favourite sliced beef? 
Yes, because of love and family. But from what I've learnt, the chunk of time you waste preparing for the reunion dinner is much better spent actually having dinner with your loved ones.
Thanks to the growing popularity of e-commerce platforms that stock everything from nail polish to the kitchen sink, it's now easier than ever to avoid the stress of reunion dinner prep. Simply order all the ingredients for your hotpot online. 
And it's not like you only have pre-packaged goods to choose from either. Shopee now stocks fresh produce and even meat that's delivered straight to your doorstep, ensuring you'll never have to face another insane Chinese New Year crowd ever again. 
Remember: a reunion dinner might be many things but it should never be a chore. Just like family.  
This story was sponsored by Shopee. 
From today until 31st of July 23:59, simply use the promo code "HUATRICE" for new users to enjoy $7 off a purchase of $15 or more. 
With Shopee, you can also enjoy next day delivery with Shopee24 to help you snag those last minute CNY purchases. 
From 19-23 Jan, receive up to 80% storewide discounts on exclusive brands such as Dyson, L'Oreal Paris and Fossil, and stand a chance to receive up to $60 worth of brand vouchers to be redeemed on Shopee.
For more deals and discounts, head over to Shopee and check out their CNY sale. 
Have something to say about this story? Tell us at community@ricemedia.co.