Photography by the author.
As the old adage goes, "A Japanese establishment is only as authentic as its customers."
I've eaten at Cuppage Plaza countless times, and the building certainly underscores this. Food tastes decent and is mostly affordable, while the noisy Japanese banter surrounding my seat reassures me that I've not made a poor decision in my search for Japanese culinary delights.
But food is only half the story that makes Cuppage Plaza, a 39-year-old building at Somerset, so wildly popular with the Japanese in Singapore.
For the typical salaryman, after-hours is only complete with a round of booze and entertainment, and then getting somewhat drunk. After all, drunk salarymen are "as much a feature of modern Japan as sushi bars and bullet trains", writes The Economist.
So once the bill has been paid at the restaurants on the lower levels of Cuppage Plaza, the Japanese customers simply move to the higher floors of the eight-storey building. There, a plethora of scantily clad ladies wait to invite them into the various Japanese-themed KTV lounges.
Most are given generic Japanese names, like Miyubi and Miyaki, and decorated with even more stereotypically Japanese icons such as sakura flowers and geisha paintings. With the exception of two "Bollywood" clubs explicitly named with a specific clientele in mind, this building appears to be quintessentially Japanese.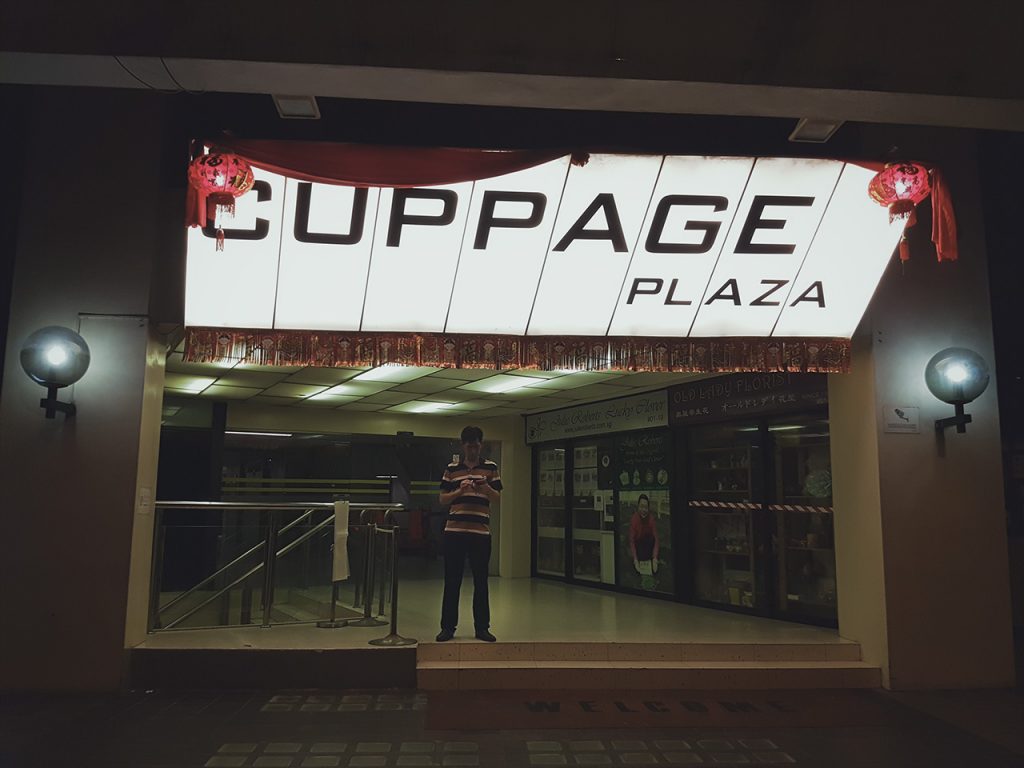 In some ways, Cuppage Plaza is a microcosm of Kabukich
ō
, the famous night entertainment and red-light district in Shinjuku, Tokyo. Businessmen in white shirts and black pants, some with their jackets wrapped around their arms while clutching onto laptop bags, stream into the building at dinner time and stumble out in the wee hours of the night, arms around each other
'
s shoulders, to board a cab.
There are no blinding neon signboards, however.
But the illusion of a Little Tokyo dissolves the moment I step into the main lobby at midnight on a Thursday, when a Filipino lady springs upon me a line of broken Japanese in the blandest of faux accents.
"Raunji ni iki desu ka?" (Do you want to go to a lounge?)
Appearing out of nowhere and touting so close in my face was an ungracious tactic for a line of work that is supposed to leverage sex appeal. Nothing about this invitation appeals to my fully sober senses, and I politely shake my head to decline. The lady frowns and returns to her spot – behind a pillar – where she lies in wait for a more inebriated male customer to prey upon.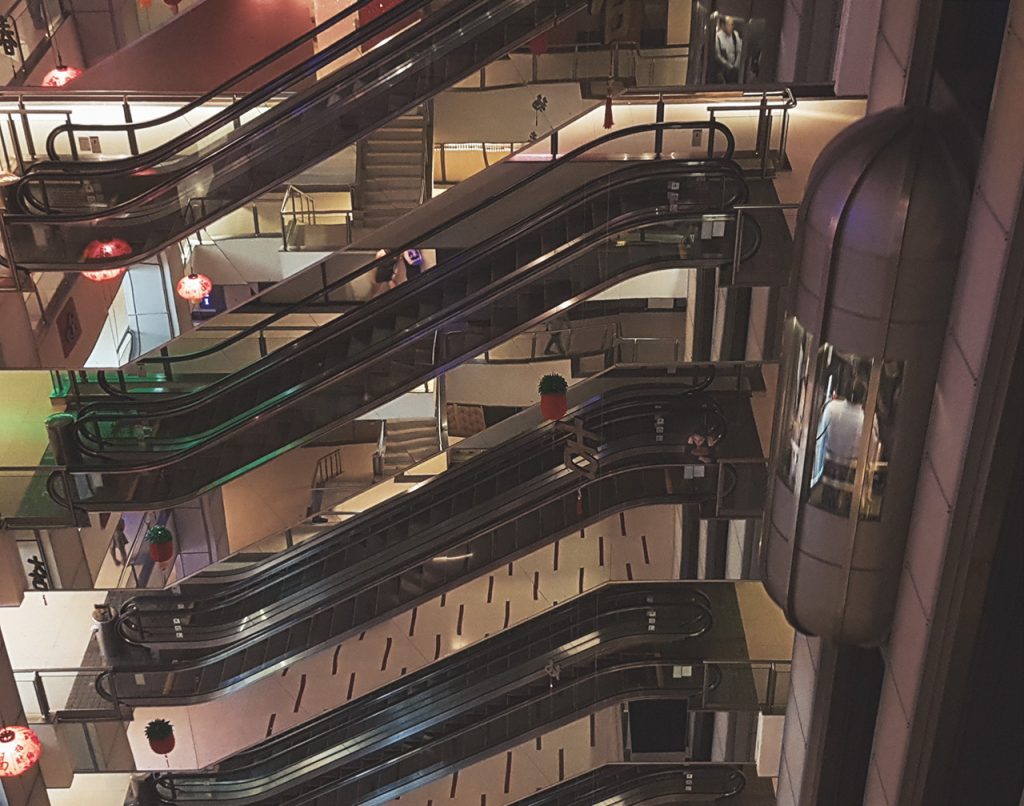 As I venture upstairs and into the hotspot of KTV lounges, the disconnect between nationality and language becomes even more jarring. Ladies loitering in the corridors converse amongst themselves in their native tongues of Mandarin, Thai and Filipino; not a single hostess is Japanese.
But once the resounding laughter of intoxicated Japanese men reverberate through the quiet corridors, almost every woman shouts a default Japanese greeting before showering bouquets in English.
The men return the compliments in simple, heavily accented English with cheerful smiles on their flushed faces, and are ushered past the doors to the night's entertainment.
Communication doesn't seem to be a problem here, despite the obvious language barriers, but I guess it also proves that alcohol (and sex) can be a fix for anything.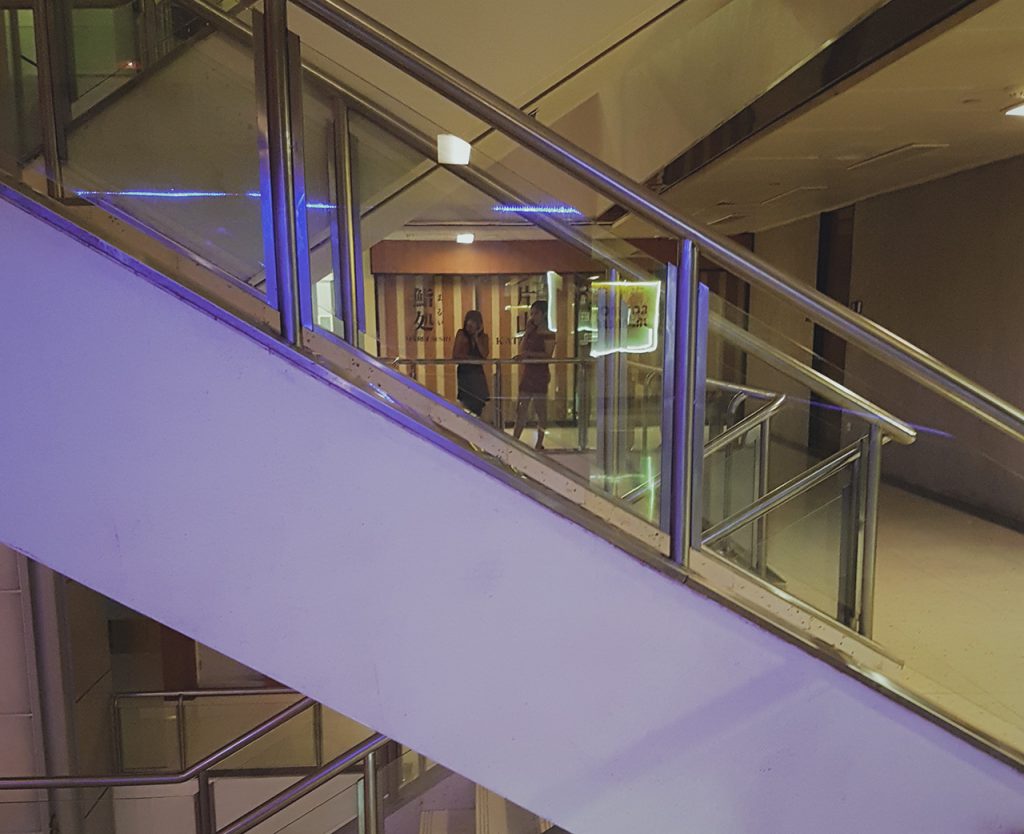 Another girl asks me if I want to head inside her lounge, this time in a slightly more cheerful tone than the previous request. I reject the invitation once again but decide to engage in conversation.
"Oh you're not Japanese?" the Thai girl says, her smile and cheeriness fading away. I tell her I speak a little of the language, but she doesn't seem convinced nor intrigued, her gaze wandering off into the distance probably in search of a true-blue Japanese man.
I ask her what the Japanese men typically do in lounges like hers. She gives me a death stare as though I've mouthed something offensive and coldly says, "I'm a singer."
Noticing the phone in my hand, she instinctively leans forward to inspect. I get a hint as to why she's been acting cold to me all this while. "I'm not recording, don't worry."
"Okay, just wanted to make sure." But I sense that there is still no interest in continuing the conversation and thus take my leave.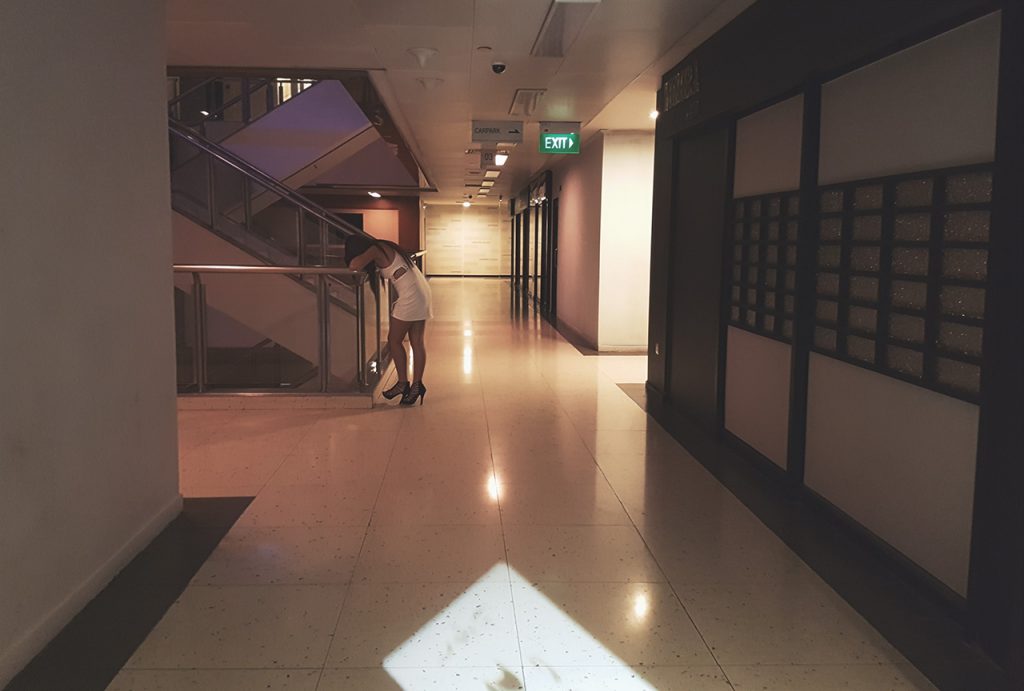 There is reason for this high level of suspicion among the girls towards non-Japanese patrons at Cuppage Plaza. Its reputation as a seedy building along the shopping district has attracted the attention of the police in recent years
–
just last month
, five women were arrested in a police raid on three entertainment outlets for suspected drug-related offences, and another two for appearing nude in a public place.
Last November, an owner of a beauty salon at Cuppage Plaza was sentenced to three months' jail for secretly operating his shop as a brothel.
It is thus not surprising that the girls working here are now on high alert when they encounter Singaporeans, especially those who ask a lot of questions. Anybody could be a cop.
As for what goes on behind those tinted glass doors tonight, it's anybody guess. If there's anything raunchy going on, I certainly don't hear it.
What I do hear, however, is the utter destruction of the Radiohead classic "Creep" by a man at a KTV on the fourth floor whose talent lies not in music but the ability to shred it. He belts out line after line of the sad song with such off-tune emotion that I'm starting to believe he's describing himself as the song's protagonist.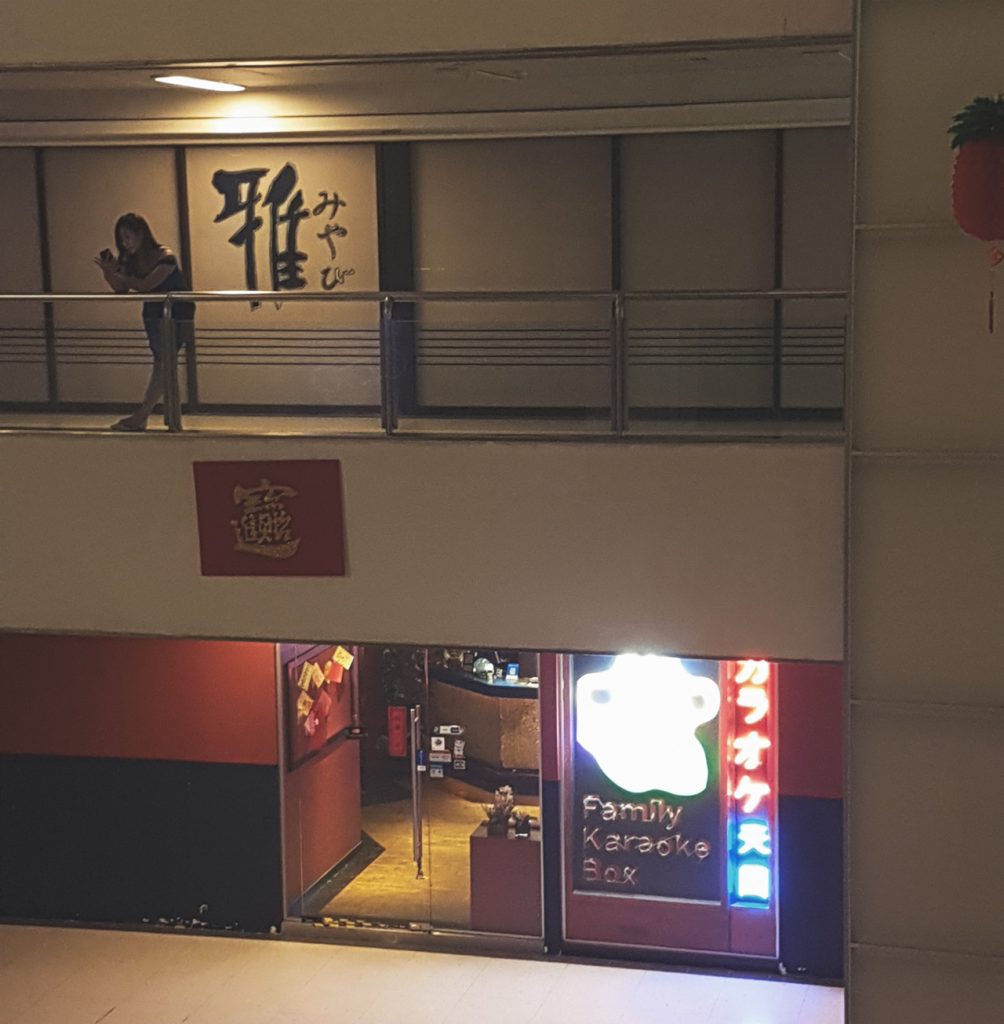 At 2 AM, a group of Singaporean men exit the KTV on the highest floor in not the best of moods.
"
Did you give her money?
"
one of them asks as they check their wallets. Everyone shakes their heads.
"
All I wanted was a massage man. And she wanted $200?
"
"Calm down, calm down," his friend assures him.
"Fuck, where's my card? My card is still inside damn it," another of the group grumbles and storms back inside the lounge.
When the group is finally ready to leave, they realise one of them has disappeared off to the washroom for a while.
"Seriously, where is that fellow? Has he gone to the toilet to jack off?"
As they slowly make their way down, other girls try to sweet-talk them into staying longer. But it's obvious following whatever that's happened inside the KTV earlier, these men have had enough for the night.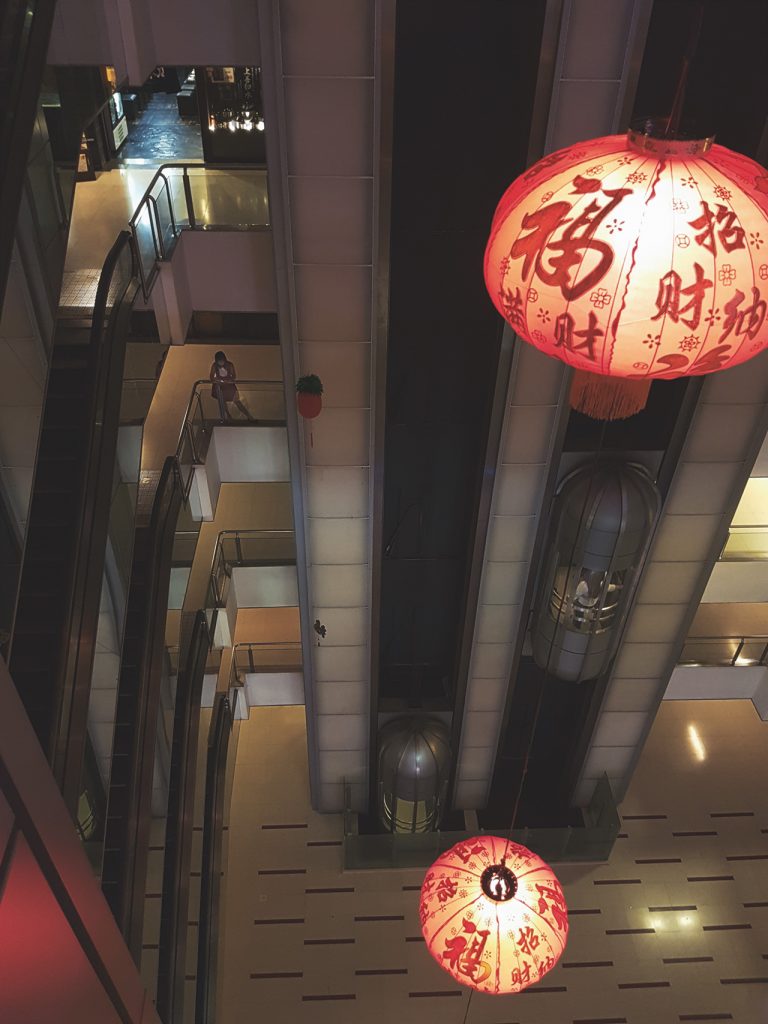 At the taxi stand downstairs
–
which is just a spot on the pavement where men under the influence of alcohol can somehow still manage to queue in an orderly fashion
–
hostesses accompany their guests in line as they wait for a cab. There
'
s lots of hugging and kissing during the send-off, but I did not notice any girls climbing into the taxi with the men whom they
'
ve spent the night with presumably drinking and singing.
After all, just like in Japan, hostesses are just supposed to pour the drinks and make the businessmen feel good. Sex should not be part of the equation.
But sometimes it happens, as Linda, a Filipino girl who works in one of the lounges, tells me. "Maybe even the girl is so drunk, maybe there is a lot of money involved. But most of us don't do it, this is just a job."
I ask what makes this place so special with Japanese men. "I don't know, I've only been here for six months. But they like to drink a lot when they come and order many bottles. When they are happy, they spend more and we get more money too."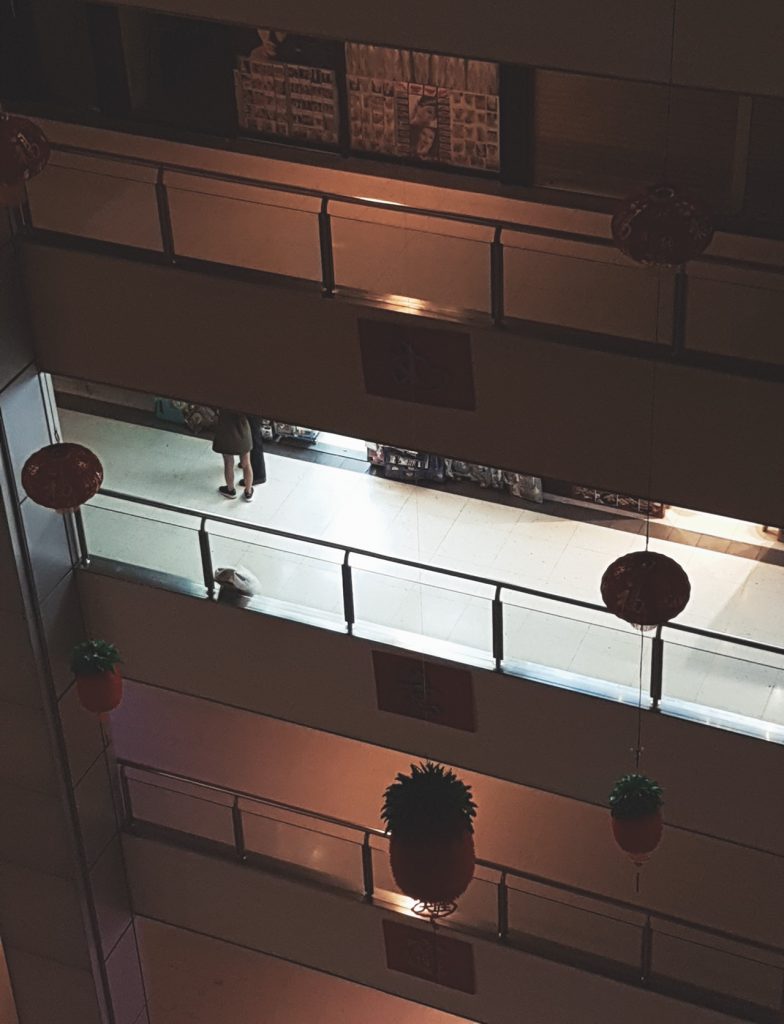 M-san, who is taking a smoke break before he heads home, says night entertainment is usually paid for by Japanese companies as part of entertaining clients. A typical night out could cost at least $400 to $500 depending on the meals and amount of alcohol consumed.
"Japanese businessmen also come here to relax because they usually don't get to talk to one another in the office, it's just work, work, work. But when they go to the KTVs, they can loosen up and talk more freely with one another."
When I ask M-san how often he visits Cuppage Plaza, he laughs and replies that this is considered a rare appearance for him. "I'm only here maybe once a month. This is not my kind of thing, today I brought my friend who used to work in Singapore because he misses this place. You can say I'm not your typical Japanese businessman, but also because I run my own company and don't want to spend the money on things like KTV."
"The rest," he points to the Japanese businessmen waiting in the taxi queue, "they are paid to have fun so of course they enjoy it."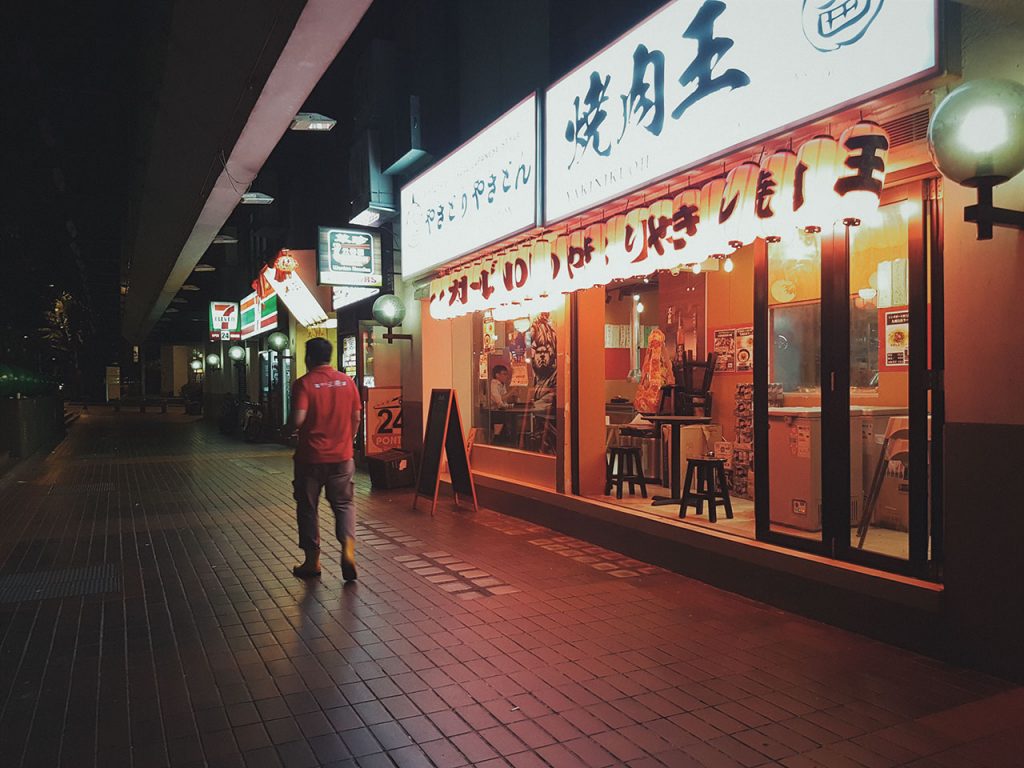 I tell him that having observed this place for the last three hours, I am reminded a little of a typical night scene in Shinjuku. M-san
'
s eyes immediately light up, because by coincidence he also hails from that part of Tokyo.
"Yes it's a little bit like that. You can stay out late without worrying about safety. But it also resembles Japan only in appearance – you have to communicate with the girls in English. Food and drinks are so much cheaper in Japan, spending a night out here is already quite expensive," he laments.
"And the food at Cuppage, well…" M-san gives me one of the longest hesitation before finding his answer three seconds later. "it's just 差不多." (Chinese for average quality).