Top image: A night-soil man in the past. Courtesy of National Archives of Singapore.
This account is a piece of creative non-fiction that tracks the development of Singapore's toilets from the 1930s to the present day—from the days when our excrement had to be carried out of the house and dumped into processing tanks at treatment plants, all done manually by night-soil men, to the seamlessness and efficiency of today's sanitisation system, in which a press of a button flushes our waste away automatically.
Our protagonist, Lim Heng Kiat, is a fictional character amalgamated from several different primary and secondary sources, such as newspaper reports, books like Report on the Sanitary Condition of Singapore by W.J. Simpson and The Singapore Water Story: Sustainable Development in an Urban City State by Cecilia Tortajda, Yugal Joshi, and Biswas Asit K, and an oral history recording of Lim Hong Cher, a coolie who started working as a night-soil man in 1956.
Even though Heng Kiat did not exist in real life, everything he experienced and all dates and numbers are based on fact and are footnoted or hyperlinked with the relevant source. 
1930s – 1960s
Lim Heng Kiat is a coolie living in Chinatown, and he earns 75 cents a day carrying people's excretions out of their homes.[1]
Every morning before the sun rises, he walks into their houses through their front doors, heads straight to their toilets—a room with a hole in the ground, and under the hole, a corroded tin pail that collects all their waste—and empties its contents into his waiting iron bucket. 
Water is scarce. Clean water rarer. So Heng Kiat rinses the emptied pail with as little water as he can. Still, it's enough water to create a river flecked by stray pieces of excrement that flows from the toilet through the house, all the way to the street drain.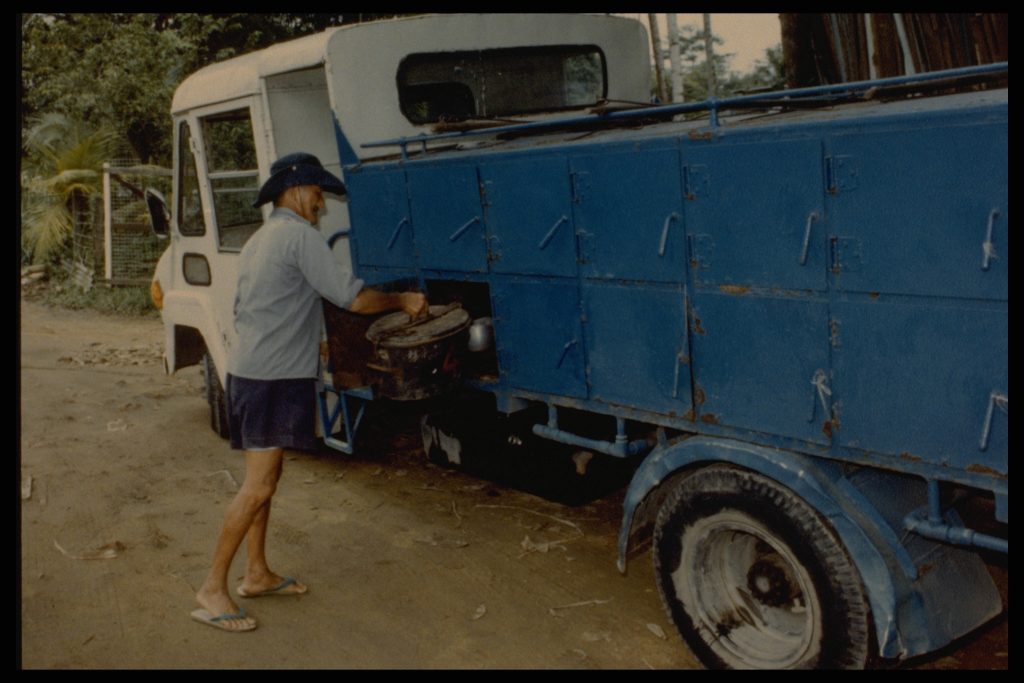 With the bucket in one hand, he wades through the kitchen and living quarters, leaves the house, and loads the bucket onto a truck waiting outside.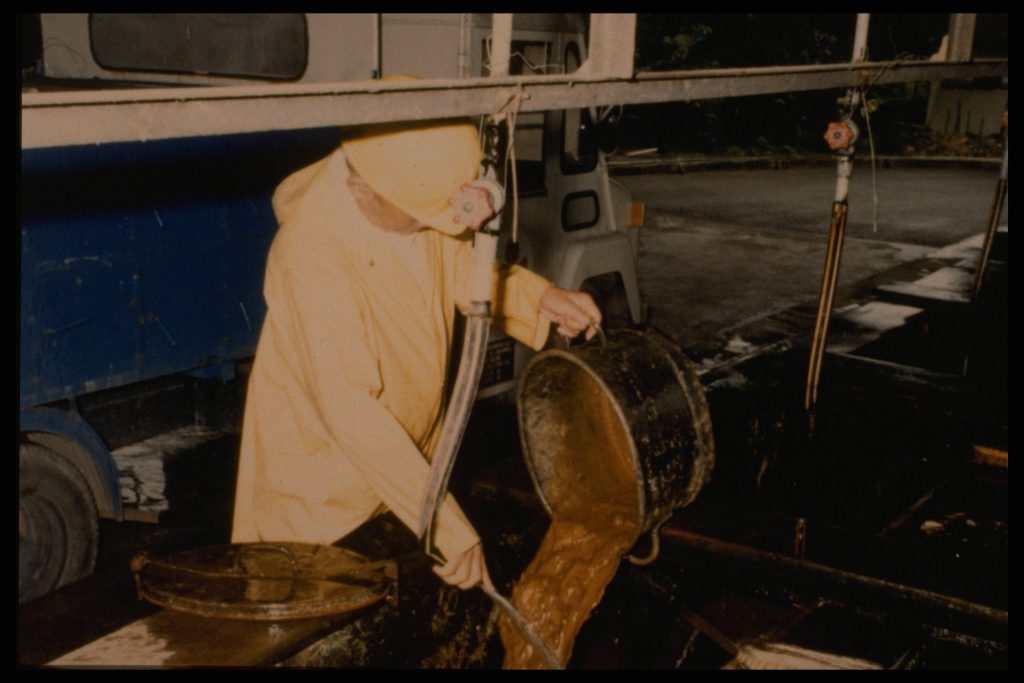 The truck will then transport the buckets and buckets of waste to a cleaning depot, where night-soil men will dump the day's collections into a central tank, which will pump it to a treatment facility such as Kim Chuan Sewage Treatment Works. Thereafter, the waste product will be mixed with sludge, and finally pumped to Serangoon Sludge Works for disposal.

[2]
But Heng Kiat doesn't bother himself with any of that. Right now, his only job is to carry human excretion out of homes and into the truck. So he braces himself, heads upstairs and, on each subsequent floor, repeats the process of emptying another family's night-soil pail.
That's one house done. Another 63 buckets of human waste to replace before a new truck, with storage space for more buckets, comes. Another eight hours till 2 PM, when his job ends.
It is dirty and back-breaking work: a full bucket weighs around 1 KG.[3] And the stench—the first time Heng Kiat caught a whiff of it, he ran to a drain and vomited immediately. But work is work. Heng Kiat grew to take pride in being efficient and not disturbing residents when he carries out his job. He recalls, with pleasures, the praise Madam Lim, who lives in Joo Chiat, showered on him: "You work so fast, I didn't even know you came already!"[4]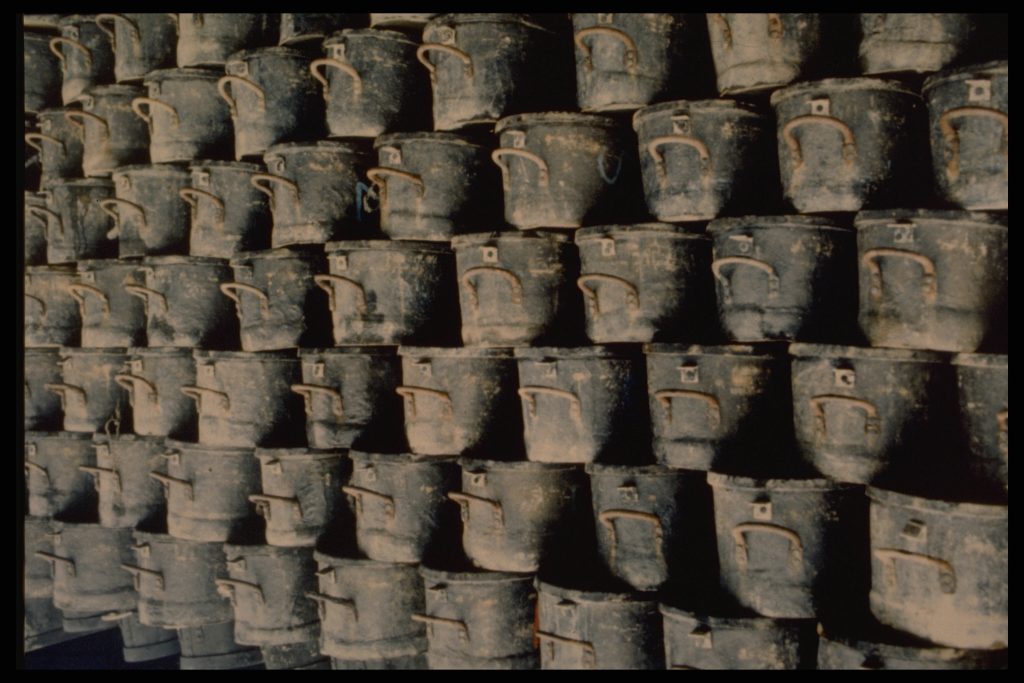 Still, pride cannot feed him. Five years ago, Heng Kiat could sell the faeces he collected to farms and plantations that would use it to grow their rubber trees and pineapple plants. 
Now, there are too many new immigrants to do that. Singapore is producing too much human waste; there is more faeces in this city than farms and plantations can use. The English health officers, growing wary at the prevalence of water-borne diseases like dysentery in Singapore, have also made it illegal to sell human faeces as manure.[5] So that's one source of income dried up.  
Over the years, Heng Kiat has seen the colonial government try to improve the situation in Singapore—which means putting people like him out of a job. They made it compulsory for people living within 30 metres of a sewerage system to install flush toilets, sinks, and so on.[6] For homes located too far from a sewerage system (which are still a lot, considering the state of sewerage presently), the Singapore Improvement Trust (SIT) built back lanes so night-soil men like himself would not have to wade through the place with buckets full of excretion. 
Heng Kiat is angry at the state of things, of course. With the stricter rules on selling night-soil and the legislation on mandatory toilets, it's become harder and harder to earn money as a night-soil man.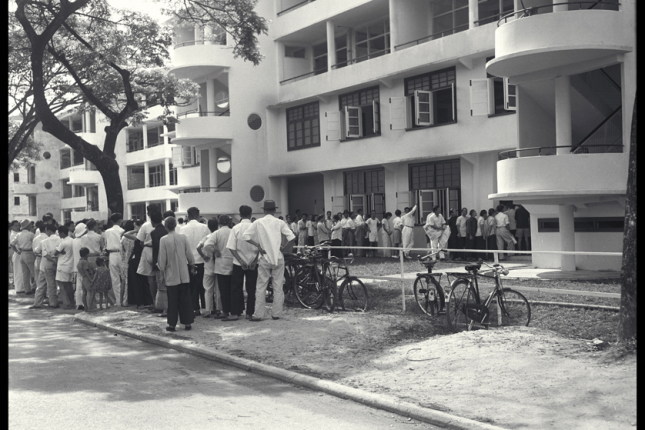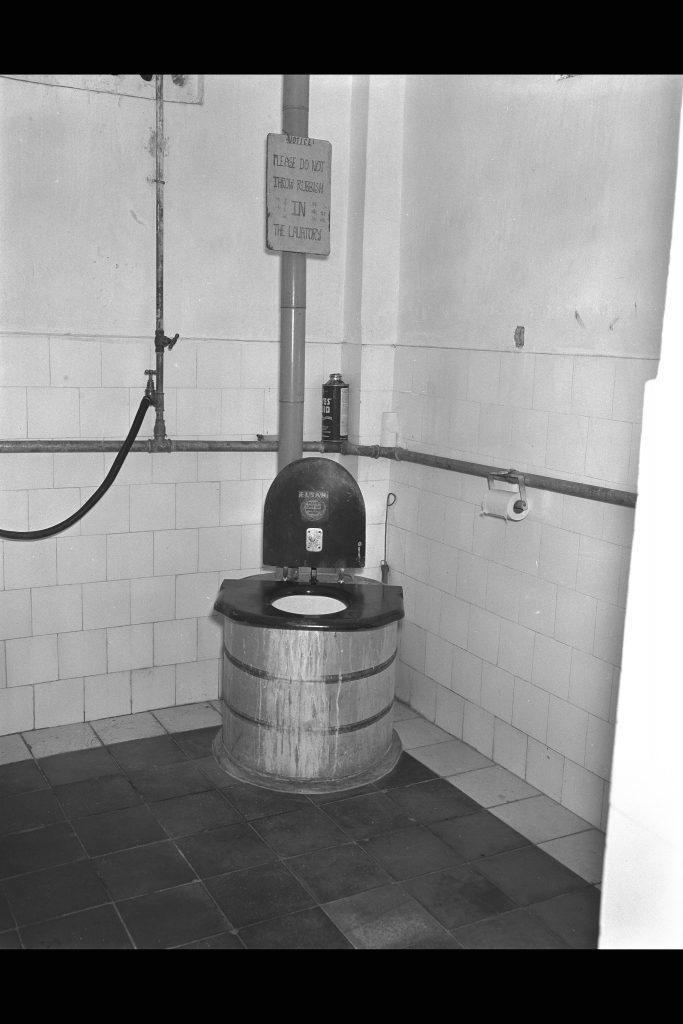 The affordability of rent astounds Heng Kiat, but, to him, the real marvel is the toilet. It is also a hole in the ground, but there is a pool of clear water in it, so clean that Heng Kiat thinks he can drink from it.
Even public toilets in Singapore's working districts, like the one within the elegant rotunda at Clarke Quay, still operate on the night-soil-bucket basis.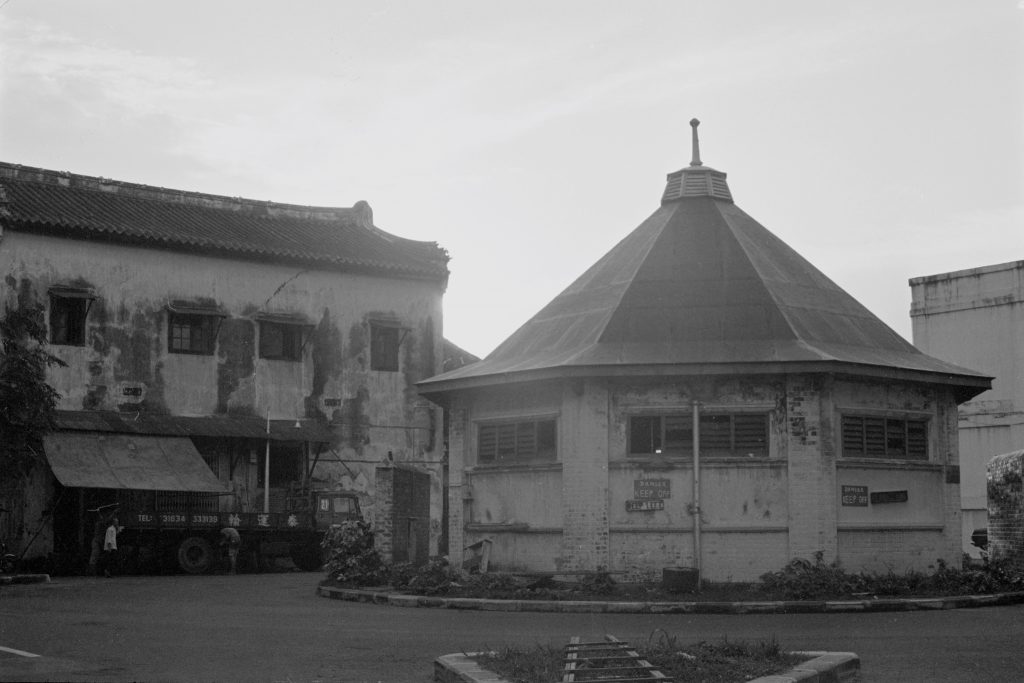 "How to use?" Heng Kiat asks.
Kim Wah takes a square of toilet paper, throws it into the water, and pulls a metal chain. Immediately, a flood of water sweeps into the hole from all sides of the squat toilet. The toilet paper swirls as if in a whirlpool and is sucked into the hole, before a pool of fresh water reappears in the hole.
 "So convenient, right? The flushing so easy to use, nobody teaches, but everyone just knows."[7]
Heng Kiat is dumbstruck: at the magic of the mechanism, at the amount of clean water used to wash away waste, and at the terror that he will be out of a job very, very soon.
His fears are unfounded. Towards the end of the decade, the government decides to build and maintain six sewage treatment plants—located in Kim Chuan, Ulu Pandan,  Bedok, Kranji, Seletar and Jurong—as part of its Sewerage Master Plan. But it is only a plan, not yet a description of the world Heng Kiat is living in—it would take a few decades before the comprehensive sewerage system Singapore has today comes to fruition.[8]
The reality of the situation is that, in the late 1960s, the main public sewerage network only serves 57% of the Singapore population, like Kim Wah.[9]
Therefore, even 15 years after the SIT flats in Tiong Bahru—complete with flushing toilets—are built, Heng Kiat is still working as a night-soil man.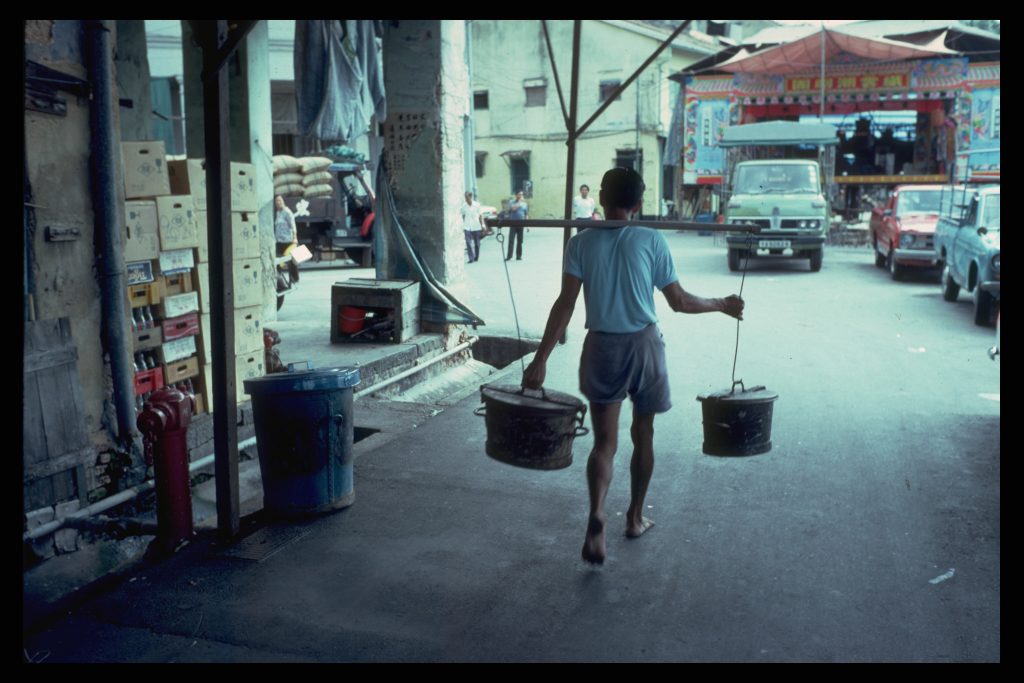 The demographic of his customers, however, has changed. He used to serve families who lived in shophouses at Kreta Ayer; now, he mainly plies the Kallang Basin and Singapore River. There are still squatters living in these areas, and Heng Kiat feels grateful—but also guilty—that they have not progressed from the hole-in-the-ground, night-soil buckets for their defecation purposes.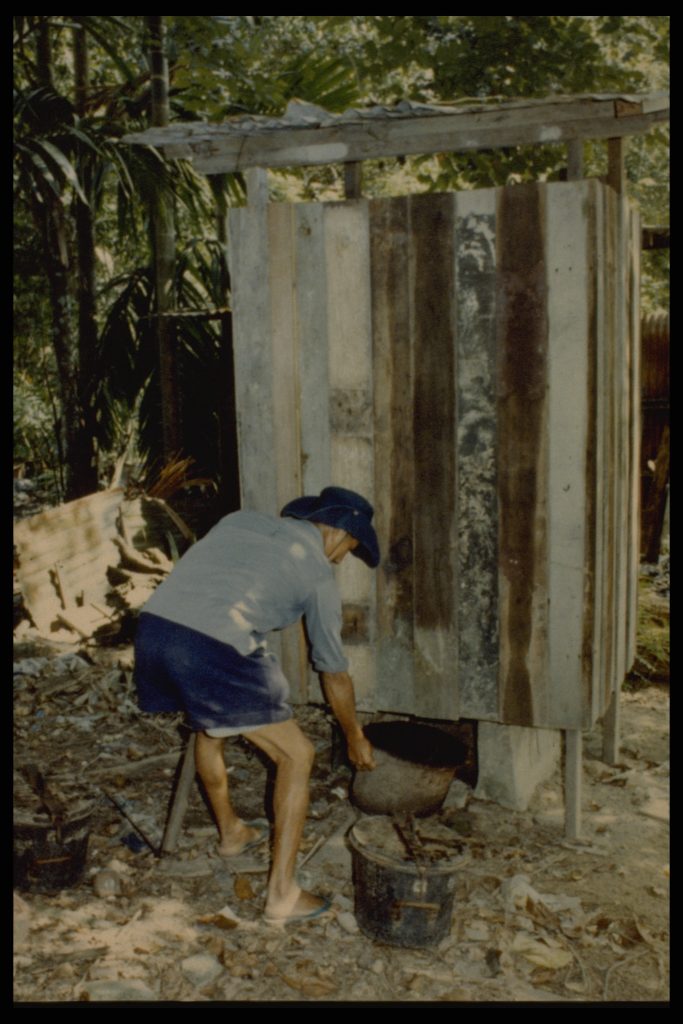 Competition with other night-soil men is stiff because of the rapidly improving sanitation system in Singapore, but there are enough squatters still defecating into buckets for him to make a living. Heng Kiat estimates that there are around 10,000 night-soil toilets left in Singapore, which serve the 40,000 squatters in the Kallang area, and 4,000 around the Singapore River.

[10]
He estimates that he can continue working as a night-soil man for another decade or so.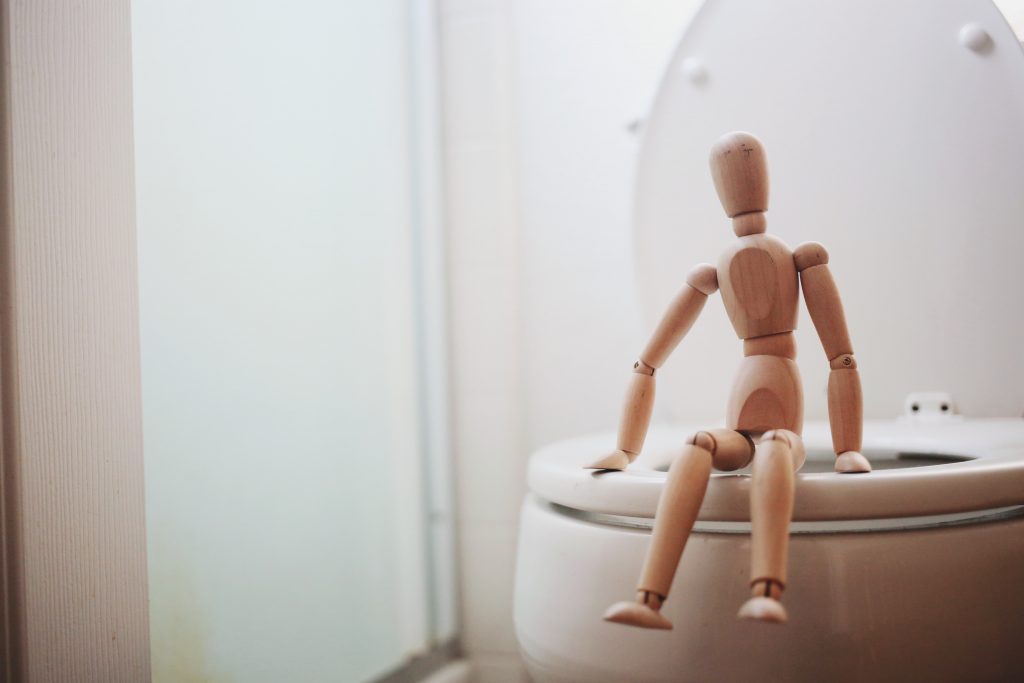 It is 1992, and Heng Kiat has retired. Which is just as well, because the night-soil man is now extinct in Singapore: the last night-soil disposal station at Lorong Halus was closed five years ago, in 1987.

[12]
Even though he saw the changes of the past 60 years with his own eyes, Heng Kiat almost cannot believe them. 
Under the directive of Singapore's first prime minister, the Kallang Basin and Singapore River—previously the heart of his livelihood as a night-soil man—transformed into sparkling oases of clean water as a result of ten years of clean-up, completed in 1987.
Likewise, the buckets that once collected waste have been replaced by toilets with water as clean as our drinking water. Thanks to the concerted efforts of then-Public Utilities Board (now known as PUB, Singapore's National Water Agency) in ensuring a constant supply of clean water, building a functioning sewerage plan, and researching methods to treat waste water, by 1997, all of Singapore is served by a modern sanitation system.[13] 
If someone had told him in 1930s that this—an automated system where waste automatically disappears and gets transported to a central processing plant at the press of a button, without any need of human intervention at all—would be what defecating would be like in the future, Heng Kiat would have laughed his head off. Singapore? Where opium is more readily available than clean water? Where the rivers running through its land is made not of water, but of a combination of sludge, waste, and animal carcasses bobbing about?
Today, he laughs in gratitude, and amazement, when he sees clean water flushing away his excrements. But his sense of mild outrage is assuaged as he remembers his daughter telling him that her flat—a new HDB apartment built at the beginning of the year—employs a low capacity flushing cistern, which reduces each flush of 9 litres by half.[14] He is reassured that Singaporeans are not taking all this clean water for granted.
Indeed, in the next 20 years, till the present day, Singapore will continue to ensure they use less water for sanitation. For instance, old toilets like Heng Kiat's—which still use 9 litres per flush—will be replaced for free by PUB with more efficient ones, saving him up to 10% of his monthly water bill. The nation is also closing the water loop by recycling water so that whatever scarce water we have is not wasted.
Wastewater will be transported and handled by an underground superhighway system, called Deep Tunnel Sewerage System (DTSS), located up to 30 metres underneath Singapore—deeper than all but two MRT stations in Singapore. Water that once went down the sanitation pipes will emerge sparkling clean from our taps as NEWater.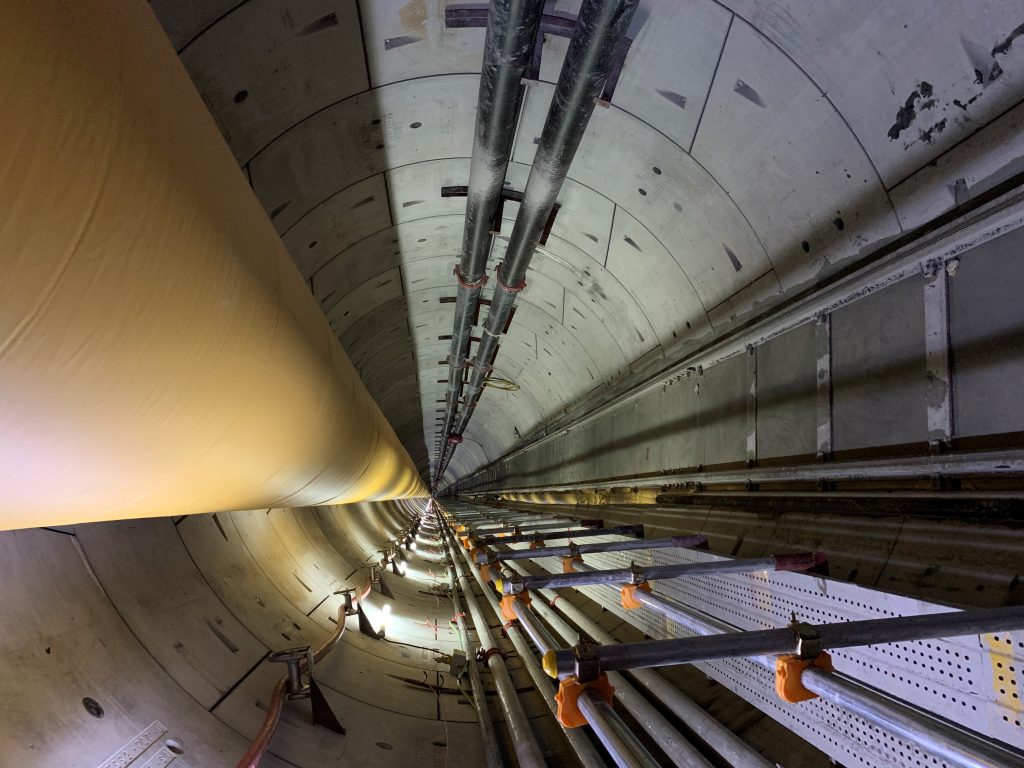 Had Heng Kiat, and the other night-soil men who kept Singapore's toilets functioning, lived to see these changes, they might have laughed at the sheer incredulity of the situation, at how rapidly PUB has managed to revamp Singapore's sanitation system within a few decades, despite this island's thirst for clean water. 
Where they once had to carry a 1kg bucket of waste on each shoulder, the excretion is now funnelled by gravity to a water reclamation plant under Singapore. 
Where excretion and wastewater was once sold to farmers to use as fertilisers, it is now transmuted to potable water, almost miraculously.
The night-soil men would have thought, water, like life, is an endless, unbroken cycle. But only if used well.
This story is sponsored by PUB, Singapore's National Water Agency.
Heng Kiat is one of many people who has contributed towards Singapore's water story. Now it's our turn to make every drop count. Find out how here. You can also take a quiz to discover your inner water personality. (I'm apparently a Supreme Saviour.)
Tell us what your water personality is at community@ricemedia.co.
Sources
"$20- ONE-ROOM FLATS TO HOUSE 20,000 PEOPLE." The Straits Times, 25 March 1961. https://eresources.nlb.gov.sg/newspapers/Digitised/Article/straitstimes19610325-1.2.36
Lim Hong Cher, Oral History Interview. https://www.nas.gov.sg/archivesonline/oral_history_interviews/record-details/040a23ee-115e-11e3-83d5-0050568939ad
Seah Bee Leng. Sewers and Sanitation in Singapore, 1930s – 1950s.
"S'pore's oldest water reclamation plant at Kim Chuan closes". The Straits Times, 14 Feb 2008. https://www.asiaone.com/News/AsiaOne%2BNews/Singapore/Story/A1Story20080214-49613.html 
Tan Gee Paw. Water.
Tan Yong Soon, Lee Tung Jean, and Karen Tan. Clean, Green and Blue: Singapore's Journey Towards Environmental and Water Sustainability.
"The Disposal of Night Soil at Singapore." The Straits Times, 19 Jan 1894.  https://eresources.nlb.gov.sg/newspapers/Digitised/Article/straitstimes18940119-1.2.30
"The sanitation system in Singapore". Singapore Infopedia. https://eresources.nlb.gov.sg/infopedia/articles/SIP_2020-02-06_113509.html  
Tortajada, Cecilia, Yugal Joshi, and Asit K. Biswas. The Singapore Water Story: Sustainable Development in an Urban City State.
Walters, D. K. The Municipal Ordinance of the Straits Settlements (1937).
Yeoh, Brenda S. A. Contesting Space in Colonial Singapore: Power Relations and the Urban Built Environment.
[1] Seah, 34.
[2] Ibid., 12 and Yong, 181.
[3] Seah, 32.
[4] Ibid., 30.
[5] Ibid., 22.
[6] Walters, 194.
[7] Seah, 38.
[8] Tan et al., 182-183.
[9] Tan Gee Paw, 29.
[10] Tortajada et al., 135-137.
[11] Tan Gee Paw, 20.
[12] Ibid., 24-27.
[13] Tan et al., 183.
[14] Tortajada et al., 99.