All images by Zachary Tang.
Love, at first sight, seems like an impossible phenomenon to someone as cynical as me. The perfect example of how I relate to love would be when I came across this video of a child many years ago, explaining what she thought love was.
"Love is a neurochemical con job," she said, and I chuckled at her deadpan delivery.
I often wonder what keeps a couple together for years: could it be the sheer comfort of having lived with someone for so long? Perhaps it could be the fear of losing sight of the person they used to be, now that they are part of the entity involving two people?
Nevertheless, I found myself on a mission to find out what the secret was to staying happy and very much in love regardless of time and age.
The moment I step into the Razifs' family home in Ang Mo Kio, I am overwhelmed by the commotion coming from one of the rooms. Mr Amin Razif, 83, ushers Zac (my colleague) and I into the living room to be seated while we wait for his wife to dress up. He asks if we would like a drink while we wait. We politely decline. I observe the way he has an easy smile that constantly graces his face, and the way his eyes soften when they fall on his wife when she finally emerges from the room to greet us.
"I fell in love when I saw her for the first time," Uncle Amin says when I ask him what he felt when he first saw her.
His wife, Auntie Pearl, 76, chuckles before adding: "Yeah I was wearing my sarong and kebaya, that's what probably caught his eye."
He had come over to her neighbourhood in Prinsep Street one eventful day, sometime in the 1960s, to visit a close friend of his. That was when he set his sights on his future wife, who was only 17 at that time. She was a stay-at-home older sister who had dropped out of school to help her mother care for her large family, whether through completing chores or walking her siblings to and from their schools. He was a 24-year-old postman driver.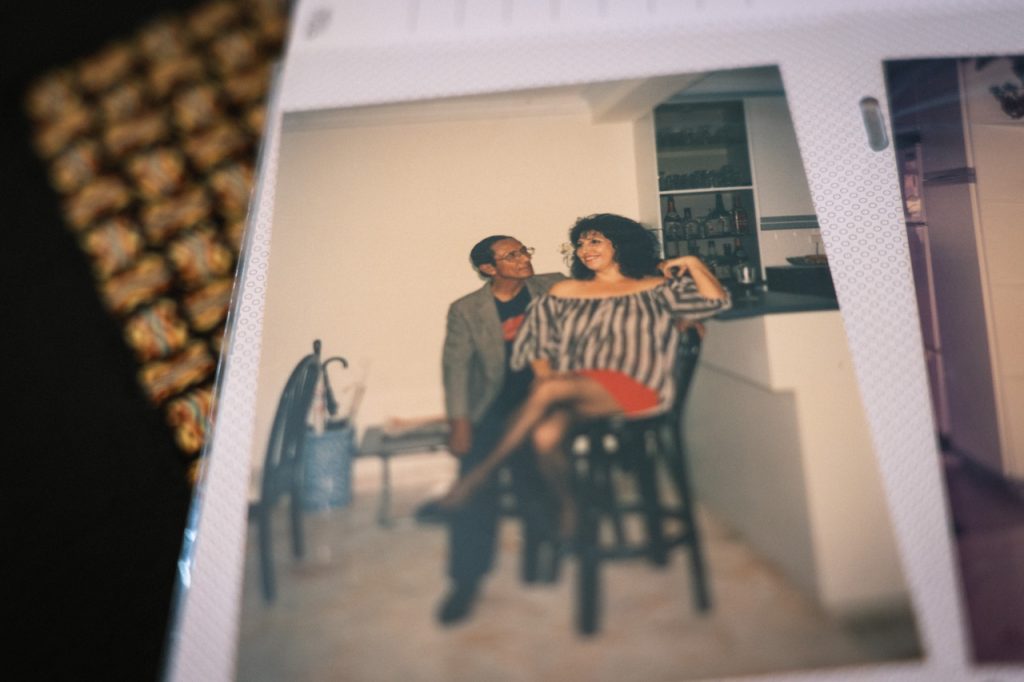 They both share the exact same birth date: 24 February. Destiny? You decide.
Hailing from very different religious backgrounds (she was Jewish, he was Muslim), their story sounds like one of star-crossed lovers; the sort you tend to see on the silver screens. There was definitely bound to be some tension once they'd made the decision to get married, but this was something I personally could empathise with. While my parents have evolved with time to understand and accept ideas of cohabitation and the like, inter-religious marriages still stand as an area of contention for them. With the help of technology, of course, I've been able to connect with people beyond my geographical borders through Facebook groups (Subtle Asian Traits) that detail the very problem I still face here with inter-religious marriages. I guess that's one thing that hasn't changed with time.
I ask Auntie about the title given to her back at Prinsep Street, the Cantonese Marilyn Monroe of Prinsep, and she scoffs.
"I always tell them to stop calling me that la, very embarrassing, you know?" she says.
What followed was a series of secret rendezvous aided by Auntie Pearl's brother (who had been handsomely bribed by Uncle Amin for a grand total of 20 cents per date). What exactly did the pair get up to during these dates, one might wonder.
"We were extremely simple people. We didn't like to spend more than what we could," Auntie says.
Uncle Amin jumps in to add that he always left the choice to Auntie. She was the one who got to choose where they'd go. Her favourite pick? The satay stall in a lane in Geylang that had "very good kuah (peanut sauce)" that "we would celup (dip) our satays in".
While it all sounds romantic to hear from the couple over a steaming cup of teh tarik, I couldn't help but wonder how lucky I am to be alive in the here and now.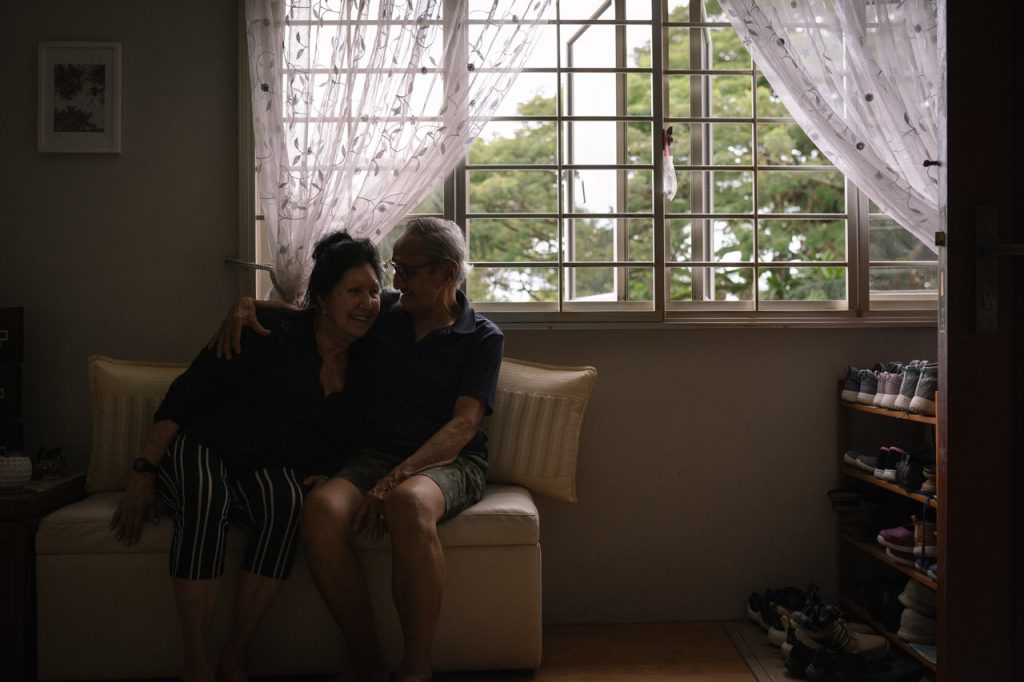 Dating is far from frowned upon, and—I can't believe I'm actually saying this—I have parents who are pushing me to get out there, to finally bring someone home to them in the next couple of years. Conversations usually begin with someone's son or daughter being in a seemingly happy relationship, ending with questions about why I'm not making full use of what technology has to offer in the form of social media and dating apps. If only they knew.
During the recent Chinese New Year celebrations as well, it was lovely to see friends introducing their significant others to their families. But while the elders in our families are starting to be more receptive to meeting our partners, there is still the pressure to address all manner of questions thrown at you by nosy family members, covering pretty much anything under the sun.
The height of your significant other, how long you've been dating for, when you plan on getting married, and how many kids you plan on having—you name it, they've asked it all.
I'd imagine it was the complete opposite for both Auntie and Uncle; sneaking around must have been exhilarating yet anxiety-inducing in equal measure. What if their parents found out? Would they have been forcibly separated due to their religious differences? How would things have turned out differently if such a thing had happened?
Their story features a well-kept folder of the love letters he wrote her at least twice a week during the course of their courtship. Flipping through the pages brings about a sense of envy towards the lengths that Uncle Amin used to go to describe the way he felt about her. What we would get in the form of a text saying 'I miss you' was expounded beautifully in a letter where he talked about the 'unbearable pain of being parted from her'.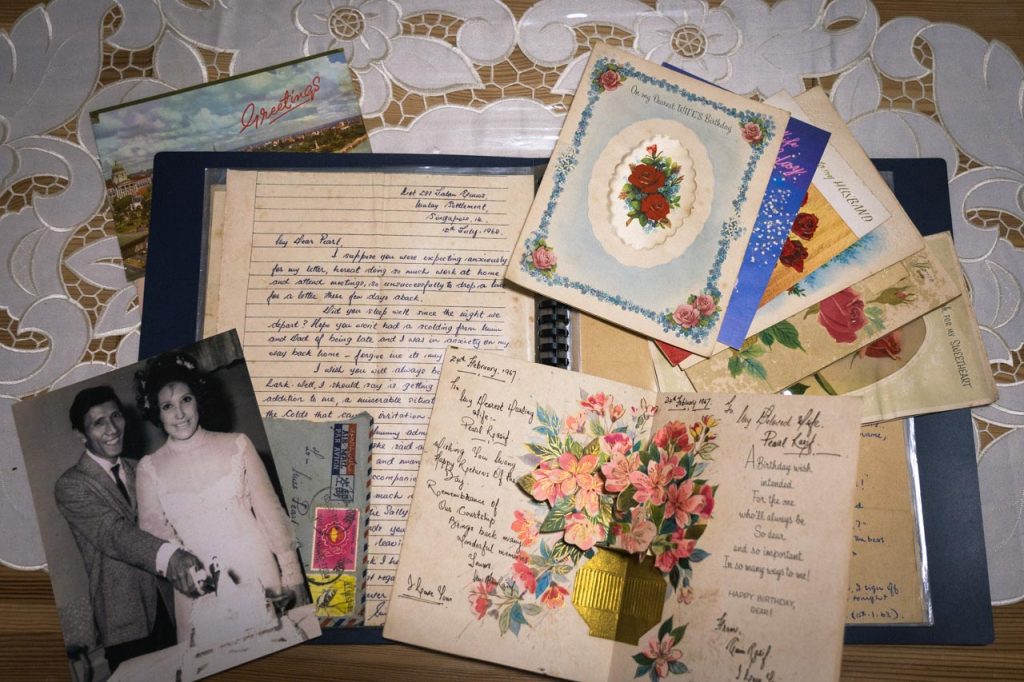 I spot an abbreviation of
I.T.A.L.Y
in one such correspondence, and ask the couple what it means. Uncle Amin seems to try hard to recollect when Auntie jumps in: "He can't remember much now due to dementia, but it's ok. I'm here to help him remember. It stands for
I Trust And Love You
."
This is where I found myself at a loss for words. It was the simplest yet purest form of love I'd just witnessed in the way Auntie had placed her hand over Uncle's, she was assuring him of her unwavering affection. Did it make me slightly uncomfortable? Yes. Why? I'd gotten so jaded about physical displays of affection–hugs, kisses, even holding hands. But what I was not prepared for was the intimacy and depth of affection splashed across the letters written by Uncle to his beloved and her words of affirmation.
As a writer, I'd gotten used to creating emotional boundaries as a means of self-preservation but I found myself slipping as I read letter by letter. Oh, how I wish I had someone write me letters of how deeply they missed me! Unfortunately, we've all gotten a little lazy. Random tags on social media and short text messages would have to suffice for the die-hard romantic in the current decade.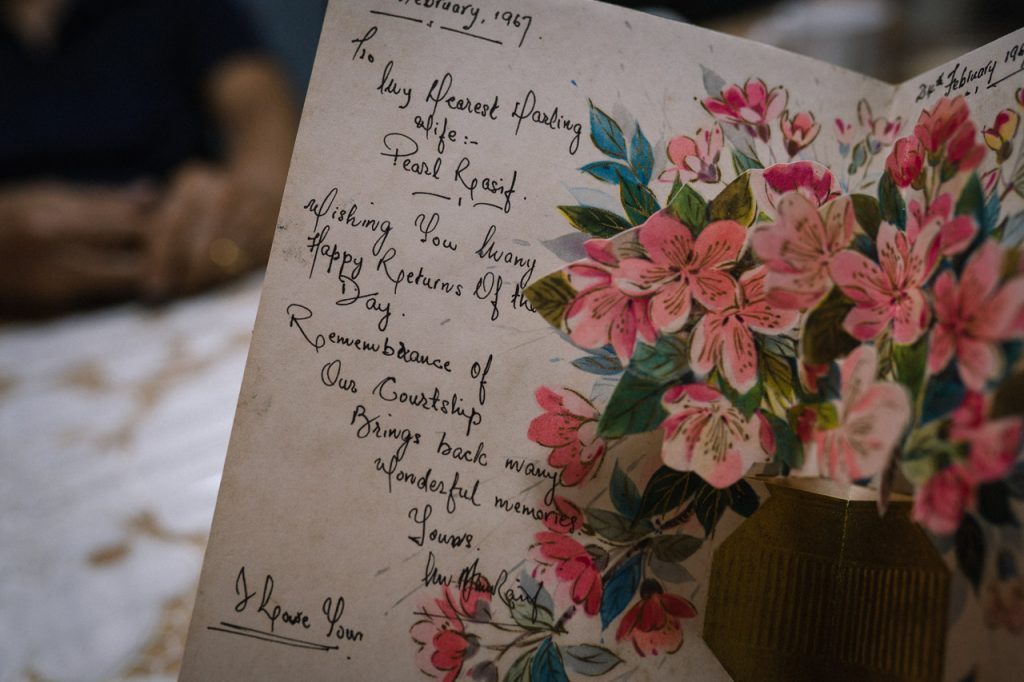 The toughest phase of their relationship lay in the wedding, and what followed. The decision to get married was effortless, but not so much the one to stay rooted in their own religions.
"He only asked me once if I would like to be a Muslim to marry him. I said no, and he understood. Even his mother understood my decision," Auntie remembers.
While Uncle and his mother were supportive of her choice, others were hostile towards her because of her refusal to convert before marriage. It did bring about some disappointment that she was unable to connect with her husband's family, but she made it a point to be a part of important family events, and to give respect to the elders.
She tells me with a mischievous glint in her eyes that she didn't want the traditional wedding gown, but instead cut her dress into a shorter version and embellished it with some lace she'd bought (she spent $25 making the dress) before dipping it in some tea to give it a beige touch.
"She looked so beautiful that day, I was speechless when I saw her," says Uncle Amin.
They soon moved into a one-room apartment in Toa Payoh, and tears gather in Auntie's eyes as she gets transported back in time to the memory of how hard life was for the Razifs.
She chokes up while relating her experience: "It was very cramped up and was a bad experience for me. It (the house) was so small, but he did the very best he could. He is a very good man, and very responsible–he worked very hard. I had my son (when she was only 20) and daughter while we were there. It was very hard, but my mother taught me to sew and to bake Jewish cakes and pastries so I would make them and sell it for the extra money."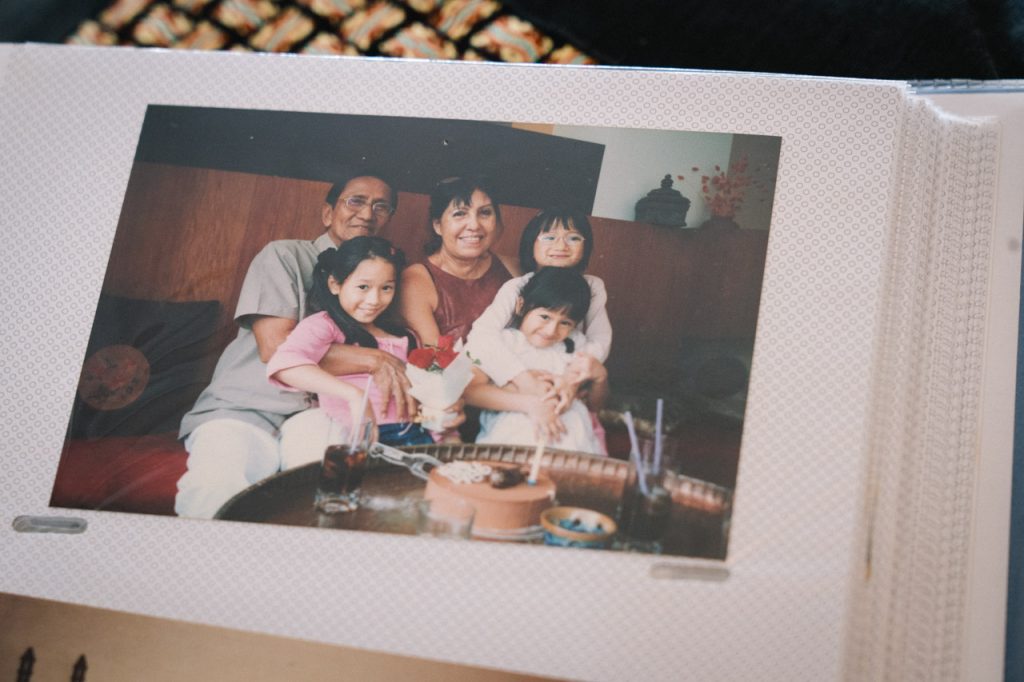 So what kept them going?
Auntie says: "We both made sure we worked to make ends meet, we wanted our children to grow and learn in the best way possible. My parents were of great help too, they loved our children very much. We didn't have much, but I was happy. Nothing comes close to the joy you feel when you see your children start walking and talking and having teeth start growing. We were happy."
A great example of hard work and determination, Auntie is well-settled now with the support from her son who is a lawyer. But she still is unable to sit still. She continues to volunteer her knowledge and skills in sewing through her grandchildren's theatre productions, and her expertise in baking Jewish pastries by selling them after realising that they were quite the hit at her son's office.
The love that both Uncle and Auntie share now lives through multiple children, be it their very own or their three granddaughters and one great-grandson. Auntie beams with pride when she talks about how big her family has become. There is now more to love.
I ask her about what dating was like back then, and how it compares to now; besides the genesis of technology, are there any significant differences she can spot? She shakes her head before giving the age-old advice she shares with her granddaughters: "Don't rush into anything, find out more about the person before anything else. If it all works out, he's your partner for life. If not, it's not your time yet. The most important thing is to be yourself."
Words to live by, Auntie.
This piece is sponsored by Prudential Singapore.
As our population ages, the communication gap between generations may start to widen. That is why we seek to #MindTheGenGap and embrace traditions, share modern perspectives and learn from each other.
Prudential is rewarding you and your loved ones when you plan for the future. Purchase an eligible protection or retirement plan from Prudential during the #MindTheGenGap promotion period and stand to receive rewards worth up to S$1,800. Better yet, you may even win a holiday for four to Disneyland!
Terms and conditions apply.
For more information, visit Prudential's website to find out how you can #MindTheGenGap.
Got a love story as cool as Uncle Amin and Auntie Pearl? Tell us at community@ricemedia.co